Cinderella, the lead of a famous fairy tale written by French author Charles Perrault, is every little girl's fascination. This fairy tale has been adapted into films; animated series for television, video games, soft toys, dolls and her illustrations are featured on all sorts of kids' products from lunch boxes to school bags, to pencils, erasers, water bottles, slippers, dresses, etc. Cinderella is a beautiful girl, but her beauty is not merely skin deep.  What makes her pretty is her nature. She is a kind and simple girl selflessly trying to please her family. Scribble Fun presents 30 free printable Cinderella coloring pages featuring different phases of Cinderella's life. As you color these Cinderella pictures let her story be unraveled once more in a fun-filled and interesting way.  So check out our Cinderella coloring sheets to print below. 
30 Free Printable Cinderella Coloring Pages
Beautiful Cinderella: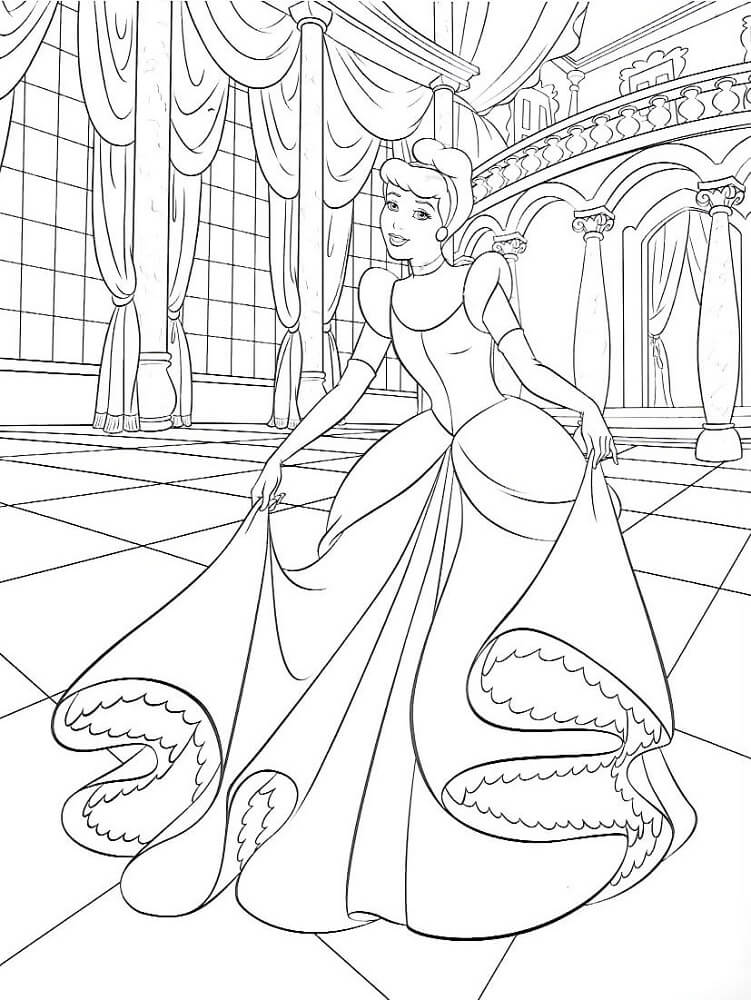 Cinderella's step-mother and step-sisters try very hard to prevent her from attending the party but Cinderella still makes it to the Royal Ball. Notice what an angel she is looking like, in this lovely gown! Your colors should give her that extra shine so that she stands out amongst everyone else.
Cinderella's Step-Sisters Getting Dressed For The Party:
Anastasia and Drizella, Cinderella's cruel and malicious step-sisters are getting ready for the Ball. They want the Prince to choose one of them to be his bride. Though their dresses look beautiful and trendy, their faces speak of hatred, selfishness, and greediness. What do you think – is the Prince going to be charmed by these sisters?  
to join this conversation on GitHub. Already have an account? Sign in to comment Footer © 2023 GitHub, Inc. Footer navigation Terms Privacy Security Status
Cinderella And Prince Charming Coloring Page:
From the very moment the Prince sees Cinderella, he is fascinated by this exquisite girl.  As soon as the orchestra starts playing, he asks for her hand in dance, and through the whole evening, he dances with Cinderella. He was so engrossed in her beauty that he forgets even to ask her name.
The Bride Cinderella: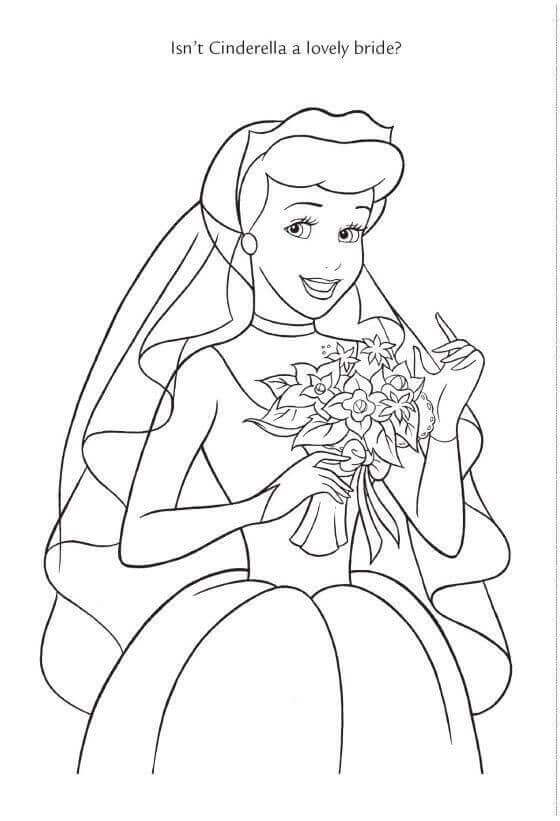 Cinderella's dream is finally coming true, and all her struggles are about to end. Here you see her dressed in her wedding gown, looking excited and her happiness knows no bounds. Kids, you now need to do your part – color Cinderella in vibrant colors to double her happiness; celebrate the end of sadness in her life.
Cinderella Rushing Out Of The Ball: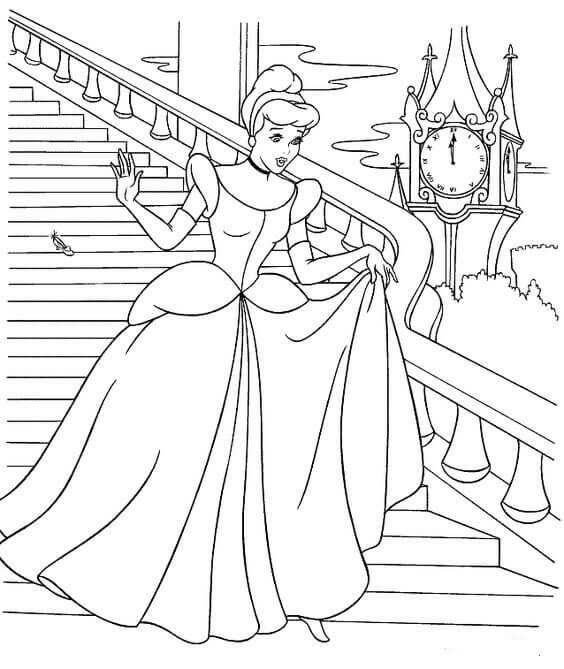 Cinderella is so much engrossed in dancing with the charismatic Prince Charming at the Ball that she completely loses count of the time. Both, the Prince and Cinderella are lost in their own world, feeling their love and admiration grow for each other with each passing moment. Hence, when the clock strikes midnight, Cinderella comes to her senses and sprints out of the party not realizing that one of her slippers was left behind.
Cinderella's Pumpkin Carriage:
The Fairy godmother casts a spell on Cinderella's mother's torn dress to convert it into a beautiful gown with sparkling slippers. But then the question arose of how Cinderella would travel to the palace with such a dress and high heeled sandals, the godmother waves her wand in the air, and a pumpkin changes form to become a classy looking carriage.
Prince Charming's Castle:
This is the picture of the majestic castle that is the residence of Prince Charming. There is a huge spiral staircase leading up to the entrance of the Palace, the very staircase where Cinderella's slipper was lost. The classical fortress is characterized by grand archways, sky-high towers, luxurious elegance, and awe-inspiring height.
Cinderella's Mother's Gown:
Cinderella had heard about the royal invitation from the King's Palace inviting all young women of the kingdom to participate in the Ball. Prince Charming would be choosing his wife from all the girls attending the party. Cinderella's dream was to attend this party, but she was always dressed as a beggar. Her step-mom did not give her nice-looking dresses to wear. How could she attend the party then? That is when she rummaged through her old trunk and came across her mother's dress.
Prince And Cinderella At The Party: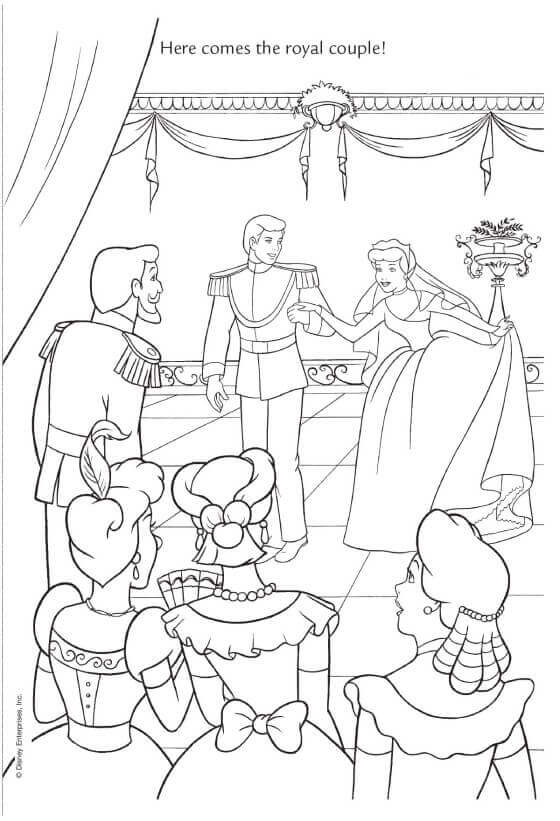 Much to the surprise of Cinderella's step-mom and step-sisters' Prince Charming is mesmerized by Cinderella and chooses her amongst all the women present to dance with at the Ball.  They look on in horror and envy as the Prince introduces Cinderella to the King. Cinderella, in the most befitting manner, accepts the Prince's hand and pays her respect to his father.
Cinderella in The Magic Gown: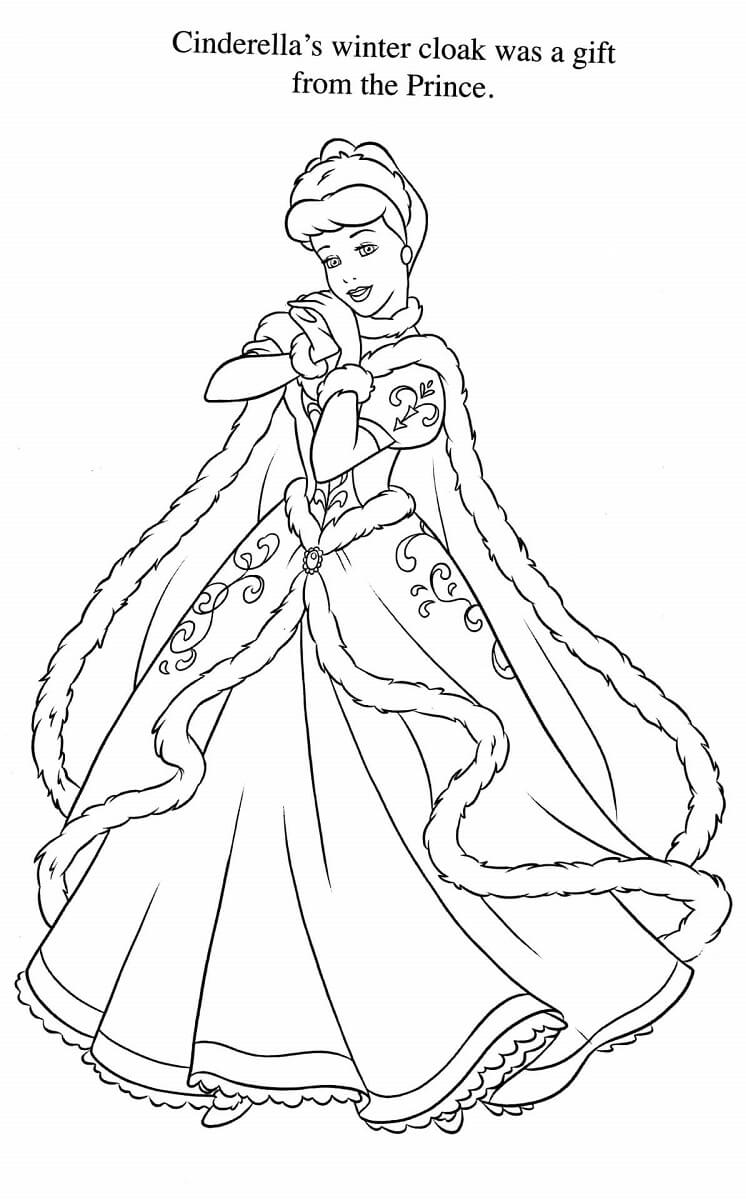 For the royal party, Cinderella's friends, Gus and Jaq, sew her mother's torn gown with beads and ribbons discarded by her step-sisters. Cinderella was elated to see the altered robe, but her step-sisters tore it the moment they saw it. Cinderella was weeping that she would have to miss the party when Fairy godmother enters the picture, utters her magical words, and moves her wand in the air to transform the torn dress into a royal, fashionable gown.
Cinderella & Prince Married: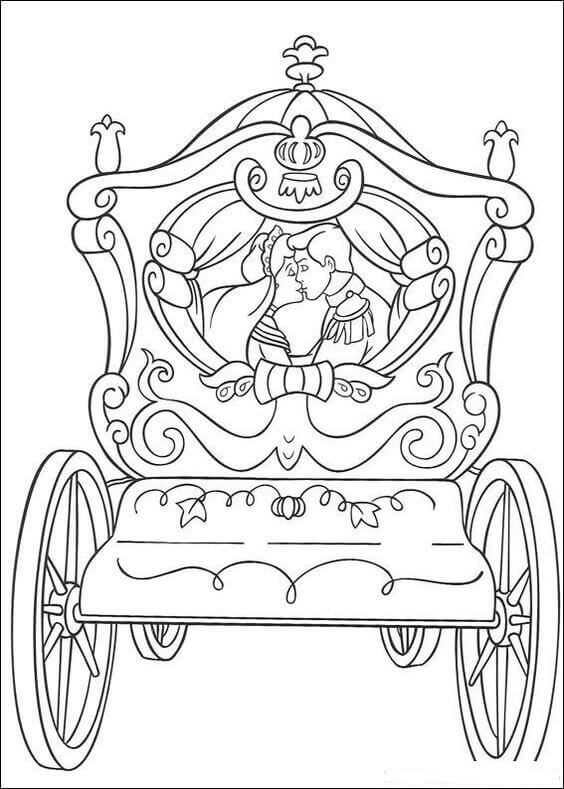 Mostly fairytales have happy endings where the main characters (girl and boy) get married and live happily ever after. The same happens with Cinderella and Prince Charming. The happy endings signify that good always wins over evil. You are always rewarded for being kind, thoughtful, and polite.
Cinderella's Mice Friends:
Cinderella is such a lovable girl that she is loved by all animals around her place. Her best pals are two mice called Gus and Jaq. They just adore her and are so very fond of her that they could almost do anything for her happiness. They fondly call her 'Cinderelly'. These mice help her mend her mother's gown when she had no other dress to wear for the party at the palace. 
Cinderella's Step-Mother And Step-Sisters At The Party:
Did you notice that Lady Tremaine is tight-lipped and there is a look of disapproval on her face as she watches the Prince's interest in Cinderella? Color her stepsisters in shades of green to portray envy and jealousy. In the picture, all three of them are looking so sinister and evil. Remember to pick your colors accordingly!
Lady Tremaine Coloring Page:
Mother to Anastasia and Drizella, Lady Tremaine is the step-mother of Cinderella. She is wicked and the main antagonist in the story. She is cruel and dreadful and makes Cinderella work as a maid in her house. Lady Tremaine also locks away Cinderella when the Grand Duke from the palace comes to their home to check the size of the slipper.
Fairy God-Mother Transforming Cinderella:
And lo behold! Cinderella, the girl always in rags and dirty clothes is now transformed into a majestic princess wearing the most gorgeous dress in the kingdom. Her bare foot covered in mud and dust is now spotlessly clean and covered with pretty shinning slippers. And how does all this happen? By the magical spell cast by her beloved fairy godmother.
Cinderella Trying The Slippers Coloring Page:
As the Grand Duke comes knocking on the door looking for the girl who has enchanted the Prince's heart, Cinderella's step-sisters are the first ones to try the slipper. Though her step-mother cleverly locks away Cinderella, she manages to escape with the help of her animal friends. The Duke notices her and signals her to try the slipper. In the picture, Cinderella is seen trying the slipper which fits her so easily that it seems to be one of her lost slippers.
Cinderella With The Other Disney Princess Coloring Page:
All the princesses from the Walt Disney Media Princess original series are here to meet you -Cinderella, Jasmine, Snow White, Ariel, Aurora, and Belle. They are the fictional female protagonists adapted by Walt Disney for its animated film and television series.
[ Related: Disney Coloring Pages ]
Cinderella With Major Coloring Page:
Major is Cinderella's own horse gifted by her father before his death. The horse is her loyal companion and is characterized by its silky mane and tail. It is kind, and though it's not well treated by Cinderella's step-mom and step-sisters, she loves with it all her heart. It too dreams of belonging to the royal stable and is the happiest when driving Cinderella in the pumpkin carriage to the palace. Color Major in shades of grey and silver!
Cinderella With Her Friends Coloring Sheet:
Gus and Jaq, Cinderella's lovely mice friends, adore her so much that they cannot miss looking at her when she sits in front of the mirror to tie her hair. Her feathered friends, the birds help her with the ribbon. Though her stepfamily hates her, all her pet animals worship and admire her and always stand by her. 
Cinderella With Prince Charming Coloring Page: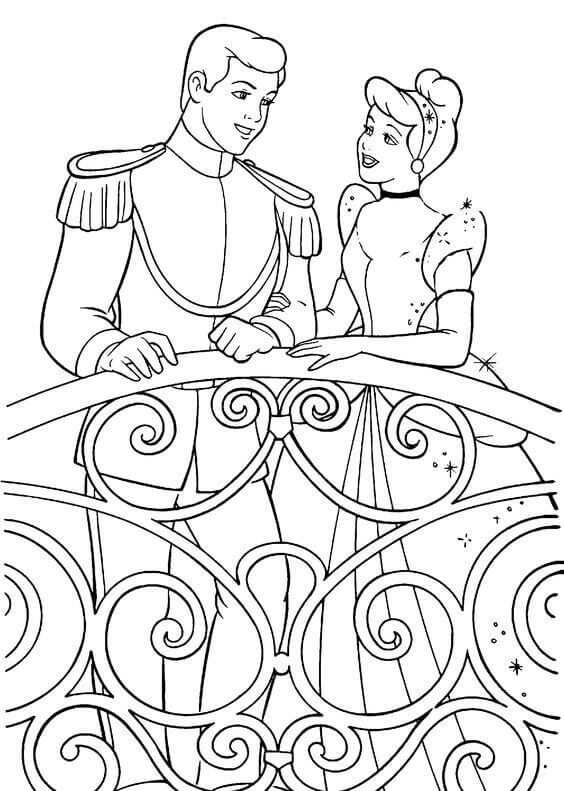 When the Prince realized that he had fallen in love with a poor girl who was treated like a maid by her family he decides to marry her immediately with all pomp and show. After their marriage, Cinderella is trained to behave and dress like a princess. Seen here in the picture are the handsome Prince and his beautiful wife surrounded by love and a glow of happiness.
Cinderella Working As A Maid Coloring Page: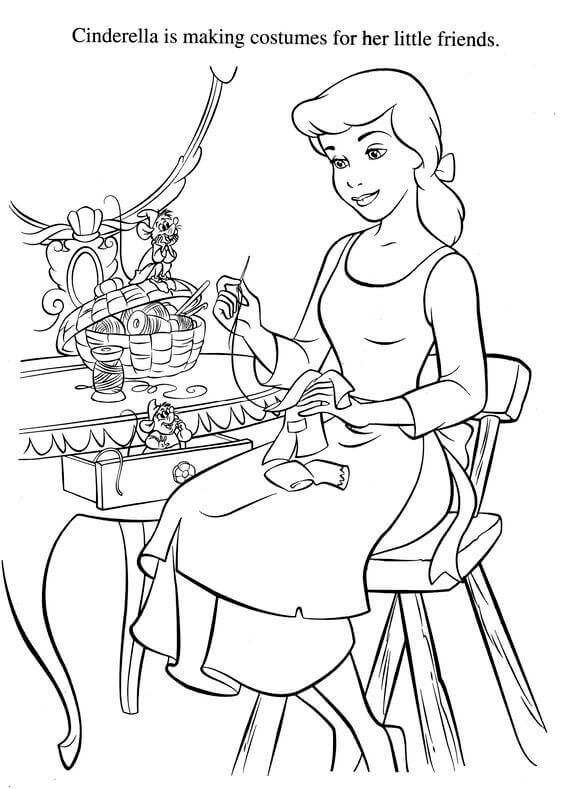 In the picture, Cinderella is seen stitching some clothes being watched and entertained by her mice friends. Though she looks tired she is not complaining and with a smile on her face, she is trying her best to finish the work that must have been given by her step-mom or step-sisters. 
Cinderella On Her Way To The Royal Ball: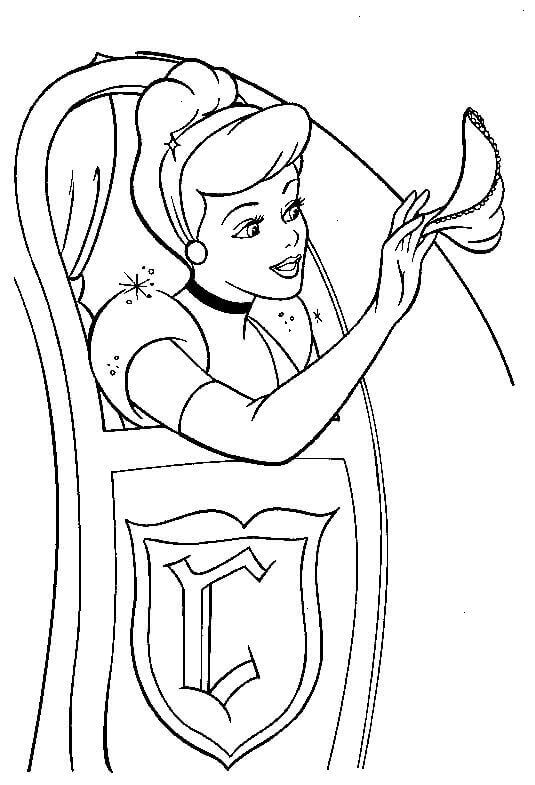 Seen in this picture is Cinderella dressed in her fabulous gown leaving for the Ball in the pumpkin carriage. She looks out of the carriage window to wave goodbye to her mice and bird friends. She is excited and seems happy at the thought of attending the Ball finally. 
Cinderella As The Disney Princess: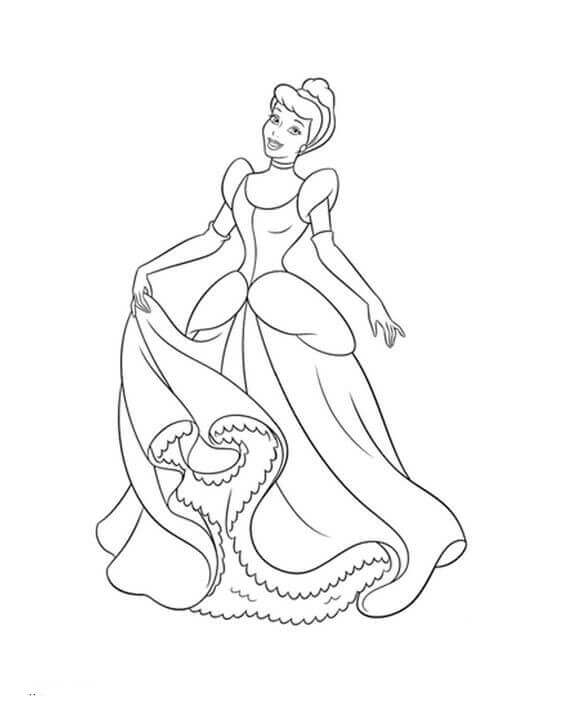 This is Cinderella – not the poor tormented girl – but the princess who has been married to Prince Charming. This is the Disney version of Cinderella in her happier times. This look has been adopted for dolls as well as animated versions.
[ Related: Princess Coloring Pages ]
Distressed Cinderella Coloring Page:
Lost in her own thoughts, Cinderella is seen mopping the floor. Seems like she is humming a song to herself to keep herself motivated and not lose hope. You can use some lighter shades to represent her melancholy mood.
Cinderella's Fairy Godmother: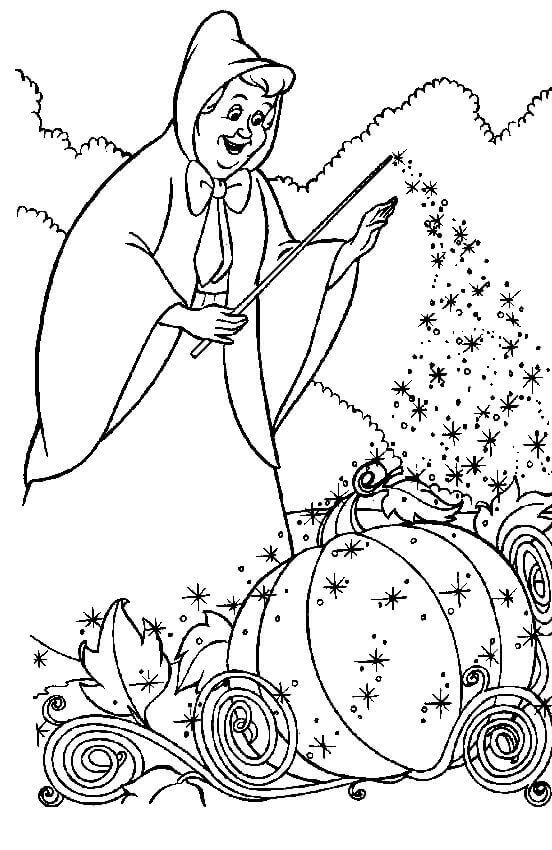 The Fairy Godmother is the angel who looks after Cinderella and helps her attend the royal party. She uses her magical powers to convert a pumpkin into a carriage and transforms Cinderella's torn gown into a super chic and royal dress. Don't we all wish to have a godmother like her?
Cinderella In The Garden:
The kitchen garden is full of vegetables especially pumpkins. One of Cinderella's daily tasks is to visit the garden and pick up vegetables and then prepare food for the family. She likes this part of her work because we can see her smiling softly.
Cinderella Serving Tea Coloring Page:
Another of Cinderella's daily chores is to prepare bed tea and evening tea for her step-mom and step-sisters. This is one job she doesn't like very much as is evident from the gloom on her face.
The Royal Princess Cinderella: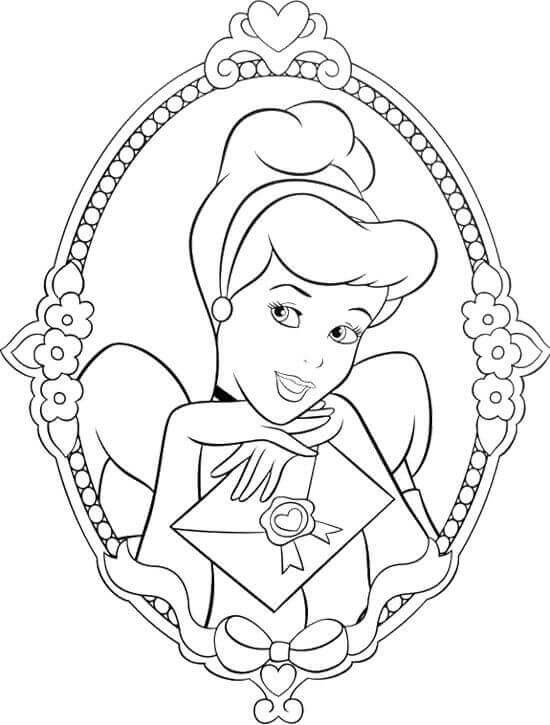 Princess Cinderella is looking dignified and noble on this coloring page! All her dreams have finally been fulfilled, and she now gets enough time to sit in front of the mirror assisted by her maids to help her dress beautifully. This picture needs lots of feminine and softer shades of colors.
Cinderella Taking Out Her Mother's Gown Coloring Page:
As she pulls out her dead mother's dress from inside the trunk, she realizes that it's a bit outdated. It was worn out and had patches here and there. It obviously has to be sewn well to hide the torn out parts else she would not be able to wear it to the party at the palace.
Cinderella's Slipper Comes Off Coloring Page:
This is one of the most happening Cinderella coloring pages. Just as the tower clock strikes twelve, Cinderella rushes out of the palace with the Prince running behind her. He had not even asked her name and where she lived. In all that fuss, one of her slippers comes off her feet and is left behind on the staircase at the entry to the palace gate. For the Prince, this was the only means of searching for the girl who had stolen his heart.
Wow! This is one of the all-time favorite fairy tales of kids. Isn't it? But the coloring images are not looking that great in black and white. What they need is colors – lots of colorful mixtures and vibrant shades of hue to liven them up. Go ahead, kids! Color these Cinderella coloring pages printables. And don't forget to share your favorite Cinderella coloring sheet with us.