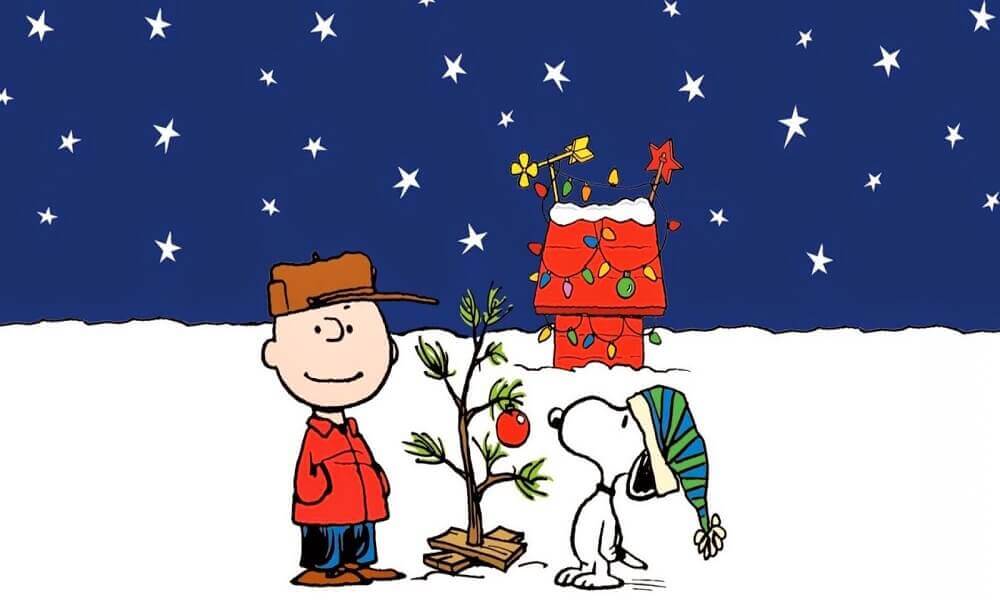 Hello children! You must be busy with your holiday plans and preparations. We are halfway through December and a lot must be going on in your house. In case you are wondering about what Christmas specials to watch, we have an amazing collection of A Charlie Brown Christmas coloring pages printable.
If the name sounds familiar, it's because it is based on one of the most popular comic strips, "Peanuts" by Charles M. Schulz. First broadcast in 1965, "A Charlie Brown Christmas" is an animated television special about how Charlie Brown overcomes his depression and lack of excitement for Christmas owing to the growing commercialization of the festival, finally celebrating its true meaning with his friends.
Let's explore the world of Charlie Brown and his discovery of the meaning of Christmas through this collection of A Charlie Brown Christmas coloring sheets to print.
20 Free A Charlie Brown Christmas Coloring Pages Printable
Simple Christmas Tree Makes Charlie So Merry: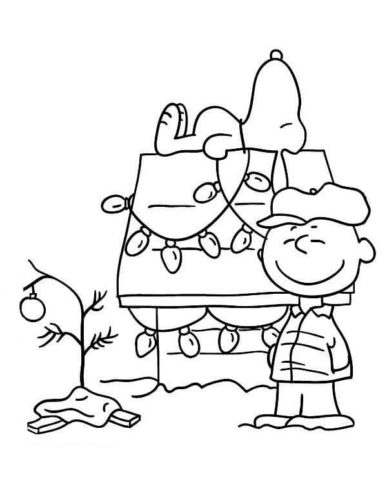 to join this conversation on GitHub. Already have an account? Sign in to comment Footer © 2023 GitHub, Inc. Footer navigation Terms Privacy Security Status
Charlie Brown is distraught by the lack of Christmas spirit around him. From Snoopy entering his doghouse to a cash contest to Sally's long list of requests for Santa, and the lack of Christmas connection with the play he is directing. So, he sets out to get a Christmas tree. Unlike the aluminum tree suggested by Lucy, he buys the sole real Christmas tree available, which he decorated with an ornament from Snoopy's winning doghouse. Look at the smile this real tree brought on his face.
[ Related: Christmas Trees Coloring Pages ]
A Charlie Brown Christmas Tree:
Once all the decorations are done on Charlie's real Christmas tree, he along with Linus and Lucy celebrate with a jubilant dance. Looks like the ever-day-dreaming Snoopy is living his fantasies by planting himself up on top of the tree, instead of the angel or the star. Lend some joyful colors to this page by printing and coloring it.
Merry "Snowy" Christmas: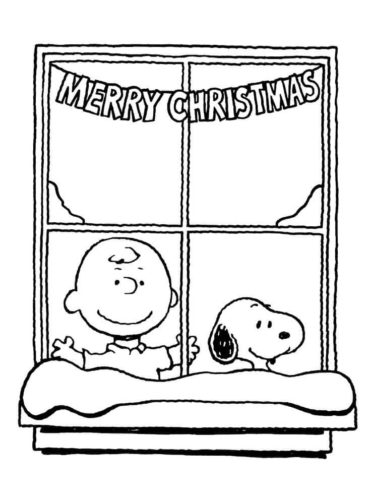 After Charlie and all his gang were done celebrating the successful decoration of the Christmas tree, you can find him taking a quiet moment of reflection with Snoopy. They are delighted to see that it's snowing outside. Christmas is even more magical when it is snowing, isn't it?
Snoopy In A Stocking:
Everyone had already gone to bed on Christmas Eve but Snoopy is still up. Oh, dear! Seems like he was "snooping around" the Christmas tree and the Christmas presents and got himself stuck inside a Christmas stocking. This must remind you of the times you have been naughty, like sneaking out a cookie from the cookie jar. Print this page and help Snoopy out with some colorful assistance.
Dancing Around The Christmas Tree:
Charlie, Lucy, and Snoopy along with his best friend Woodstock danced around the Christmas tree they had all contributed to decorating. Look at their happy feet shaking to the jazzy Christmas tune they are listening to tonight. Do you have a happy and dance too? Play your happy song, while you print and color this illustration.
Charlie Brown's Christmas Gift:
One of the key traditions of Christmas is gifts. Not just the ones you get from Santa when he comes visiting on Christmas Eve, but the ones you give to your friends. Charlie has brought a nice present and he is on his way with Snoopy to his best friend Linus' house to give it to him.
Snoopy And Woodstock's Christmas Tree: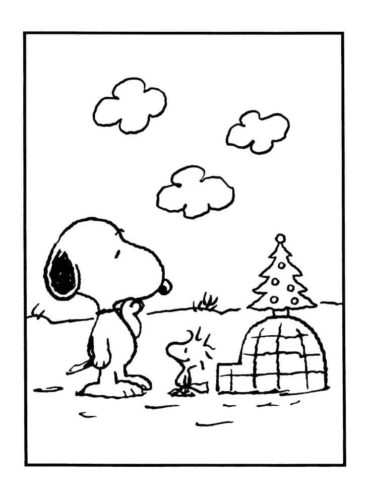 The holiday season is all about being kind and togetherness. Coming for a visit here to his best friend Woodstock's place is Snoopy. Woodstock's imaginative house in the shape of a tent or an igloo looks as tiny and cute as him. He even has his own Christmas tree. No wonder Snoopy is so busy admiring them. You can help add some colorful details by printing and coloring this page.
Doghouse Win For Snoopy, Charlie's Real Christmas Tree
Snoopy is not just intelligent but has proved himself to be great at designing and decorating his doghouse by winning the contest he had entered. While Charlie Brown is finally smiling after finding a real Christmas tree and decorating it. Their happiness seems to have doubled thanks to the snowfall.
Disheartened Charlie Brown When Christmas Tree Fell Down:
Once he gets back from shopping for the real Christmas tree, Charlie Brown excitedly begins decorating it. As he placed the giant Christmas ornament, he took from Snoopy's doghouse, unable to take the weight the tiny tree bends all the way down. Charlie is upset, thinking he killed the tree. You can try to console him by printing and coloring this page in comforting colors.
Lucy With Candy Cane Decorations:
Diligently doing her bit for the Christmas decorations is Lucy van Pelt. She has carefully selected the best candy canes and is stuffing them in a Christmas stocking to decorate in her house. You should also do the same and help your family during this festive season.
Lucy Checks Her Christmas Present:
After all her hard work for Christmas, look at how excited Lucy is to open her Christmas present. She looks thrilled to see such a huge gift. Have you wished for what you want this Christmas? If not, then let Santa know soon before Christmas Eve. In the meantime, you can print and color this present and the excitement on Lucy's face.
"Hark, The Herald Angels Sing":
After Charlie Brown leaves thinking he killed his Christmas tree, all his friends come together to help. Linus lifts the stooping tree and puts his blanket at the base. Everybody joins to complete the decoration. Charlie returns and to his amazement finds the tree marvelously adorned and everyone sings "Hark, The Herald Angels Sing".
"Merry Christmas, Snoopy" – From Santa:
Santa knows all those who did well throughout the year. His list is not just limited to humans, but to their pets too. Making a special visit to wish him Merry Christmas, Santa has come to Snoopy's doghouse. Print this page and mark this special visit in interesting colors.
[ Related: Santa Coloring Pages ]
Schroeder's Music Creates Christmas Magic:
The piano music wizard, Schroeder, is as always engrossed deeply while playing his piano. He is unaware what effect his music is having on the Christmas tree Snoopy is watching. It seems the joyful vibrations are making the Christmas tree jingle all its ornaments in accompaniment. The scenario feels more like one of Snoopy's fantasies, doesn't it? Print and color this musical fantasy in colorful notes.
Snoopy And Woodstock Hanging Christmas Stockings:
Two best friends come together to help each other. This time we are not talking about Charlie Brown and Linus, but Snoopy and Woodstock. They are in full preparation mode as they hang the Christmas stockings, hoping for Santa to stop by and fill them with gifts. For now, you can print and fill the scene with color.
Snoopy Decorating Doghouse And Christmas Tree: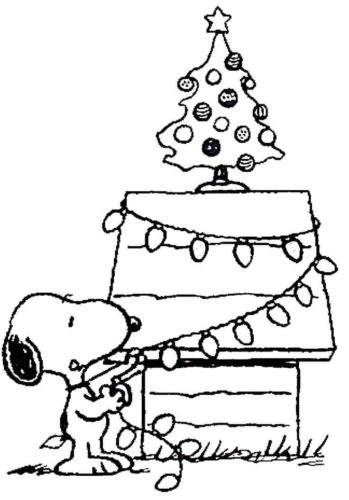 Christmas lights find a home in Snoopy's doghouse. He had carefully wrapped the lights around the Christmas tree and is now finishing up decorating his prize-winning doghouse. Add more joy to this scene by printing and coloring this page.
Snoopy Turns Silly When It's Snowing:
Snow makes people become almost child-like in their happiness. When it comes to Snoopy, he turns a little silly, jumping and dancing around in the snowfall. Are you the same when it comes to snow? There is even an illustration of a snowflake at the end of the lettered "snow" text.
Snoopy And The Christmas Tree Card:
The ornamental leafy outline to this lazy holiday illustration of the day-dreaming Snoopy looking at the fully decorated Christmas tree makes this a perfect Christmas card. If you still have friends and family you are yet to give a Christmas card, this is your chance. Print this page and color it in festive colors. You can write your messages at the back or inside if making a folded card.
Woodstock Taking Stock Of The Christmas Stocking:
After finishing up most of the Christmas preparations, Woodstock is taking a few moments, resting for a while. Even when he is resting, he is taking stock of the quality of the Christmas stocking and whether it will hold the weight once it is hung and filled.
[ Related: Christmas Stockings Coloring Pages ]
Woodstock Wishing Merry Christmas:
Once he is finished with all his decorations Woodstock prepares a giant board wishing everyone a Merry Christmas ahead of the holiday season. Wish him your Christmas cheers as well by printing and coloring this page in brilliant colors.
With that Christmas greeting from Woodstock, we have come to the end of this collection of A Charlie Brown Christmas coloring pictures to print. If you notice any of your friends or family members looking sad or depressed on Christmas, give them your company and try to cheer them up with your kindness. After all, the true spirit of Christmas is in being there for each other in our times of need and celebration.