I don't know a single person or kid who does not like the animated film Aladdin, which released way back in 1992. It had memorable characters, a solid plot and soothing background score and songs that created an immersive experience for the audience. Even today, after 27 years of its release, the film resonates with its audience because of its sheer timelessness. No wonder Disney decided to create a live action Aladdin film, which released a week back and has already taken the world by storm. And since the movie is a hit already, we decided to get our readers a collection of free printable Aladdin 2019 coloring pages.
Thrilling and vibrant "Aladdin" narrates the tale of a charming street rat Aladdin who falls in love with the princess of Agrabah, Jasmine. But how can a commoner marry a princess? Isn't that impossible? Well, no it isn't, especially when you have a ten thousand years old Genie by your site. Together, they also fight Jafar, an evil sorcerer who desires to marry Princess Jasmine. The film stars Mena Massoud as Aladdin, Will Smith as the Genie and Naomi Scott as Jasmine and is produced by Jonathan Eirich and Dan Lin.
12 Free Printable Aladdin 2019 Coloring Pages:
Take a look at the exciting collection of Aladdin 2019 coloring sheets to print released by Disney themselves.
A Whole New World:
We can totally hear the wonderful song through this magical coloring page. This illustration shows 'Prince' Aladdin showing the world to Princess Jasmine on his magic carpet. Princess Jasmine is startled to witness such magnificent beauty for the very first time.
to join this conversation on GitHub. Already have an account? Sign in to comment Footer © 2023 GitHub, Inc. Footer navigation Terms Privacy Security Status
Aladdin And Jasmine Meeting For The First Time:
This coloring page shows Aladdin and Jasmine meeting in the marketplace for the very first time. And Abu, being Abu, is stealing the bracelet from her hand. In case you're wondering about the context, this coloring picture illustrates the day Jasmine snuck out of the palace to discover her city.
Genie Distracting Dalia:
No kidding, but every guy would want to have a wingman as efficient as our Genie. In this picture, we see Genie dressed up as a Sultan to distract Dalia, Princess Jasmine's confidante, and handmaiden. And no points for guessing that he was successful in it.
Genie Leading Prince Aladdin: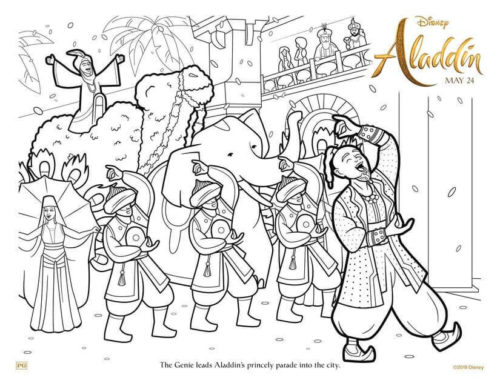 When Aladdin asked Genie to make him a king, Genie was a bit baffled, but when he heard how sincerely Aladdin loved Jasmine, he decided to help her. He transformed Aladdin into a handsome and rich prince and is seen here leading Aladdin's princely parade to the city.
Sultan And Jasmine Greeting The Unexpected Guest:
In this coloring page, we see the Sultan and Jasmine greeting Aladdin and his convoy. The father-daughter duo was quite surprised seeing Aladdin and so was Jafar and Dalia.
Jafar Hypnotizing Sultan:
Jafar was an evil sorcerer who wanted to marry Princess Jasmine by hook or crook so that he could rule Agrabah. He tried his level best to win over Jasmine and even hypnotized the Sultan so that he coerces his daughter into marrying him.
Aladdin Sneaking Into The Palace: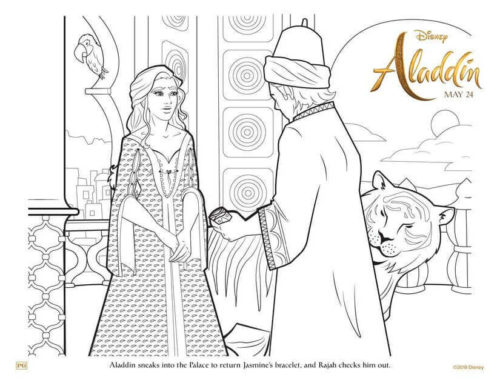 Abu had stolen princess Jasmine's bracelet when she went on a tour of Agrabah disguised as a commoner. And Aladdin took this as an opportunity to sneak into the palace to return the princess her bracelet. However, Rajah the tiger doesn't seem very pleased with it.
Aladdin Enters The Cave Of Wonders:
In this coloring page, we see Jafar sending the street urchin Aladdin to the Cave of Wonders to bring the magic lamp. But fate had something else planned because the Genie from the magic lamp considered Aladdin as his true master the moment the latter touched the lamp.
Aladdin Inviting Princess Jasmine On A Magic Carpet Ride:
This is probably one of the most magnificent scenes of the movie. It illustrates the time Aladdin invites Princess Jasmine to go on a magic carpet ride, but before that, she would have to step off the balcony.
Genie Released From The Lamp:
Here's another magical scene from the film, when Aladdin releases the Genie from the lamp just by touching it. See how surprised Ali and even the magic carpet look? And from that time onwards, Genie considers only Aladdin his true master.
Aladdin Finds The Lamp:
Here's the iconic scene from the film when Aladdin finds the lamp in the cave of wonders. And this very moment changes Aladdin's life forever.
Aladdin Captured:
This heartbreaking picture shows Aladdin captured by the guards of Agrabah Palace. But don't worry, he's a warrior and he will definitely get through this situation as well.
We are confident that you will enjoy filling these coloring pages of Aladdin 2019 as much as you loved watching the movie. And if you haven't watched the movie, these Aladdin 2019 colouring images will help you wait until you do. Don't forget to tell us how you liked the movie by commenting below.