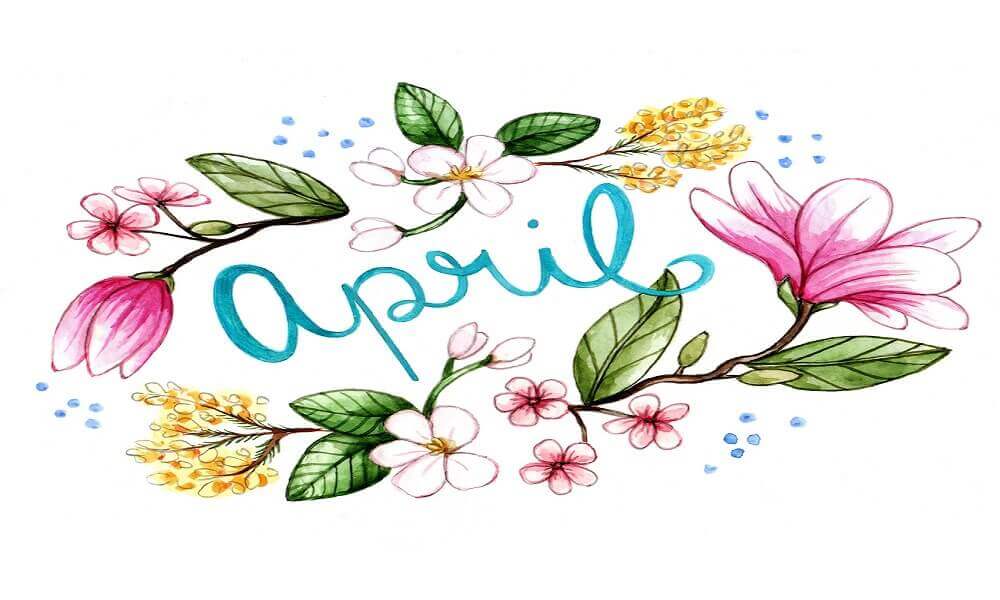 Hello there, young learners! The month of March of this year 2018 is about to bid adieu. And then shall arrive the first month of the year that has 30 days. Spring has just arrived and is about to be in full bloom in April! The first day by itself is quite exciting where we expect pranks from our friends as it the 'April Fool's Day'. Then there is Easter, and the Baseball Opening Day in the USA. Even Europe celebrates many Spring Festivals and Holy Weeks in this month. In India, it is the beginning of the fiscal year. Ahead we will see other special things about April in our free printable April coloring pages. Now let's color these April coloring sheets printable!
20 Free Printable April Coloring Pages:
April Activity Sheet:
As April begins with an All Fool's Day, we begin our April coloring pages article with a brainy test – a maze. Find how will you enter from one opening and leave from the opening in the opposite end without overlapping any of these solid lines.
Happy Easter Coloring Page: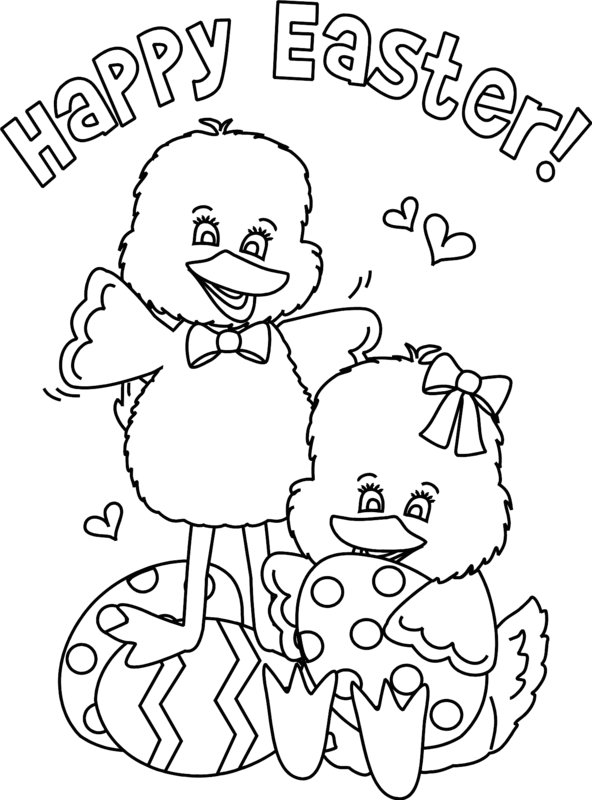 Next in the line of holidays is Easter. It is celebrated after Good Friday as a day of Resurrection of Jesus Christ after he was crucified on Good Friday. Egg hunting, Easter Bunnies, and Easter Parades are the other customs of celebrating Easter. Color this page in the colors of the celebration!
to join this conversation on GitHub. Already have an account? Sign in to comment Footer © 2023 GitHub, Inc. Footer navigation Terms Privacy Security Status
April Season Coloring Page:
April is also the month when the spring season reaches full bloom. This tree symbolizes the full glory of the spring season. The flowers, the beauty, and the butterflies together sum up. Fill in the colors that will glorify this season!
April Coloring Sheet For Toddlers: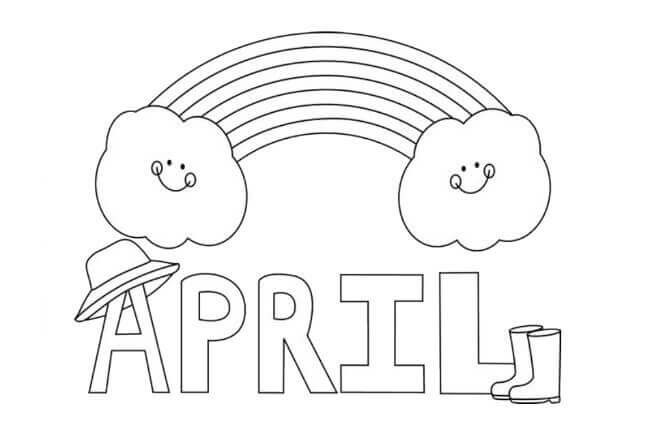 The month of April is marked by spring and the events related to it. This is the time when snow gives way to rains in the United States. Maybe it would be a good idea to have rain boots, a hat, and a camera to capture a rainbow!
April Time Weekends:
With warmth around and breezes softer than before, this month is ideal for flying kites. Many kids enjoy the season this way. This makes the sky colorful like the gardens around. Fill in the colors that make the picture look like spring.
April Fool's Day Coloring Page:
The first day of April is marked by jokes, pranks, and other similar events. The pranksters play the prank and in conclusion, shout out "April Fool"! The victim becomes the April Fool. Even the newspapers publish fake news this day. Color the different letters in different colors.
First April Warning: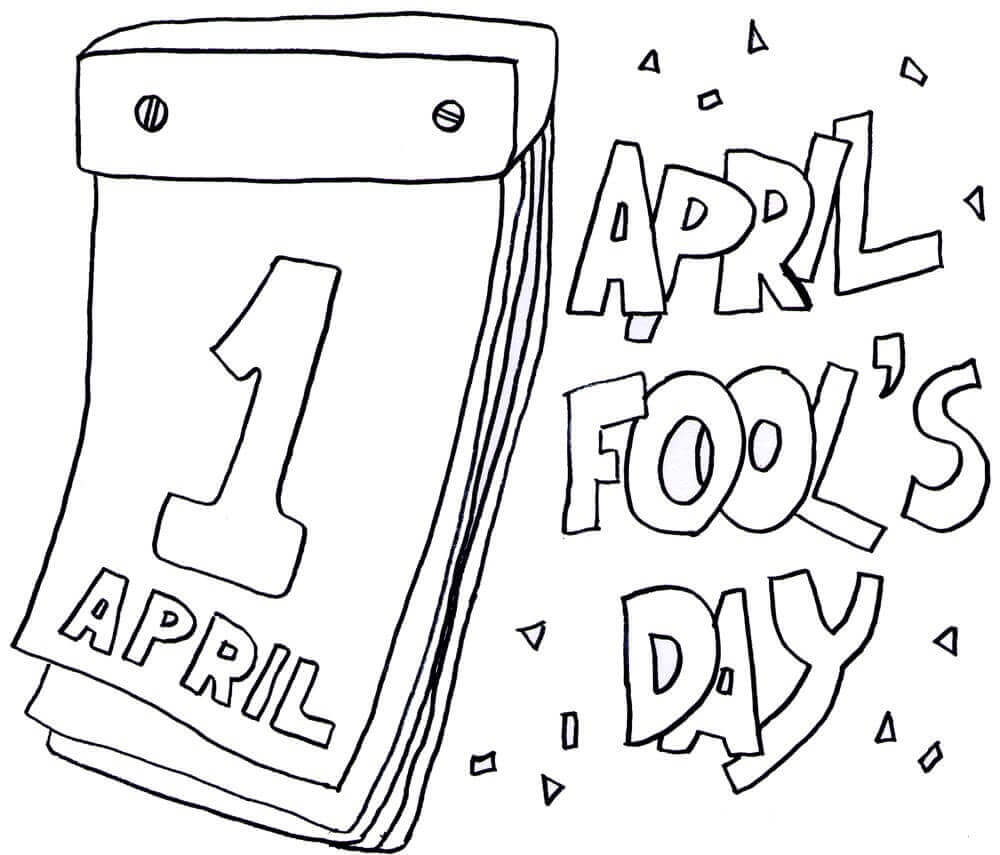 Everyone expects a prank or joke on this day. So they are in alert mode on seeing the calendar showing April 1. The origin of this event is still a mystery, but it ranges from Chaucer's The Canterbury Tales to Noah's Ark.
April Fools' Day Coloring Page:
The event is sometimes planned beforehand. People prepare pranks weeks in advance to take down their victim successfully. Why is this jokes' book reacting like a victim?
Hello April Coloring Page For Preschoolers: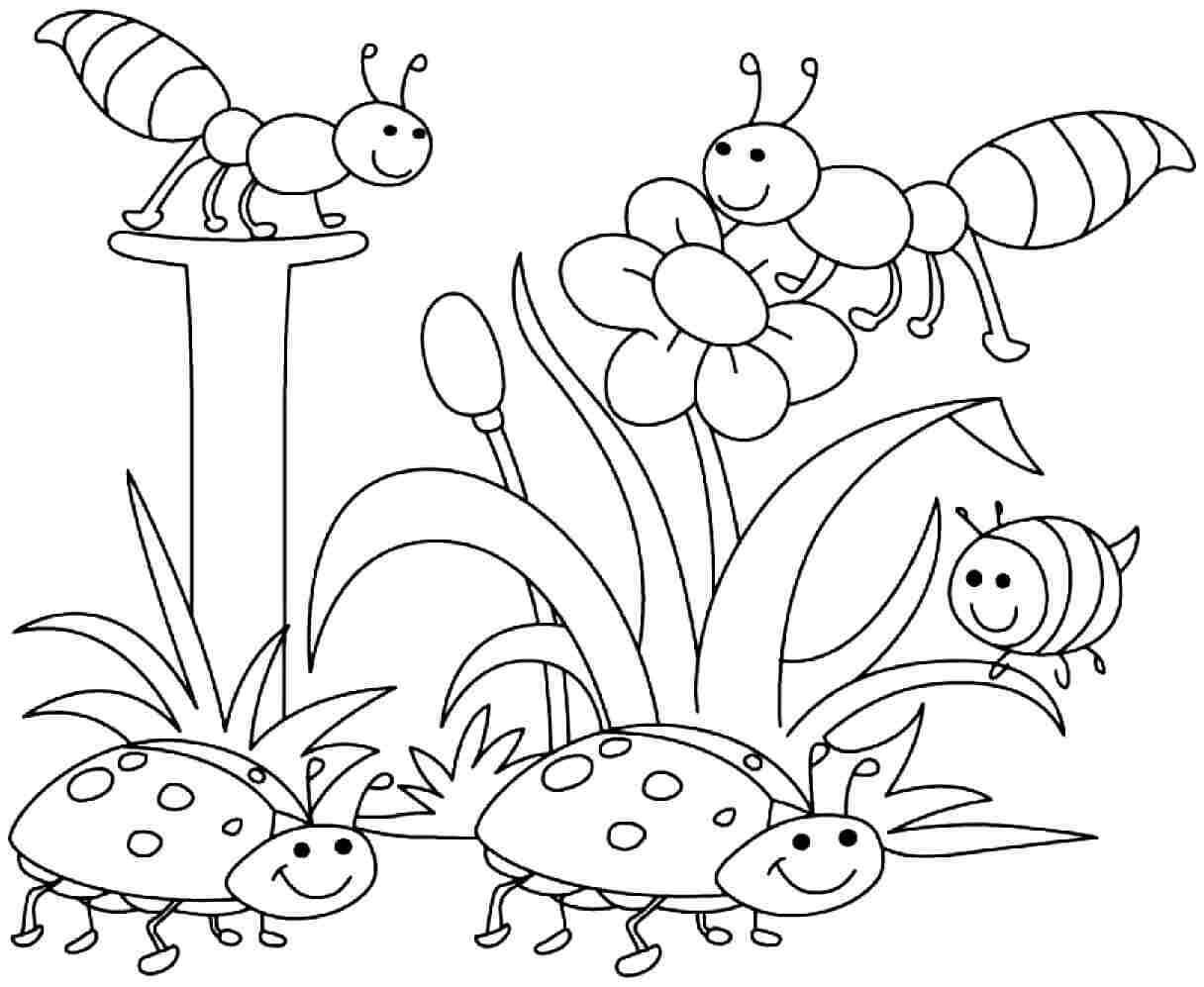 Spring brings out the beauty for entomologists too. Entomology is the study of insects, and April the best month to study them. Bees, ladybugs, ants, and butterflies appear in abundance.
April Month Rains Coloring Page:
Here are the verses from the Bible, Hosea 6:3, talking about how Lord will return just like spring rains that refreshes the Earth. Is this the reference to the Resurrection of Jesus Christ?
Daisy – The Flower Of The Month:
It is the flower of this month. It is a herbaceous perennial flower. It is not grown, but grows as an invasive weed. Though wild, they appear beautiful, like everything in spring!
April Shower May Flower Coloring Page: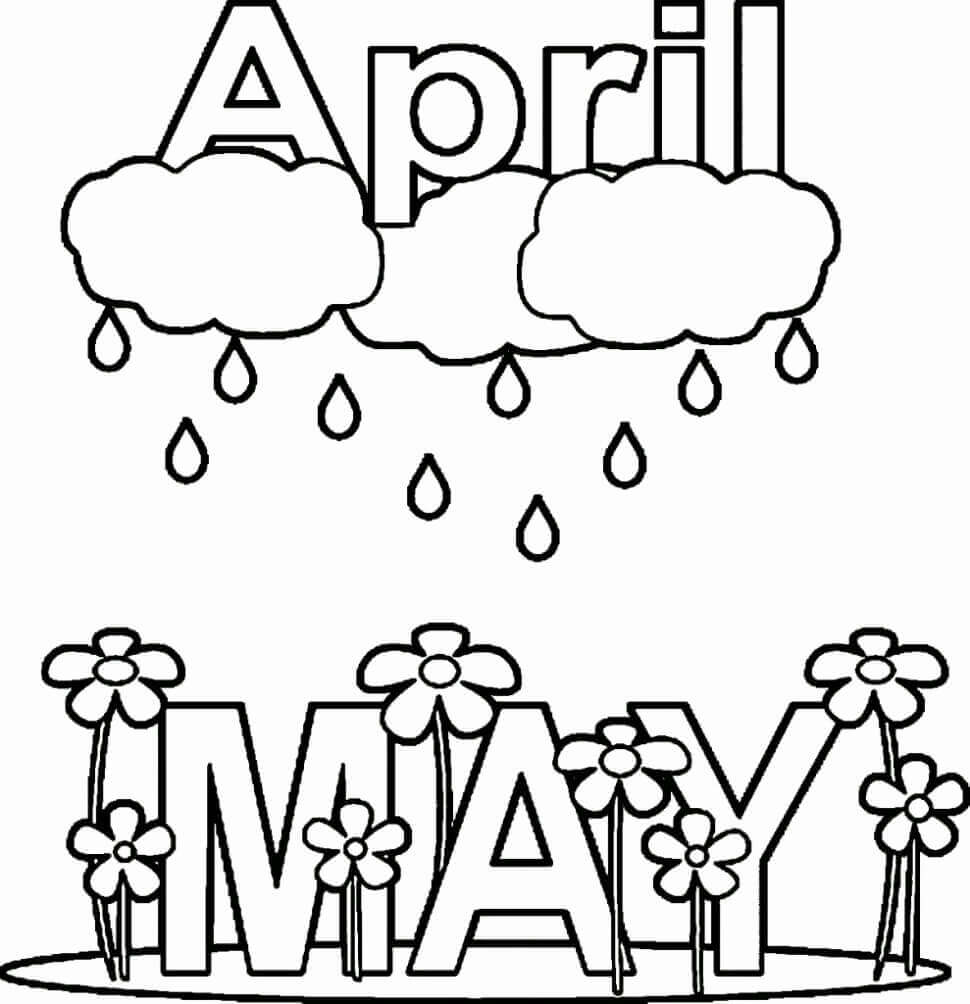 It is an old saying that "April Showers Bring May Flowers". This picture here is the pictorial representation of the same.
April Showers Coloring Page: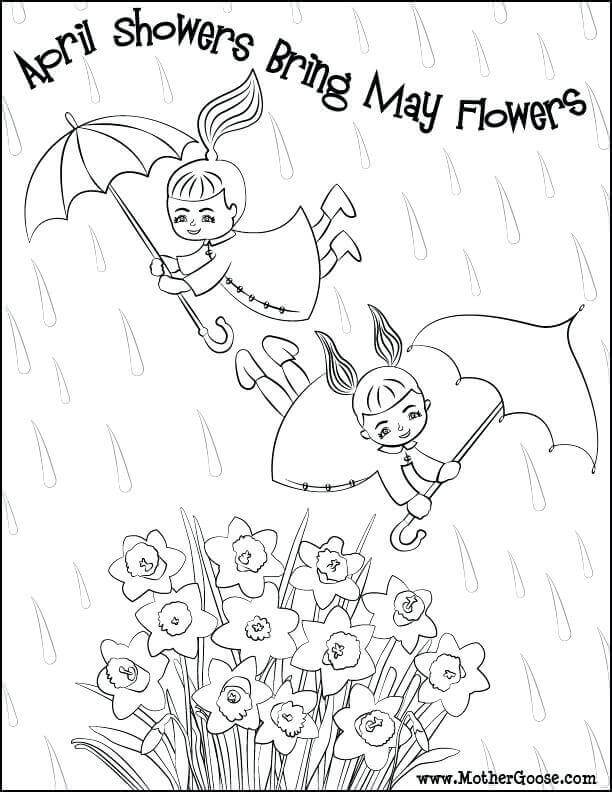 The showers of April indicate an increase in the mean temperature as snowfall has turned into rainfall. It is a relief from the cold chills. These showers further lead to a flowering month of May.
Steffi's April Shower: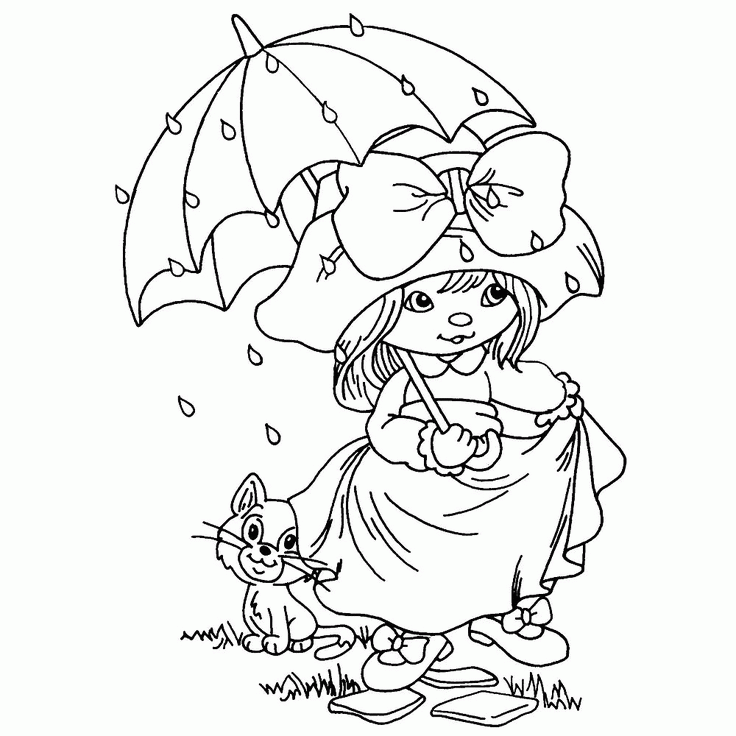 Steffi was out for a festival called National Cherry Blossom Festival. That is why she is so well dressed-up along with her kitty Brida. Thankfully she carried an umbrella knowing about the April showers.
April Calendar 2018 Coloring Page:
It looks like someone has planned a prank and marked the date of its execution. April 1, the All Fools' Day is a date everyone needs to beware of. Color it cautiously!
Famous April Saying: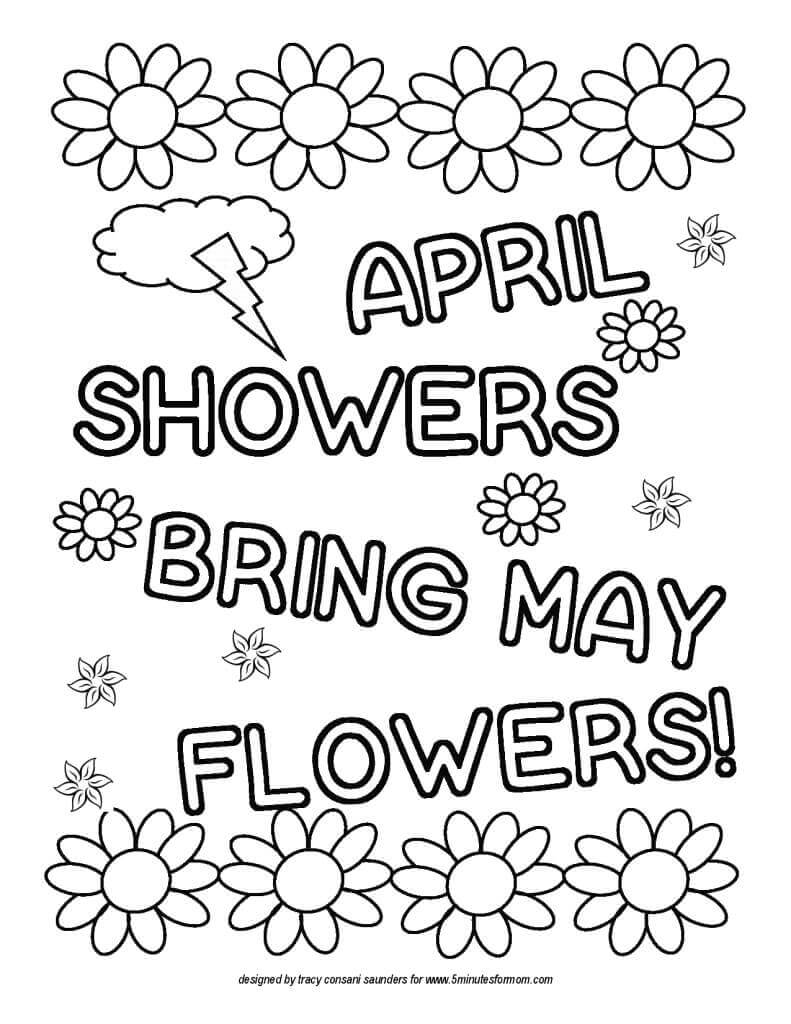 "April Showers bring May Flowers" is not just of a literal value. It has a metaphorical meaning too. It means that uncomfortable days will eventually lead to days of joy and happiness.
The Easter Bunny Coloring Page: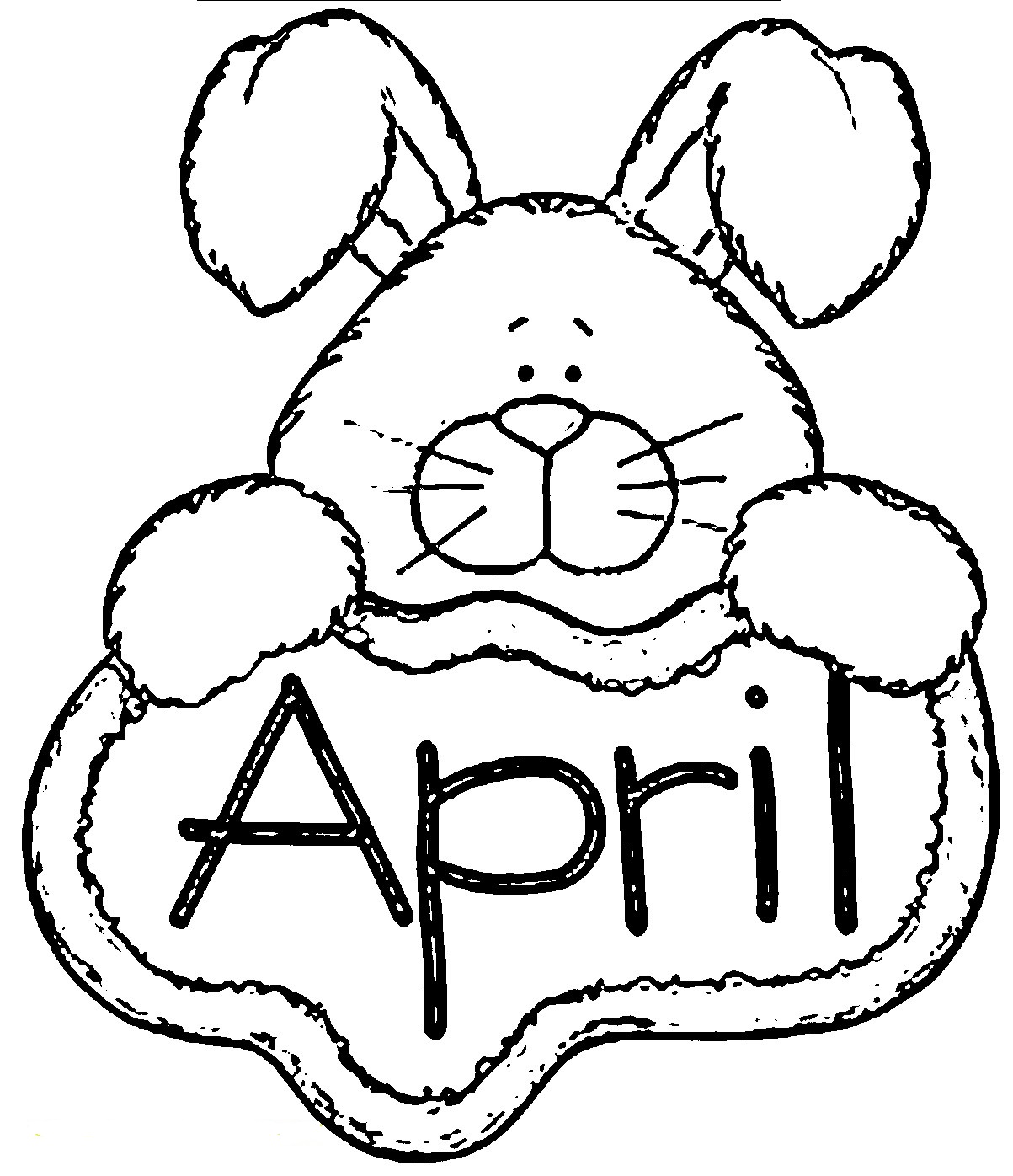 As per the myths, the Easter Hare was a judge of the character of kids. The German folklore says that the Hare carried colored Easter Eggs and candies in a basket, and gave it to good kids only. So will you get one?
Mickey Mouse's April:
Everyone enjoys spring and the shower it brings. Here, one of the world's most famous cartoon characters Mickey Mouse is enjoying the spring shower under his umbrella. Color him with joy!
[ Related: Mickey Mouse Coloring Pages ]
Earth Day Coloring Page:
Arguably the most significant day in April is April 22, Earth Day. Earth is special as, throughout the discovered portions of outer space, only Earth seems to have life. This day is dedicated to supporting it by supporting environmental protection. This includes cleanliness drives and awareness camps.
[ Related: Earth Day Coloring Pages ]
Patriots' Day Coloring Page:
The third Monday of every April is celebrated as Patriots' Day, commemorating the anniversary of the first battles of the American Revolutionary War. The biggest celebration is the Boston Marathon run by many patriots. So color this picture with American glory!
April 2021 Coloring Page:
For the new year, we've got our very special readers an April 2021 coloring picture. Hope you'll enjoy filling it.
    As we saw, April marks the transition of seasons and celebrations related to the same. It is both holy and beautiful, as both kinds of celebrations occur during this time. What makes April special for you? Think about it while coloring these free printable April coloring pages! And don't forget to share your favorite April coloring sheets to print below.