Welcome, young artists! How was your month of July? Should have been amazing – especially with the July coloring pages that had been uploaded on ScribbleFun. But now that the amazing month has passed away, and it's time to fill amazing free printable August coloring pages.
August is home to dozens of festivities – including those such as the Indian Independence, Victory Day, World Lizard Day amongst others. Clearly, we await an amazing month, and hope that it will pass with glories and happiness over-filling us with content! So, let's paint up the August month coloring sheets to print with the most attractive and vibrant colors!
15 Free Printable August Coloring Pages:
15th August – The Independence of India: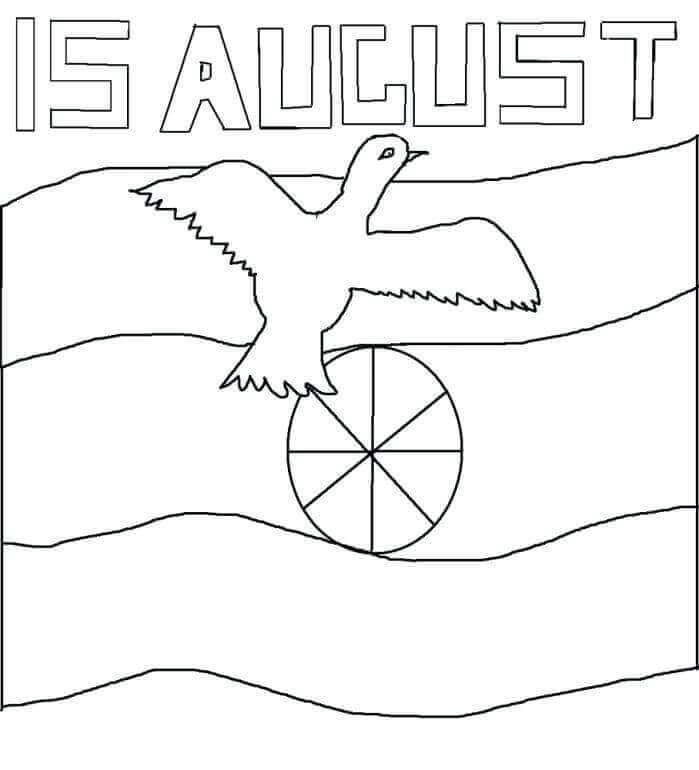 15th August is the Independence Day of India. India's freedom from the British Empire was in the year 1947 and the whole of India enjoys their Independence Day with flag hoisting, patriotic Songs, music, and speeches by the President and Prime Minister of the country, fireworks, and a whole list of entertaining events. The Indians consider this day of extreme importance, so make sure that you color this flag accurately. Also, notice the white dove in the image. The dove is a symbol of peace and harmony – as they are extremely calm and composed beings. India strives to be as peaceful and calm as the doves. So, also keep in mind the dove is colored to perfection!
to join this conversation on GitHub. Already have an account? Sign in to comment Footer © 2023 GitHub, Inc. Footer navigation Terms Privacy Security Status
August 2018 Coloring Page Printable:
Here is the calendar for August, and anyone who has a tight schedule (like myself!) needs a calendar to organize their events and appointments. But you can make more of this calendar, by also noting the important festivals and ceremonies that are going to take place in the month, so that you don't lose upon a single point of happiness! Color the bordering objects of the calendar using eye-catchy colors, and paste them firmly onto your cupboard, so that anyone who sees it is awestruck instantly!
The Seasons In August:
While June and July are seasons of summer and rain, and September and October are the fall (or autumn) seasons, August is a transition between the two seasons. It's quite funny – the weather in August. In August, the season gradually shifts from sunny to Autumn. In this image, you can see the sun and the slight drizzling of rain, with a happy plant – representing the season. Color the landscape to beauty.
Rainy August Coloring Page: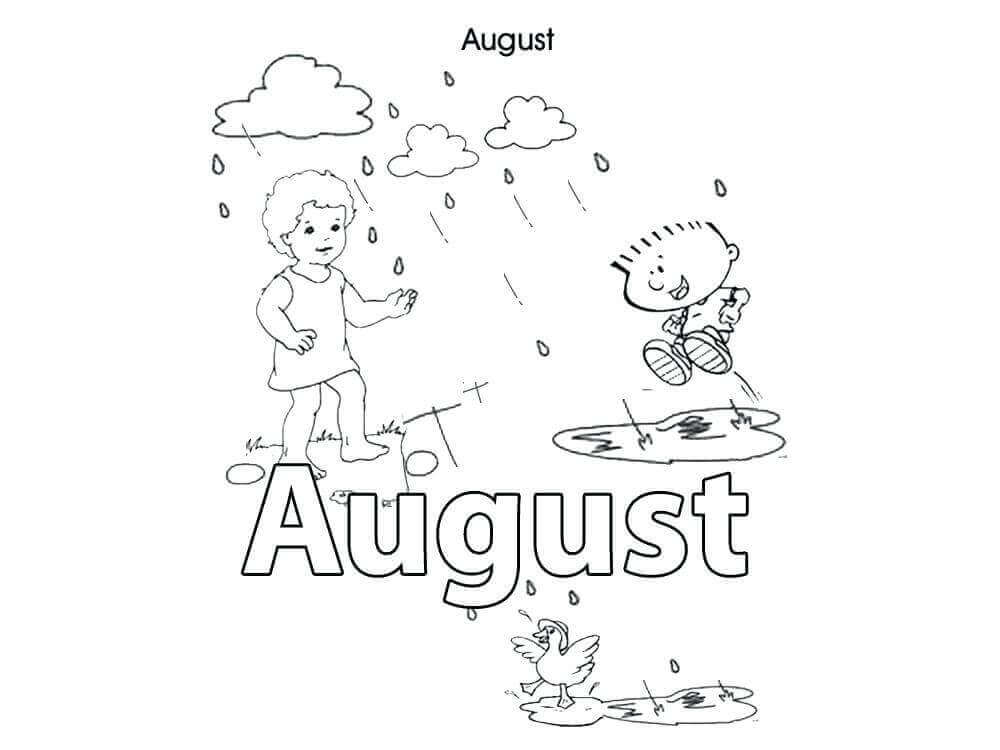 August season generally does see the end of the rain, which is why most people – including me – like to enjoy the last few days of rain. In this image, you have a girl, a boy, and a duck all enjoying the rain's end. We all know that rain will take another year to come back, and therefore, rejoice in the last moments of natural dripping of water. Add some hues to this wonderful image and give your goodbyes to rain in a unique way!
[Related: Rain Coloring Pages ]
Free August Coloring Image:
Well, as the fall season is about to arrive, Mr. Bunny here is ensuring that he farms all his fruits and vegetables – and carrots in particular! – so that they can yield them just in time, and have a relaxing August with enough food to survive the next few months to come. Color Mr. Bunny's vegetables and fruits with precision, to ensure his yield is not toxic!
A Robotic August Coloring Picture:
Well, now that the world is becoming digital as the clock ticks away, it appears that in the future – maybe 20 Augusts later (sounds funny), even robots will be able to enjoy the month of August. Here is an illustration of the future – and I am particularly fond of it – that shows how the robots might choose to spend their August holidays.
August Poppy Coloring Sheet:
Poppy is an amazing flower with fancy petals and milk sap! It looks just amazing with its unique design and gorgeous curves. Here is a Poppy in the month of August. It knows that rain is about to go and fall (or autumn) is about to arrive. Before the Poppy has all its petals shed in the fall, it expects to show its viewers some amazing colors in the few days it has. That's in your hand – so make this Poppy look flamboyant using your brilliant artistic techniques!
Back To School Coloring Page:
In most of the countries – including the USA and the UK – July is generally the last month of the summer break, and school starts in August. Well, I know how you feel now, but here's a tip: you just know that you have to go back to school, so instead of feeling all sad about it (which will lead to nothing), just try to enjoy going to the school. Now, this is a bit hard, but since you have no other options, you can try this out! One method of enjoying is printing this image, coloring it superbly, and pasting it onto your school locker to show off your expert skills!
[Related: Back To School Coloring Pages ]
Bennington Battle Day Printable:
The Bennington Battle Day is a state holiday in Vermont, a northeastern state of the US. It celebrates the victory of America over the British force in 1777. The holiday occurs on 16th August every year. Color the Bennington Battle Day image with glory and pride! 
The Fruits of August:
Did you realize when do you eat the most fruits? It's no doubt in August! Everyone – the whole world – eats fruits such as watermelons and strawberries in August simply because they know it's coming to an end, and because you get fruits really fresh this season! Before you eat your fruits though, control your temptation and color this image delicious!
Free Printable August Poster: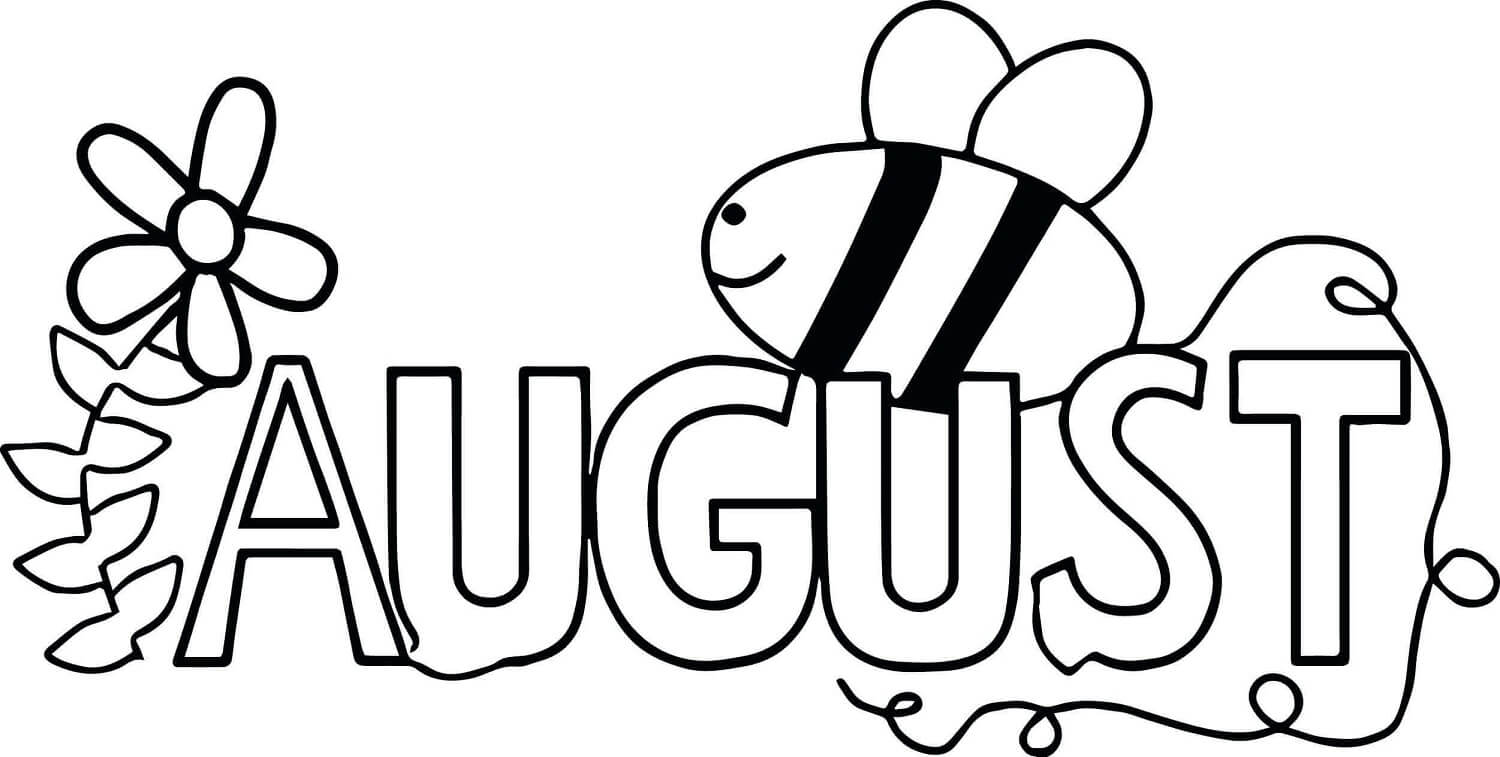 Here is a printable August poster. You can show your love for August by brilliantly coloring this image. Color it to perfection and show the world your August poster!
Hawaiian Statehood Day: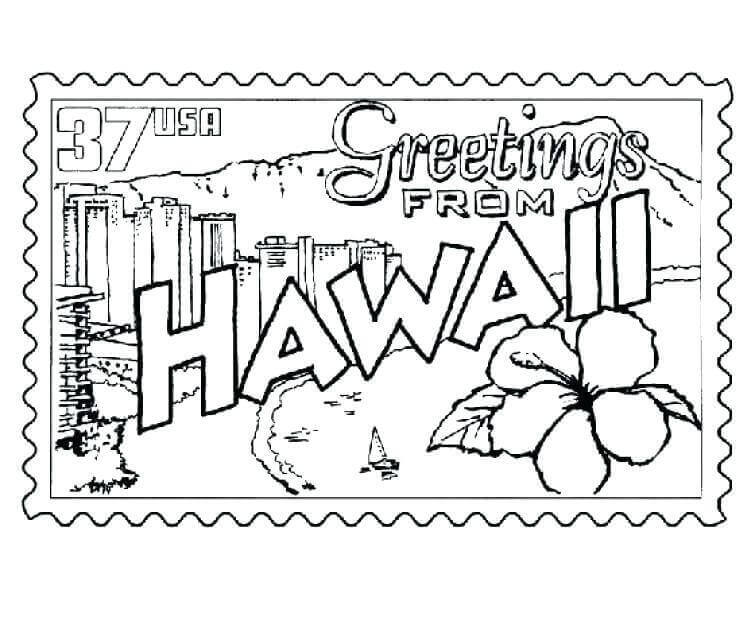 Hawaiian Statehood Day is a state holiday in Hawaii. It is celebrated on the third Friday every August to celebrate Hawaii's declaration as a state in 1959.
Lyndon Baines Johnson Day Coloring Sheet:
Lyndon Baines Johnson day marks the birthday of U.S. president Mr. L. B. Johnson, on 27th August every year. Clearly, the President is a very important post, and you would want to color this image as good as the president was himself!
The Victory Day:
Hitler's Nazi Party surrendered on Victory Day (hence the name), in Germany in 1945. Many countries celebrate this day as it marked the end of Hitler's tyranny. Color the crown and the V with the golden color to make it look victorious!
World Lizard Day:
Everyone looks at Lizards differently. Some are not afraid of them, someone like them, and most of the people – well – are afraid of them! And yet, all of us shall celebrate World Lizard Day on the 14th of August, to credit the lizards for standing the test of time and lasting ever since the age of dinosaurs until today!
There's August at a glance, artists! Doesn't it just seem so exciting? The one month I cannot wait every year in August! And to make your August special this year, fill each of these August coloring pictures and share with us which was your best artwork, down in the comments!