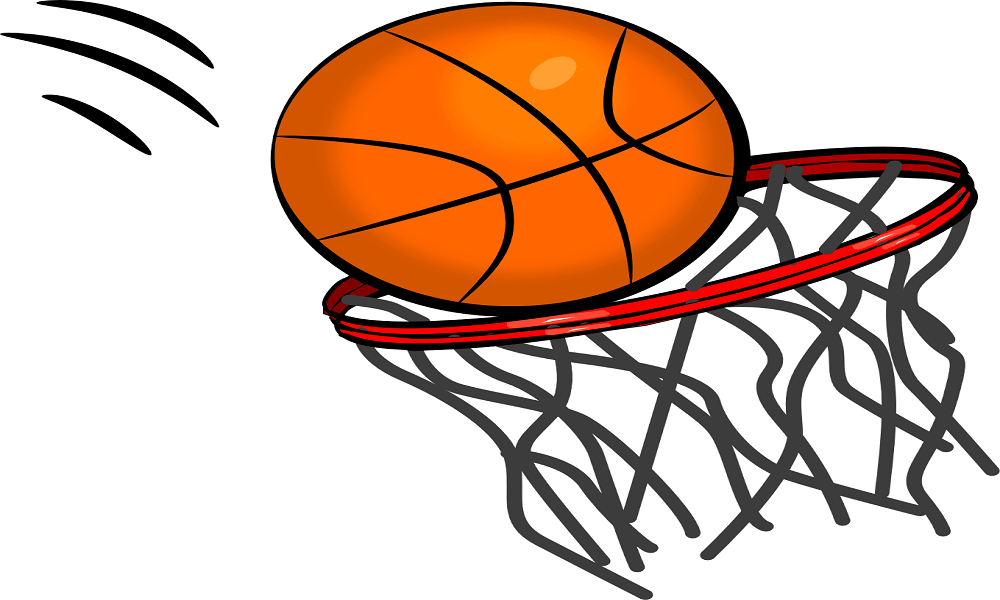 Hey, there young pals! Do you know basketball is the 2nd most popular sport in the world after football? Basketball is a limited-contact team sport played with five players on each side. The positions are- Point guard, Shooting guard, Small forward, Power forward, and Center. It is mainly played on indoor courts but is also played on an outdoor court in the case of streetball. The National Basketball Association (NBA) is the most significant professional league in the world while the FIBA Basketball World Cup and Men's Olympic Basketball Tournament are the major international events. NBA was formed after the merger of two leagues namely- NBL (National Basketball League) and BAA (Basketball Association of America). Let's learn about this sport while coloring it with passion at the same time with our free printable basketball coloring pages. Check out our collection of free basketball coloring pages to print below.
Free Printable Basketball Coloring Pages: 
Basketball Coloring Page: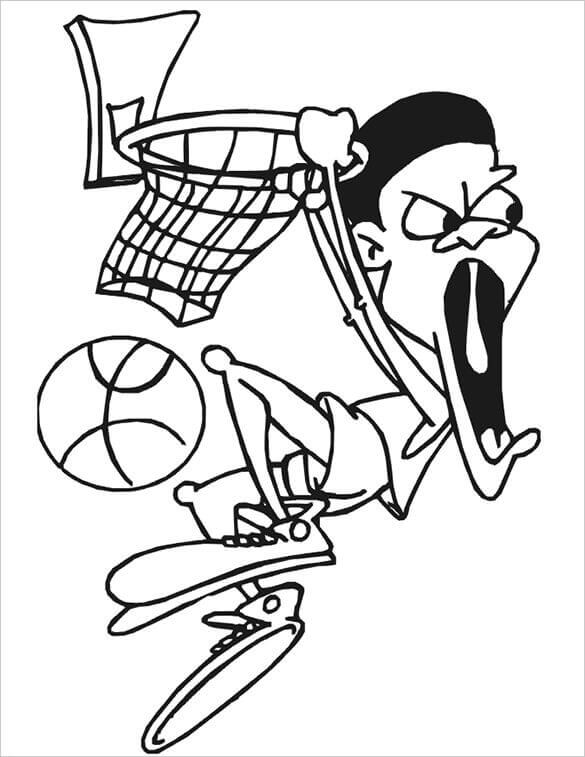 Tim's really happy that he scored for his team, although he looks like he's screaming. He is screaming with happiness and excitement because he has scored a late winner with the help of his teammates. This is what basketball is about; Team and passion. Let's highlight this emotion with wonderful colors.
The Slam Dunk Coloring Page:
A Slam dunk is a type of shot in basketball where a player makes a jump in the air and scores by putting the ball directly through the basket. Nate Robinson is the only player to win the most number of Slam Dunk Contest (3 times) held by the NBA. Perhaps this guy is another Nate in the making. Color this future NBA star.
to join this conversation on GitHub. Already have an account? Sign in to comment Footer © 2023 GitHub, Inc. Footer navigation Terms Privacy Security Status
Basketball Colouring Page for Preschoolers:
Little Johnny here is a huge basketball fan, especially Tyler Ennis' fan. Isn't his uniform number (11) enough to prove this? Whenever Johnny plays basketball he feels elated. Sure he'll grow up to be as tall as Tyler if he continues to play this way. But for now, color him with dazzling colors.
One-on-One Basketball Match: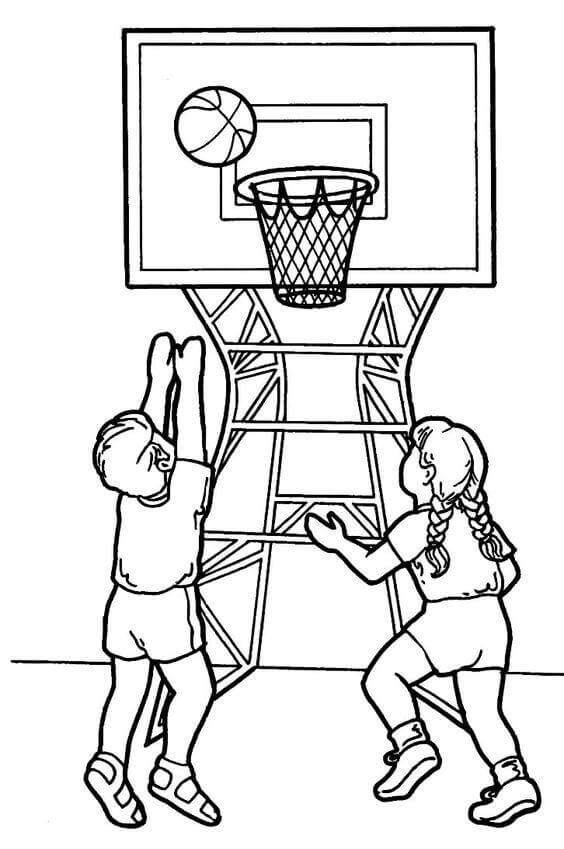 While playing with five players on each side is very common, basketball can also be played one-on-one, like Ross and Mon are playing here. In this, the rules are quite different than normal basketball games. Each one-on-one game is 9 points or 5 minutes long whereas NBA League games have 4 quarters each of 12 minutes.
Rachel and Her Best Friend Coloring Page:
Who is Rachel's best friend? Everybody wondered. Well, it was basketball, always has been. Whenever she felt sad, she would turn towards basketball and it never failed to lift her spirits up. She has improved her game over the years by playing with her neighbors, classmates, and even alone sometimes.
Basketball Match Coloring Page:
Liberty High is having a basketball match in their school. Even though it's a friendly match, the players take it very seriously. After all it will only improve their skills. The students of the school don't miss any basketball match too, no matter if it is a friendly match or a competitive match.
Basketball Net Coloring Page:
In basketball, points are scored if the ball is shot through the net or hoop which is 18 inches in diameter and 10 feet high. The hoop is mounted to a backboard at each end of the court. Depending upon the position from which a player shoots, points are given; it may be either 2 or 3 points. One can score only when the ball is shot in the opponent's basket.
Basketball Player Coloring Page: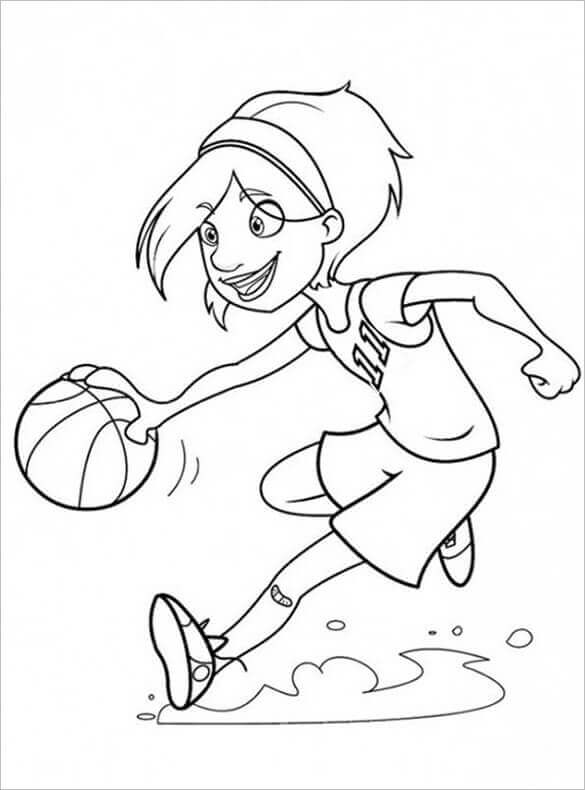 If you have aspirations to become a professional NBA player, there are several factors- some of them may be in your control; some may not- that will determine your future as a player. But the most important factor is tall height. This is because the basketball hoop is 10 feet high; so the taller you are, the more advantage you will have.
Basketball Shoes Coloring Page:
Basketball shoes are also called sneakers. These shoes have a rubber sole and are moderately flat. Indoor basketball shoes have thinner rubber which makes them lightweight for quick movement. These soles have maximum shock absorption and moderate flexibility.
The Essential- Ball: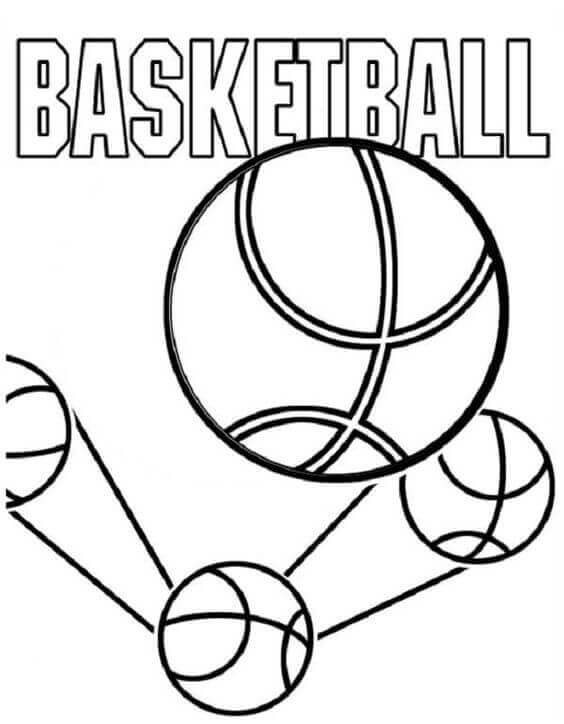 The only necessary equipment in a basketball game is the ball and the court. How else will you play then? These balls are orange in color and typically range in size from few inches in diameter to nearly a foot. A basketball, during the game, must continuously dribble and thus, must have accurate pressure.
Child Playing Basketball Coloring Page:
This is Dean. He is only 6 years old but he loves playing basketball and plays better than most of the kids his age. I think it is in his DNA as his father is a professional player. He too wishes to play like his dad one day. For this, he has already started his practice. Let's fill this sheet with flying colors.
Cute Basketball Coloring Image:
They are called the 3 Musketeers, like the historical novel written by a French author. Unlike its characters, these teddy bears are extremely adorable. Surprisingly they are very good too. Luke in the middle, although the shortest, is the best shooter out of all the three.
Disney Basketball Coloring Sheet: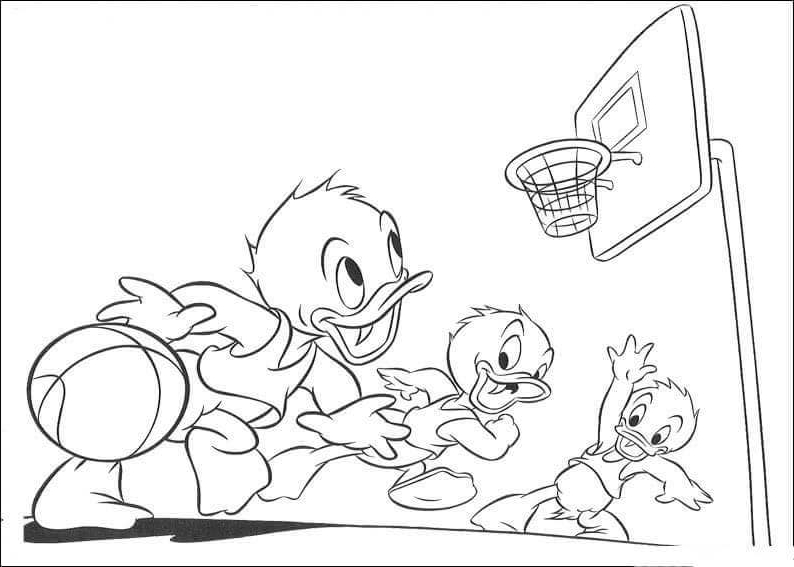 You know Donald Duck right? We all do; his voice and adorable looks are just impossible to hate. There is a Disney Sports Basketball video game wherein Donald Duck has his own team called "The Seaducks". Basketball never got cuter. Let's color these adorable Disney Ducks.
Elmo Basketball Coloring Picture:
Elmo is a red furry red monster muppet on the show Sesame Street. Everyone is fond of his falsetto voice. He, however, looks confused. He's pondering, "To play or not to play, that is the question." Would you recommend him to play?
Playing With Pals:
Chris loves to hang out with his friends. They always try to spare a few minutes to play basketball and improve their game. All of them hope to be scouted from their college team and play professionally. It's always a pleasure to play with friends, isn't it? Especially a game you are so fond of.
On the Way to Score: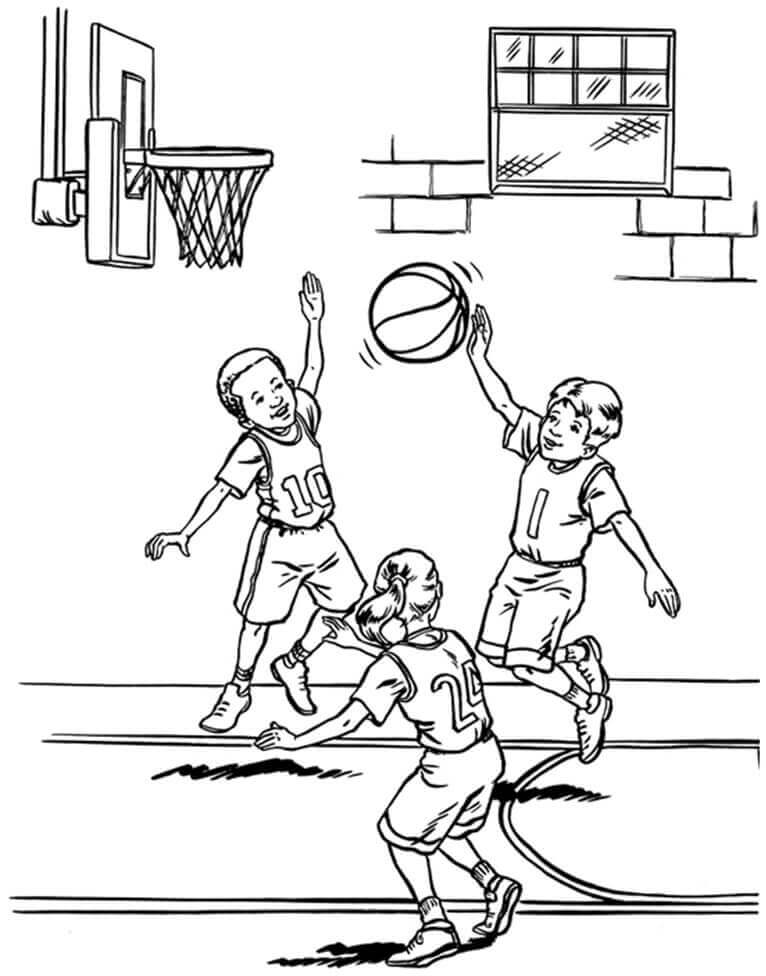 There is a basketball match going here and the game is in its fourth quarter with only a few seconds remaining. Steph is on his way to score for his team. Do you think he will score and help his team in these dying seconds? Color it in.
Dino and Ball Coloring Page: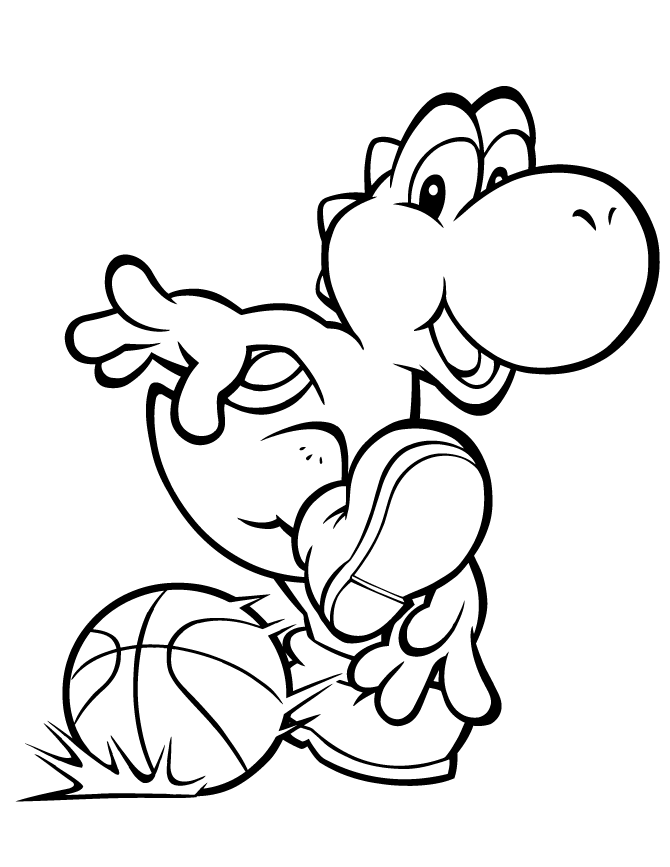 Dinosaurs are very cute in imagination but extinct in reality. This cute imagination makes us love them, like this dino here. He looks smart in his basketball uniform and sneakers and excited to play one of the world's most popular sports. Color this dino happy.
 [  Read: Dinosaurs Coloring Pages ]
Funny Basketball Coloring Page:
Hope till now you have understood that in this game points are scored after the ball is put through the hoop. But here the case is different. Eddie is very notorious who always plays pranks on his friends, but today his friends decided to turn things around a little bit. As a result, his friends have thrown him in the hoop rather than the ball. Funny isn't it?
Garfield Basketball Coloring Page:
Garfield is a comic strip that highlights Garfield's (the cat) laziness, obsessive eating and his disdain for any exertion or work. Despite all this, here you can see Garfield's swag after he scored. He is pointing at you as if asking, "Can you do this?" Color this swag with awesome hues.
Goofy Playing Basketball Coloring Page:
Goofy is a tall, funny animal character created by Disney. I'm sure you know him. Double Dribble is a movie that features Goofy. It spoofs the sport of Basketball. So if you love Goofy, do not miss this movie. I'm sure his height gives him an advantage over all the other Disney characters.
 [  Read: Goofy Coloring Pages ]
Hello Kitty Basketball Coloring Page:
Hello Kitty is a 3rd-grade student. According to her creator, she is not a cat but a fictional cartoon character. She always wears a cute little bow. Hard to imagine her playing basketball, but hey, basketball can be played by anyone including you.
 [  Read: Hello Kitty Coloring Pages ]
Jordan Basketball Shoes Coloring Page:
Air Jordan is a brand of basketball footwear and athletic clothing produced by Nike. It was created for former basketball player Michael Jordan who still is regarded as the best player of all time. These Air sneakers were produced exclusively for him before it was released to the public. This brand currently sponsors many active NBA players.
Lego Basketball Coloring Page:
Lego is an animated comedy film series based on Lego construction toys. The Lego Basketball theme was licensed in NBA in 2003. They have spring-loaded legs and specially designed hands so players can shoot, pass and even reverse slam dunk. They are ready for any opponent, as can be seen from their expressions.
Mickey and Donald Playing Basketball Coloring Page:
Name a more iconic duo than Mickey and Donald, I'll wait. These two Disney characters are loved a lot because of their adorable looks. Not only this, they are talented as well, as you can see. They can play basketball. What can't they do? Aren't Donald and Mickey looking innocent? Color them with the best hues.
 [  Read: Mickey Mouse Coloring Pages ]
Minion Basketball Coloring Page: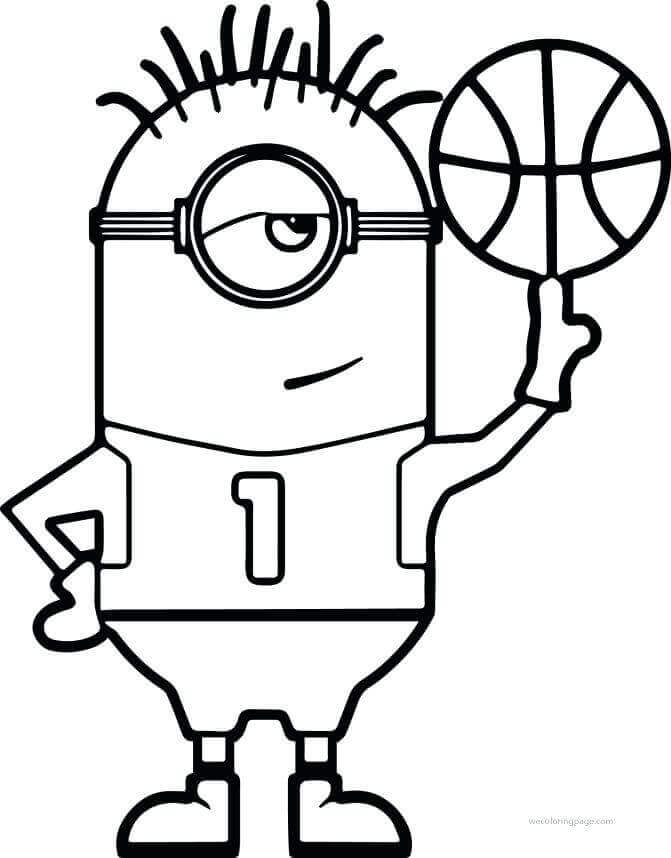 Everyone is in love with Minions. These fictional, yellow creatures with a unique language and child-like behavior are just irresistible. This minion is named Kevin and like all his other friends looks absolutely stunning. I'm sure his love for bananas will help him become a strong basketball player.
 [  Read: Minions Coloring Pages ]
NBA Basketball Coloring Page: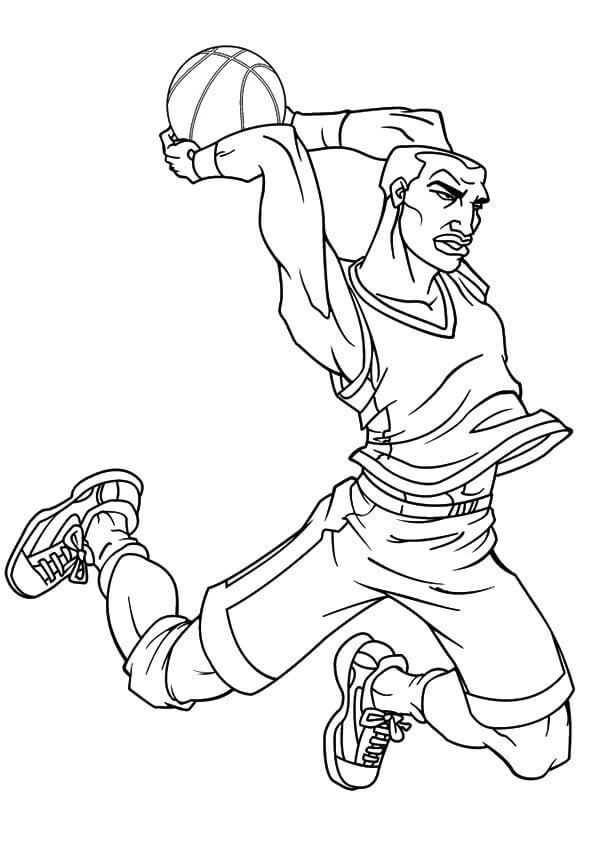 NBA is a men's professional basketball league of America which has 30 teams in it. Out of these 30 teams, 1 is Canadian. It currently is the national governing body for basketball in the US. It is said that NBA players are the world's best-paid athletes. This league not only has American or Canadian players but also foreign players from countries like Germany, Croatia, Serbia, and many more.
Elephant Basketball Coloring Page: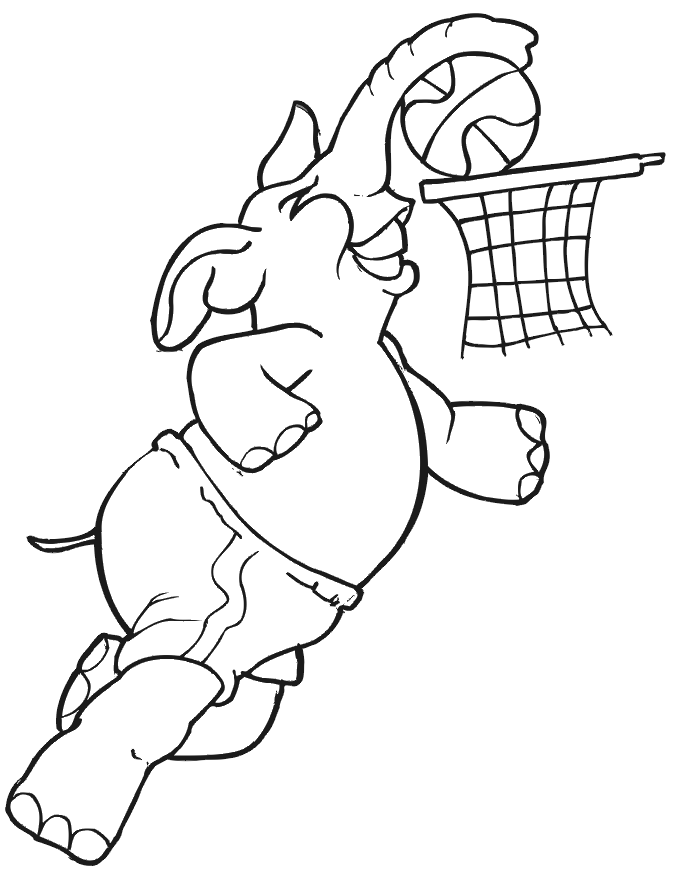 An elephant's most distinctive feature is its long truck which it uses for many purposes. Jumbo-the elephant here is using his trunk for a unique slam dunk. He sure is talented to do this with the trunk instead of his hands. He surely is a threat to many NBA players. Color the sheet to show him your talent too.
 [  Read: Elephant Coloring Pages ]
Realistic Basketball Coloring Page: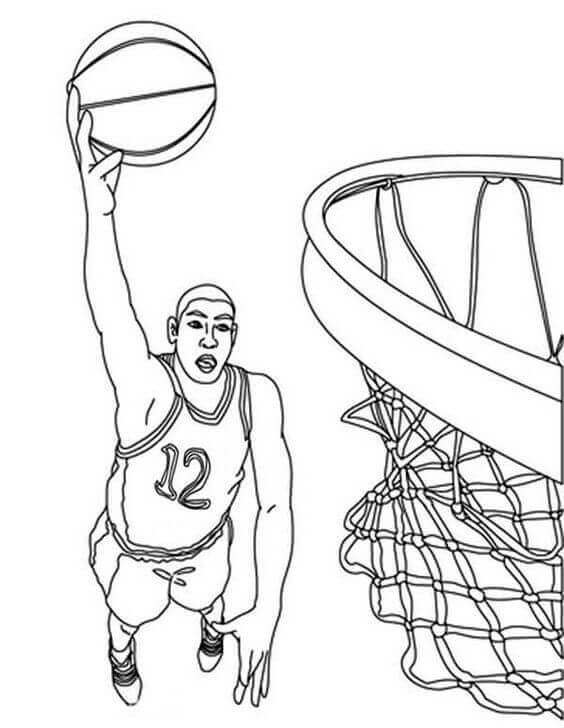 Recognize this uniform number? It is Michael Jordan's when he played for Chicago Bulls. Like him, I think this guy is also going for a slam dunk. After all, Michael's slam dunks are quite famous. Michael Jordan is considered a legend in the world of basketball. His record score is still unbroken in the NBA. Michael Jordan led the US team in the Olympics which won 2 gold medals.
Tiger Playing Basketball Coloring Image: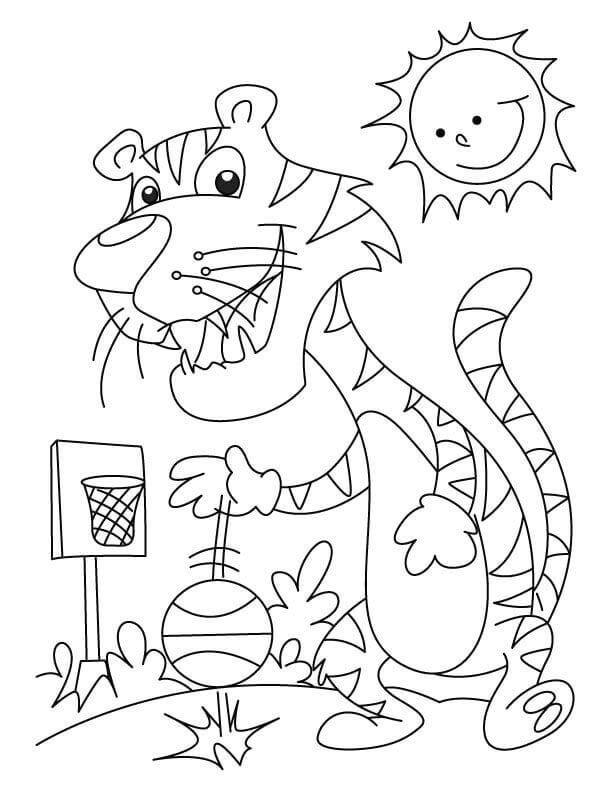 Tigers are the largest cat species. Although they are wild animals, this tiger named Oliver is very friendly. He likes playing basketball. A tiger's pace, strength, aggressiveness, and agility will definitely help him. Let's color him with the best possible hues.
 [  Read: Tiger Coloring Pages ]
Winnie the Pooh and Friends Playing Basketball Coloring Sheet:
Other than honey, Pooh also likes to play basketball with his friends- Piglet and Tigger. Pooh and Tigger are helping Piglet to score as he is too short for it. This is what sports like basketball teaches us- team spirit and helping others selflessly.
The idiom-"All work and no play makes Jack a dull boy" is very true. Basketball, like all the other sports, helps in strengthening bone and the immune system. Apart from being a fast-paced game, basketball is also a mind game. It requires you to think on your toes. It helps you to develop self-discipline as you have to follow rules. The benefits are numerous.
It is said that no sport in the world can surpass Football's popularity but Basketball does have a scope to establish itself as the second biggest sport in the world. For now, get all these basketball coloring pages printable printed and color them with your vivid imagination.