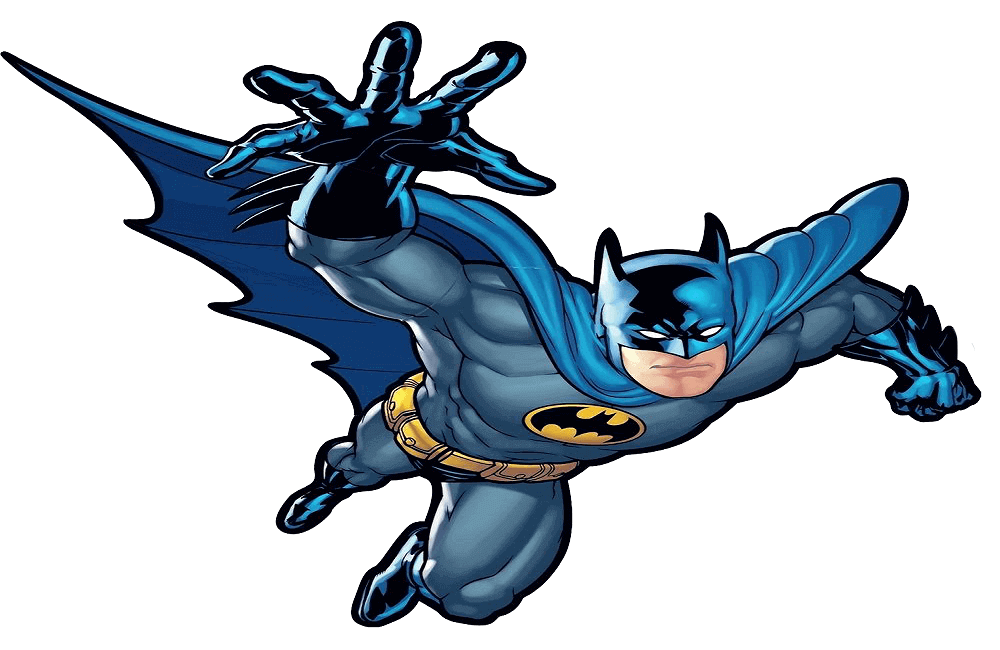 Hello kids! Hope the year has been good for you so far and you are having a great time. Did you enjoy filling the superheroes in the Avengers coloring pages? If yes, we have something exciting for you this time as well. Today, we have for you the Batman coloring pages printable.
Belonging to the DC Comics world, Batman is a superhero also known as Bruce Wayne, owner of the Wayne Enterprises in the Gotham city. The caped superhero has been fighting the bad guys for decades, whether in the original comics series or on TV and movie adaptations. You can discover more about this dark knight superhero in this collection of Batman coloring sheets to print.
30 Free Batman Coloring Pages Printable
Batman And Alfred Pennyworth Fixing His Batmobile:
Taking care of the Wayne estate all his life, here is Alfred Pennyworth helping Batman as he tries to fix something that is not working in his ever-famous Batmobile. Yes, even though he is a superhero, he still needs taking care of as well as taking care of the mechanical repair of his vehicles.
to join this conversation on GitHub. Already have an account? Sign in to comment Footer © 2023 GitHub, Inc. Footer navigation Terms Privacy Security Status
Batman Chasing Joker Coloring Page:
Perhaps one of Batman's most ruthless nemesis is Joker, the twisted psychopath. In this illustration, you can see how fierce and menacing Joker is looking, as he tries to get away from Batman during one of their dangerous encounters. Batman has broken through the window to catch Joker. Print this page and add thrilling colors to this scene.
Poison Ivy Ties Batman With Her Poisonous Ivy:
One of the many villains in Batman's life was the deathly Poison Ivy. As the name suggests she had the power of poison. Looks like she has managed to tie down Batman with her poison ivy branches. You can think of ways to help him while you print and color this page.
Batman And Robin – His Loyal Sidekick:
Batman has been fighting crime and injustice for a long time. But from time to time he has had some help from his friends and allies. The most consistent among them is Robin, someone he has taught and trained. You can let them know you appreciate their fight by printing and coloring this page in great detail.
Batman And Spiderman – Two Comics Worlds Collide:
These are two superheroes belonging to two different comics world, Marvel Comics and DC Comics which does not interact at all. Except on rare occasions like the time when DC's Batman and Marvel's Spiderman came together for a comics issue. Give this rare illustration of your respected coloring skills.
Batman And Superman – Dawn Of Justice:
Here are two superheroes, Batman and Superman, belonging to the same world – DC Comics. They are both part of the Justice League, a team of superheroes who come together to fight crime and injustice that a single superhero might not be able to overcome.
The Underbelly of Gotham City: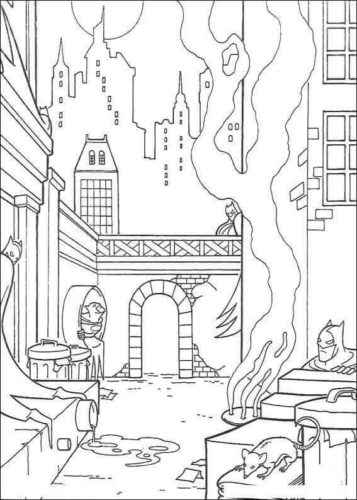 The underbelly of most modern cities which has seen fast corruption-led progress and growth, tend to be neglected and deprecated like the underbelly of the Gotham city. Having had accidentally witnessed the world on the night of a huge personal loss, it was how the story began of how Bruce Wayne became Batman.
Batman Standing Tall Against Crime:
It was never an easy task to become a superhero. From losing his parents at a young age and being an heir to an empire, Bruce Wayne went through a lot of highs and lows in his personal life to finally emerge as the Caped Crusader. You will need hard work to be successful in life too. For now, work hard on coloring this illustration.
Batman Is Watching You!
Criminals and thugs in the world, beware! The dark knight is here, and he is watching over his people. Surely enough after saving his people, he has left the criminals at the hands of the police for justice to take its course.
Batman And Batwoman Fighting Their Enemies:
There is always some enemy or the other fight when you are fighting for justice. Today, Batman has a little help from Batwoman, and they are teaching Joker and Poison Ivy a lesson for messing with the world.
Batman Swinging In The Air:
Known for his scientific and inventive mind, here is Batman testing one of his several tools to scale buildings and move from one to the other. If you are curious about how things work and other innovations, ask your teachers and parents, and maybe with their help, you can create something too.
Batman Flying In Action:
As soon as Batman hears about a crime taking place in the town, he flies himself into action. Look at how his cape is flying in the air. He takes his responsibility seriously. You should work hard and take your dreams seriously too. For now, let's get this illustration some serious coloring skills.
Batman – The Protector Of Gotham:
With Batman emerging as the hero for Gotham, the crime rate in the city has gone down. This has led to major developments, bringing down corruption and beautifying the landscape of the city as well. In this illustration, you can find Batman looking over the wonderful Gotham city that he calls home.
Batman, Robin, And Batgirl – Fighting Crime Together:
Aside from his regular sidekick Robin helping him keep the crimes at bay, there are times when the Batgirl comes to the rescue as well. Give life to this illustration by bringing out the individual colors of each of the characters in detail.
Bat-Signal – Batman Is Not Far Away:
It's the sign that the evils of society dread. It's the famous Bat-Signal looming over the Gotham City skyline warning every criminal that Batman is coming. Visible from anywhere in the city, using this signal the Gotham city police alert Batman that his help is needed. You can see the complete Batman symbolism in this illustration, from the Batman himself to the Bat-Signal light and the bats flying in the sky.
Batman – The Superhero With Real Skills: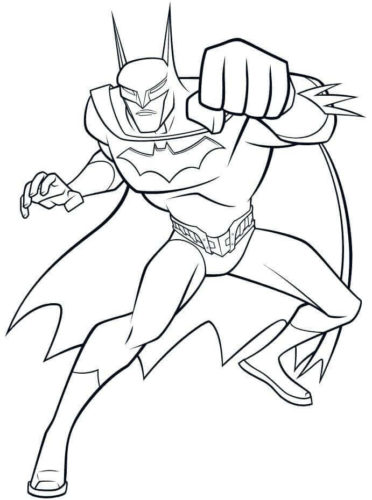 Unlike most other superheroes, Batman does not have a superpower. All his inventions are innovative scientific designs created by him, making use of his genius intellect. He is also a martial arts expert and possesses extreme physical strength harnessed from his experiences around the world. Look at this great pose in this illustration.
Batman Symbol Coloring Page:
Evolved over the ages, this illustration shows the Batman symbol as it is today. This motif is present in all things Batman-related, from his Batsuit to this Batmobile. You know what color to give this symbol, don't you? Yes, it's black.
Batman To The Rescue: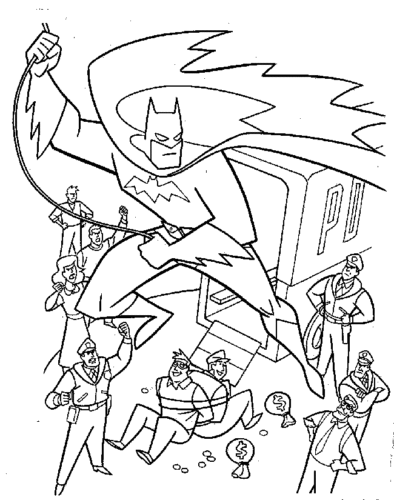 The Gotham police sought Batman's help in stopping a bank robbery. Look at the robbers tied down and the police officials thanking him as he flies away after doing the good deed.
Batman Tries Out His Mask:
From the Batsuit to Batmobile, all things have undergone design changes in keeping with the evolving technology and comfortability. Here is Batman trying out the new design for his mask so that it fits comfortably without irritation.
Batman With Bats Coloring Page:
The creature of the night, bats, was the inspiration for Batman's alter ego. This illustration pays homage to the most often misunderstood creatures – bats – who have echolocation abilities and the superhero, Batman, who got named after them.
Batman Atop One Of Wayne Tower's Gargoyle:
One of the best places for Batman to watch over his city is on top of the Wayne Tower where Wayne Enterprises is headquartered. Thirteen gargoyles were crafted into the tower design, five on the first level, seven on the upper level, and the 13th on top. They watch over the thirteen different entry points to Gotham city. Gargoyles are ancient gothic creatures that ward off evils.
Batmobile Coloring Page:
The primary transportation for Batman, Batmobile, has seen several updates ever since it was first created. In keeping with the changing technology, it has undergone quite a few developments to upgrade its security and functionality. You can find one of the versions of a Batmobile in this illustration. Give it some sleek design with your colors.
Batman Standing On A Gargoyle:
It is a windy night as Batman stands on one of the many gargoyles or guardians of the Wayne Tower. You can see his cape flying away wildly, illustrating how windy it must be. Capture this scene in exact details with your coloring skills.
Criminals Get Caught By Batman:
Taking his responsibility very seriously, here is Batman catching another set of criminals. This time he is getting witty by tying the criminals to a dust-bin reading "Keep Gotham Clean". With his help and on his watch, Gotham city will certainly remain clean as he assists in getting rid of its "garbage".
Batman And His Powerful Batsuit:
Since he does not possess superpowers, his super-intellect helps him in this regard. Like how he innovates and invents things like his Batsuit, which is made of materials that protect him from bullets and other great dangers. You can see him here in this illustration ready to leap off the building to face his enemies up close.
Batman Action Figure:
You must be having action figures of your favorite superheroes at home with you. Do you have more than one? If not, then you can take home this sturdy Batman action figure with complete detailing of the Batsuit and other gears he carries with him like the utility belt. While you think about it, you can print this page and carefully color this superhero illustration.
Harley Quinn And Joker – The Psychopathic Enemies:
When Joker teamed up with his accomplice and girlfriend, Harley Quinn, they formed a great team which proved to be a bit of a challenge for Batman. With their twisted plans and devious actions, they seem to bring out the worse in each other, adding to the trouble for Batman. You can see their evilness pouring out of the illustration on this page. Do justice to it with your coloring skills.
[ Related: Harley Quinn Coloring Pages ]
Lego Batman In The Lego Movie:
First introduced in the Lego avatar on the silver screen in "The Lego Movie", Lego Batman played a crucial role in the protagonist's story. You must have already seen the movie a couple of times since it was released in 2014. You can recall the story as you print and color this page.
[ Related: Lego Coloring Pages ]
The Lego Batman Movie:
After the success of "The Lego Movie," the makers decided to come up with a spin-off movie based on Lego Batman. Thus, in 2017 "The Lego Batman Movie" was released to critical acclaim and commercial success, grossing 312 million dollars worldwide. You must have seen this one too, haven't you? Go on and reminisce your favorite moments from the film while you print and color this illustration of the Lego Batman.
The Lego Batman Movie Sequel:
Considering the massive success of "The Lego Batman Movie", there are already talks of making a sequel as well. If every other superhero movie can have sequels then why not for Lego Batman as well, right? While you wait for it, in the meantime you can color this Lego superhero, depicted here in an active mode with his cape flying in this illustration.
On that curious note about a possible sequel to "The Lego Batman Movie", we have come to the end of this superhero collection of Batman coloring pages to print. Whether you already loved the caped superhero or got introduced to him today, we hope you got to learn a lot more about him, his sense of justice, and his superb intellect. Make sure to be a good citizen like him and sharpen your intellect with various activities, like printing and coloring this collection of Batman coloring pages printable. It will help with your hand-eye coordination, sense of colors, dexterity as well as creative and artistic aspects with the complementary descriptions and illustrations.