People can never forget the contributions of African Americans in various fields, such as politics, science, law, literature, civil rights, arts, and many more. And all those achievements are celebrations in Black History Month, which begins on the 1st of February every year and continues until the last day of the month. Events are planned nationwide to honor the history and contributions of African Americans. The theme of Black History month for 2018 is "African Americans in Times of War". Hence, we've got you a collection of free printable Black History Month coloring pages to learn about the significance of African Americans in the United States of America. So take a look at our Black History Month coloring sheets below.
20 Free Printable Black History Month Coloring Pages
Black U.S. Leaders: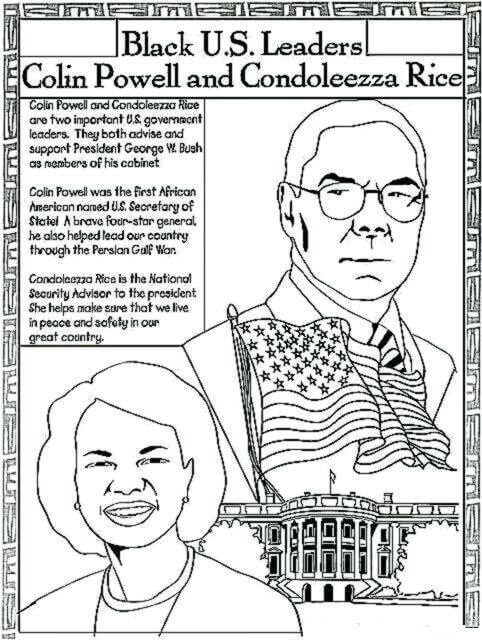 This Black History Month coloring page features two of the most significant Black U.S. leaders, Condoleezza Rice and Colin Powell. When they were in the cabinet, they would advise and support President George W. Bush. Colin Powell was the first African American U.S. Secretary of State, and Condoleezza Rice was the National Security Advisor to the president.
Elijah McCoy: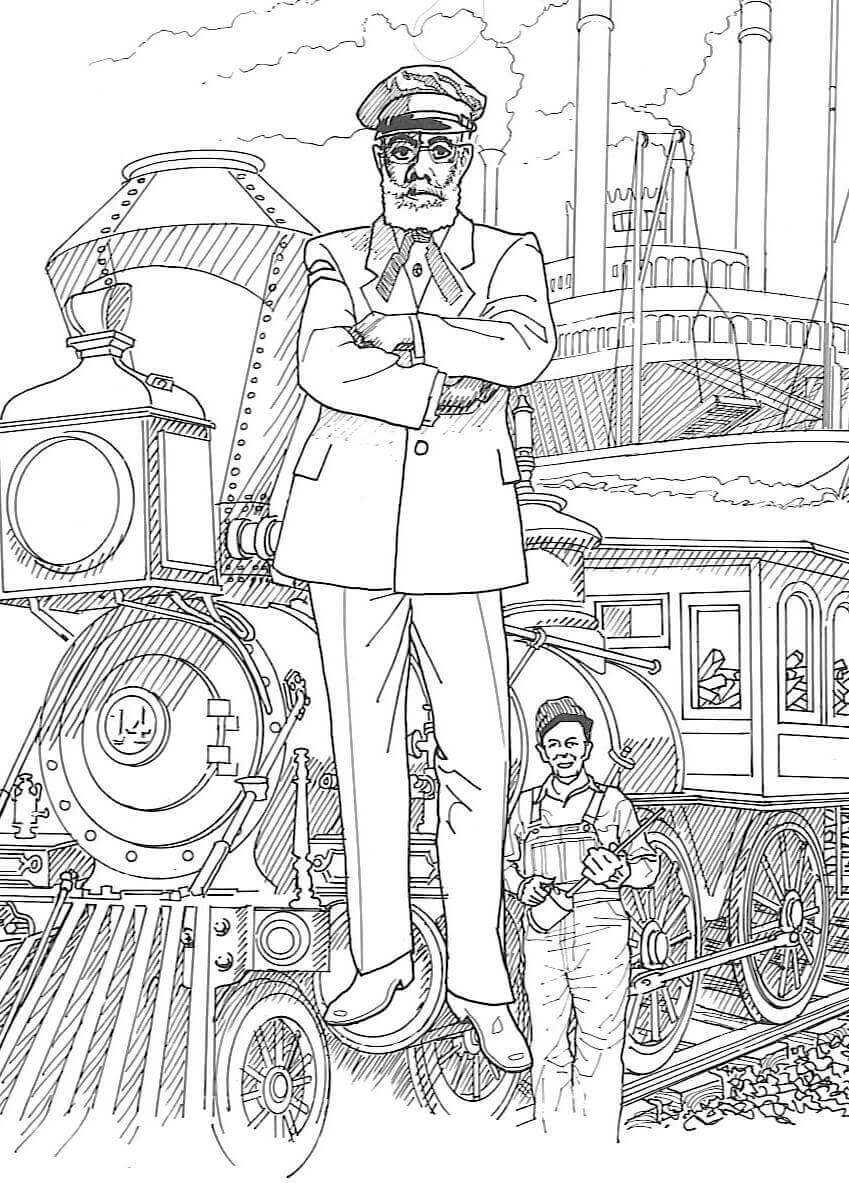 This coloring sheet features Elijah McCoy, the American-Canadian inventor notable for his contribution to the lubrication of steam engines. This Black History Month coloring sheet shows Elijah McCoy standing in front of a steam engine.
to join this conversation on GitHub. Already have an account? Sign in to comment Footer © 2023 GitHub, Inc. Footer navigation Terms Privacy Security Status
Garrett Morgan:
Garrett Morgan is one of the greatest African American scientists and inventors the world has ever known. His greatest invention was the traffic light, which he invented to control the flow of traffic. He even invented the breathing mask or gas mask.
Sarah Breedlove Walker:
If you're into fashion and styling, you must be aware of Sarah Breedlove Walker, who invented hair straightening and hair softener comb. She even became a millionaire in the process. Sarah Breedlove Walker is also known as Madame C.J. Walker.
Harriet Tubman And Martin Luther King Jr.:
This coloring page highlights two of the most prominent African Americans in history, Harriet Tubman, and Martin Luther King Jr. Both have been immensely inspirational, so there would be no better Black History Month coloring page for you to print and download.
Joe Louis:
Joe Louis, better known as Brown Bomber, is an African American professional boxer who reigned as the heavyweight champion for the years 1937 to 1949. He's considered the greatest heavyweight lifter of all time.
Lewis Howard Latimer: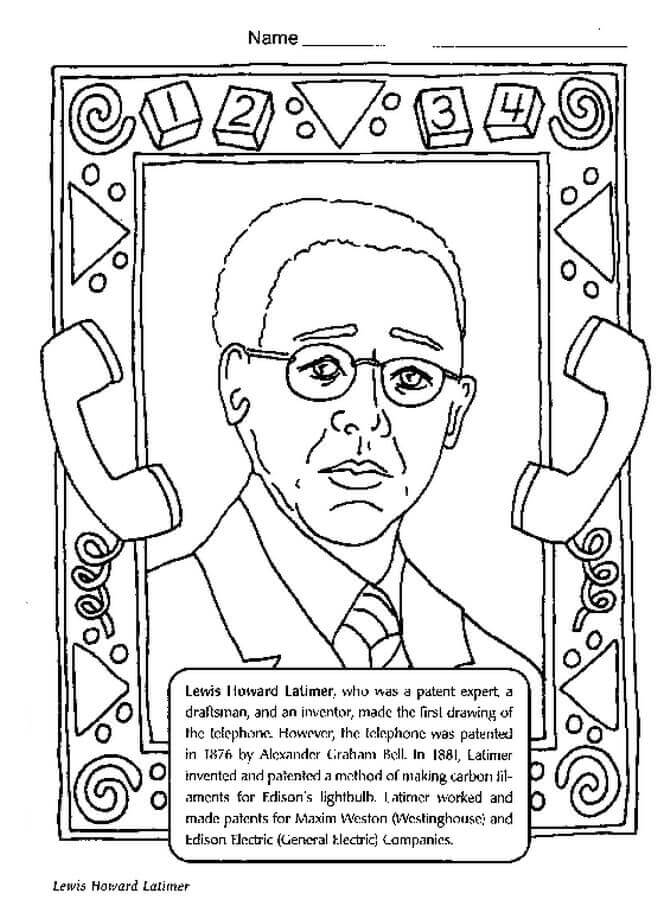 Here's a coloring page of Lewis Howard Latimer, the draftsman, patent expert, and inventor who made the first drawing on the telephone. He even patented and invented the method of carbon for Edison's lightbulb.
Jackie Robinson: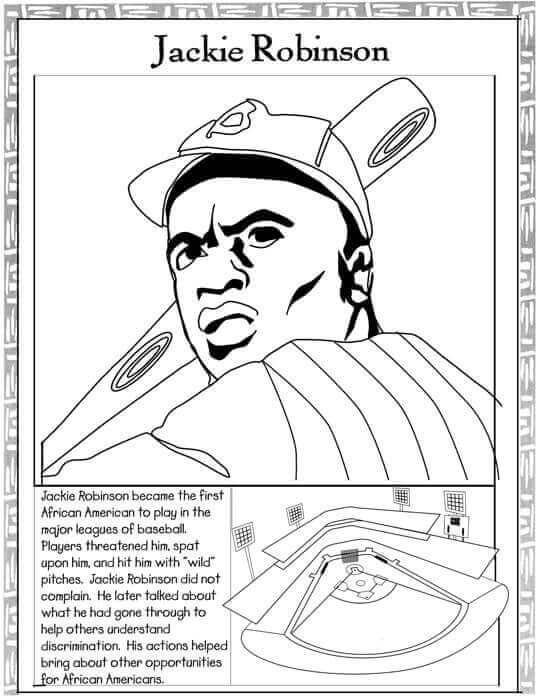 Here's a coloring page of Jackie Robinson, the first African American to play the major leagues of baseball. People spat on him, threatened him, and even hit him with wild pitches, yet he continued to play for the team.
Thurgood Marshall: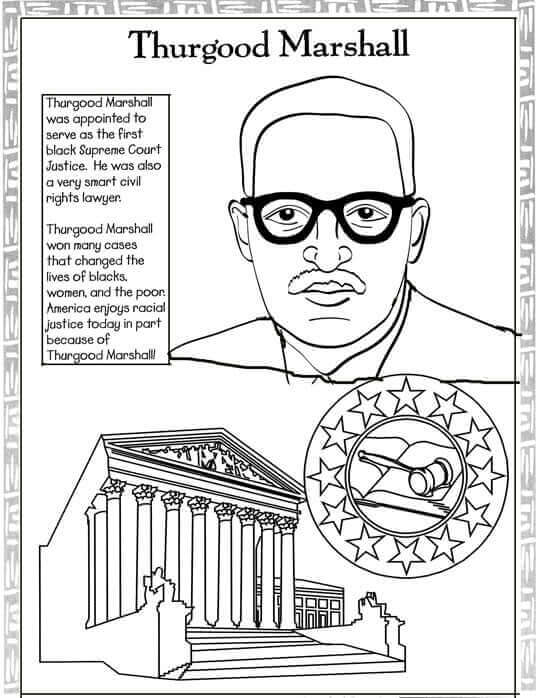 Here's a coloring page of Thurgood Marshall, the first African American to be appointed as the Supreme Court Justice. He contested several cases and even won them, which changed the lives of several black people.
Harriet Tubman: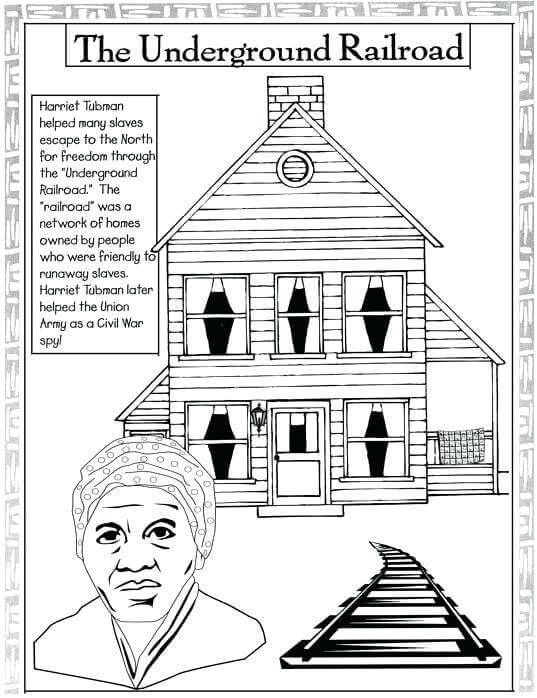 Here's a coloring page of Harriet Tubman with the Underground Railroad behind. Harriet Tubman helped hundreds of slaves escape the North through the Underground Railroad. She even helped the Union Army as a Civil War spy.
Martin Luther King Jr:
Here's a coloring page featuring Martin Luther King Jr giving a speech on the podium. No one has fought for the rights of African Americans more than Martin Luther King Jr. No wonder his birthday is celebrated as Martin Luther King Jr Day in America.
Sojourner Truth:
Here's a coloring page of Sojourner Truth, the African-American women's rights activist and abolitionist. Sojourner Truth was born as Isabella (Belle) Baumfree, but she gave herself this name when she was convinced that God wanted her to leave the city and go into the countryside.
George Washington Carver:
Here's a coloring page of George Washington Carver, the botany scientists who made excellent contributions in the field of chemistry and agriculture. George Washington Carver has been bestowed with several awards and honors for his work.
Barack Obama: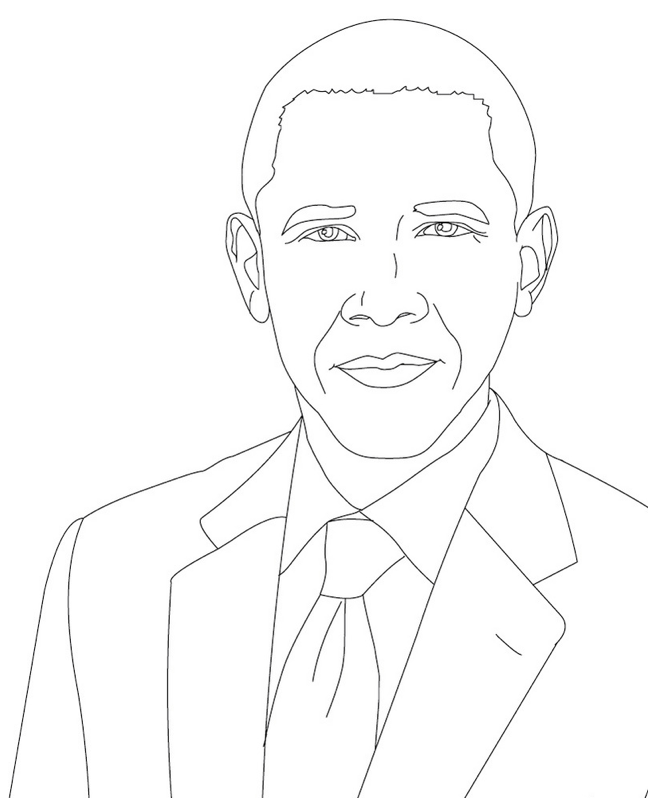 Here's a coloring page of the most popular and loved African American, Barack Obama. Barack Obama, the American politician who served as the President of the United States, served the country. He's even the recipient of the Nobel Prize.
Dr. Mae Jemison:
This Black Month coloring page features D. Mae Jemison, the first African American to be accepted as a NASA astronaut and selected to fly in the space shuttle. She was also responsible for conducting experiments during the shuttle mission.
Henry Box Brown:
Here's a coloring page of Henry Brown in a box. Henry Brown, a Virginia slave, decided to travel and escape as a piece of property because he was always considered a white man's property. He even persuaded a carpenter to build a box large enough for him to fit in.
Louis Armstrong:
Here's a coloring page of Louis Armstrong, a skilled cornet, and trumpet player, who helped shape jazz in some of the biggest cities of America, like New Orleans, New York, and Chicago. He rose from hardship to become a legend in jazz.
Rosa Parks: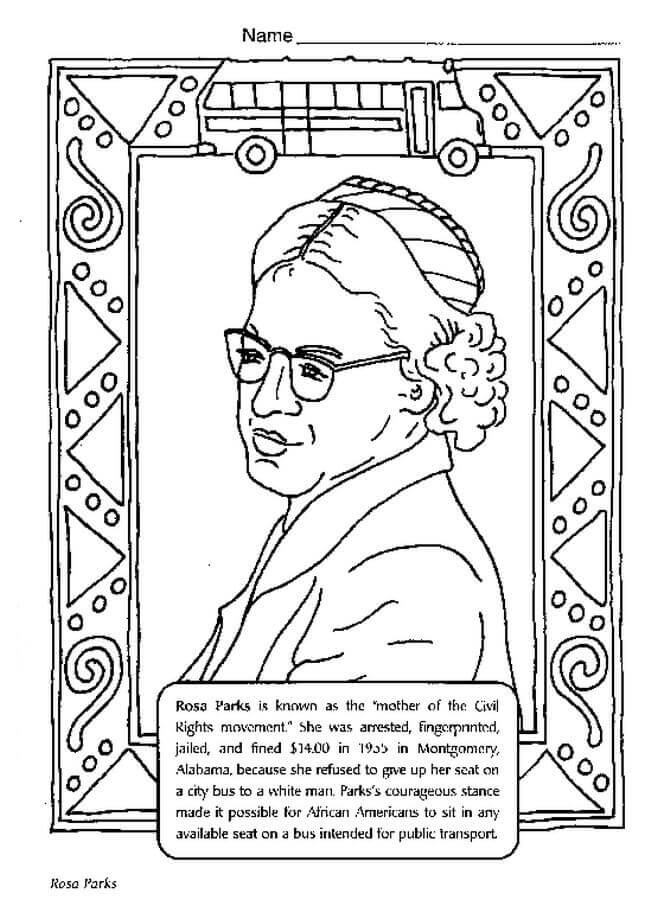 This Black History Month coloring page features Rosa Parks, fondly called the mother of the Civil Rights Movement. She was jailed, fingerprinted, and fined because she refused to give up her seat on a bus to a white man. It was this courage that made it possible for African Americans to sit in any available seat in public transport.
Dr. Maulana Karenga: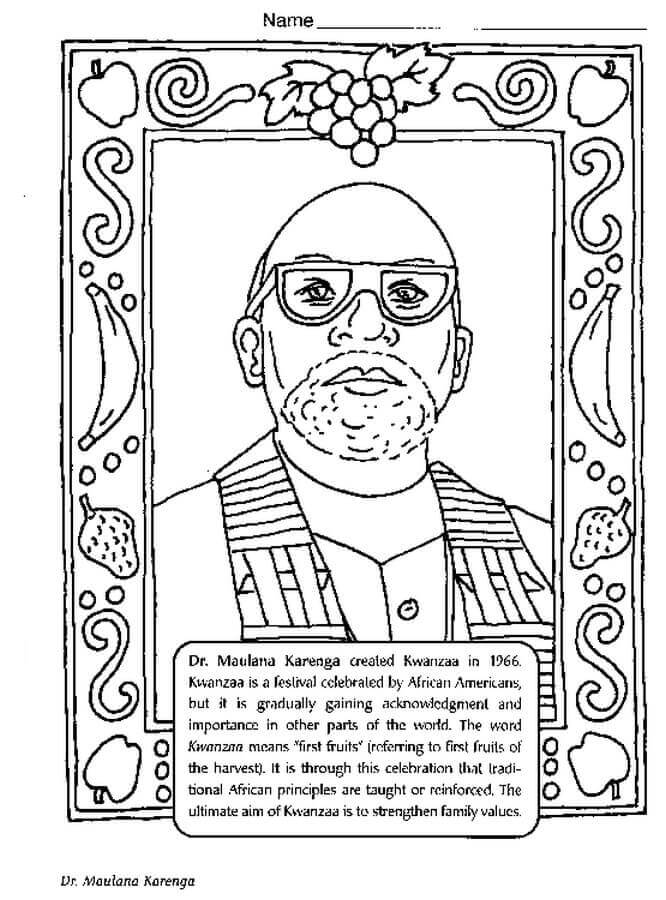 Here's a coloring sheet of Maulana Karenga who create the festival of Kwanzaa, which gradually gained prominence in other parts of the world as well. Kwanzaa, meaning 'first fruits', celebrates the first fruits of the harvest.
Harriet Tubman:
Here's another coloring page of immensely inspiring Harriet Tubman, who helped people escape from the Underground Railroad. Harriet Tubman was also American humanitarian, abolitionist, and armed scout.
Frederick Douglas:
This coloring page features Frederick Douglas, an African American who went through tremendous exploitation and brutality when he was young. He escaped from servitude and went to New England to become the leader of the anti-slavery movement.
Black History Month 2021 Coloring Page:
To commemorate the new year, we've got this latest Black History Month 2021 coloring sheet for our dear readers. Hope you'll enjoy it.  
We hope you find our Black History Month coloring pages helpful and educational. We'd love to know your views on these free printable Black History Month coloring sheets below.