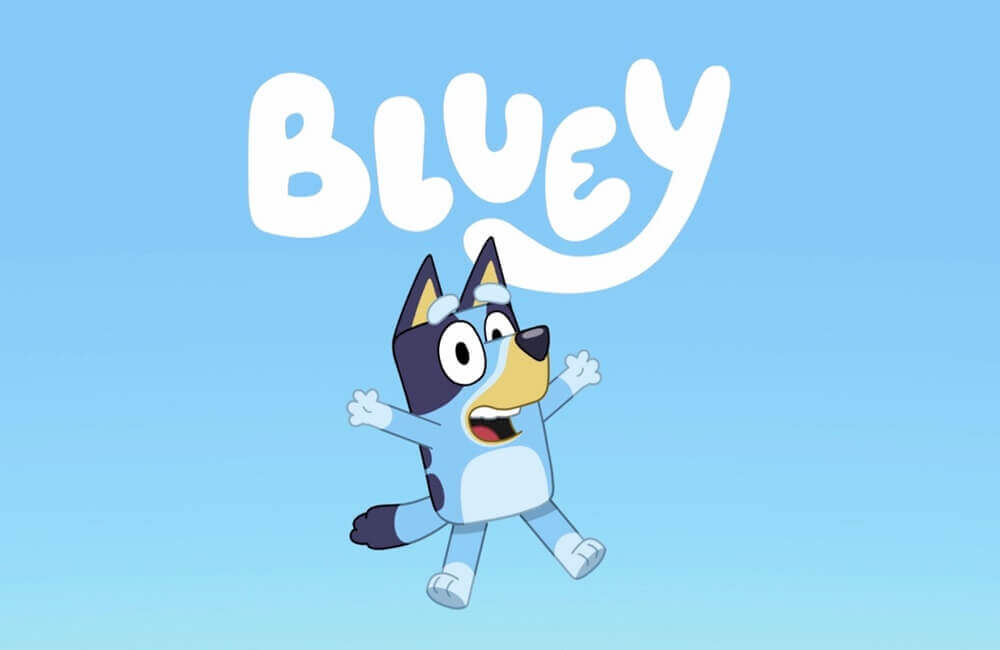 We can never have enough cartoons, can we? And these days, there are so many different varieties of animated programs to watch and enjoy. While the classics like Tom and Jerry, Bob the Builder, or SpongeBob SquarePants are forever fun to watch, today we bring you a collection of coloring pages inspired by a contemporary animated series. We are talking about Bluey, a television series created in the island continent of Australia, featuring various anthropomorphic dog breeds.
Bluey series is aimed at the preschool children and it tells the story of a Blue Heeler puppy named Bluey, her family, and friends. Each member of the Blue family belongs to a different dog species. Family values, coming-of-age, and the Australian culture are some of the themes explored in the animated series. Bluey is a very energetic character, full of curiosity about the world. Being so curious, she often goes out on several adventures along with her younger sister Bingo, during their imaginative playtime together. Without further delay, let's begin our fun playtime as well through this adventurous collection of Bluey coloring sheets to print.
Also Read: Dog Coloring Pages
to join this conversation on GitHub. Already have an account? Sign in to comment Footer © 2023 GitHub, Inc. Footer navigation Terms Privacy Security Status
20 Free Bluey Coloring Pages Printable
Meet Bingo, Bluey's Younger Sister:
Starting off the collection is Bingo, the younger sister of Bluey. Bingo is four years old and shares a close bond with Bluey. They often go out on adventurous explorations in order to find out more about the world they live in. Unlike Bluey, Bingo is a Red Heeler puppy. Print this coloring page and give this wonderful sister, some amazing colors.
Bluey Activity Sheet For Kids:
This activity sheet is not just something for you to color but to wear too. That's because today's activity is making a Bluey inspired cutout mask. Fill this illustration with appropriate colors and then expertly cut out the face. Once you follow all the instructions given, you will soon find yourself wearing a cool Bluey mask.
Bluey and Her Friend In The Playroom:
When you are with your friends, even doing the most boring things can turn into something exciting. Even though Bluey doesn't have much to do in the playroom, being with her friend, she's still having a joyful time. Look at them chasing each other around the room. Bring more joy to this moment by splashing some wonderful and exciting colors.
Bluey And Bingo Having Fun At The Beach:
Some people visit the beach to swim and relax, while some like to play in the sand. In case you live near a beach, you must have gone on several family outings to the beach. Even Bluey is here at the beach with one of her family members. While playful Bluey is running after the birds, Bingo quietly observes a crab crawling on the beach.
Also Read: Beach Coloring Pages
The Bluey Family Dancing Party: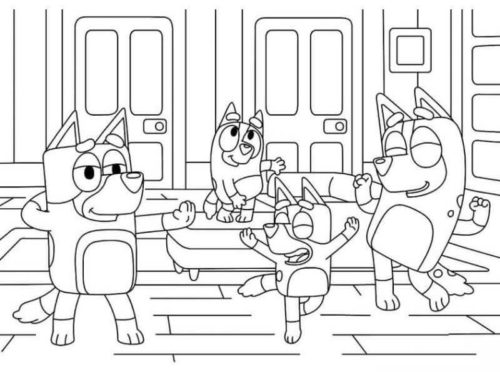 There's nothing quite like having a good old time with your family. And when it comes to the Bluey family, they are experts at knowing how to enjoy to the fullest. Look at them dancing away without a care in the world. Add to the happy vibes you see on this illustration by filling it with bright and jazzy colors.
Bluey Dad AKA Bandit Heeler: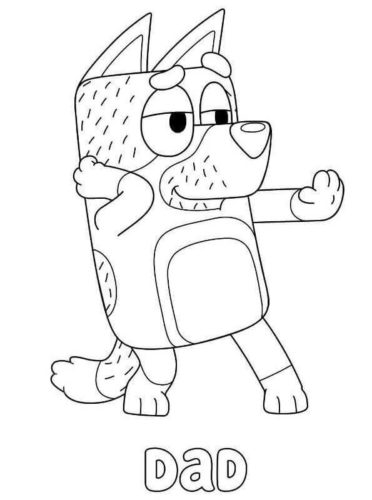 Bandit Heeler or Bluey Dad seems to be continuing his fun spirit from the previous illustration, as he rocks a dance move on this coloring page. Don't let this fun side fool you because when it comes to his work, he is an equally serious fellow. Bluey Dad is an archaeologist by profession.
The Grand Bluey House Coloring Page:
Earlier you saw the entire Bluey family dancing inside the house, now you get to see how the house looks like from the outside. It's magnificent, isn't it? From the grand multistoried design to the tall trees, everything about it speaks of grandeur. With your expert coloring skills, bring out the details of this illustration.
Bluey Mum AKA Chilli Heeler:
It's time now to meet Bluey Mum, Chilli Heeler. Despite working as an airport security staff, managing her two kids isn't a problem for Bluey Mum. She seems ready to play some hockey on this coloring page. Give this sporty and hard-working mother some of your heartwarming colors.
Border Collie Mackenzie:
If you were wondering about whether there are any other characters in the Bluey animated series, please say your hello to Mackenzie here. With one droopy ear and one straight up, Mackenzie is a Border Collie dog breed. Print this coloring page and fill it with exceptional colors.
Coco, The 'Cutie' Poodle:
After Mackenzie the Border Collie, we have another interesting character for you to meet. This one is a cutie, isn't she? Her name is Coco and she is a Poodle dog breed. In order to color this illustration, there's only one color you need to use – pink. Coco has fur that is pink and light pink in color.
Dalmatian Chloe Coloring Page:
Looking as charming as ever, Chloe is a Dalmatian breed dog. You might already be aware in the case of Dalmatians the trademark spots are black in color while the remaining fur is white. Print this coloring page and showcase the distinct fur color with your expert skills.
The Lively And Energetic Bluey:
Here's the star of the show, the six-year-old Bluey waving at you on this coloring page. The anthropomorphic Blue Heeler puppy is always full of life and energy. You can capture this energetic spirit by filling his portrait with lively colors.
Honey, The Beagle From Bluey:
Who do we have here? It's Honey, the Beagle from Bluey. Her eyes look bigger through those big goggles, don't they? If you are wondering why her name is Honey, it's because her fur is honey and dark honey in color. However, she also has white and brown portions. Print this coloring page and bring out all these details using the right colors.
Indy, The Long-Haired African Hound:
One can't help but notice the long hair in this illustration. Indy here is an Afghan Hound with long illustrious fur. She may look shy on this coloring page, but don't get fooled by her body language here. Indy is quite a free-spoken character. Feel just as free to fill this illustration with exciting colors.
Lucky, The Yellow Labrador:
Sporting yellow and light yellow fur, we have Lucky, the Labrador on this coloring page. It's easy to spot his interest in sports, isn't it? Yes, it's a football that he is holding, American football to be precise. Once you print this coloring page, turn this black and white illustration into a bright and color-filled one.
Mackenzie Is Here Again:
This familiar looking character is Mackenzie, someone you have already colored earlier in this collection. Featuring two contrasting shades, Border Collie Mackenzie sports a combination of white and black fur. Print this coloring page and accentuate the contrast when you color this illustration.
Muffin and Socks, The Cousins: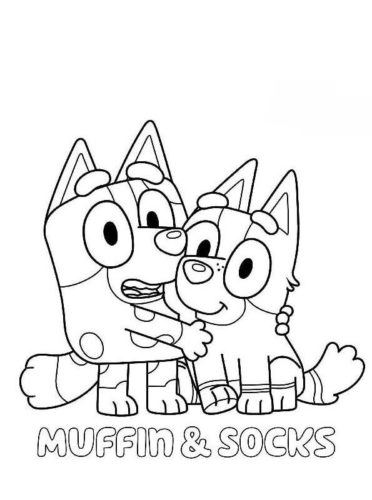 You have already met the dynamic foursome from the Bluey family. Now, it's time to get to know two of the extended family members. This is Muffin Heeler and his sister Socks Heeler; they are the cousin brother and cousin sister of Bluey and Bingo. Print this coloring page and fill this illustration of wonderful siblings with loving colors.
Muffin, Bluey's Cousin Brother:
Let's now take a closer look at Bluey's cousin brother Muffin, who is also a Blue Heeler breed dog. He is three years old and two years older than his sister, Socks Heeler. Bring out all the minute details of his features with your coloring skills.
Rusty, The Red Kelpie: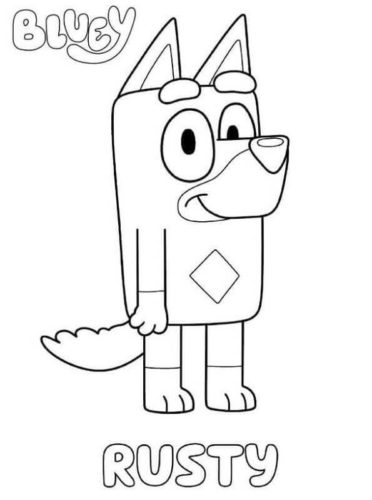 We are nowhere with one of the interesting characters from the animated series. This is a portrait of Rusty, a Red Kelpie dog breed who comes from the bush. Rusty has a military family background; the father being in the army. Print this coloring page and color it with military precision.
Snickers, The Lovable Blue Heeler Dog:
One of the loveable characters in Bluey is Snickers Small Plush. Snickers is a Blue Heeler dog just like Bluey and also of the same age. With Snickers around, even the most mundane daily life activities can become endless adventures full of fun and joy. Make sure you have a blast as well while coloring this illustration.
With that lovely portrait of Snickers Small Plush, we have reached the end of today's Bluey special collection of coloring pictures to print. We hope you had great fun coloring these cool sheets filled with illustrations inspired by Bluey animated series. Due to its rising popularity Bluey received an international release on the Disney+ platform. There are also some wonderful merchandise and even a stage show production. If you haven't seen the series, do it now as it's one of the best kids shows right now. In the meantime, you can introduce your family to these lovely characters by printing and coloring this interesting collection of Bluey coloring images.