When the world seems to be covered in a blanket of white, you can tell that winter is here and the festive season has already begun. If it doesn't snow where you are, the month of December gladly announces the arrival of the holidays. When it's December, there's only one festival that generates overwhelming joy in everyone around the world. Yes, we are talking about Christmas. While the decorations and celebrations are important parts of the Christmas tradition, Christmas spirit truly comes alive in the joy of gifting. Hence, we've got you all a collection of Christmas gift coloring pages.
Most of you might be familiar with the story of Christmas gifts – how Santa Claus travels on Christmas Eve, riding on his sleigh drawn by reindeer, to disperse millions of Christmas gifts to all the homes around the world. Some of the gifts he keeps under the Christmas tree, some he puts inside the Christmas stockings while some he leaves near the fireplace or on the table.
Let's discover more about Christmas gifts and see what Santa Claus has brought this year through this collection of Christmas gift coloring sheets to print.
to join this conversation on GitHub. Already have an account? Sign in to comment Footer © 2023 GitHub, Inc. Footer navigation Terms Privacy Security Status
30 Free Christmas Gifts Coloring Pages Printable
Baby Gets A Christmas Gift:
This little baby is old enough this year to open his own Christmas presents. It's not just one but two Christmas gifts! Like everyone else, old or young, even he seems to be excited about opening his presents. Capture this joy with your excellent coloring skills.
Bear Is Happy, Christmas Gift Is Pretty:
The bear is so happy to receive a gift that's wrapped so prettily. Doesn't he look cute with that Christmas hat on his head? You can put on some great, bright colors on this coloring page and make this bear's Christmas very special.
Little Girl And Her Little Cat Christmas Gift:
This Christmas is going to be one of the best ones for this little girl. She has received a little cat as her Christmas gift, something she wanted. For her, it's the best Christmas gift ever. Print this coloring page and fill in colorful details in this loving illustration.
Boy Just Got The Best Christmas Gift:
While the little girl wanted a little cat and got her best Christmas gift, this little boy's dream of having a puppy as a pet came true this Christmas. Look at the pleasant surprise on his face as he found a dog inside the box – the best Christmas gift ever.
Cat Sleeping On Christmas Present:
While all the humans went to sleep on Christmas eve, the cat is having a gala time relaxing on the Christmas gifts kept beautifully packed in the house. The cat looks so peaceful and happy sleeping on the giant Christmas gift.
Eager Child Bring Christmas Gifts:
Taking charge of his own gifts this year, this eager child is bringing all the gifts he received from friends and teachers at school back home. He has even got himself a sleigh from home to carry all his Christmas gifts. Appreciate his enthusiasm and reward him for his efforts by giving this illustration a splash of your favorite colors.
Christmas Gift Boxes Coloring Page: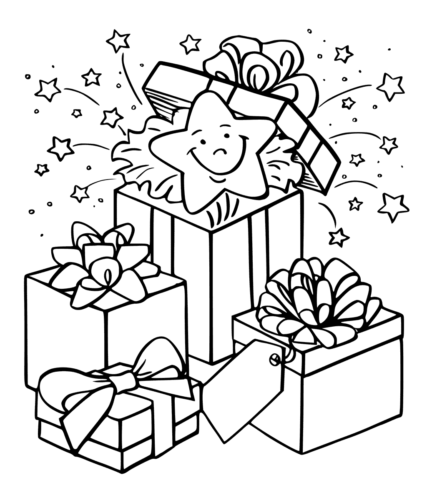 There are several Christmas gift boxes wrapped elegantly and tied with ribbons waiting to be discovered and opened in the morning. Adding a special touch of magic is the star peeking out of one of the gift boxes.
Little Girl Carrying Christmas Gift Home:
It is always a great feeling to receive gifts, isn't it? After getting a Christmas gift from a friend, this little girl is hurriedly going on her way back home. Thankfully, she is warmly dressed for the cold weather. You too should dress warmly when going out of the house this season.
Christmas Gifts By The Mantelpiece:
When all the decorations for Christmas are done, the living room could look just like this, with a fine little fireplace. You can see the pets having a relaxing time in front of the fire and next to the packed Christmas gifts placed by the mantelpiece. It feels so warm and cozy, doesn't it? Bring out the warmth in this illustration by expertly coloring it with your choicest of colors.
Children Admiring Christmas Decorations & Gifts: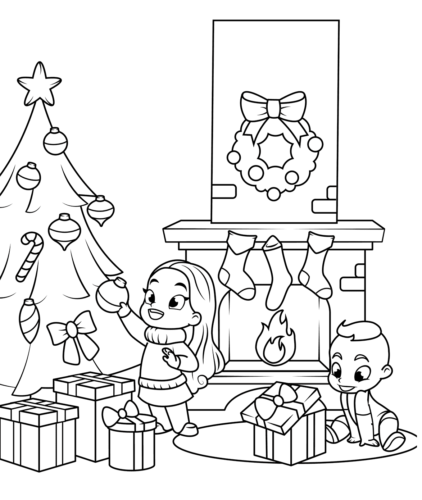 Since it's Christmas, little children are seen admiring the elegant decorations of the Christmas tree and the Christmas gifts that they have received this year. Fill this festive and homely scene with endearing colors.
Girl Gets Doll As Her Christmas Gift:
This little girl is feeling very happy. She has just received a doll as her Christmas gift, something she had been wanting for a long time. Look at how she is cradling the little doll in her arms. Print this coloring page and add some lovely colors to this adorable illustration.
Dreaming Of Christmas Gifts:
As Christmas Day comes nearer, the anticipation of the many Christmas gifts fills the minds of every child. This little girl is even dreaming of her Christmas presents. You can see that she wants winter skates, color pencils and a journal for her Christmas gifts. Although you can't make her dream come true, you can at least turn her dream and these Christmas gifts into colorful presents.
Christmas Present For Elmo:
Sesame Street's Muppet character in red, Elmo is surprised to see that someone has prepared a Christmas present for him. He is filled with astonishment as he looks at the giant box wrapped and tied with a ribbon. Add some fun colors to make the day wondrous for Elmo.
Christmas Presents On A Sleigh:
Santa Claus seems almost ready for his Christmas gift distribution this year. Look at this sleigh that has already been filled with the presents. Pretty soon when it's Christmas Eve, Santa will be traveling around the world to distribute these Christmas gifts to every household.
Joyful Girl, Brings Christmas Presents Home:
Satisfied with her Christmas shopping, this girl is happy with the gifts she bought and packed for her family members. She even saved some extra money to invest in a wonderful Christmas wreath for the house decorations. Even the tiny squirrel seems to be sharing in her happiness. Add to her joy by filling this entire illustration with lots of fun and happy colors.
Little Santa Present Cheers Up Little Baby:
Little baby, crawling around on the living room carpet, has found one of the Christmas presents unwrapped for him. It's a little Santa Claus toy coming out of a box, putting a smile on the little baby's face. Print this coloring page and fill this scene with joyous colors.
Christmas Presents Under Christmas Tree:
This illustration depicts one of the best things you can see on Christmas Day. It's a beautifully decorated Christmas tree with several Christmas gifts placed under it. Be sure to give each of the presents different colors and do your best to colorfully decorate this magnificent Christmas tree.
Elf With Christmas Gifts:
Helping Santa Claus with the gifts are several elves, noting down names and addresses and what kinds of gifts all the children want for Christmas. This particular elf is on gift-wrapping duty and has already managed to wrap three gifts today. Look at him expertly carrying all three gifts he helped to pack.
Wrapping Christmas Gifts:
Here is what the elf's Christmas gifts packing station looks like. You can see that he has been working hard by the many gifts he has already packed beautifully. Now, only three items are remaining to be packed – a teddy bear, a snowman ornament and a candy cane. Make these Christmas gifts even more attractive by filling them with bright colors.
Kids Fighting For Unnamed Christmas Gift:
When the gifts are wrapped and there are no names written on the gifts, it is difficult to know who is supposed to receive these gifts. It seems one of the elves missed writing a name on this particular gift. As a result, you can see this duo of brother and sister fighting over the unnamed Christmas gift. Try to bring some peaceful resolution to this fight by printing and coloring this illustration with soothing colors.
Kids Looking At Christmas Presents At A Shop:
It's not just the houses that get decorated for the festive season. In fact, the Christmas decorations tend to begin at shops and malls by November end or early December. On their way home, these two kids are getting distracted by the wonderful Christmas presents being displayed in a shop. Give colors to their joyful expressions and the gifts on this coloring page.
Kids Playing With Their Christmas Presents:
As soon as the Christmas presents get distributed and the children are done unwrapping their own gifts, you will find all the kids immediately starting to play with them. You must have done the same too, haven't you? Think about that joyful feeling of playing with your Christmas gifts while you color this illustration.
Mickey and Minnie All Set To Send The Christmas Gifts:
With a little help from Pluto, Mickey Mouse and Minnie Mouse are in the process of mailing their Christmas gifts and cards to family and friends living out of town. If you haven't already, you too can send cards or gifts to your distant friends and family.
Mickey Turns Santa, Brings Christmas Gifts:
Helping out Santa one particular Christmas, you can see Mickey Mouse is having a fun time carrying the load of Christmas gifts. Just like Santa Clause, he is now ready to go down the chimney and place the gifts in this particular house. Cheer him up in his endeavor by printing and filling this page with comforting colors.
SpongeBob's Most Unique Christmas Present For Squidward Tentacles:
Can you guess what is this most unique Christmas present that SpongeBob has got for Squidward Tentacles? Hint: It looks very slimy. Print this coloring page and figure out what the gift is while you color this illustration.
Puppy In Christmas Gift Box: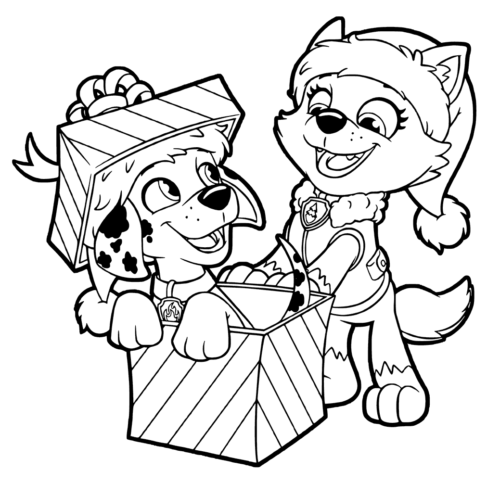 The house pet has found its own Christmas gift this year. Yes, it's a little puppy. Being the only pet in the house, it can get pretty lonely, especially when humans are mostly busy with their work. So, they decided to bring home another pet. Look at both of them, they seem to have hit it off right from the start.
Pusheen Christmas Presents:
Created in 2010, Pusheen, the cartoon cat is a chubby gray tabby cat. This illustration pays tribute to Pusheen by creating its different versions along the theme of Christmas presents. If you color it beautifully, you can even use it as a Christmas gift wrapper.
Reindeer Has Got Christmas Present:
What an innovative use of a decorative reindeer! Look at those Christmas baubles hanging from the branched antlers of the reindeer and the Christmas gift being presented hanging in its mouth.
Santa Keeps Christmas Gift Near The Tree:
As soon as it's Christmas Eve, Santa Claus gets working. Here is Santa in one of the earliest homes, putting the Christmas gifts next to the Christmas tree decorations. Make this Christmas gift lovelier by filling it with a splash of lovely colors.
Santa With Christmas Gifts:
Taking stock of the Christmas gifts, Santa Claus checks the gifts before going down the chimney to avoid gifting the wrong presents, like how an unnamed gift got delivered earlier. He is kept company by one of the reindeer.
Christmas and the holidays are the times for family and friends. It is also the season of giving, whether it's spending your time with your loved ones or gifting them presents. But in this time of love and togetherness, remember to take some time out to share this joy with those in need. You can donate warm clothing and old toys or even new ones to several different charities and brighten up someone's Christmas.