Hello friends! Today, we've got a unique set of coloring pages, free printable Christmas ornaments coloring pages. Come December and the holiday spirit will be at its peak. A visit to your favorite mall or your regular shop will turn into a festive mood, with all the festive adornment you will come across. Even a normal walk in the neighborhood will be a delight with all the Christmas lights and decorations.
Soon, you will be decorating your own Christmas tree with different ornaments. Christmas ornaments come in varied shapes and designs. You will be spoilt for choices when it comes to your Christmas decorations. From candy canes to snowmen, from birds and animals to fruits and chocolates, from tiny gift boxes to gift-bearers, a plethora of ornaments are available.
Some old family ornaments may come out of storage, passed on from generation to generation. Some new and sparkling ones will be bought. Some more even created and crafted on your own. You can learn all about the different ornaments as well as create your own, with this extensive collection of Christmas ornaments coloring sheets to print.
to join this conversation on GitHub. Already have an account? Sign in to comment Footer © 2023 GitHub, Inc. Footer navigation Terms Privacy Security Status
30 Free Christmas Ornaments Coloring Pages To Print:
A Box Of Christmas Ornaments:
The decoration boxes have arrived, and it is time to make the most of your decorating skills. Those Christmas baubles or hollow decoration balls will sparkle like stars once they are up on the Christmas tree. Anticipate the joy you will get from decorating the Christmas tree in your house, by printing and coloring these ornaments. Make sure to highlight the different designs on the baubles with different colors.
Beautiful Christmas Tree Ornament Coloring Page:
Baubles are made of different materials like glass, metal, wood, or ceramics. It can showcase different shapes and designs, from a simple round ball to elaborate spherical shapes. Look at the attractive designs in each of these three baubles in this illustration. Print this page and get creative coloring each one of them.
Candle And Christmas Tree Bauble:
The holiday season is knocking at the door and looking at this coloring page you can feel the Christmas spirit lighting up. You can print this page and bring your coloring skills to light.
Christmas Jingle Bells Ornaments:
Christmas decoration is incomplete without the jingle bells. Tied together with a neat bow these bells on this coloring page is accompanied by the Christmas berries. Imagine your own Christmas tree coming alive with the sound of the jingle bells, as you print and color this page.
Three Christmas Trees: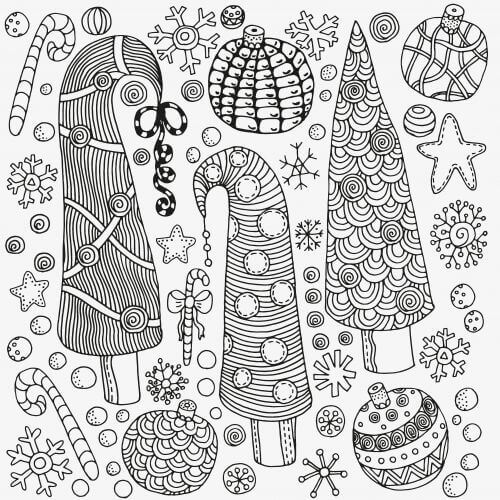 Isn't it such a joyful sight to look at a fully decorated and well-lit Christmas tree? One glimpse at this coloring page and you can see your smile widen. From ribbons to candy canes, from snowflakes to baubles, there is an abundance of Christmas ornaments used here. Have a merry time coloring this grand Christmas decoration scene.
Gingerbread, Christmas Tree, and Gifts!
Source: cooltobekids.com
One of the most anticipated parts of Christmas is finding out the gifts wrapped up and placed under the Christmas tree. You can see the gingerbread man here smiling with joy on discovering his gifts. Print this coloring page and color it while you wait for your own Christmas presents.
Birds and Ball Christmas Ornaments:
Did you know that in the late nineteenth century, Christmas trees were made by decorating leafless branches of a tree using strips of cotton, imitating the look of a snow-covered tree? Now you have so many different ornaments to choose from. Like these hanging baubles and bird ornaments.
Christmas Ornaments Coloring Picture:
It is easy decorating a Christmas tree with baubles as they come with hooks. You can simply hang them directly on the branches or hang them using ribbons to have a swinging effect. Print this page and you will find coloring these baubles easy to do as well.
Bird, Ball, Star, And Angel!
If you go out a few days or even a week before Christmas, you will find almost everyone has already set up their Christmas trees decked up with a variety of ornaments and decorations. Giving you an idea of what all you can use to decorate is this illustration. Print this page and efficiently color the bird, angel, star, and ball ornaments.
Christmas Ornaments Coloring Sheet:
From the more common round baubles to oval and bulbous to square-shaped, this coloring page showcases Christmas ornaments of different forms, sizes, and designs. Take a printout and give each one of these a different color combination.
Christmas Star Ornament Coloring Page:
You can be the star decorator in your family this Christmas with this coloring page. Print this page and give this star ornament some brilliant colors. Once colored you can laminate it, cut it out and punch a hole on top. Run a ribbon through it and you are ready to hang it on the tree.
Christmas Stocking Full Of Gifts:
When it comes to Christmas, you need to have the Christmas stocking hanging on the mantelpiece. This giant Christmas stocking is overflowing with gifts and decorations. Take a printout of this coloring page and add all the missing colors.
[ Related: Christmas Stocking Coloring Pages ]
Christmas String Lights:
Over the years, Christmas lights are extensively used to give a dazzling effect on the complete decorations of the Christmas trees. They are also used to light up the house. You will soon see these lights sparkling on every house in your neighborhood. Print this page and give these lights different glittering colors.
Christmas Tree Laden With Ornaments:
Not all ornaments for Christmas need to be store-bought. You can create your own special items to use as decorations on the tree and around the house. Like this ornamented Christmas tree illustration on this coloring page. Once you print and color this page, you can carefully cut out the tree. You can then punch a hole at the top and use a thread to hang them.
[ Related: Christmas Tree Coloring Pages ]
Christmas Tree Pendants:
Most of the time, you will find that Christmas ornaments from the previous years are used again. You might even remember being told to bring old boxes of decorations from the storage. Since they don't get spoiled, unless broken, Christmas ornaments like these different pendants on this coloring page, are carefully stored and used again each year.
Christmas Tree Ornaments Coloring Picture:
Demonstrating how the baubles will look hanging on the branches, this coloring page boasts of some gorgeous designs. You will surely have a fun time coloring the stars, the waves, and the snowflakes on these baubles. Take a printout and get coloring.
Christmas Tree Cards Ornament:
Have you ever made Christmas cards before? If you haven't then you can make your own card, this time. Print this coloring page and expertly color this fully decorated Christmas tree. You can write your message on the back or inside if you make a foldable card. Tie it with a thread and hang it on the tree. Imagine their joy when they see how hard you worked on the card!
Detailed Ornaments Coloring Page:
All good things take hard work and sometimes a long time to complete. Like how decorating the Christmas tree and your house during the holiday season may take a long and tiring effort. But the result of those hard work is breathtaking, right? Unlike other simple decorations, these baubles have been designed and crafted with detailed work. Print this page and color these ornaments with complete dedication.
Snowy Christmas Ornament:
The onset of winter marks the approaching holiday season. Likewise, snow has become synonymous with Christmas in many parts of the world. Giving an ode to the uniqueness of snowflakes is this bauble on this coloring page. Showcasing different kinds of snowflakes, you can print this page and have a fun time coloring them.
Christmas Card Ornament To Color:
This coloring page with its wavy illustrated corners and leafy designed hanging ornament in the middle with a bow-tie ribbon renders itself a perfect design for a Christmas card. Print this page and use your adept coloring skills to carefully color it. You can write your Christmas wishes for your family or friends at the back.
Christmas Ornaments:
Among the Christmas decorations in most Christmas trees, you are bound to find quite a lot of ball ornaments, like the ones on this coloring page. Print and color these baubles in different colors. Don't forget to add colors to the letters "Christmas Ornaments" written below on the page.
Girl With Christmas Ornaments Coloring Page:
There is an air of excitement all around during the holiday season. Even the simplest task of unboxing Christmas ornaments can fill you up with joy. Look at this little girl, excitedly holding the bauble in her hand. She is joining in the festivities and helping with the decorations this year. Print and color this page as a reminder to offer help to your family for Christmas decorations.
Glass Christmas Ornaments:
These days you will get ornaments of different materials, from wood to metal and even fabric. Earlier baubles were made mostly of glass only. Look at these hanging glass ornaments of varied shapes and designs. Print this coloring page and reflect on the joys of the holiday season while giving these ornaments gleaming colors.
Intricate Christmas Ornaments:
You will need to be completely focused while coloring this page. Can you see how intricately detailed the designs are on these hanging ornaments? Bring out your range of colors and have a blast coloring each segment of these decorative balls with full concentration.
Candy Cane And Ball Ornament:
What do you think these two popular Christmas ornaments are saying to each other on this coloring page? Maybe they are discussing the family they will help in decorating the Christmas tree. Or maybe they just want someone to color them beautifully. Print this page and show them how good you are when it comes to coloring.
Smiley Ornament Coloring Page:
Look at the smiley face on the ball ornament on this coloring page! Maybe it is smiling with pride for being a part of the age-old Christmas tradition. Print this page and give this bauble some proud colors.
Blank Christmas Ornament Template:
Now you can come up with your own idea to style and color this ball ornament. Print this page and embellish this blank bauble with what you feel most represents the Christmas spirit. Let your imaginations run wild!
Santa Claus Christmas Ornament:
How can Santa Claus be left behind when it comes to Christmas? Here he is in his joyful spirit greeting you from the glass ornament. With the bow-tie ribbon and Christmas berries decoration, this bauble is apt for the holiday season. Take a printout and enjoy coloring this page.
[ Related: Santa Claus Coloring Pages ]
Traditional Christmas Ornament:
Taking a cue from the Santa Claus ornament, here is another traditional ball decoration with Christmas berries. Print this page and make sure to color the berries red and leaves green. You can come up with your own color scheme for the bauble.
Vintage Christmas Ornaments Coloring Page:
In case you haven't come across ornaments that were used in the earlier days, you can get an idea by looking at the illustration on this coloring page. The glass baubles with traditional motifs and hanging bells, all with ribbons to tie them to the Christmas tree. You can take a walk down the past Christmas lane by printing and coloring this page.
Although there are several different Christmas ornaments available, there are some must-have items. Like the Christmas stocking and an angel or a star for the tree-top decoration. The star represents The Star of Bethlehem or Christmas Star and the angel represents the archangel, Gabriel.
Did you know that the United States has a National Christmas Tree in Washington DC? The aesthetically ornamented tree stands on the south lawn of the White House. Since 1923, it has been lit each year. When you light your own Christmas tree this year, hope you have got ample ideas about decorating it with this collection of Christmas ornaments coloring pictures to print.