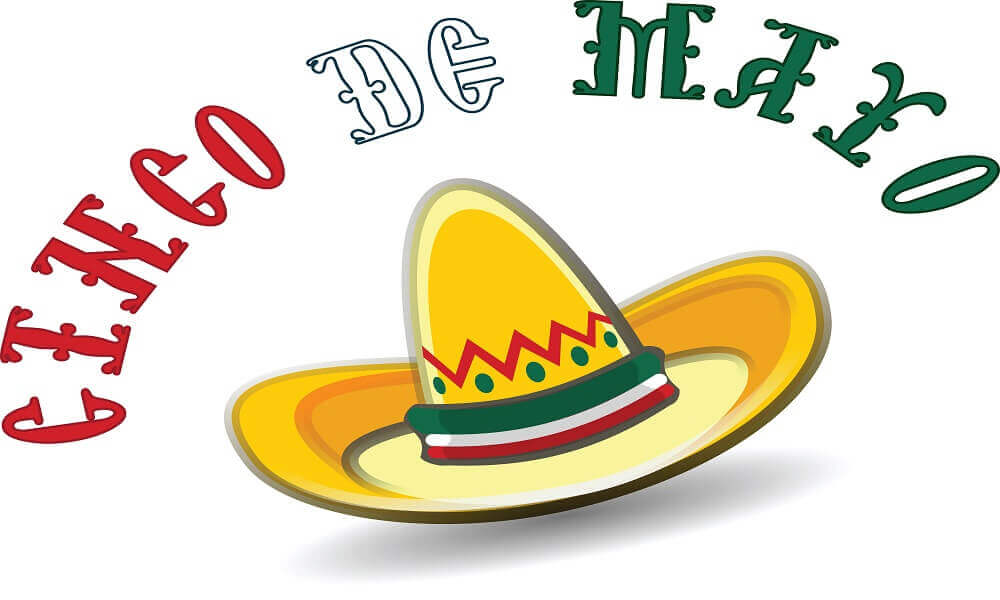 Hey there readers! It is celebration time. You must be wondering what we are celebrating. We are celebrating Cinco de Mayo. Cinco de Mayo translating to "Fifth of May" in Spanish, is an annual celebration held on May 5. The date is observed to honor the Mexican army's victory over the French Empire at the Battle of Puebla. Cinco de Mayo is not just a favorite holiday in Mexico but a major one in the State of Puebla. In the USA, this day is observed to celebrate Mexican-American culture. Let's celebrate this glorious day with free printable Cinco de Mayo coloring pages. Take a look at our collection of free Cinco de Mayo coloring sheets to print below. 
35 Free Printable Cinco de Mayo Coloring Pages
Beat the Piñatas Coloring Page: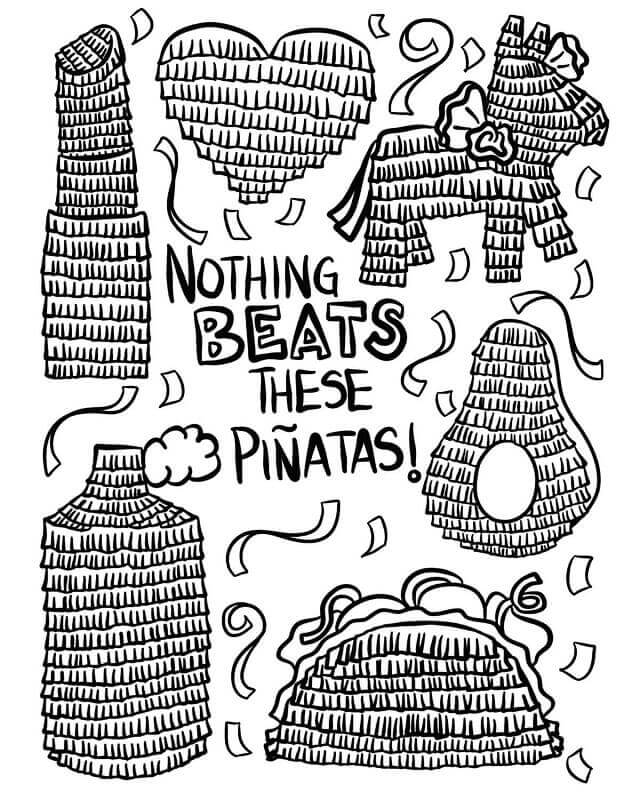 A piñata is a container made of papier-mâché, decorated and then filled with toys, candies, or both and then broken or smashed as a part of the celebration. These are commonly associated with Mexico. The art of making modern piñatas falls under the Mexican craft. They come in all shapes and sizes. Will you try to break them? Color these piñatas gaudy.
Cinco de Mayo Activity Sheet for Kids: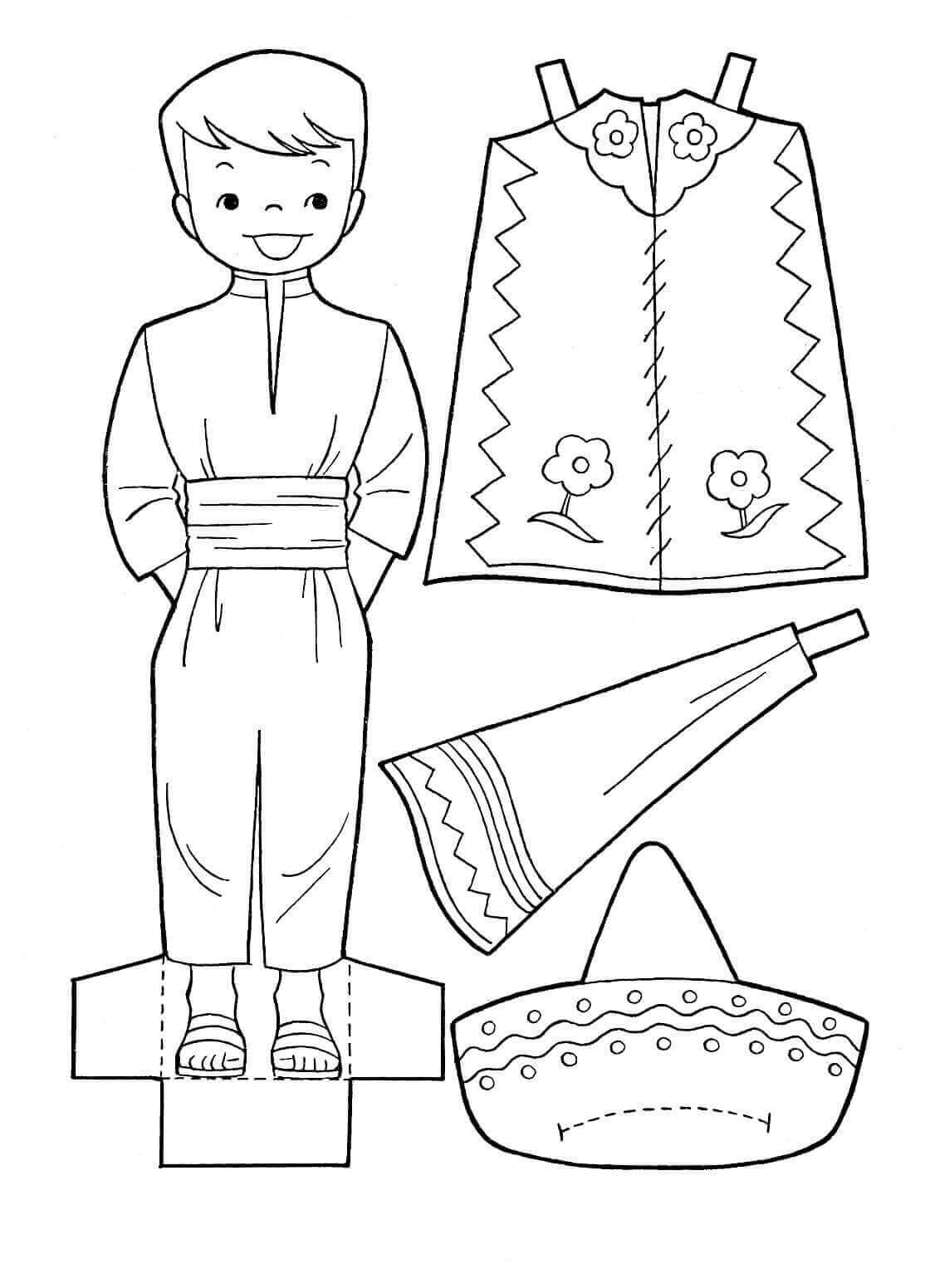 People celebrate this day in high spirits. There are large parades featuring people dressed as Mexican soldiers. People also come in patriotic clothing and traditional accessories during the celebration. The highlight of men's wear is the sombrero which is a straw hat. They also wear Spanish Charro suit, just like this one.
to join this conversation on GitHub. Already have an account? Sign in to comment Footer © 2023 GitHub, Inc. Footer navigation Terms Privacy Security Status
Cinco de Mayo Activity Sheet: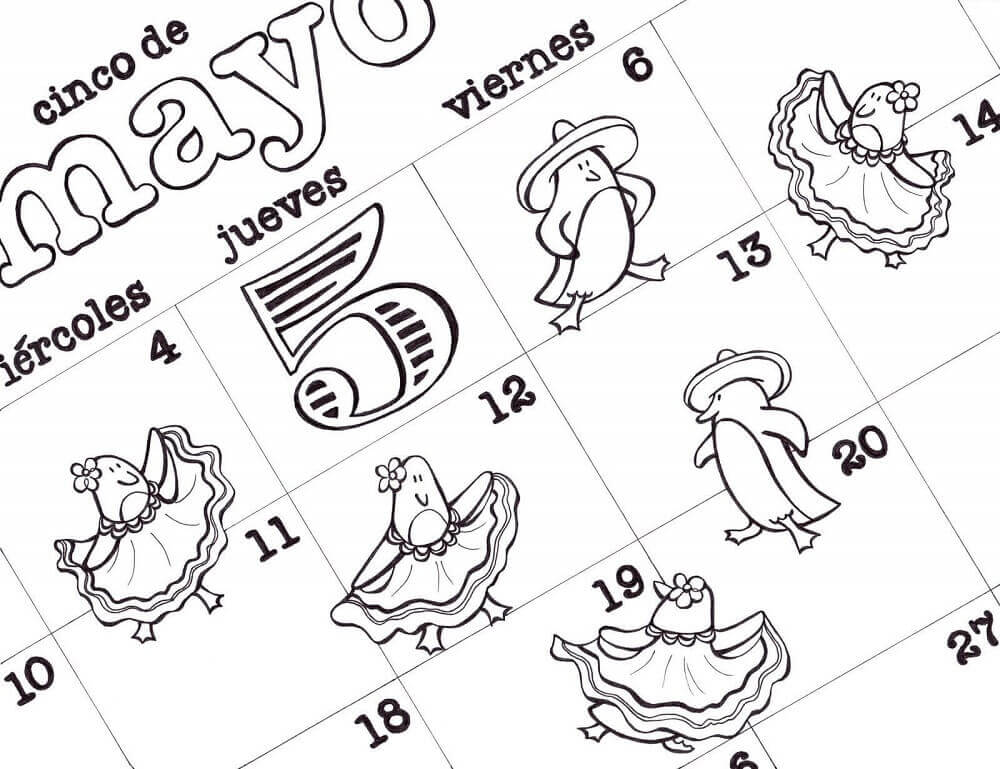 Cinco de Mayo as mentioned above is celebrated on 5 May every year. This day is often confused with the Mexican Independence Day in many parts of the US which is observed on 16 September.
Cinco de Mayo Celebration Coloring Page: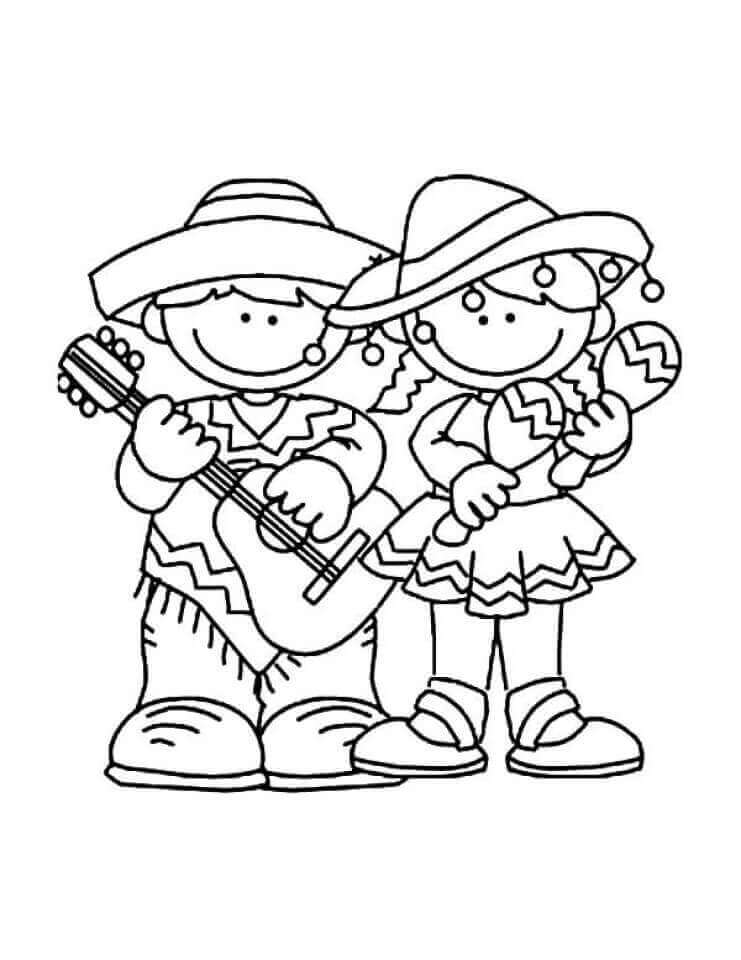 Cinco de Mayo is a joyous celebration. Thus everything around is colorful and full of life. Everyone enjoys this day, including the kids. Justin and Julie here are in a celebration mood, and that is why they are dressed in traditional celebration dresses. Make this sheet as colorful as you can to signify the celebrations.
Mexican Celebration Dance: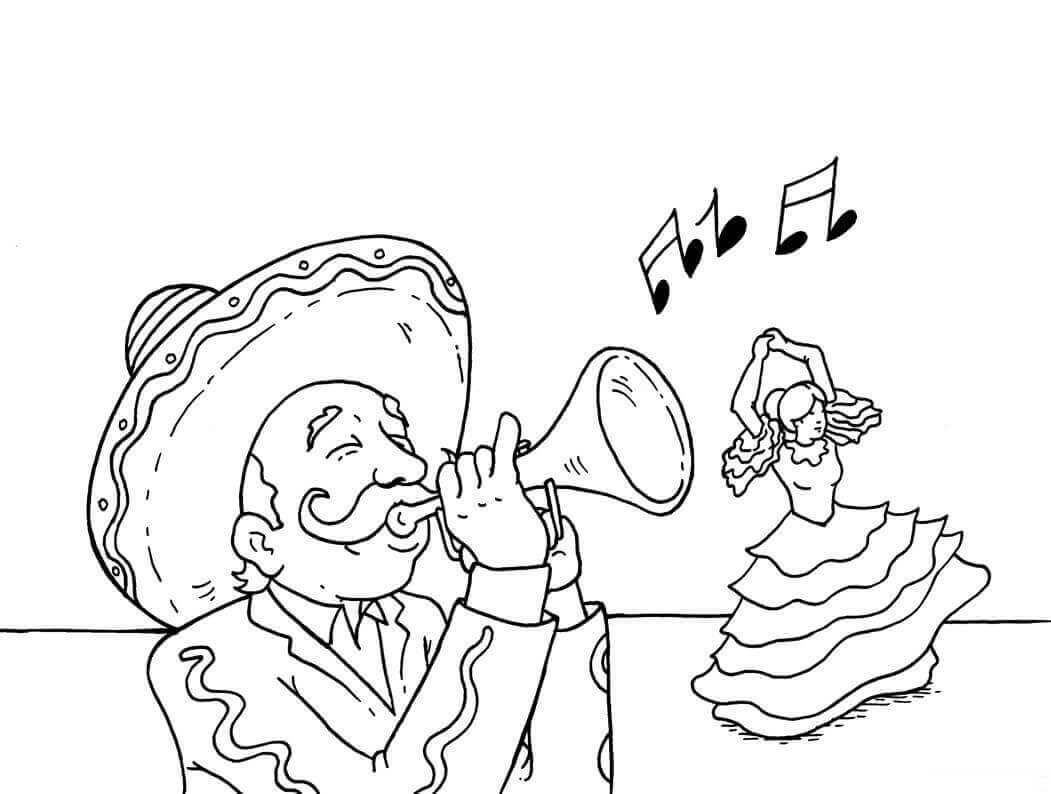 Mexico has a vibrant culture. Its dances are influenced by American, African, and European dance traditions other than its own. The most well-known Mexican dance is the "Mexican Hat Dance" (translated into English). Men wear the sombrero while women wear China Poblana.
Cinco de Mayo Coloring Page for Children: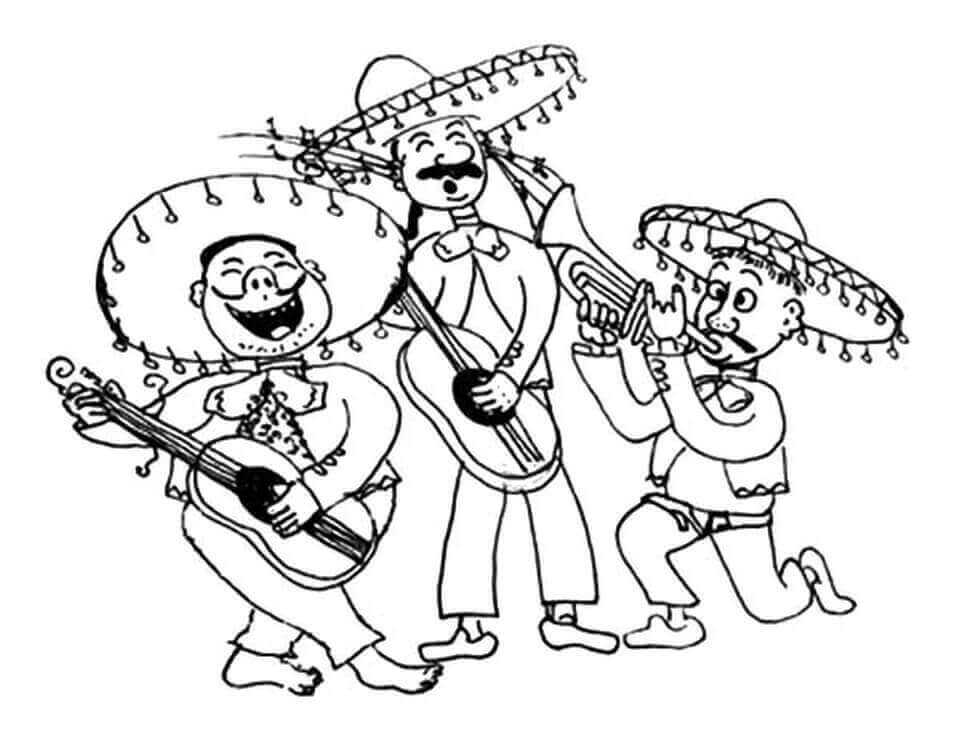 5th of May is a happy day for everyone in Mexico and the US. People are in a festive mood, and they celebrate this day with great enthusiasm, like these three men here. They are dressed in traditional Mexican attire and are blissfully playing what is known as "Guitarron" and the trumpet.
Mexico Map Coloring Page: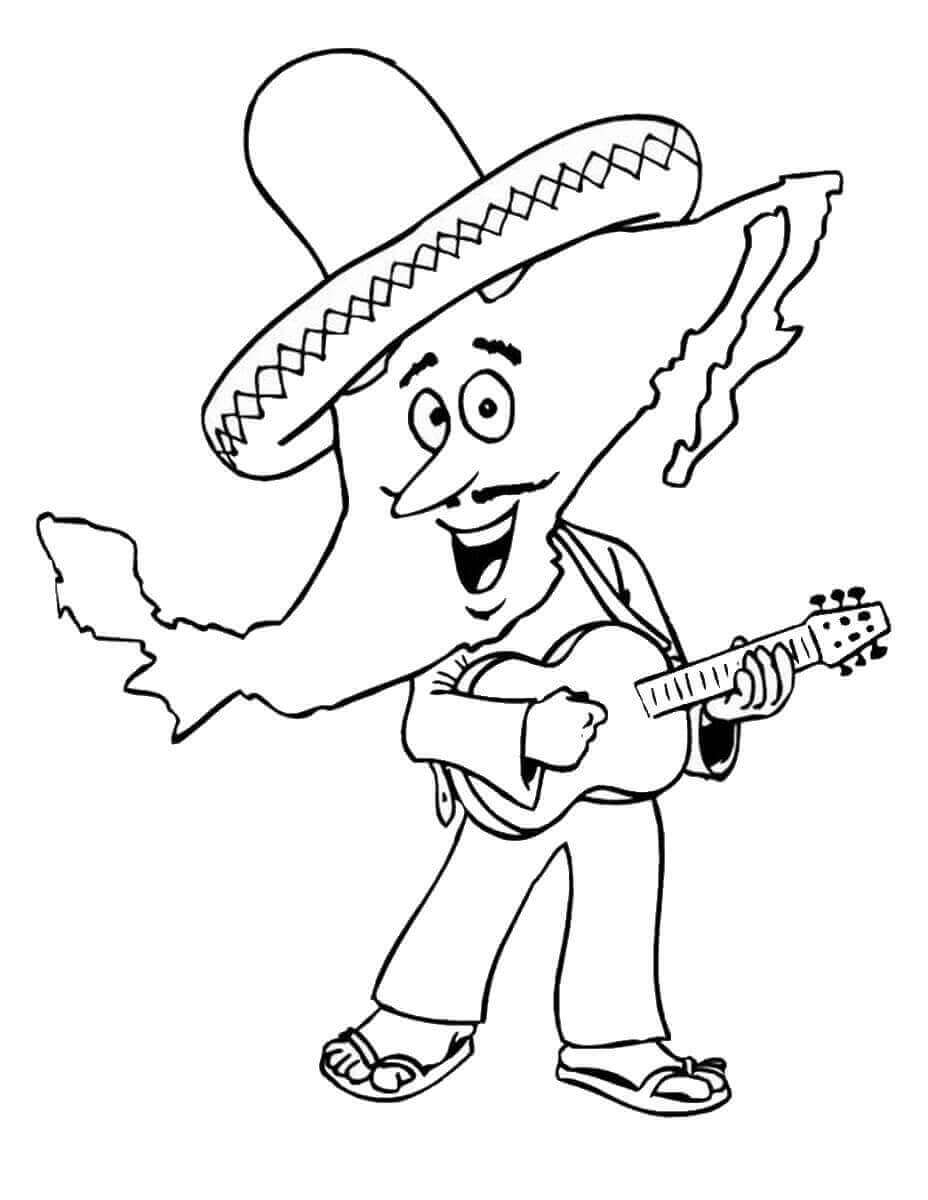 This is Mexicano. Surprisingly his head resembles the map of Mexico. He is proud of the fact that he resembles somewhat to Mexico and is taking full pride in celebrating the glorious Cinco de Mayo. He is in full traditional Mexican attire with the sombrero and guitar in his hand.
Cinco de Mayo Coloring Page for Preschoolers: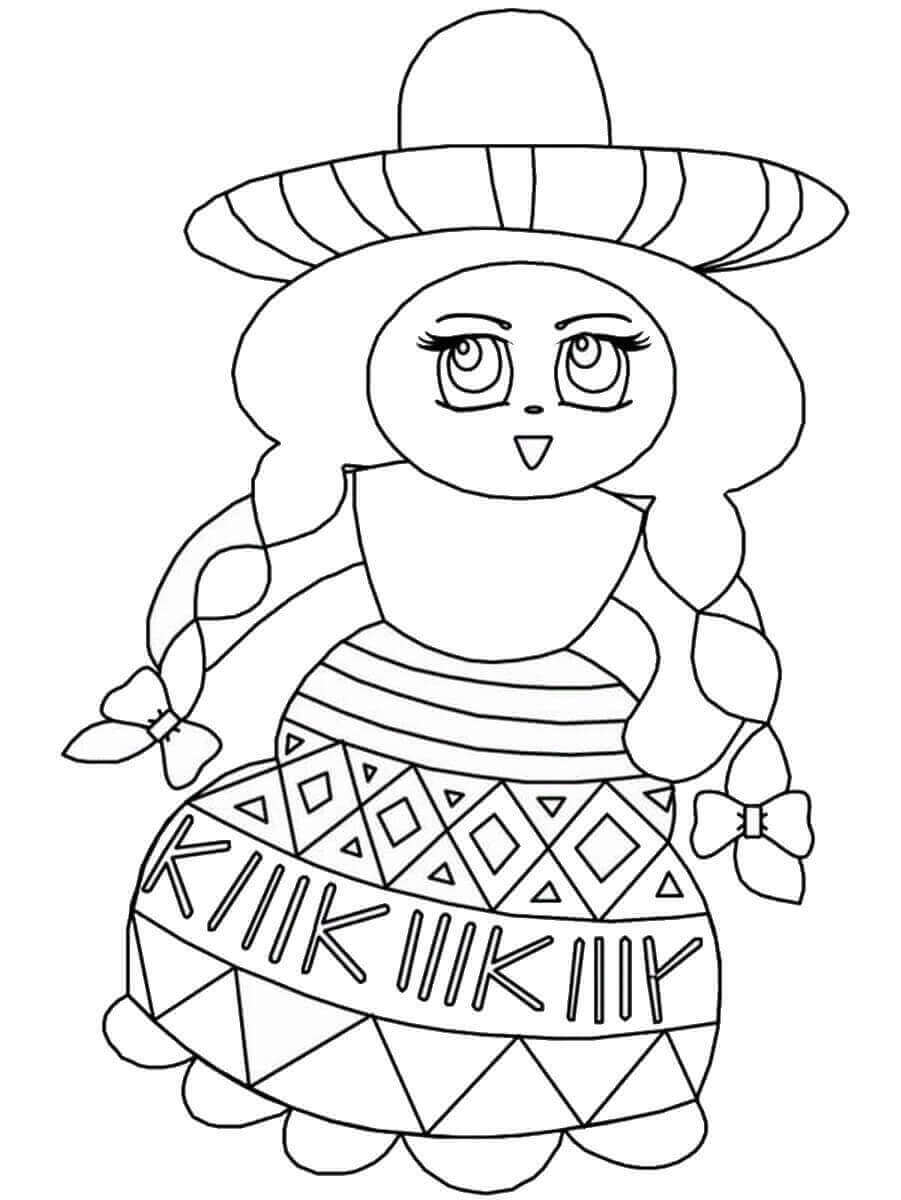 A part of Mexican indigenous culture is rag dolls. These dolls are called Marias or just rag dolls. These traditional dolls come in all sizes and are incredibly vibrant. This doll is the most common one; smiling face, indigenous-like dress, and hair braided with ribbons.  Color this beautiful Maria with the brightest hues.
Salud Amigos Coloring Page: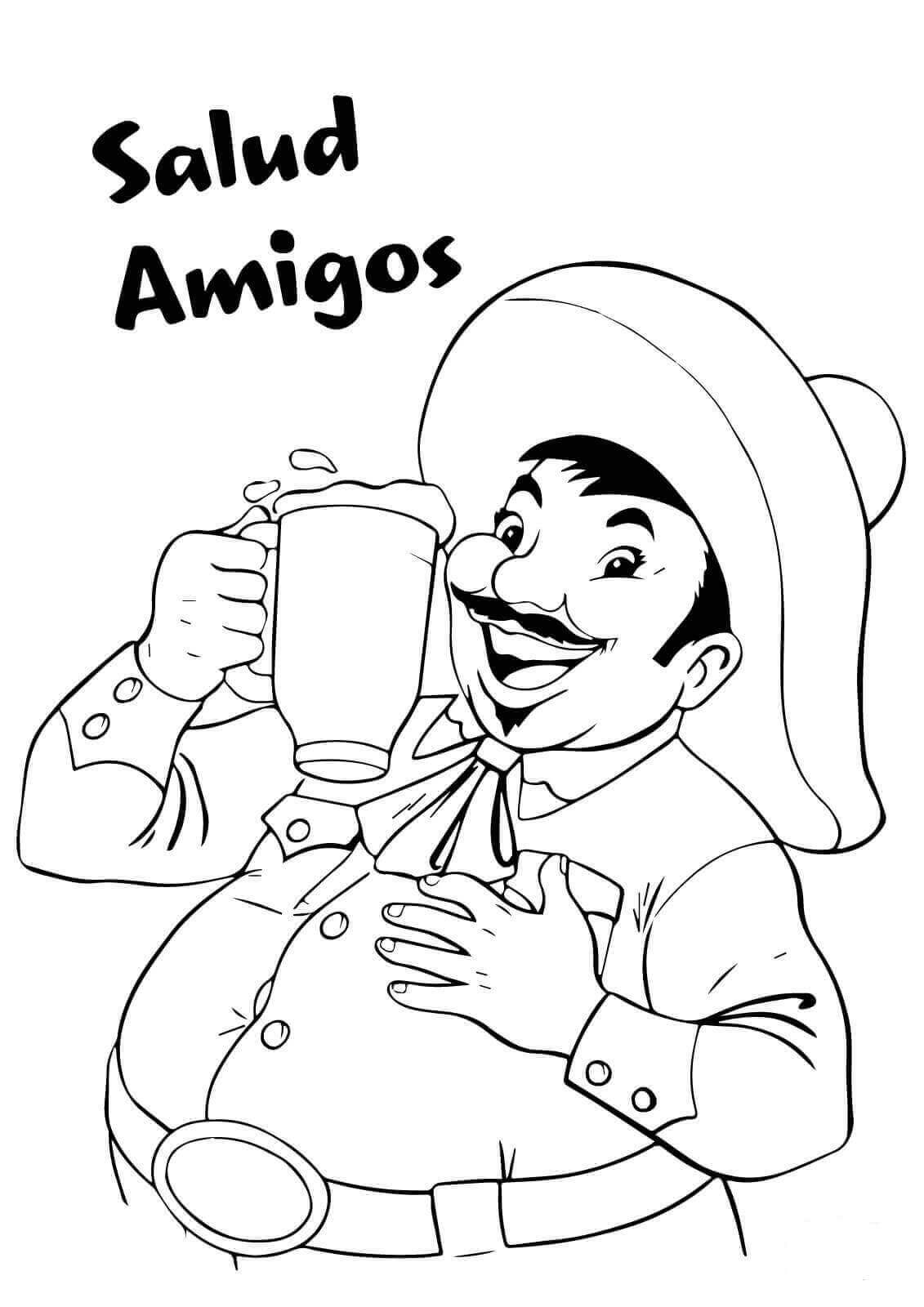 "Salud amigos" is a Spanish term that translates to "Cheers Friends". Spanish is the national language of Mexico. Color this jolly fellow with as vibrant hues as his personality.
Horse Piñata and Kid Coloring Page: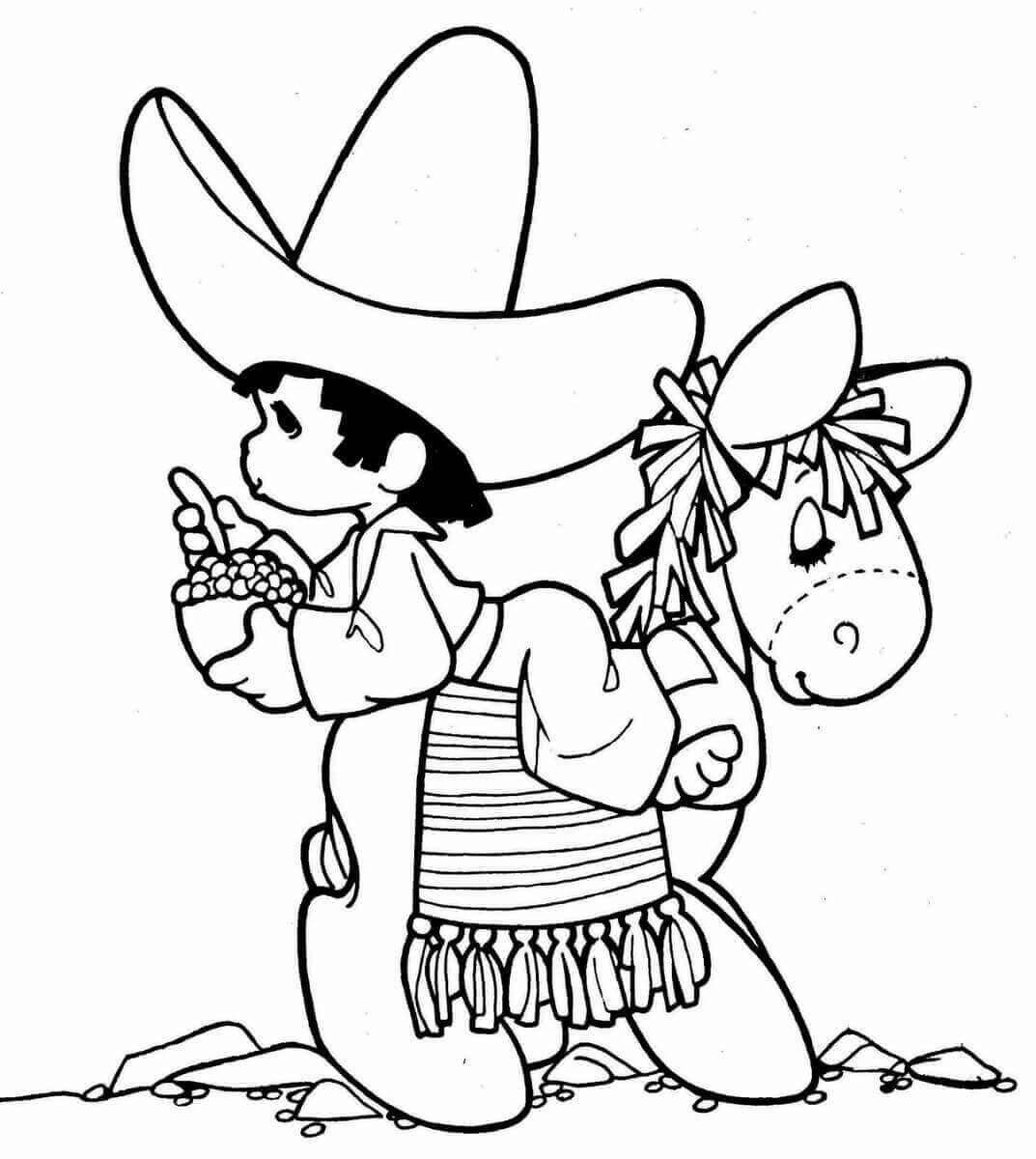 Juan is just six years old and eagerly waiting with this horse piñata. He is impatiently waiting to break it and take away all the toys and candies filled with it. Piñatas can be smashed by anyone, including kids, as a celebration. Juan is waiting for the holiday to start. Doesn't he look cute in the traditional get-up? Fill the sheet with cheerful hues.
Antonio And The Celebration Coloring Page:
Meet Antonio, yes this cute little dog. Like his owner, he too is in a celebratory mood. His owner has put a sombrero on his head as a tradition. In Mexico, everyone wears a sombrero during celebrations. Color this adorable dog.
[ Related: Dog Coloring Pages ]
Chili Pepper Coloring Page: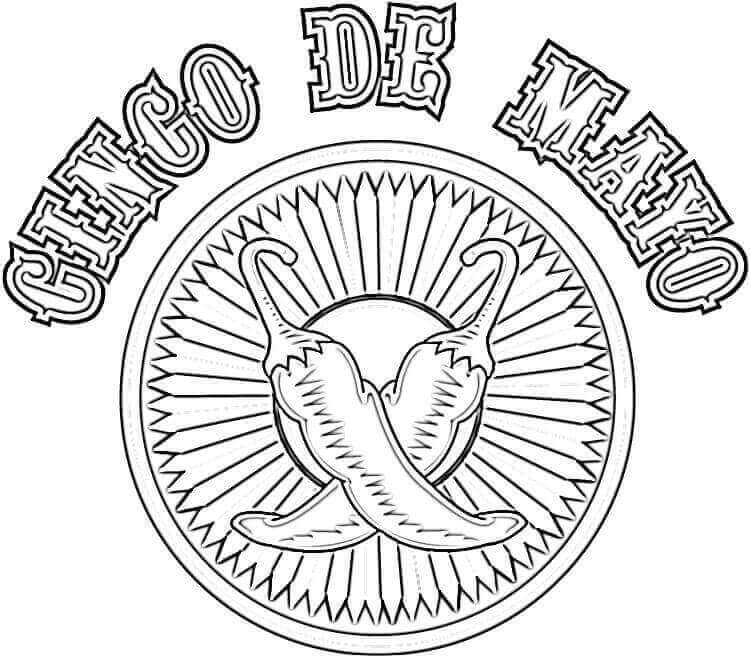 Chili peppers originated in Mexico. After the Columbian Exchange, many cultivars of chili pepper spread across the world. Chili peppers are used for both food and traditional medicine. Mexican Tabasco chili pepper is very commonly used in hot sauces all over the world.
Sugar Skull Coloring Page: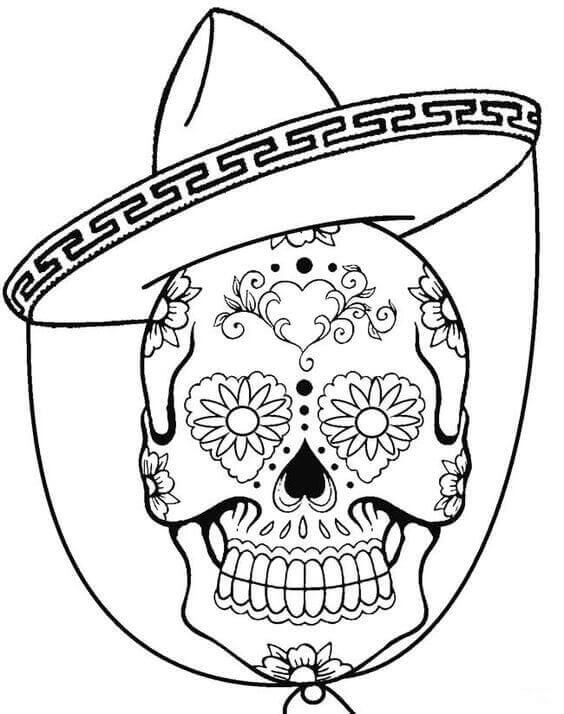 Sugar skulls are a universal symbol of "Day of the Dead" which is celebrated on 31st October. These skulls are painted as if they are wearing a mask and inscribed on the forehead is the name of the recipient. These can be given as a gift to both, living and dead.
[ Related: Sugar Skull Coloring Pages ]
Lucy And Her Dress:
Lucy is very excited to wear China Poblana. She eagerly waits for 5th of May every year so that she can wear this traditional dress. Each time she wears it, she has a different smile on her face, a sweet, genuine smile. This is how exciting Cinco de Mayo is for children.
Jose Ready for Celebration: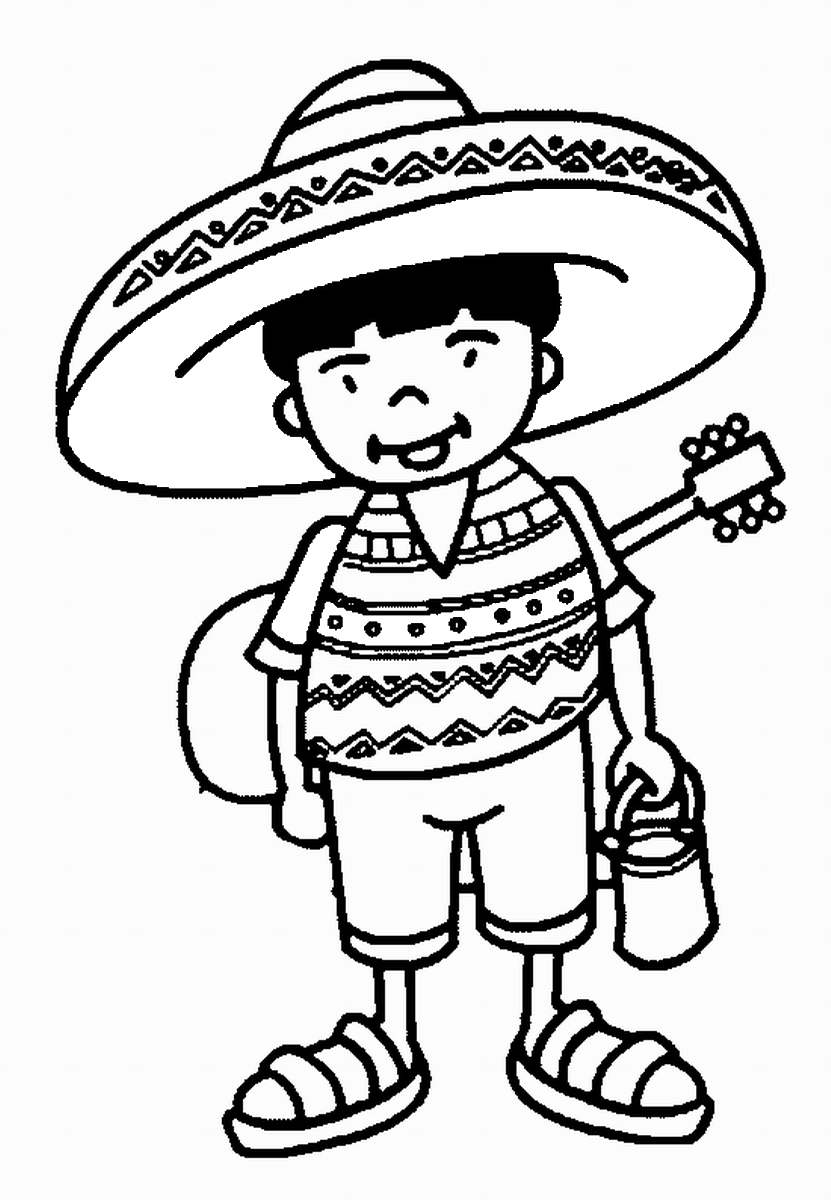 Jose woke up early today in the mood of Cinco de Mayo. He is so excited that he has already prepared everything and is ready to go with his guitarron on his back and sombrero on his head. I think he has to wait for everyone to come and start the celebrations. Color him happy and excited.
Mexican Maracas Coloring Page:
Maracas are an integral part of Latin and South American bands and orchestras. They are also called rumba shakers sometimes and are shaken by handles, usually played in pairs. These are typically oval or egg-shaped with handles at the bottom. Maracas are made using dried gourds with beads, beans, or small stones inside in its traditional form. Color them with bright hues.
Cinco de Mayo Piñata Coloring Page:
Breaking or smashing piñatas as a celebration on this day is very common. Everyone participates in this. These two kids were successful in breaking this piñata, and as a result, all the toys or candies in it are theirs. They seem pleased about the fact that after many failed attempts of the adults, they could break it. Color them ablaze.
Cinco de Mayo Symbols Coloring Page:
The most significant part of the Cinco de Mayo celebration is the straw Hat-Sombrero. Other than this, the maracas too are associated with celebrations along with masks that people wear during large parades.
Cute Cinco de Mayo Coloring Page: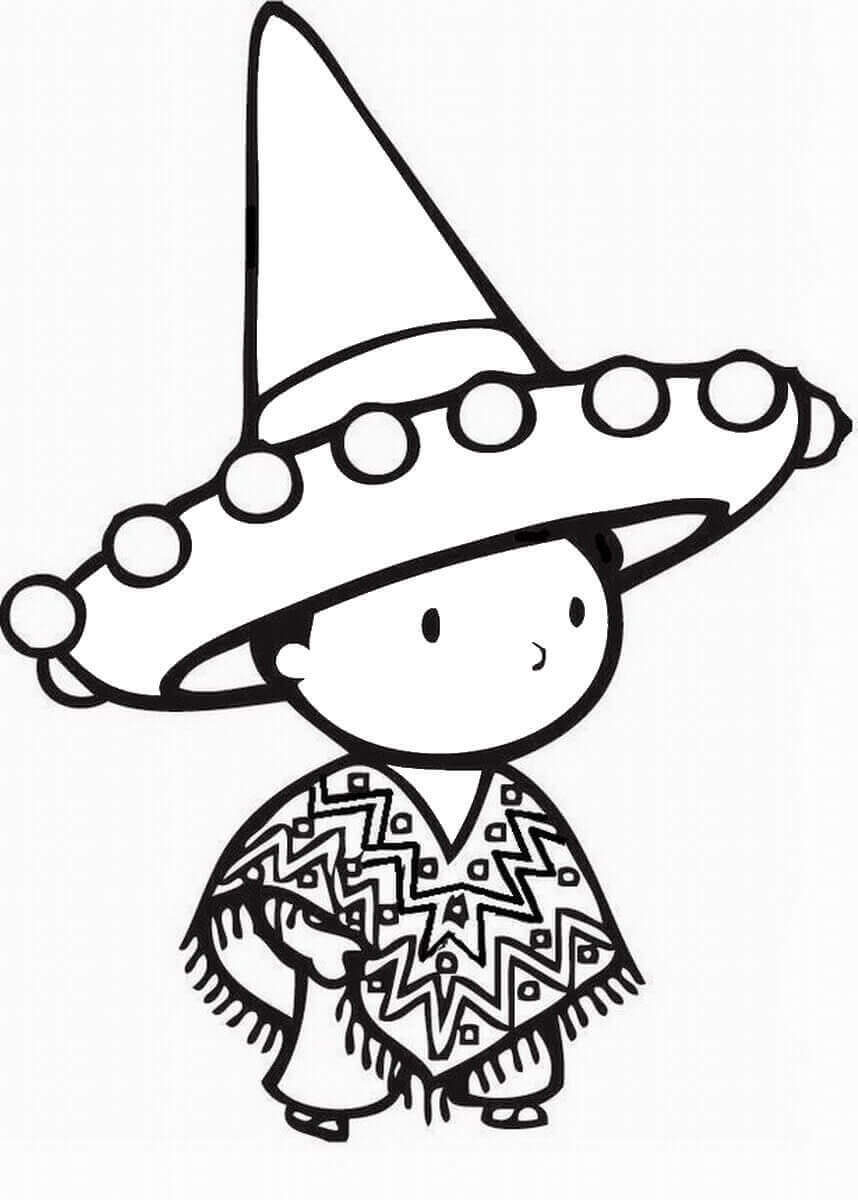 Say hello to little Martin. Like most of the people, he too is ready for the celebrations. He is looking just like a male Mexican rag doll. Fill this sheet with vivid colors.
Disney Cinco de Mayo Coloring Page: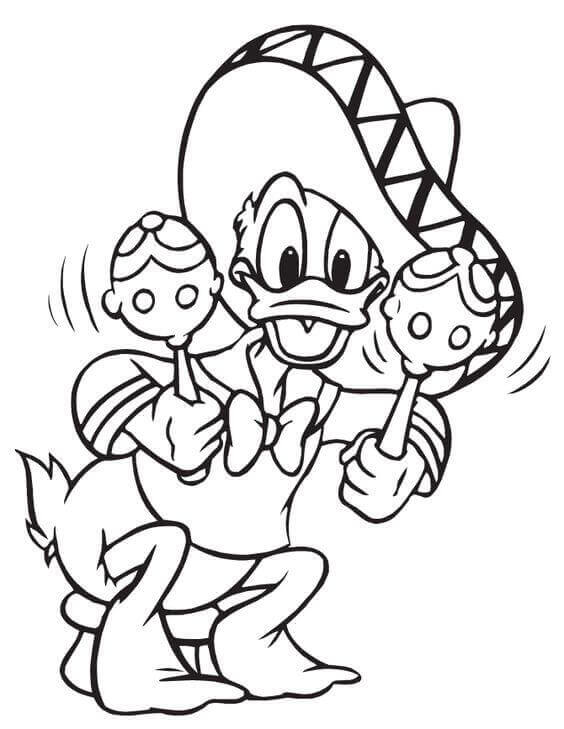 Donald Duck is always in high spirits, no matter what the situation is. It is Cinco de Mayo, and there are absolutely no doubts about why he is so cheerful today, and all dressed up. He is planning to play maracas. Do you want to join him?
Mustache Man Coloring Page: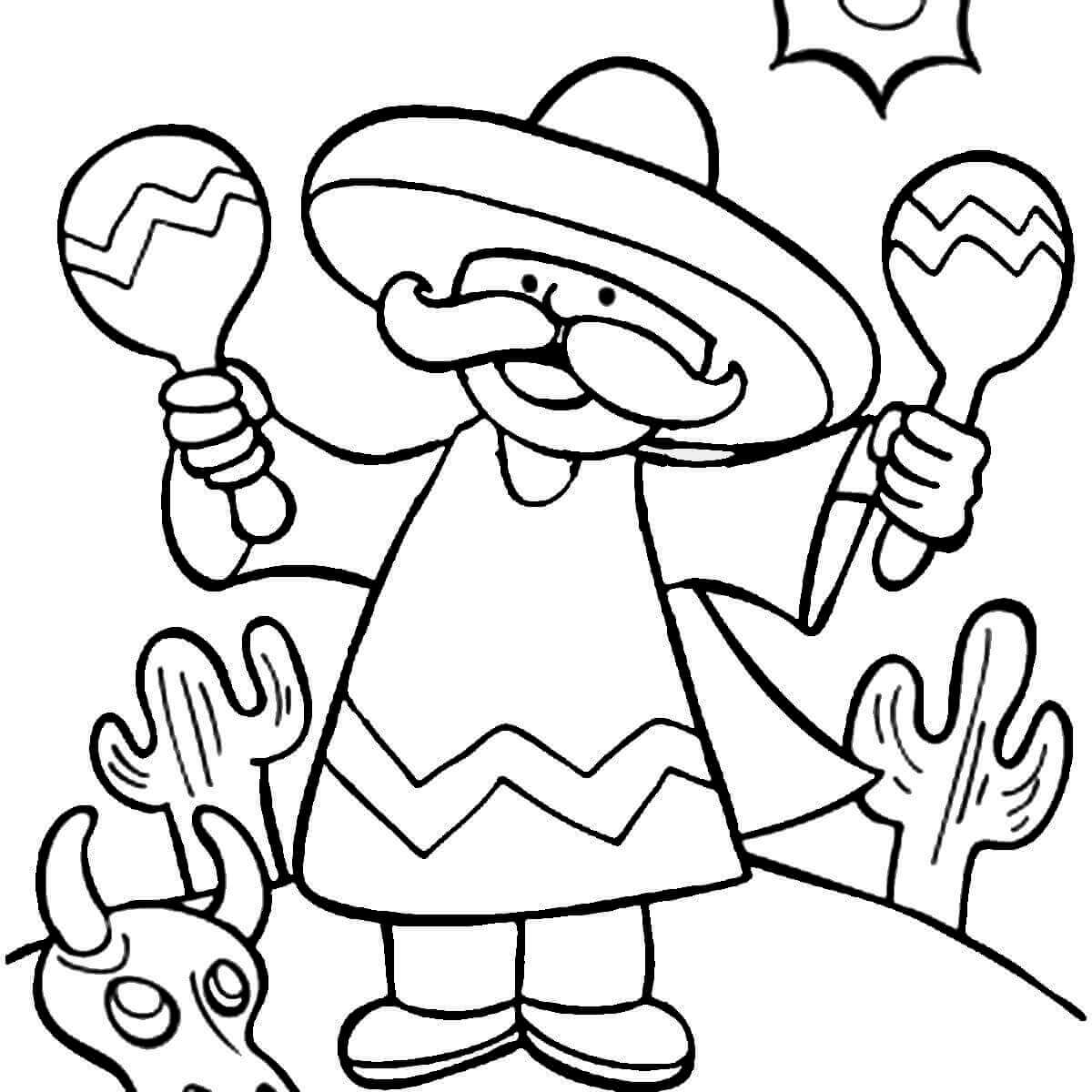 Mustaches are very common in Mexico. David is very famous for his mustache, and he thinks that no occasion is more suitable than Cinco de Mayo to show off his mustache. He has also decided to flaunt his music skills. Color him with hues that accentuate his mustache.
Panda Celebrating Cinco De Mayo Coloring Picture To Print: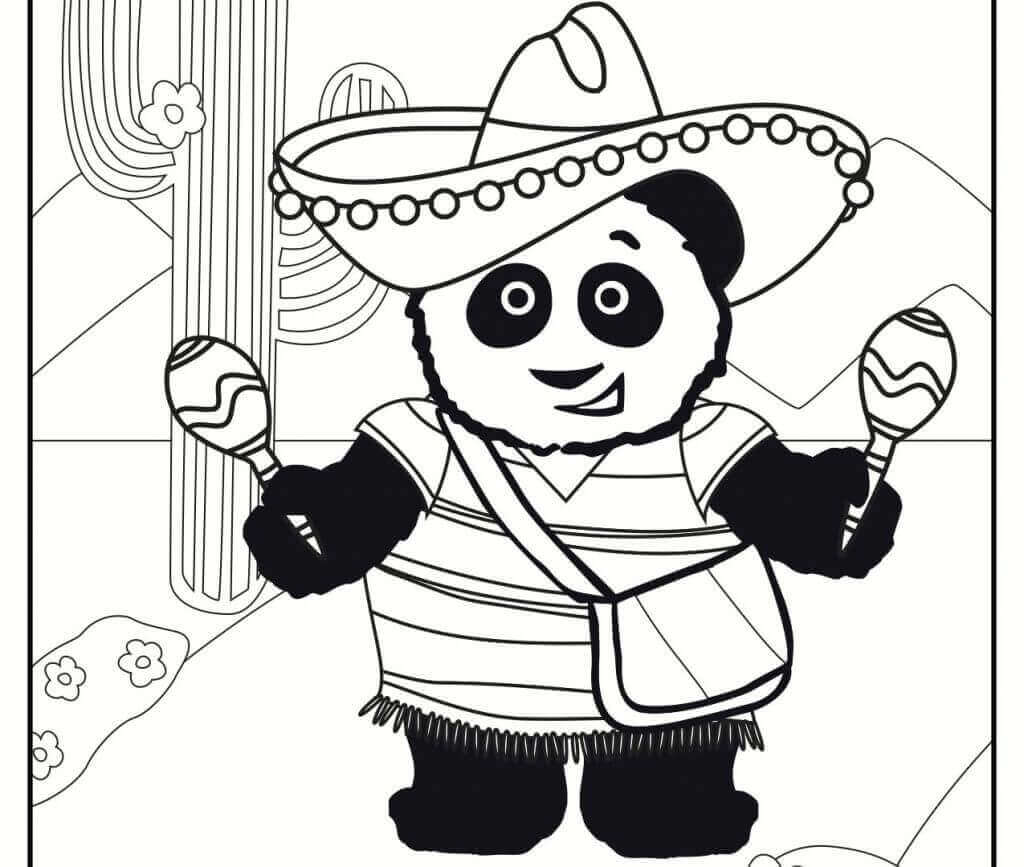 Although pandas are not very common in Mexico, this panda named Shaun has come from China all the way to Mexico to celebrate Cinco de Mayo. Pandas are considered to be very lazy, but Shaun is always up for celebrations.
The Celebration of Animals:
In the Chapultepec Zoo of Mexico, all the animals are ready to celebrate this auspicious day in their own way. Their band called "The Symphonies" is ready to mark the victory of the Mexican army. Color The Symphonies.
Dino Cinco de Mayo Coloring Image:
Although dinosaurs are extinct, they still live in our imagination. All four of these dinosaurs have a role in celebrating this day, to play the best music ever. They are ready with their instruments, are you ready with your colors?
Garfield Cinco de Mayo Coloring Page: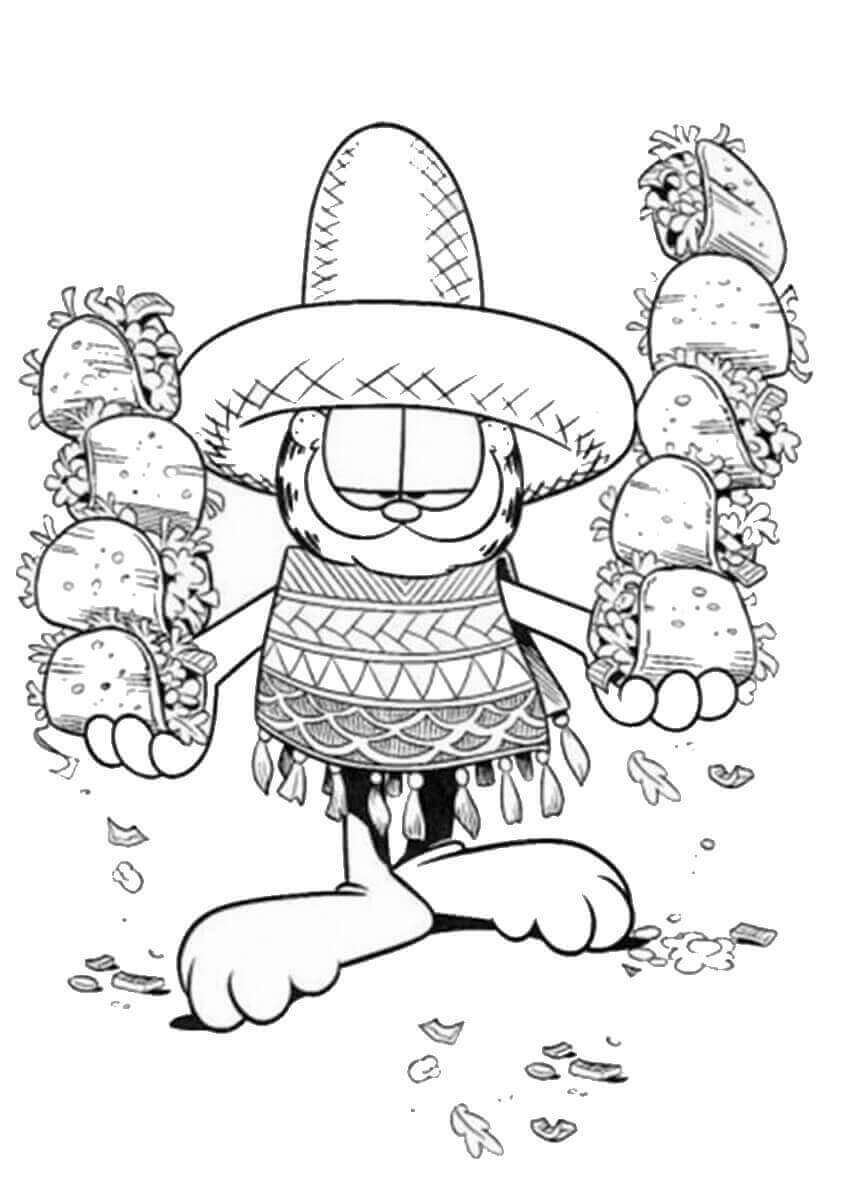 All that Garfield can think about is food. As you can see, both his hands are full of tacos. Taco is a traditional Mexican dish that consists of corn or wheat tortilla folded or rolled around the filling. Being a food lover, Garfield loves Cinco de Mayo and never misses it.
Happy Harry Cinco De Mayo Coloring Sheet:
This mouse is named Harry and like everybody else is happy and excited for the Cinco de Mayo celebrations. Apart from wearing a sombrero, he has also worn a cute little bow tie. Cute, isn't it? Color him bright.
Happy Cinco de Mayo Coloring Page: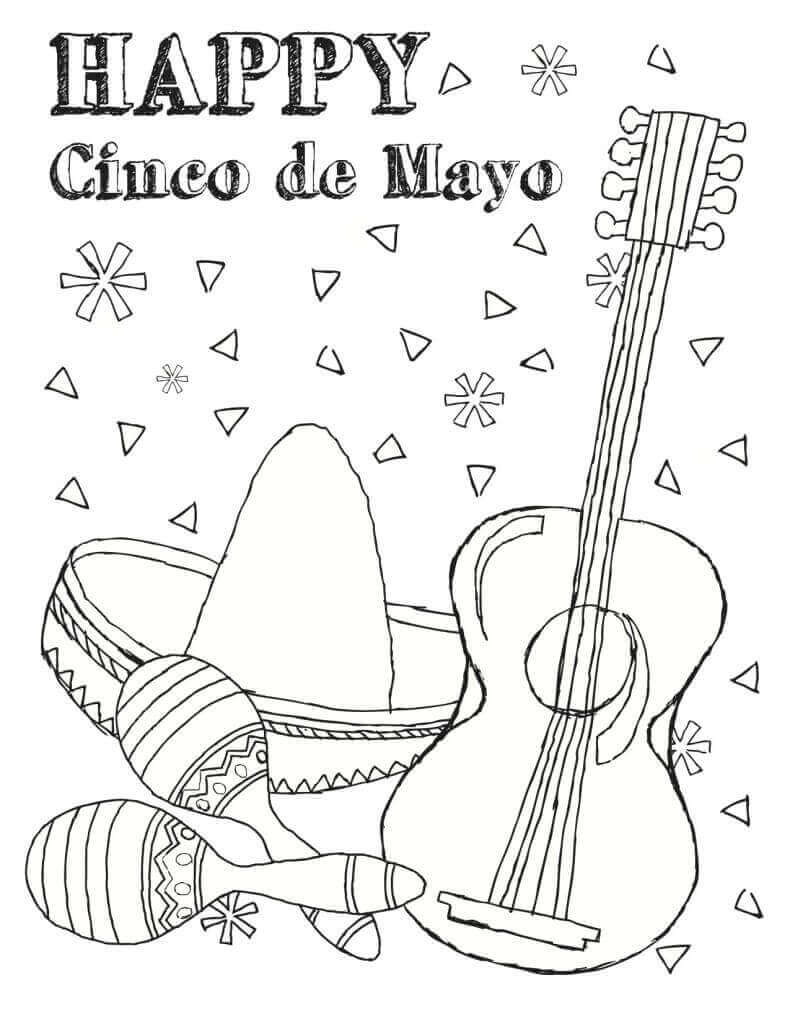 As mentioned above, Cinco de Mayo every year is celebrated on 5th May in high spirits. A less known fact is that Cinco de Mayo is not a celebration of independence but a celebration of Mexico's victory. It was an unlikely win for the Mexican militia who were heavily outnumbered. This victory is a source of pride for the Mexican people, and this is the reason they continue to celebrate this day.
Cinco de Mayo and Sombrero Coloring Page: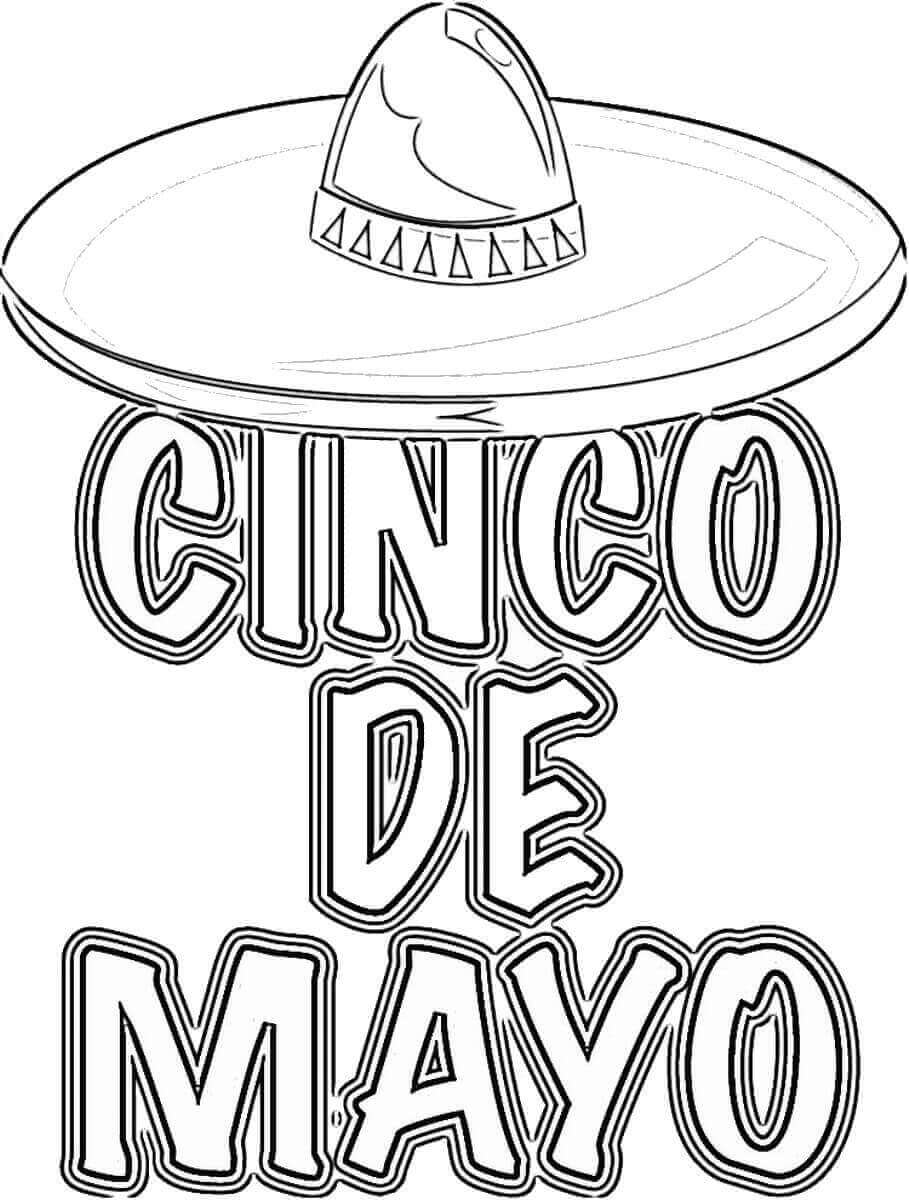 Sombrero is one of the most important things in Cinco de Mayo celebrations. It is Spanish for hat, and in English, it simply means a wide-brimmed hat originated in Mexico, meant to protect a person from the sun. These were invented in response to the demands of the physical environment.
Day Of The Dead And Sugar Skull: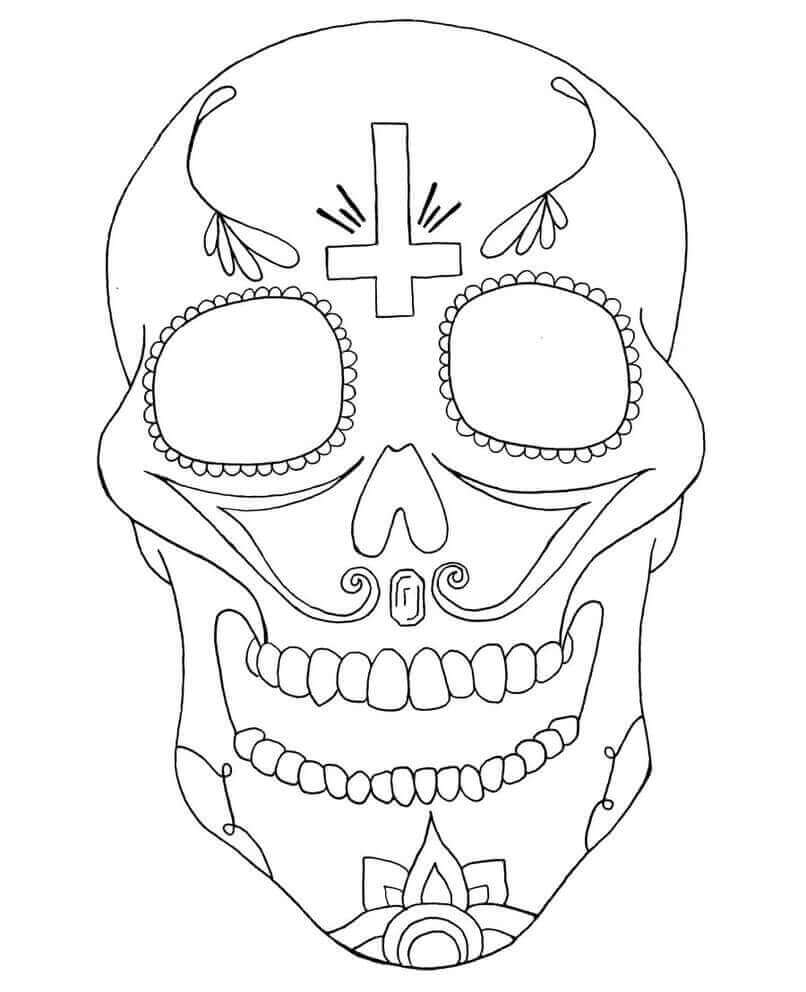 Day of the dead is a holiday in Mexico. It is believed that on this day deceased people are allowed to reunite with their families. Sugar skulls are placed on the gravestone of the dead to honor their return.
Maracas Coloring Page:
The simple design of maracas has made it familiar throughout the world. Maracas have three parts-the bells from where the sound is generated by being shaken, the filter in the bell, and the handle. Each component can be made from different substances that makes different sounds.
Mexican Culture Coloring Page: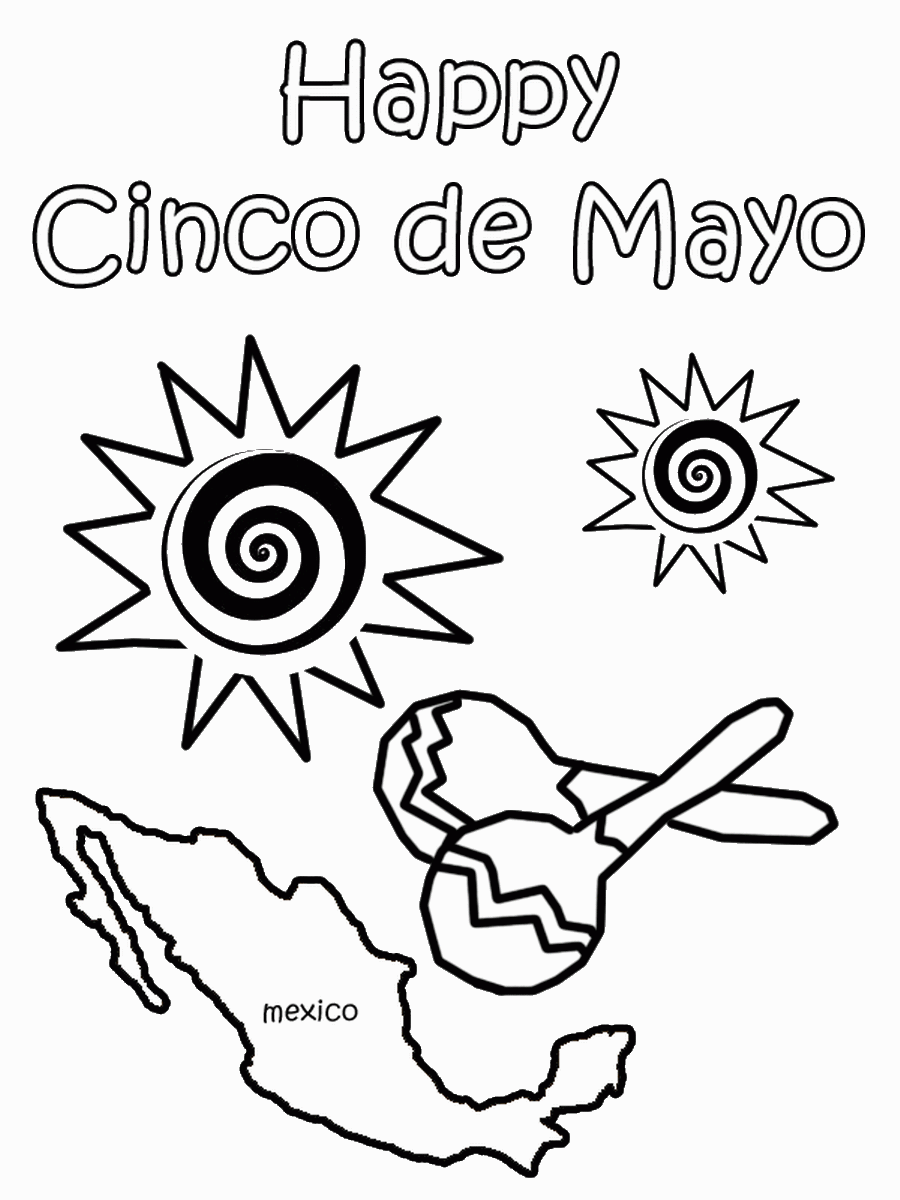 Mexican culture is a blend of its local culture along with Spanish culture and the culture of its immigrants. Mexico is well known for its folk art tradition and architecture. 34 sites in Mexico are listed in the UNESCO World Heritage which is more than any American country.
Mexico And Its Culture Coloring Page: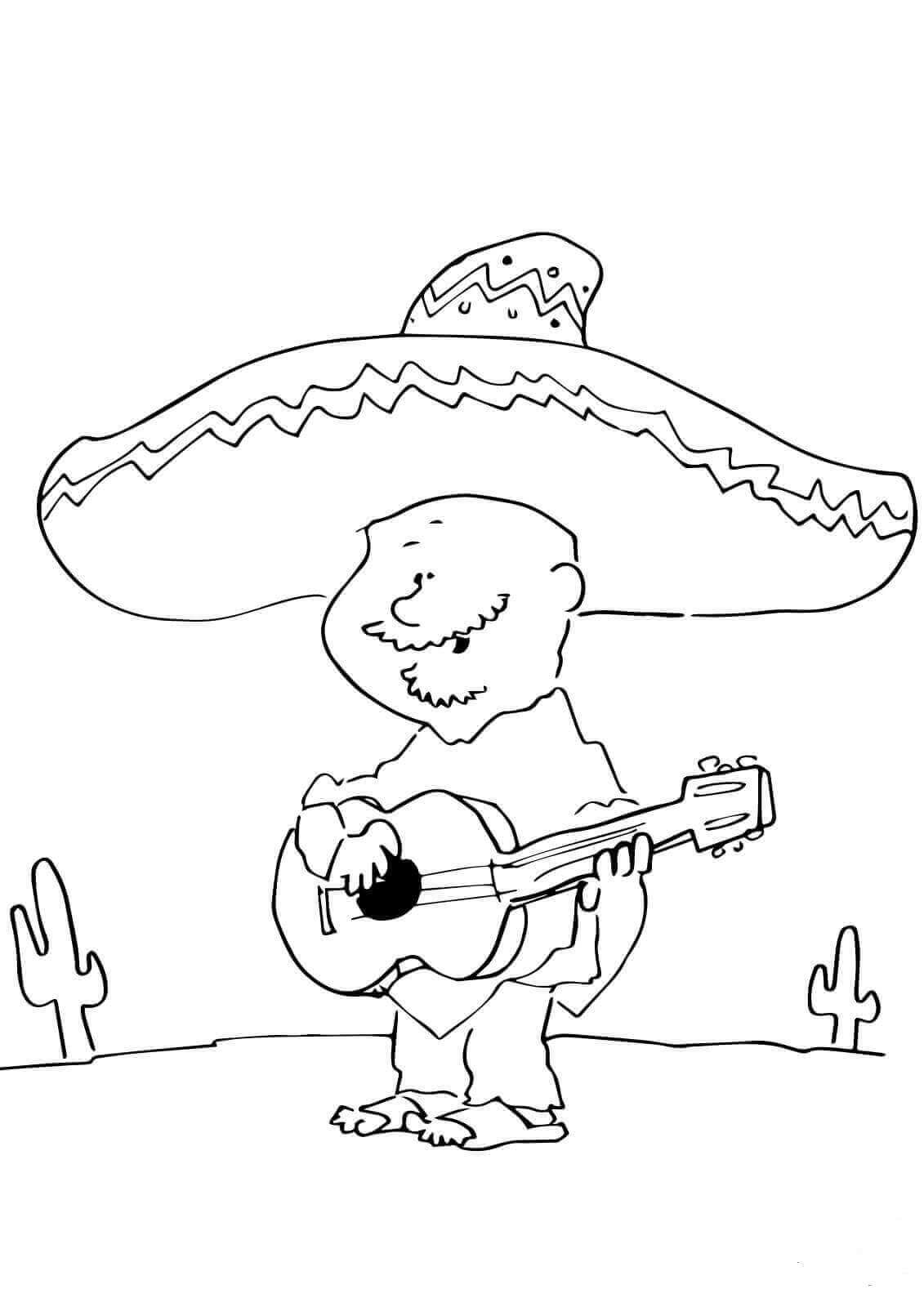 The mixture of native legends, artistic expressions, and Spanish culture makes the Mexican culture unique. Mexican art is a representation of Mexican culture which displays its colorful pride. Apart from this, Mexican people have preserved their ancestors' heritage which signifies how proud they are of their culture.
Printable Cinco De Mayo Coloring Page:
Mexico is a haven for those who love nature. Its geography and various climate zones make its flora and fauna one of the richest in the world. Mexico is most commonly associated with cactus. An interesting fact is that almost more than 1000 varieties of cacti can be found in the arid north of the country.
Simple Cinco de Mayo Coloring Page:
Julie and Julio both are holding the banner of Cinco de Mayo to welcome the people arriving for this day's celebration. They are proud of the fact that they are Mexicans and are a part of the rich culture and tradition of Mexico. Fill this sheet with colors as beautiful as Mexican culture.
I am sure nobody hates Tom and Jerry. Even adults love them. And they love celebrating Cinco de Mayo. Tom is wearing a sombrero and playing a guitarron whereas Jerry is simply sitting on it he hat's brim, relaxing. Color this amazing duo with brilliant shades.
36. Fiesta Coloring Page:
   This coloring sheet captures the spirit of the fiesta, which means 'party' in Spanish. And we all know that Cinco de Mayo is all about partying hard.
Although Cinco de Mayo is not Mexican Independence Day, it is an essential date in the history of Mexico. It is a date to celebrate the victory of Mexicans and the amazing, vibrant culture they share with their neighbors. It's a mesmerizing and colorful celebration. Get these free Cinco de Mayo coloring pages printed and color them vibrantly. Don't forget to share your favorite Cinco de Mayo coloring pages to print below.