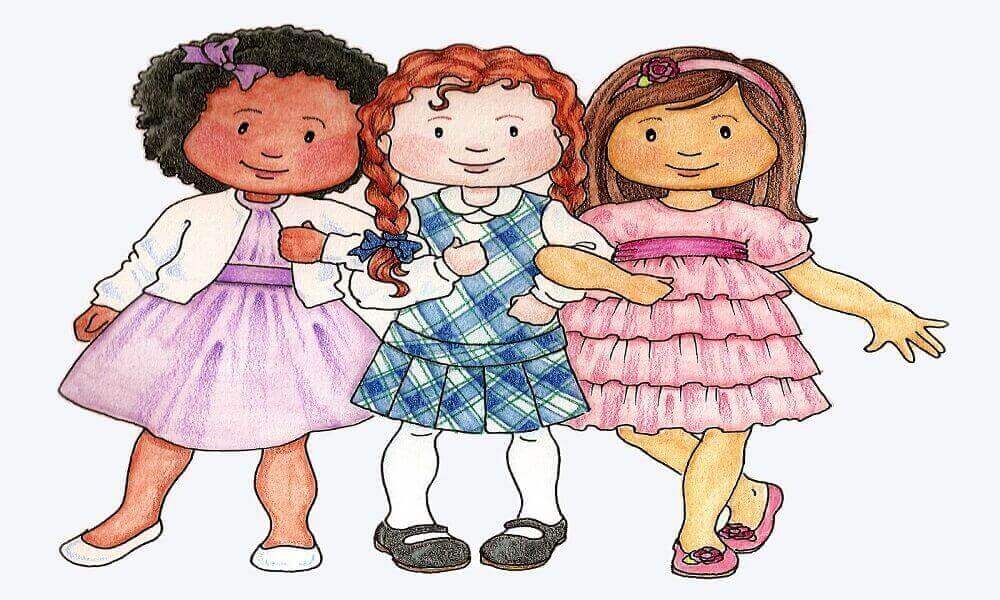 Hello, cuties! How are you beautiful girls doing? This time we bring you some wonderful free printable coloring pages for girls. Girls, like us, have grown up listening stories of beautiful princesses, butterflies, horses with wings and even animals going on the treasure hunt. So now you will be able to add the color to your beautiful and unique dreams via these girls coloring pages. And you can color these and actually put them on the walls or the doors of your cupboards. Now let's see how creative you can get with these free coloring sheets for girls to print. 
Free Printable Coloring Pages For Girls:
Fairy Coloring Page: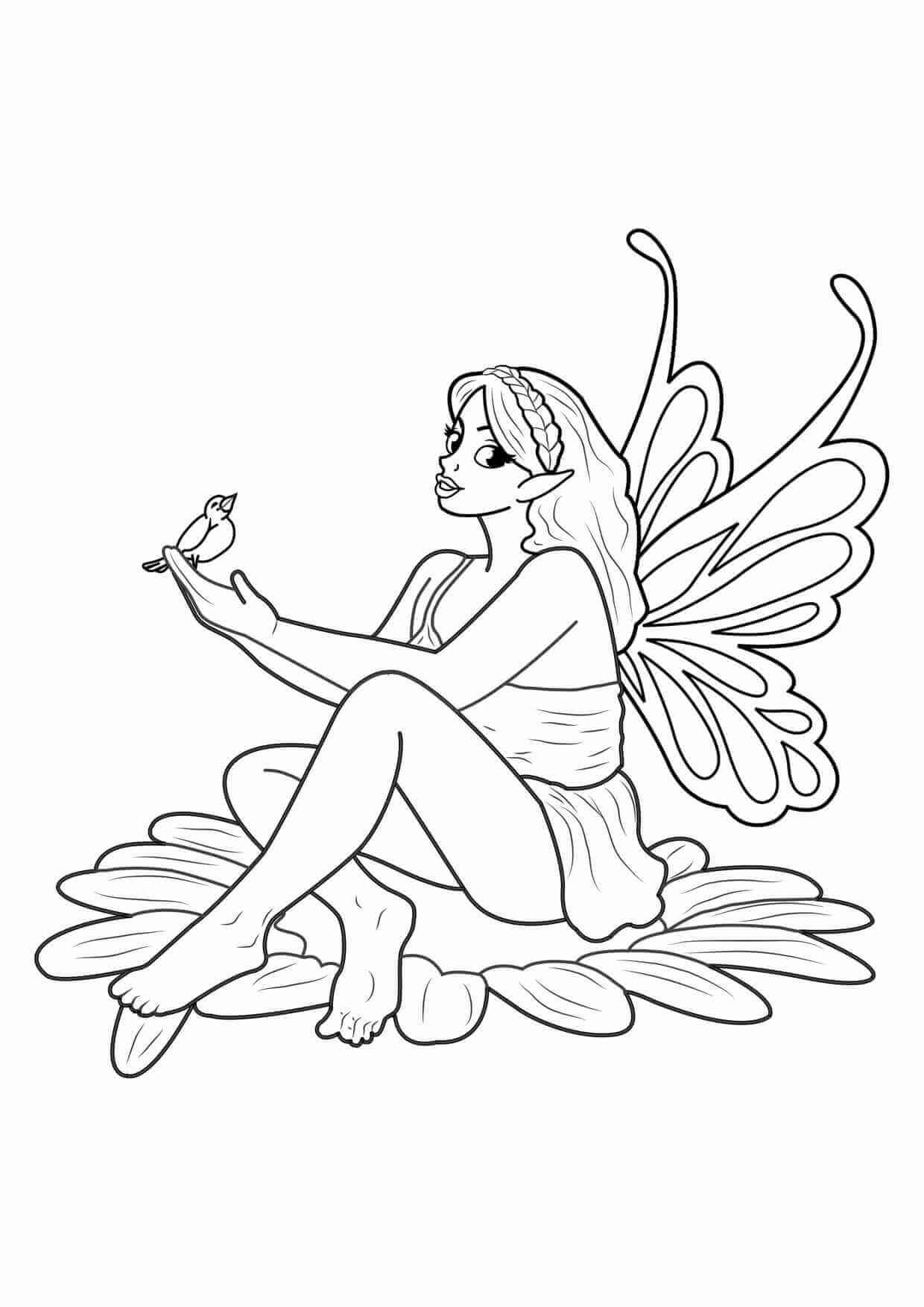 This fairy sits like she's daydreaming. Fairies do have magical powers, and also they look so magical and wonderful. Our fairy here looks super graceful and now let's see what magic colors you add to her beauty!
Mother Cat Coloring Page: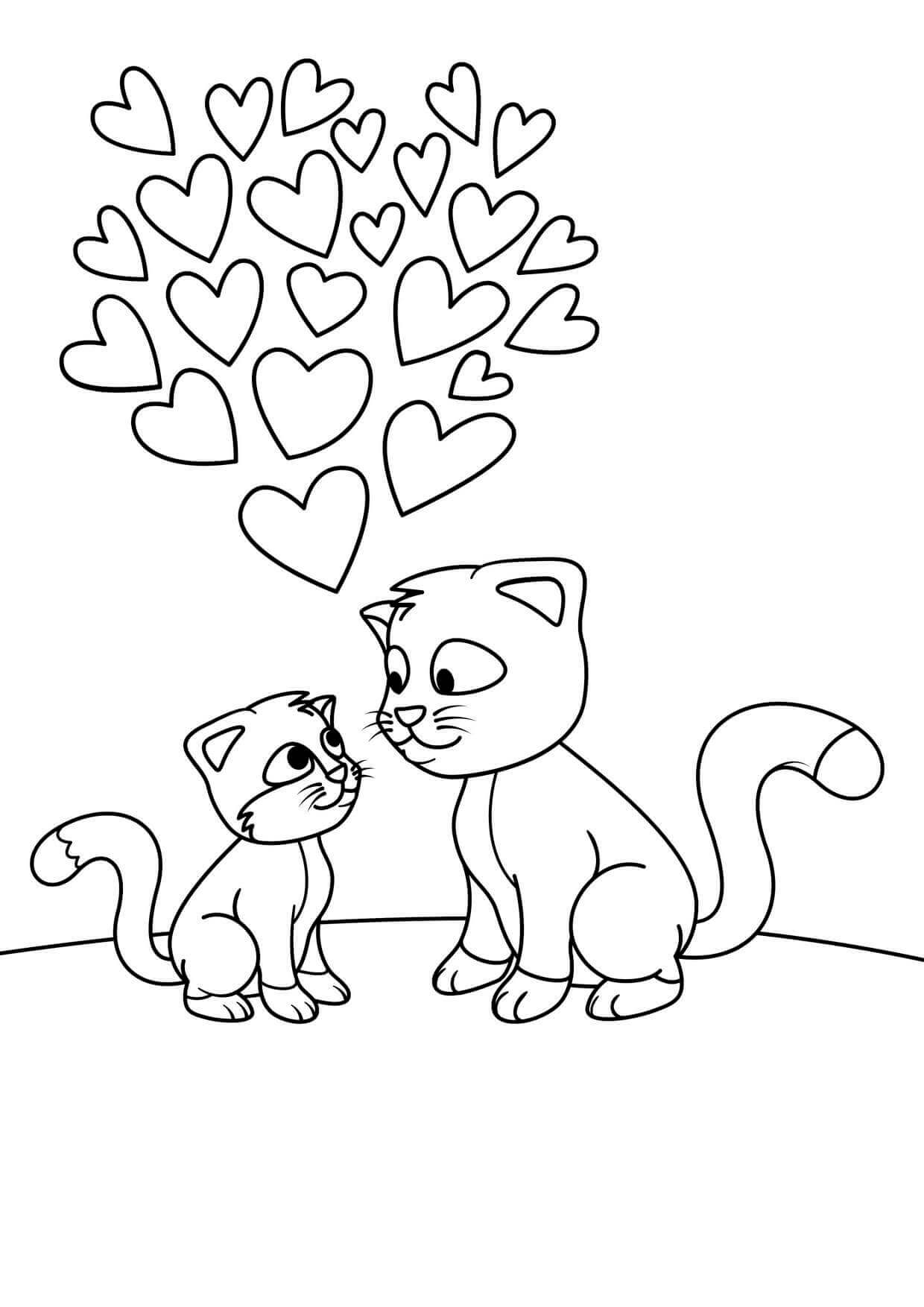 Our little baby cat seems to have done a very good job at the school. Now you think cats don't have school, don't forget girls we were talking about dreams, dreams can be anything. So her mother looks really happy with her kid, giving her a loving look.
to join this conversation on GitHub. Already have an account? Sign in to comment Footer © 2023 GitHub, Inc. Footer navigation Terms Privacy Security Status
[ Read: Cat Coloring Pages ]
Princess At The Party:
Parties are always very fun with all the beautiful gowns and shimmery masks. This coloring page features a young princess with a mask in her. She seems to be all ready for the party. Like me, do you wonder who would be the prince?
[ Read: Princess Coloring Pages ]
Water Treasure Hunt coloring Page: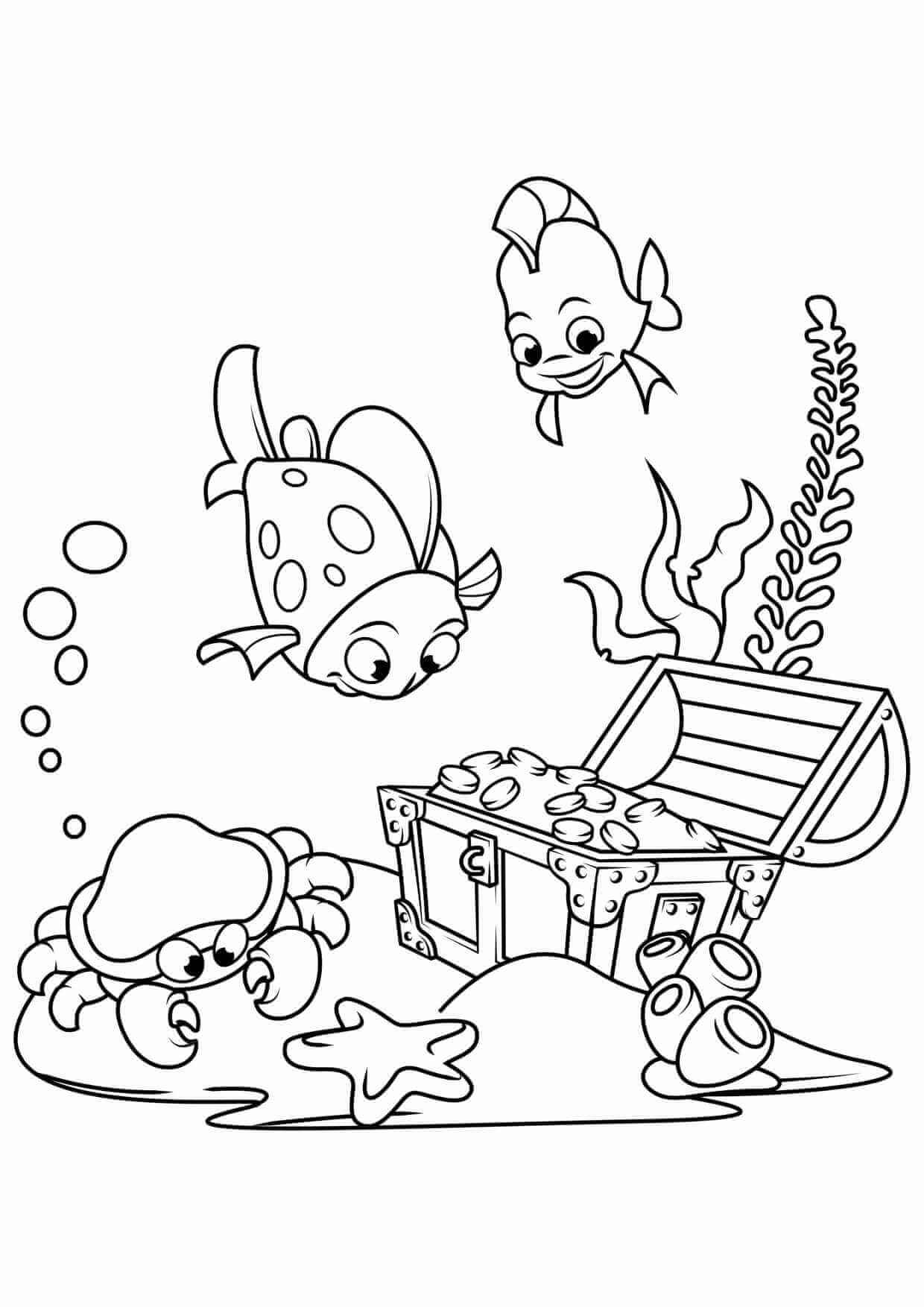 All these animals were finding their treasure, and they finally got it. So, that means no matter how hard times might get if you want something, and if you work hard for it, you will surely get that. I'm sure like these fishes got their treasure, your wish for good grades, or being able to ride a cycle will come true. But promise that you will work for it.
[ Read: Fish Coloring Pages ]
Cat In The Castle Coloring Page: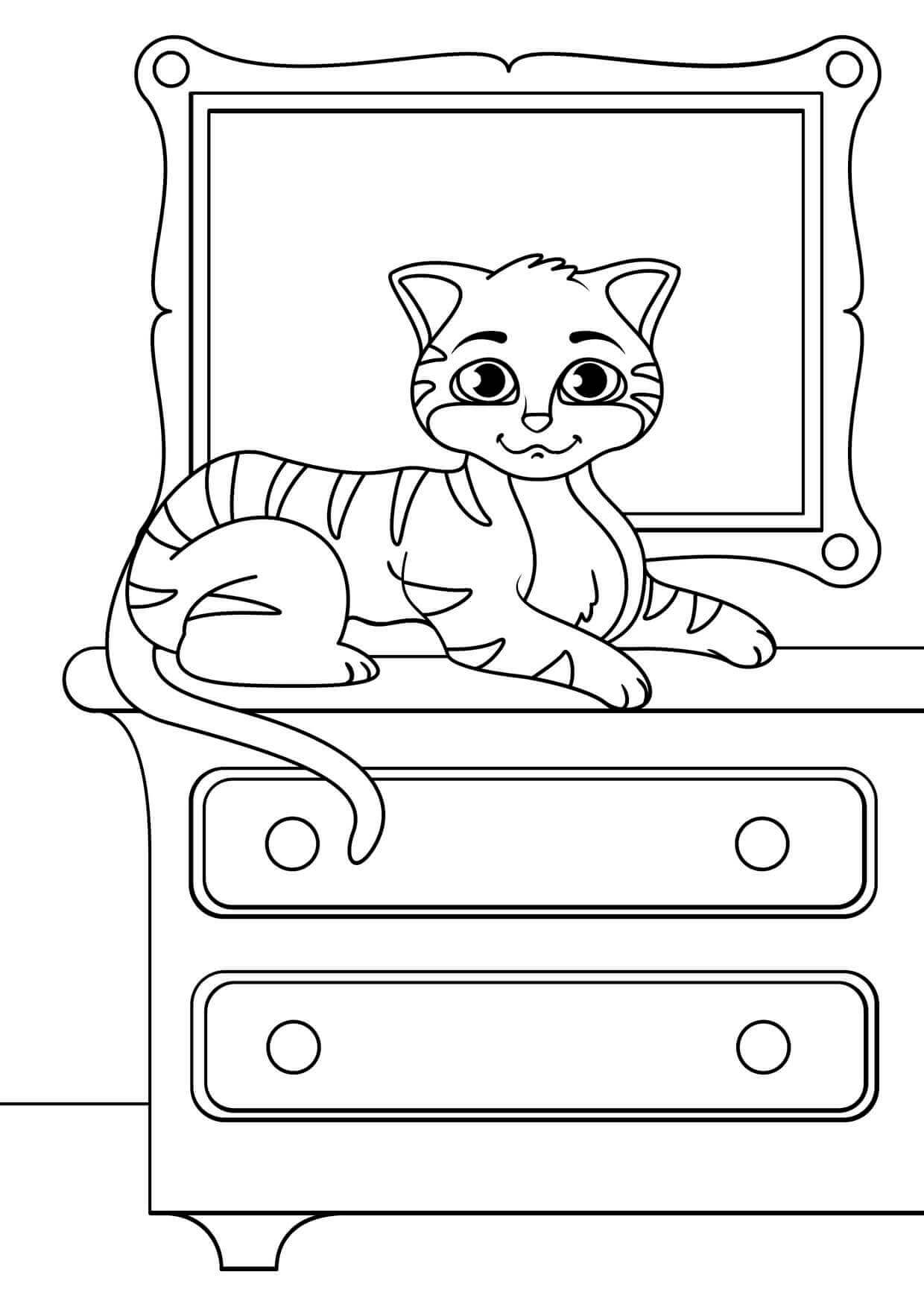 This cat sits on the dresser in the castle, looks extremely sassy and confident, just like the queen of the castle. She's just super happy to be there. Color this cat with your imagination.
Waiting Fairy Coloring Page: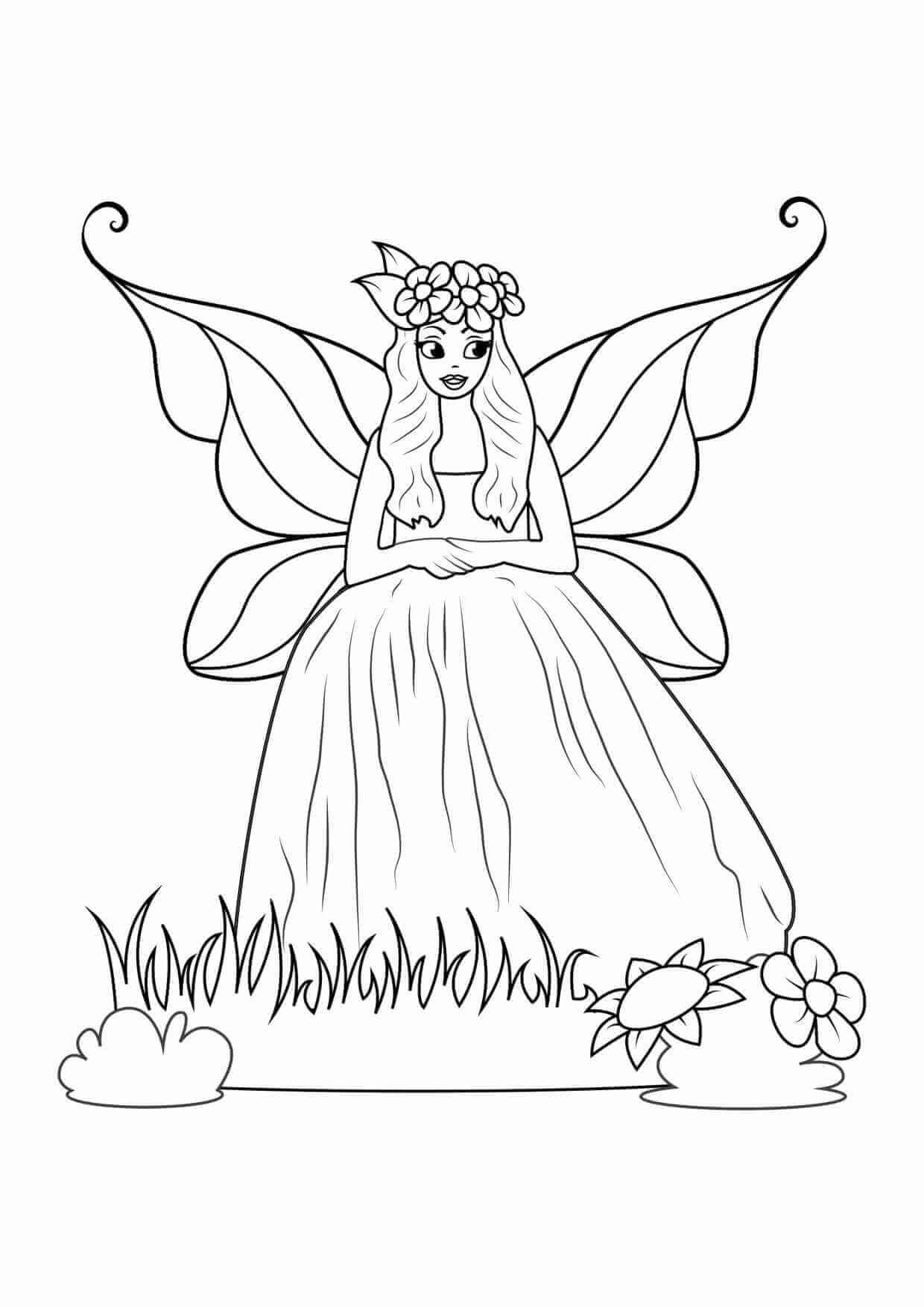 Fairy looks so beautiful probably because she eats very less junk food and drinks a lot of water. This fairy is sitting in the garden thinking about what healthy food she could make for dinner.
Lotus Fairy Coloring Page: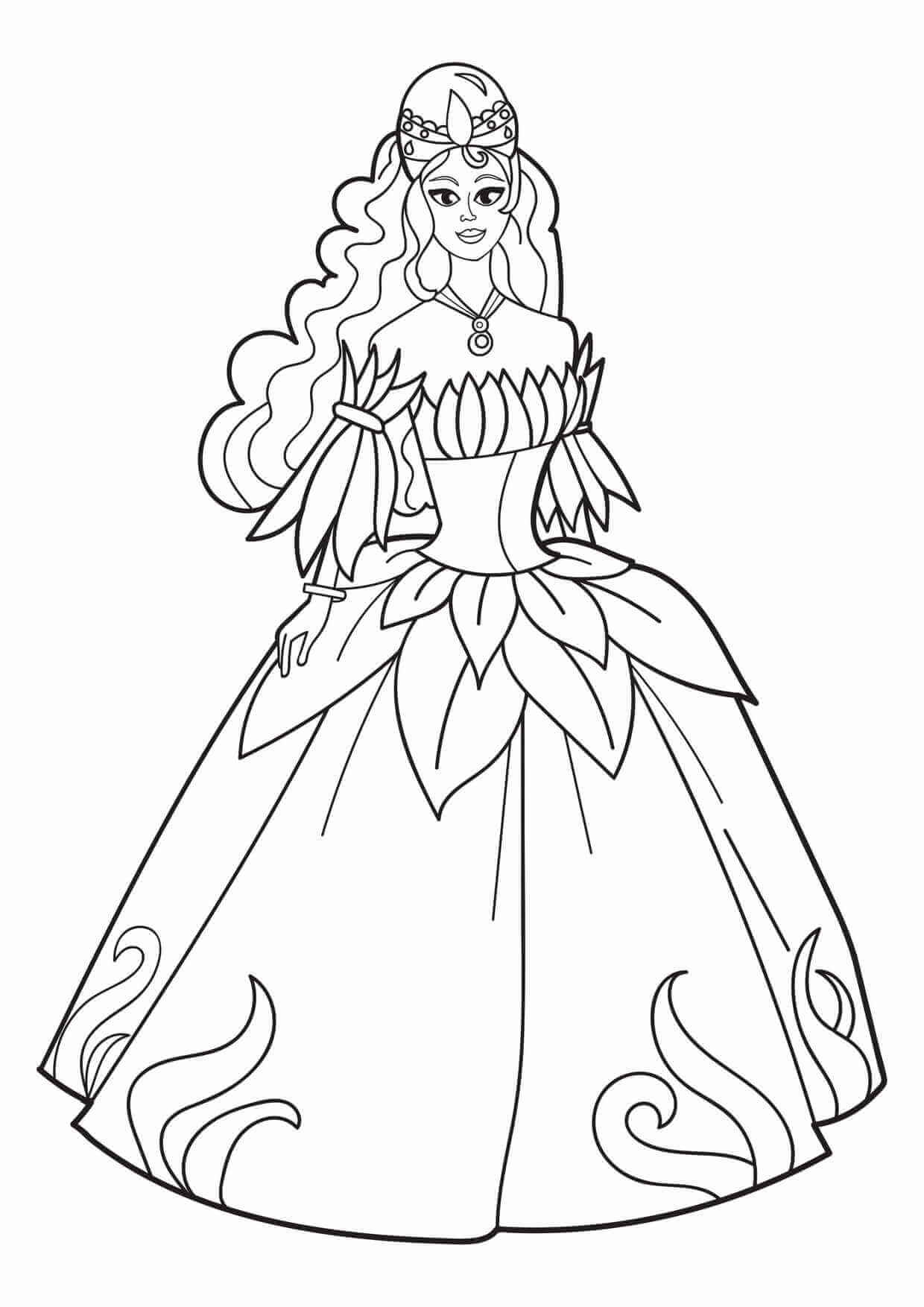 This fairy loves lotus flowers, they are her so favorite that she gets her dresses, designed which look like the lotus. W have to say her designer is very creative and has done a great job with her dress.
Naughty Cat Coloring Page:
This is Molly and her parents just left the house, now she probably thinks she can go in the kitchen and eat the cupcakes without anyone knowing about it. Molly is a naughty little cat, but it's okay to be naughty sometimes that's the real happiness of being a kid.
Little Horse Coloring Page: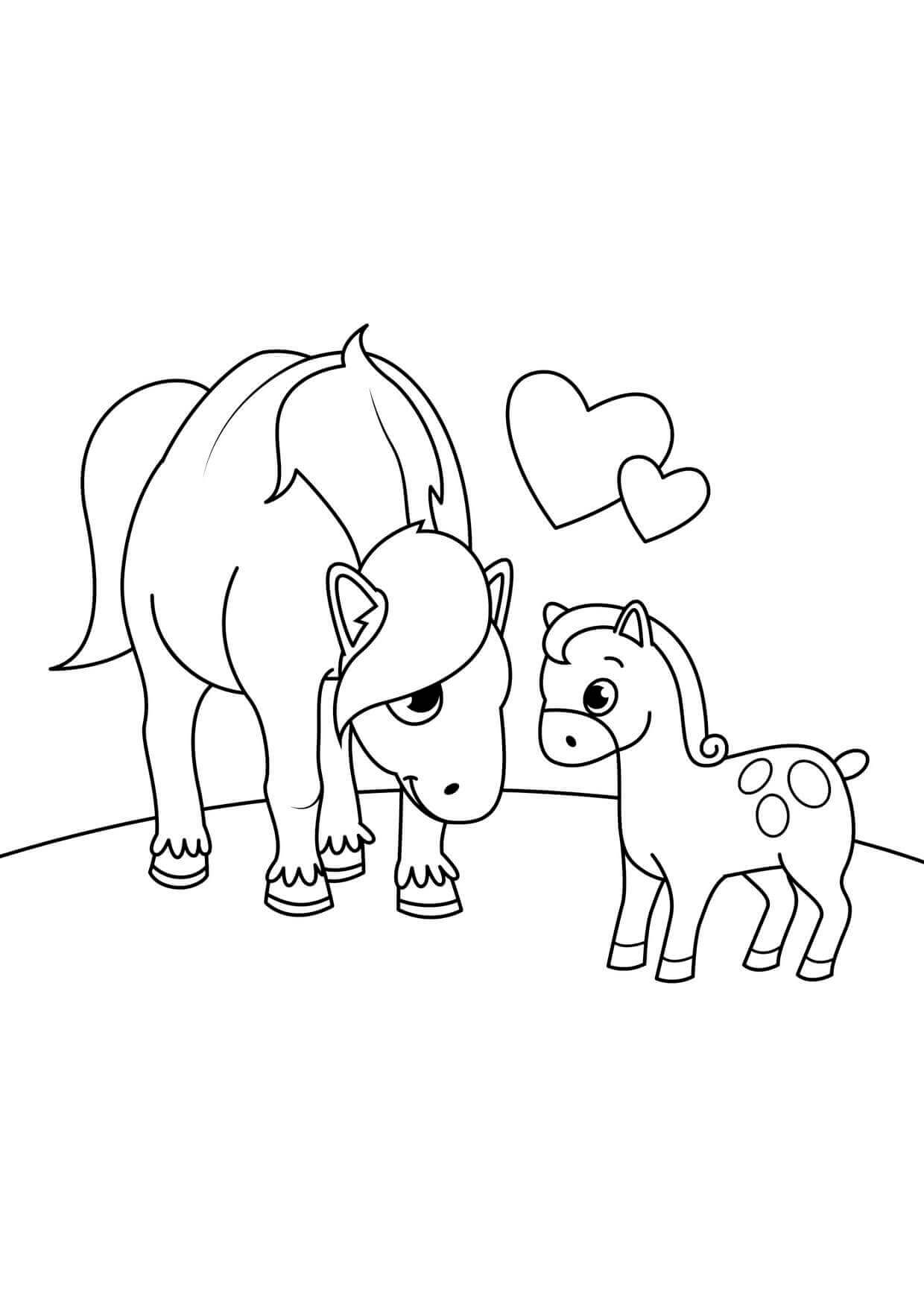 Josh, the little horse is saying sorry to his mother for being a bad kid and troubling his mother. His mother is super proud of his child and forgives him. His mother loves him a lot.
[ Read: Horse Coloring Pages ]
Best Friends Coloring Page:
It's a beautiful summer morning and Johnny and Jinnie are going to take their dog for a walk. Just when Jinnie was getting ready, she says she will be down in five minutes. It's an awesome day, and she has the wood house. So guys how are you going to color this?
Playful Butterflies Coloring Page:
The butterflies featured here kept wandering from one flower to another in search of pollen. They are so happy even when they have a short lifespan. They live their life to fullest, flying, singing, playing, and spreading their beautiful wings.
This tree at the side of the road was cut down. But then the creepers with beautiful flowers on them grew around the tree. Now even if the tree is cut, we can see the beautiful view of the little plants and creepers that are keeping the blossom alive.
[ Read: Flowers Coloring Pages ]
Fairy With The Magic Wand Coloring Page: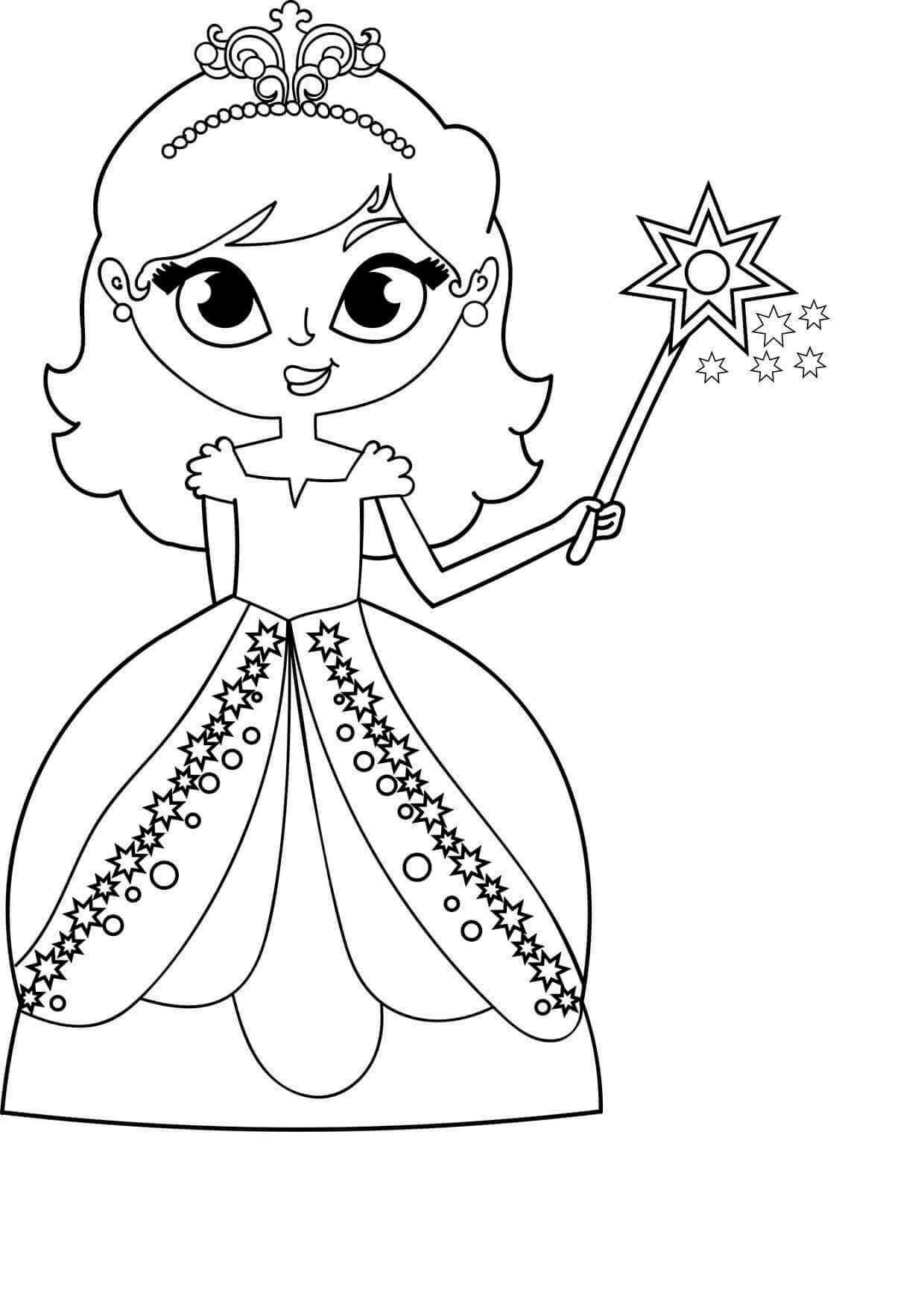 This fairy is ready to spread her magic in the room. What is on her mind? Maybe she will turn the empty place into the castle. Maybe she will bloom a garden full of her favorite flowers. We don't know her imagination but we know ours so just get creative with her beautiful picture.
Rose Basket Coloring Page: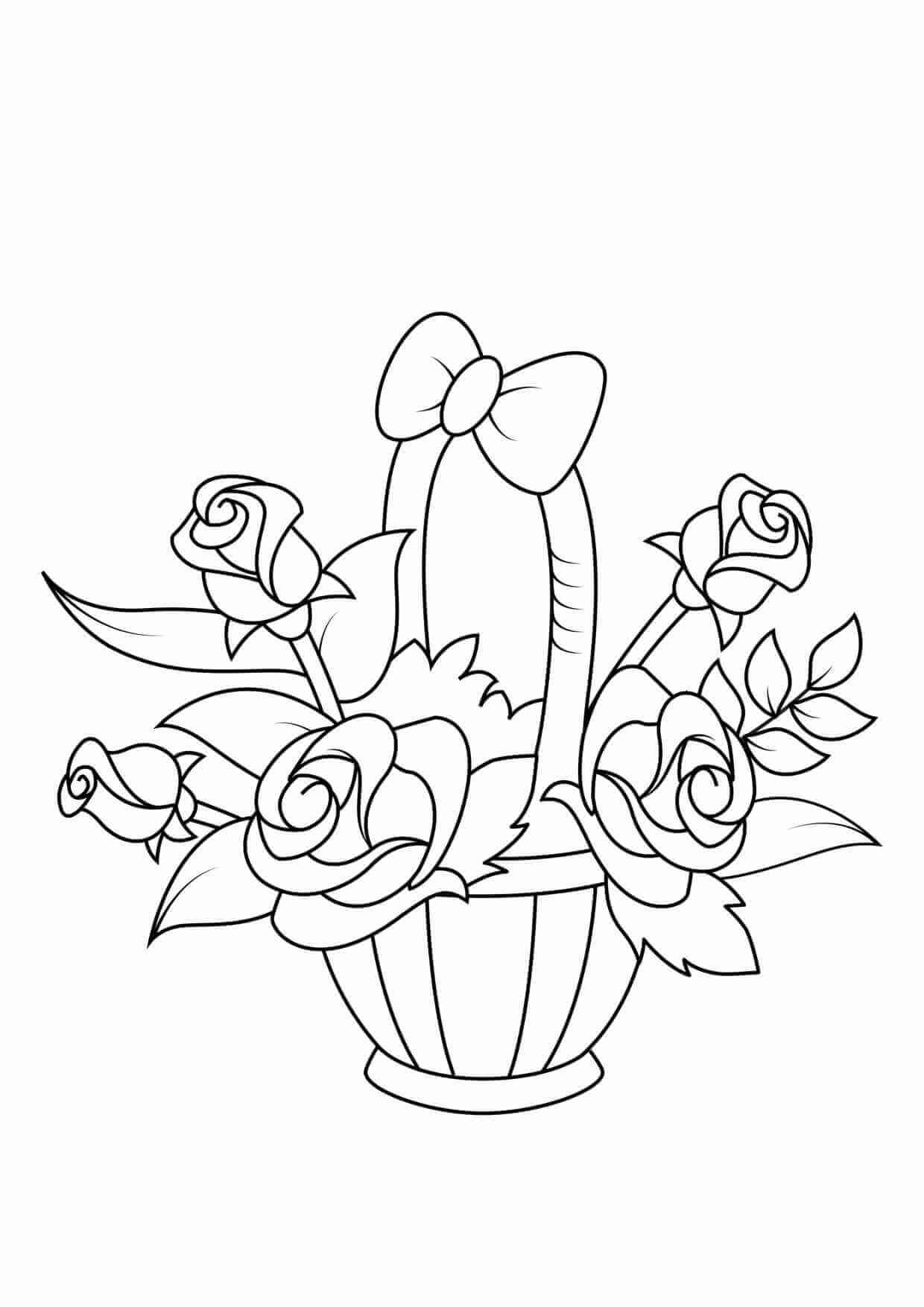 Roses come in a plethora of colors, except black. What might appear black in the vision is actually dark red rose. But here in our basket use all the beautiful colors you want, because you can't put the limit on your imaginations.
Foster Fairy Coloring Page:
This is Foster which in Latin means Forest Guardian. She is the caretaker of the forest and everything in the forest. And she likes her forest to be perfect, she doesn't allow any hunter to hunt the animals, any woodcutter to cut the trees in the forest. She is very good at her work.
Fairy Queen Coloring Page: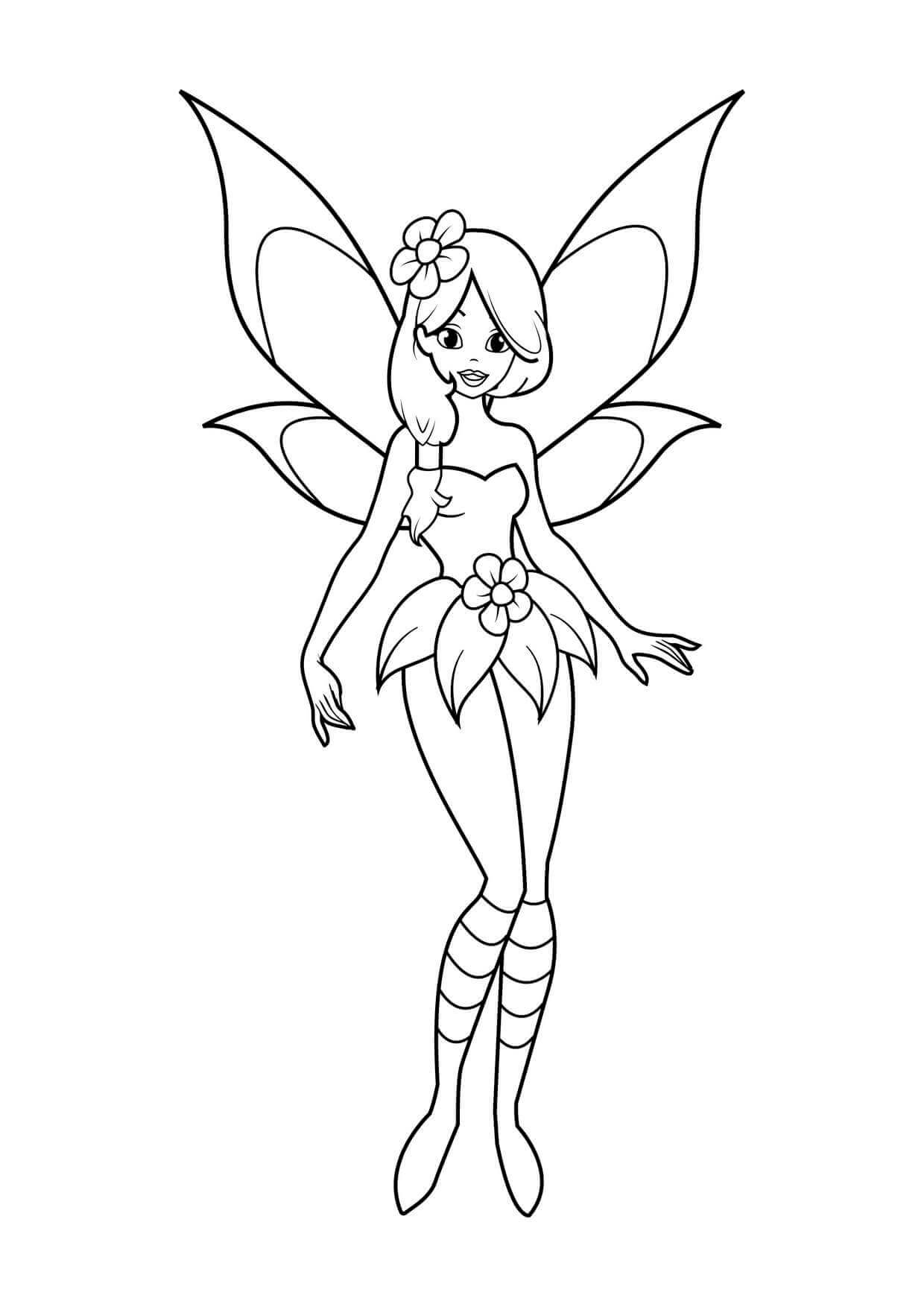 She is Tania, the fairy Queen of Russia. She is the Queen of her troop and a very kind-hearted fairy. She rewards children with good behavior and manners, helps homeless and poor people, and is very compassionate with animals. She has a beautiful body and also a very beautiful heart.
Happy Butterfly Coloring Page:
It is Marin, the butterfly who keeps enjoying his little life. He doesn't just enjoy himself, but also makes everyone around him happy. All the flowers love Marin, they all have fun together, and also Marin has a lot of friends.
[ Read: Butterfly Coloring Pages ]
Outdoor Coloring Page: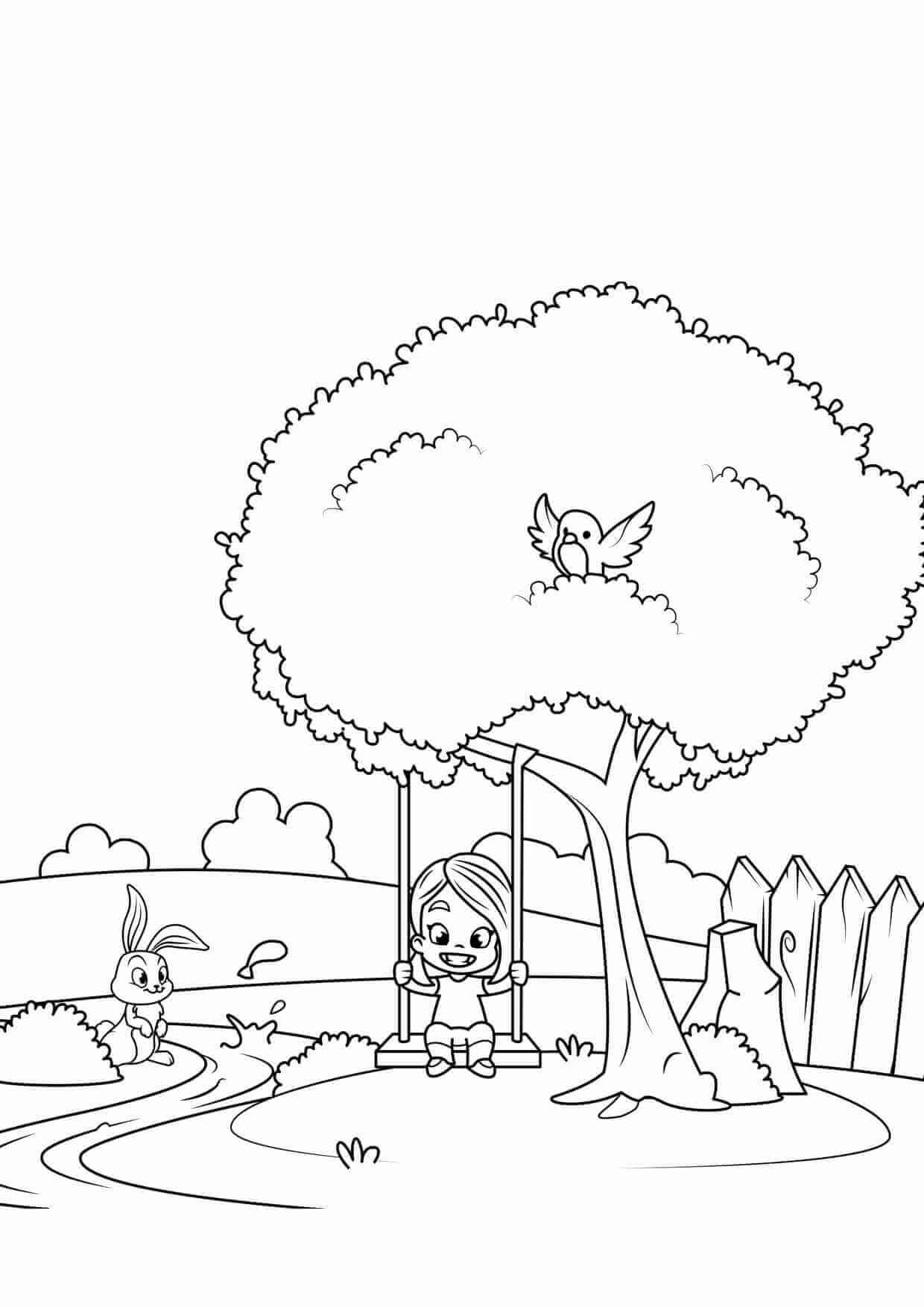 It's a Sunday and Ronnie is outdoors playing in the garden. She loves outdoor games and enjoys the natural air. She realizes outdoor is too much fun and she can store a lot of energy for her whole week of school and homework.
Tiara Princess Coloring Page:
This princess bride is all set to walk down the aisle with her father. She looks very beautiful with her wedding dress and tiara on her head. This bride then takes the vows in the beautiful royal castle just like Meghan Markle and Prince Harry in the recent royal wedding. Women look truly their best is on the day of their wedding.
Unicorn Coloring Page:
He is Dora and is a war unicorn. He fights in the wars which happen in the world of magic where some evil fairies and good fairies have conflicts. He is a very brave horse and also a very charming horse.
[ Read: Unicorn Coloring Pages ]
Batgirl Coloring Page:
Well, why would you fancy only Batman, when Batgirl appears to be so strong and Bold, and as heroic as Batman. DC comics superheroes have been our favorites, they also have Batgirl in their movies. What a strong posture she carries, I surely know all you girls will love coloring this one, and who knows deep in the heart become as strong as her, wink!
Here's a coloring page of the beautiful Disney princess Belle. Yes, girls so do you know another real-life princess Emma Watson plays the character of Belle in Beauty and Beast movie which is a remake of the animated feature film by Walt Disney Pictures' Beauty and Beast. So come on, the yellow crayon awaits you!
[ Read: Belle Coloring Pages ]
Best Friends Coloring Page: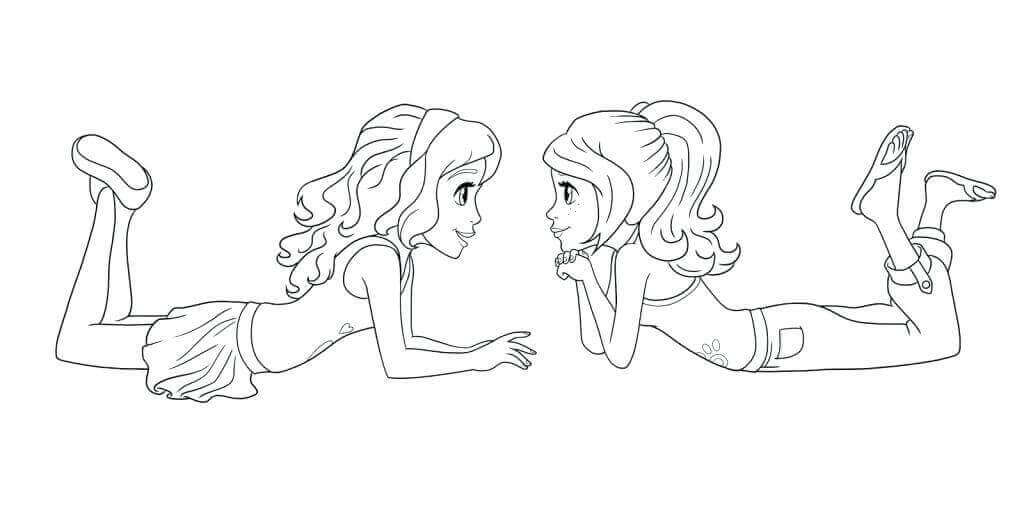 Eating ice cream, doing your homework, watching your favorite T.V show, all of these activities can be real fun with your best friend. Not just activities, but even just sitting and talking are fun with them, of course not when you are in the class! A best friend is a really fun person to be around, so come on why not grab her and color a picture together with a bowl of chips and a glass of juice.
Cute Pony Coloring Page: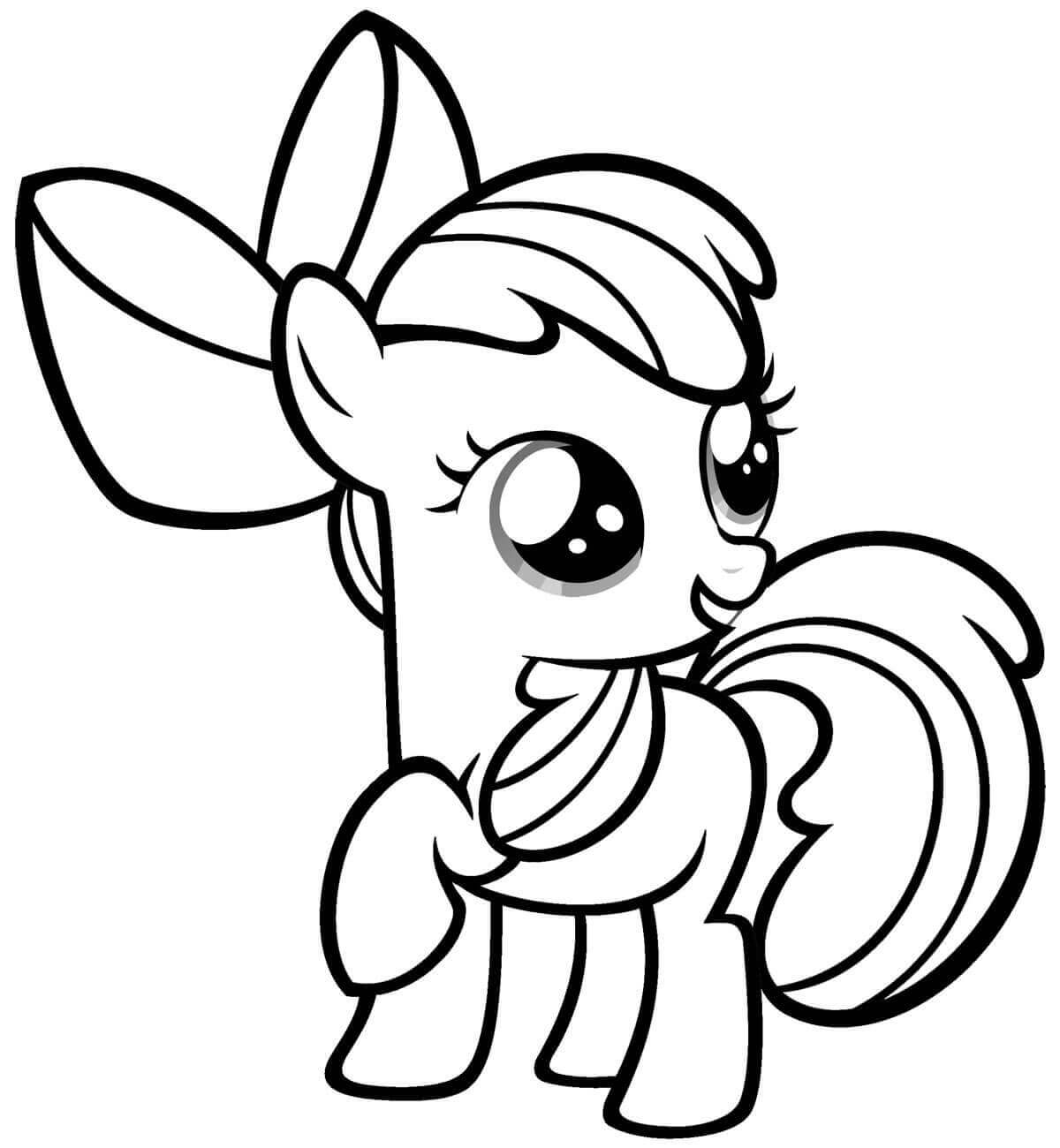 This cute little pony from My Little Pony looks like one of those dreamy little ponies who would appear in our dreams. This pony has the beautiful magic in its eyes, which look so wide and beautiful, the sparkle in its eyes has the magic of being able to bring dreams in reality, watch it, it's like saying to each one of us to be happy and dream big. Why not add color to it making it even more attractive? Let's just do this! 
[ Read: My Little Pony Coloring Pages ]
Happy Dancing Girl Coloring Page:
Dancing brings life to even the boring events, summers are one of those times when we feel sleepy and tired, but a little bit of activity like dancing to your favorite song can brighten up your moods for the day, same is our little cute girl, looks like she's having super fun dancing. Give your creativity the way and let's see how you will color this little angel.
Pet Coloring Page: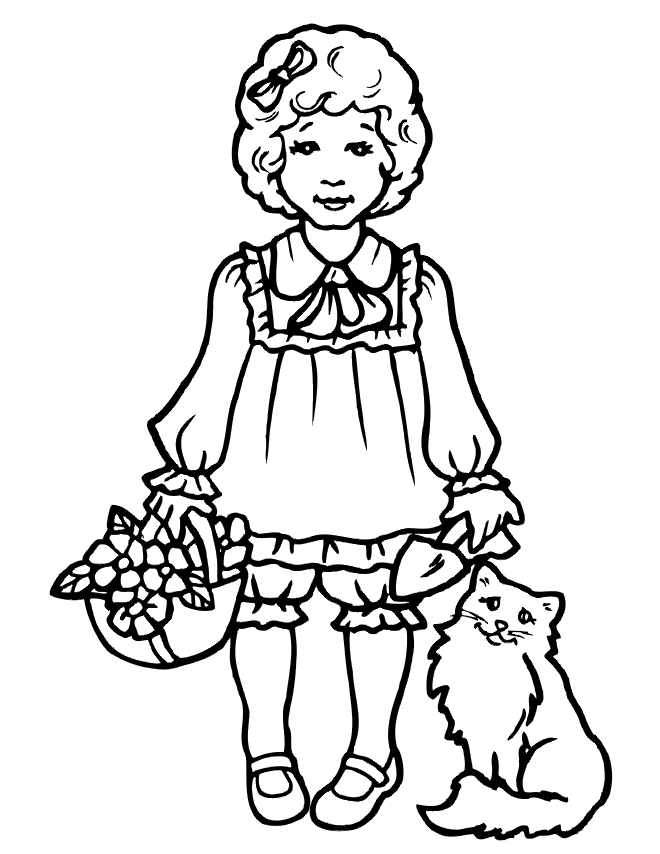 Pets are like family members to us. And walking them around is another fun part of having them. They bring so much happiness by asking very little in return. Enough food and lots of love. This little girl walks her pet around while picking some flowers. 
Cute Kitty Coloring Page: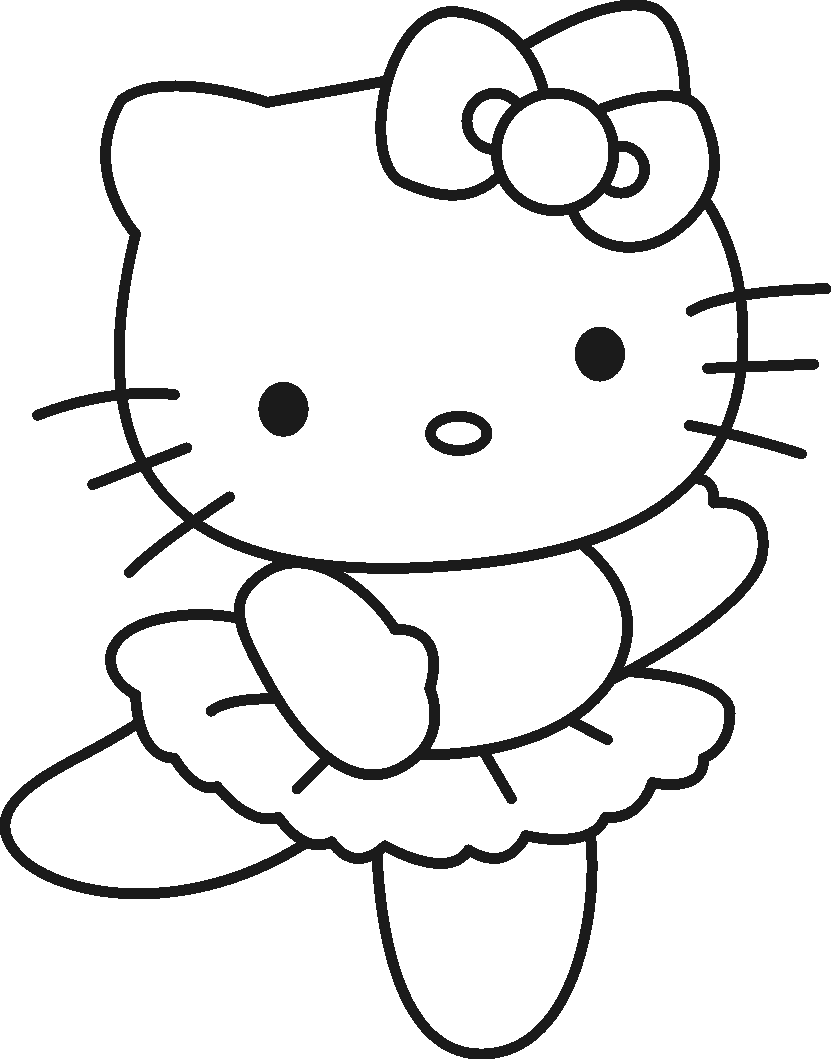 Kitty looks cute no matter what she is doing, here it looks like she is dancing. And with that little bow on her head, she looks even cuter. I wonder what all colors you all will use to make that bow look more beautiful on our favorite and cute kitty.
[ Read: Hello Kitty Coloring Pages ]
I Love Pink Coloring Page:
Yes, girls, I know all colors are beautiful, but you have to admit that pink is the best of all. Even the Tweety featured on this coloring sheet is one of our favorite animation characters. Even she likes pink although she has a very beautiful yellow color.
Rapunzel Coloring Page:
One more very beautiful Disney Character Rapunzel is featured on this coloring. This young princess hair has healing properties, which helps to remain young and beautiful forever. So one old woman named Mother Gothel raises her in a private tower to exploit her.
Wonder-Woman Coloring Page:
This strong character was presented by DC comics with a movie named "Wonder Woman". This character is played by very beautiful Gal Gadot as Diana in the movie. She represents the power and beauty of being a woman. Color her image and also know more about her she's definitely amazing.
[ Read: Wonder Woman Coloring Pages ]
We're sure you'll enjoy filling all these coloring images for girls printable because we have got you all-right from superheroines to princesses to cute girls, and many more. So without wasting any more time, print out all these girls coloring pages right away. And don't forget to share your favorite coloring pictures for girls with us.
Coloring Pages 1 to 20 Source