On any given day, your parents are most likely to wake you up in the morning. They also prepare your breakfast and pack your lunches. Next, they help you get ready and then see you off to the school bus or drop you at school themselves. But if you wake up late or forget your lunch or miss the bus, things would be entirely different. Everything works out perfectly when each one does their part.
That's how it is when you are living in a community. There are different jobs and roles which are performed by different people to ensure that everyday life runs smoothly. Today's collection of coloring pages pays tribute to these people.
From garbage collectors to farmers and chefs, from healthcare workers to firefighters and lifeguards, everyone plays a role to keep the wheels of life moving smoothly. This, in turn, helps to keep the community safe, secure, healthy, and happy. That's why the people performing any role or job that looks after the community are termed as community helpers.
to join this conversation on GitHub. Already have an account? Sign in to comment Footer © 2023 GitHub, Inc. Footer navigation Terms Privacy Security Status
Let's get started and meet some of these excellent people through this collection of community helper coloring sheets to print.
20 Free Community Helper Coloring Pages Printable
Car Mechanic for Your Car Troubles:
You might have seen your parents taking out the car for servicing every now and then. Or if the car broke down or isn't functioning well, they might have taken it to the garage or workshop. Having great knowledge of how different vehicles work, these car mechanics perform repair and servicing work to give the cars a long life.
Chef Busy Cooking Some Delicious Food:
When you go out to eat at restaurants and diners, while you might not be able to see the food preparation but the finished dishes on your table are all cooked by the chefs in the kitchen. In a day, a chef in a commercial kitchen can cook hundreds of meals for the customers who come to eat throughout the day.
Community Helper Waiter, Taking Your Orders:
Helping you to your seat, taking your order, and bringing your food to your table are the restaurant staff members called servers and waiters. You might have noticed how quickly they write down all your orders and then like magic, come back with your food in a few minutes. Help this waiter look smart at his job by giving him professional colors.
Nursing the Community Back to Good Health:

The nursing staff is among the most crucial healthcare workers. They take care of the patients all through the day and night, ensuring proper medication and all other processes are being followed to keep them safe and healthy. Ready with her medication platter for one of the patients, give this nurse some loving colors.
Community Helper, Productive Farmer:
If you have wondered about where the food you eat comes from, then the answer is illustrated here on this coloring page. It's through the work of farmers, growing food arduously which then gets processed for sale everywhere like your local supermarkets. Print this coloring page and turn the illustration of this farmer planting rice paddies into a colorful one.
Community Helper Military Personnel Saluting:
Guarding the country's border regions and responsible for its defense from any hostile outside forces are the military personnel. Here is one such patriotic military man greeting you with a salute. Print this coloring page and graciously return his salutations by filling this coloring page with appreciative colors.
Construction Worker Building the City's Architecture:
Here we have a community helper responsible for all the construction in your community. Be it schools or offices or even the house you are staying in; it is all due to the work of these expert construction workers. Always keeping busy, this construction worker is finishing up working on this house for today.
Dentist, Taking Care of Your Teeth:
Following a dental hygiene routine like brushing your teeth is important to keep your teeth and gums healthy. While some may not exactly enjoy getting their teeth checked or cleaned, it is necessary to get a routine dental checkup. Look at this dentist smiling wide, ready to greet his patients.
Doctor Community Helper:
If nurses ensure every necessary care is given to the patients including timely and proper medication, the doctors are responsible for the correct diagnosis of the patients' health conditions. Ready with her stethoscope to check up on today's patients, print this coloring page of this doctor, and give her professional colors.
Accidents are unpredictable and can be dangerous. When it comes to any fire incidents that is beyond a person's ability to control, there's the fire department ready to deal with it. Blaring its emergency sirens, the fire trucks come loaded with water, and the firefighters like the one illustrated here, putting out the fire and rescuing anybody who might be trapped.
Food Delivery Boy Coloring Page:
You must have enjoyed eating pizzas or burgers on some days at home. Your parents might have ordered food for delivery. Coming quickly with your freshly prepared food while it's still hot are the food delivery staff, like this delivery boy riding with the food on his scooter. Print this page and fill it with efficient colors.
Garbage Collector, City Cleaner:
Like the way your parents or household staff keep your house neat and clean, a network of garbage collectors working in the community keeps the entire place litter-free. You have sweepers like this man here collecting any litter or those who come with garbage trucks to collect daily household garbage.
Mail Man, Delivering All Your Posts: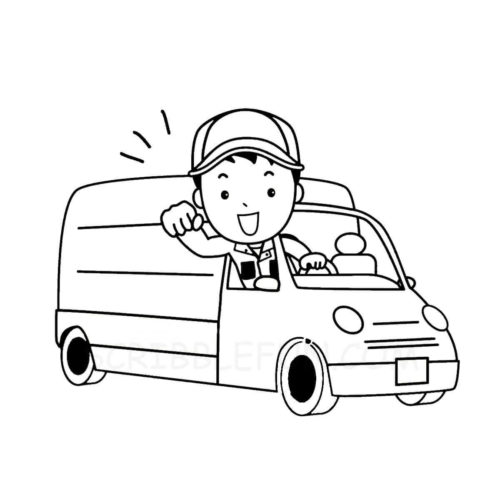 You've got mail! It's the mailman driving his truck packed with all the posts for all the people in the community. The postal staff ensures the delivery of your paper mails, be it newspaper or magazine subscriptions, bills, cards, and parcels, or anything else that can be sent by post. Fill this mailman and his truck with postal colors.
Perfect Lifeguard, Saving Precious Lives:
Whether it's the beaches or the swimming pools, accidental drowning or any other incidents can happen. That is why there are a group of community helpers known as lifeguards who are tasked with the job of watching over the public for their safety in the water. Seeing someone struggling, this lifeguard has quickly driven to rescue.
Plumber, Fixing Pipes And Drains: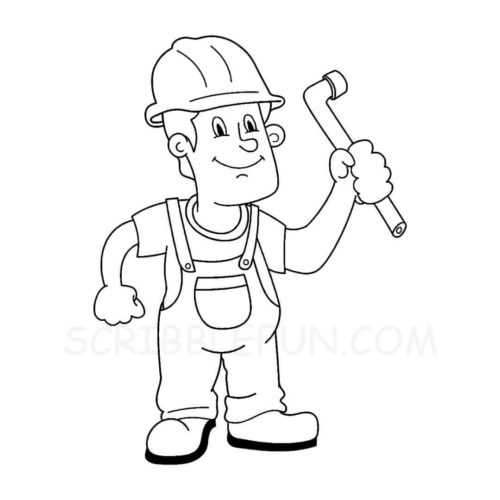 Some things are hardly noticeable until the moment they stop working smoothly. A congested or blocked pipe or drain can cause put a stop to all the work until it gets fixed. That job is performed by community helpers known as plumbers. Right on time, this plumber has reached the house of his client to solve their drainage issues.
Policeman, Community Protector:
Keeping the community safe by ensuring proper law and order is followed within the community are the police officials. If any law is broken, then the police officials, like this policeman illustrated here, will ensure the guilty ones are caught and brought before the judicial system for punishment.
Sanitation Worker Making Sure Everything is Safe:
With the ongoing COVID-19 pandemic, proper sanitation of everything has become crucial to stop the spread of infection. Wearing proper protective gear from head to toe, this sanitation worker is busy spraying to keep the community safe. Print this coloring page and safely color this illustration.
Teacher, Responsible for Educating People:
One of the most important community helpers responsible for educating the community are the teachers. They are the ones directly interacting with the students and teaching them the lessons about different subjects, preparing them to be responsible adults. You can think of the best teacher you have in your school while you color this smart teacher illustration.
Traffic Police, Ensuring Road Safety:
Whether you get dropped at school by your parents or you take the school bus, you might have noticed the traffic police at certain points on the road. Traffic police are community helpers that work to maintain road safety by enforcing traffic rules. Just like this diligent traffic police officer signaling cars from one side to stop while asking the other side to pass through.
Vet Community Helper, Animal Doctor:
All living things need proper care and looking after, be it humans or animals or even plants. Like there are healthcare staff for humans, the animal expert doctors are called Vets, veterinary being the branch of science dealing with all animals. And it's not just pets, like this cat having a checkup on this coloring page, farm and wild animals are also included.
With that feline medical checkup, we have come to the conclusion of this helpful and informative printable collection of community helper coloring pictures. While a few of the community helpers have been highlighted in this collection, there are several others who are involved in keeping our community functioning like a well-oiled machine. Try to come up with few other community helpers while you fill in colorful details on this collection.