"Daniel Tiger's Neighborhood", an American-Canadian television series by PBS, debuted about 6 years back, but it's popularity is unmatched even today. The family-oriented show, based on Neighborhood of Make-Believe from Mister Rogers' Neighborhood, basically targets preschoolers. It centers around Daniel Tiger and his life with his friends from Neighborhood of Make-Believe and deals mainly with socio-emotional themes, such as disappointment, anger, appreciation and gratefulness. In this article, we've got our little readers some detailed and beautiful free printable Daniel Tiger coloring pages. Without wasting anymore time, check out the Daniel Tiger coloring sheets below.
12 Free Printable Daniel Tiger Coloring Pages
Daniel Tiger Coloring Page: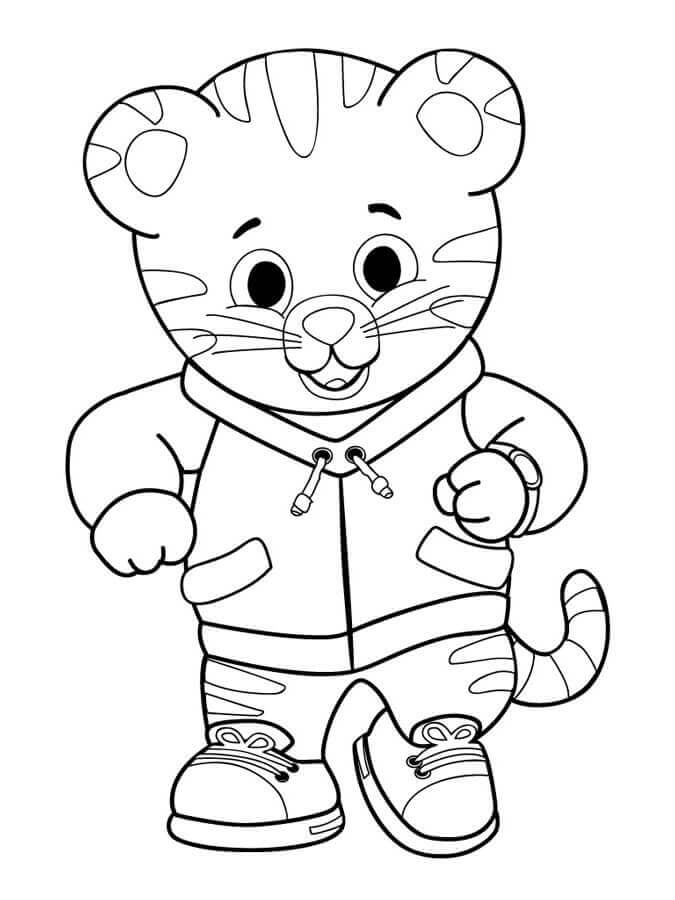 We're beginning this article with the coloring page of the protagonist and host of "Daniel Tiger's Neighborhood", Daniel himself. He's a four-year-old shy tiger who hides behind his mother whenever he meets new people. Daniel a brown colored tiger with darker stripes on the body. He appears in the show, wearing a red sweatshirt and red and white sneakers.
[ Read: Tiger Coloring Pages ]
to join this conversation on GitHub. Already have an account? Sign in to comment Footer © 2023 GitHub, Inc. Footer navigation Terms Privacy Security Status
Daniel Tiger With His Family: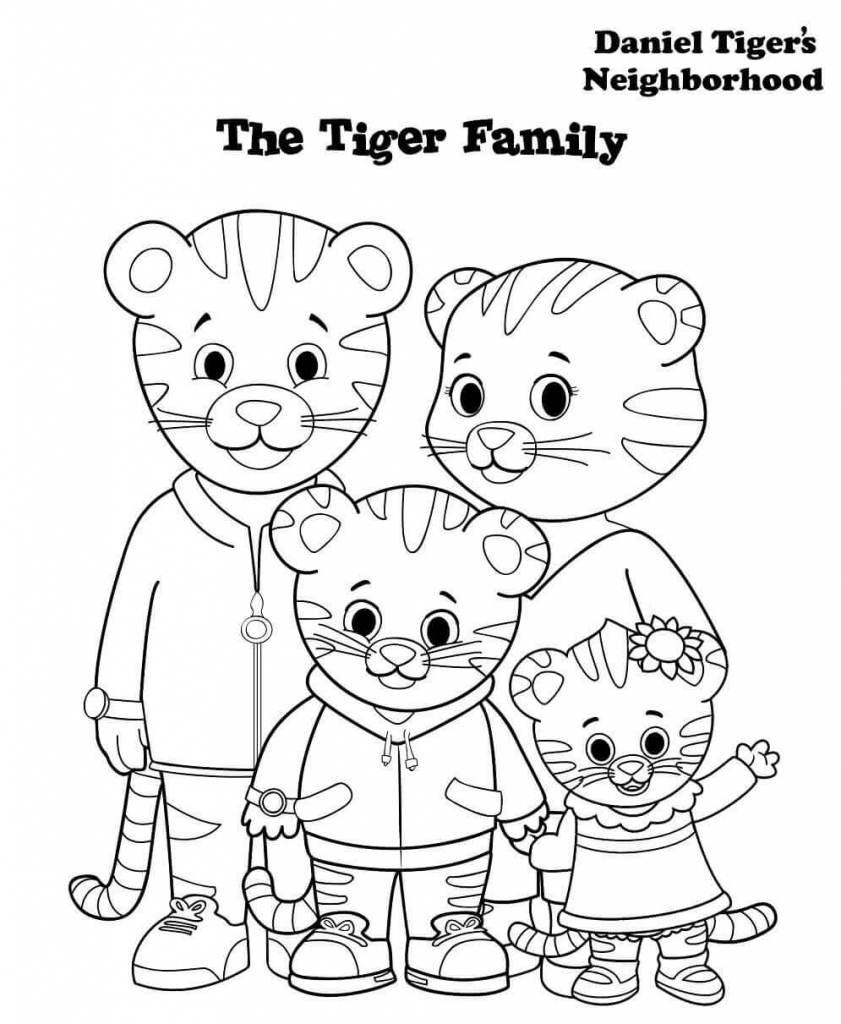 Here's another of our favorite coloring pages as it features the endearing Tiger family – Dad Tiger (who is formally called Daniel Striped Tiger), Mom Tiger, Margaret Tiger, and the cutie patootie, Daniel Tiger.
Daniel In His Trolley:
This coloring sheet shows Daniel hanging around in his favorite trolley. The trolley is one of the most significant semi-anthropomorphic characters, as it's used by the kids to travel back and forth through the neighborhood.
Daniel And His Friends In The Trolley:
This full-filled coloring image illustrates Daniel and his friends traveling throughout the neighborhood of make-believe in their favorite trolley. Do you know what's the funniest part about this trolley? It runs without any track!
Daniel And Friends Coloring Page:
This is one of our most favorite Daniel Tiger coloring pages as it features Daniel with his close, neighborhood friends- Owl, Katerina, Prince, and Elaina. All these characters and extremely adorable and we're sure they'll look even better when filled with colors.
Daniel With His Buddies Coloring Page:
Here's another wonderful coloring sheet featuring Daniel with his buddies. We're wondering where this group is now heading? Are they going to the nearby park for playing or will they hang around in their favorite trolley? Write a story as you color the picture.
Daniel With Grandpere Tiger: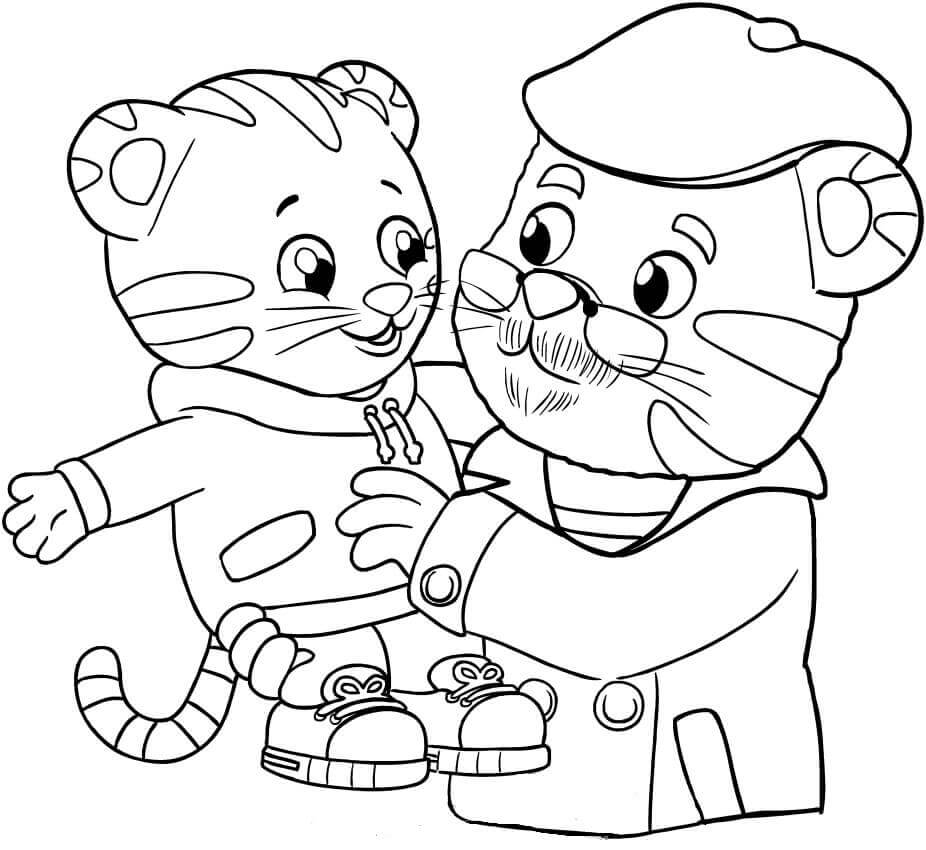 This coloring page features our cute little Daniel with his favorite Grandpere Tiger. Grandpere tiger loves traveling, especially sailing in his boat. And he speaks in a cute French accent, which we totally adore. In fact, the word grandpere itself means grandfather in French.
Katerina Kitty:
Meet Katerina Kittycat, a recurring character from "Daniel Tiger's Neighborhood" who loves to play, dress up and pretend. But out of all, what she loves the most is doing ballet. And she even twirls in a cute way when's she excited about something.
Margaret And Daniel:
This coloring page features the cute brother-sister duo, Daniel, and Margaret Tiger. Daniel completely adores his sister, though he did not like her initially as he thought she changed the dynamics of the house. Even Margaret loves her brother very much.
Miss Elaina:
Miss Elaina, notable for doing things backward and inventing new games, is one of the best friends of Daniel. This happy go lucky girl loves doing cartwheels, which is quite visible in the picture. She appears in the series wearing a pink and cream-colored sweater, with striped tights.
O The Owl:
O the Owl, resides in the same tree next to Katerina, which is why they share a sibling type relationship. O the Owl is an intelligent young fellow, who is seen with books all the time.
[ Read: Owl Coloring Pages ]
Prince Wednesday:
Prince Wednesday, another close friend of Daniel and the youngest member of the royal family. In his spare time, this young prince likes to impress people by showing off his magic tricks and entertaining them with their jokes. His mischievous smile is infectious.
We're 100 percent sure you will enjoy filling in these free printable Daniel Tiger coloring pages. We love each of these Daniel Tiger coloring sheets and would advise you to print out all of them to create a Daniel Tiger coloring book. You can even check out Lent coloring pages in the meantime.