Hey there friends! Hope you are having fun because you are going to have more fun coloring these superhero pages. Do you know who this superhero is? He is none other than Deadpool. Well, actually he is a "super villain who suits up like a superhero" according to some critics. Ryan Reynolds sure did an amazing job in this movie. Surprisingly he is the producer too.  Released on 12th February 2016 (in the U.S.A), this movie is quite different from an average Marvel movie; less violence, more humor, and wit. Furthermore, Deadpool 2 is also releasing this month. If you can't get enough of this superhero, turn towards these Deadpool and Deadpool 2 2018 coloring sheets to print and have a great time filling these with blazing hues. Check out our collection of free printable Deadpool coloring pages below.
25 Deadpool And Deadpool 2 Coloring Pages
Cool Deadpool Coloring Page:
No arguments about the fact that Deadpool is one of the coolest Marvel characters. Always finding humor in every situation is not easy, it's an art. Like here, he is carefree and eating while there are people injured or maybe even dead behind him. Color this witty character.
Deadpool And Spider-Man Coloring Page: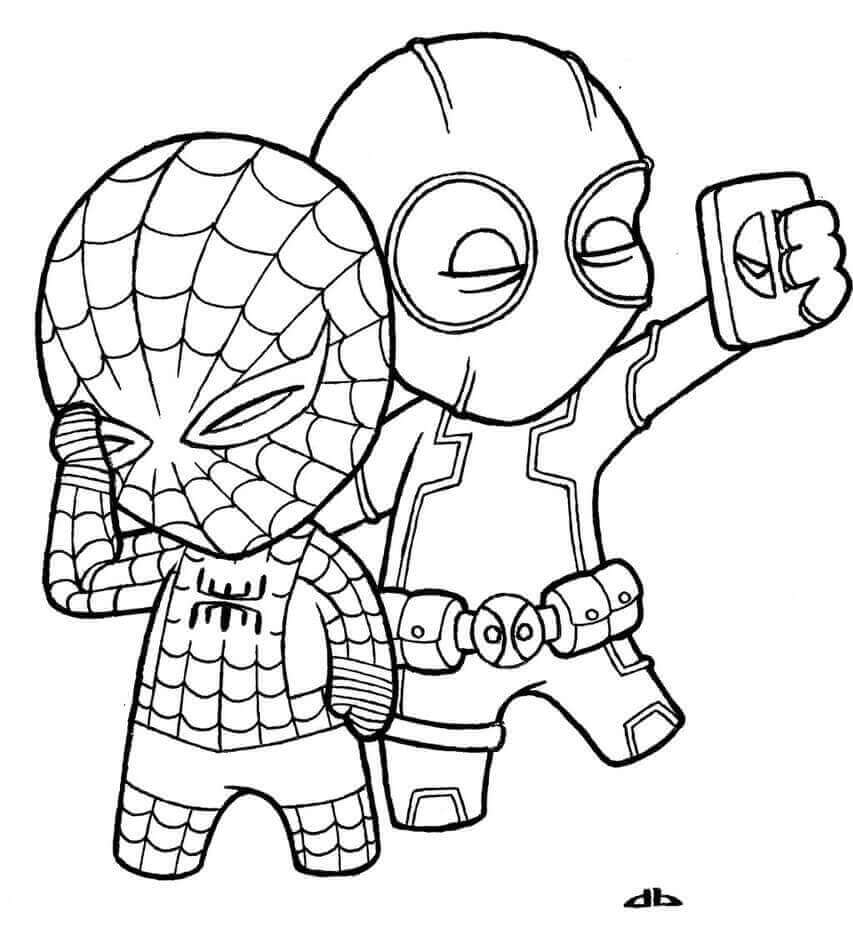 If you have read Marvel comics, you would know that Deadpool and Spider-Man have met several times. Although their meetings were not always pleasant, they share a very interesting friendship. Here is a cute coloring sheet for you of your beloved Marvel characters-Deadpool and Spider-Man.
to join this conversation on GitHub. Already have an account? Sign in to comment Footer © 2023 GitHub, Inc. Footer navigation Terms Privacy Security Status
Deadpool 2 Coloring Page:
If you loved Deadpool 1 then I'm sure you can't wait for Deadpool 2. Releasing on 16 May 2018 in the U.K, you will see Deadpool aka Wade Wilson with a new team of mutants called the X-Force to fight the villain of this film called Cable. For the time being, color Mr. Wade Wilson or Deadpool as he is famously known.
Deadpool Poster Coloring Page:
Here is an interesting sheet for you to color. A sheet that resembles the poster of this movie, fill it in such a way that it attracts and persuades people to watch the movie.  And don't forget to mention your name below.
Deadpool Sequel Coloring Page: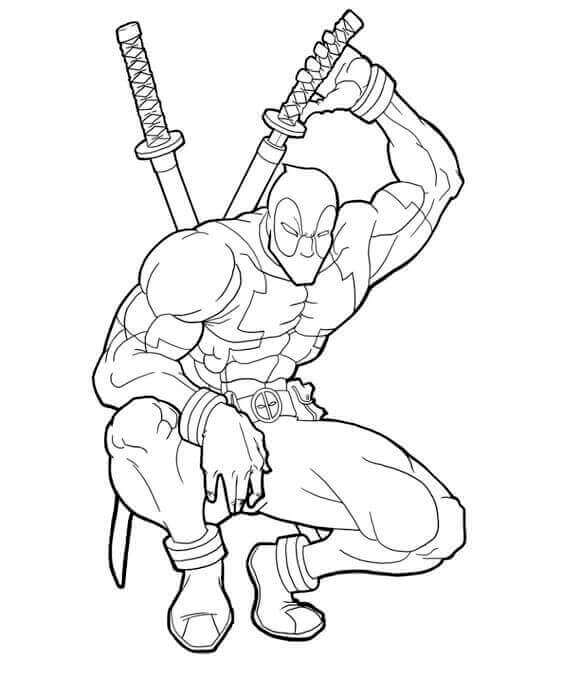 Deadpool can rarely be seen in anger and fury but in this, he does look a bit ferocious. Don't you think? Surely in the sequel, he looks like he means business but he is Deadpool, he won't be mad or angry for long. He does look like a real superhero in this one with a serious face. Color this ferocious yet humorous superhero.
Deadpool Thumb's Up Coloring Page:
Seems like Deadpool is alright, at least his gestures point towards it. He was shot by a bullet but you know a bullet cannot harm him because of his mutant qualities. This is what makes him a superhero. Nothing can harm our hero.
Feel The Love From Deadpool:
Not only Deadpool is funny and witty but he is adorable too. We can't see his face but his actions pretty much display his immatureness. He is showing a heart to you as he showed to Vanessa when he was fighting with the villain, Francis in the movie.  Do you feel the love?
[ Read: Heart Coloring Pages ]
Deadpool In Action Coloring Page: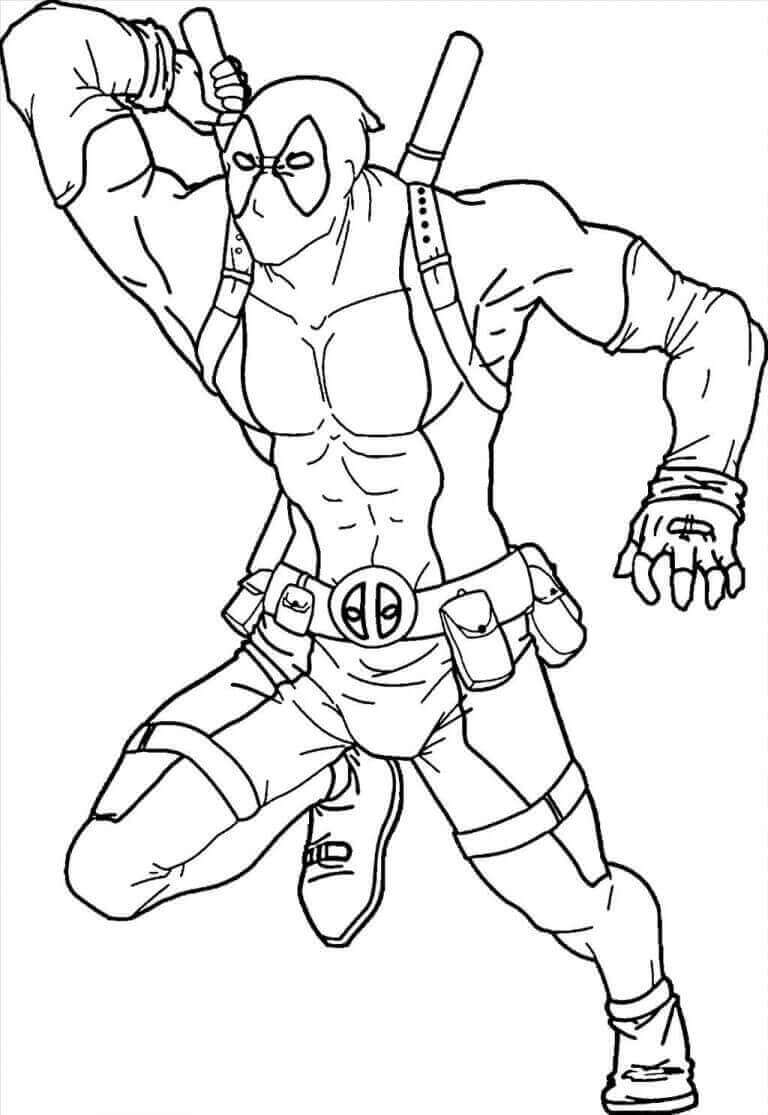 Deadpool is a great fighter. Deadpool's real name is Wade Wilson who worked as a mercenary after dishonorably getting discharged from the Special Forces.  Color him while he is in action.
Deadpool And Ironman Coloring Page:
The duo of Deadpool and Ironman is quite unusual. But there is one thing in common between them-humor. Although Ironman is more mature than Deadpool, he has his own sense of humor. So here they are, posing for you. Color these Marvel superheroes.
[ Read: Iron Man Coloring Pages ]
Spider-Man Meets Again:
Seems like Deadpool is annoyed of Spider-Man because he is holding a can that reads-"Bug-B-Gone". Maybe he wants to get rid of him using the bug spray or maybe they are catching an enemy. Who knows, he is Deadpool, he can do anything, anytime.
Deadpool And Wolverine Coloring Page:
Deadpool and Wolverine share a past together as both their stories started from the Weapon X Program, both are mutants. They have fought a few times but have also worked together. Unlike Deadpool, he is a very serious guy that is why they don't get along sometimes.
Deadpool's Attack: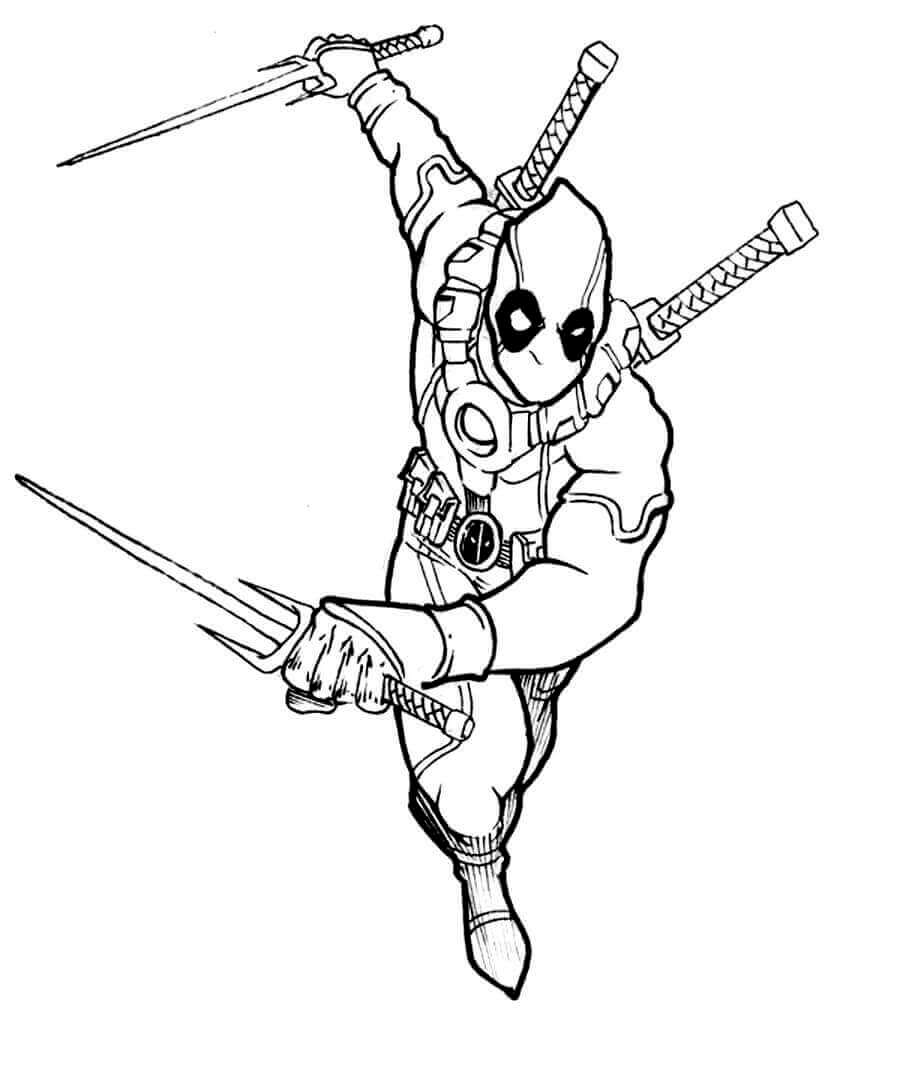 Deadpool was very furious when Francis severely disfigures his entire skin. He was ready to kill him but relented when he came to know that his disfigurement can be cured. After he found out that Francis cannot cure him, it infuriates him and he fights him. This is Deadpool while attacking Francis.
No One Touches Deadpool's Food: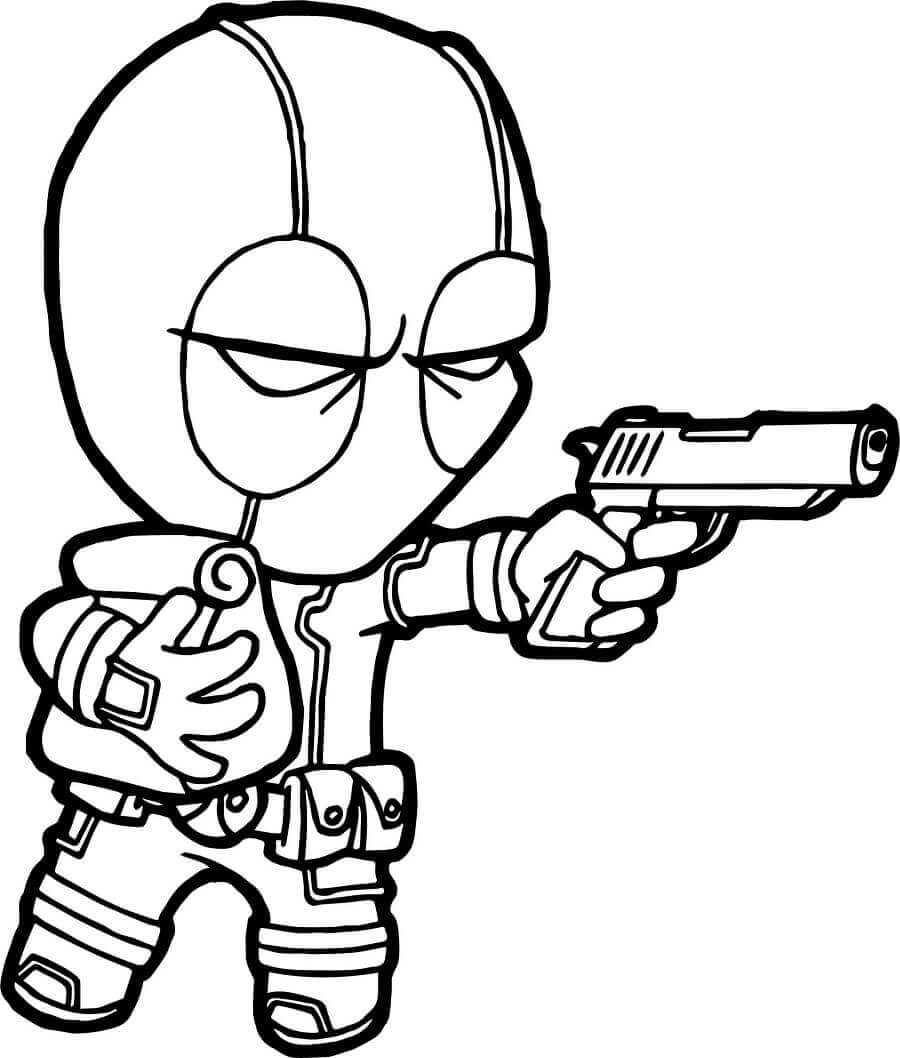 Deadpool is quite possessive about his food, he does not like his food being touched by someone else. He is ready to shoot a guy who tried to steal his food. He is furious. So a piece of advice- Never even try to look at Deadpool's food if you are lucky enough to run into him.
Deadpool Is Ready:
Seems like Deadpool is ready to fight. He has a gun in one hand and a knife in the other. He looks so cute although he is angry. I'm sure you want to see him with the Avengers in the next movie. He will only make the team more enthusiastic and fun.
Surprised Deadpool: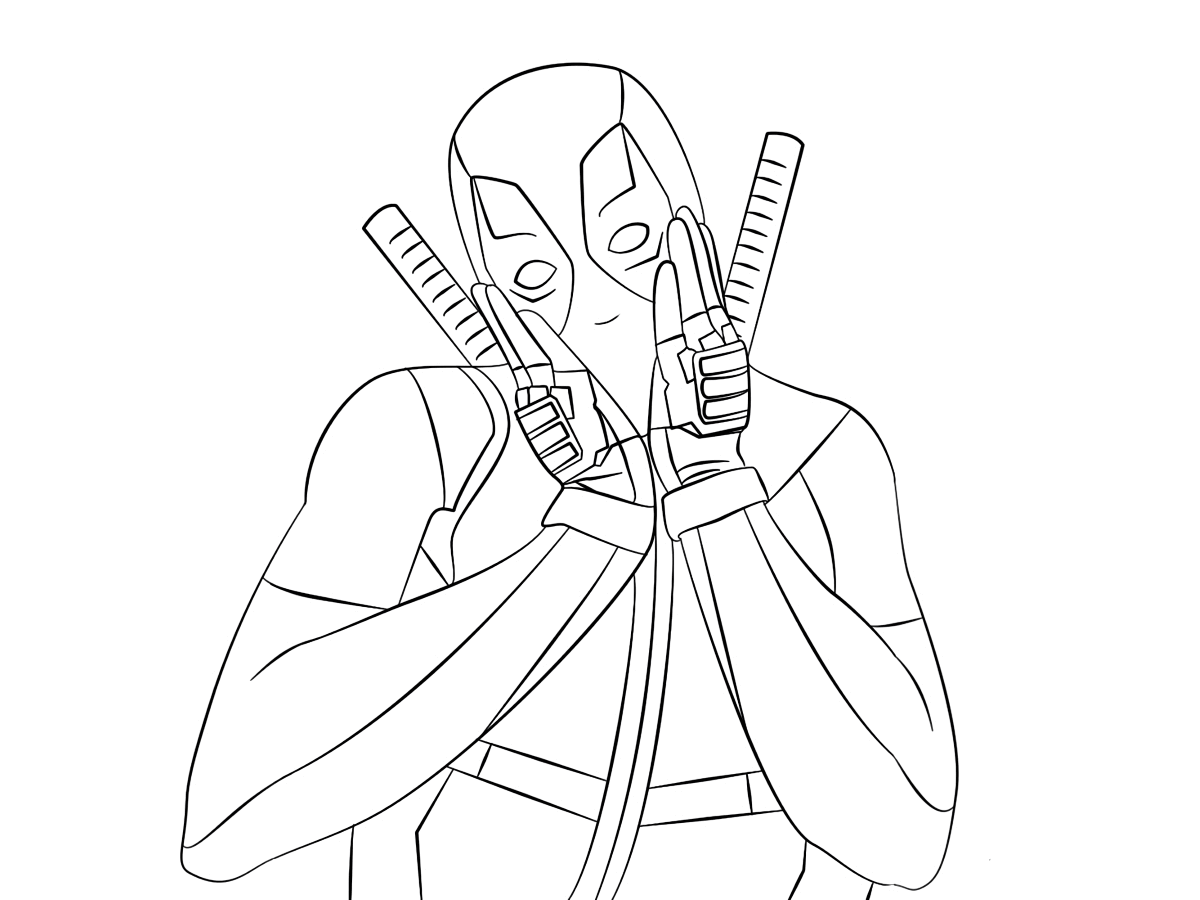 If you have seen the movie, I'm sure you remember this face or reaction. He gave this reaction when he finally caught Francis but Warhead and Colossus came interrupted them. That is when he lost him, Francis ran away. The scene was hilarious. So color him cute.
Deadpool Pulling A Miley Cyrus: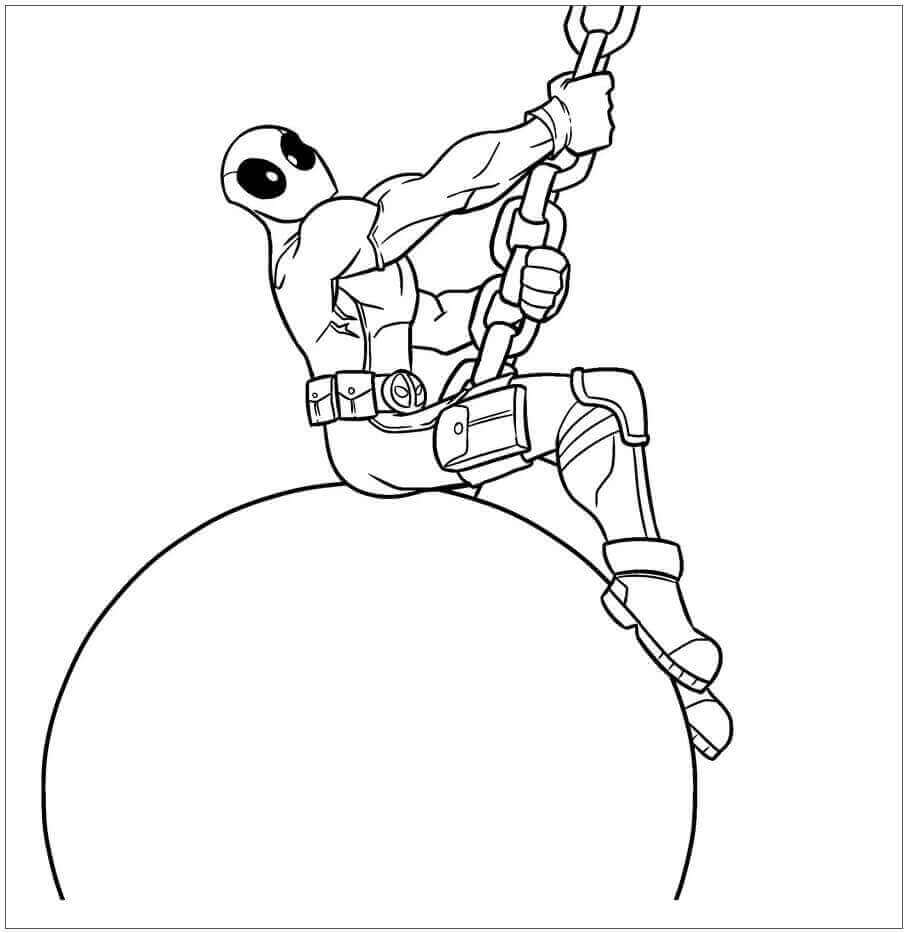 I am sure you know who Miley Cyrus is or maybe Hannah Montana. If you have heard her song called Wrecking Ball, you will recognize this scene. The only difference is that in this picture instead of Miley Cyrus is our beloved Deadpool. He is always up to some mischief. Color this playful superhero.
Deadpool Posing Coloring Page:
According to Marvel comics, Deadpool began his mercenary career when he was a teenager. After being diagnosed with cancer, he was offered help where he became a test subject. The tests and experiments cured his cancer but made him mutant and disfigured. To take revenge, he became Deadpool.
Deadpool Coloring Sheet To Print: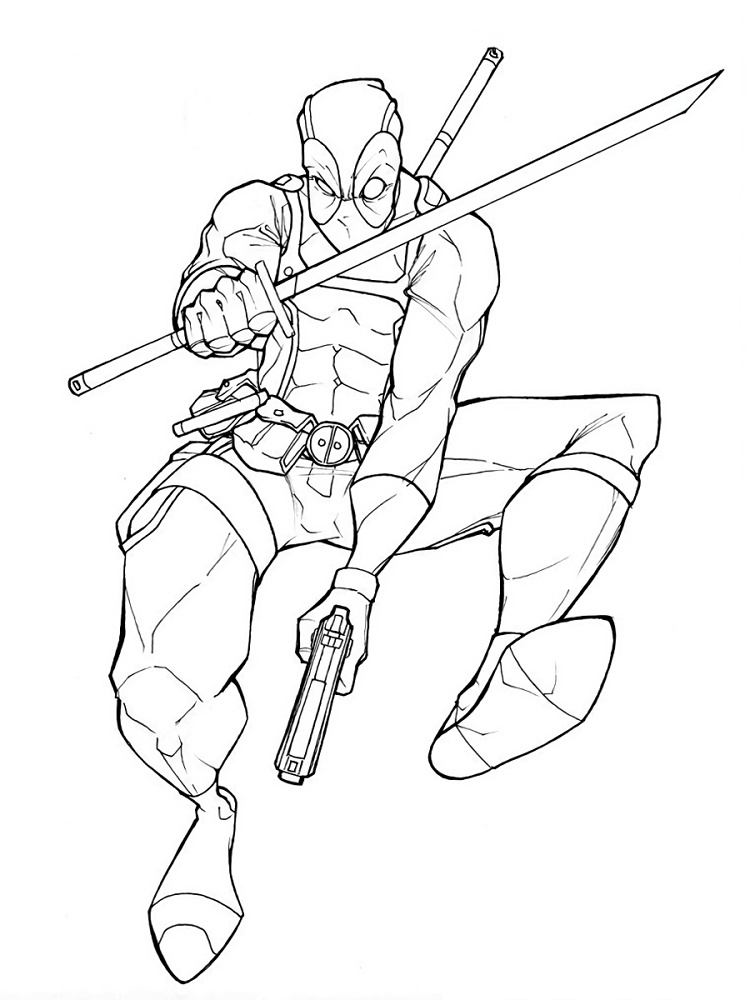 Do you know how Wade Wilson named himself Deadpool? The story is quite interesting. According to Marvel comics, Deadpool named himself after "Death Pool" that he entered into after he was removed from the X-Program. "Death Pool" was a bet between patients or failed test subjects as to just who would survive.
Deathstroke Vs. Deadpool:
Deathstroke is a character in DC comics. Deadpool has such a striking resemblance with Deathstroke that its creators named him Wade Wilson as an inside joke implying that he is related to Slade Wilson aka Deathstroke. But the biggest and the most asked question is who will win between Deathstroke and Deadpool.  Think it over while coloring this sheet.
Deadpool Coloring Page:
In spite of his talkative nature and childish behavior, Deadpool is really smart, very clever and strategically sophisticated. Like for once while battling Daredevil, he was able to trick him a few times which is very difficult to do.
Free Deadpool Coloring Sheet:
Did you know that Deadpool and Captain America are pals? Odd, but Cap is the only guy in the MU who actually admires Deadpool. He too respects Cap a lot as since childhood Captain America was his idol. And since they both are government experiments, Cap can understand Deadpool's pain.
Free Printable Deadpool 2 Coloring Page:
In the upcoming sequel of Deadpool, you will get to see a new supervillain named Cable. An extensive search took place to fill the role of Cable. He is a time-traveling mutant soldier who is opposite to Deadpool in many ways. Color Wade Wilson aka Deadpool.
Chibi Angry Deadpool: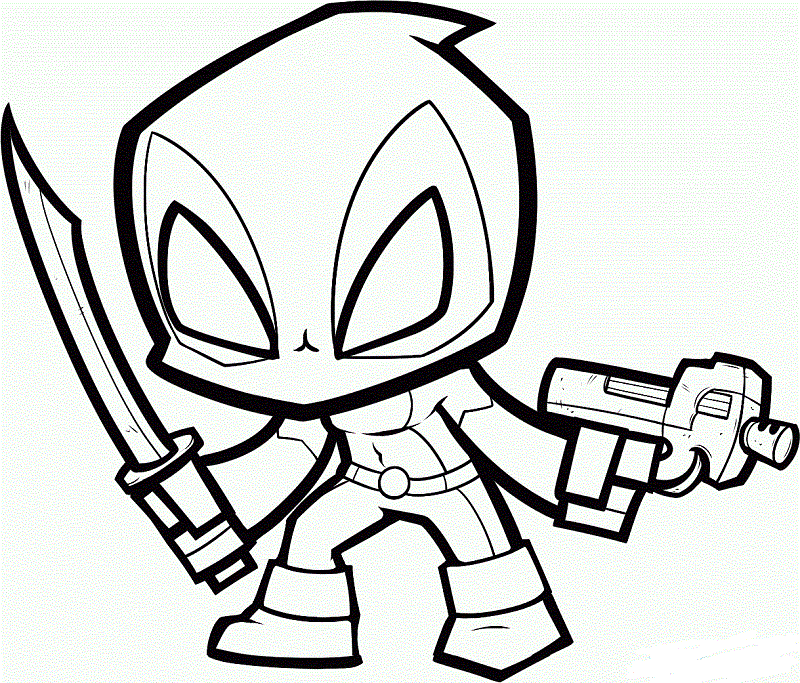 Chibi is Japanese slang for small or short. It is applied to animals, objects, or people. So here it is-A Chibi Deadpool for you to color. Isn't he adorable? The fact that he is angry makes him look even more kawaii; it means cute in Japanese. Have fun coloring him.
Lady Deadpool Coloring Page:
Lady Deadpool is a female counterpart of Deadpool whose name is Wanda Wilson. She comes from Earth-3010. Wanda seems to be a secluded person not wanting to go out in the sun. After her adventures with the Deadpool Corps, she eventually returns home, her own earth and dimension.
Lego Deadpool Coloring Page:
You know what Legos are right? These are plastic brick toys that can be connected in various ways to construct objects, building, working robots, etc. Deadpool has his own Lego toy too. His appearance in LEGO Marvel Super Heroes is identical to the physical mini-figure. Deadpool's fourth wall breaks are very common in the game, as he frequently speaks directly to the player and acknowledges that he is in a video game.
[ Read: Lego Coloring Pages ]
I know you cannot wait for Deadpool 2. I'm impatient as well but it will hit the theaters near you soon. By that time re-watch the first movie and Deadpool and Deadpool 2 coloring pages printed and color them with hues as awesome as this superhero. And don't forget to share your favorite Deadpool coloring pictures by commenting below.