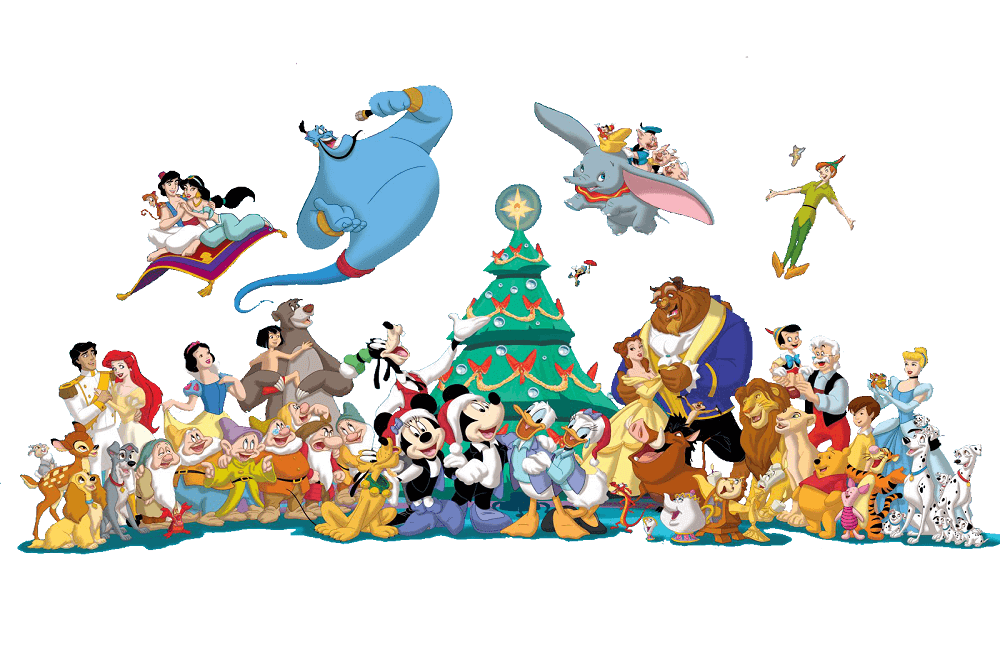 Winter is already here in many parts of the world. The holiday season will be upon us pretty soon. Keeping that in mind, today we are bringing you a fun and exciting collection inspired by the world of Disney with a special Christmas theme. Yes, we've got you free printable Disney Christmas coloring pages.
Christmas marks the birth of Jesus Christ and is celebrated on December 25. However, festivities and cheers begin days ahead with special mass and prayers held on Christmas Eve. Being one of the most celebrated festivals in the world, Christmas has been a popular theme in the world of movies, especially family entertainers. During the holiday season, Disney's major characters can also be seen in several of its Christmas themed films, shorts, and series. Why wait any longer to start some Christmas fun? Let's begin this wonderful journey through the festive collection of Disney Christmas coloring sheets to print.
35 Free Disney Christmas Coloring Pages Printable
101 Dalmatians Inspired Christmas Wreath:
The commercially successful and universally loved by children and families alike, Disney's 101 Dalmatians told a story about a Dalmatian dog family, adopted by a human couple, fighting an evil woman trying to steal their Dalmatian babies to make a fashionable attire. Here is a cute Dalmatian puppy greeting you through this Christmas wreath.
to join this conversation on GitHub. Already have an account? Sign in to comment Footer © 2023 GitHub, Inc. Footer navigation Terms Privacy Security Status
Baby Mickey Mouse Rides A Christmas Sleigh To His House:
This baby Mickey Mouse is leaving no stone unturned to make sure he gets his gift. He isn't even waiting for Santa Claus to come and deliver his gifts. Instead, he has taken charge of the gift delivery for his family's Christmas by riding the sleigh full of Christmas gifts straight down the road to his house.
Beauty And The Beast Celebrate Christmas:
Illustrating wonderfully, using the magic mirror that was used in Disney's Beauty and The Beast film, this coloring page showcases the Christmas celebration of Belle and the Beast. You can clearly see the decorated top portions of the Christmas tree as well as gifts and other members turned into household objects giving them company.
Tigger And Winnie The Pooh Wraps Their Christmas Gifts Too:
Winnie The Pooh, the wise bear, has expertly wrapped his Christmas gift, tying a wonderfully knit bow-tie ribbon. On the other hand, just behind him is Tigger, messing up big time with his incapable method to wrap his gifts. It looks like he has entangled himself. Print this coloring page and bring some joyous colors to the illustration.
Mickey And Goofy Helps Santa With Christmas Gifts:
The holiday season is also about making sure everyone feels as blessed as we do. To spread Christmas joys, Mickey Mouse and Goofy have decided to join Santa on his gift distributing trip on his sleigh. Someone lucky is getting a stuffed bear, another is going to play a lot of balls. You can help too by filling in wondrous colors to all the gifts and the characters on this coloring page.
Cinderella And Her Christmas Decorations:
Come Christmas holidays and Cinderella gets busy decorating the house with the humblest of things she can find. Today, she has gathered some beautiful mistletoe leaves with berries. She has even managed to use one as a hairclip to ornate her lustrous hair.
Daisy Knitting Christmas Stockings:
One of the early Christmas traditions involves knitting Christmas stockings that are hung on the mantlepiece above the fireplace or anywhere else in the house. It is believed that when Santa comes to deliver gifts, he places some of them inside these stockings. That's why Daisy is busy knitting them. Give these stockings the color of your choice – keep in mind the colors of Christmas.
Mickey And Minnie Mouse Sharing Christmas Gifts In The House:
After carefully decorating the Christmas tree together and enjoying relaxing holiday time with a good meal and music, Mickey and Minnie Mouse take the time to share each other's Christmas gifts. You can also start planning about your Christmas gifts for your family and friends while you color this illustration.
Pluto Is Excited, Christmas Tree Is Decorated: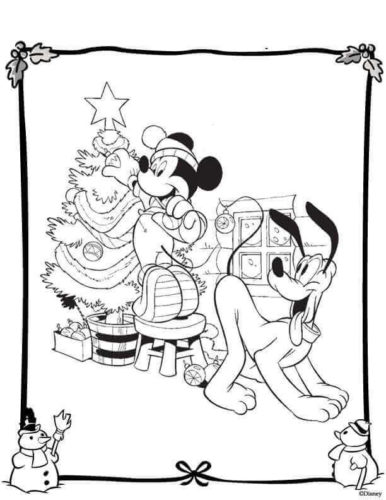 Watching Mickey finish the last piece of decoration for the Christmas tree, Pluto is super-excited. There are a lot of gifts under the tree. Wonder what Pluto is getting for Christmas! Maybe he has already smelled his gift, that's why he looks so excited.
Pluto Plays A Prank, Acts As Christmas Present:
Being naughty and fun, Pluto has found himself a good place to hide. He jumps inside an empty Christmas gift box and then looks out joyfully. He is already such a gift to all the Disney fans around the world, isn't he?
Mickey And Minnie, Decorating Christmas Tree:
All the gifts are wrapped, and all the decorations are placed on the Christmas tree by Mickey and Minnie. Just one thing is left to finish the decoration. You can see Minnie standing on her tiptoes to place the Star of Bethlehem on top of the Christmas tree.
Christmas Party With Mickey, Donald & Daisy:
It's a fun Christmas party on this coloring page. Some of the most well-known Disney characters are having a great time dancing around in this illustration. You can see Mickey Mouse along with Donald Duck and Daisy shaking a leg during the Christmas party.
Disney Princesses Wishing You Merry Christmas:
To make your Christmas season full of merriment and happiness, a few of the Disney Princesses have gathered here on this coloring page to wish you a Merry Christmas. Give each of these powerful Disney Princesses their respective colors as you print and fill this illustration with colors.
Donald Duck Finds Gifts Inside Christmas Stockings:
To his utter surprise and joy, after waking up on the Christmas morning, a pleasant discovery awaited Donald Duck. You can see how completely awestruck with surprise he looks here to find several gifts dropping out of his Christmas stockings.
Dumbo Christmas Coloring Page:
Dumbo is one of the critically acclaimed animated films of Disney which had its live-action remake released to appreciation this year. And Dumbo is here to make your Christmas full of possibilities and magic through this Christmas illustration.
Dwarfs From Snow White Helping Santa:
Making sure Santa is on time to deliver all the Christmas gifts, the seven dwarfs from Disney's Snow White tale have come to help. They are maneuvering swiftly to get all the presents accurately sorted for every house.
Mickey, Minnie & Pluto's Holiday Starts By Sending Christmas Gifts & Cards:
The start of the holiday season is also the right time to send out all the Christmas greetings and gifts for loved ones who live far and may not be able to get together. Think of your own loved ones you need to send cards while coloring this page.
Goofy Has Goofed Up:
Poor Goofy had painstakingly arranged all the little candy canes inside a gift box. But he ended up tripping and spilling all the candy canes when he was rushing to get the gift wrappers.
Kanga And Roo Celebrating Christmas:
Inspired by the animal that has come to represent Australia to the world, here are Kanga and Roo making sure their Christmas tree is beautifully adorned. With the placing of the star at the top, they are finally done with the Christmas decoration.
Lady And The Tramp Christmas Coloring Page:
Presenting the harmonious spirit of Christmas, here are the popular characters from Disney's Lady and the Tramp celebrating the holiday season together.
Little Mermaid's Ariel And Sebastian Wrapping Gift For Henry: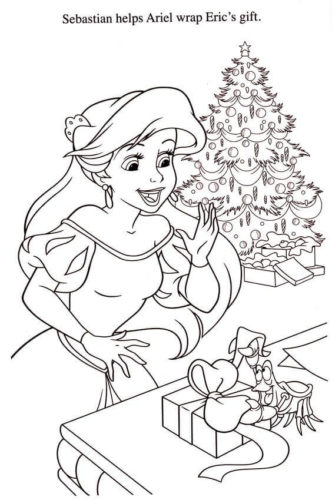 A friend in need is a friend indeed. Proving just that is Sebastian who is here to help Ariel, in her human form, to properly wrap her Christmas gift for Prince Henry. You can help as well by making sure the gift looks incredible by coloring them and everything else on this illustration.
Mickey Holds Mistletoe, Gets A Kiss From Minnie On Tiptoe:
Following the Christmas tradition of kissing when one is standing under a mistletoe, Minnie doesn't hesitate to kiss Mickey who had playfully held the mistletoe above them. Print this coloring page and give this endearing illustration some lovely colors.
Minnie Mouse Knitting Stockings In Her House:
Following her best friend's efforts to knit her own Christmas stockings, even Minnie gets busy knitting her own stockings, sitting next to the well-decorated Christmas tree. If you had given Daisy's Christmas stockings red colors, you can give Minnie's knitted stockings green colors.
Piglet Sleeping On Christmas Eve
Unaware of the present in the room, the piglet has already fallen asleep on Christmas eve. Once the morning comes there, a pleasant surprise will be waiting. Let it be more of a surprising event by giving each element on this coloring page bright and happy colors.
Pluto Decorating Christmas Wreath:
After his playful prank with an empty Christmas box, here is Pluto going at it again. This time this naughty fellow has made itself into a Christmas wreath. Have a wide smile or burst into laughter, as you print and color this funny illustration.
Pooh With Christmas Tree Decorations:
Most families tend to keep the Christmas decoration safely stored to be used for next year's celebration. It is the same with Winnie The Pooh, who is checking out the old decorations, delighted with how new they look.
Pooh With Honey:
Taking a break from all the Christmas decorations, Pooh sits down to have a meal of honey. Work and study is important, but you should always remember to replenish your body with food.
Simba Celebrating Christmas:
Just like Pluto with the wreath, Simba here from The Lion King plays and turns himself into a Christmas wreath. Simba, however, looks cute and adorable, unlike Pluto's funny pose, doesn't he?
Sleeping Beauty Christmas Coloring Page: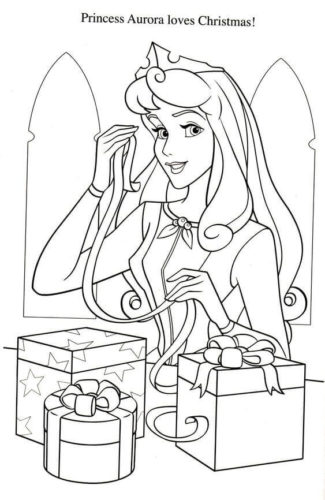 Making sure all the Christmas gifts are perfectly wrapped and adorned with beautifully crafted ribbon flowers, Princess Aurora from Disney's Sleeping Beauty is busy before Christmas.
Snow White Writes Christmas Letters:
Snow White writes personalized Christmas wishes for her loved ones, as one of the seven dwarves looks on gleefully from behind her. Print this coloring page and fill it with somber colors for the princess and fun colors for the dwarf.
Tigger Ready For Christmas:
Tigger is in a festive mood. Preparing for Christmas joy, look at him on this coloring page, dressed as a reindeer wearing hat mimicking antlers. Add a splash of colors to accentuate his festive mood by printing and coloring this illustration.
Vintage Disney Christmas Coloring Page:
There are several Disney characters gathered specially for you on this coloring page. Identify each one of them correctly and give them their own individual color schemes.
Webby With A Paper Snowflake: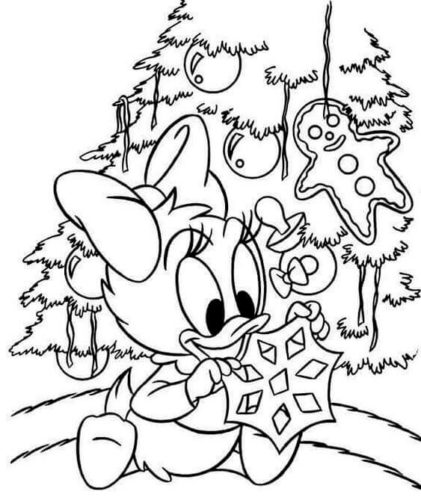 Enjoying the finish of the Christmas decoration, Webby plays with a paper snowflake that fell on the ground. Make this discovery even more wonderful by printing this coloring page and filling all the elements with colors.
Winnie The Pooh And Friends, Enjoy Eating Gingerbread Men:
Baking gingerbread cookies is also part of the holiday season traditions. Popular among the designs is the gingerbread man cookies. Here you can find Winnie The Pooh along with his friends enjoying a Christmas snack.
Disney Christmas Card Coloring Page:
This detailed and magnificent Christmas tree illustration is perfect for a Christmas card. You can print this coloring page, fill each element with bright and fun colors. Add special wish and message at the back of the card.
We conclude today's collection of Disney Christmas coloring pictures to print with that beautiful Christmas card idea. As mentioned earlier, you can make a list of all the faraway family and friends you need to send cards and gifts as well as decide on what to give to the ones around you. To be thought of and remembered during the holiday season can be a heartwarming experience for them. You can come to a decision while you print and color this collection of Disney Christmas coloring images.