Hi everyone! How's winter treating you? And how excited are you for Christmas? Our excitement is about to touch the sky and it's getting very difficult for us to wait for Christmas eve. Until then, how about filling some coloring pages? Today we've got you Elena of Avalor coloring pages. Elena of Avalor, an animated television show by Disney revolves around Elena, a Latina princess, and her family. Elena single-handedly saved her kingdom, which happens to be the same universe as "Sofia the First", from an evil sorceress and now has to rule the kingdom as the crown princess. Her adventures while ruling the kingdom makes her realize that only compassion, resilience, and thoughtfulness can help her win the hearts of the people. Now without wasting any more time, check out the printable Elena of Avalor coloring sheets below.
40 Printable Elena Of Avalor Coloring Pages
Elena Of Avalor Coloring Page: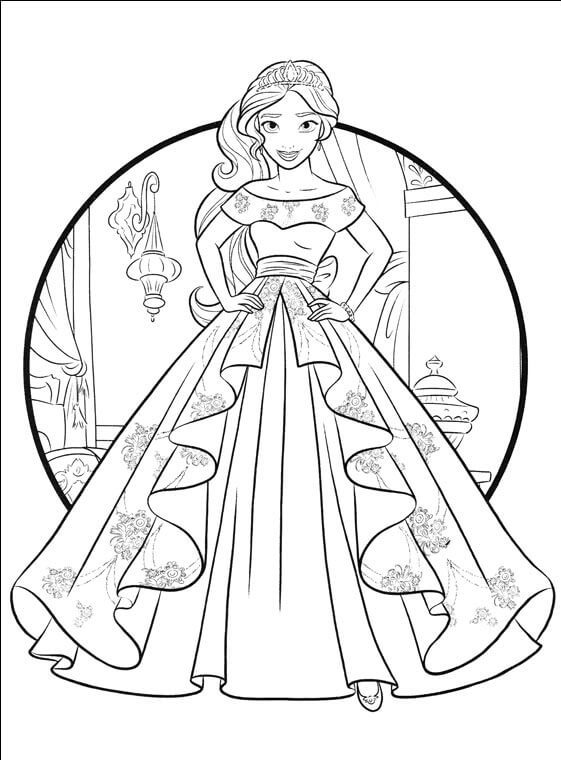 This is sixteen-year-old Princess Elena, the brave and tough teenager who has shown extraordinary courage and determination to fight off the evil sorceress and saved Avalor, her home, and kingdom. Guided by the Grand Council of the kingdom, this Disney heroine will now have to run the affairs of her kingdom with valor, honesty and kind consideration. She also attains some magical powers and can see spirit animals. Her hair is black, but her gown can be colored in any royal color.
Naomi Turner From Elena Of Avalor Coloring Page:
Elena's best friend, her 'friend in need', Naomi is the daughter of Captain Turner and a member of the newly formed Grand Council of the kingdom. Fifteen-year-old Naomi loves adventures and is a practical person. She is fair-skinned, has dark blue eyes and short blonde hair. She loves to wear a white shirt with a dark green skirt.
Elena With Francisco, Naomi, And Esteban Coloring Page:
With the important members of the Grand Council – best friend Naomi, maternal cousin Chancellor Esteban, and maternal grandfather Francisco – Elena is seen here trying to decide an important issue. Though by nature she finds it difficult to accept advice from others, she is seen here to be engaged in a serious discussion with the others.
to join this conversation on GitHub. Already have an account? Sign in to comment Footer © 2023 GitHub, Inc. Footer navigation Terms Privacy Security Status
Elena With Mateo In The Library:
In the royal library, surrounded by books, Elena and close friend Mateo seemed to be joyful that they have found the book that they were looking for. Mateo is the grandson of Alakazar, the Royal Wizard of Avalor. He is being trained in magical powers and to be a wizard himself. It was Mateo who guided Princess Sophia to the old Maruvian temple to free Elena.
Kingdom Of Avalor Coloring Page: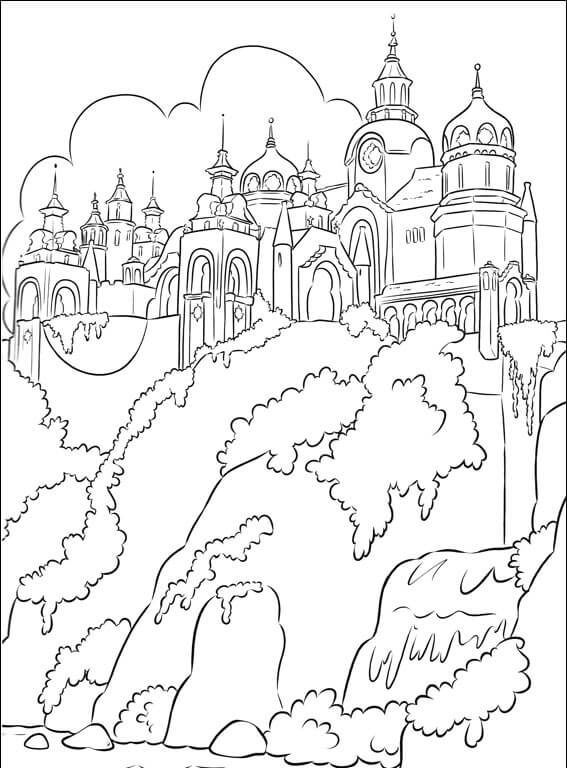 The kingdom of Avalor is home to Princess Elena. It is a beautiful place and is located in Latin America. The capital is Avalor city.  After being tormented for forty-one years by evil Shuriki, the realm returned to normalcy and peaceful living when Elena fought the sorceress and freed the kingdom.
Princess Isabel From Elena Of Avalor Coloring Sheet: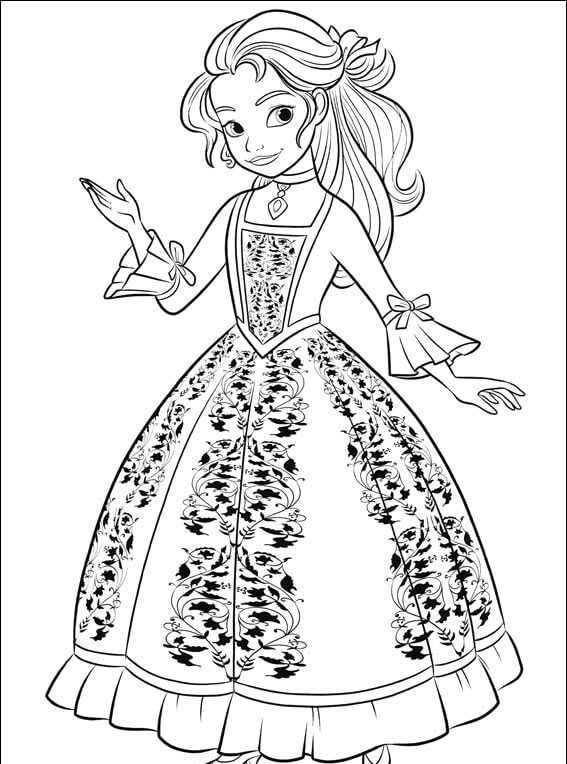 Princess Elena's younger sister, Isabel adores her elder sister and enjoys her company. She is a gifted girl who loves to draw, create new things and has immense respect for people who keep their promises. Books are irresistible for her but unlike Elena is not an outdoor person.
Luisa And Francisco Coloring Page: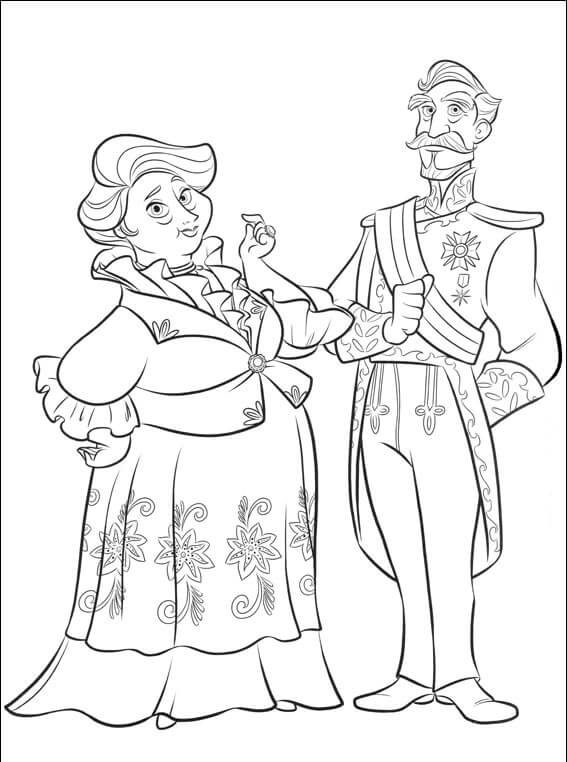 Luisa and Francisco are Queen Lucia's mother and father. They are maternal grandparents to Princess Elena, Princess Isabel and Esteban. When Elena succeeded to the throne after her father's death, Luisa and Francisco were chosen to be the members of the Grand Council.
Elena Helping Mateo Try A New Dress:
Mateo, the wizard-to-be and under training wants to wear this huge gown probably for one of his acts. The gown gives the impression of belonging to a magician, and that is what Elena's best friend aims to be.
Angry Elena:
Elena has the grit and determination of a true leader but she is also a bit obstinate and short-tempered. As you notice in this picture, Elena loses her cool and is seen destroying one of the royal interior decorative.
Mateo From Elena Of Avalor Coloring Page:
Elena's most trusted friend and ally, Mateo is the grandson of Alakazar and is under training to be a wizard himself. Obviously, his first love is magic. Always trying to outperform his own efforts at the magic he can sometimes falter because of self-doubt. But he is overprotective of Elena and is always present to protect her, with or without magic.
Francisco And Elena Playing Guitar:
Referred to as 'Abeulo' by his grandkids, Francisco takes pleasure in spending time with Elena and helping her pick different personality traits suiting a queen. Chosen by Elena as a member of the Grand Council because of his wisdom, seen in this picture he is helping Elena learn to play the guitar with much glee.
Elena And Naomi: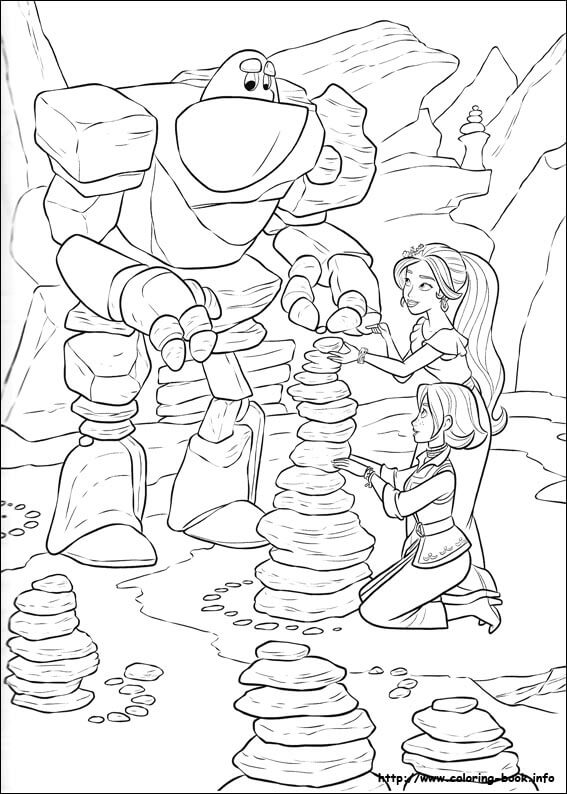 The two greatest friends, Elena and Naomi, are spending quality time befitting teenagers. They are building a robot-like structure with stones and pebbles and see what
wonderful work they have accomplished.
Esteban Reading Out The Scroll:
The scrupulous cousin of Elena, who had wanted the throne of Avalor for himself, reads from the royal scroll as at the meeting of the Grand Council. Notice his posture – dignified and full of pride. Though he is generally scheming and pretentious, he is also kind and caring especially for his family.
Elena On The Throne: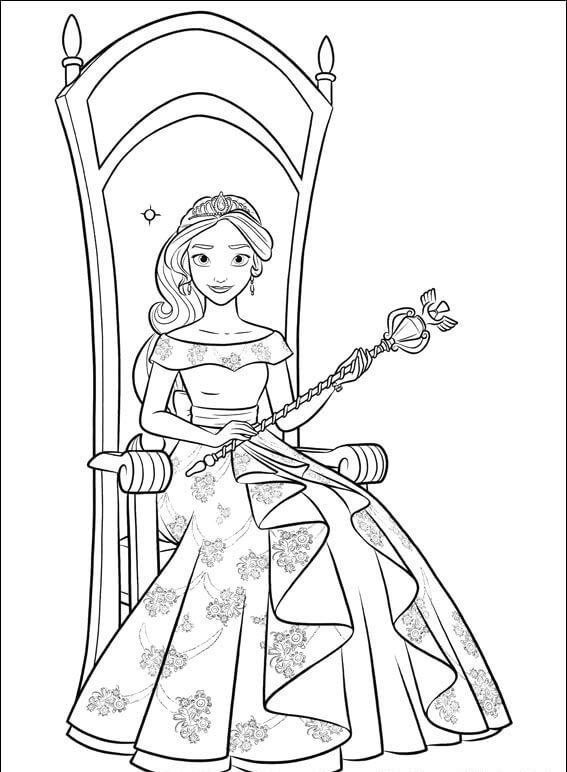 With poise and dignity, Elena takes the throne of the kingdom of Avalor after defeating the sinister Shuriki. Dressed in a royal and flowing gown and with the royal crown on her head and the regal staff in her hands, she is looking picture perfect. Isn't it? Color this picture with majestic colors.
Mateo Showing His Wizardry To Elena:
In this picture as is evident the Wizard to-be is trying to impress Elena with one of his magical tricks but it seems like Elena is not very impressed. The smile on her face and the exasperated look on Mateo's face say it all.
Elena With Her Staff:
The would-be queen and the current ruling Princess of Avalor looks so pretty and dignified in her majestic gown with the crown on her head and the grand staff in her hand. This one needs lots of colors and mixtures!
Noblins:
These are the tiny magical living beings that have the power to turn themselves into dogs and convert objects to gold. They are fun-loving creatures their leader is known by the name Jiku.
Elena With Noblins: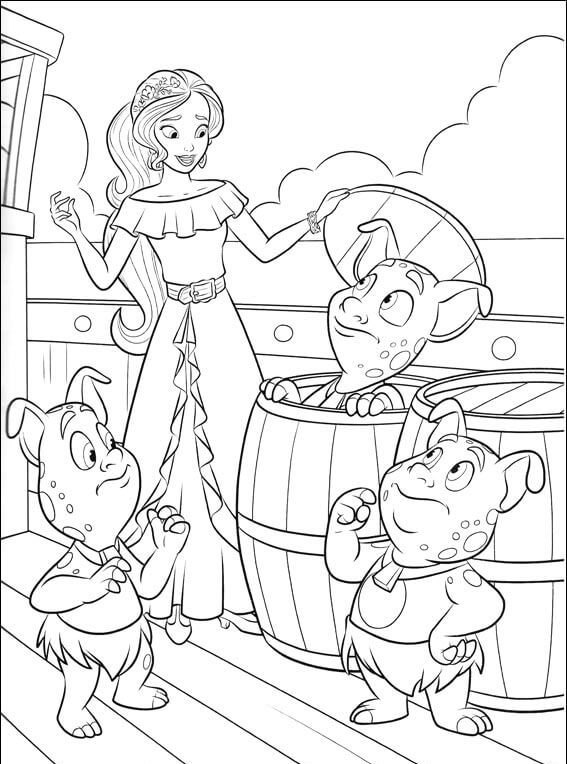 Playful by nature, the Noblins are caught unaware as Elena chances to see them playing hide and seek. Though Elena herself is friendly, the Noblins seem to be a bit frightened on seeing her.
Princess Isabel Posing: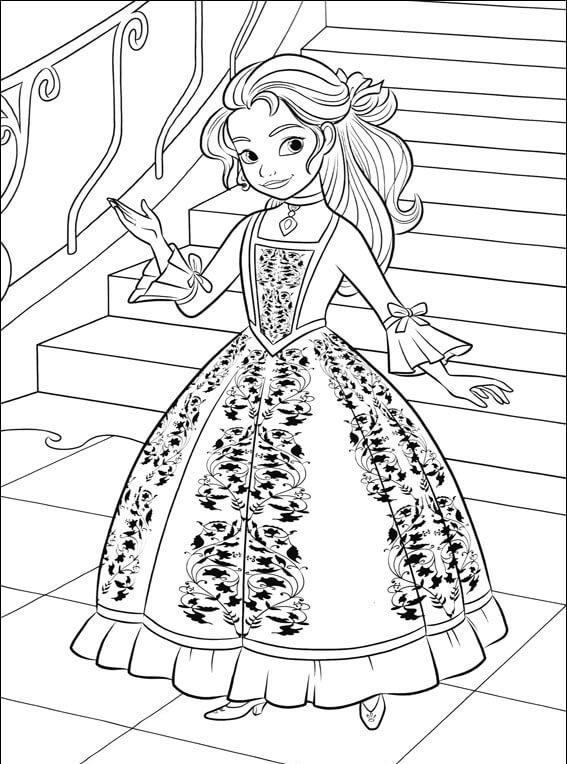 Elena's young sister, the attractive Princess Isabel has dark brown hair, light brown eyes, and suntanned skin. Posing here in her favorite outfit – a vivid blue dress with puff sleeves with floral prints. Another picture which needs lots of shades of colors.
Armando:
 
Here's a coloring page of Armando, Princess Elena's male servant who he is always there to help Elena. In fact, he helped her thoroughly when she was fighting to get back the throne of Avalor. He is, however still very exhausted and is messy as is seen in this picture.
A Portrait Of Elena With Francisco, Isabel, And Luisa: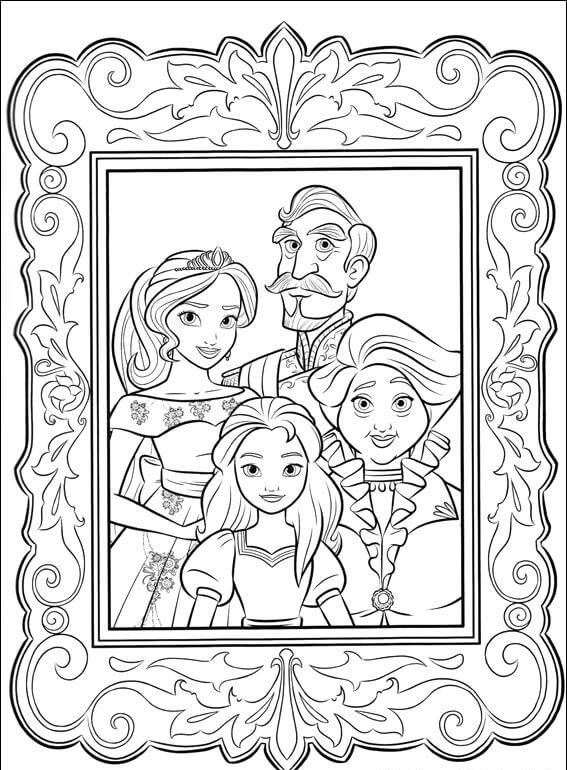 The princess girls are posing here with their maternal grandparents. All of them are impeccably dressed, and though Francisco has a grim expression, the others are all smiling faintly.
Elena, Gabe, Naomi And Mateo Coloring Page: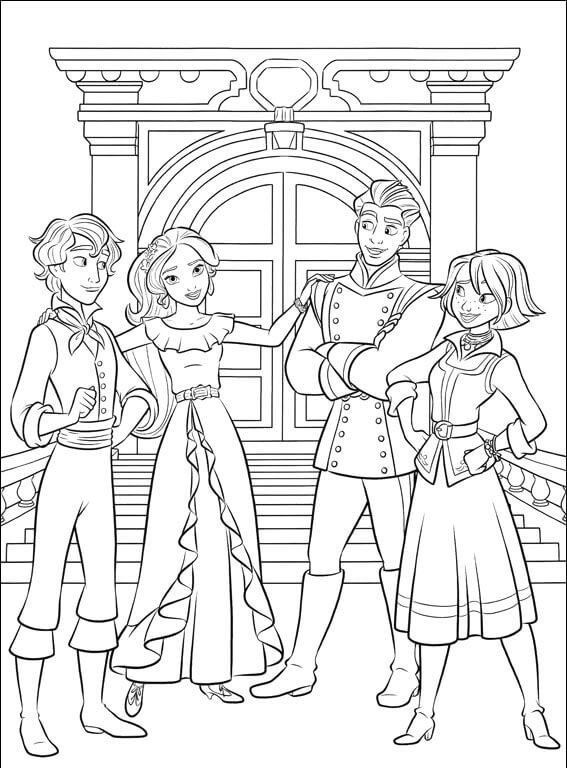 It is bonding time here! Princess Elena is seen in this picture with her closest friends Naomi Turner, Wizard-in-training Mateo, and Gabe, an outstanding staff from the Royal Guard.
Isabel And Elena Dancing: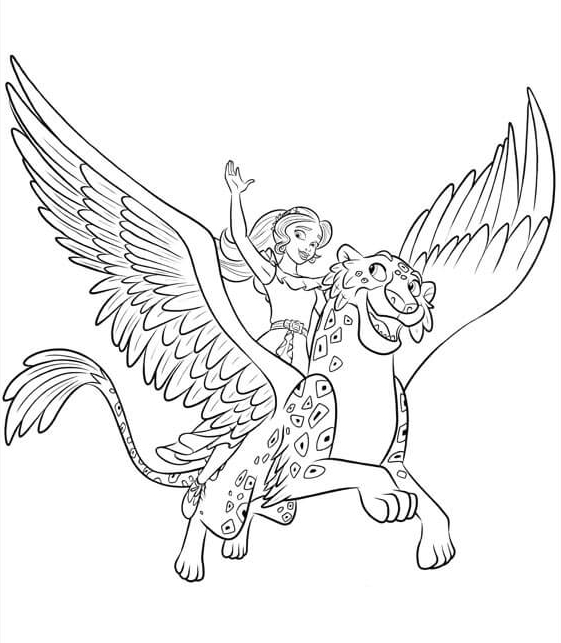 As seen in this picture, Princess Elena is sitting on the back of Skylar, a male Jaquin. Jaquins looks like the jaguar and have wings and feathers of macaws. Hence they can fly, and Elena is enjoying her ride on Skylar. The jaquins guard the kingdom with all ferocity and loyalty.
Elena And Isabel Coloring Page:
Is this pair not adorable? Look at the joy on their faces as they swirl around in all fun and happiness. Their relationship teaches that we need to bond well with our siblings –they are our greatest friend at all times.
Mateo Showing His Power:
Our magical friend is again trying his tricks here. See how he uses his magic wand to make the candles fly in the air. And he knows he has done it well – just see the satisfaction on his face!
Family Enjoying The Feast:
Wow! What a royal and elaborate spread of delicious food on the royal table. Such a feast! It looks like it's festival time and the grandparents and the princess are all set into the celebratory mood.
Elena Of Avalor Logo:
This is the starting scene of the Disney feature 'Elena of Avalor'. Use all the colors in your color box to lighten up this picture.
The Majestic Elena:
This picture speaks of girl power! Princess Elena with the winning look on her face is in her royal attire and majestic staff. This is again one of the starting scenes from the Disney feature announcing the arrival of Princess Elena.
Dancing Elena:
Ever fond of dancing and singing, Princess Elena is seen here to be in one of the dancing postures. She has perfectly balanced herself on the tip of her toes with the graceful curve of her hands and body, doesn't she seems to a well-trained dancer!
Sisterly Love:
Again both the sisters are bonding here. Though it's only for a perfect click, but one can feel the warmth and affection of the sisters for each other. Notice how protective Elena is for her little sister.
Elena And Jacquins:
After her joyful ride on one of the jaquins, Elena is elated and so is the jaquin. Both have enjoyed their ride and the time they spent with each other. Would you not want to have jaquin for yourself so that you can also sneak out for a ride on their back?
Elena And Mateo With Their Respective Swords:
In this picture the friends posing with their respective armor – Elena with her royal weapon and Mateo with his magic sword. Look at the pride on their faces – it just completes each of their personalities.
Jacquins:
These are magical creatures featured in Elena of Avalor. Their body resembles that of a jaguar, and they possess wings like that of a macaw.  Their main task is to protect the kingdom of Avalor from all sorts of threats which they dutifully perform. There are three main jaquins in this story – Migs, Lunar and Skylar. Lunar is a female. Migs and Skylar are males. Migs is the level-headed one of all the three.
Francisco Coloring Page:
Here is the picture of the ever loving and doting maternal grandfather to Elena, Isabel and Chancellor Esteban. He loves to narrate stories with morals to his grandchildren. He adores his family and is a strict follower of the laws of the kingdom.
Adorable Elena:
Posing in front of the mirror, Elena, as usual, is looking all feminine, gorgeous, and stunning. She is olive-skinned, has long dark brown eyes, red lips, and brown eyes. Her favorite dress is a red flowing over-skirt without sleeves. She loves flowers in her hair and a golden belt at her waist.
Elena With Guitar:
One of her favorite past time, Elena loves to string her guitar and hum a song to herself. Watch her posing; the glow on her face is explicit enough for us to understand that she thoroughly loves to perform, be it dancing or singing or playing the guitar.
Alakazar: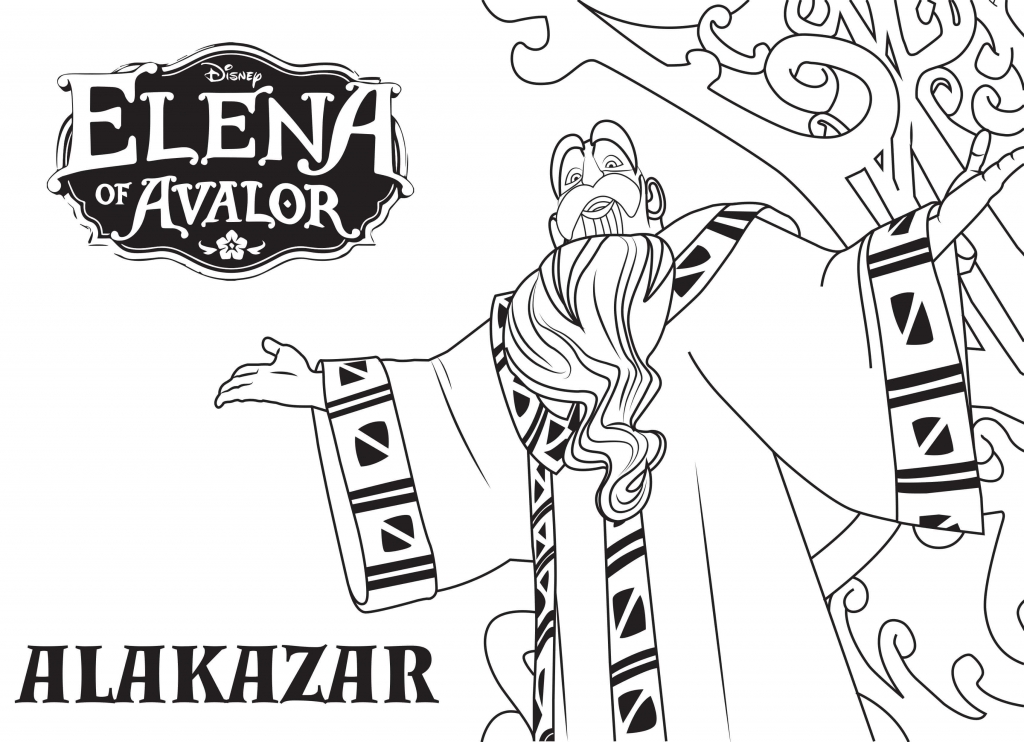 Alakazar is the royal Wizard appointed by Princess Elena's father. He was the one who cast a magical spell on the royal family when the evil sorceress killed King Raul and Queen Lucia. Due to this spell, Elena and her sister and the rest of the family were spared from being killed. He and his spirit guide do everything in their capacity to free Elena from the Amulet of Avalor.
Naomi And Elena:
Best of friends! Always together! Always there for each other, be it happiness or grief. Picture perfect pose from the two beautiful girls from the kingdom of Avalor!
Isabel And Elena:
The sisters stand with pride with each of their armor with them. Elena's precious sword or wand and Isabel's books! Notice how both are wearing their signature dresses. Also, notice that Elena's hair is longer than Isabel's and the characteristic flowers in Elena's hair. The girls are both looking majestic, but we know from the picture itself who the next queen will be, isn't it?
Zuzo And Luna:
That's an interesting combination! Zuzu, Alakazar's guiding spirit and Luna the female Jaquin. Zuzu is a sly spirit fox, full of enthusiasm that lent its guidance to Elena on her journey to acquire back the kingdom. Luna is the fiery and rash jaguar with a deafening voice and wings of a macaw. But she is as affectionate as a mother at times. Color Zuzu in sparkling blue and Luna in orange and red and pink.
So these were the top 40 printable Elena of Avalor coloring pages. We're quite sure you won't find these beautiful Elena of Avalor coloring sheets anywhere else. So without wasting any more time, print out these Elena of Avalor coloring pages right away.