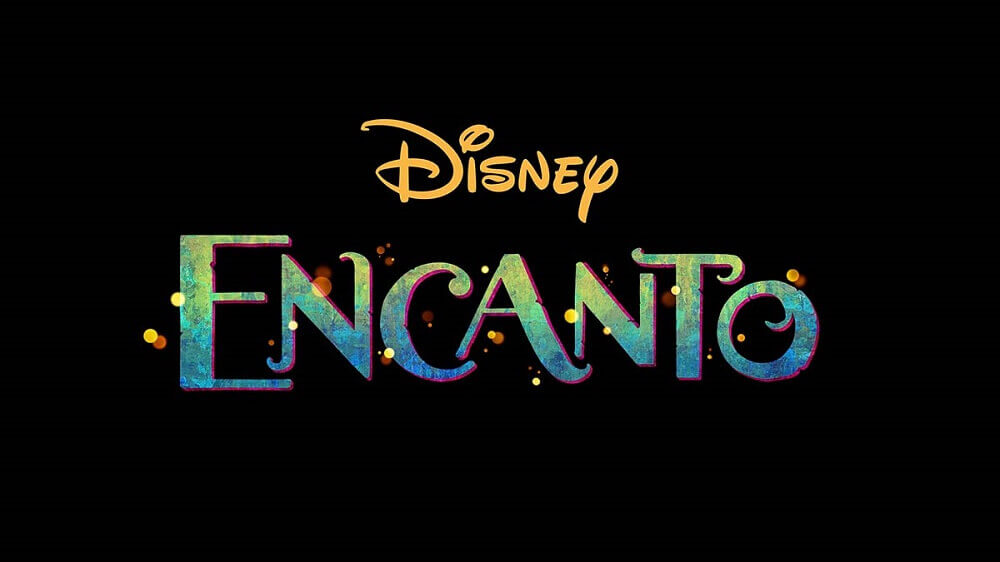 It's been quite a while since Disney's Encanto was released and how colorful and incredible was it? The animation was absolutely amazing and made every second of the movie worthwhile. And what do we say about the soundtrack? Kids in my family just can't stop humming it.
The movie narrates the tale about the Madrigal family that lives hidden in the mountains in a place named Encanto. What makes Encanto special is that it has given each child, except Mirabel, a unique gift. But it was Mirabel who was entrusted with the responsibility of saving the magic surrounding Encanto.
Since the movie was so popular with kids and even adults, we decided to compile a collection of free printable Disney Encanto coloring pages. Take a look at them below.
to join this conversation on GitHub. Already have an account? Sign in to comment Footer © 2023 GitHub, Inc. Footer navigation Terms Privacy Security Status
11 Free Printable Encanto Coloring Pages
Antonio Coloring Page
Meet Antonio, the youngest member of the Madrigal family blessed with the gift to communicate with animals. It's for this very reason, he keeps a lot of animals in his room, from coatis to tapir, to toucans to capybaras, and even a jaguar. Mirabel may not be very confident about her, but Antonio looks up to his cousin.
Camilo Coloring Page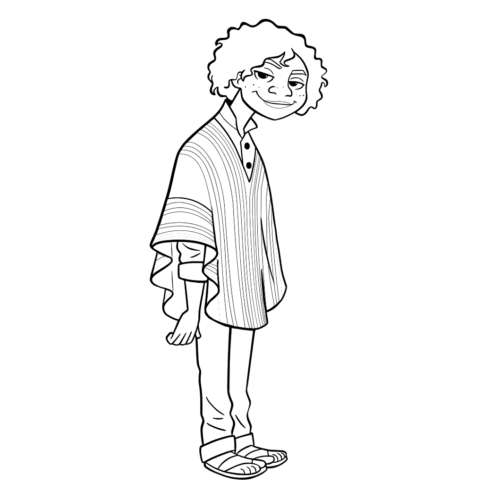 This coloring picture features Camilo Madrigal, the middle child of Felix and Pepa Madrigal. Camilo has the gift to shape-shift, which he mainly uses to make fun of his relatives. Camilo is sardonic, cheeky, has lots of energy, loves to have fun, and is a little dramatic as well, making him the perfect entertainer.
Encanto Logo Coloring Page
In case you are not aware of it, the name 'Encanto' derives from a Spanish word meaning spell, magic, or charm, and it sure was used very well in this movie. The movie was fascinating from start to the end and left all of us wanting more.
Dolores Madrigal Coloring Page
Dolores is one of the supporting characters in the movie. She's the eldest child of Felix and Pep and the sister of Camilo and Antonio. Her gift is enhanced hearing, because of which she knows everyone's secret.
Encanto Activity Sheet
Here's a task for you all. In this activity sheet, you need to help Mirabel reach the candle at the center of the butterfly maze so that she can save her town. The maze is very easy to get through. All it needs is just a bit of concentration.
Madrigal Sisters
Meet the Madrigal sisters, Isabelle, Luisa, and of course, Mirabel. Fill this picture with the brightest of shades to make each one of them stand out, irrespective of their superpowers.
Encanto Cast
This illustration features the beautiful cast of the movie, Encanto. It mainly features the female characters of the movie, along with the cute and adorable Antonio and his animals.
Isabela Madrigal Coloring Page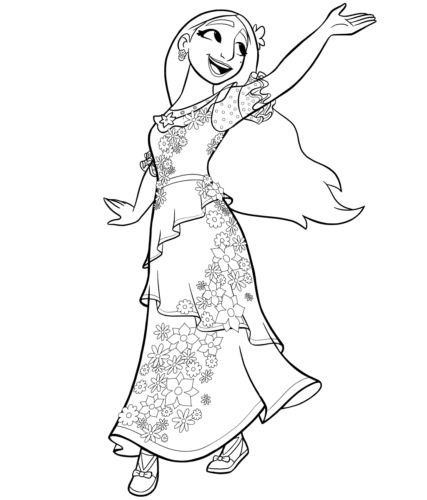 Meet Isabela fondly known as Senorita Perfecta" in her family. She's the oldest child of Agustin and Julieta and the eldest sibling of Luisa and Mirabel. Isabela is considered the golden child of the family as she has been bestowed the gift of conjuring beautiful plants and flowers. Isabela is beautiful and elegant and new flowers bloom with every step that she takes.
Luisa Madrigal Coloring Page
Luisa Madrigal, the middle child of Julieta and Agustin and the elder sister of Mirabel, is gifted with supreme strength. Her superhuman strength allows her to lift the heaviest of things, including buildings and bridges with utmost ease. Luisa is the support of the entire family, always ready to lend a helping hand. She can carry the entire burden of the family and not complain.
Magical Door
Here's the magical door of Encanto, which we all must have wanted to get through at least once while watching the movie. This coloring picture is a bit incomplete as it requires you to decorate the door. How would you embellish it? We'd love to see the result.
Mirabel Coloring Page
We're rounding up this collection of Mirabel Madrigal's coloring page. Since Mirabel's clothes are so colorful, kids are sure to have a gala time coloring them.
The moral of this story is that you don't need to have special powers to save someone. All you need to have is the will to work for the welfare of others. Print out all of these activity sheets and coloring pages today to relive the magic. They will make great entertainment during road trips too. To print out the images, right-click on the picture and select save or print.
Related: