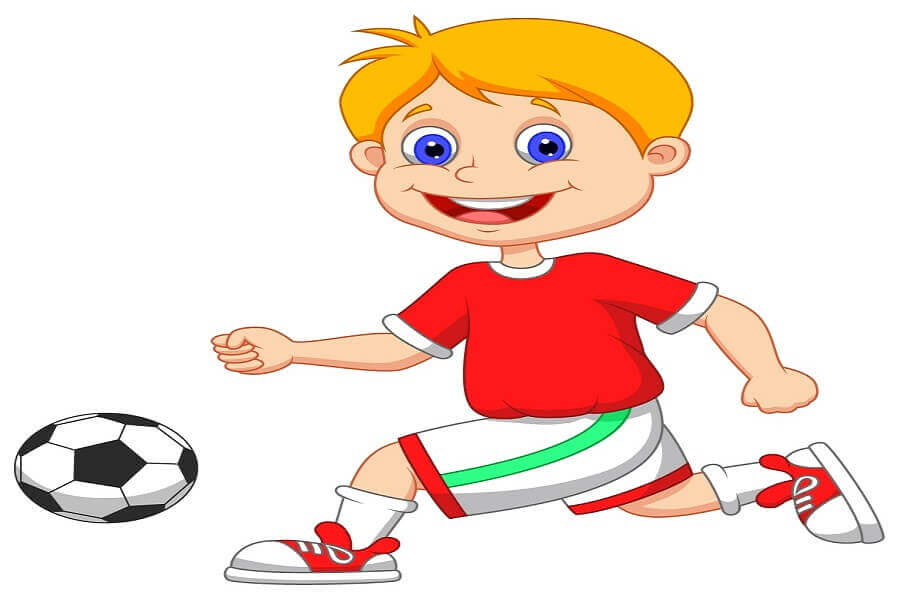 Greetings friends! Today we've got you coloring pages of the most popular sport in the world. Yes, we're talking about football and soccer coloring pages. Also known as the "beautiful game", it is estimated that almost half the global population watches association football or soccer (as Americans call it). Contemporary soccer began in England from where it gathered interest and spread to other parts of the world. It is more popular in Europe and America, specifically South America, than any other continent.
Football is played between 2 teams with 11 players on each side. The objective is to drive the ball past the defenders and the goalkeeper into the goal net by the opponent team. Let us learn more about this beautiful game and with these free printable football coloring sheets to print.
Free Printable 35 Football Coloring Pages:
Adidas Soccer Ball Coloring Page:
Adidas being one of the leading sports brands is a big name in the world of football. One of the main focuses of Adidas has been football kits and equipment, including soccer balls. Adidas has supplied footballs for many important football tournaments that include FIFA World Cup 2006, 2010 and 2014 and the official ball of UEFA Euro 2016.
to join this conversation on GitHub. Already have an account? Sign in to comment Footer © 2023 GitHub, Inc. Footer navigation Terms Privacy Security Status
American Football Coloring Page:
Football, as known by many, is very different in America. American football in America and Canada is also known as Gridiron. Although like European football, it includes 2 teams with 11 players each, American football involves carrying the ball beyond the opponent's touchline rather than using the feet to score a goal.
American Football Coloring Page: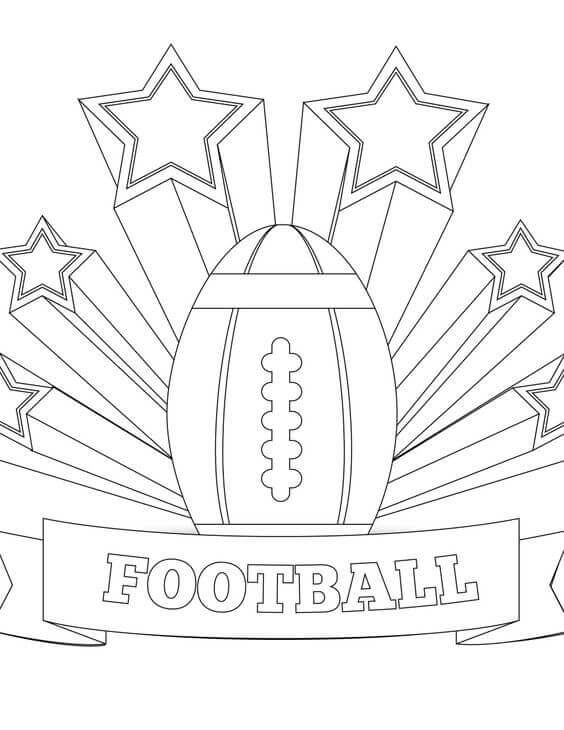 An American football is shaped as a prolate spheroid and is approximately 28 cm long, 56 cm in circumference, and weighs 0.875 lbs. Mainly famous in America and Canada, American football is aggressive, contact sport.
Bratz Girl Playing Football: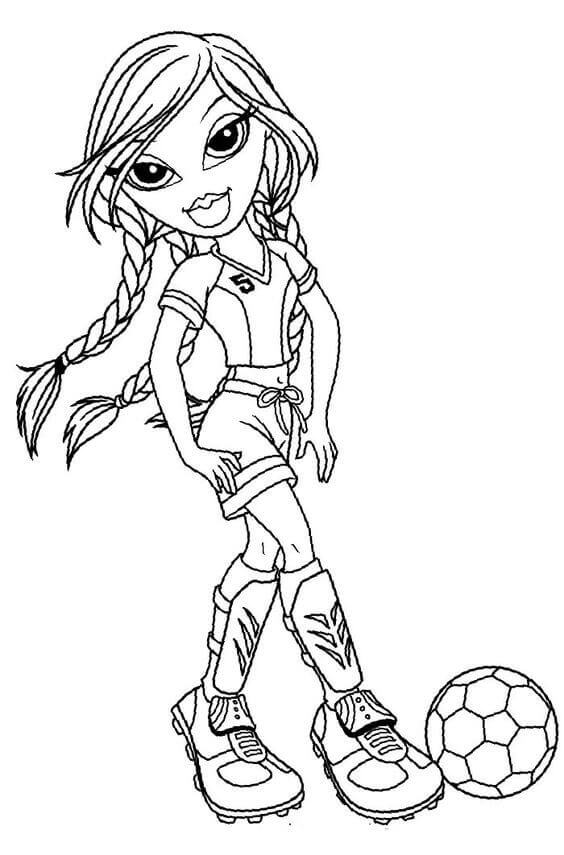 Who says football isn't for girls? This Bratz doll is ready for the kick-off. Although she is a fashion model and follows pop culture, she knows her game. DO you? Color this model cum football player.
Coloring Page Of Football: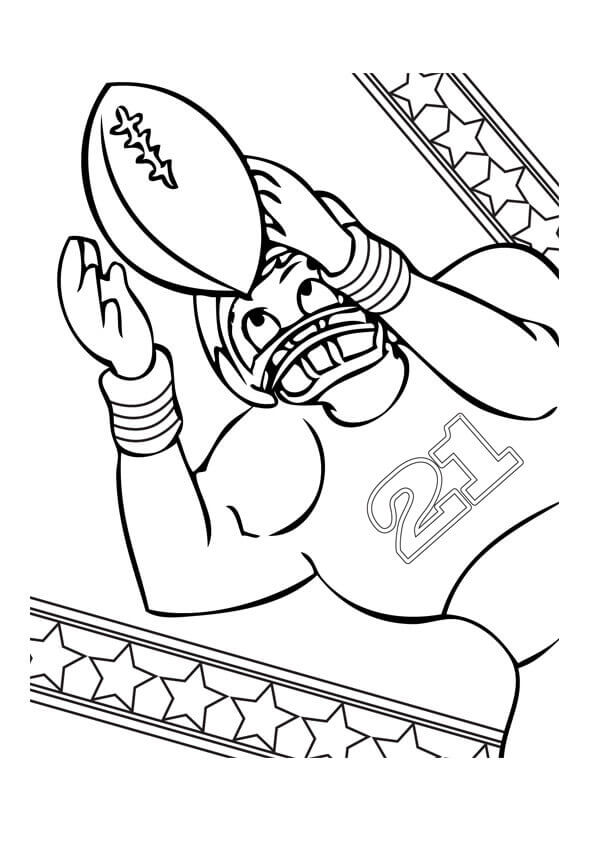 American Football is often confused with rugby possible because of their shared origins and similar game concepts. American football lasts much longer than an 80-minute rugby game. Passing is also different in these 2 sports: while backward passing is common, forward throw may be illegal in some situations in rugby.
Cristiano Ronaldo Coloring Page: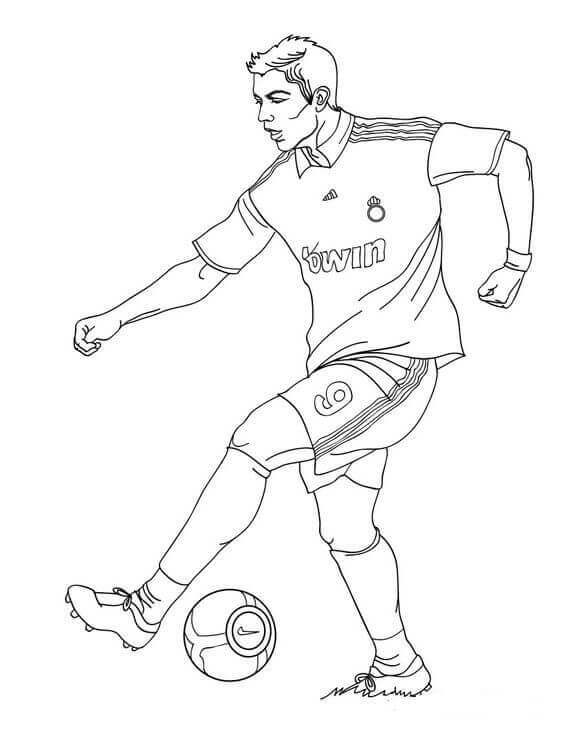 One of the best players in the world, I'm sure Cristiano Ronaldo's name isn't unheard of. The list of records broken by him is endless and his achievements are never-ending. Not only is he the world's best player, but he also plays for the best club too- Real Madrid. CR7 is the world's highest-paid athlete and the world's most famous athlete too. He is the highest goal scorer of Real Madrid with a record 34 La Liga hat-tricks. He has won a record-breaking 5 Ballon d'Or awards, 4 of which he won after a long gap of 4 years.
Cute Soccer Coloring Page:
Being the most popular sport in the world, football or soccer enjoys its popularity among everyone- children, women, elderly. Billy is a great player and prefers to wear kit number 1, a number his favorite player wears. Color this inspired Billy.
Dragons Playing Soccer: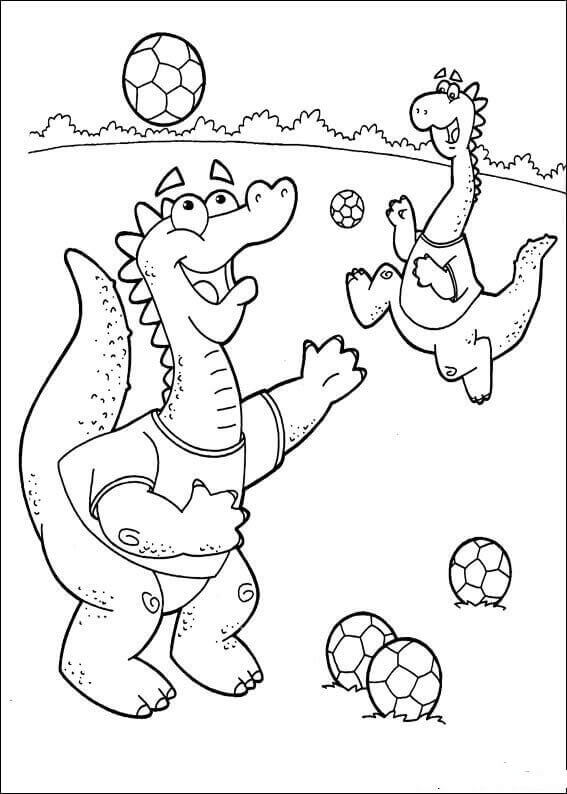 Who doesn't love soccer? Not only humans but dragons too love this beautiful game. Seems like they are warming up before the game. Their physique will surely help them win this match.
[ Read: Dragon Coloring Pages ]
English Football Coloring Page:
The English football league is called the Premier League. Also known as EPL (English Premier League), it is the world's most popular league. It consists of 20 teams or clubs which are solid from top to bottom of the table. 49 teams have played in this league since its inception but only 6 of them have won the title, with Manchester United winning the most titles (13).
English Football Goalkeeper Coloring Page: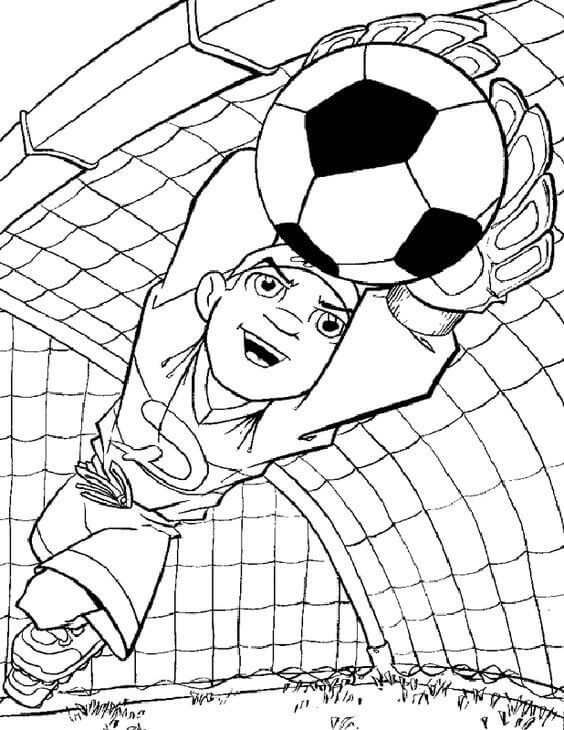 A goalkeeper or a goalie, as it is called, plays in a defensive position and is responsible for preventing the opposite team from scoring a goal. A goalkeeper plays a crucial role in football as it is the last wall of defense. To date Italy's Gianluigi Buffon and Spain's Iker Casillas are considered to be among the best goalkeepers, winning 5 FFHS World's Best Goalkeeper awards each followed by Germany's Manuel Neuer.
FIFA World Cup Coloring Page: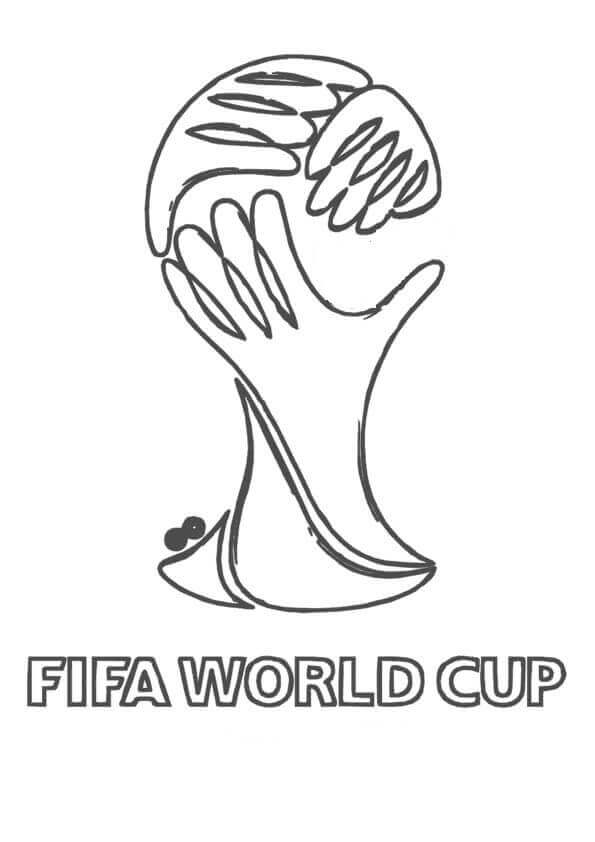 A tournament held every 4 years, FIFA World Cup still attracts the highest number of spectators. FIFA stands for Fédération Internationale de Football Association and is the highest global governing body. Billions of people wait for this tournament and they don't have to wait much this time as the World Cup starts in June. Do you think the former champions Germany can retain the title?
Football Coloring Page For Preschoolers:
I am sure whenever you go outside to play, the very first thing that comes to your mind is football. A sport that requires minimum types of equipment, football is very famous and the most played among kids. I'm sure you too play football with extreme fondness and eagerness.
Football Coloring Page Printable: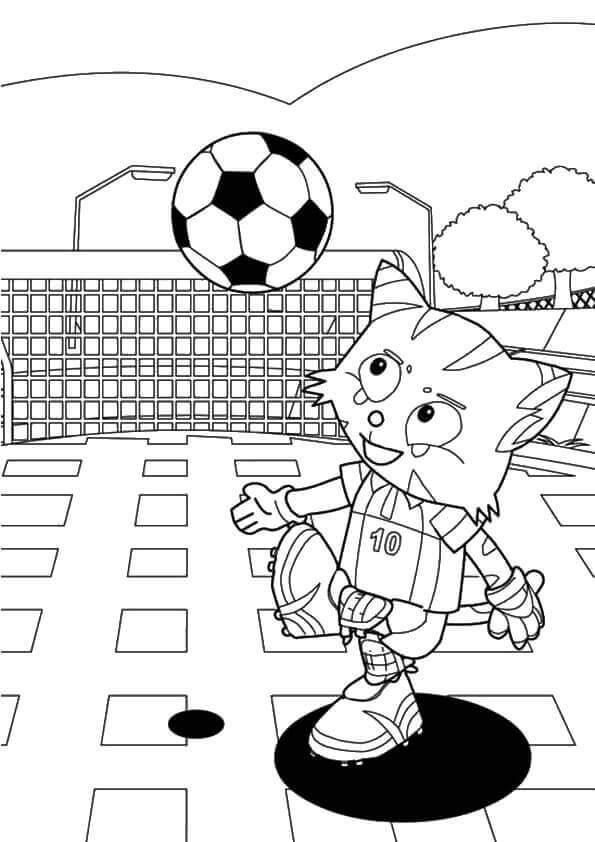 This cat is a football fanatic. He is wearing gloves that signify that he is a goalkeeper. Maybe he is practicing alone or warming up before his big game, who knows. But one thing's for sure- he is very serious about this and he means business. Color this cat goalie.
A Flying Header:
The header in football is a technique to control or pass the ball using the head usually if the ball is shot high. A striker uses a header to score a goal and a defender uses a header to clear the ball or prevent the opponent from scoring. Do you know who did the most iconic flying header? It was Robin Van Persie when he scored a goal with a flying header in FIFA WC 2014. After that, he was called the "Flying Dutchman".
Football Essentials Coloring Page:
Football is a sport that requires very few types of equipment. A ball, shoes and a ground are enough to play a game. This is the reason why you will see football being played the most in streets than any other sport. For a full, professional match you may need a few more types of equipment and gears. Color these soccer essentials.
Football Mandala Coloring Page:
Mandala represents the universe. Here is a football mandala for you if football is your world, your universe. If your whole mind and world revolve around football, then this is the best sheet for you. Color your universe with the brightest shades ever.
Football Net Coloring Page: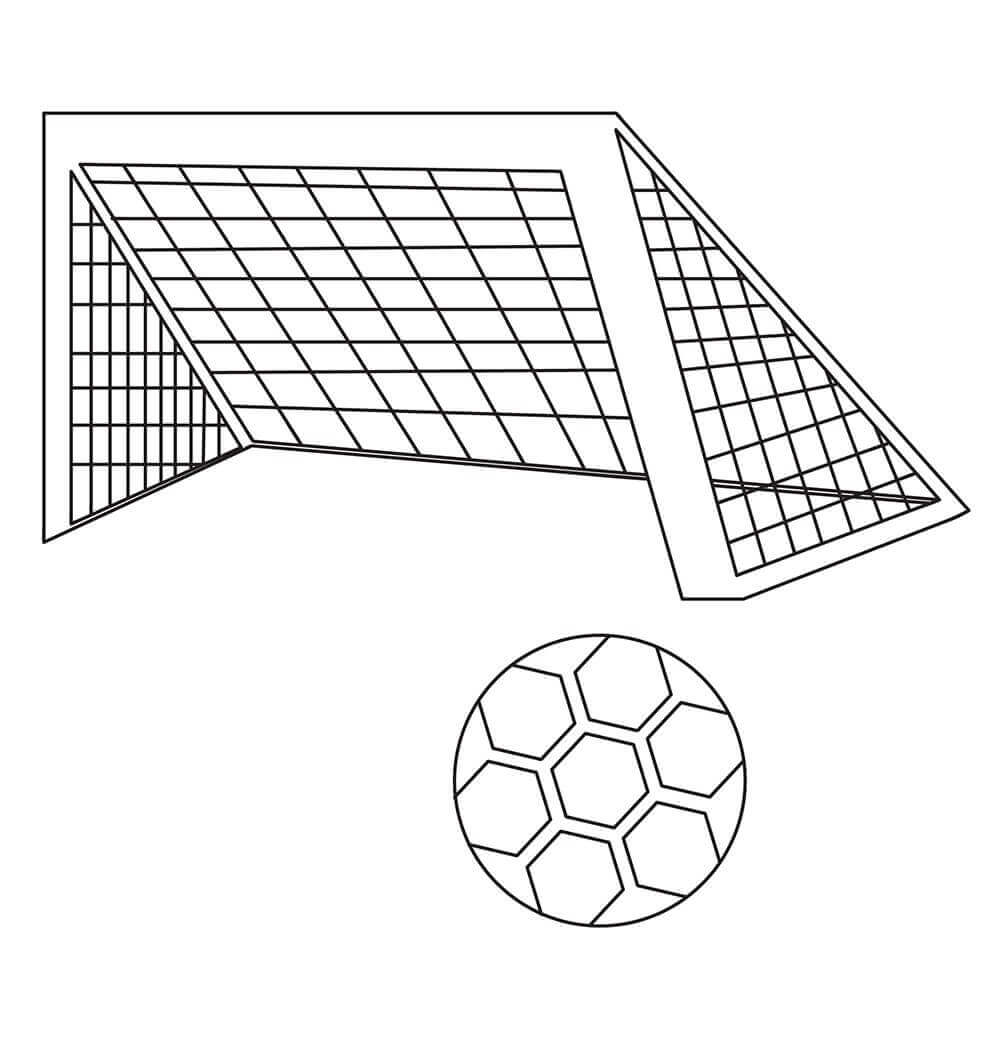 The main objective of football is to kick or shoot the ball in the opponent's net, only then a goal is scored. A goal has 2 posts placed equidistant from corner flag posts, joined at the top by a horizontal crossbar. Nets are usually placed behind the goal. The poles should be made of wood, metal, or any other approved material. The distance between the posts is 7.32 m and from the lower edge of the crossbar to the ground is 2.44 m.
Football Stadium Coloring Page: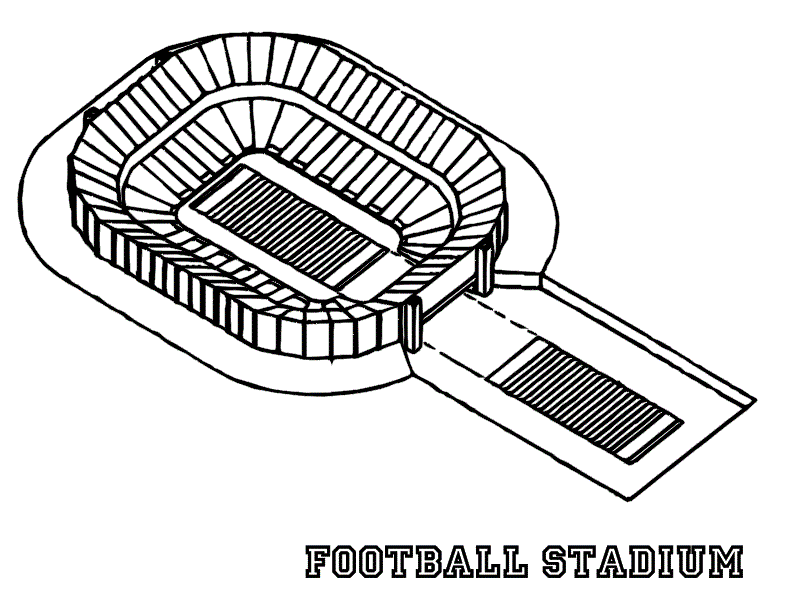 A football stadium is 110-120 yards long by 70-80 yards wide. The football field is much wider than American football field. The minimum capacity of a football ground according to FIFA regulations is 40,000. Santiago Bernabéu, Camp Nou, Signal Iduna Park are some of the most famous football stadiums.
American Footballer Coloring Page: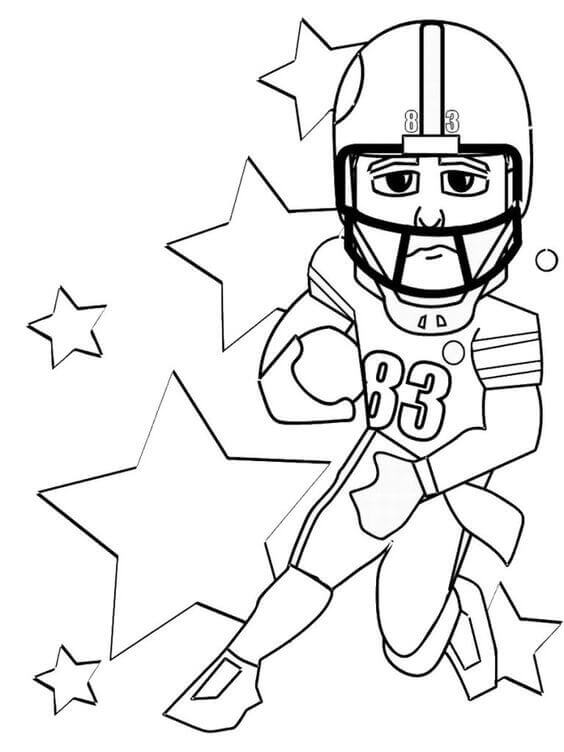 American football is different than English football but they both have some similarities. Players playing in the offensive and defensive positions have the same role; the offense tries to score, while the defense aims to stop the offense. American footballers need to meet some physical requirements, unlike soccer players.
Jimmy- The New Player:
Jimmy is a new player who was scouted and selected last week from his school. It is his first match ever for this team, in fact, it is his first-ever official match. Before this, he used to play just for fun, with his friends in school or in the streets. But today he knows he is playing officially for his new team. Color this debutant.
Rhino Playing Soccer Coloring Page::
One-horned rhinos are rare but do you know what is more atypical? A one-horned rhino playing soccer. This rhino seems very serious while playing. You don't want to mess with him. Color this rare yet beautiful species playing the "beautiful game".
Becky Playing Football Coloring Page:
Becky dreams to be the next Marta. Hope you know who she is. Regarded as the best female player of all time, she has earned herself a unique nickname-"Pele with skirts" by the legend himself. But Becky can become better, who knows. Maybe she can become the first Becky rather than the next Marta.
Best Running Back Coloring Page: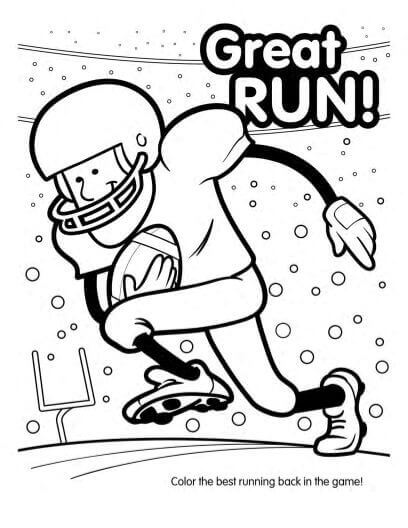 "Color the best running back in the game." What is running back anyway? A running back (RB) is a position in American football. The primary roles of RBs are to catch passes from out of the backfield and to block.  Some teams have a specialist who is skilled at catching passes or better at pass blocking.
Jack In Practice: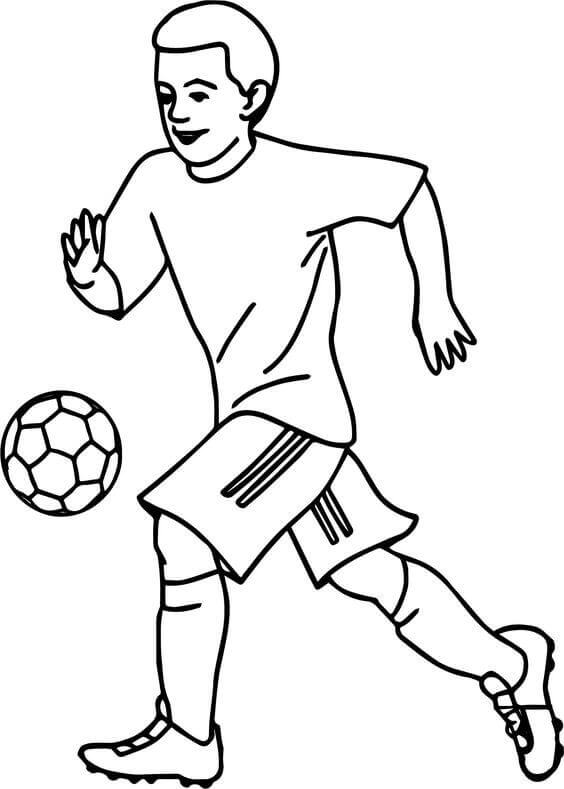 Jack is polishing his skills. Regarded as the best in this team, Jack knows everybody has high hopes from him. This is the reason why he practices as much as he can. He knows everyone counts on, his team, his coach, the fans, everyone. Color this hard worker.
Pulling Off An "Olivier Giroud":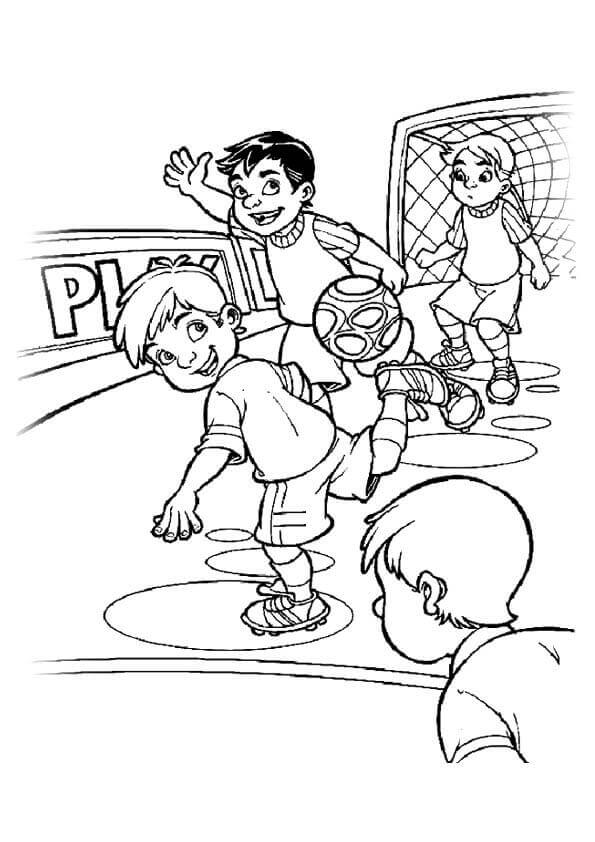 If you watch football, you might be knowing why I mentioned Olivier Giroud. If you don't, I'll tell why. Olivier Giroud won the Puskas, an award given to a player who scores the most aesthetic or the most beautiful goal of the year. Olivier won this award for his scorpion kick and this guy there is attempting the same. Hope he succeeds. 
Patrick Playing Soccer Coloring Page: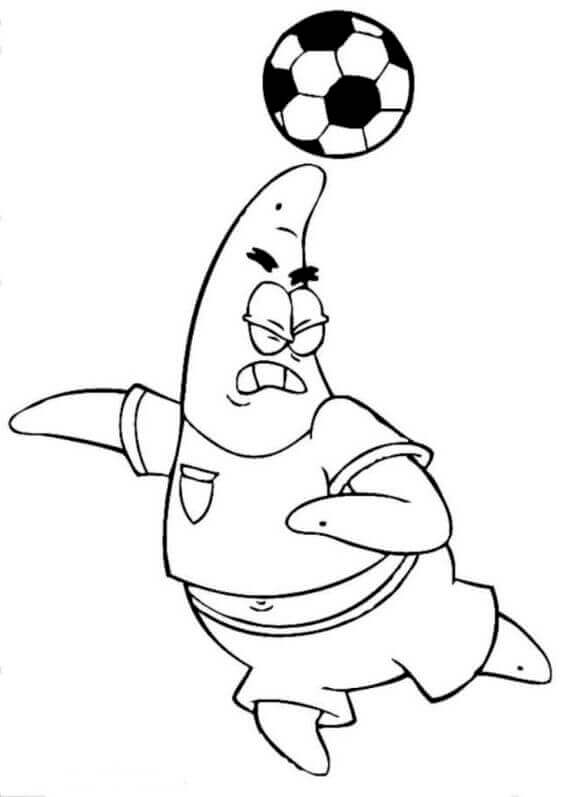 Patrick just loves playing soccer. His skills are rusty but he is working on them. Whenever his best friend, SpongeBob is away, he tries to practice as much as he can. Here he is mastering the art of heading. Color this hard-working starfish.
[ Read: SpongeBob Squarepants Coloring Pages ]
Soccer Coloring Page Printable: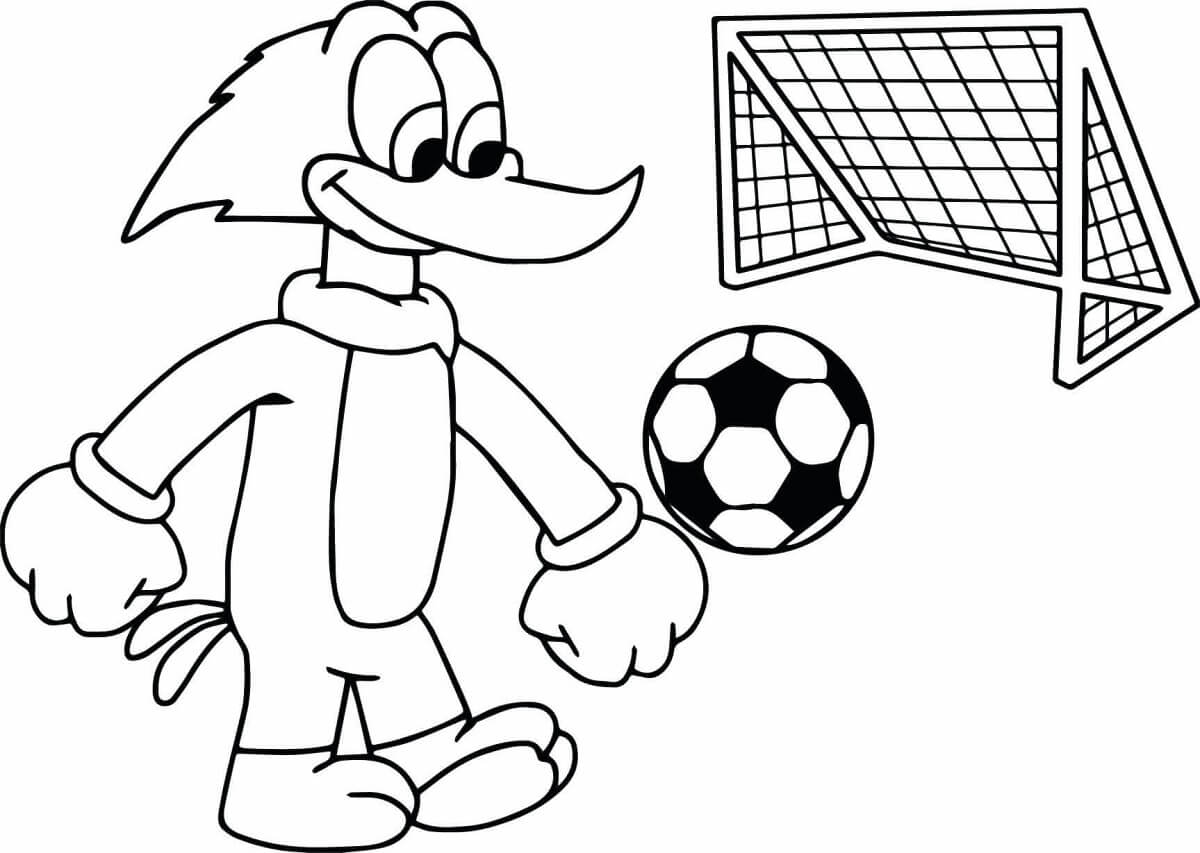 Mr. Duck is an amazing player. His speed is his strength. He can take the ball to the goal alone if he wants to but football is a team sport. One can achieve nothing without his team. Color this "Flash" duck.
Hello Kitty Football Coloring Image:
Hello Kitty is British though her creators are Japanese. Being English, she is a huge football fan and follows almost every English team. She has some favorites clubs but only one favorite country- England. She plays football too rather than only watching.
[ Read: Hello Kitty Coloring Pages ]
Kids Playing Football Coloring Picture: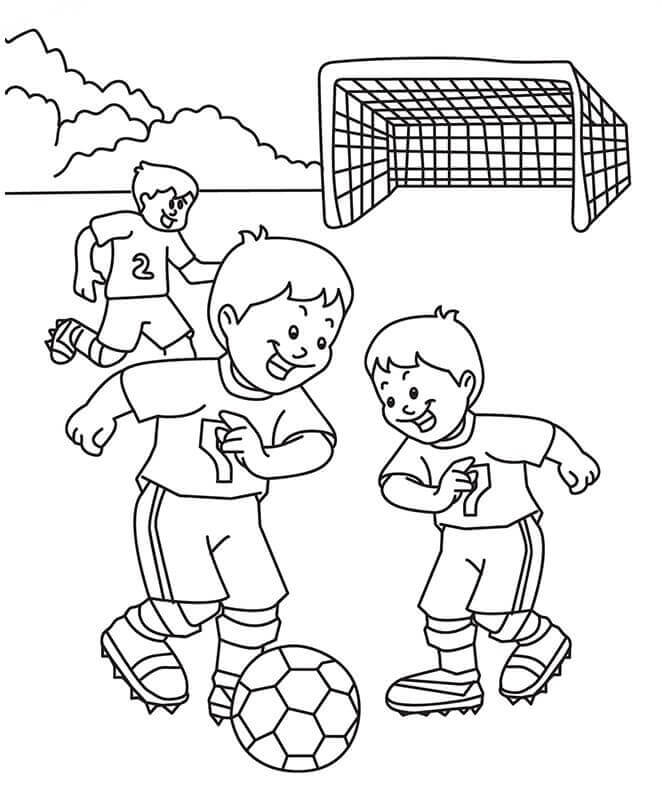 It is 5:00 pm, which means it is playtime. The kids play many games but football is their favorite. Today is Friday this means that they can play until dark, no need to worry about school tomorrow. Do you play football too?
Lionel Messi Coloring Page: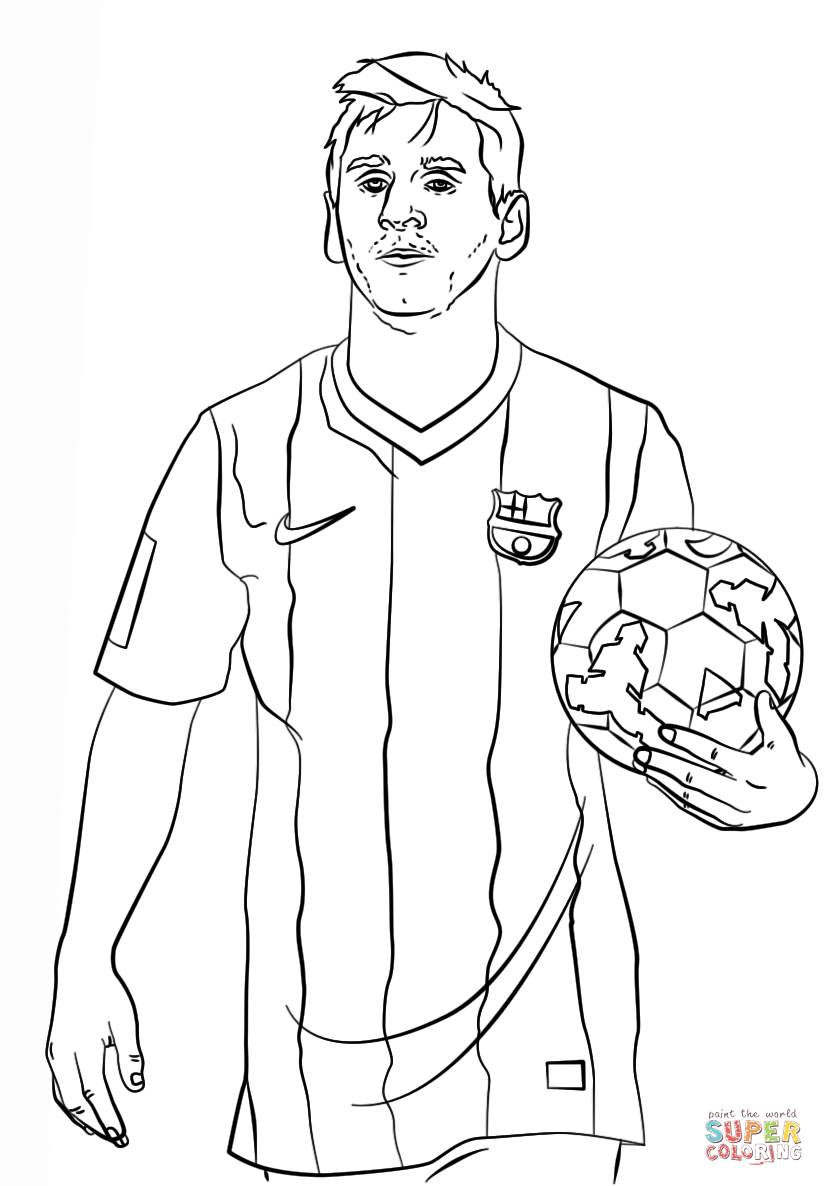 source: supercoloring.com
Another name in football everyone knows and hears every day is Lionel Messi. One of the best players ever alongside CR7, he too has broken every record known in football. He has won a record 5 Ballon d'Or award, 4 of which he won consecutively. He is like a superhero for everyone, especially kids. Considered the best rivalry ever, Messi and CR7 both have scored over 600 goals for their club and country. We are lucky that we are born in the era of these two extra-terrestrial players.
Mickey Mouse Playing Football Coloring Sheet:
Our beloved Disney character Mickey Mouse is a football fan like us. He always finds time for practice. A big match is coming next week for which he must be prepared. Color this cute little Disney character happy.
[ Read: Mickey Mouse Coloring Pages ]
NFL Coloring Page: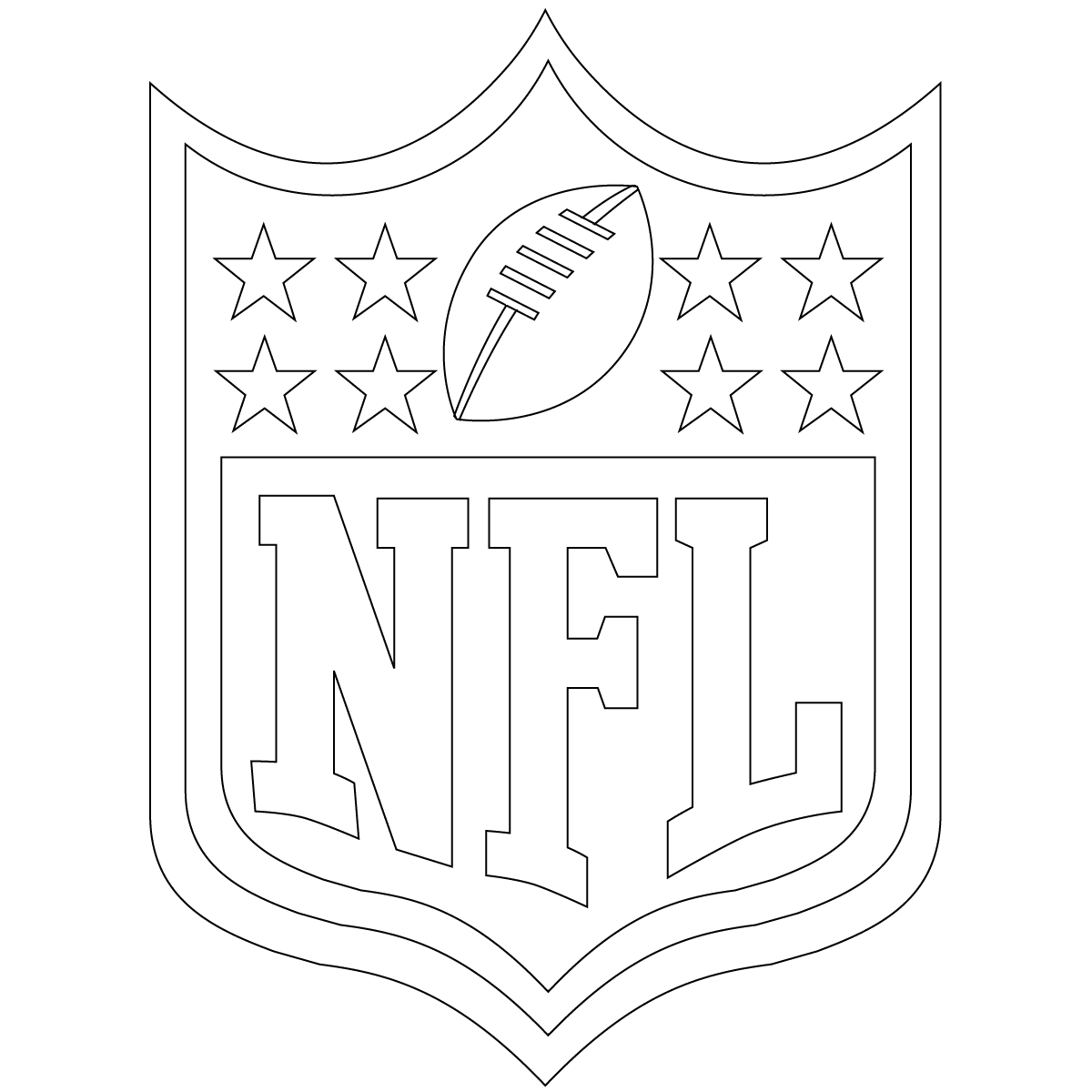 The National Football League (NFL) is a professional American football league in which 32 teams compete with each other to become the champions. Today, the NFL has the highest average attendance (67,591) of any professional sports league in the world and is the most popular sports league in the United States.
[ Read: NFL Coloring Pages ]
Smurfs Playing Soccer Coloring Sheet:
The Smurfs are small, blue, human-like creatures who live in mushroom-shaped houses in the forest. Wearing Phrygian caps that represent freedom, the Smurfs enjoy their life to the fullest and do things they enjoy the most, like play football. Color these football-playing Smurfs.
Michael Playing Soccer Coloring Picture:
Michael plays as a forward so that is why his team counts on him. Being a forward, his main role is to score goals through chances created by his teammates. He needs to work on his pace rest everything is fine including his shooting skills which some call, killer.
SpongeBob Playing Football Colouring Page: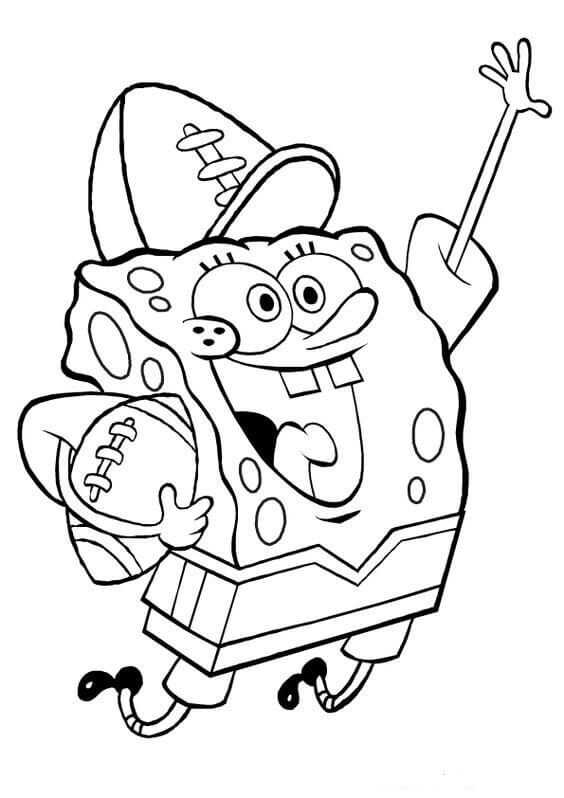 Unlike Patrick, SpongeBob is an American football fan. SpongeBob always gets excited whenever he hears or even thinks of football. Color him cute and happy.
Sport is pretty necessary for our lives and we have many options to choose from. But amidst the plethora of sports, only one pops up when you Google "The Beautiful Game". Football. This game has the ability to bring tears in grown men's eyes, legends, the strongest captains, leaders have no idea how to say goodbye to this game. It has the ability to send the sanest men into absolute hysteria and the power to provide the purest form of happiness. What makes you love this beautiful game? Think about it while you fill these free football coloring pages printable. And don't forget to share your favorite football coloring pictures by emailing us.