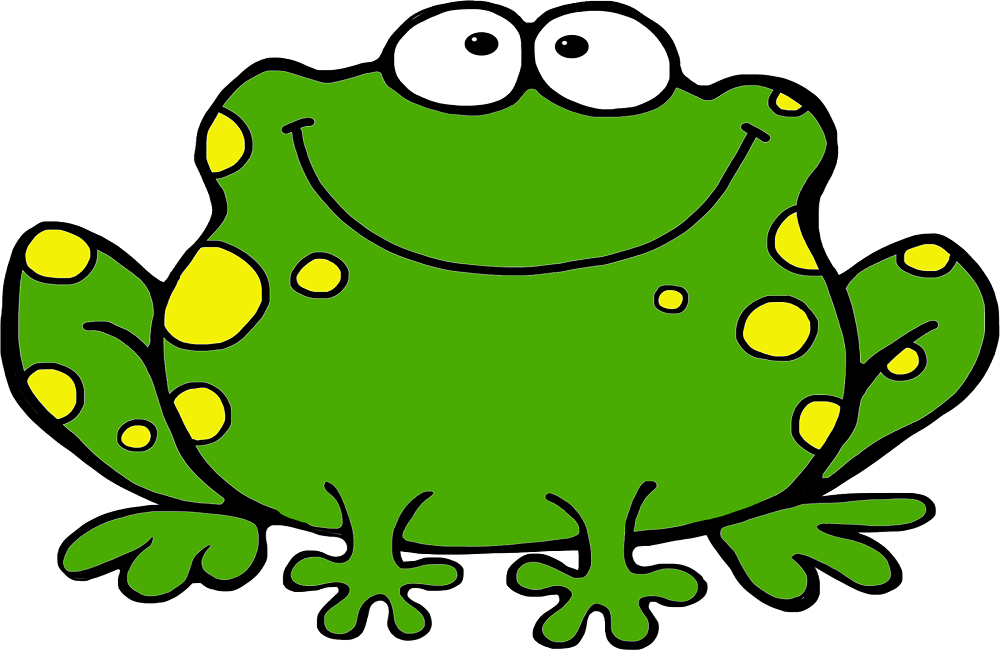 Do you know which make loud and croaky noises during the rainy season? If yes, then you know the topic of today's collection of coloring pages. You guessed it right as today we've got you a collection of free printable frog coloring pages.
Frog is an amphibian, vertebrate animals having four limbs – tetrapod, ectothermic – depending on the environment to maintain their body temperature and straddling two between two habitats. Most frogs can live on water and land. Some species are arboreal – able to live in trees.
Frogs go through metamorphosis, from eggs they form tadpoles in water, grow limbs and then finally change into an adult without the tail, able to live on land or in the tree as per the species. Having folded limbs, protruding eyes and able to breathe through their skin, frogs can be found in different parts of the world, particularly in tropical rainforests.  Let's jump right in and find out more about this creature through this collection of frog coloring sheets to print.
to join this conversation on GitHub. Already have an account? Sign in to comment Footer © 2023 GitHub, Inc. Footer navigation Terms Privacy Security Status
35 Free Frog Coloring Pages Printable
Baby Frog With Mama Frog Coloring Page:
It's a quiet and peaceful time for this Baby frog and the Mama frog. They are basking in the warmth of the sun for a while before heading back into the water. Whether it's a quiet time or a fun time, it is always a comforting time when you are around your family.
Frog Wearing A Cool Blazer Heading For His Date:
Must be the start of the weekend for this frog. He is all set and ready for a good, romantic and fun date, smartly dressed in this cool blazer. Print this coloring page and fill him as well as his blazer with some fun colors.
Smiling Cute Frog, Sitting On The Grass:
Feeling the softness of the grass, this cute frog is smiling wide as he sits in the middle of the grassy garden lawn with a few flowers blooming around him. It is always a good thing to be able to sit and relax out in the open, amidst greeneries.
F For Frog Coloring Page:
Time for the English alphabet lesson. Considering today's topic is the frog, we are here with an "F for Frog" coloring page. The illustration beautifully showcases the most common habitat of frogs; swampy and muddy with water and plants.
Female Frog Puts On A Dress For Her Date: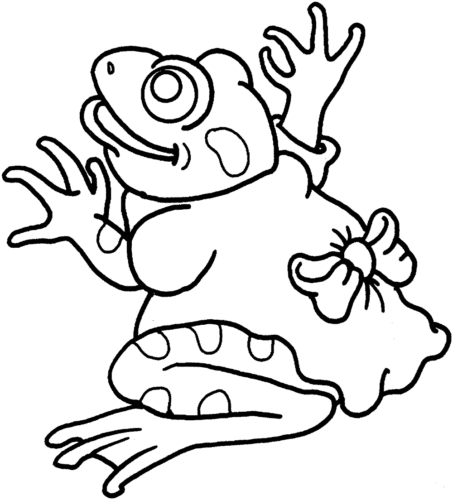 You have seen the frog with a blazer and now you can see his date getting ready for their meeting. Putting on her best clothes, a fine and flowy dress with a bow-tie at the back, this elegant frog is looking forward to having a grand time.
Frankie, The Singing Frog From "Meet The Robinsons":
Frankie is a singing frog from Disney's Meet The Robinsons animated movie. He is a jazz performer and looks like he is about to rock the show again tonight. Walking confidently up to his microphone, make sure you fill him with bold and confident colors too.
A Jumping Frog In Action:
Catching a frog while it is making a jump, this illustration beautifully shows the flight in the air of the frog. As you can notice, frogs have webbed feet. This helps them to navigate in water, aiding in swimming expertly.
Frog Activity Sheet For Preschoolers:
For all you preschoolers, here's a fun little activity for you. The illustration on this coloring page is incomplete and needs your help to finish in order to show the sketch of the frog. To start and complete the task, you will have to follow the numbers from the lowest to the highest.
Frog Watches By A Fly Flying By:
Having had his lunch just a while back, this fully-fed frog on a Lilypad just watches as a fly goes flying by above him. Just like when you enjoy your meal so much, you have lots of it and then, can no longer eat anymore.
Frog Sitting Happy On A Branch Of A Tree:
While the other frog was well-fed and resting on the Lilypad, this arboreal frog too has enjoyed having a good meal of invertebrates for the day. Now, it is fully-satisfied and relaxing with ease on the branch of a tree.
Frog Enjoying Last Summer Days:
Nearing the end of the year, the season is changing, and this frog is making the most of it. Enjoying the warmth of the last summer days, this frog is basking lazily on top of the Lilypad, the floating leaves of water lilies. Print this comforting illustration on this coloring page and fill it with warm colors.
A Family Of Frogs Behind The Fallen Log:
There is a family get-together going on today for a family of frogs. You can see this group of frogs gathering around behind the fallen log. You can imagine what the meeting is all about while you print and color this page.
A Cool Task, Create A Frog Head Mask:
Here's another activity task for you guys. You can create a fun frog head mask with a cool expression. First, print this page and fill it with colors. Once you finish coloring, cut out the outline, punch holes on the sides, tie threads and you are ready with a cool frog head mask.
Frog Lifecycle Coloring Page:
The lifecycle of a frog features the illustrated four phases: from the eggs laid in water, they turn into tadpoles with tails, then grow limbs before completing the transformation into adult frogs. Once you print and color, cut out the different stages and paste the stages accordingly.
Frog Looks Sad, Color It Glad:
Look at this poor frog, looking so sad and disheartened on this log. You can make it feel happy and glad, by printing this page and filling it up with some joyful and cheerful colors.
Frog On Lilypad, Catches Fly In An Instant:
Unlike the fully-fed frog in the earlier illustration which just watched the fly pass by, this hungry frog on the Lilypad skillfully catches the fly with its long tongue. Applaud the skills of this frog by printing and coloring this page.
Frog Prince Wearing A Crown:
This illustration showcases one of the popular fairy tales where the prince turns into a frog and can be a human again only when someone kisses him in his frog form. Look at the poor prince as a frog, still wearing his prince crown.
Frog Ready For St Patrick's Day:
Knowing it was St. Patrick's Day, the celebration of feasts for the Patron Saint of Ireland, this frog is set to participate in the parade. Being naturally green and wearing a green hat with a shamrock and bowtie, this frog is all set for the feast.
Frog Looking Smart Wearing Bowtie And Hat
Going out for a special event, this frog is specially dressed tonight. He is wearing a nice tuxedo coupled with a bowtie and a classic hat. Add your own special touch by filling the illustration with colors.
Frog Wearing Witch Hat: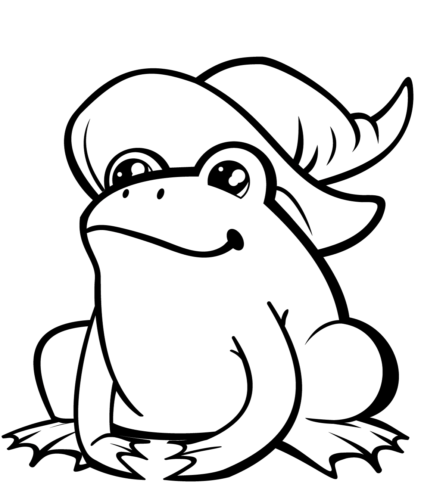 If the frog gentleman on the earlier coloring page preferred a tuxedo and a top hat, this lady frog is wearing a Halloween inspired witch hat. Print this page and give the illustration an edgy and spooky color feel.
Frog Wishing Happy Birthday:
If you have a birthday coming up in the family or among your friends, you can create this frog inspired birthday card for them. Print this coloring page and fill it with fun colors. You can write your own wish at the back or create a folded card with your message inside.
Frog With Flowers:
Perhaps this illustration with the frog holding flowers makes for a better birthday card. Or you can turn it into a floral poster. Give the flowers bright colors and shades of green to the frog on this coloring page.
Frogs Having Fun, Playing Jumping Games:
These youthful frogs have gathered together to play some fun games. They decided to use their natural strengths and play a jumping game. Look at the frog jumping high over the other while the other frog motivates them.
Lady Frog In A Skirt:
Feeling good about herself and being comfortable in her skin, this lady frog is rocking a cool and silky skirt. She seems to be enjoying being in the flower garden. Print this page and fill each element with colors.
Funny Frog Running, To Catch Insects Flying:
Wanting to catch more flies and other insects quicker, this funny frog has gotten hold of a large net to catch them today. Look at it enthusiastically running towards the big fly that seems to be almost within its reach.
Gabi From "Rio 2" Says 'Hello' To You:
Introduced in the "Rio 2" animated film, Gabi is a tree-frog living in the dense forest. Peering up from the forest ground, Gabi is saying hello to you. Greet it warmly by printing and filling this illustration with evergreen colors.
Happy Frog Is Staring At You:
You will find yourself getting lost in the hypnotic eyes of this frog. This illustration presents a happy looking frog that is staring right at you. You can add some fun colors to diffuse the enchanting quality of this joyful little frog.
Kermit The Frog Coloring Page: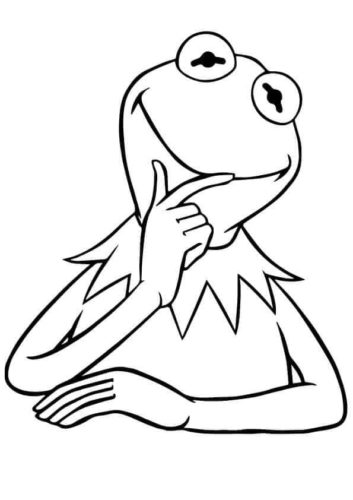 Arguably one of the most popular frog characters in the world, Kermit the Frog was created by Jim Henson and is a Muppet. Appearing in several shows and series, perhaps the most widely known are, of course, the incredible Sesame Street and the Muppet Show.
Princess Kisses The Frog Prince:
The story of the Frog Prince has found its perfect ending. The princess has kissed the frog and soon she will be pleasantly surprised to find a prince standing in the place of a frog. Give the princess a royal color treatment for her brave act of love.
Rainforest Poison Dart Frog:
Belonging to the tropical habitats of Central and South America, Poison Dart frog is a group of tiny frogs about an inch to up to three inches in size. Being poisonous, they are brightly colored with some species used by indigenous people to make poisonous darts for hunting.
Red-Eyed Tree Frog Coloring Page: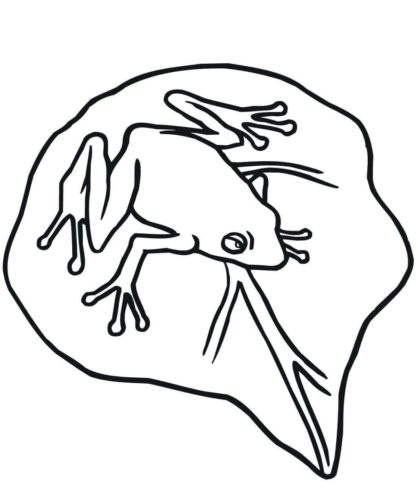 The Red-eyed tree frog, as the name suggests is an arboreal frog. Green in color with patches of blue and yellow, Red-eyed tree frog have big red eyes. Like most other arboreal frogs, Red-eyed tree frogs have padded limbs to help them give a firmer grip.
Smitten, The Frog From "Beanie Boos":
Smitten, the frog is a part of a stuffed toys collection, Beanie Boos, manufactured by the Ty multinational company. Like all the other toys in the Beanie Boos collection, Smitten is cute looking and tiny in size.
Funny Tadpole Coloring Page:
Making a splash with its tail, this energetic tadpole shows it funny personality on this coloring page. Adding humorous details to the illustration like keeping the mouth wide open, this tadpole coloring page deserves your witty coloring skills.
Unicorn Frog – A Unique Frog Illustration:
Another kind of fun illustration of frogs is this unicorn frog that has merged the fantastical and legendary unicorn horn to frogs. Be sure to color this unique unicorn frog with a special mix of colors.
Wizard Frog Coloring Picture:
Paying an ode to the world of wizards and magic, this illustration showcases a wizard frog wearing a wizard hat and holding a starry wand in its mouth. Fill this coloring page with some magical colors.
With that magical illustration, we have reached the end of this fantastic collection of frog coloring pictures to print. There are several different species of frogs in the world, from smooth-skinned to warty kinds, small and colorful to large and monotone, making them one of the most diverse vertebrates. Hope you had a fun time coloring a few of these frog species in these illustrations as well as learn something new about them.