"Hey, friends! Be quiet right now. I think there is someone behind you. It is staring and it is staring without blinking. It looks like a she and all her hair are in the front covering her face. Oh no! Her clothes are all bloody! Did she just kill someone? She seems to hover in the air. Where are her legs? I can't see them! She is coming close. Forget the silence people. Scream and run! Just don't stand now. Run for your lives and no matter what, do not look back!"
That was a close escape. We all are afraid of ghosts. Even though there is no conclusive evidence to prove their existence. The human mind is funny that way. You know when you are alone in the dark after some time you will begin to see things around you moving or it will seem that they are making sounds. But it is nothing except the fact that your mind when it starts to get bored, it begins making things up to keep itself occupied. Let us fill these free ghost coloring sheets to print while we ponder over their existence. Check out the free printable ghost coloring pages below.
30 Free Printable Ghost Coloring Pages
Casper Ghost Coloring Page:
Casper is one of the smallest, friendliest, and a non-scary ghost who loves the living. A kind ghost, he does not entertain himself by scaring humans, rather he loves helping them and playing with children. Apparently, he dies when he was only twelve of pneumonia which he got after playing the entire night in the chilling cold. Let us color this friendly ghost, who died doing what he loved (playing!).
to join this conversation on GitHub. Already have an account? Sign in to comment Footer © 2023 GitHub, Inc. Footer navigation Terms Privacy Security Status
Cat And Ghost Coloring Page:
Do you have a cat? Have you ever noticed a cat blankly staring into nowhere? Well, it is believed that even when that space may seem empty to us, cats could be detecting some subtle motion their vision being much sharper than ours. And therefore, it is also believed that cats can sense the paranormal. Colour the cat who has caught a ghost.
Cute Halloween Ghost Coloring Page: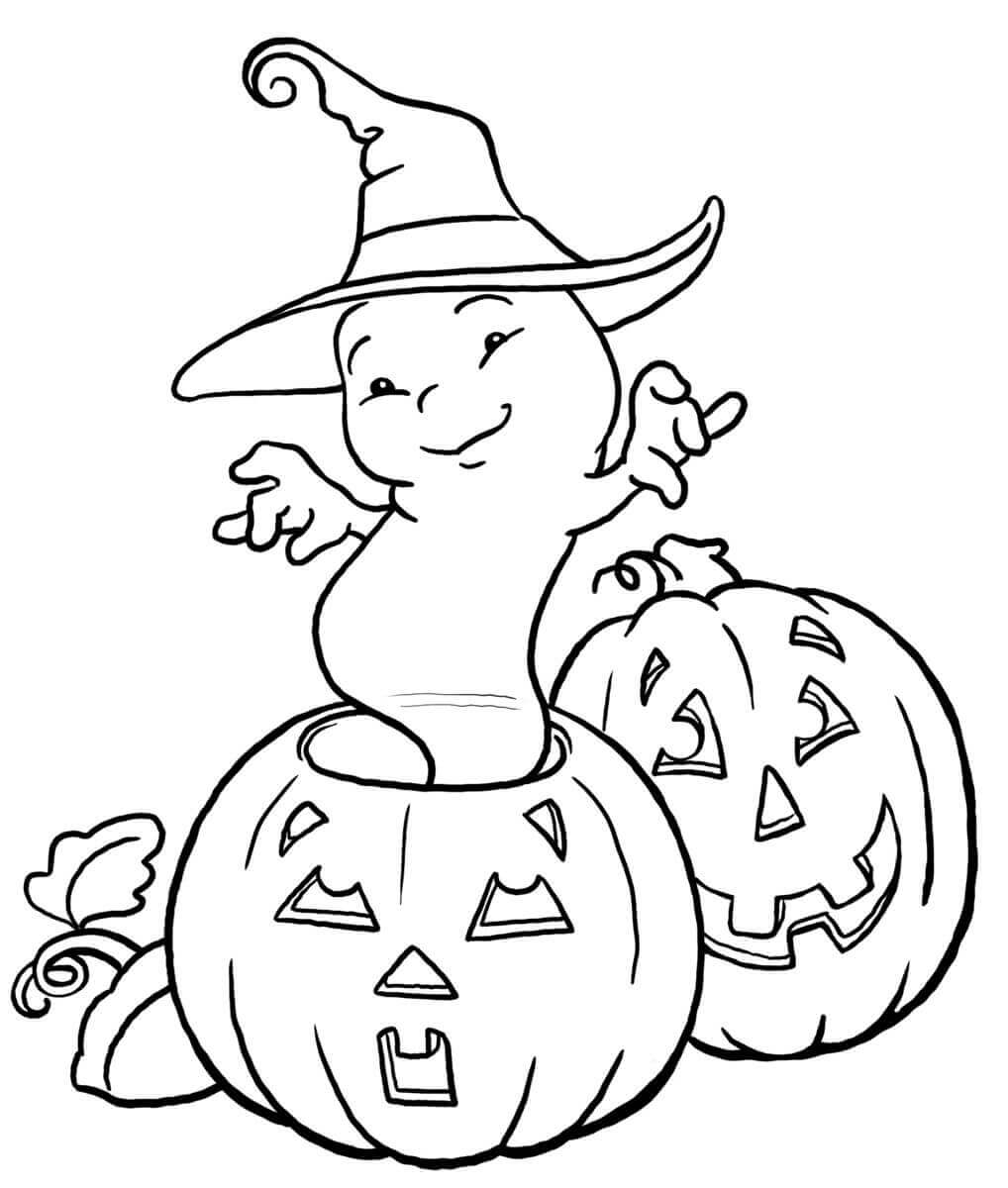 Halloween is just around the corner. How about putting up a small smoke machine inside the carved pumpkin and a small speaker creating howling noises? It would certainly seem to someone that the pumpkin is a residence to a cute small ghost! A good decoration isn't it? Color it before you execute it.
[ Related: Pumpkin Coloring Pages ]
Dracula And Ghost Coloring Page:
The Dracula is thirsty today. But it looks like 'Dead George' who died last week, has nothing more to feed him. The Dracula has already drunk all of 'Dead George's' blood! The empty glass intrigues him. George is perplexed. Quick, fill the glass with red, so that the hungry vampire doesn't make you his next victim.
The Canterville Ghost Coloring Page:
'The Canterville Ghost" is a novel by Oscar Wilde, in which the protagonists, Virginia and her fiancé the Duke of Cheshire are on the run to save their lives from The Canterville Ghost. Or are they? In the novel, they play an essential role in helping the ghost attain salvation. To know the full story, read the novel. But before that, color this page.
Ghost Stealing Pumpkin Coloring Page:
Do ghosts get hungry too? And if they do, do they like pumpkins? Maybe he thinks that the carved pumpkin is his brother and he is trying to rescue him from the humans. Brotherly bond has always been a strong one, even afterlife. Create your own story with this ghost by coloring him accordingly.
Scary Apparition Coloring Page:
Apparition is the ghost-like image of a person. Not so much a person, if the human is already dead! And black cats are the harbingers of the ghost world, or so is believed by many. But if humans become a ghost, why do they always lose their legs? Maybe because in the afterlife they can fly and they don't need to use them anymore! Or could cats carry out the ghosts' mischievous work on the ground? Color this apparition and think about what is fact and what is fiction.
G For Ghost Coloring Page:
'G for Ghost', said your little four-year-old brother yesterday. Kids and animals are much more likely to sense the presence of the paranormal. Also, the reason why ghosts seem so angry and irritating is that they cannot comprehend their condition. They don't understand if they are alive or dead. Color this page and help the ghost realize whether he is just dressed for Halloween or actually dead.
[ Related: ABC Coloring Pages ]
Ghost And Bats Coloring Page: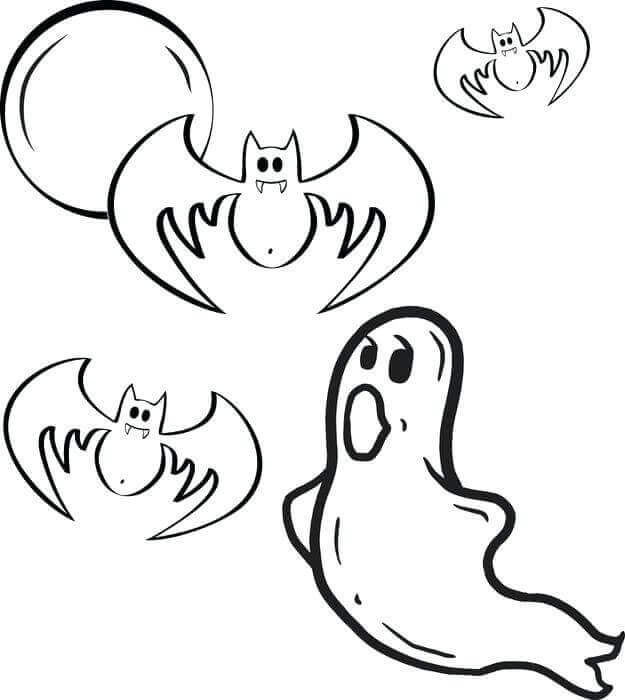 Put a ghost and a bat together and we get a 'Ghost Bat', which is a real bat species native to Australia.  It is also called the 'false vampire bat'. It is called a ghost bat because of the extremely thin membrane of its wings. They also have very large ears and sharp teeth. That is one scary bat. Be content coloring the ghost and the bat separately and avoid being bitten.
Ghost And Mummy Coloring Page: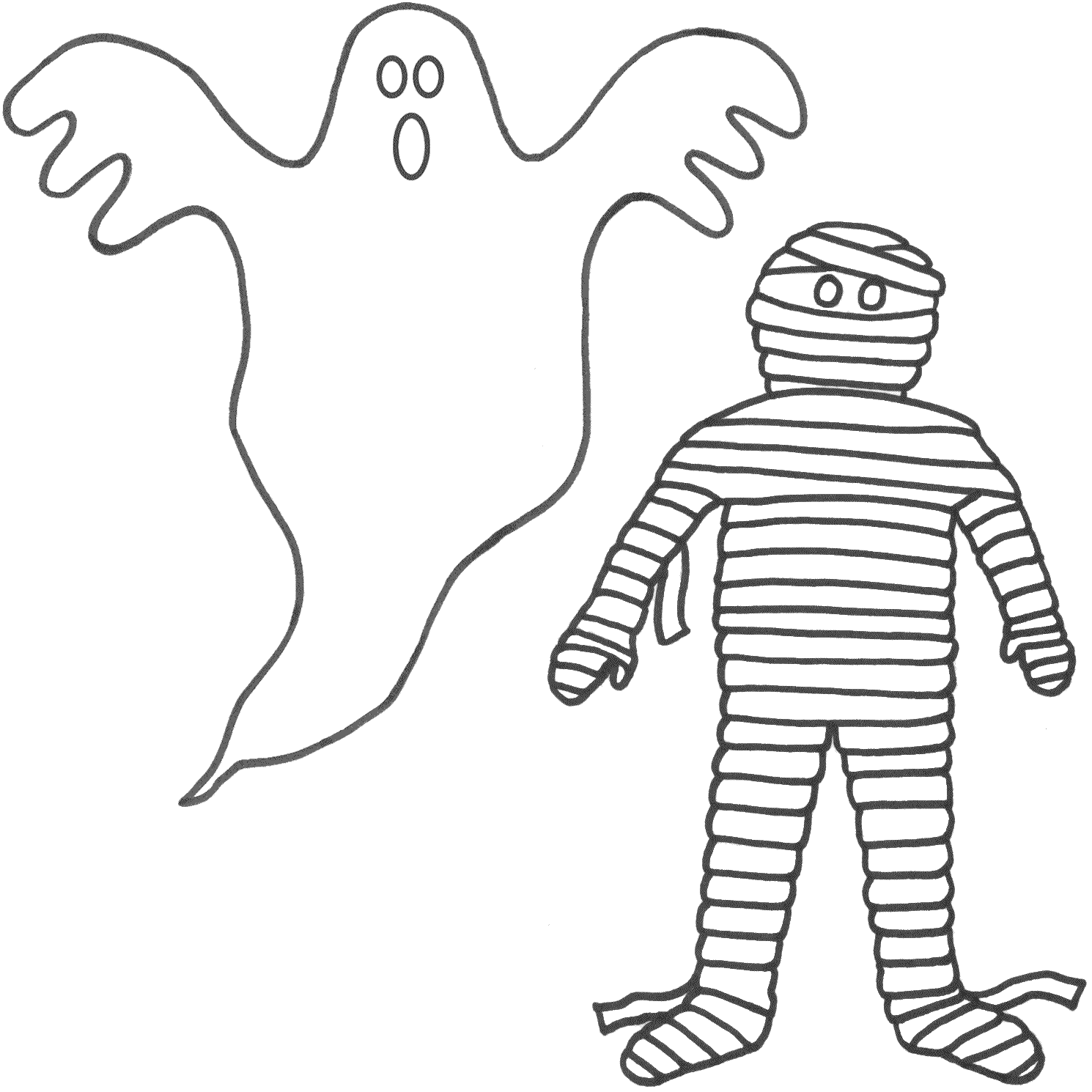 Contrary to common misconceptions, a mummy is not a ghost. A mummy is a curse on the living to disturb the dead. While a ghost is a curse on the person who has died because he couldn't get salvation. Confusing, isn't it? Well, think of it this way, if they pair together you will surely have no choice but to join their ranks. For it is impossible to stop a couple that evil. Color them well.
[ Related: Bat Coloring Pages ]
Funny Monster Coloring Page:
Monster Inc. is a movie in which the monsters from their world enter the human world, to make their children scream. They then use the power of the scream as fuel to run their cities and light their houses. Do you think this ghost can generate enough screams to power a house? Color him and find out.
Ghosts Hide & Seek Coloring Page:
Even ghosts love playing Hide and Seek. But I am betting it is the much more difficult version because ghosts can pass through walls. Maybe they transform into a different shape? Or maybe they try to blend in with humans? Or maybe they are just enjoying the moonlight with their family. Take your pick and color the image well.
Ghost On A Tree Coloring Page: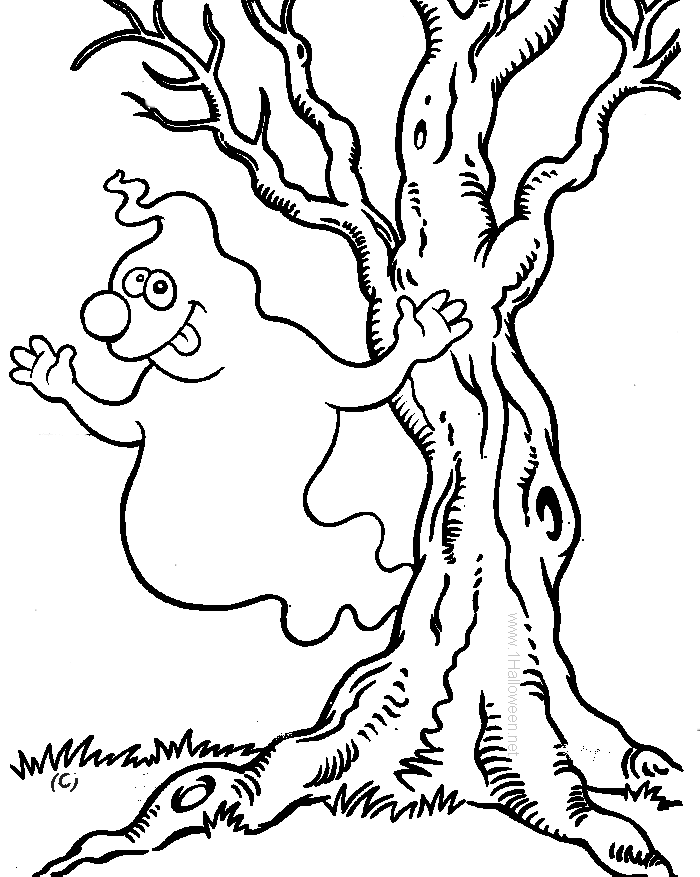 Ghosts often frequent trees and many times make it their home for the rest of their afterlife. They tend to choose trees, that match their own frequency. In this respect, the tamarind tree, the Indian fig tree and the Holy fig tree and considered to be common hosts for a ghost. Beware of these trees and their surroundings, you might just encounter an 'otherworldly' being here. Color the ghost and his residence well.
Ghost Coloring Page For Pre-schoolers:
Hey kids! Casper is back for some fun. And he has brought a companion. She has a flying broom. It must be fun to fly in the clouds. Let us color duo while dreaming to fly ourselves.
Casper Coloring Page:
The CGI or The Common Gateway Interface used in the creation of Casper were cutting edge for the technology that existed at the time. And the sequel that was to be launched for the movie, was subsequently replaced by a cartoon series. Let us color this timeless ghost!
Cemetery Coloring Page: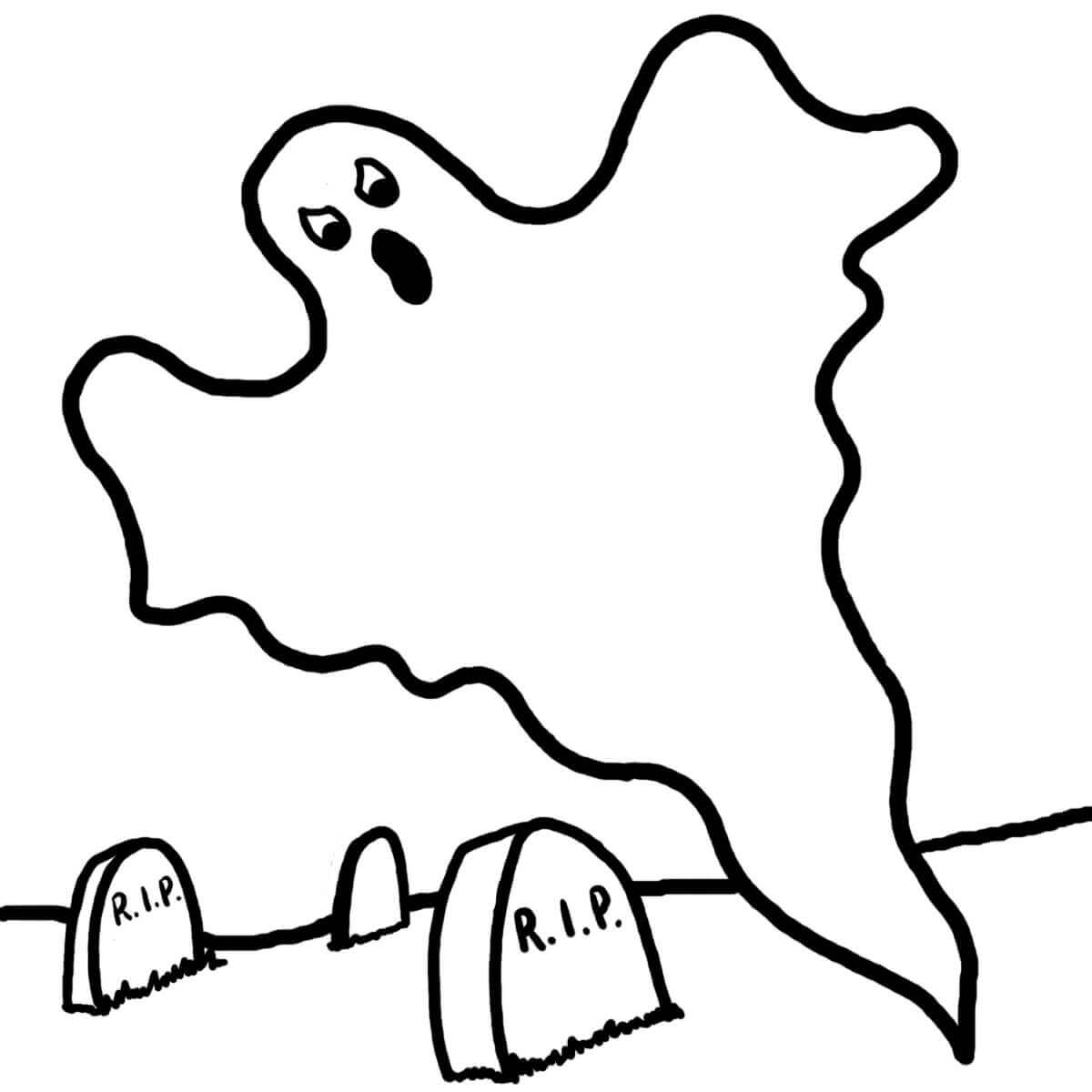 Never visit a graveyard at night. It is spooky enough that you are already surrounded by dead bodies. What happens when you hear a twig break? I would faint personally! Imagine then suddenly in the middle of the graveyard there comes a shriek and a hooded white figure appears. Color this picture fearlessly because that white figure was your friend teasing you.
Halloween Cover Page Coloring Page:
Who doesn't love a good prank on Halloween? Some pranks are timeless. You have received them from generations before and you will pass them to generations yet to come. It is wise to maintain a notebook for all those tricks lest you should forget them! Color this cover page well.
Run! Run! Run! Coloring Page:
I warned you to not go to the graveyard alone. Look now! You have just woken up a ghost from his eternal sleep. Now run for your life. Find a 'spirit settlor' and ask him to get the spirit to rest again. Or run for the rest of your life. Entertain yourself while on the run with this coloring page of ours.
Ghost Rider Coloring Page:
Ghost Rider is a Marvel Movies character. This demon has his entire body on fire. And he is made of just bones. He is forever hungry for souls that have sinned. The Rider when unleashed looks through your eyes into your soul and if you have ever done any wrong, you will no longer be allowed to live under his justice system. Color him and make sure you have b3en and will always be sin-free.
Ghostbusters Coloring Page:
Ghostbusters is a movie that was originally released in 1984. The modern reboot was released in 2016. It is a comedy movie at the expense of ghosts where a bunch of individuals find the paranormal and eliminate them from the mortal world, by using the contraptions they developed themselves. Color their symbol properly.
The Grim Reaper Coloring Page: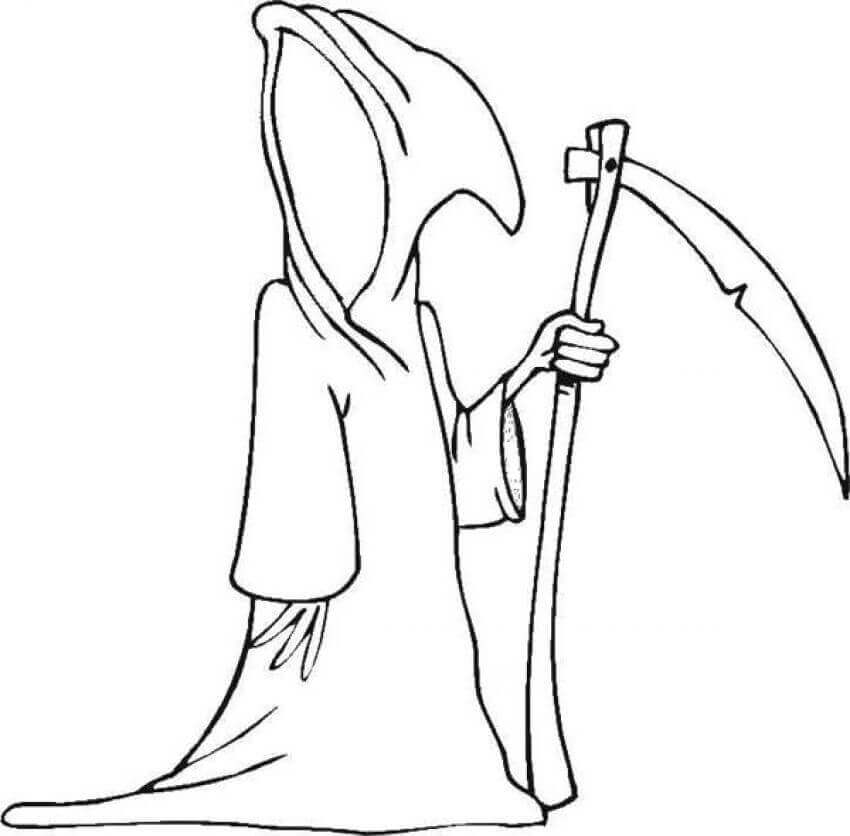 Grim Reaper is the personification of death. It is a ghost of skeletons covered in a hood and wielding a scythe. If you see one in real life, pack your bags and take a plane to nowhere to survive. Color him carefully because if he doesn't like it, he will come for you.
Halloween Ghost Coloring Page:
Looks like Casper went trick or treating with you this year. He is now returning to his other ghost friends with all the candy that he got during the night. But the evil bully ghost tree is slowly following him to steal his candy. Color this picture and save Casper from being mugged off his treats.
Trick or Treating Coloring Page:
I love Marshmallows. I love soft candy. And I love lollipops. Hence, I love trick or treating on Halloween! The sugar rush after those fifty treats is exhilarating. Mister Ghost Sandy too seems to have enjoyed his night filling his belly with all the sugar candies. Color this picture but remember too much candy will ensure the dentist's appointment the following week.
[ Related: Trick Or Treat Coloring Pages ]
The Candy Stealer Coloring Page: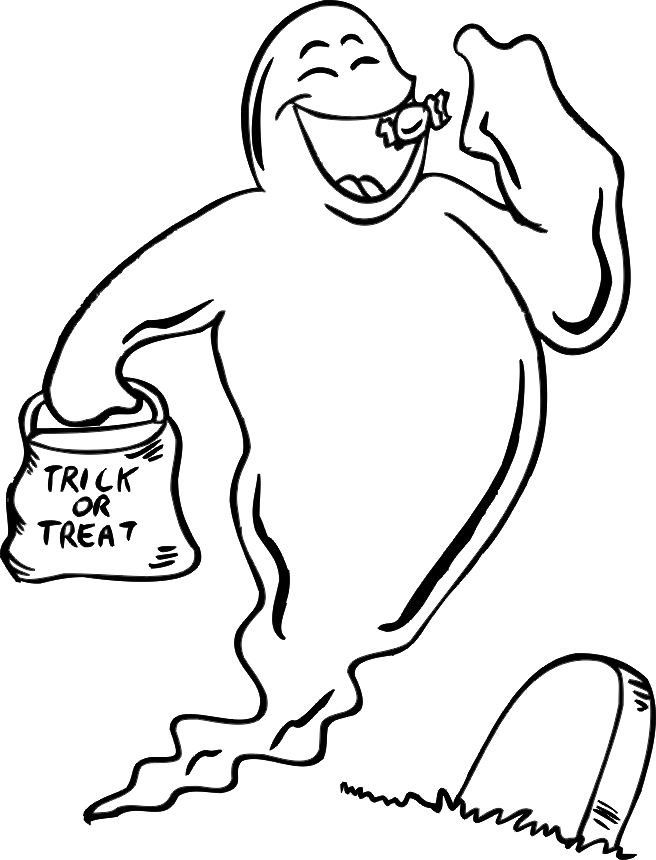 Ghosts are evil. But who is eviler: the one who scares you or the one who steals your candy on a Halloween night? I agree with you, the latter! When you roam twenty-five neighborhood houses, all night for two hours only to get your candy stolen! Teach him a lesson by coloring this ghost with bright colors.
Haunted House Coloring Page:
Some houses are haunted, while others, just look like they are haunted. Either way, we tend to stay away from haunted houses. Because who knows, what lies ahead. Prevention is indeed better than cure. Now, since you can't visit that house now, satisfy your senses by coloring it instead. Let your imagination run wild.
[ Related: Haunted House Coloring Pages ]
Trick or Treat Coloring Page:
Enough of treats already. You now have two full baskets of candy. Demand a trick on the next door! Have a blast getting surprised by sleight of hand. The magic lies wherever you are not looking. Colour the wicked creatures well.
Pusheen As Ghost Coloring Page:
Pusheen is a cartoon cat. She is the content of the comic strips on Facebook and was brought to life in the year 2010. Looks like she lived the seven cat lives in just seven years. Now, in 2018, she lives like a ghost to haunt the mansion in your neighborhood. Draw some wool balls while coloring the image.
[ Related: Pusheen Coloring Pages ]
Scary Ghost Coloring Page: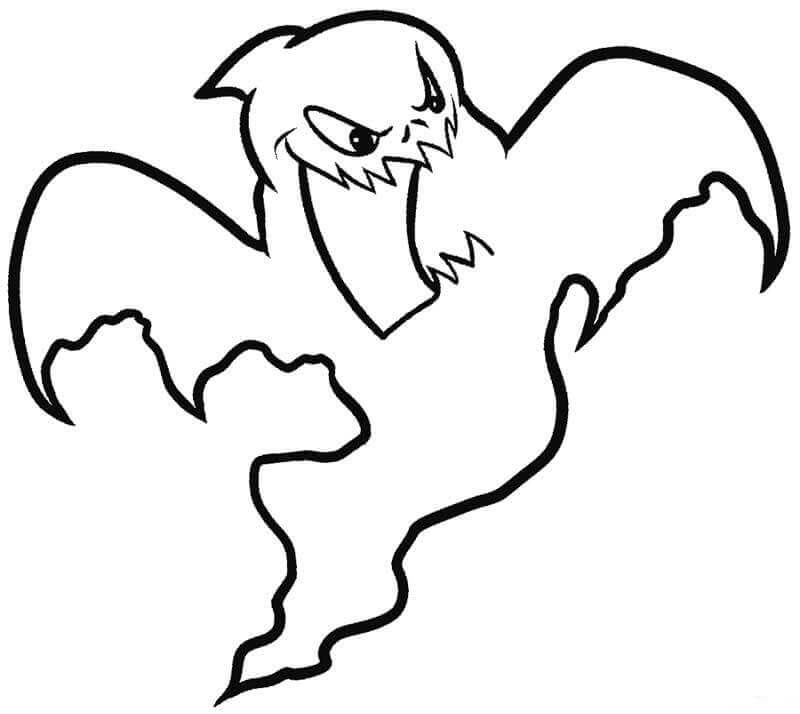 What do you get when you morph the white bedsheet ghost and a vampire bat? Look at the image! That is what you get. A blood-sucking white apparition with red pointy teeth. Color him before he comes to bite you.
Scary Ghost Poster Coloring Page: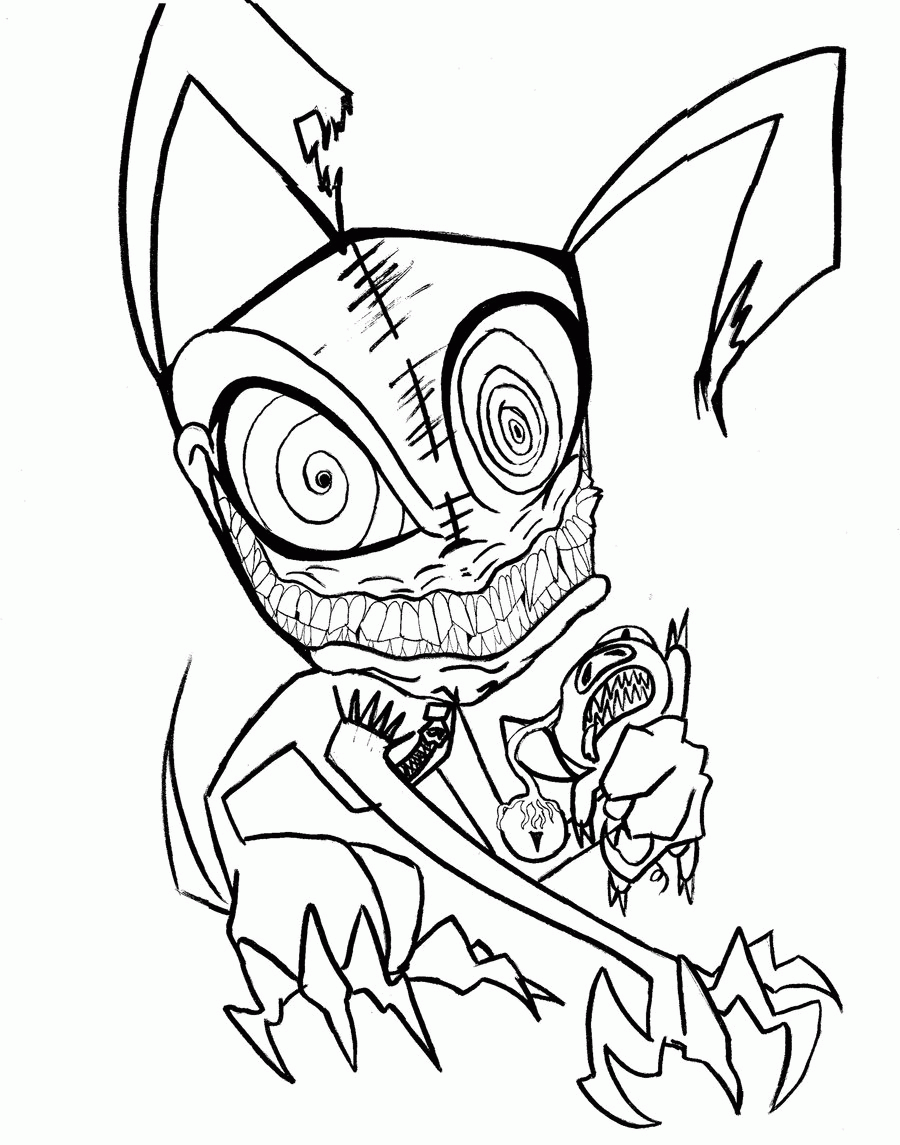 Up for a challenge? Colour this poster of a ghost in a way that the scariness becomes absolutely funny. Through a dash of pink on the ears, some yellow on the teeth, and a bit of blue on the eyes.
Scooby-Doo Ghost Coloring Page:
Scooby Doo is back. Scooby-Doo tells us, that there is nothing unnatural in this universe. There is no evil in nature. There are only a few bad human beings that try to scare everyone. And in the end, you need to face them. Colour this wonderful dog.
[ Related: Scooby Doo Coloring Pages ]
Halloween is coming up on the 31st of October. Get your costumes ready. Decide on your favorite ghost while filling these coloring pictures printables. Prepare your candy baskets and practice some mind-blogging tricks. But before that color these ghost coloring images for practice.