Greetings kids! After several collections inspired by the animals, whether wild or domesticated, today we are bringing you another special collection of coloring pages dedicated to one of the unique terrestrial animals. We've got you free printable giraffe coloring pages. You must have read about them in your alphabet books or seen them during your visit to the zoo.
With its long legs and long neck, the giraffe is the tallest living land animal. This African animal belonging to the Giraffidae family is also the largest ruminant and can easily be identified by its long limbs and neck as well as the characteristic coat patterns. The color of their spots can vary depending upon the subspecies, generally, it ranges from orange to brown to darker blackish shades.
Distributed across Africa, giraffes inhabit the open canopy landscapes like savannahs or woodlands, feeding on flowers, leaves, and fruits of woody plants like acacia species. Being ruminants like cows, giraffes have a special digestive system, particularly the four-chambered stomach, that allows them to digest the plants they eat.
to join this conversation on GitHub. Already have an account? Sign in to comment Footer © 2023 GitHub, Inc. Footer navigation Terms Privacy Security Status
Let's get to know more about this gigantic animal through this collection of giraffe coloring sheets to print.
30 Free Giraffe Coloring Pages Printable
Baby Giraffe Taller Than Adult Trees:
We are starting the collection with an adorable illustration of a baby giraffe. Being the tallest animal, even a baby giraffe can tower over the tallest trees in its surrounding. You can imagine how tall it will become once it fully grows into an adult giraffe.
Baby Giraffe With Mother Giraffe:
Mother giraffes have a gestation period of over 400 days. So, this baby giraffe was born after its fetus started developing and growing in the mother's womb for 400 days. And what's surprising is that baby giraffes stand minutes after birth. If you are wondering about humans, they have a gestation period of around nine months. That means your mom carried you in her womb for about nine months.
Cartoon Giraffe Wears A Scarf:
A fun depiction of a giraffe who is also a fashionista. Drawn in a cartoonish manner, this illustration shows the giraffe walking elegantly wearing a stylish scarf over her long and slender neck. Give this fashion icon some fashionable colors.
Fun Giraffe Coloring Page:
Keeping with the fun giraffe illustration, this one looks like a toy giraffe with its big round snout and straight legs. Be sure to give it cartoonish and toy look when you print and start coloring this giraffe.
G For Giraffe: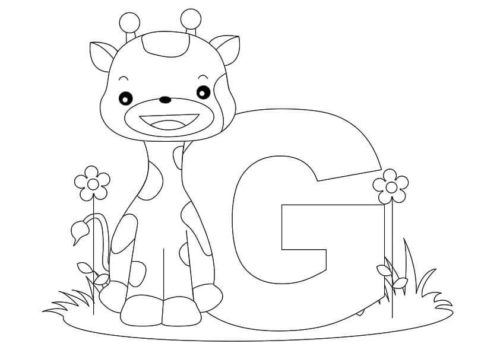 Now that we have begun this collection dedicated to this special animal, you can easily guess what G would stand for. The animal is drawn right next to the letter G in the illustration. Yes, it's G for Giraffe.
Giraffe All Dolled Up:
Taking care of her beauty regime, this pretty giraffe has outdone herself. From head to tail, she looks beautiful, all dolled up in style. She has even accessorized with a cute neckband.
Giraffe And Zebra, The Tall And The Short: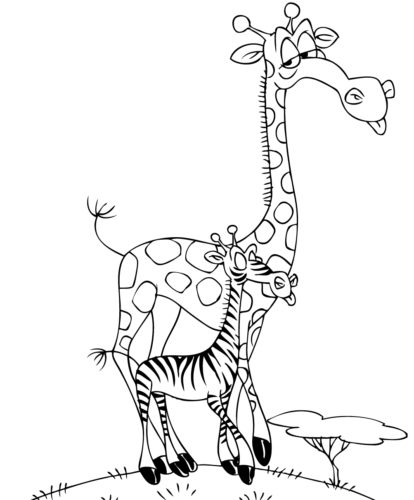 Giving you an idea about how tall giraffes are in comparison to other animals, here is an illustration of a giraffe and a zebra. The short zebra just about reaches the neck of the giraffe with its head.
Giraffes Necking Each Other: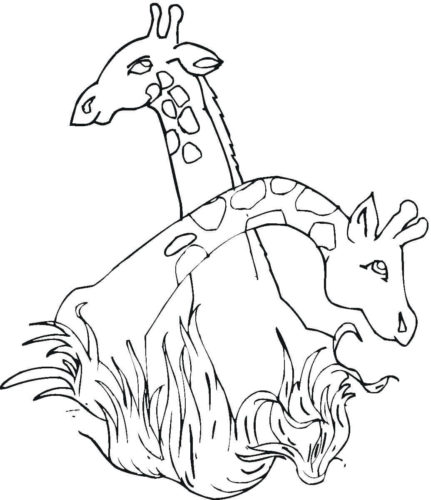 Necking is a form of combat or fight between two male giraffes to establish their dominance. It is also used during mating season to assert their strength against opponents. Necking involves using their long necks to hit each other in a duel.
Young Giraffe Standing Tall:
Giraffes can reach up to 19.3 feet in height. That is the tallest male giraffe recorded, while 17 feet is the tallest recorded height for a female giraffe. This young giraffe already looks tall, but it will grow taller before becoming a fully-grown adult.
Giraffe Roaming The Woodlands:
Preferring to feed in the open or mostly open canopy habitats like the woodlands, this giraffe is enjoying its time in the sun while munching on its favorite food. With its great sense of smell and vision, giraffes can find the food they like to eat.
Surprise! It's A Giraffe:
With its wide-open eyes, this giraffe looks surprised to have been drawn on this coloring page. The illustrator has done a great job creating a fun giraffe drawing but you can also see characteristics of a giraffe-like the ossicones on the head which resemble horns and the bulging eyes which give good all-around vision.
Little Bird Takes A Ride On A Giraffe:
Being as tall as a giraffe is, there are bound to be others who would like to benefit from it. Like how this little bird has perched itself on the head of this giraffe, enjoying a panoramic view of the land from the top. Print his coloring page and fill it with some brilliant colors.
Giraffe Looks Comical When It's Drinking Water:
One of the disadvantages of being tall for a giraffe is the awkward position they have to get into just so that they can drink water. Look at the way this giraffe is spreading its legs wide so that it can reach the water and drink it.
Cold Giraffe Shivers, Puts On A Sweater:
It must be really cold where this giraffe is residing. When it started to shiver in the cold weather, it was quick to find a thick sweater and has managed to put it on. Once you print this page, be sure to color, not just the giraffe but give the sweater some fun colors too.
A Giraffe Head Close-up: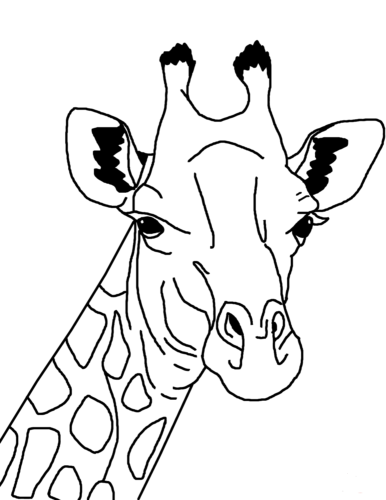 This close-up of a giraffe's head gives you a closer look at its features. Like the ossicones or horn-like growth on top of its head, which is ossified cartilages. Its large, bulging eyes for great all-round vision in color. The ears and nose with a great sense of hearing and smell.
Giraffe In The Wild:
An illustration that gives you a complete picture of a jungle and how a giraffe would look like when in the wild. You can see the giraffe standing tall over everything else in its environment including the other animals like the zebras and elephants.
Wherever You Go, Your Giraffe Will Follow:
Even as a pull toy, this giraffe looks super tall, although the toy is of small height. That is because of the slender long legs and neck of the animal. If you had a toy like this giraffe pull toy, no matter where you go, your giraffe will always follow you. Only if you keep pulling the thread.
Taking A Closer Look, Giraffe Is Reading A Book:
Looking as awkward as when drinking water, this giraffe is showing a keen interest in books. Just take a closer look, it has spread its legs and looks odd. Seems like it is an interesting book as the giraffe continues to read.
Giraffe Sitting Pretty:
Another fun illustration of a giraffe. Here the artist has depicted how a giraffe might look like if it could sit like a human. Look at the bended knees and tucked in forelimbs resembling folded hands. Print this page and start coloring this tall giraffe that's sitting pretty. Don't miss the bow-tie.
Giraffe Suited Up:
There's a party in town and this giraffe is going to have a good time. In keeping with the dress code of the party, this giraffe has suited up neat, looking super-stylish. Give this excited giraffe some fun and exuberant colors.
Giraffe With Zoo Animals:
Although giraffes are African animals, they can be found all over the world. If you are not from Africa, then you must have seen a giraffe in real life in zoos along with other animals as illustrated on this coloring page. Can you identify the other animals in this illustration? Make sure to give each of them their appropriate colors.
No Lines Or Dots, Help This Giraffe Find Its Spots:
A curious incident has just happened. While getting this coloring page ready, the illustration of this giraffe lost all of its spots. You can see just how sad the giraffe is looking. Try to cheer it up by printing this page and giving this sad giraffe bright and colorful spots.
Happy Birthday Card From A Cool Giraffe: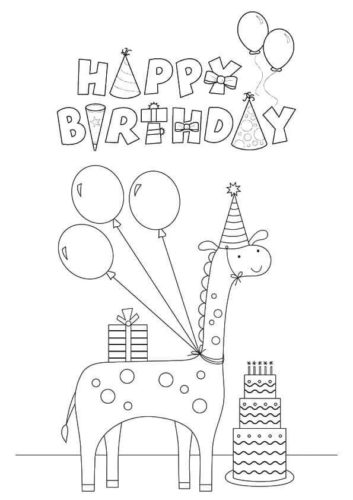 If you have a birthday coming up in your family or among your friend circle, give them this giraffe inspired birthday card. But first, print this coloring page and expertly color all the elements on it, like the cakes, balloons and the birthday wish on the wall with several different colors. And remember to color the giraffe accurately.
Valentine's Day Card Of Giraffes In Love:
From birthday cards we are now moving on to Valentine's Day. With their long and slender necks, these two giraffes are cleverly illustrated to form a heart-shape, similar to the one in the background. Print this page and after coloring it properly, you can give it to your loved ones.
Happy Giraffe Is Singing And Dancing:
Some good news must have reached this giraffe. Look at him singing and dancing with such joy. When you dance, you never worry about what others might think. Print this joyful coloring page and give this happy giraffe some cool costumes and groovy colors.
Not Tall, Not Taller, But Tallest Animal On Land:
Reaching way high above for leaves and fruits no other animal can reach, this giraffe is showcasing its tall achievement. Being the tallest animal on land, there are bound to be some cool advantages for giraffes. And this giraffe is making full use of its height advantage.
Long Lives The Giraffe:
Giraffes have a long life when compared to other ruminants. They can live up to 38 years. One of the reasons is because they have fewer predators. They are hunted by a few predators like the lions and other big cats. Nile crocodiles can also prey upon them because of their posture while they are drinking water.
Reticulated Giraffe Or Somali Giraffe:
Home to the regions of Somalia, southern Ethiopia, and north-eastern Kenya, the reticulated giraffe is also referred to as Somali giraffe. They have distinctive reddish-brown patches of sharp-edged polygonal shapes. The patches are separated from each other by thin white lines.
The Angolan Giraffe Or Namibian Giraffe:
The Angolan giraffes have spot patterns that are spread over their entire body, even to their legs but do not reach the upper portion of the face. Their spots or blotches are brown and have edges that are notched, with smaller patterns around the neck and rump. Also known as Namibian giraffes, they bear a white ear patch and inhabit the western Zimbabwe, Botswana, south-western Zambia and northern Namibia.
West African Giraffe Or Nigerian Giraffe:
West African giraffe, also called as Niger giraffe or Nigerian giraffe are endemic or unique to the region of south-western Niger. What instantly distinguishes it from other subspecies of giraffe is the lighter shade of its hair or fur, featuring red blotches. West African giraffes also have ossicones which are more erect. Sadly, another distinction is the fact that they are the most endangered subspecies of giraffe according to the International Union for Conservation of Nature (IUCN) list.
We hope through this collection of giraffe coloring sheets to print you were able to know more about this tall animal, which will eventually help in spreading awareness about their conservation. Giraffes are cool animals that can communicate in several ways using different sounds. They can cough loudly or bellow. Or make sounds like snorts, moos, bleats, and mews. Do you know that giraffes also snore? Yes, they do. They also grunt, hiss and moan. Although giraffes do not have a social grouping as such, they do form groups, mostly among the same-gender individuals. Mother giraffes, with their calves, move together, forming calving pools, whereby a calf can be left in the group when its mother goes for drinking water or foraging.