Halloween is just around the corner and we're finding immensely hard to keep calm. We wonder how excited the kids must be feeling right now. Halloween is indeed a Holiday for the kids. They dress up in wacky costumes, go trick or treating and then enjoy a scrumptious dinner with family. Another activity, which children engage in during Halloween is coloring. So if you're looking for some cool free printable Halloween coloring pages, you're at the right place. Below we've collected 40 spooky Halloween coloring sheets for you. Take a look! 
40 Spooky Halloween Coloring Pages
Pooh's Halloween Costume:
It's Halloween, and Winnie the Pooh is out to get the treats. He dressed up as a bat with the cute little bat wings on his back. So did he get the yellow honey-flavored treats? Or are they the toffees that he will get? Let's color to find out.
[ Read: Winnie The Pooh Coloring Pages ]
to join this conversation on GitHub. Already have an account? Sign in to comment Footer © 2023 GitHub, Inc. Footer navigation Terms Privacy Security Status
Piglet And His Jack-o'-Lantern:
Piglet had a tough time finding the perfect dress for trick-or-treating. While watching a television show, he came across a spooky ghost show and decided to be one for Halloween by draping a bedsheet. Color to find out what is the color of the bed sheet he draped over himself.
Princess Tia Dressed For Halloween: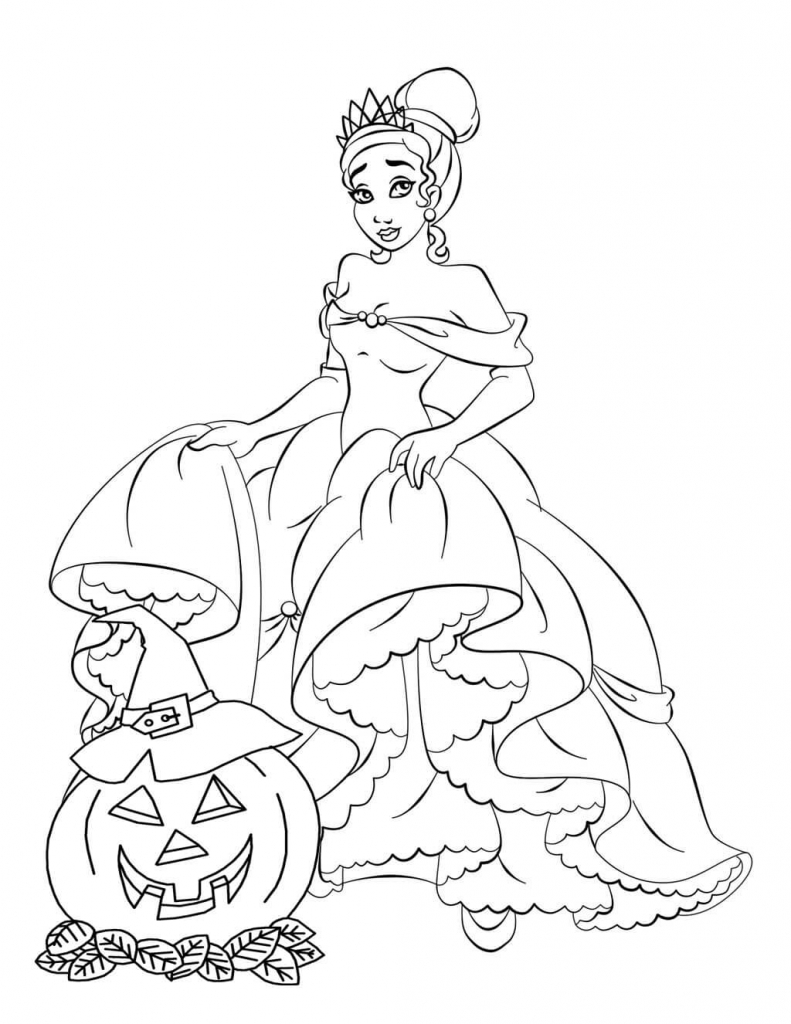 For a princess, it is important to dress up best for every occasion. For Halloween royal photograph, the princess decided to be herself with a Jack-o'-lantern. She took hours to choose the dress and do the makeup, but the artist forgot to bring her colors. Help her color the dress of the princess.
Candies By SpongeBob:
With a pumpkin mask over his face, SpongeBob Squarepants collected many colorful candies and toffees. He went to every house in his neighborhood for trick-or-treating. He is offering you some because he is very kind. Will you be kind enough to fill him up with some colors?
Forgetful Minnie Mouse:
Minnie got out of her home for trick-or-treating for Halloween. But she seems to forget something. Maybe she forgot Mickey, or maybe she forgot to dress up for her Halloween party in the evening. Oh no, she forgot her colors back home. Color her up so that she can continue collecting candies.
The Halloween Message For Loved Ones:
The nice Mr. Skeleton with a hoodie on his head looks very friendly with a smile on his face. He is asking you to color him up in dark colors and write a message in your handwriting for him on this Halloween.
Gathering Of Scary Jack-o'-Lanterns:
What is scarier than pumpkins with a freaky smile on their faces on Halloween? These pumpkins are out to scare children in your neighborhood. They will steal the candies collected by your friends and you. Color them in funny and cute colors to make them look less scary. HAPPY TRICK-O-TREATING.
Vampire Princess On Halloween Night: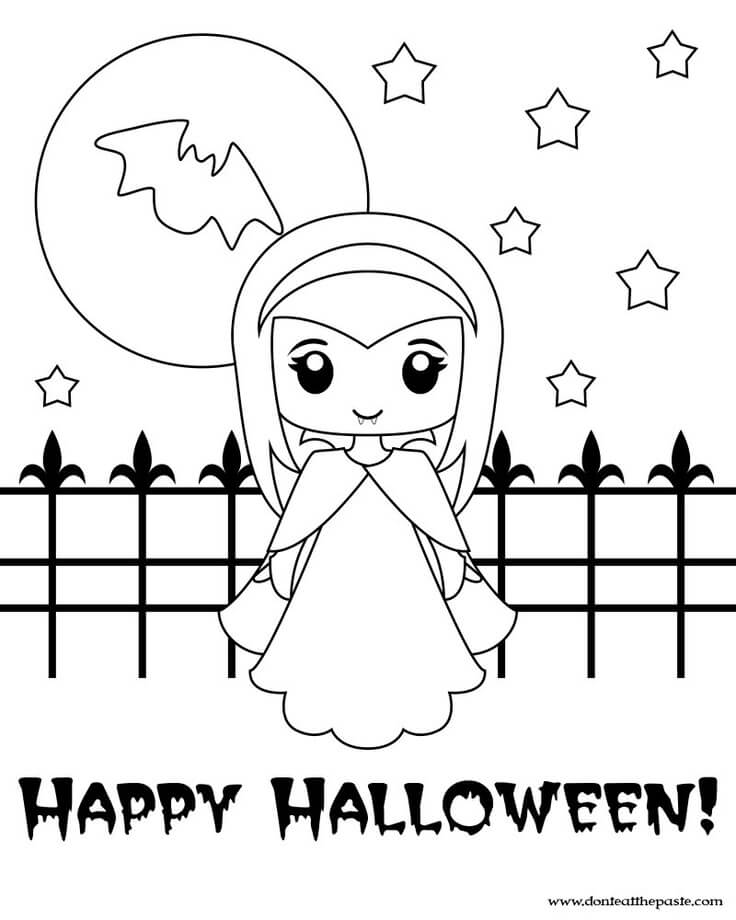 Image Source: www.donteatthepaste.com
It does not suit the little vampire princess to sit back at home on Halloween. So she came out at night from her room at the palace to wish you all a very happy Halloween. Notice her two cute fangs and her bodyguard disguised as a bat at the back.
It's Fun Time With 101 Dalmatians: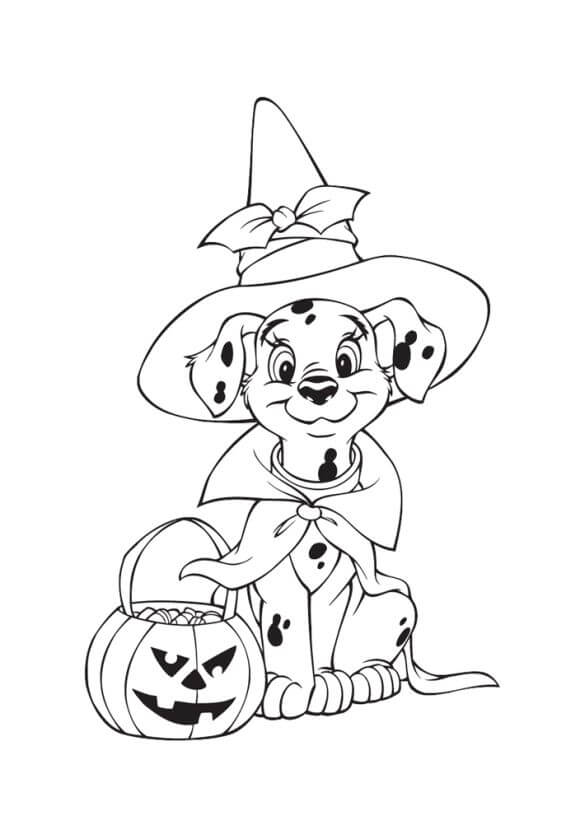 The cute little lady is ready and dressed up to go out for trick-or-treats. Jewel chose her avatar for Halloween while watching television with her 100 siblings and parents. She is wearing a hat on her head and a cape over her shoulders. Can you guess what she chose to be?
The Haunted House: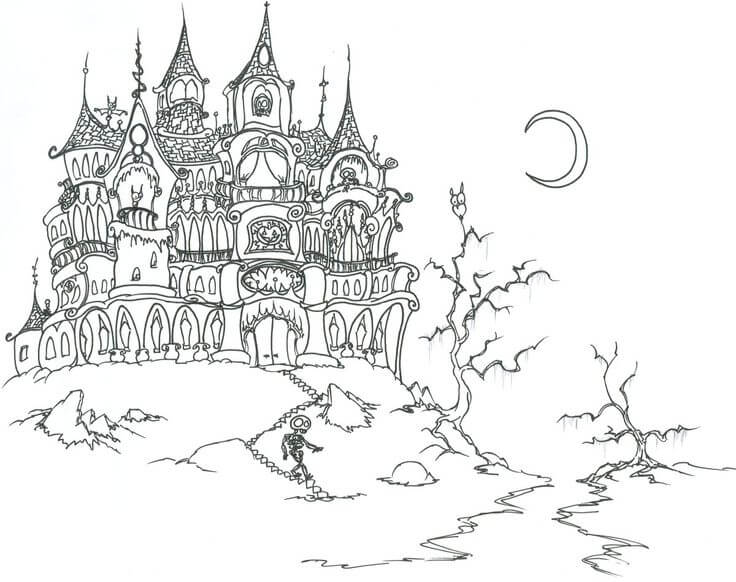 There is a spooky-looking castle in the middle of the forest just outside the town. According to stories told by travelers, the ghost of a beautiful princess lives in the palace. The travelers have seen her come out of the palace only on the nights of Halloween. Today is Halloween night, and if you are lucky enough, you will be able to find the princess.
Choosing A Perfect Halloween Costume: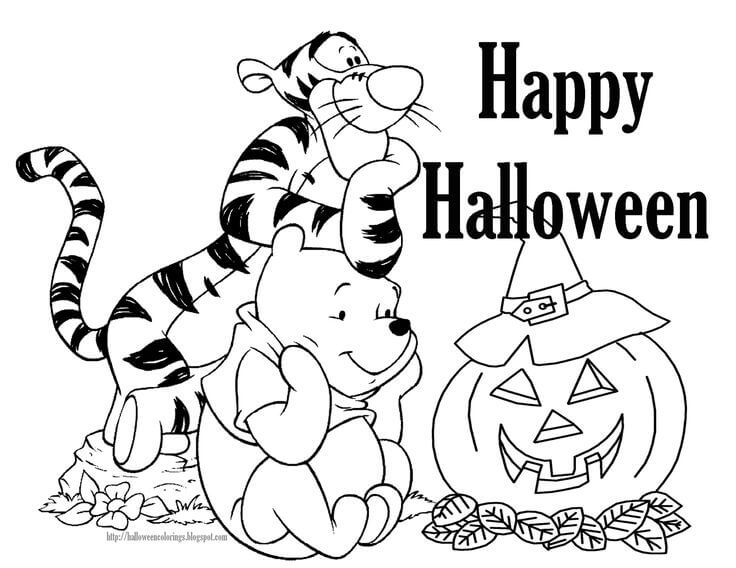 Image Source: www.halloweencolorings.blogspot.com
The pumpkin with a witch hat has caught the attention of Pooh and Tiger. Or they are just thinking about their Halloween costumes? But they aren't colored up for the festivities. Can you color them up to make them look cool and funky?
The Ghost House:
Image Source: www.halloweencolorings/blogspot.com
The ghosts are lurking in the darkness of this haunted house. Can you spot the ghost peeking out of the window, or the sneaky black cat staring at you? Did you notice the vampires disguised as bats and the scary claw with long fingernails at the door?
The Saviour Warrior Princess:
This is the night of the warrior princess from another realm. She is the soul ripper, and she protects the children collecting candies from the evil lurking in the darkness. She protects the kids as well as the candies. She has a lantern to navigate through this darkness and her weapon for soul ripping.
The Curious Case Of A Halloween Wedding:
Aren't weddings always fun to attend? For Mr. Skellington and Ms. Sandy Halloween is the perfect day to get married. This is their wedding photograph and just look at the frame with all the creepy details. They even have their pet dog doodle-evil with them to celebrate their happy days.
The Spooked Out Cat: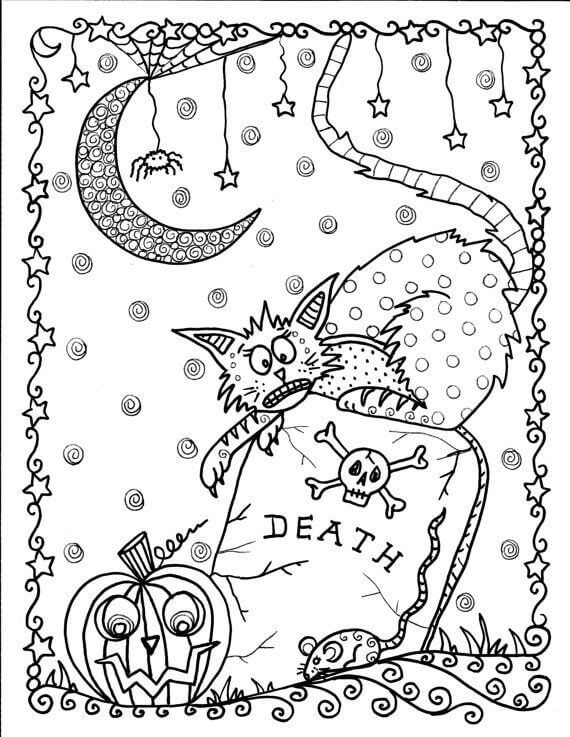 A cat is perched atop death tombstone. She looks freaked out, maybe because she saw something! What might have scared her on the night of Halloween! Is it the mouse she is scared of spooky rat or the pumpkin with hypnotized eyes! And there is a spider too!
The Scary Duo Plus Duo:
The four friends from Hotel Transylvania are ready to take the party to the next level. For this Halloween, they have decided to dress up as themselves! Look at them dancing to that groovy music and the confetti everywhere. The party is on and it will look so cool with colors. Can you color it to complete the party scene?
Zombie Getting ready for the Halloween Party:
It was a tough morning for the zombie as he wanted to dress up nicely and smartly. He was getting ready for the annual Halloween party. He wore a ripped suit with a tie and smart shoes. He is very happy with how he is dressed and wants you to fill his clothes with color.
Frozen Halloween Avatar:
It 's hard to choose a perfect Halloween costume every year. But the Frozen cast has killed it. Look at all their quirky costumes? Don't you think it will look even more beautiful when colored?
Food Comes First: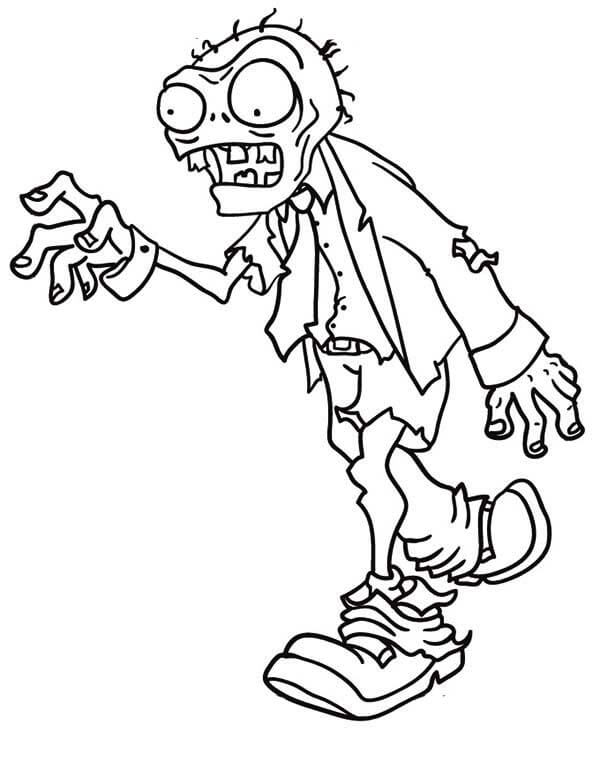 This zombie just saw his favorite worm-o-jelly being served at the Halloween party. He needs to reach the server before it is finished. But he is stuck until colored. Help him by coloring him so that he can eat his favorite jelly.
The Graveyard Scenes: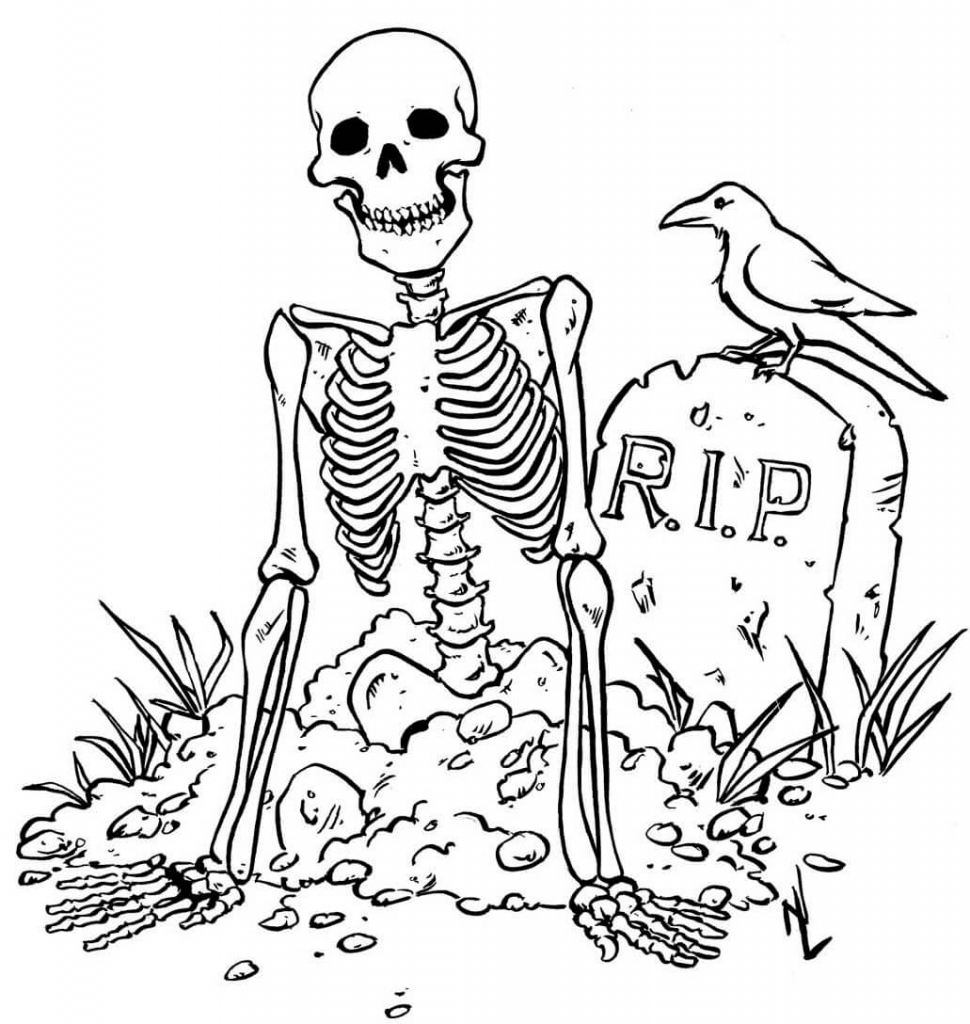 A spooky looking skeleton coming out of her grave? Check. A tombstone in the background? Check. Add a vegetable with a freaky smile and he and the skeleton are ready to rock the night. This is the perfect nightmare picture for Halloween.
Witchy Jack-o'-Lanterns: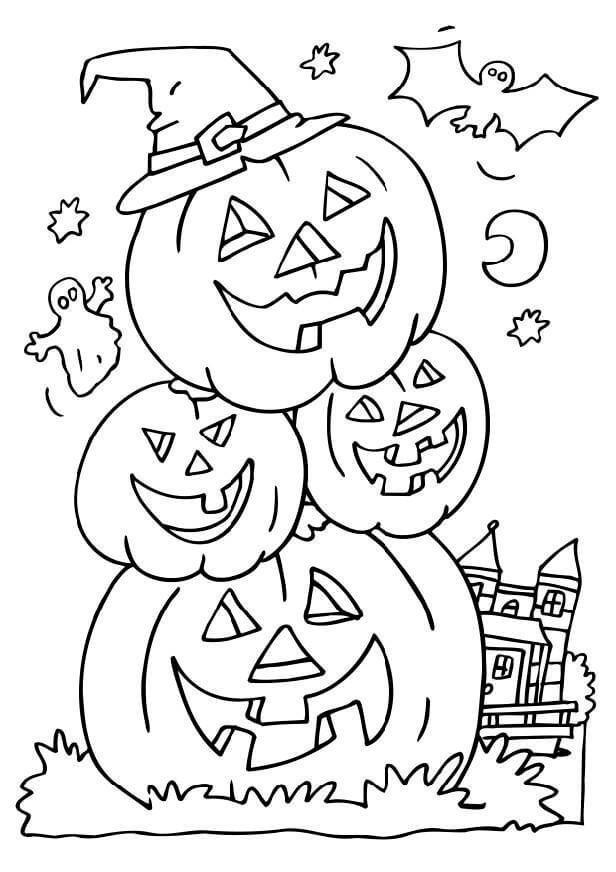 Dressed up as a witch with a hat to match, these Jack-o'-lanterns are out to celebrate Halloween. They look very happy and so does the ghost at the back. Colour these friends to make them look funky and cool. Don't forget to make the night scary.
Ready and Ripe Halloween Pumpkins For Everyone: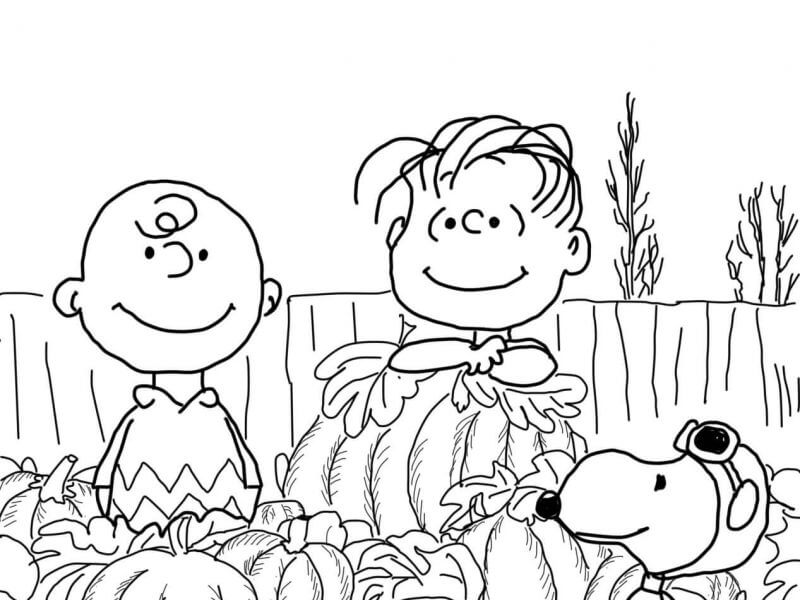 For Charlie and Franklin, this Halloween came with a lot of happiness and smiles. The reason? They planted many pumpkins, many months ago and they are ripe and ready just in time for Halloween. What is the color of the ripe pumpkins? Color the pumpkins so that Charlie and Franklin can choose the best ones to pick.
An Octopus In The Witch's Cauldron!
Halloween and witches have always been close to each other. According to legends, the power of the potions made by a witch increases on the night of Halloween. This witch is cooking a potion ad she added an octopus in it. What might this potion look like?
SpongeBob and Friends Celebrating Halloween:
Image Source: www.cool2bkids.com
Its Halloween time on the ocean bed and SpongeBob and Patrick can't stop feeling happy. With Halloween comes candies and food. They even got their own Jack-o'-lantern and decorated with a witch hat. Fill them up with color to let others see how the ocean bed looks during Halloween.
Go for a Trick-o Treat With This Owlet:
Once there was a baby owl who always dreamt of going out for trick-or-treating. When she was old enough, her parents permitted her to go out alone. She dressed up as a witch with a broom in hand and set out for her first-ever adventure alone. Can you color her up for her first adventure!
Scaring Snow White: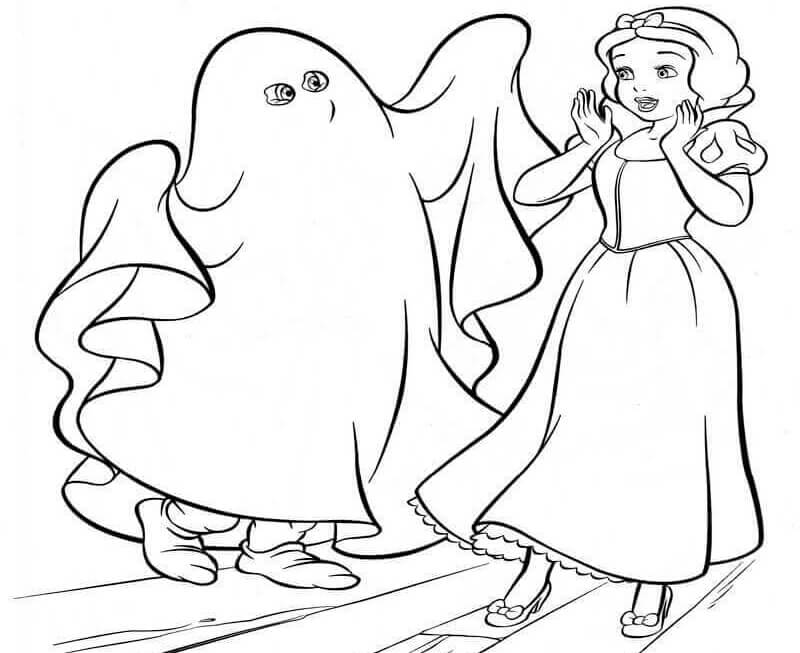 On Halloween night, when Snow White stepped out of her room to get some water, she saw something. This was a ghost, and she was scared. But did you notice the two shoes of the ghost? Is it a ghost or just someone else trying to scare the princess? Color to find out.
Charlie's Halloween Costume:
The Halloween costumes of Charlie and his friends are so cool, aren't they? The group has a witch and a ghost. But Charlie isn't ready yet. What is Charlie up to? Let us color this picture until he gets ready and we get to know what he will be.
The Halloween Options: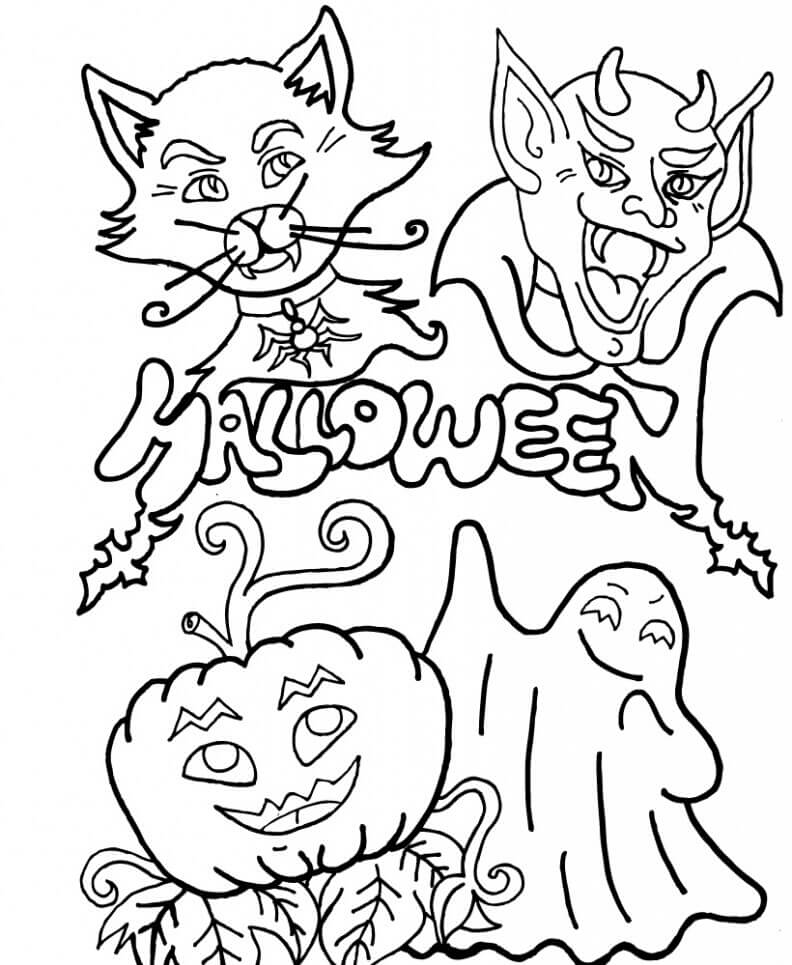 Do you know what you want to be for this Halloween? If not, then here are some options for you. You can be a vampire, an evil cat, a ghost by wearing a bed sheet or wear a mask of pumpkin! Color them up to help your friends choose their avatar and send best wishes.
Skeleton Out Of Her Cave:
Halloween is the day for the creepy and scary to come out from the dark depths of the unknown. But this friendly skeleton loves it out. She stays in her cave all the time. She is just happy today to see more children dressed up like her. She will be happier when colored. Can you do that for her?
A Happy Halloween Greeting Card:
The Hello Kitty is preparing her garden for the Halloween night. She bought many Jack-o'-lanterns to decorate her garden. Color this up to send good wishes to your friends and family and remind them to decorate their gardens as well.
Wishes Come True On Halloween:
For this Halloween, Minnie Mouse gifted something that Mickey always wanted to have. Mickey Mouse looks very happy at getting his own Jack-o'-lantern for this Halloween. So happy that he decided to fill her lantern with himself instead of light. Increase his happiness by coloring his lantern.
No Purpose Trio:
Have you ever seen the three monkeys of morals? Here are three Jack-o'-lanterns of Halloween. The first one is a pirate in the forest. The second one is a thief who steals candies from the children on the night of Halloween. The third one no one. He just had no one to be with him so he joined him.
Dracula Count and Countess For Trick-o-Treat: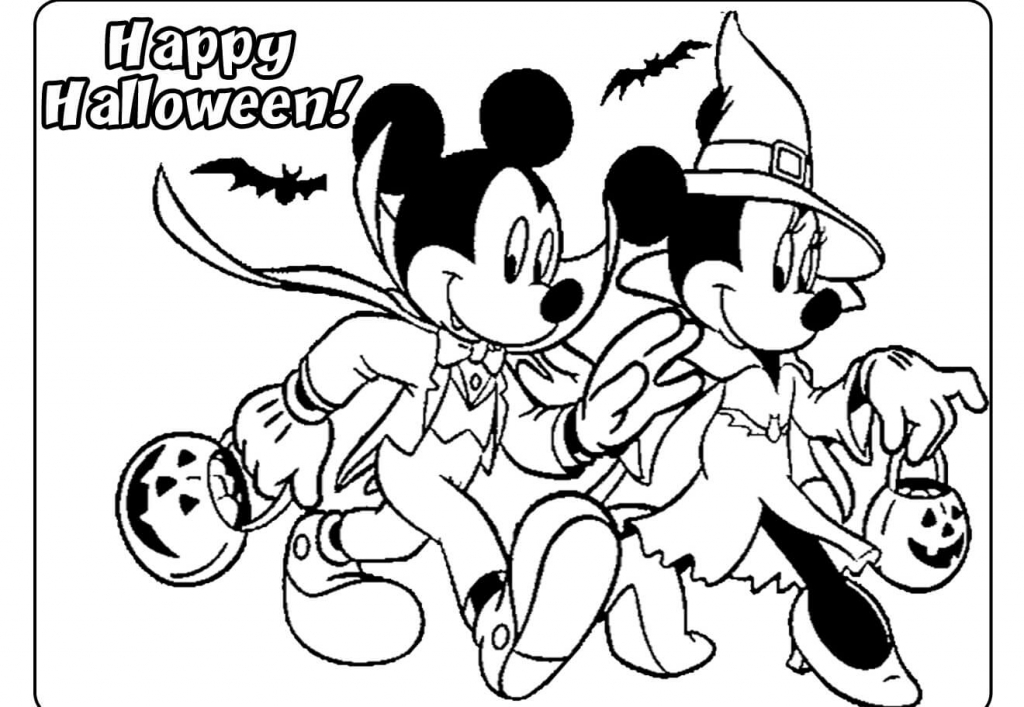 Minnie Mouse and Mickey Mouse are ready to go out to collect candies on Halloween. They decided to dress up as Dracula Count and Countess for this year's trick-or-treating. After taking their Jack-o'-lantern bags to collect candies, they are out.
Purpose Of The Three Witches: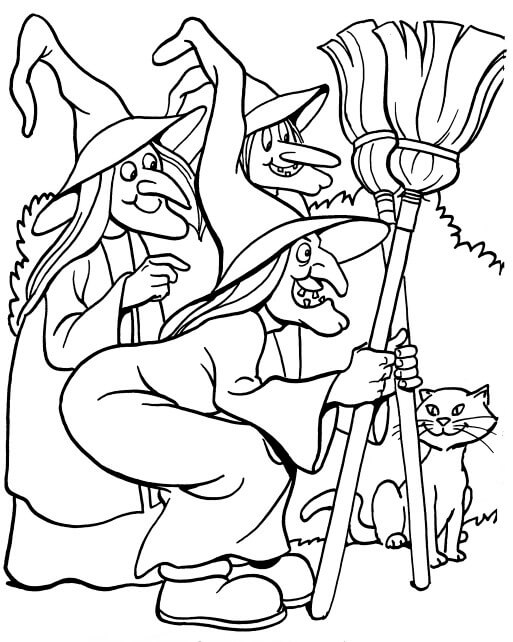 Those three witches in multi-colored robes are up to something. They are looking at something at the far. Are they ready to take off to somewhere using their magical brown broomsticks? Or they can see the delivery guy for the supplies for their potions?
A Happy Halloween For Snow White:
This is another free-of –evil Halloween for Snow White. She is happily surrounded by her animal friends and the Jack-o'-lantern decorations in her beautiful garden. Color the garden to make it look greener with grass and colorful with flowers. Don't forget to color the princess's dress in the beautiful shade of blue.
The Little Shy Kitten:
Image Source: www.raisingourkids.com
The Jack-o'-lantern is finally happy to find a friend. She is a shy little gray kitten. Her fur is matted with black streaks. The yellow pumpkin is looking very orange with happiness at finding a new friend. His leaves are greener and healthy looking as well.
Enter The Spooky Forest: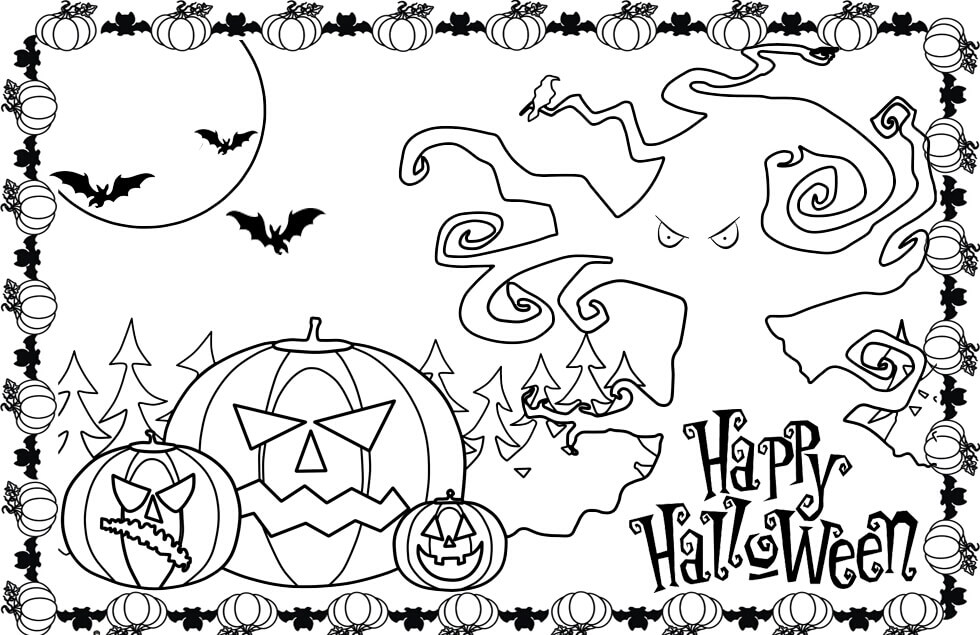 For Halloween night, what is the better color than midnight blue! With the brown ghost of the tree and white moon in the back, the night has turned scarier. The orange Jack-o'-lanterns in the front is equally freaky. The black shadows of the forest trees at the back made the night ghostlier.
Charlie Brown On Halloween:
Charlie is ready for new adventures on this Halloween. He got a new Jack-o'-lantern, and this one is rare. She is a blue Jack-o'-lantern. She didn't mix well with others of her kind. Charlie is very kind and decided to be her friend. Color them for their beautiful adventures ahead.
Halloween Costume For The Scarecrow:
The blue hand-stitched scarecrow is ready for Halloween night with his Jack-o'-lantern. He even wore a red hat to go with his costume. With the pink Jack-o'-lantern in his hand, he is happy. But isn't the lantern too big for him?
The Happy Jack-o'-Lantern: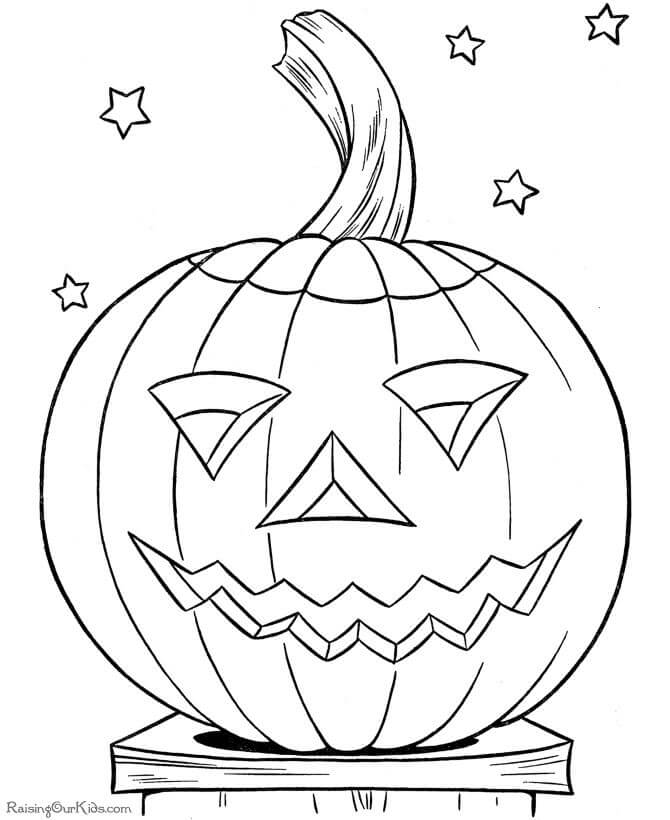 Image Source: www.raisingourkids.com
This jack-o'-lantern is unique. He was made by the maker to make people happy. He is not the traditional orange in colour. He is multi-colored. It is Blue, Pink, Green, Yellow and Purple in color. He smiles to spread happiness, not only on the night of Halloween but always.
So these were our top 40 picks for Halloween coloring pages. Feel free to print out as many coloring pages as you like. Even mommies can print out these Halloween coloring sheets to keep the kids occupied while you're busy with the decoration and cooking.  
After filling Halloween coloring sheets, don't forget to check out our unicorn coloring pages.