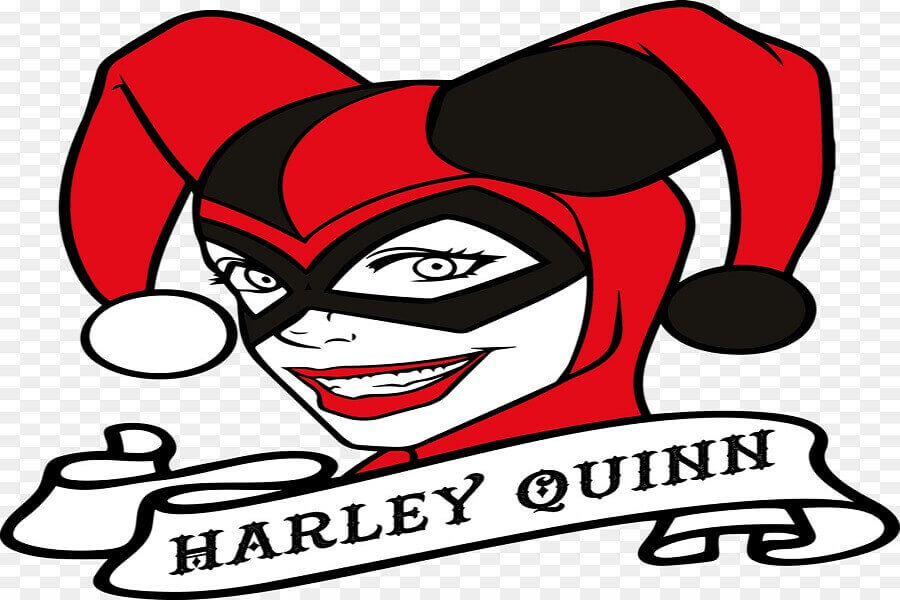 Hey friends! Hope you are enjoying the colorful sessions with your beloved characters. It's time for a new character now! Do you know who she is? She is the famous (although, one could argue 'infamous'), Harley Quinn of the DC Comics. Yes, we've got you free printable Harley Quinn coloring pictures.
This eccentric character first appeared in the comic book of the famous superhero The Batman Adventures #12 (September 1993). In the present times, this character is enacted by Margot Robbie in the movie Suicide Squad (2016). Harley is a very sweet character who turns bad when she falls in love with the evil Joker. But she proves her sanity when she leaves the love of her life behind and returns to save her friends from the evil that held them. Let's fill these Harley Quinn coloring sheets to print with some weird combinations and give some authenticity to this unique hero.
20 Free Printable Harley Quinn Coloring Pages
Cute Harley Quinn:
You can't deny the fact that Harley Quinn is a sweet character in her own way. She finds happiness in every situation, be it facing a firing squad or even when losing a loved one. Get going coloring happiness.
to join this conversation on GitHub. Already have an account? Sign in to comment Footer © 2023 GitHub, Inc. Footer navigation Terms Privacy Security Status
Daddy's Little Monster: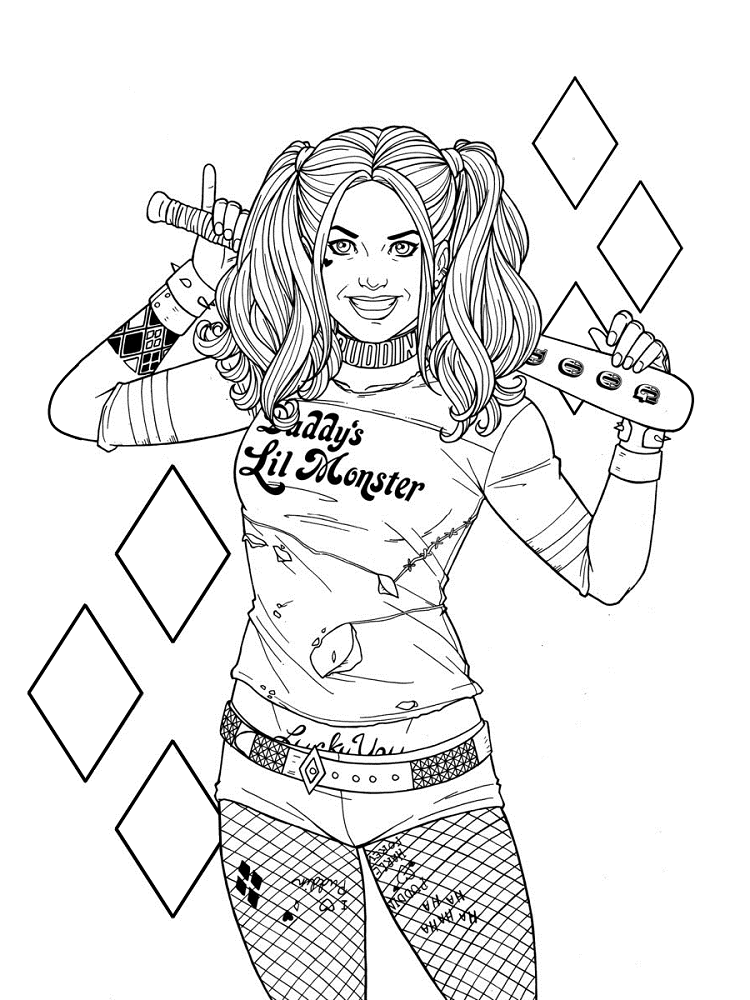 Don't you just love your father! So does Harley Quinn. And she knows that she was no princess. Rather she was the monster who her daddy loved. Color this Daddy's Monster right now.
Tough Harley Quinn: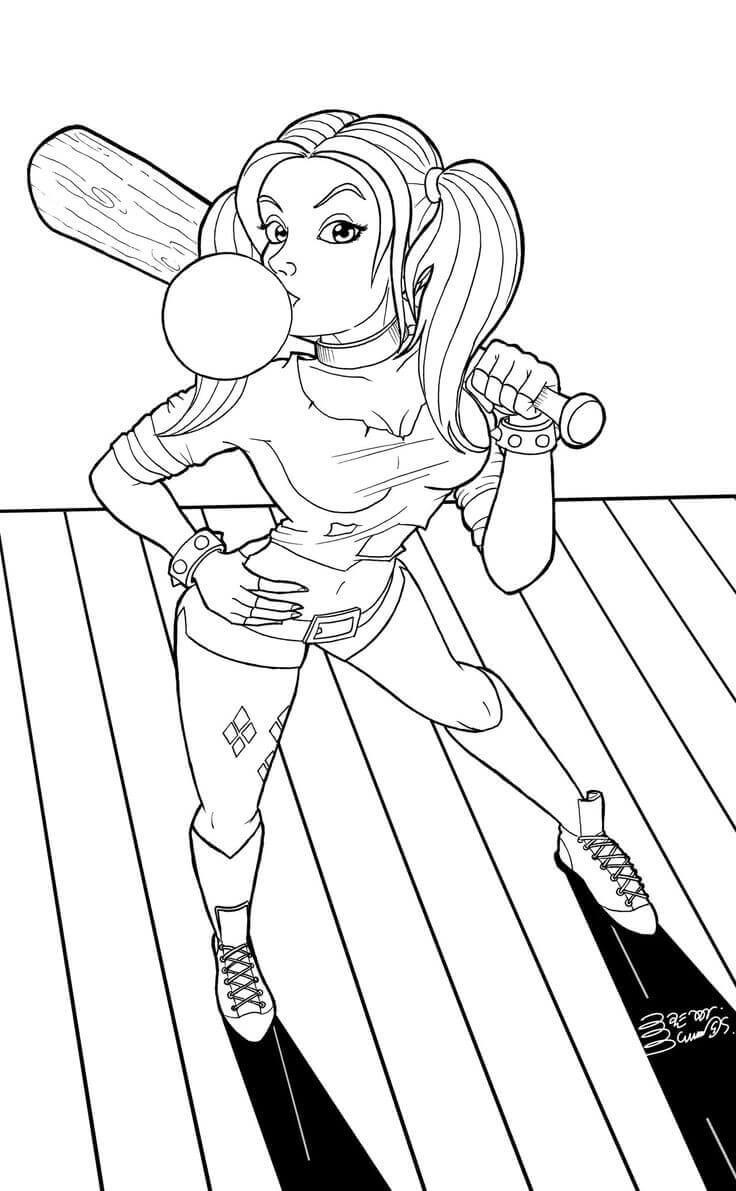 Harley can beat up bad guys with that bat of hers and never flinch even once. She is one tough girl you dare not mess with. Show her toughness with some vibrant colors.
Harley Quinn And Joker Coloring Page:
Joker, the guy Harley Quinn wouldn't hesitate to give up her life for. Together, they are the evil pair no one can mess with. Color this couple.
The Duo:
Looks like The Joker and Harley Quinn just committed a nasty crime and are now on the run. Alas! They love their life of crime as much as they love each other. Color their escape.
Harley Quinn Poster Coloring Page:
See that smile? One could say it's just an inch away from a smirk. Print this poster, color it, hang it up on your wall, and make your friends jealous!
Harley Quinn Poster Sequel Coloring Page:
Harley originally wore a mask in the comic book version. They say masks hide your identity. Well, from whom? Is it the world you are hiding from, or is it you yourself? Color this comic version of Harley Quinn right now.
Harley Quinn Coloring Page: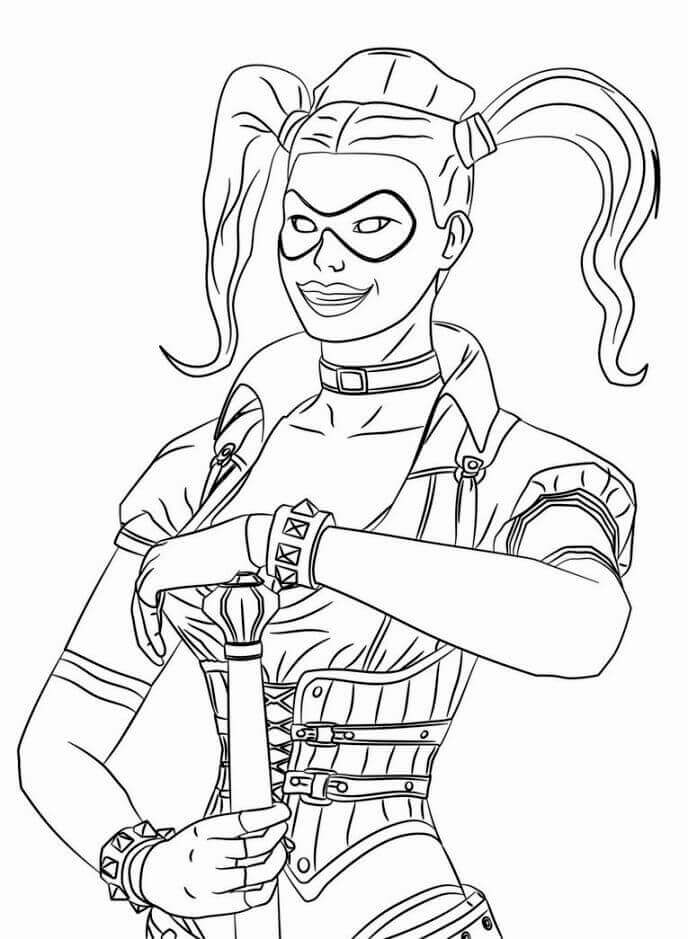 Dr. Harleen Frances Quinzel, that's the real name of this gusto villain. She began calling herself Harley Quinn when she met The Joker and joined him in his criminal pursuits. Color this doctor turned evil villain.
Harley Quinn Coloring Page for Adults: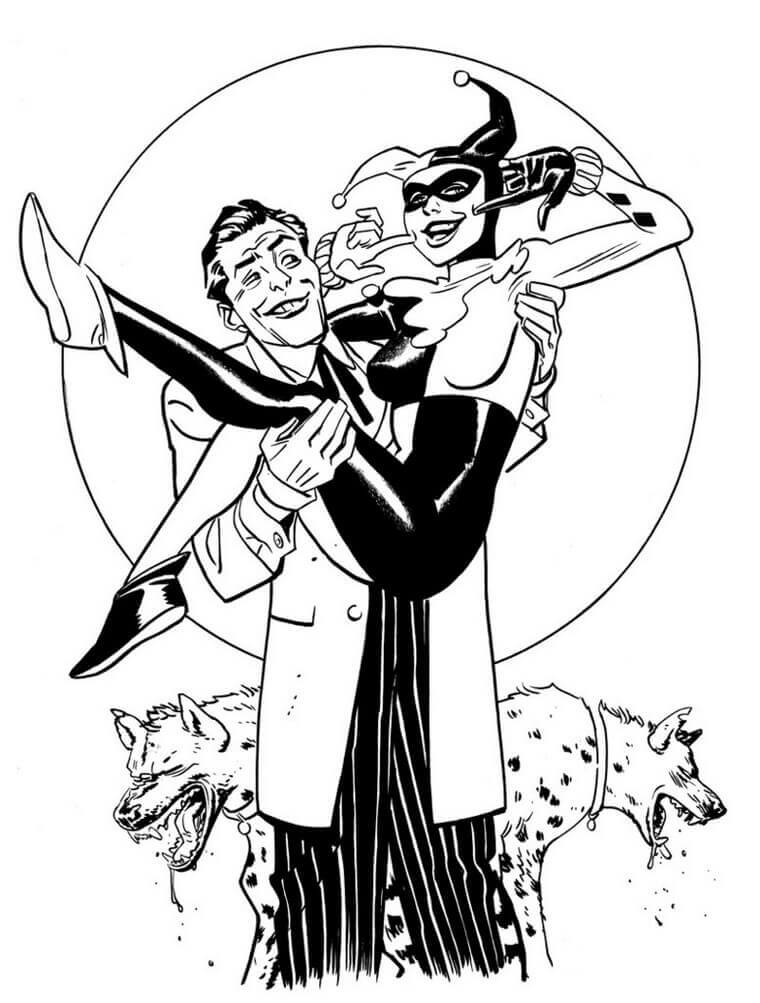 Why should kids have all the fun? Harley is famous for dating The Joker. But do you know, she has even dated Deadshot (played by Will Smith)? Well, that's what happens in comics. Color this queen of villains.
The Evil Quinn:
Many times people are guilt-ridden after committing a crime. But not Harley! Crime to her is the fuel for her life. Look at those bombs with 'Haha' all over. Coloring this lover of crime should be fun.
Harley Quinn Smirk: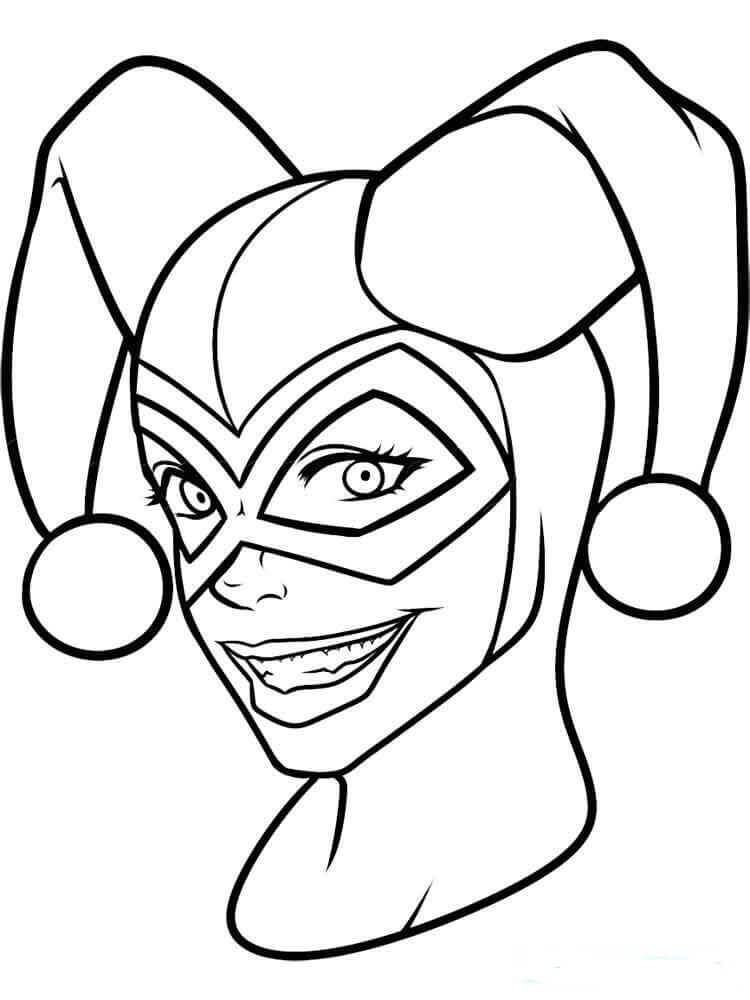 Do you know Harley Quinn is based on Arleen Sorkin's, from the "Days of Our Lives"? Apparently, Arleen's portrayal of the character stuck in Paul Dini's mind and he went on to create Harley Quinn. Color this beauty with everything you got.
The Dance:
Look at that expression on Harley Quinn's face. It seems she wasn't always the badass she is now. She too was intimidated by The Joker once. Let's celebrate their love by coloring this page.
Harley Quinn Greeting Coloring Page:
A cheerful Harley Quinn, and her standard greeting "Harley Quinn, pleased to meetcha!". Color this ever so joyous and ever so happy character and let go of your troubles.
Harley Quinn in Love Coloring Page:
Harley Quinn often called The Joker her 'pudding'. The famous line of hers' "Aw…do ya hear that? My Puddin's laughing!". Get coloring the strange Harley and 'her pudding'.
The Devious Harley:
Harley Quinn jumped into a chemical bath with The Joker and that's the reason for her dubious appearance. Since then she has had a devious tendency to always have something up her sleeve. Notice her right hand behind her back, just ready to attack. Color her quickly, before she attacks you!
Harley, Joker, And Batman Coloring Page:
Well we all know, Batman is Gotham's protector. And The Joker and Harley Quinn are quite an indestructible duo when it comes to crime. Harley, together with Poison Ivy and Catwoman, called the Gotham City Sirens also are a menace for Batman. Color this crime scene.
[Related: Batman Coloring Pages ]
The Sweet Harley Quinn Coloring Page:
Don't let those beady eyes fool you. Don't forget, this once established doctor jumped into a chemical bath just to please her lover. Color this psych with the vibrancy of a criminal.
Joker And Harley Quinn Coloring Page:
One can't deny that Harley Quinn and The Joker have an indescribable love story. But The Joker has been quite despicable to Harley. In that, he has tried to launch her into space and he even ran a plane into her almost, once. Get down coloring this strange couple.
Lego Harley Coloring Page: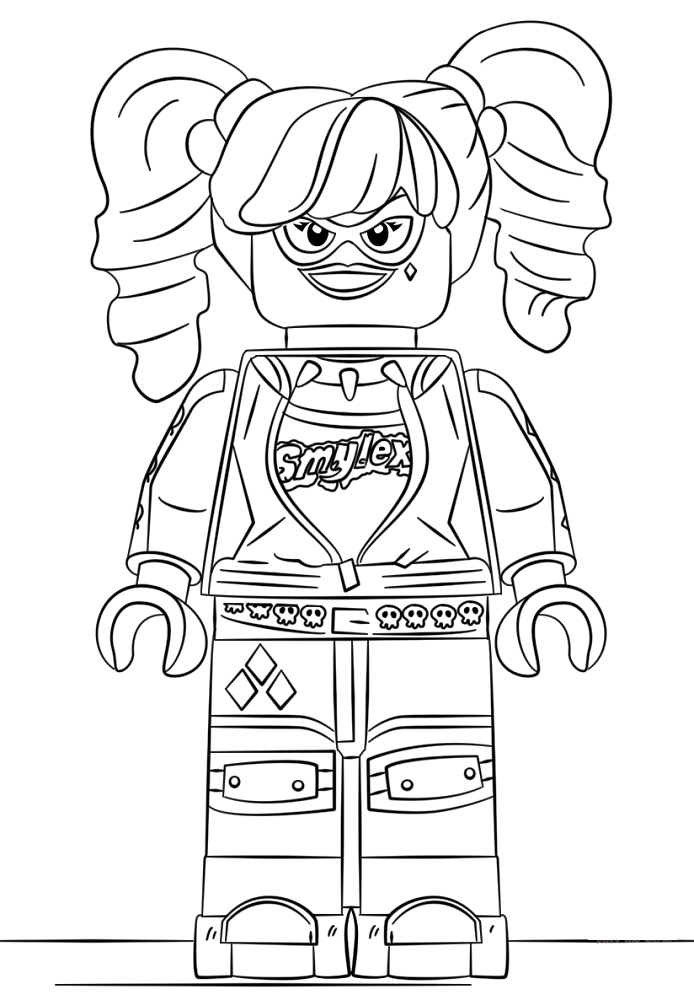 Legos are here! The tiny plastic blocks come in innumerable combinations to create anything and everything. The Lego Harley Quinn is something you can make at home. Color her the way you want, just like the Legos.
[Related: Lego Coloring Pages ]
Lego Harley Quinn Sequel Coloring Page:
It seems that Harley doesn't like firearms much. It's either a bat or a hammer. Enjoy coloring this sheet and don't forget to print it.
I know you guys must be excited for Suicide Squad 2. According to IMDB, it's set to release in 2019. No dates have been specified. Till then, go watch Suicide Squad again, and then fill these Harley Quinn coloring pictures. Let us know how much you enjoyed filling these Harley Quinn coloring images in the comments section below. And don't forget to check out our Venom coloring pages.