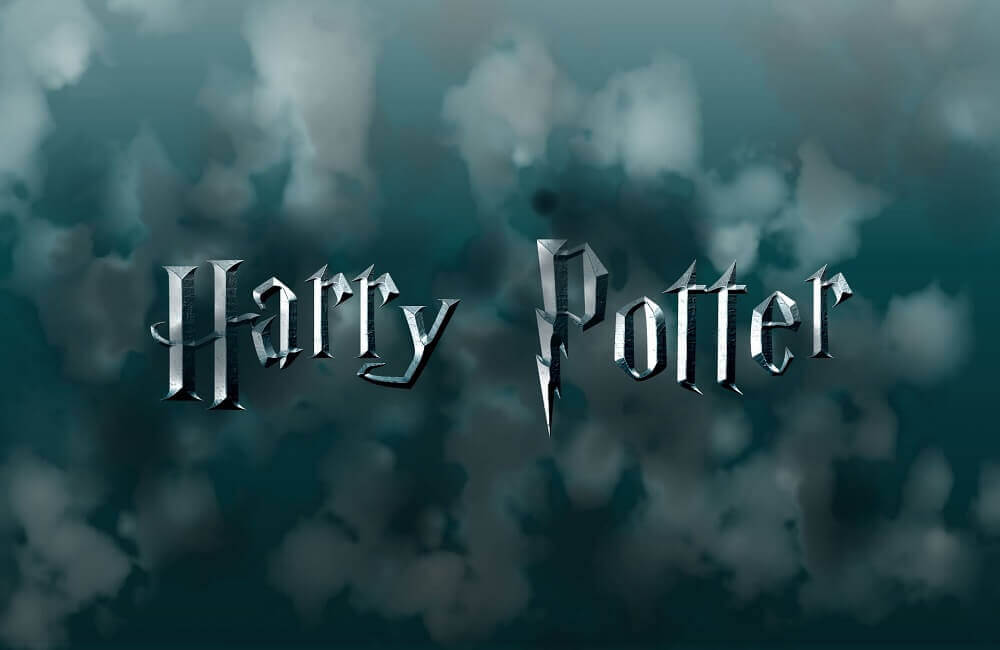 Hello children! We are almost at the end of the first quarter of the year. Hope 2019 so far, has been good to you. If you need to fill your days with some magical moments, we have just the collection for you today. We are turning on the magic with a collection of free printable Harry Potter coloring pages.
The best-selling book series in the world, Harry Potter, written by J. K. Rowling has made an indelible mark in the world of arts and literature. There are seven books in the series, published between 1997 and 2007, which have been turned into an eight-part film series, with the last book divided into two parts for its film adaptation. The film franchise is also among the highest-grossing franchises of all time, ranking third.
The series tells the story about a young orphan living with his aunt's family who finds out he is a wizard and gets enrolled in Hogwarts School of Witchcraft and Wizardry, beginning his journey to defeat a dark wizard, Lord Voldemort, responsible for the death of his parents and creating disorder in the wizarding world.  
Whether you are well-versed with this mystical world or just getting to know about it, you will surely enjoy this magical ride through this collection of Harry Potter coloring sheets to print.
30 Free Harry Potter Coloring Pages Printable
Albus Dumbledore – Headmaster Of Hogwarts: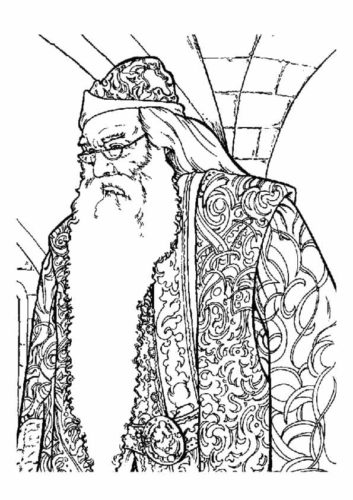 Tall, thin and old with a long silver beard, Albus Dumbledore is the headmaster of the Hogwarts School of Witchcraft and Wizardry. Known to be the only wizard in the world feared by Lord Voldemort, Albus Dumbledore is a kind, intelligent and righteous wizard.
Dobby – The Free Elf: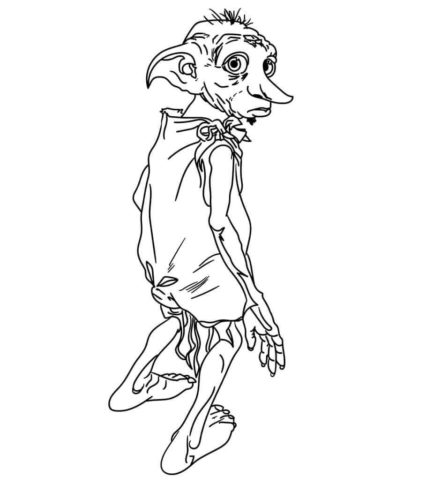 Dobby is a house-elf, dressed in an old pillowcase, working for the Malfoy family, a known supporter of Lord Voldemort. He tries to stop Harry Potter from coming back to Hogwarts in "The Chamber of Secrets" thinking it could be dangerous for him. After several encounters, Harry Potter helps Dobby become a free elf.
Harry Potter Chooses His Wand At Ollivanders:
In preparation for the beginning of his school term, Harry Potter had a list of things to purchase. Hagrid, the gamekeeper at Hogwarts was entrusted by Dumbledore to help Harry. Here is Harry at the Ollivanders wand shop, trying out different wands given by the owner, Ollivander, who tells him that the wand chooses the wizard.
Gryffindor House Crest: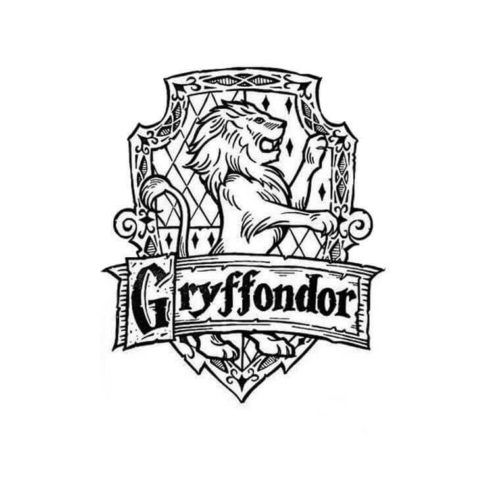 The Hogwarts School of Witchcraft and Wizardry is divided into four houses corresponding to the four founding members. Gryffindor house is named after Godric Gryffindor and has a lion for its mascot. Print this page and color it according to the Gryffindor house colors, deep red and gold.
Harry Potter And Ron Weasley: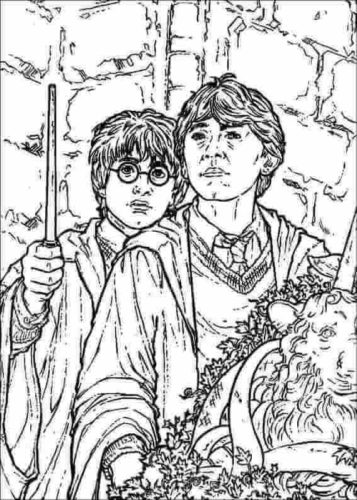 When Harry Potter had to first get to the unusual 9 ¾ platform at London's King's Cross station, he met the Weasley family, a warm, loving but somewhat poor family. Their youngest son, Ron Weasley was starting his first year as well. The first friend Harry made in the wizarding world also became his best friend.
Harry Potter And Voldemort Battle It Out: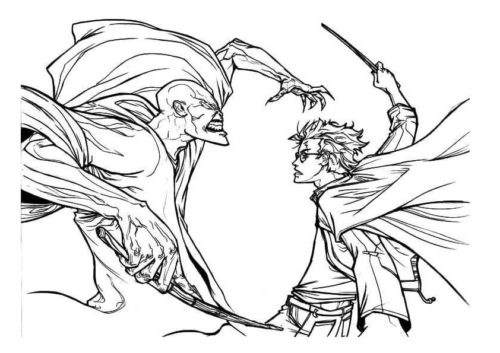 A creative illustration demonstrating one of the times when Harry Potter and Voldemort came face to face. The first time they had engaged in a duel was when Lord Voldemort returned to his physical form after being forced to live in exile for years.
Hermione Granger – The Smartest Witch:
Hermione Granger is known as one of the smartest witches, aided by her inclination towards gaining knowledge and finding solutions to problems and injustice she witnesses. She often comes to the rescue when they – Harry, Ron and she – get stuck in tricky situations.
Ginny Weasley – Strong And Confident:
The youngest and the only girl child in the Weasley family, Ginny Weasley joined Hogwarts a year after Ron. She is strong and confident with a warm personality and powerful as a witch. She becomes infatuated with Harry Potter, becoming all quiet in front of him during their initial encounters.
Luna Lovegood – Eccentric And Carefree: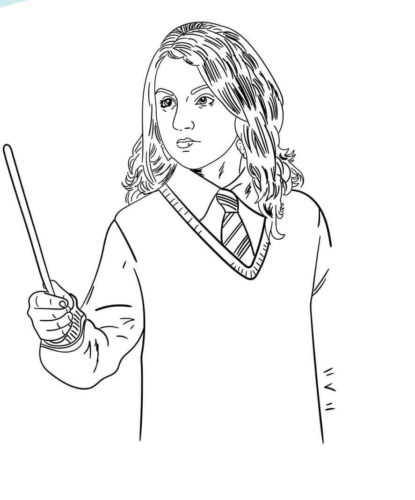 Often ignored during her initial days in the school, Luna Lovegood, belongs to the Ravenclaw house and lives her life unaffected by what others think of her. She is often referred to by others as "Loony" instead of Luna. One-year junior to Harry, she too had experienced the death of a parent as a child when she witnessed her mother's death.
Fluffy – Three-Headed Dog: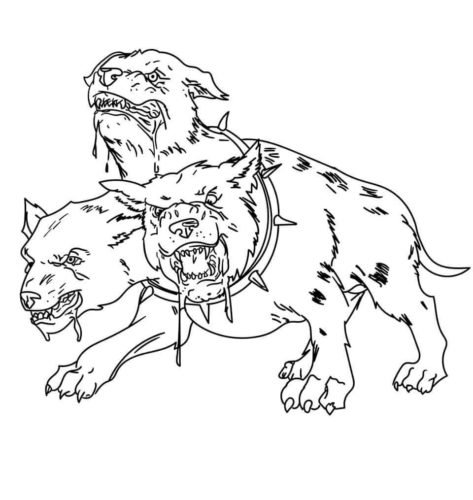 While trying to escape getting caught by their professors during one of their adventures, Harry, Ron, and Hermione find themselves locked in a room with a three-headed dog. They later get to know from Hagrid that it's called Fluffy but refused to divulge information about what it was guarding.
Harry And His Broomstick: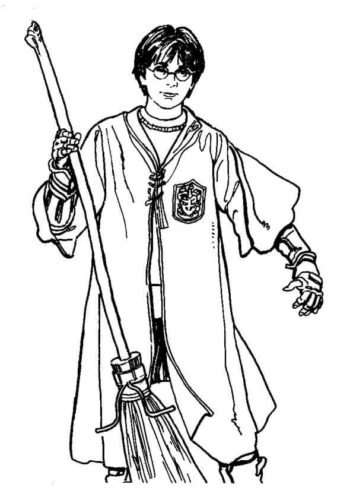 In his first year at Hogwarts, Harry learns that he is naturally gifted when it comes to riding the broomstick during Madam Hooch's class. Witnessing this, Professor McGonagall, head of the Gryffindor house selects him for the house Quidditch team, a ball game played up in the air while riding on broomsticks.
Lucius Malfoy, Draco Malfoy With Crabbe And Goyle: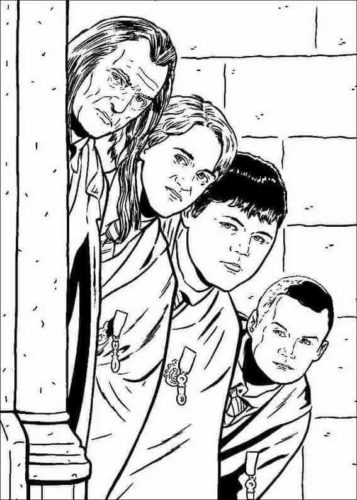 Lucius Malfoy, head of a wealthy pure-blood family and a known Death Eater, is a follower of Lord Voldemort. Pure-blood refers to magic people while non-magic people are called as muggles. His son, Draco Malfoy accompanied by Crabbe and Goyle, have joined Lucius in watching one of his devious plans unfold in Hogwarts.
Hedwig – Harry Potter's Owl: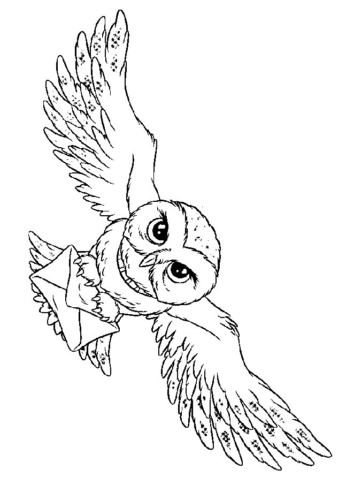 With feathers as white as snow, Hedwig is a proud owl belonging to Harry Potter. Each wizard and witches have their own personal owls to help deliver items like letters etc., to each other within and outside the wizarding world.
Hufflepuff House Crest: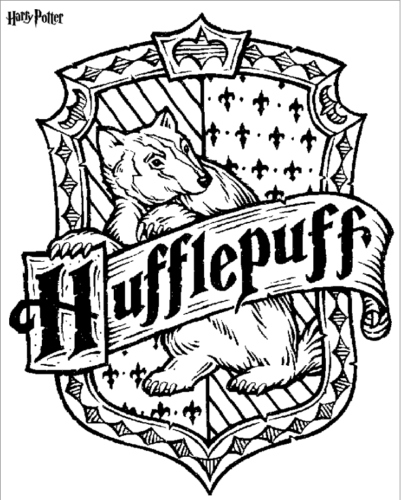 The house belonging to one of the founding members of Hogwarts, Helga Hufflepuff has a badger as its house mascot. Hufflepuff house stands for loyalty, patience, and honesty. Headed by the Herbology Professor Pomona Sprout, Hufflepuff house colors are yellow and black.
Hogwarts Crest With Its Motto: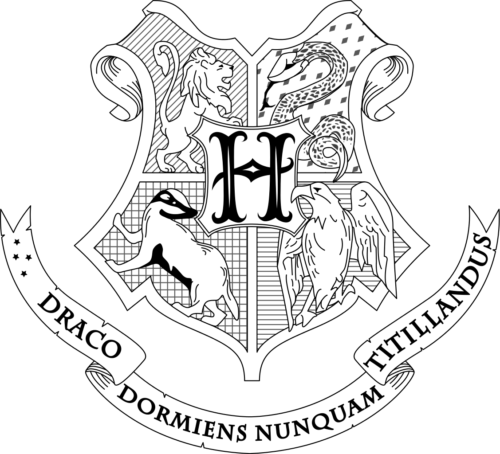 The Hogwarts School of Witchcraft and Wizardry crest celebrates the four houses: Gryffindor, Slytherin, Hufflepuff, and Ravenclaw. The "H" in the middle stands for Hogwarts, with the motto of the school "Draco Dormiens Nunquam Titillandus" or "Never tickle a sleeping dragon" at the bottom.
Hermione Granger – Headstrong And Logical: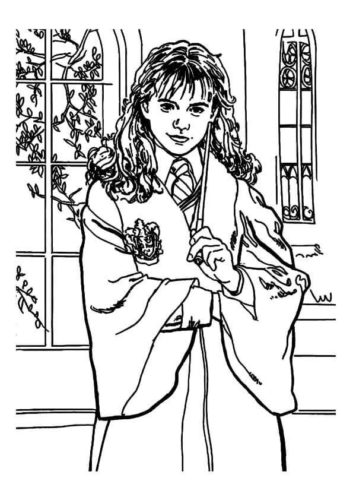 Hermione Granger is perhaps the only student in Harry's class who came fully prepared by studying all the recommended list of books and more, before coming to Hogwarts. She is headstrong and logical and ruled by a sense of justice in the world. Unlike Ron Weasley who comes from a pure-blood family and Harry Potter who is a half-blood with his mother being a Muggle-born, Hermione is muggle-born with both her parents being non-magic people.
The Hogwarts Express:
The Hogwarts Express takes the students of the Hogwarts School of Witchcraft and Wizardry to and from Hogwarts. Red in color, the train takes off from London's King's Cross-platform no. 9 ¾ at the beginning of the school term to Hogsmeade Station. To get to the platform one has to run into a wall between platforms 9 and 10.
Lego Harry Potter: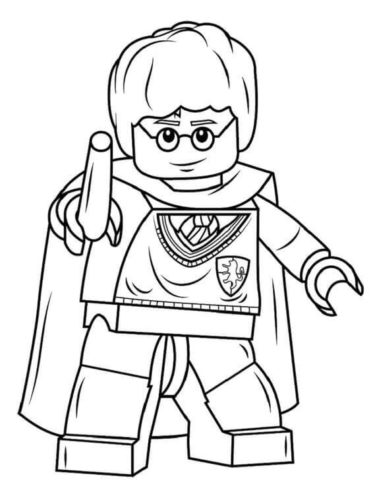 The popularity of the book series and the film adaptations have led to the world of Harry Potter expanding into other media like games including video games. There are Lego Harry Potter models as well as Lego-themed Harry Potter video games you can play.
Professor McGonagall And Professor Snape At The Great Hall: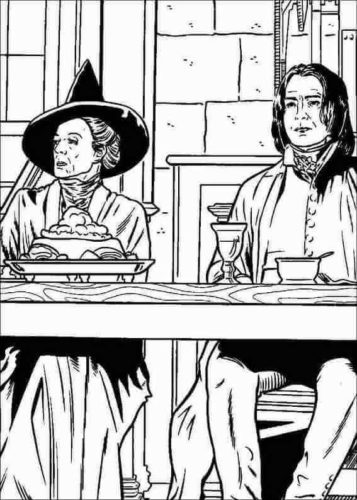 The Great Hall of Hogwarts is a gathering area for students and teachers where meals, as well as other activities, are held. There are separate seating areas for each house students next to each other while the staff sits at the High Table. You can see the opposing house heads Professor McGonagall of Gryffindor and Professor Snape of Slytherin having their meal.
Professor Minerva McGonagall – Strict And Caring: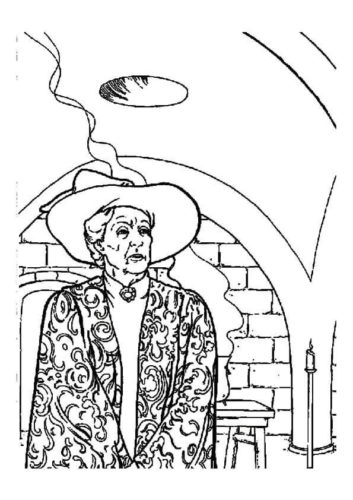 Aside from being the head of Gryffindor house, Professor Minerva McGonagall is also the Transfiguration Professor and Deputy Headmistress of the Hogwarts School of Witchcraft and Wizardry. She is always seen with her hair tied in a tight bun and as a strict teacher. However, she is extremely caring of the students as well.
Harry Plays The Quidditch Game: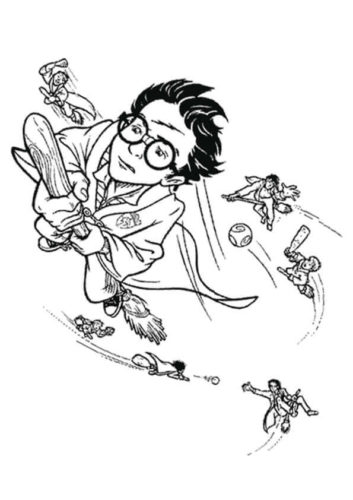 After he joins the Quidditch team Harry learns that each team has seven members and there are three balls and three ring-shaped goals on each side. Three Chasers score using the Quaffle ball, two Beaters bash the Bludgers to knock out opposing team, one Keeper guards the goals and a Seeker who can earn 150 points and end the game by finding the tiny Golden Snitch ball. Harry is a Seeker and he is trying to find the Snitch in this illustration.
Ravenclaw House Crest:
Headed by the Charms teacher, Professor Filius Flitwick, Ravenclaw house is named after one of the founding members of Hogwarts, Helga Hufflepuff. The house mascot is Ravenclaw eagle and qualities that make Ravenclaw are intelligence, creativity, and wisdom. Print and color this illustration with blue and bronze, Ravenclaw's house colors.
Ron And Hermione – Opposite Attracts: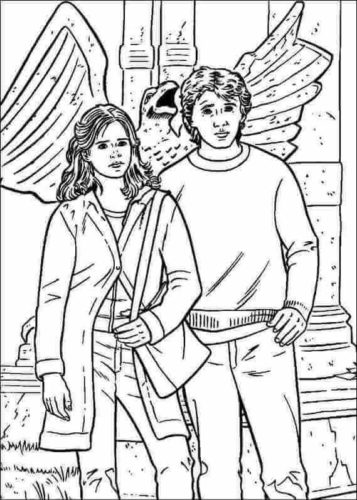 More than with Harry, both Ron and Hermione are always at loggerheads with each other over the most stupid things. Poor Harry often finds himself stuck in between when they have one of their arguments. But they also have great chemistry, as revealed through the series when the three of them go on their adventures.
Ron Weasley – Harry Potter's Best Friend:
The youngest boy in the Weasley family, Ron Weasley is slow to learn and has to work extra hard to get through his studies. But he shows great courage and loyalty in times of need. Often handed down old clothes of his elder brothers, he has a great ambition of being rich and famous.
Rubeus Hagrid – Hogwarts' Gamekeeper: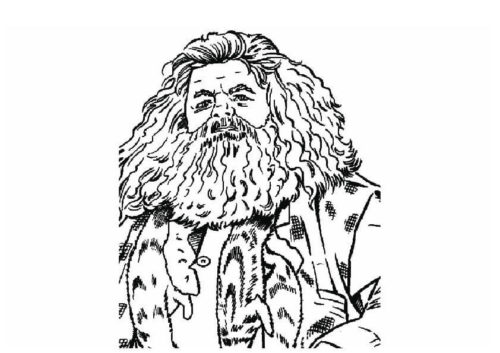 The gentle half-giant Rubeus Hagrid is the gamekeeper at Hogwarts who becomes a close confidant of Harry, Ron, and Hermione. With his penchant for odd and weird monsters, Hagrid often gets into trouble.
Severus Snape – Head Of Slytherin: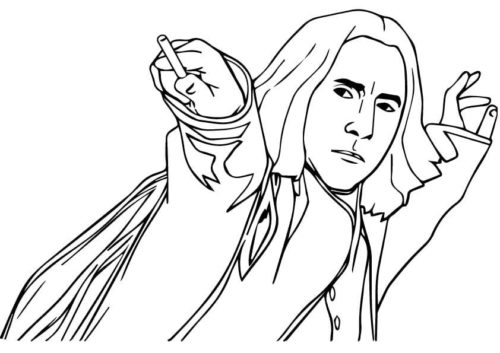 Professor Severus Snape is the head of Slytherin, a house known for its pure-blood fixation and hate for muggle-born. He shows an immediate dislike for Harry Potter who feels the same when they first meet.
Sirius Black – Harry Potter's Godfather:
Sirius Black is a wanted criminal who escaped the Azkaban prison and is rumored to be the reason behind's Voldemort's killing of Harry Potter's parents. It is later revealed that someone else had betrayed them. Sirius Black is Harry's godfather.
Slytherin House Crest:
Celebrating attributes like ambition, cunning, resourcefulness and determination, Slytherin's house is named after Salazar Slytherin. The house mascot is a serpent. Print this page and color by number according to the instruction to reveal Slytherin in its colorful cunning glory.
The Sorting Hat:
At the start of each term, there is a ceremony to decide which houses the new students will join. The Sorting Hat decides this by studying the characteristics of the person as well as take their choices in the account, like in the case of Harry who was suited for Slytherin but chose Gryffindor.
The Golden Snitch:
Part of the Quidditch game, the Golden Snitch is a tiny ball that has to be caught by the Seeker. Catching this ball brings an end to the game and earns the team 150 points.
Like the golden snitch brings the quidditch game to an end, with this golden snitch coloring sheet we have reached the end of this magical collection of Harry Potter coloring pages to print. If you would like to experience the wizarding world outside of the books and films, you can head over with your family and friends to the themed attraction "The Wizarding World Of Harry Potter", created at the Universal Parks & Resorts around the world. While you wait for the trip, you can enjoy filling some charming and magical colors in this collection of Harry Potter colouring pictures printable.