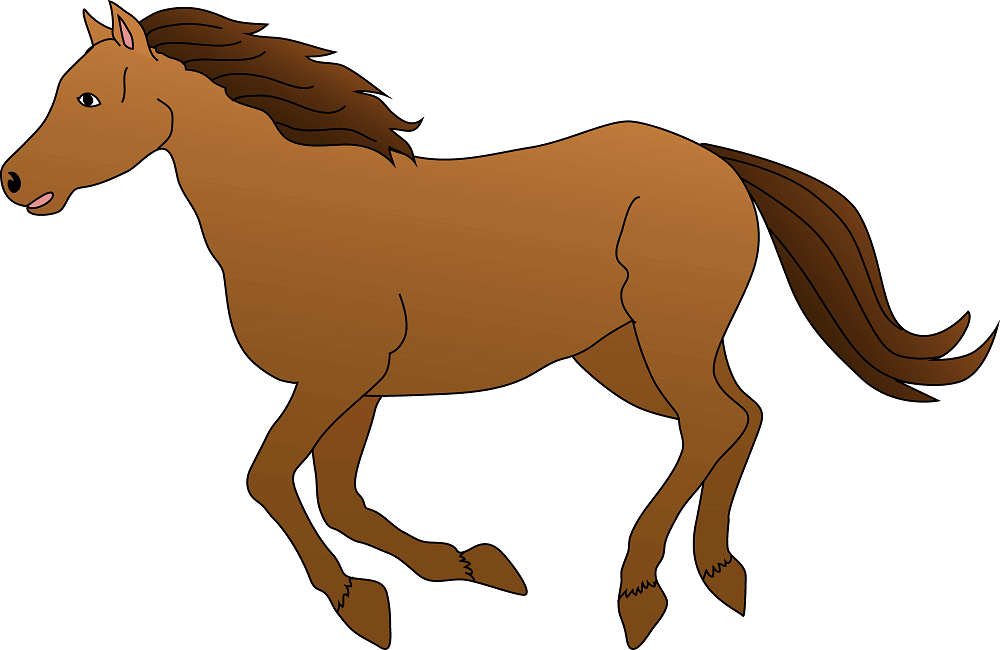 Hello kids! Hope you are enjoying your summer vacation; playing with your friends, running around in the cool summer breeze. Some of you living in the countryside might even have enjoyed riding on horses, feeling the wind in your face and your hair. Even if you haven't experienced it, we are here today with a special collection of free printable horse coloring pages to let you know more about this wonderful animal.
Wild horse or Equus ferus is a species having three subspecies including the domesticated horse, Przewalski's horse which is endangered and the now extinct Tarpan. The horse widely known and linked to human lives are the domesticated horse or Equus ferus caballus. Przewalski's horse or Mongolian wild horse is the only true wild horse remaining, though there are free-roaming horses in the wild or domesticated descendants which are referred to as feral horses.
Horses were believed to have been domesticated around 4000 BC and used for various purposes like riding and driving depending on human needs. You must have seen them on sports channel during equestrian sports, pulling carts and even being ridden during battles and wars among other things, in documentaries or movies.
to join this conversation on GitHub. Already have an account? Sign in to comment Footer © 2023 GitHub, Inc. Footer navigation Terms Privacy Security Status
Let's take a closer look into their lives with this collection of horse coloring sheets to print.
35 Free Horse Coloring Pages Printable
Arabian Horse – One Of The Oldest Breeds: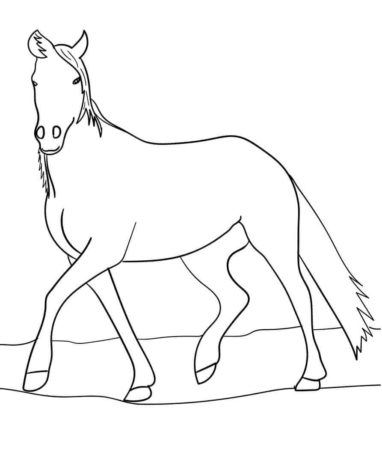 We are starting this collection with one of the oldest horse breeds in the world today, the Arabian horse. It belongs to the "hot-blood" types of horses which groups horses that are meant for riding, bred for speed and agility. Originated on the Arabian Peninsula, the Arabian horses are versatile breed and top the equestrian sports like endurance riding.
Little Boy And His Horse: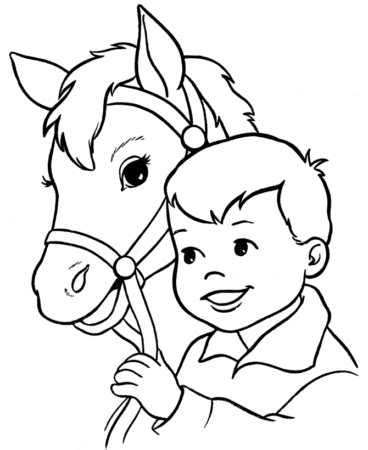 Growing up on a farm, this little boy has developed a great relationship with the animals, especially with this horse. He is taking this beautiful horse with a striking mane for the regular evening walks around the field.
Carousel Horse In Amusement Park:
Most of you must have surely ridden this horse. We are talking about the artificial horse which is a part of the amusement park. The carousel horse ride, with their stylishly designed and decorated horses, is one of the popular rides in an amusement park.
Cartoon Horse In The Field:
Does this particular horse look familiar to you? That's because it's a cartoon illustration of a horse. Something you might have seen in several of the Disney movies or any other animated movies and series. Print this cartoon horse and give it an animated coloring style.
Cute Horse Interacting With A Chick:
You are witnessing a cute interaction between a huge and graceful animal with a curious little chick. What do you think they are saying to each other? Maybe they are wondering what colors you are going to give them. So, print this page quickly and fill them with interesting colors.
Disney Horse Taps Its Leg:
Keeping true to its Disney nature, this interesting illustration showcases a horse doing a bit of tap dance. Look at the well-saddled and animated Disney horse tapping its hooves to make the galloping sound.
Horse On A Remote Island:
Curious little sight awaits you on this coloring page. Wonder how this toy horse ended up on this remote island. You can see in this illustration the mainland area with the mountains in the background and the setting sun with a few clouds in the sky.
Decorative Horse Under The Cartoon Sun: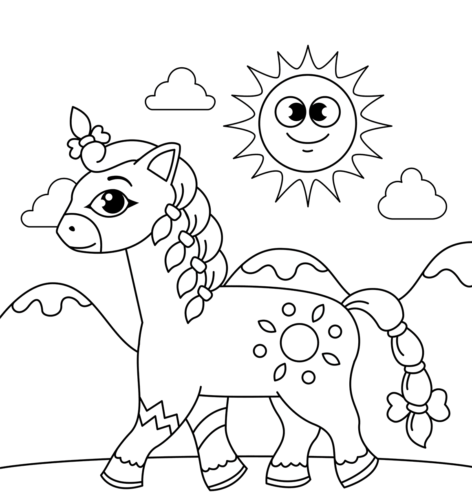 Presenting to you a decorative avatar of the horse on this coloring page. The horse is beautifully decorated with braided and styled mane and tail. Even the sun is looking superbly bright and happy with a smiling face.
Man Falls Off His Horse:
Not being properly trained but being too arrogant and proud, this man tried to ride this graceful horse with aggression. It's not surprising to see that within a few minutes he was thrown off by the horse. You need to treat all animals with kindness.
H For Horse Coloring Page:
It's quite obvious now what your answer will be if we asked you to name a word starting with the letter "h". Yes, it is surely H for Horse.
Cute Dog Rides A Mighty Horse:
Taking their friendship to another level, this cute dog and mighty horse are showing how friendship is possible no matter size, shape or even species! The illustration looks funny with the dog sticking its tongue out in happiness while the horse gallops with delight.
Mother Horse And Her Foal:
Horses are mammals and give birth to a young one. A baby horse is called a foal and it is able to start moving about a few moments after being born. This mare is caring for her young one by licking it.
A Jockey Riding A Horse:
Some horses are bred specifically for equestrian sports. The rider is named as a jockey. One of the sport is where the jockey and the horse have to pass through several obstacles, like jumping over a wall.
Horse At A Farm With A Duck:
Enjoying their early morning freedom after resting in their respective shelters, this horse is grazing on the pasture while the duck wanders around in the open field.
Horse Resting At A Stable: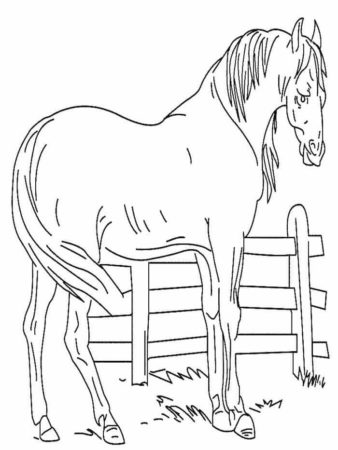 Horses are able to sleep while standing and that is exactly what this horse is doing. Kept in the stable for the night, this horse has fast fallen asleep while standing.
Routine Horse Inspection:
Being a part of their farm animal family, this horse is undergoing its regular medical checkup today. The family, including the young boy, has gathered here while the veterinarian does its inspection.
Sister And Brother Visit Their Horse:
As soon as they got back from school, the brother and the sister have come rushing to pay a visit to their beloved horse, who seems to be excited to be greeted.
Horse Coloring Page For Preschoolers: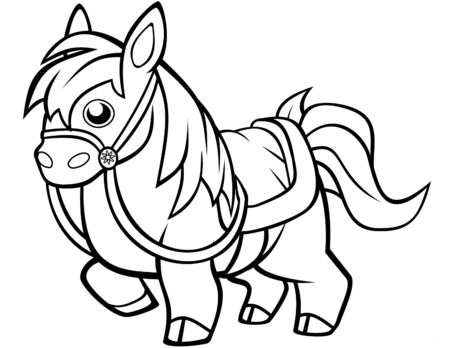 Here's a simple cartoonish or toy-ish looking illustration of a horse for you to color in case you have just started your coloring lessons.
Horse Riding A Cart: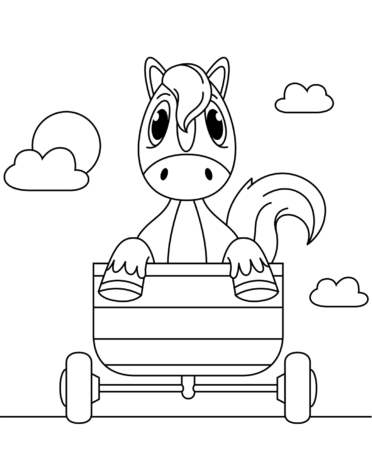 This is a fun illustration of a horse that seems to be riding a cart. It looks scared riding a cart that's unattached to anything.
Horse Grazing In The Wild:
Looks like this adorable horse is enjoying grazing on the vegetation in the wide open. Horses have developed their teeth in order to survive in areas with sparse vegetation having twelve incisors at the front to bite off the grass.
Horse Doing Hula Hoop:
Trying hula hoop tricks, this pretty horse is engaging in rotating the hoops using her front limb. The hula hoop is a circular ring that is rotated in circles using different parts of the body, mainly around the waist. Give a round of applause to this hardworking horse for her efforts to entertain you by giving it excellent colors.
Young Jockey Rides His Horse:
Training for his race, this young jockey, and his strong horse is enjoying riding around in the open fields. The jockey is even playing with leaves while riding in the midst of the scenic nature.
Parched Horse Drinking Water:
A healthy grown adult horse usually drinks between 38 to 45 liters of water daily. After running around and grazing for long, this adult horse is quenching its thirst by drinking from the nearby pond.
Artistic Horse Head Statue:
Horses are also known for its beauty in form and strength, giving rise to many works of arts including literature, movies, sculptures and more. This statue of the horse head looks pretty incredible, doesn't it? From the eyes to the ears, every detail has been expertly recreated.
Cowboy Trying To Lasso A Horse:
Horses and cowboys go a long way back. Here's an experienced cowboy attempting to lasso, put a loop of rope around the horse that can be tightened to restrain it, while training. Help this cowboy in his effort by encouraging him with your comforting colors.
Horseshoe Good Luck:
Horseshoes are designed to protect the hooves of the domesticated horses. In the wild, the overgrown hooves get worn out due to the terrain. Usually made of metal and hung with seven nails, horseshoes are believed to bring good luck. Get some luck for yourself by printing this coloring page and filling this illustration with lucky colors.
Horse Talking To A Bird:
While the other horse earlier was talking to a little chick on the farm, this charming horse has found a little bird singing on a branch. Enamored by the song, it has come to tell the bird that she has a beautiful voice. You should always take time to compliment and thank if your heart is touched by something or someone.
Horse Standing By The Wagon:
Horse wagon is a mode of transport which uses horses to move around by tying a harness around it. Are confused about the confused expression of the horse? Don't be. It's because the horse is here with the wagon, but the handler hasn't arrived with the harness to fix up the horse wagon.
Animated Horse Runs After A Butterfly:
Like children and even adults mesmerized by the colorful beauty of the butterflies, this horse is running after the kaleidoscopic butterfly with curiosity and playfulness. Print this coloring page and fill all the elements with brilliant colors.
Cute Horse Couple Madly In Love:
Seems like the cupid has struck this adorable horse couple. The illustration of the two beating hearts is a lovely addition to this coloring page. Give all your love to this horse couple by printing this page and filling it with delightful colors.
Mustang – The "Wild" Horse: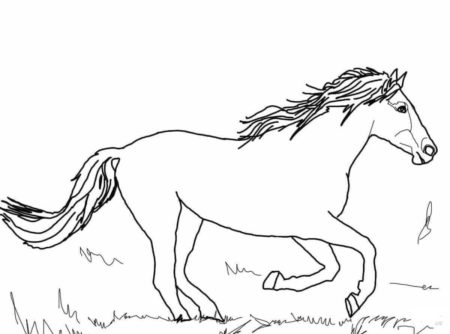 When the first horses were brought to America by the Spanish Conquistadors or explorers, during this time several of the horses became free-roaming, resulting in the modern wild horses, though technically referred to feral horses or free-roaming horses descended from the domesticated breed. One such example is the Mustang roaming freely in the American West.
Pony – The Smaller Horses:
Although belonging to the same classification as the horses, a pony is a horse that is comparatively shorter in height. However, there are other features that mark the distinction between a horse and a pony. Ponies often have proportionately shorter legs, thicker manes, and overall coat. They are mostly used for riding in equestrian sports or driving using a harness to a carriage, wagon, and others.
Siblings Ride A Pony In The Countryside:
Here's is an example of a pony being used for riding. This sibling brother-sister duo is having a great time, enjoying a pleasant evening ride around the countryside. Their parents own a little farm nearby. You can see their house in the distance. Print this page and give this idyllic country scene some pleasant colors.
Rider Putting On A Saddle On A Horse:
To make riding an animal easier for the rider, a saddle or a support structure is used. The saddle is strapped to back of the animal, in this case, a horse. You can see it in the illustration that the horse already anticipates his rider putting on the saddle, as he gets ready to ride on it.
A Horse Roaming Freely:
This running horse looks real, doesn't it? It is roaming freely in the wide open enclosure of the farm. Make sure to capture this life-like horse along with its realistic background using your best coloring skills.
On that realistic note, we have reached the end of today's collection of horse coloring pictures printable. Hope you learned a lot more about horses than you knew before. Throughout human history, horses have played a major role in several aspects of life and they still play important roles whether in agriculture, entertainment, police work, sports, and others. Marvel at this magnificent animal while you print and color this cool collection of horse coloring images to print.
Images 7, 8, 19, 20, 21, 29, 30 are from Horse Coloring Book by Peaksel. These artworks were released under a Creative Commons Attribution-Share Alike 4.0 International license by its author.