Hello readers! There are millions of people around us who work very hard every day but their work goes unrecognized. But do you know there is a day specifically dedicated to honoring the efforts and work of such men and women all around the world? The day is called Labor Day. And today, we've got you free printable Labor day coloring pages.
Labor Day is a public holiday in the U.S that honors the American Labor Movement. As the trade unions and Labor movements grew, trade unionists suggested that a day should be kept aside especially for them to celebrate labor.
Worker's Day is celebrated in almost all the countries; it is observed on different calendar dates. Irrespective of the dates, this day honors the contributions of the workers. Let us learn more about this day while filling these free Labor Day coloring sheets to print.
30 Free Printable Labor Day Coloring Pages
Doctor Coloring Page:
In many countries, doctors are not less than a God because they save lives. They make sure that you are healthy and when you are not, they treat you. Labor Day recognizes their commitment and selfless services to the society and community.
Farmer Coloring Page: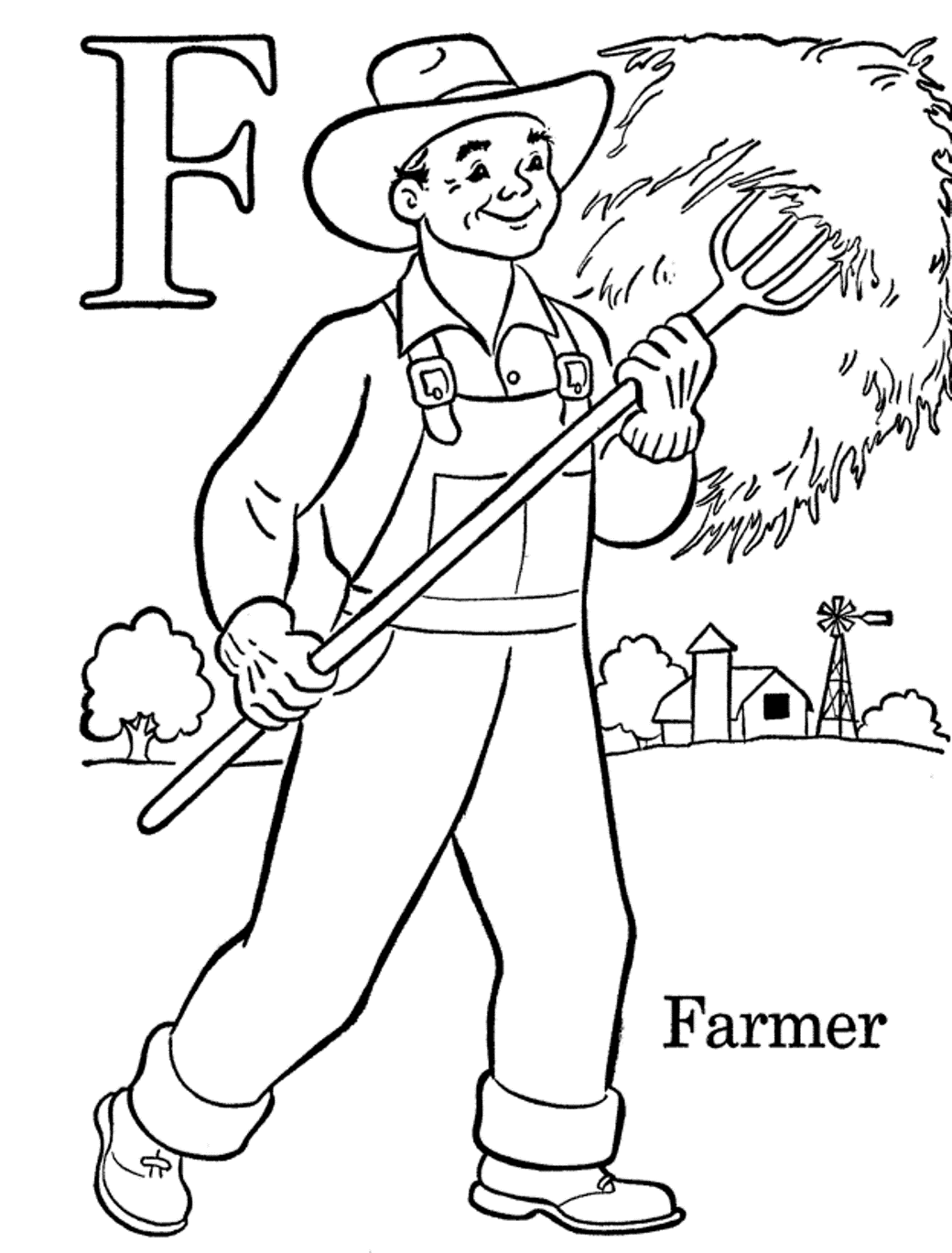 Have you ever wondered how the food you eat actually reaches your plate? It is the farmer who works hard every day in the fields, irrespective of the weather so that he can grow crops that you ultimately consume. It is not easy to work on a farm every day because it is a very physical work.
Labor Day Coloring Page:
These three kids here are shown dressed as people belonging to different occupations- a chef, a teacher and a factory worker. Labor Day is dedicated to honoring not just a specific class or type of workers but everyone who earn their living through hard work.
Printable Labor Day Coloring Page:
In America, Labor Day is celebrated on the first Monday of September and is a public holiday. It honors the contributions of all the workers who helped and are helping to make the country strong, every day. Labor Day is considered to be the unofficial end of summer as well.
Workers On Duty Coloring Page:
A building is under construction and the workers here are busy. The boss is asking for suggestions on a matter which is quite serious and isn't allowing the work to go any further. Luckily, one of the workers has come up with an idea. Color these hard working workers on duty.
Factory Workers Coloring Page:
Factory workers are the ones who work in factories, also known as manufacturing plants. They might be laborers, construction workers, contractors, etc. They usually work with machines in factories. When these factories or plants close, the workers, unfortunately, lose their jobs.
Happy Labor Day Coloring Page:
During the Industrial Revolution in the U.S.A, a worker worked almost 12 hours a day and 7 days a week to earn a basic living. Even though it was banned, children around 5-6 years of age worked in factories and mines under unsafe conditions to earn a fraction of the wage. Fortunately, this doesn't happen nowadays.
Printable Happy Labor Day Coloring Sheet: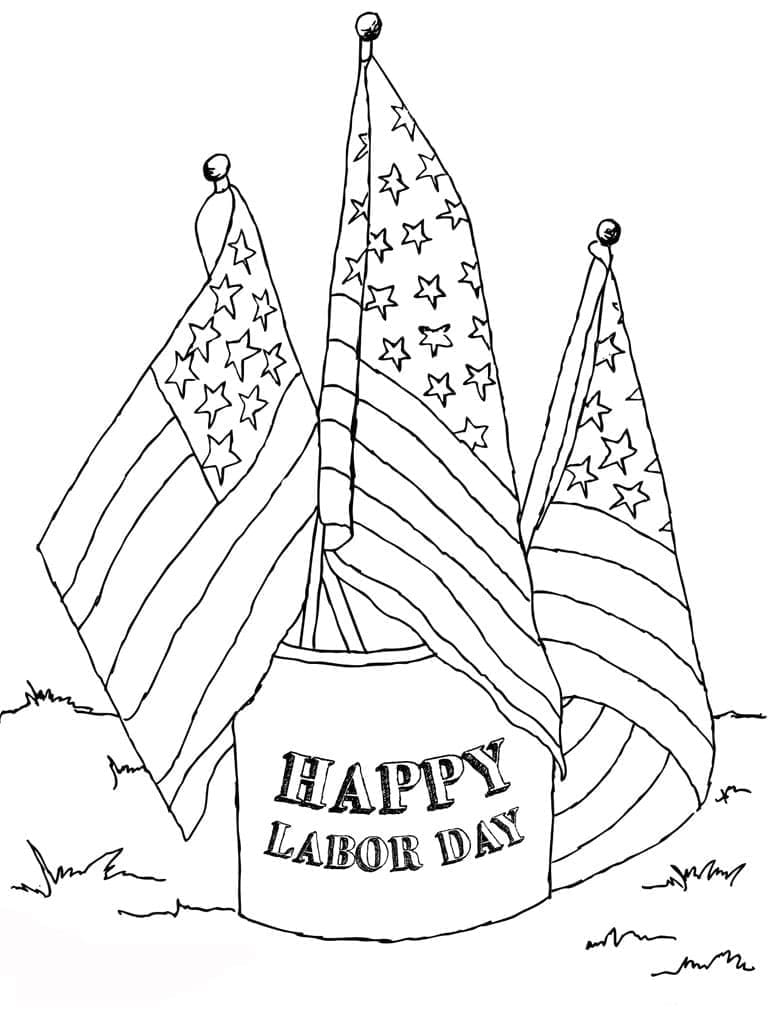 Do you know that U.S Labor Day was celebrated the very first time on Tuesday, September 5 in New York? Almost 10,000 workers marched to 42nd Street. However, in 1894, it was decided to celebrate Labor Day on the first Monday of September.
Police Officer Coloring Page:
A police officer is not less than a soldier. Like a soldier, a police officer protects us from danger as well. He doesn't get a day off like everyone, he can be called anytime because crime can take place anytime, anywhere. Even on Labor Day, police are on duty in case any mishap takes place during the celebrations and parades. So if you meet a police officer anywhere, don't forget to thank him.
Plumber Coloring Page:
I am sure you have seen a plumber. He is the one who repairs all the leaking water pipes and taps in your house. This plumber is doing the same thing here. He works hard every day to let ends meet. He works the whole day but earns little. You must have seen him many times in your house, repairing water pipes, taps, etc. Labor Day is for workers like him too.
Labor Day Banner Coloring Page:
Labor Day is a public holiday in America hence, even schools remain closed. Apart from the workers like chef, police, factory workers, plumbers; teachers too are given leave. I am sure you get a holiday too. How do you spend the day? However, you spend the day, enjoy it but at the same time attend the parades to get the experience.
Delivery Driver Coloring Page:
The delivery driver is the person who delivers goods and products to our homes. He spends hours on the road driving so that you get what you ordered. He ensures the timely delivery of things. So the next time you see a delivery driver come to your house, don't forget to thank him.
Grocery Shop Coloring Page:
I am sure you go to the grocery shop regularly to buy everyday items.  The workers there help you find things you are looking for, they arrange items in such a way that you easily get what you want and they also do the billing. All this isn't easy and requires hard work. Next time when you go to a grocery shop, observe what all the workers do.
Peter On Job Coloring Page:
Peter was called to fix a few things in the neighboring area. He is very honest in his work and also one of the best in the locality. He works hard like everyone else but cannot earn enough. I am sure you must have seen many people like Peter, honest and sincere. Color hardworking Peter with the brightest shades.
Tom The Mason Coloring Page:
Mason refers to a bricklayer or someone who lays bricks for construction. Tom is a mason and currently is working on a construction site. Tomorrow is Labor Day and thus, no work will be done so Tom is trying to finish as much work as he can and attend a family function tomorrow. Color him in.
Brandon The Worker Coloring Page:
Brandon works in a small shop and usually does the "lifting" work. He helps load and unload goods from trucks and keep them in the shop. He is very strong because he is able to lift heavy bags very easily. How strong are you? Color this strong man.
Hard Times Of 1929 Coloring Page: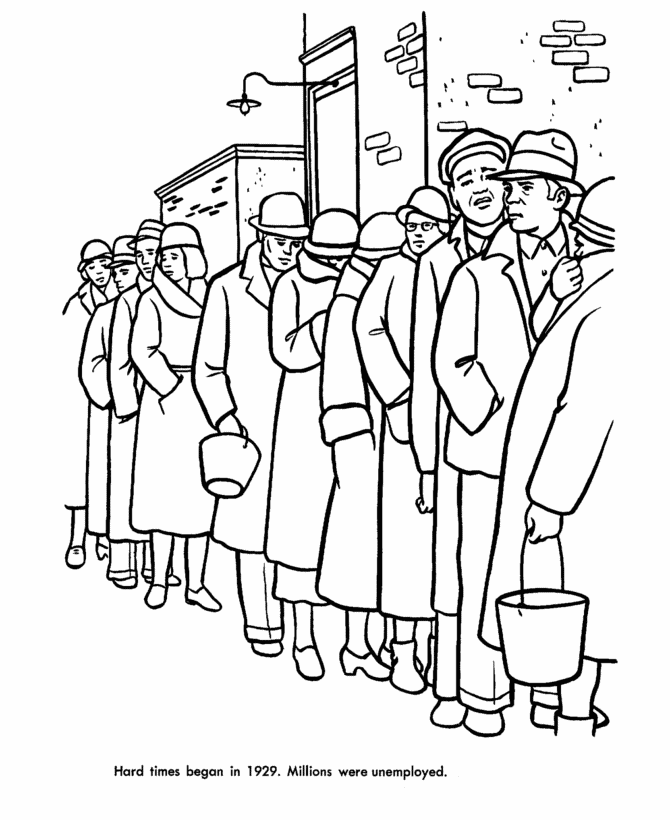 A great economic depression hit the U.S.A in 1929. Many American workers lost their jobs, there was a wage slash and millions were unemployed. As the stock market crashed in 1929, America witnessed many scenes including revolts and protests from people.  This however ended sometime in the year 1939.
Justin In Library Coloring Page:
Today is Labor Day and Justin's school is off, so he thought of spending this holiday reading a book. Luckily the library is open even on a public holiday. Too bad the librarian didn't get an off. But keeping in mind the importance of books, a library is the most important place. Do you read books, which type?
Work Under Progress Coloring Page:
A new house is being built in this locality and the work is in progress. Many laborers are working hard on this and I am sure they are entitled to have a day dedicated to them. Will you live in a beautiful house like this built by these hard-working men? If yes, then color these hard-working men at work.
Trucker Coloring Page:
Bill is a trucker. He, like other truckers, transports products across the country. Truckers earn a living by driving trucks and transporting goods. Bill is always on the road due to his job, away from his family. Obviously, he deserves a holiday on the occasion of Labor Day.
Zach The Miner Coloring Page:
A miner is some who extracts minerals like coal from the earth through mining. Miners do not only work underground but also have other duties on the surface. Being underground, they are exposed to many risks and accidents. Zach is one of those too and every day exposes himself to the hazards of working in mines.
Engineer And Construction Worker Coloring Page:
An engineer is a person who designs, built or maintains machines, engines, etc. Whereas, a construction worker is a person who works on construction sites where structures are being built. Here, an engineer and two construction workers are constructing a building.
Demonstrations And Strikes:
I am sure you have heard these words before. Many people carry out these activities for various reasons. Labors too have to "demonstrate" and "strike" to pull the attention towards a particular issue. History has witnessed many such demonstrations and strikes one of which is the labor strikes of the 1920s.
The Labor Movement Coloring Page:
The Labor Movement in the U.S started with the need to protect the common interests of the workers. The fight was for better wages, safe and healthy working conditions and reasonable working hours. The benefits industrial laborers and workers are enjoying today are the result of struggles and bitter battles the trade unions fought then.
Labor Day March Coloring Page:
Labor Day is not just a public holiday but also a day of celebrations. The main highlights of this day are the marches and parades. These usually feature workers and laborers representing and celebrating themselves. Color this march with bright colors.
Administrative Professional Coloring Page:
Administrative Professionals include secretaries, assistants, receptionists, etc. An administrative gets the work done, solves, and answers your quires. You must have seen them in offices, in your own school too. Fill this sheet with your imagination.
Labor Day Women Coloring Page:
As you know women earlier didn't work outside, i.e. they weren't allowed to do jobs. However, their role changed during World War II. They worked as nurses, drove trucks, repaired airplanes, and even worked in factories replacing men. WW II brought many changes in the life of women giving them opportunities to work outside.
Fireman Coloring Page:
I am sure you know what a fireman does, what his job is. I am also sure that many kids look up to him, think they are superheroes. Firemen not only extinguish the fire but also help people stuck, people who are in danger. In short, he is a rescuer. Color this brave firefighter with shades as bright as fire.
Mail Carrier Coloring Page:
A mail carrier also known as a mailman, mailwoman, or postman delivers mails and parcels to your houses. I am sure you have seen a mail carrier or postman many times. He carries letters, mails, and parcels from place to place so that people receive these safely and timely. Color this hardworking mailman.
The Women Nurses Coloring Page:
The role of women changed during World War II. They got a chance to leave their houses and go outside and work. Women took up many roles during the war one of which was the role of a nurse. They helped wounded soldiers and took care of them. Women as nurses played a vital role in keeping the armed forces in good condition. However, after the war ended, women were forced to play their old roles of housewives.
The hard work all these men and women do every day is commendable and needs to be appreciated and recognized. Over the years, emphasis on Labor Day has increased.
This year Labor Day will be celebrated on 3rd September. The history behind this day is overwhelming. The trade unions and workers struggled a lot for their rights. They protested, organized strikes and rallies to bring their conditions in front of everyone, the entire world. As the unrest increased, Congress passed an act that recognized Labor Day a legal holiday to repair their ties with the workers.
How are you planning to spend this day? Let us know but before that get these Labor Day coloring pictures printed and fill them with your vivid imagination. And don't forget to share your Labor day coloring images with us too!
SOURCE: USA PRINTABLES