The Church of Jesus Christ of Latter-day Saints, better known as LDS church or Mormon church is primarily a Christian, Nontrinitarian church considered by its members to be the restoration of the original church founded by Jesus Christ himself. The LDS has its headquarters in Utah, but its temples are found worldwide, with over 70000 missionaries and over a million members. Today we have got some beautiful Latter Day Saints Coloring Pages or LDS coloring pages to inspire you. Take a look at our collection of LDS coloring sheets below and print out your favorite.
Top 20 Free Printable Latter Day Saints Coloring Pages (LDS Coloring Pages)
Angel Moroni Coloring Page: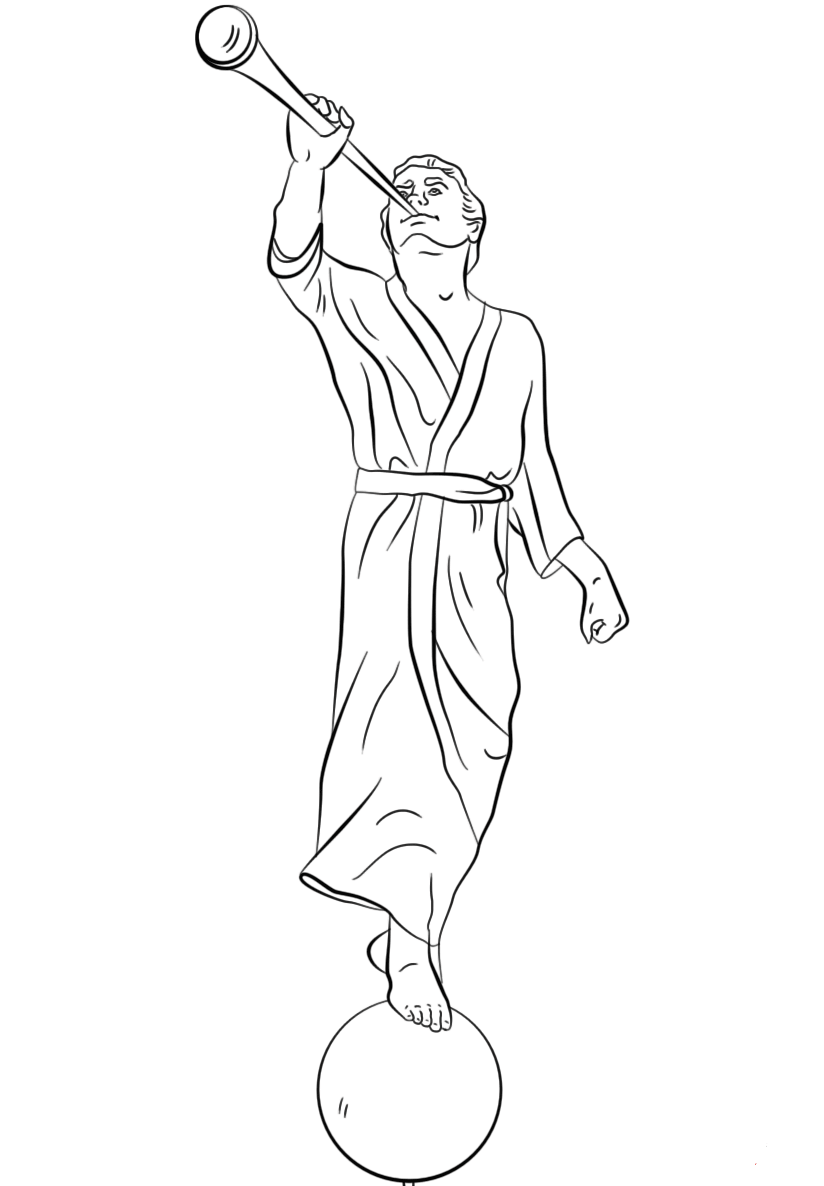 This coloring page features Angel Moroni, the angel in Mormonism, who visited Joseph Smith. He's one of the most important figures in the theology of the Latter Day Saints movement and is featured widely in Mormon architecture and art.
The Savior:
This LDS coloring sheet shows a picture of Jesus Christ, the savior, visiting the people of the Book of Mormon. What sets the coloring page apart is the stained glass-like background. There's even a text below, narrating the instance of prophet Nephi bowing down to Jesus and kiss His feet.
A Child Reading About Mormons:
This LDS coloring sheet features a child sitting on a chair reading, while his sister peeks from behind. The scripture he's reading teaches him about Jesus Christ, Heavenly Father, and how to return to them.
to join this conversation on GitHub. Already have an account? Sign in to comment Footer © 2023 GitHub, Inc. Footer navigation Terms Privacy Security Status
Family Visiting LDS Temple:
This coloring page features a family standing outside an LDS temple. This coloring page symbolizes how visiting temples together can unite a family. And its unity which takes people to greater heights.
Joseph Smith's First Vision:
This coloring page shows the first vision Joseph Smith had of Angel Mormon, which was in the spring of 1820 in New York. Smith says that it was a Theophany in which he got instruction from the God himself.
Faith, Prayer, And Repentance: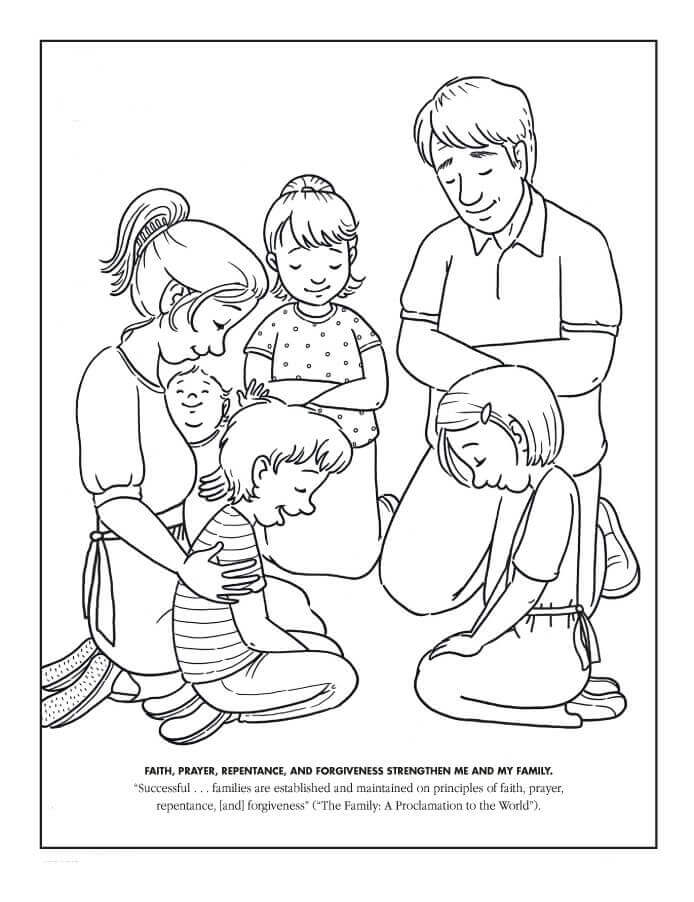 This coloring page shows a mother teaching her young children to perform prayers. It's said that successful families are established and maintained on the principles of faiths, prayer, repentance, and forgiveness.
Children Organizing Nativity Play:
This LDS coloring page shows two young children organizing nativity play. The coloring page states the Jesus Christ lived on Earth and we're confident that he will come again.
A Repenting Woman:
This coloring page shows a young woman explaining how Jesus Christ helped her to live with the Heavenly Father again. She's also saying that she's on the way to truth and life.
Family Having Dinner Together: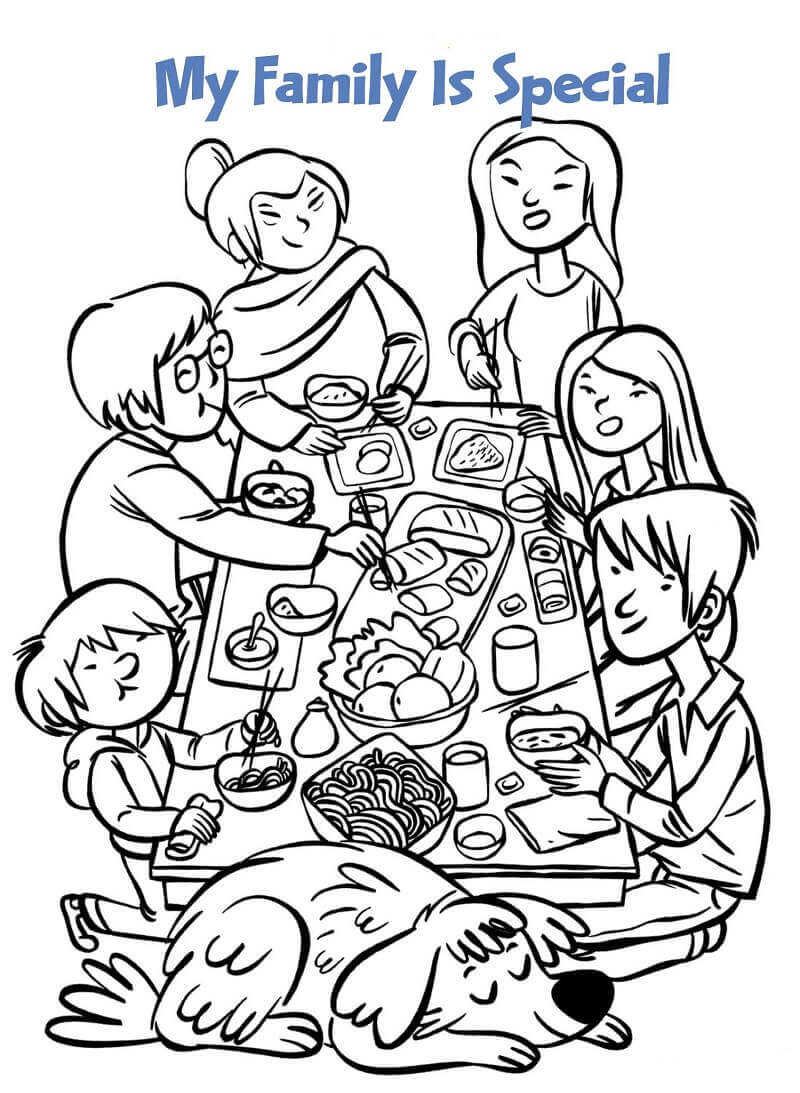 This coloring page shows a happy family, comprising of parents, children, grandparents and pet, enjoying a meal together. This LDS coloring page signifies that a family that eats together, stays together.
The Heavenly Child:
This LDS coloring page shows a little boy with a happy expression, sitting on the floor for putting his shoelaces. There's even a soccer ball by his side, which suggests that he's going to a football match.
The Sabbath Is a Holy Day: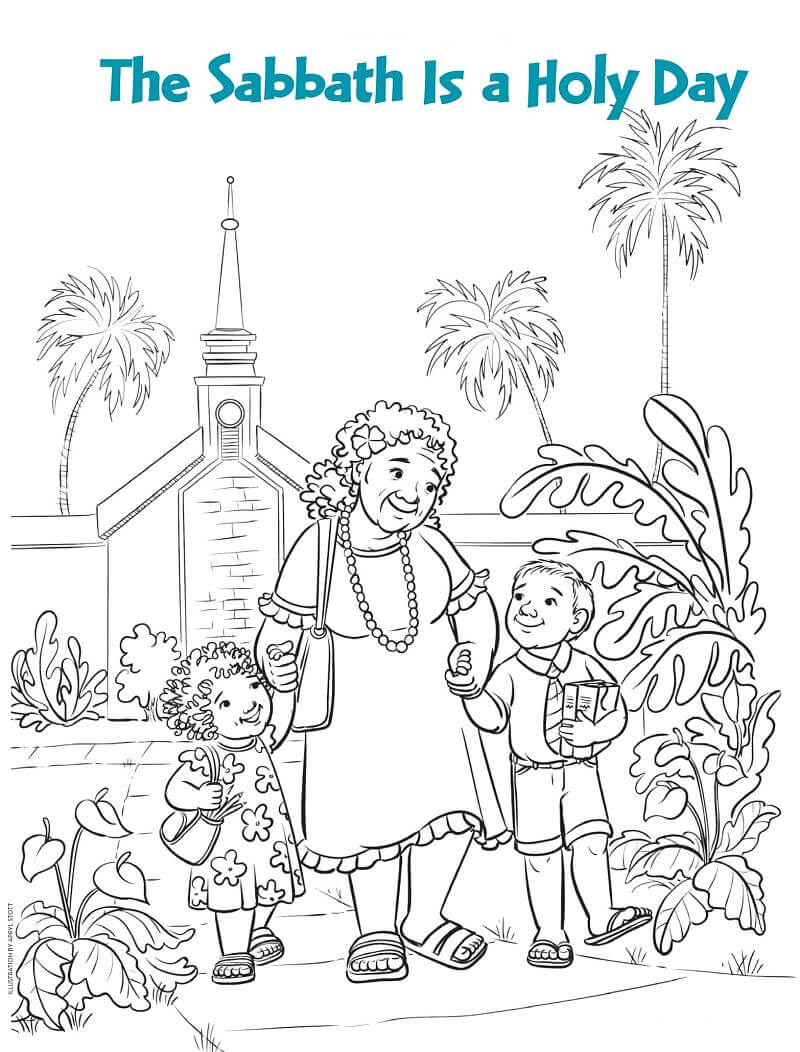 This LDS coloring sheet shows a young boy and girl with an old woman, walking from a church meeting house. They are dressed in their best clothes and are carrying scriptures in hand. The setting looks quite tropical, and of course, beautiful.
LDA Worksheet:
This is one of the most interesting LDS worksheets in our opinion. You need to fold the worksheet along the line in the middle. The stick both sides of the paper together. Now cut along the dotted lines to make pages. Put the sheets in order and stick the edge. Trim off the instruction, color, and read the book.
Nauvoo Temple:
This LDS coloring page features the Nauvoo temple, the second temple made by the Church of Jesus Christ of Latter-Day Saints.
Teacher Teaching: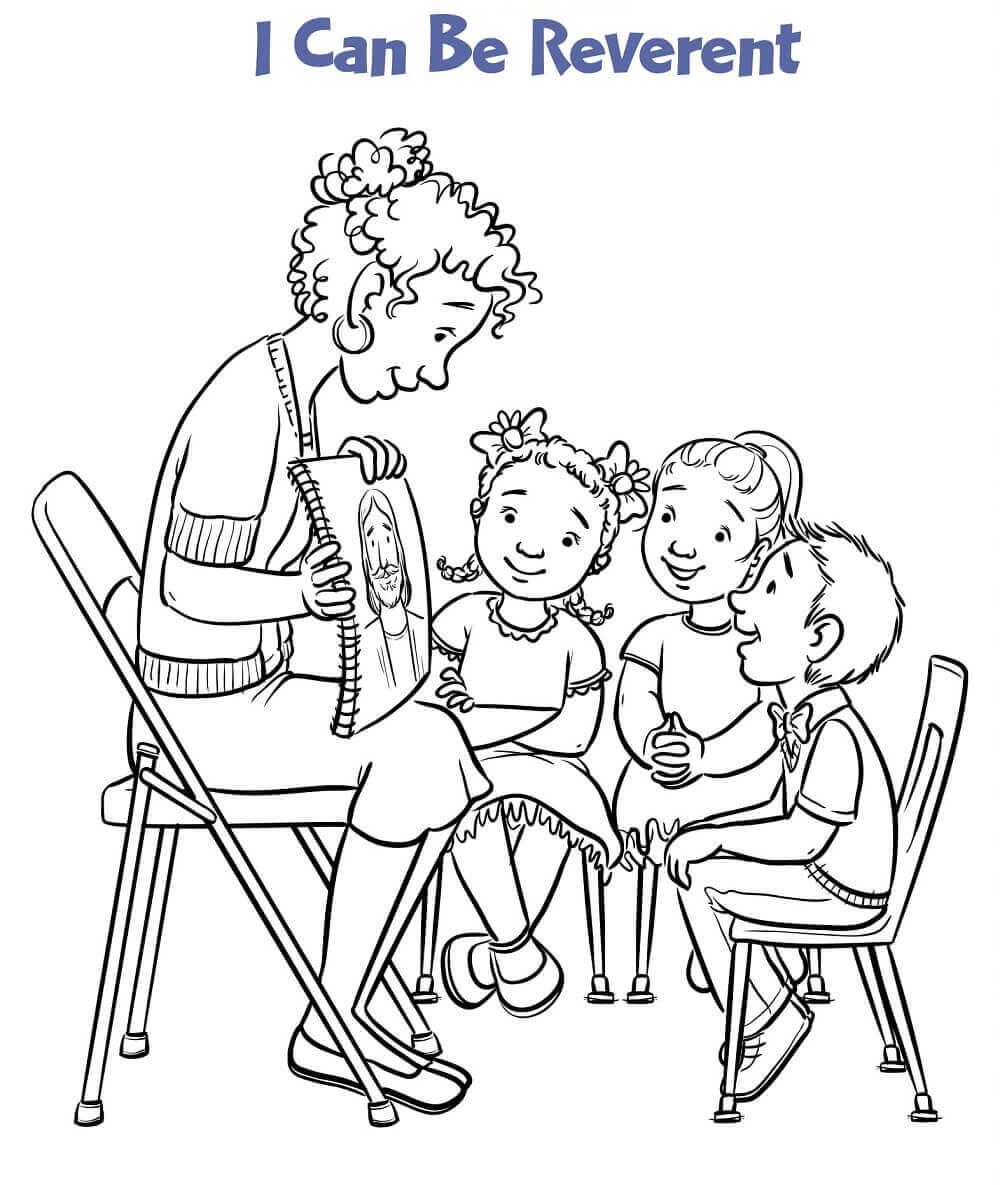 This coloring page explains the beauty of teaching. It features a small, primary class, sitting in a semi-circle around their teacher who is holding a picture of Jesus Christ.
Serving Is Love: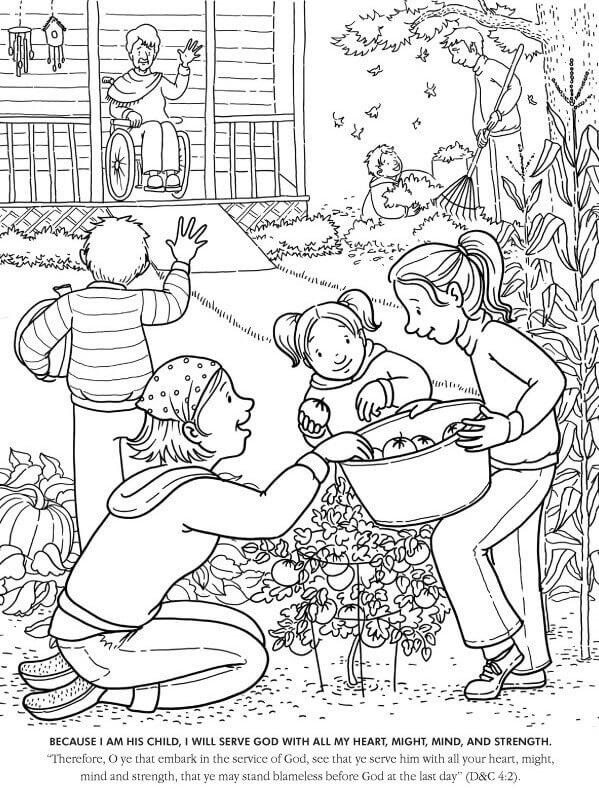 Serving should not be a responsibility. It should be a duty. We all must pledge to serve God with all our heart, mind, might, and strength. Only then we can embark on the service of God.
Latter-Day Saints Activity Sheet:
Here's another lovely LDS activity sheet to inspire you. Kids have to find the below-featured images as Jesus blesses the children. Then they have to write down the verses in the right column.
A Brother Serving His Sister:
This coloring page shows a little brother serving his sister who was probably hurt while playing. It also teaches us that mankind can be saved only through the Atonement of Christ.
I Love My Savior: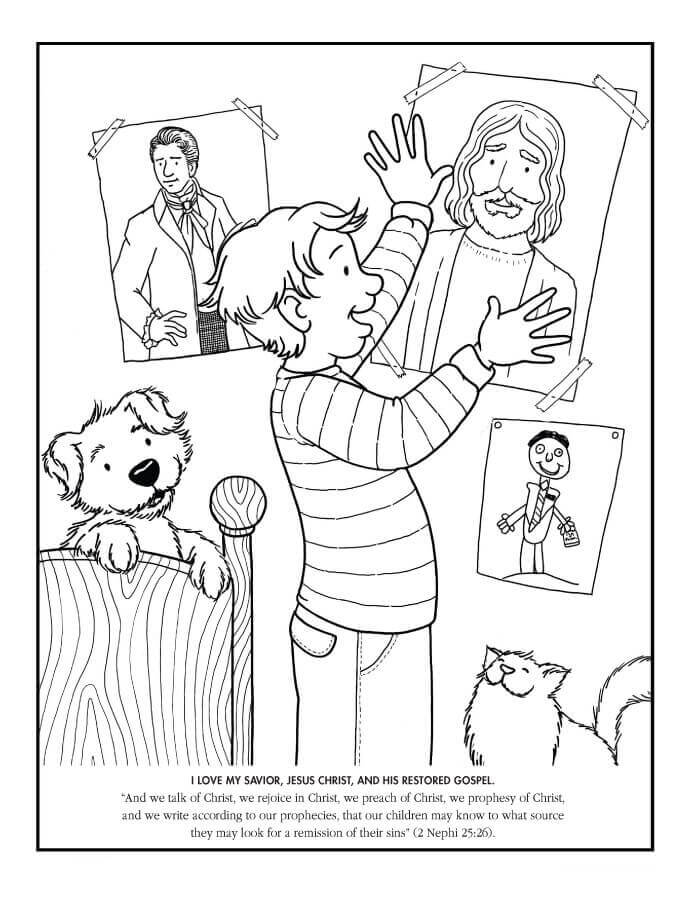 This is a very positive LDS coloring page. It features a young boy sticking Jesus' poster on his room's wall. By looking at Jesus Christ's photo daily, the child will take himself to greater heights.
St. George Utah Temple: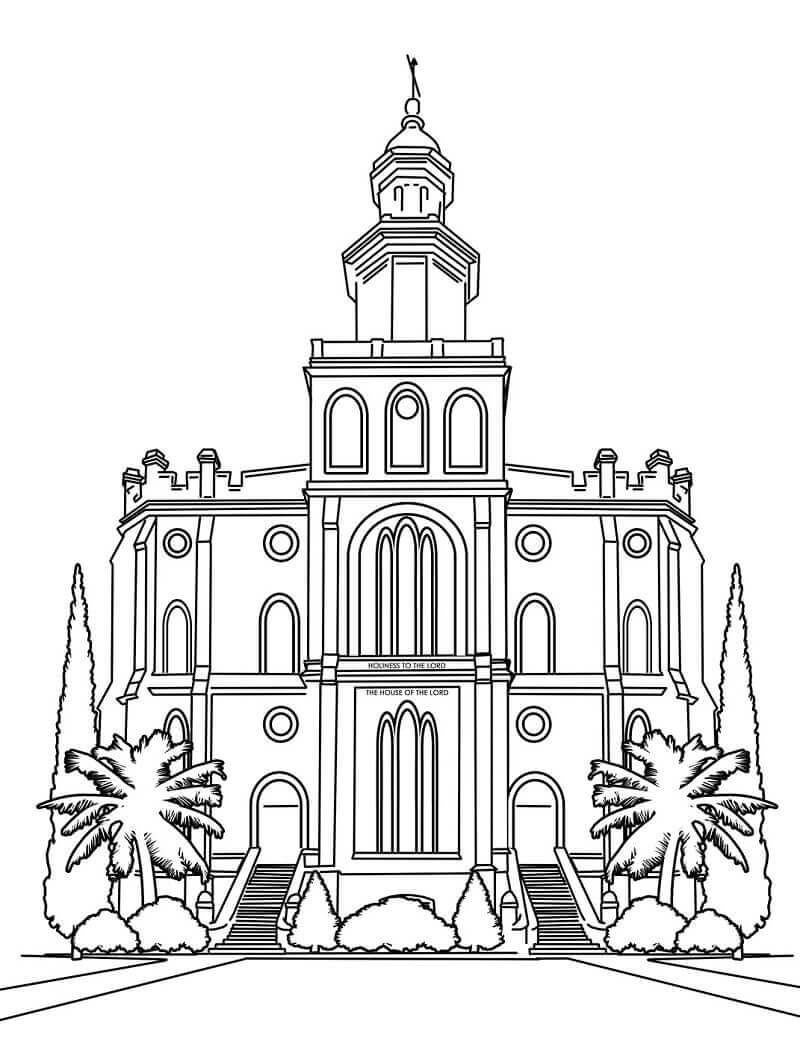 This LDS coloring page features St. George, Utah Temple, the first constructed temple of The Church of Jesus Christ of Latter-day Saints after the exodus from Nauvoo.
Thomas S. Monson: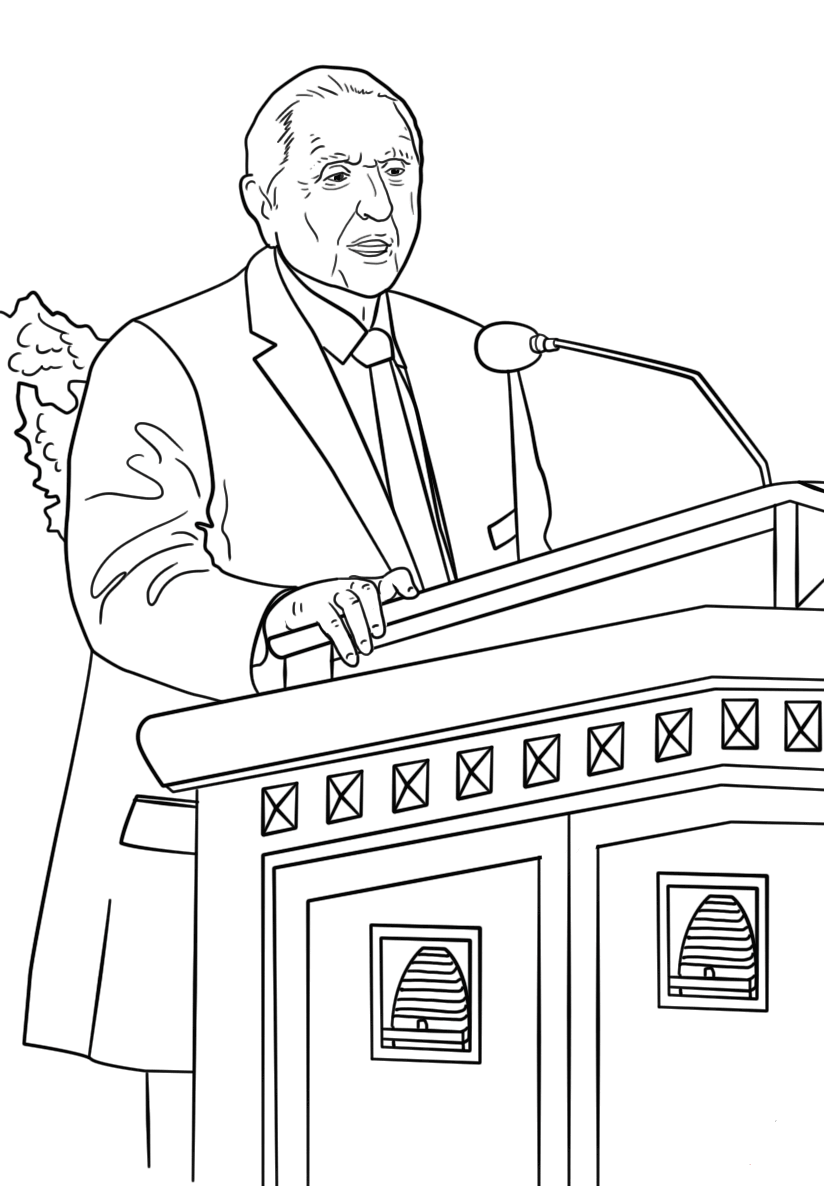 Here's a coloring page of Thomas S. Monson, the American leader and the 16th leader of The Church of Jesus Christ of Latter-day Saints. He's a prominent figure so you must give proper colors.
Kindness is Love:
Kindness is indeed love and this coloring page describes the same. The least we can do for people to show a bit of kindness. You never know what people are going through, so a few kind words, if not anything, can hopefully make their day.
We sincerely hope our LDS coloring pages inspire you to become great human beings. All these LDS coloring sheets are free, so print out as many as you want. In the coming few days, we will be compiling a few more spiritual and Biblical coloring pages. So stay tuned with us. You can even check out our Christmas coloring pages. Let us know your views on it in the comment section below.