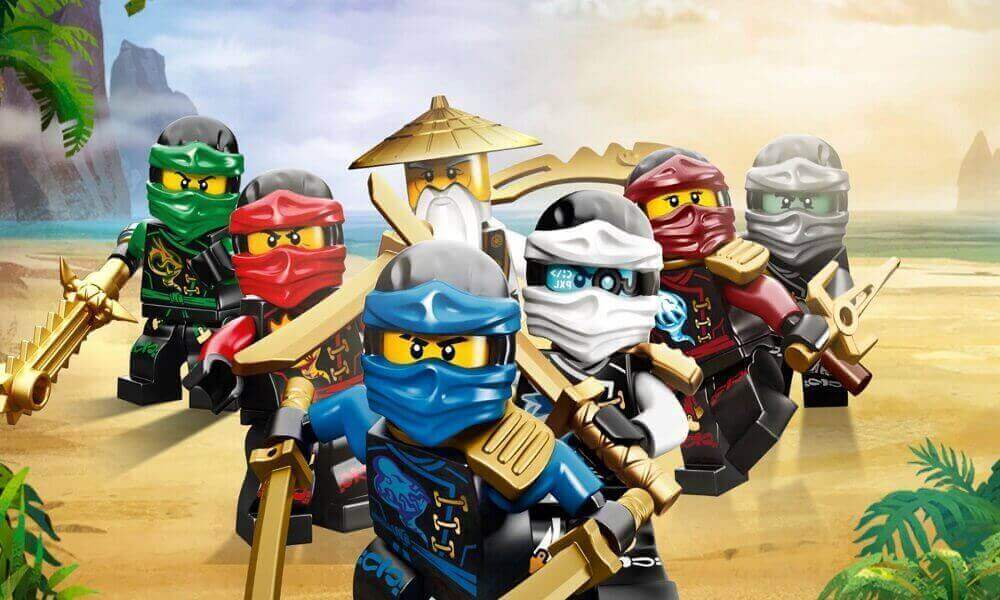 Lego has always been a major hit with the kids, since the very time of its inception. The popularity of Lego toys with their children led them to come up with Lego video games, movies, and even series. Lego has created their versions of several popular movies, such as "Harry Potter", "Star Wars" and even "Batman". But what swept people off their feet was the Lego Ninjago series. Ninjago, the Masters of Spinjitzu, is centered on the adventures of five ninjas, namely, Jay, Zane, Nya, Cole, and Kai, and their master Sensei Wu. If you are a major fan of Lego Ninjago and are looking for some free printable Lego Ninjago coloring pages, you're at the right place. Check out our list of Lego Ninjago coloring sheets below.
30 Free Printable Lego Ninjago Coloring Pages
Jay With The Dragon: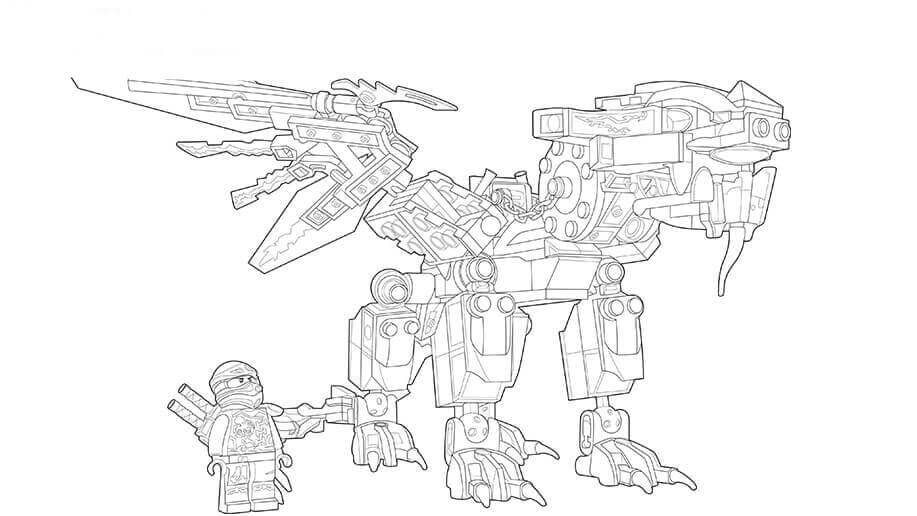 This coloring sheet features Jay with the Ninjago dragon. Dragons are a significant part of the Ninjago and were introduced for all four ninjas, Jay, Cole, Zane, and Kai. It's such a detailed Ninjago coloring page that even teens and adults will enjoy coloring.
The Four Original Ninjas: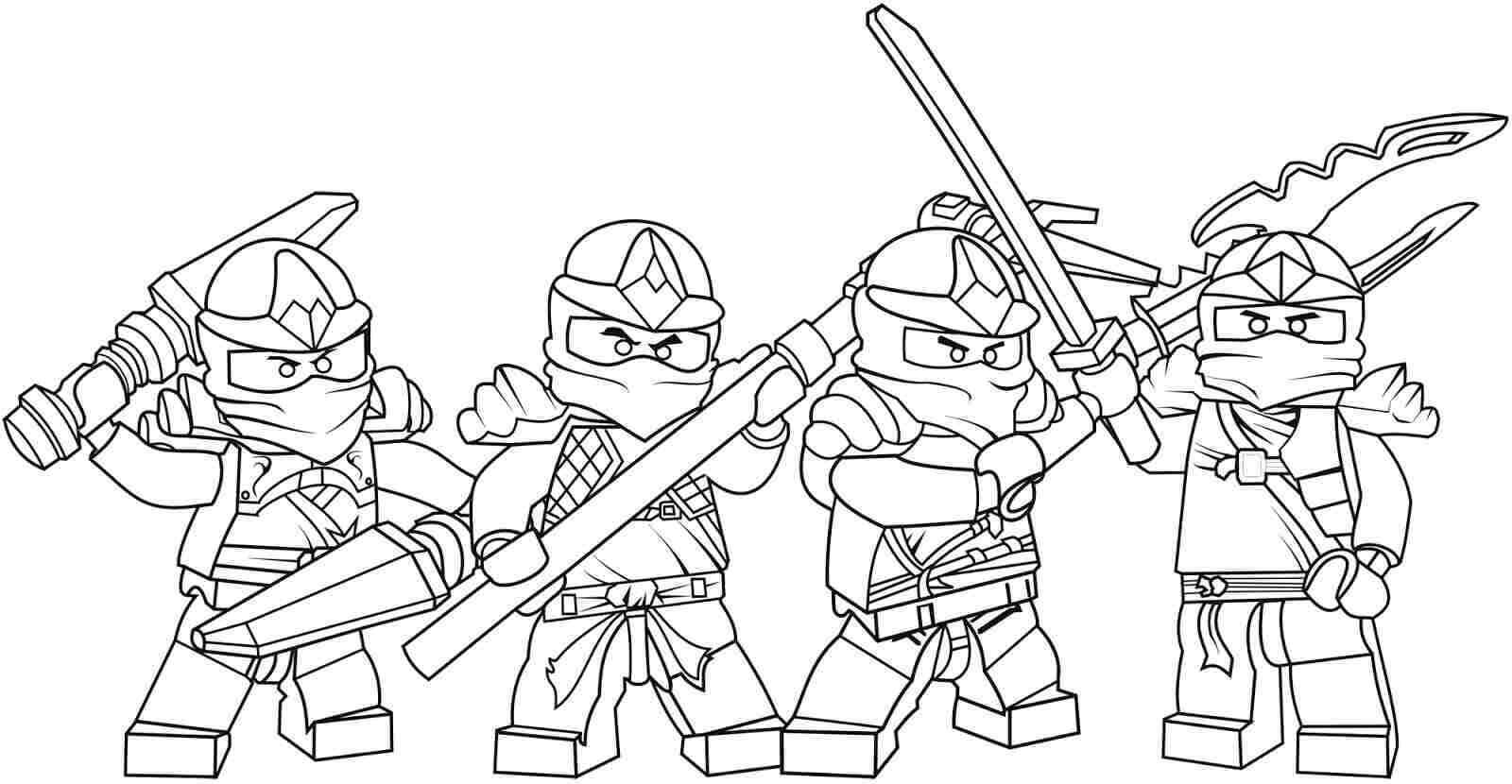 This coloring sheet features the four original ninjas of the Ninjago series, Jay, Kai, Zane, and Cole. All the ninjas are in action, and it seems they are all set to defeat the Serpentine gang. Or is there something else going on in their mind?
to join this conversation on GitHub. Already have an account? Sign in to comment Footer © 2023 GitHub, Inc. Footer navigation Terms Privacy Security Status
Zane ZX: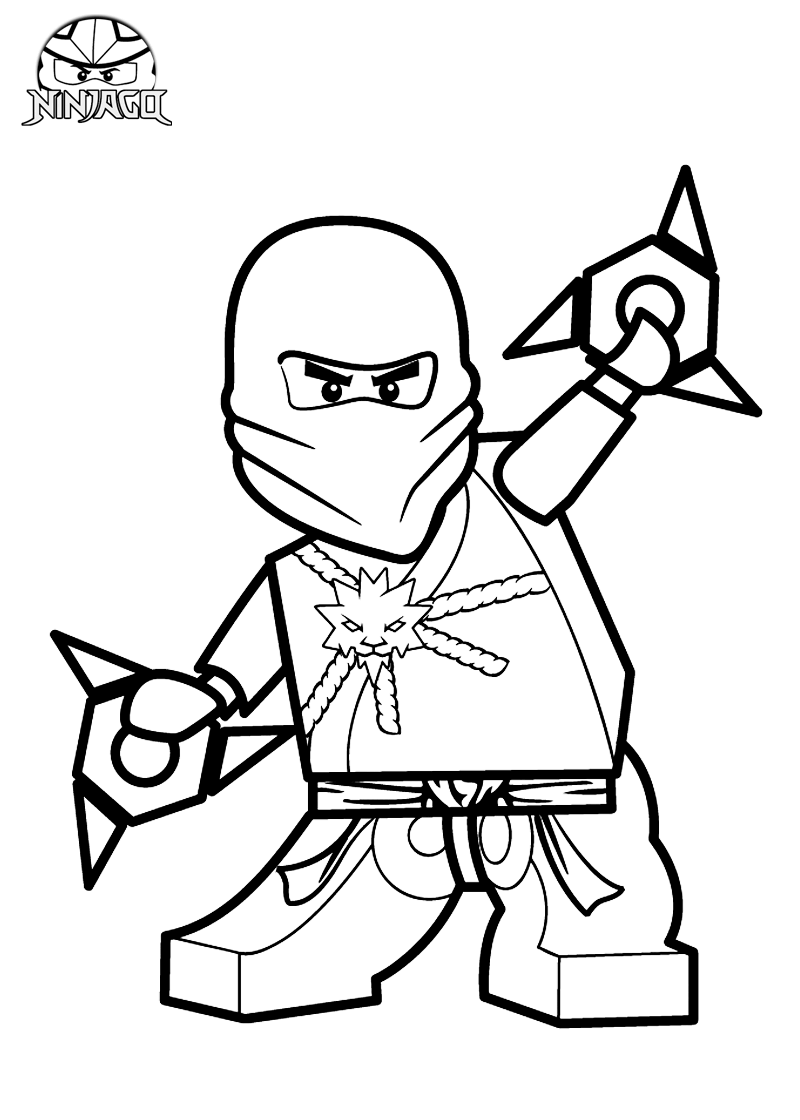 This coloring page features Zane ZX, the booster form of Zane, which was released in 2012. Zane, the ninja of Ice, and the Nindroid was trailed along with the other four ninjas by Wu. Together they fought Overlord, Serpentine, and Lord Garmadon.
Cole ZX:
Here's a Ninjago coloring sheet of Cole ZX, the booster version of ninja Cole. Cole, the Elemental Master of Earth, has a strong and muscular body, all thanks to his hobby of rock climbing. In fact, he's the strongest of all the Ninjas, even without the elemental power.
Jay: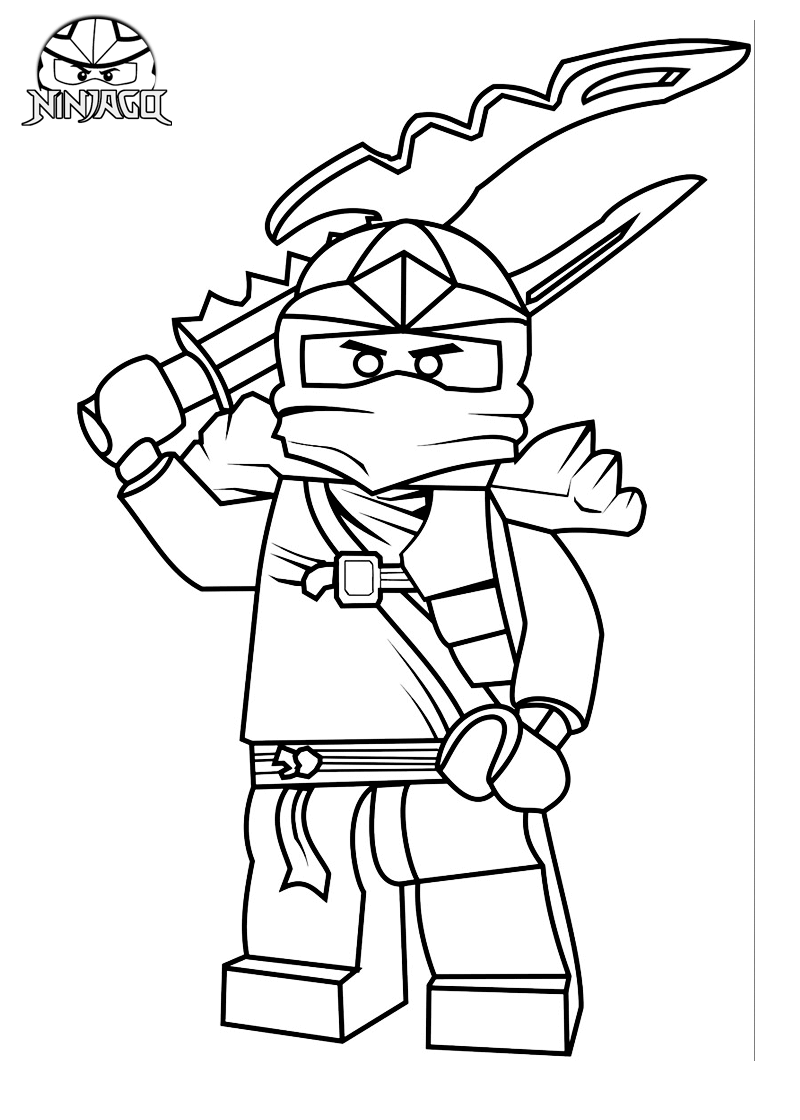 Here's a coloring page of Jay, the elemental master of lightning and the most lighthearted ninja. He loves cracking jokes, most of which are funny only for him. Jay even enjoys boasting about his abilities, which often annoys others.
Kai:
Meet Kai, the Elemental master of fire and the older brother of Nya. Kai originally worked in his father's blacksmith shop but was later recruited by Master Wu to fight the Serpentines. He's a hot-headed ninja, who never thinks before taking action. It's probably the Lego Ninjago Movie coloring page.
[ Read: Lego Coloring Pages ]
Kruncha With His Team:
This coloring page features Kruncha, the Earth general of the Skulkin army with his team. Ages ago, Kruncha was banished to the Underworld, and it was then he became a member of the Skulkin army to assist Samukai, the master.
Lloyd: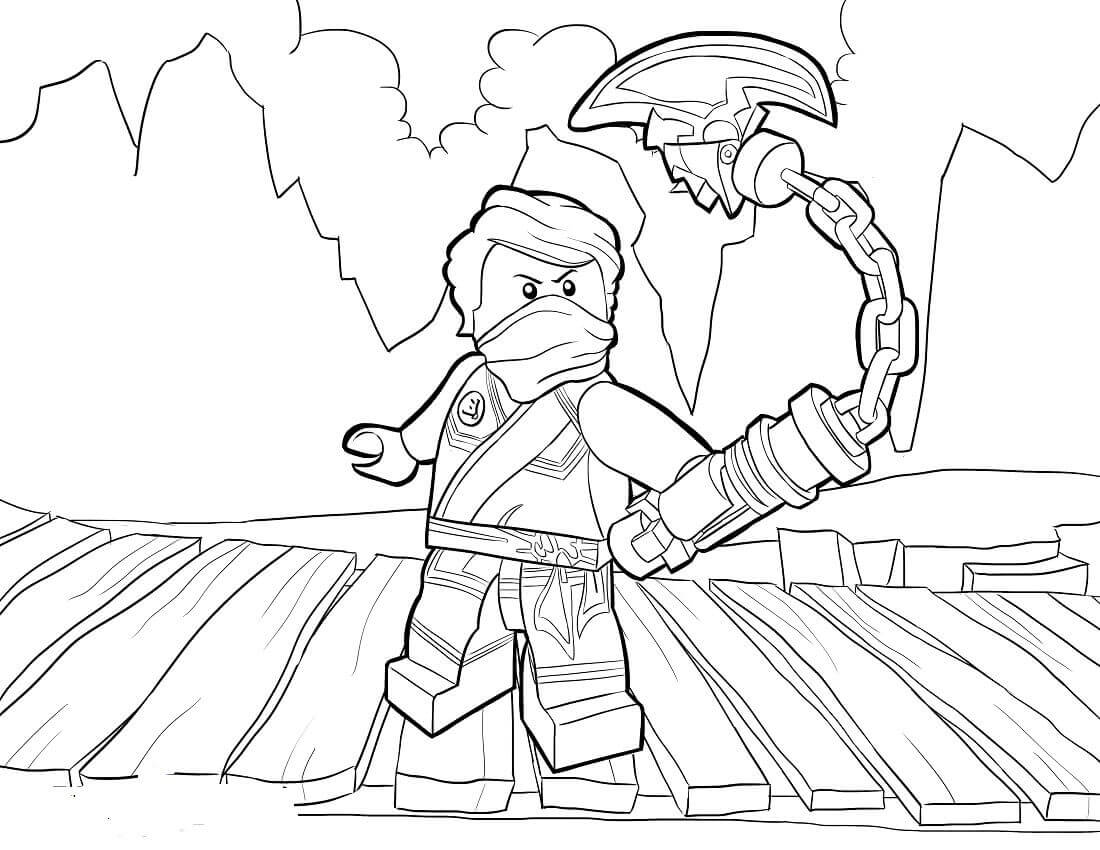 This detailed Ninjago coloring page features Lloyd Montgomery Garmadon, the green ninja and the elemental master of energy. Being the nephew of Wu, Lloyd is currently the leader of the Ninja.
Nya: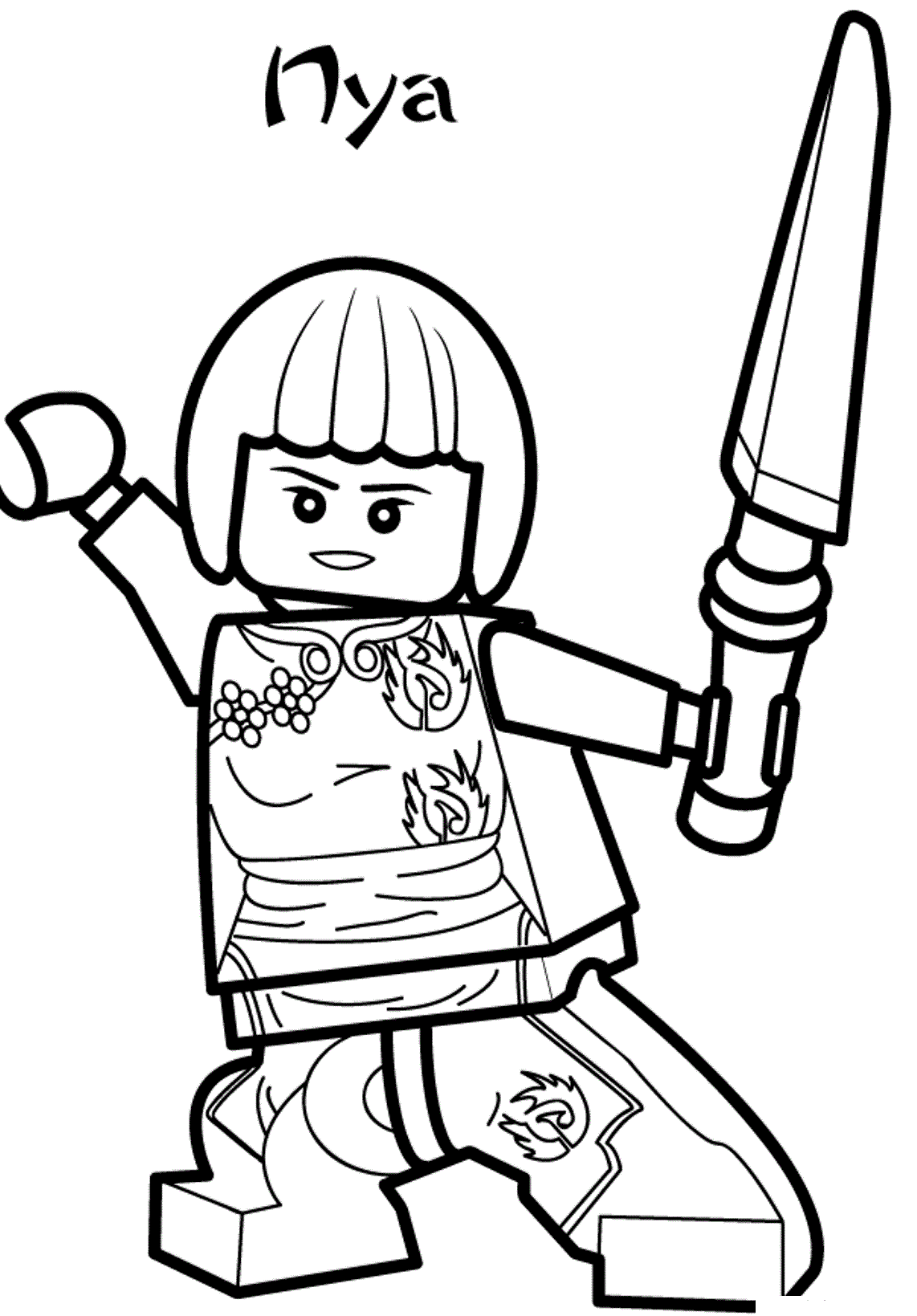 Nya, the younger sister of Kai and elemental master of water, joined the Ninjago team to protect Ninjago. However, she soon grew tired of the Ninja training and created the identity of Samurai X for herself.
Sensei Garmadon: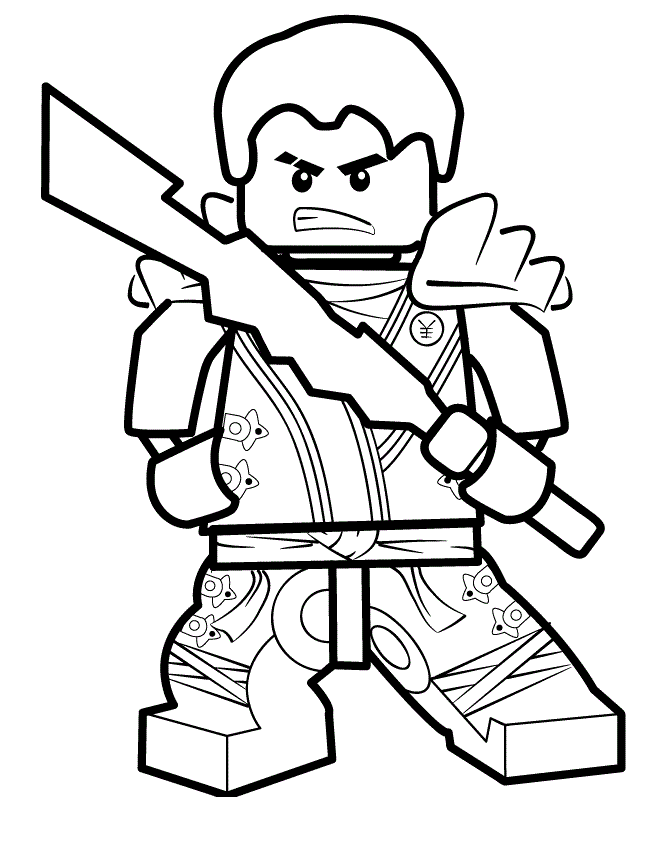 Here's a coloring page of Sensei Garmadon, one of the major characters of LEGO Ninjago: Masters of Spinjitzu. Before the beginning of the series, Sensei Garmadon was bitten by Great Devourer, which transformed him into Lord Garmadon, a villain hungry for power.
Skales: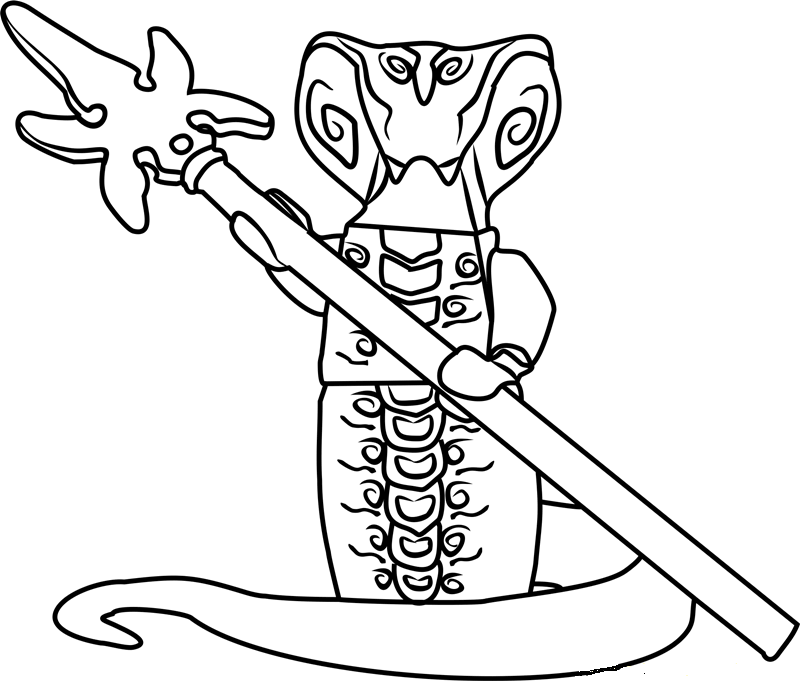 Here's a coloring page of Skales, a Serpentine member of the Hypnobrai tribe, who later becomes the tribe's general and then the new snake king. He's chiefly responsible for the rise of snakes.
Lego Ninjago Coloring Sheet: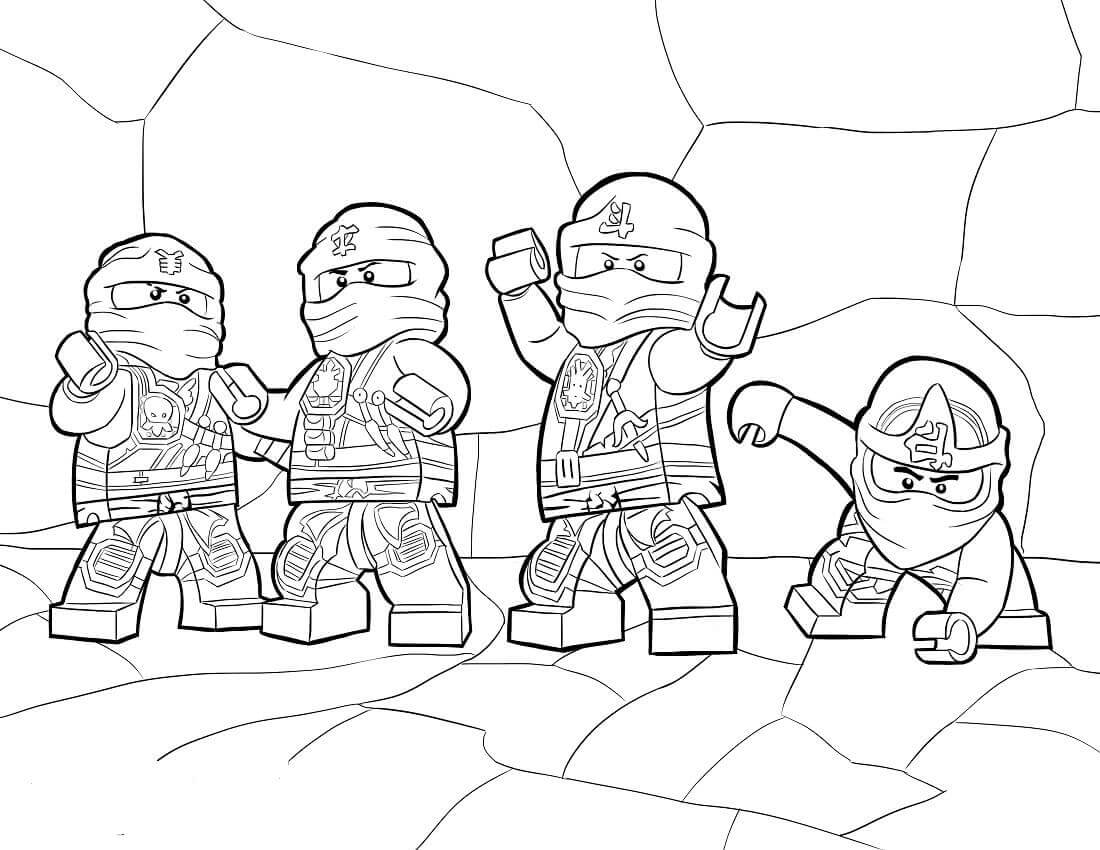 Here's another Lego Ninjago coloring sheet with the ninjas in action. We totally love how the ninjas are posing in this picture. And they will surely look extremely appealing when you fill these ninjas in their signature colors, according to their elements.
Ninjagos With Their Master: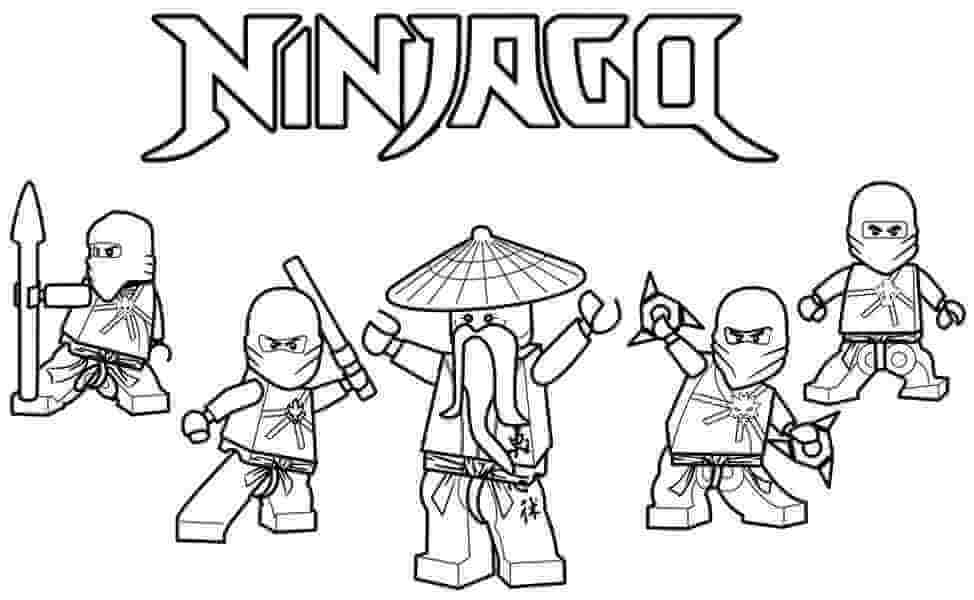 This Ninjago coloring sheet displays the four core ninjas, namely Cole, Kai, Zane, and Jay with their master and mentor, Sensei Wu. Sensei Wu had recruited and trained these ninjas to battle the serpentine, and today, they are irreplaceable members of the Ninjago community.
Eyezor:
Here's a coloring page of rough and tough Eyezor, the acting general of Chen's army, who helped Chen steal the Elemental Masters' powers. Eyezor is actually blind, but he makes up for it with his combat prowess, strength, and intelligence.
Green Ninja Coloring Page: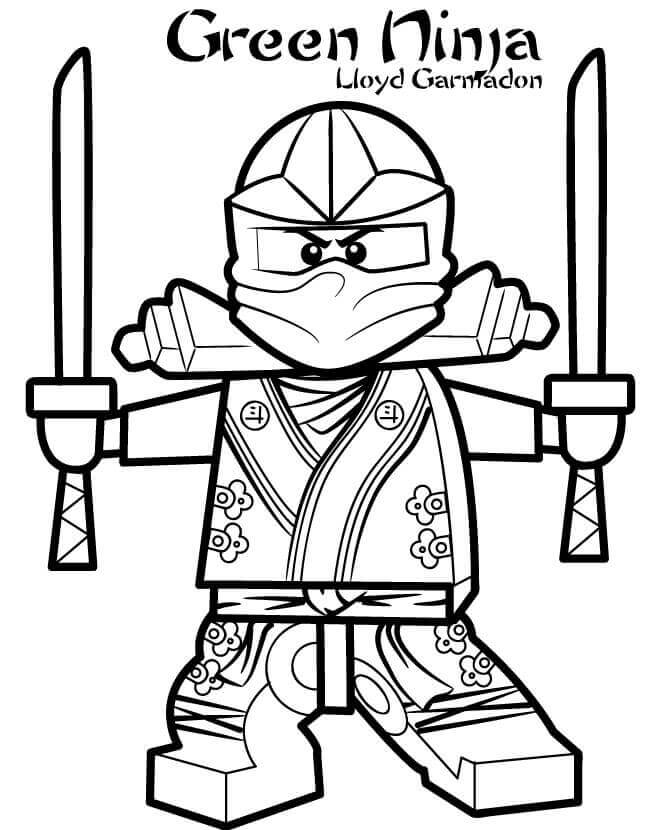 Here's another coloring sheet of Lloyd Garmadon, better known as the Green Ninja or the Chosen One. This Ninja is believed to be the strongest of all the Ninjas and will defeat evil and save the fate of Ninjago in the climactic battle.
Skeleton Army:
This coloring page features the Skeleton Army, who want to get the golden weapons for their master, Lord Garmadon. They even fought with each other for hundreds of years before banding together for the War. 
Jay:
Here's another beautiful and intricate coloring page of Jay, the ninja warrior. Jay, the son of famous actor Cliff Gordon, was given up by his parents and was left at the door of Ed and Edna Walker's house.
Kai: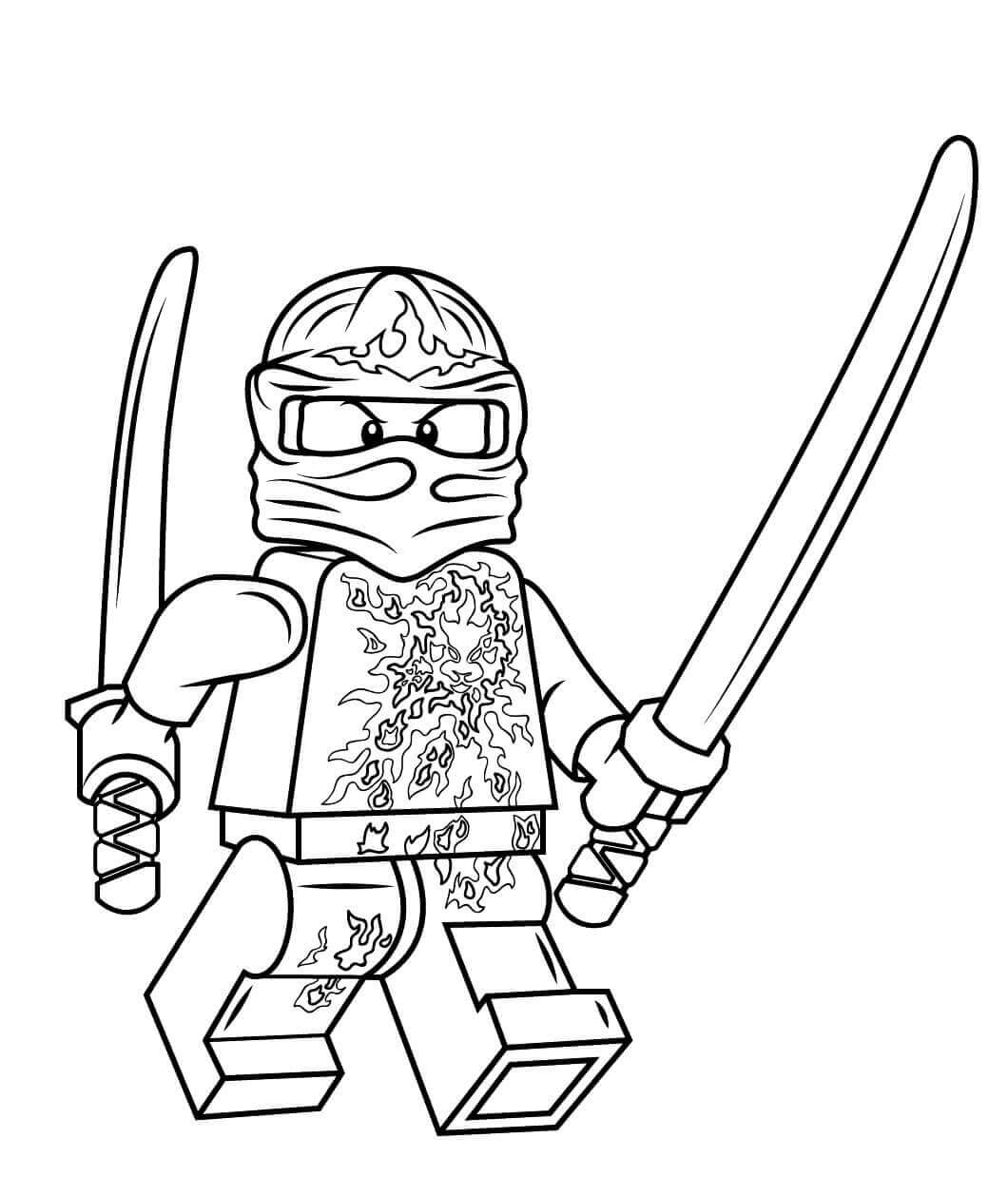 Here's another coloring page of Kai, the ninja of fire in action with not one, but 2 blades. He looks a bit infuriated in this coloring page, which he is most of the time. This single-mindedness of his makes interaction with other teammates very difficult.
Lasha: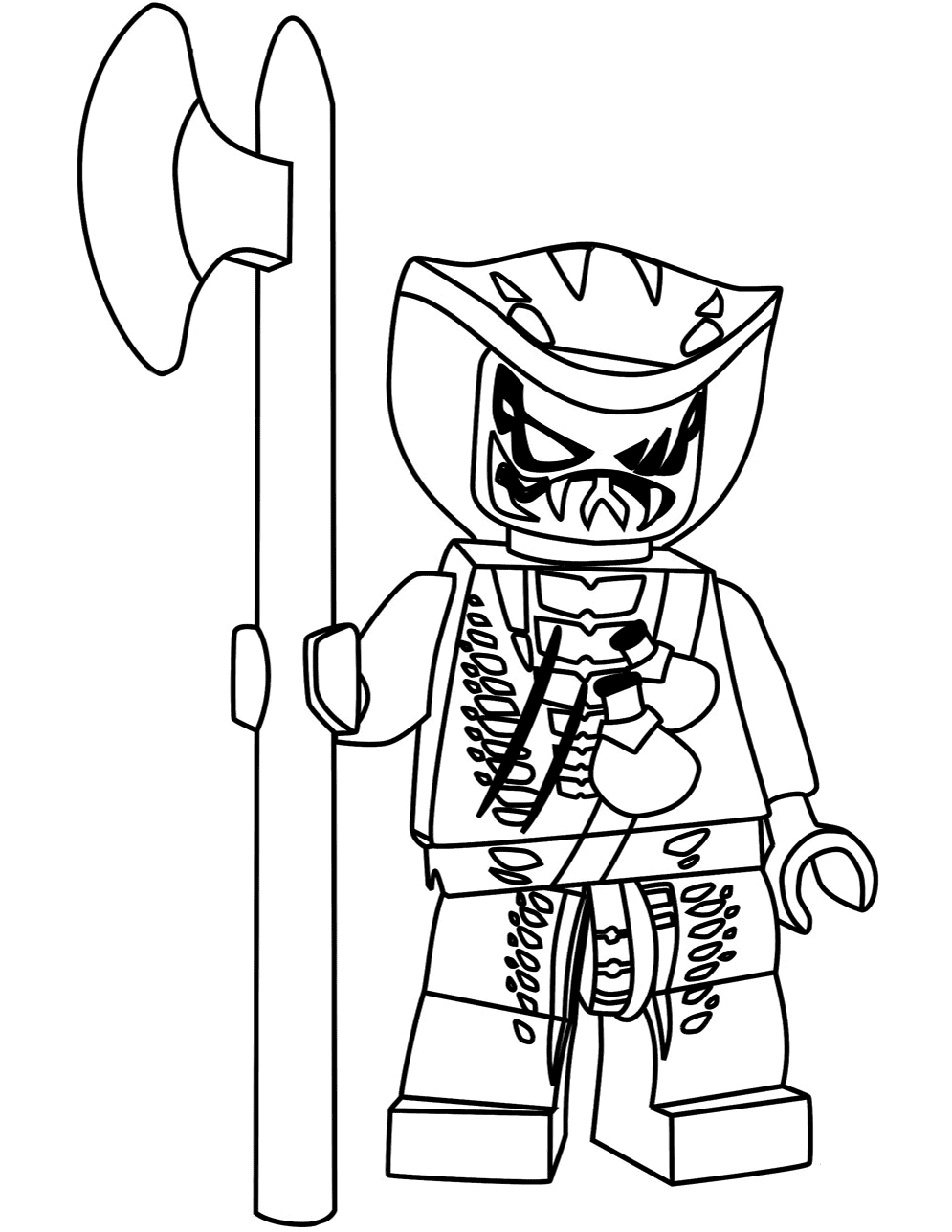 This Ninjago colouring page features Lasha, the Scout for the Venomari tribe. Her highlight is definitely her body color, which is completely green, except the hands, which are black. Her job is to look out for the enemies, catch them, and then let others handle them.
Lizaru: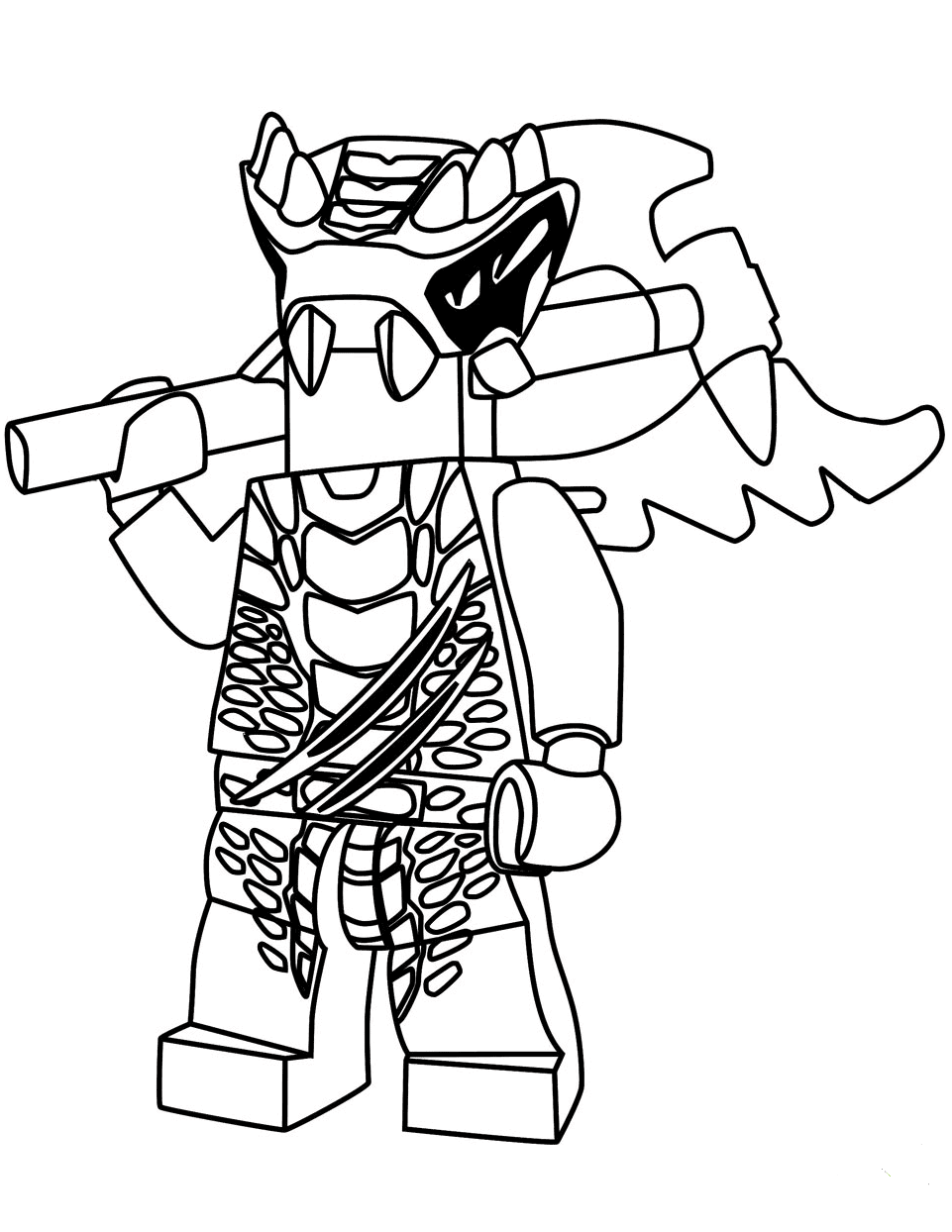 This coloring sheet features Lizaru, the warrior serpentine of the Venomari tribe. Lizaru was one of the Venomaris released by Pythor from their tomb. Lizaru's four fans make him an excellent warrior as he can easily catch and devour big bogs.
Lord Garmadon:
This coloring page features Lord Garmadon in his deadly form, the lord form. Lord Garmadon became the master of his work during the Nindroid Conflict. He even swore never to turn the wrong path again but had to abandon the promise when he was forced to rescue Lloyd.
Lego Ninjago Coloring Page:
This is one of the best Lego Ninjago coloring pages in our opinion. It doesn't just feature two of the main ninjas and their master, but also has a wonderful background of China. One ninja is standing on the great wall of China and the other is standing in front of a monument.
Pythor: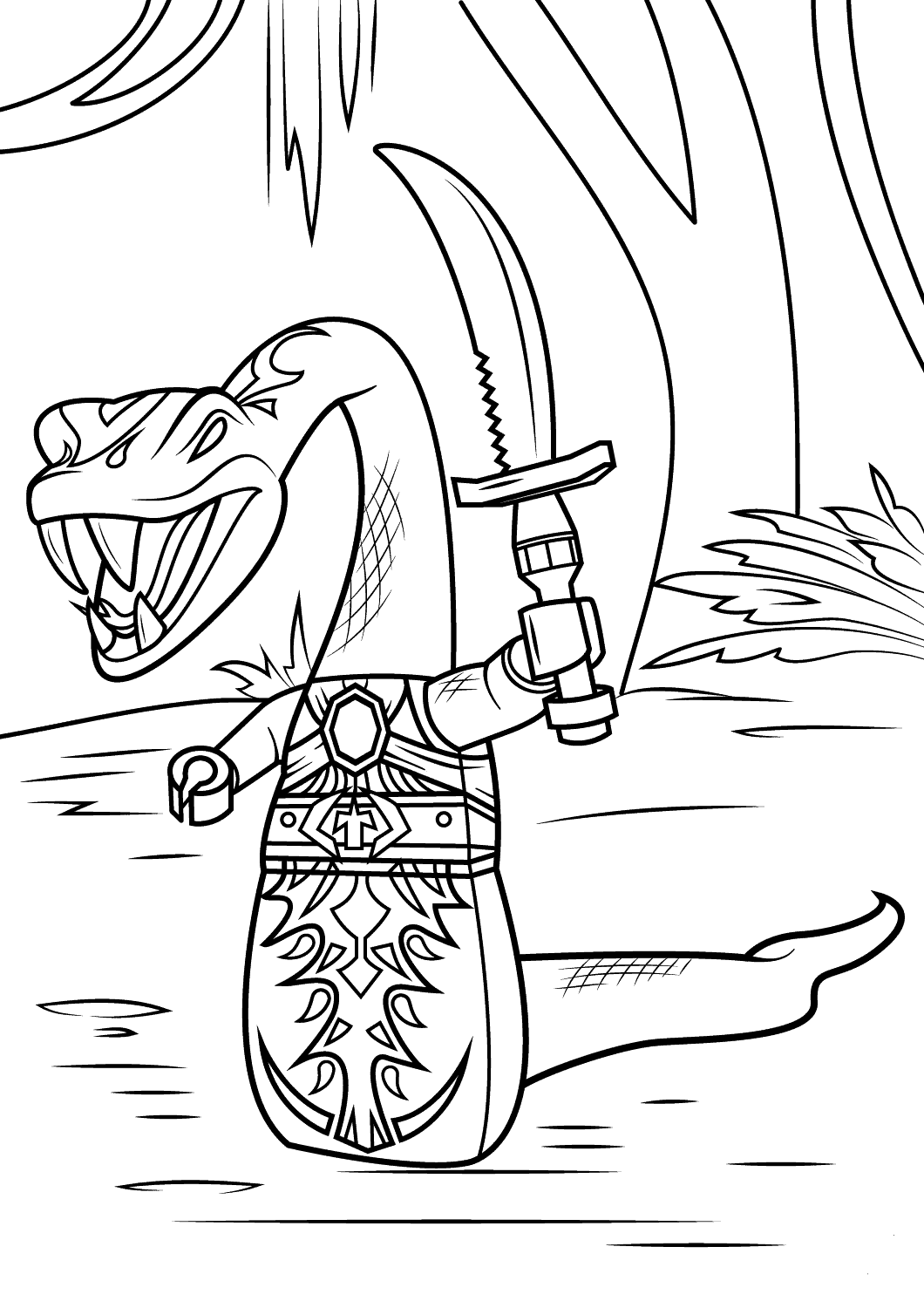 Meet Pythor, the self-proclaimed general and the last surviving serpentine from the Anacondrai tribe. Pythor has a long and curved neck, and purple skin, with black markings. And just like other Serpentines, even Pythor has a long tail instead of legs.
Sensei With His Team: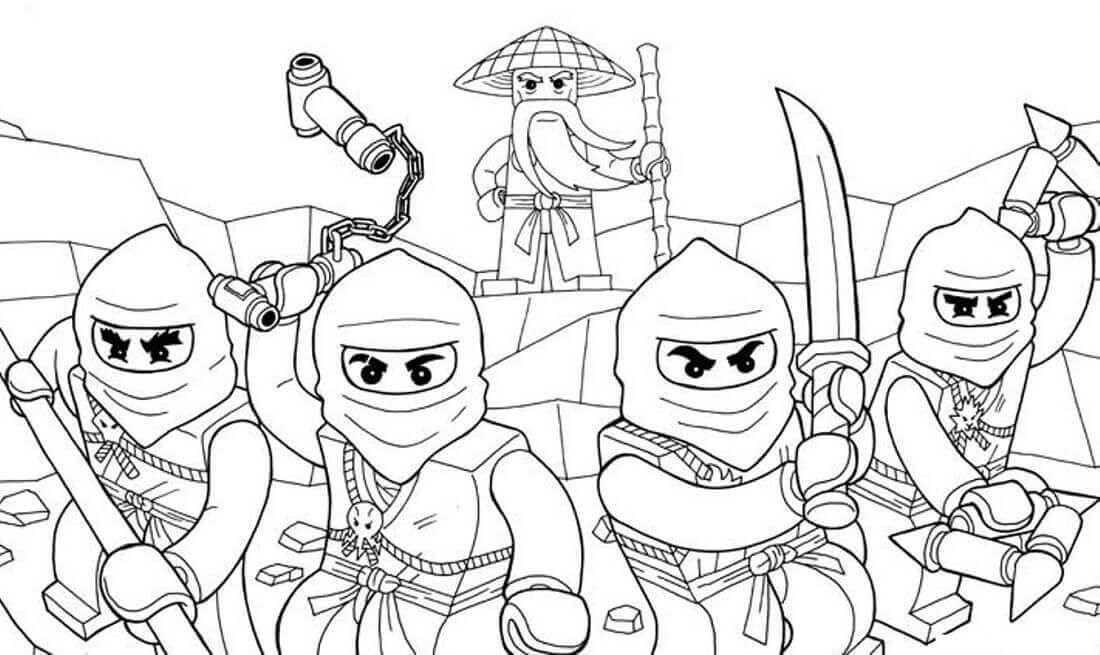 Here's a coloring page of Sensei Wu with his team of ninjas. He recruited these ninjas, not just to fight the Serpentine tribe, also to help him kill the evil left inside his cunning brother, Lord Garmadon.
Sensei Wu:
Here's a coloring page of Sensei Wu, the mentor to the ninja and the second-born son of the First Spinjitzu Master. Wu was also once corrupted and turned into a cyborg but was later purified after vanquishing the Digital Overlord.
Ninjagos Coloring Page: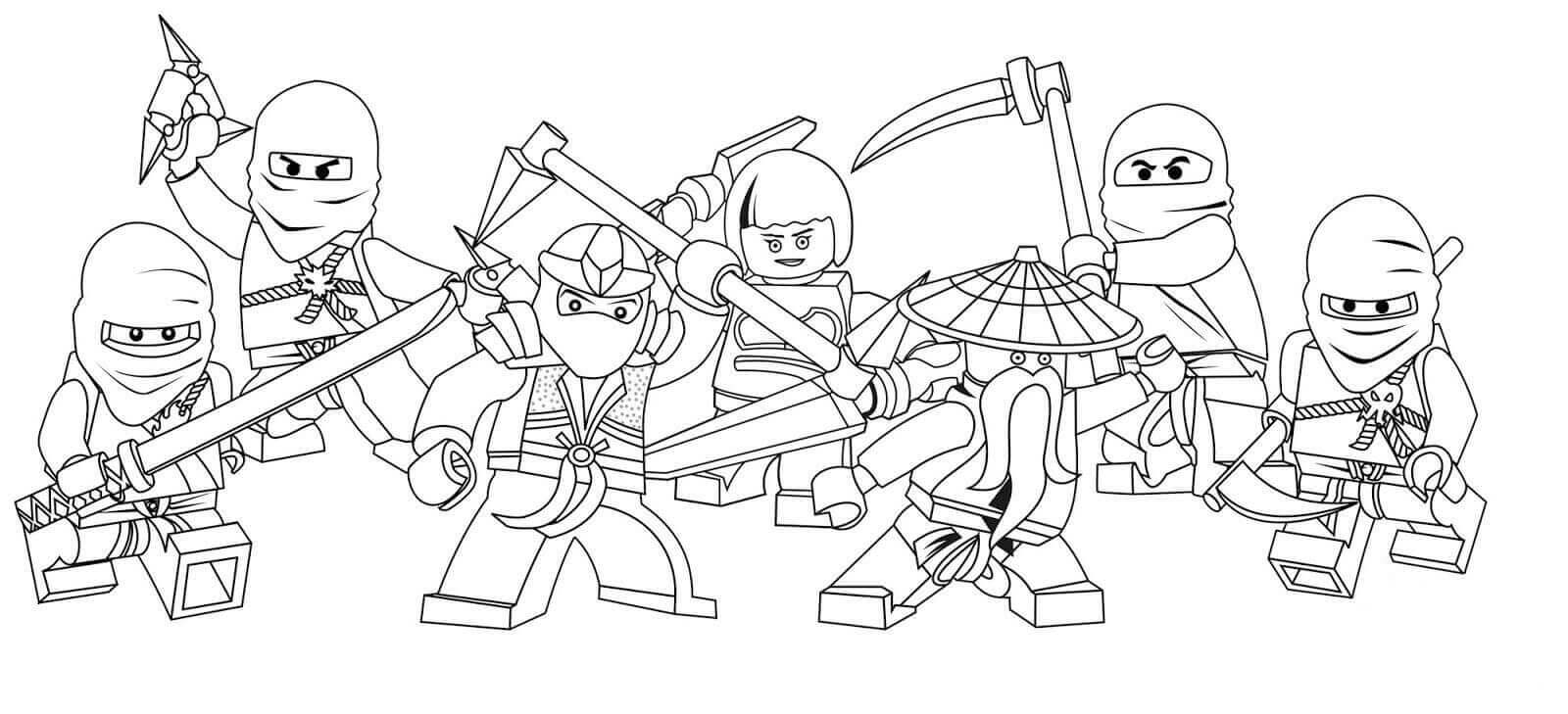 Here's another wonderful, rather complete Lego Ninjago coloring page for you to print out and share with your family. We're calling it complete because it has not just the four ninjas, but also Nya and Wu. Color them fast before they leave for the battle.
Dragon:
This coloring page features one of the dragons living in Ninjago. The dragons are believed to be connected to both the Underworld and Ninjago, which helps them travel between the two worlds whenever they want.
Serpentine Coloring Page:
Here's another coloring page featuring just two serpentines from the Ninjago series. The Serpentines are looking furious and it seems that they can attack each other anytime. And it's pretty well known that Serpentines fought ferociously with each other before becoming the first war against humans.
Spitta: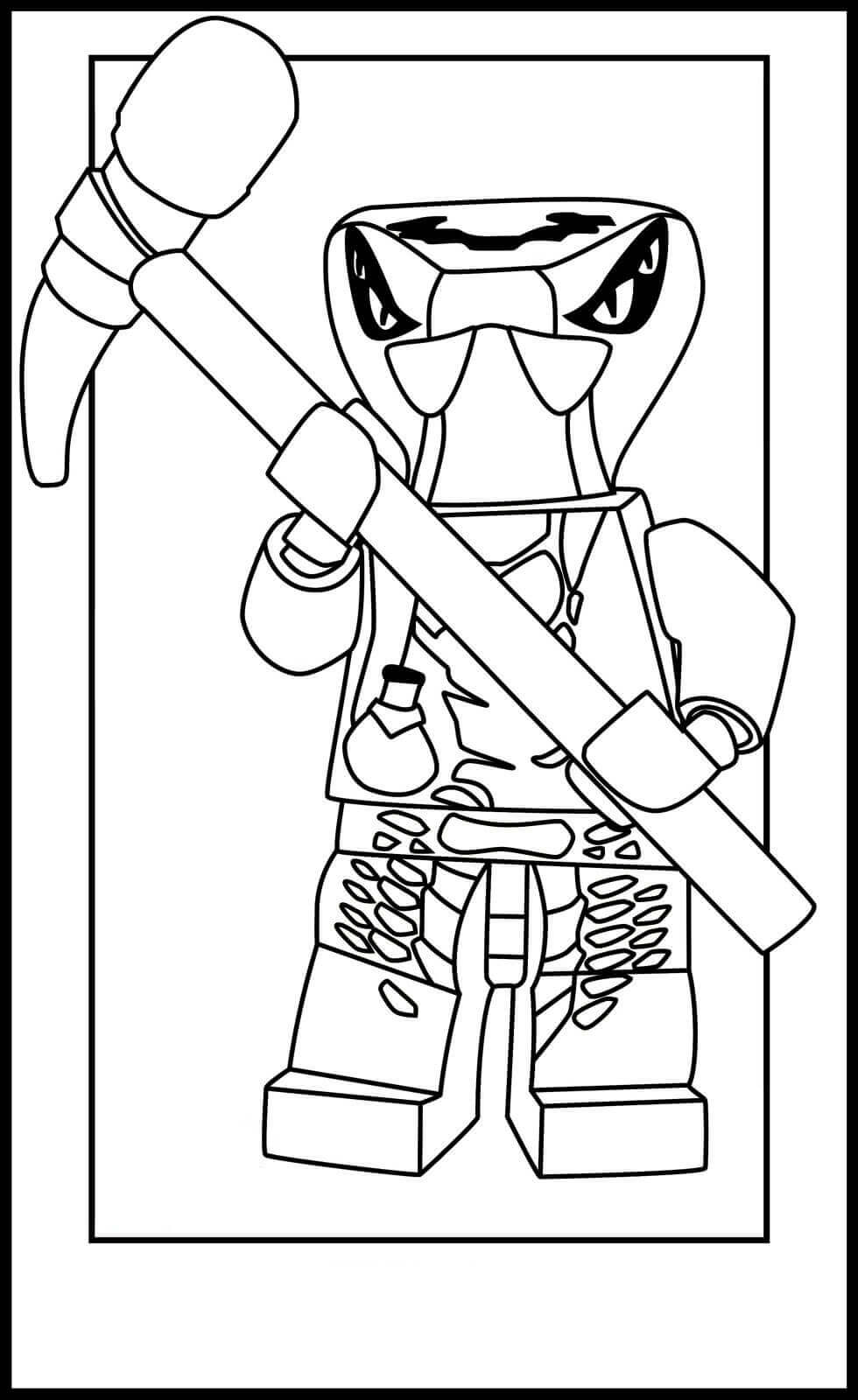 Here's a coloring page of Spitta, a soldier serpentine who can easily produce excess amounts of Venomari venom. Spitta has very large and fine teeth, which is why he finds hard to keep his mouth shut and keeps drooling and leaking all the time.
Ninjago ZX Series: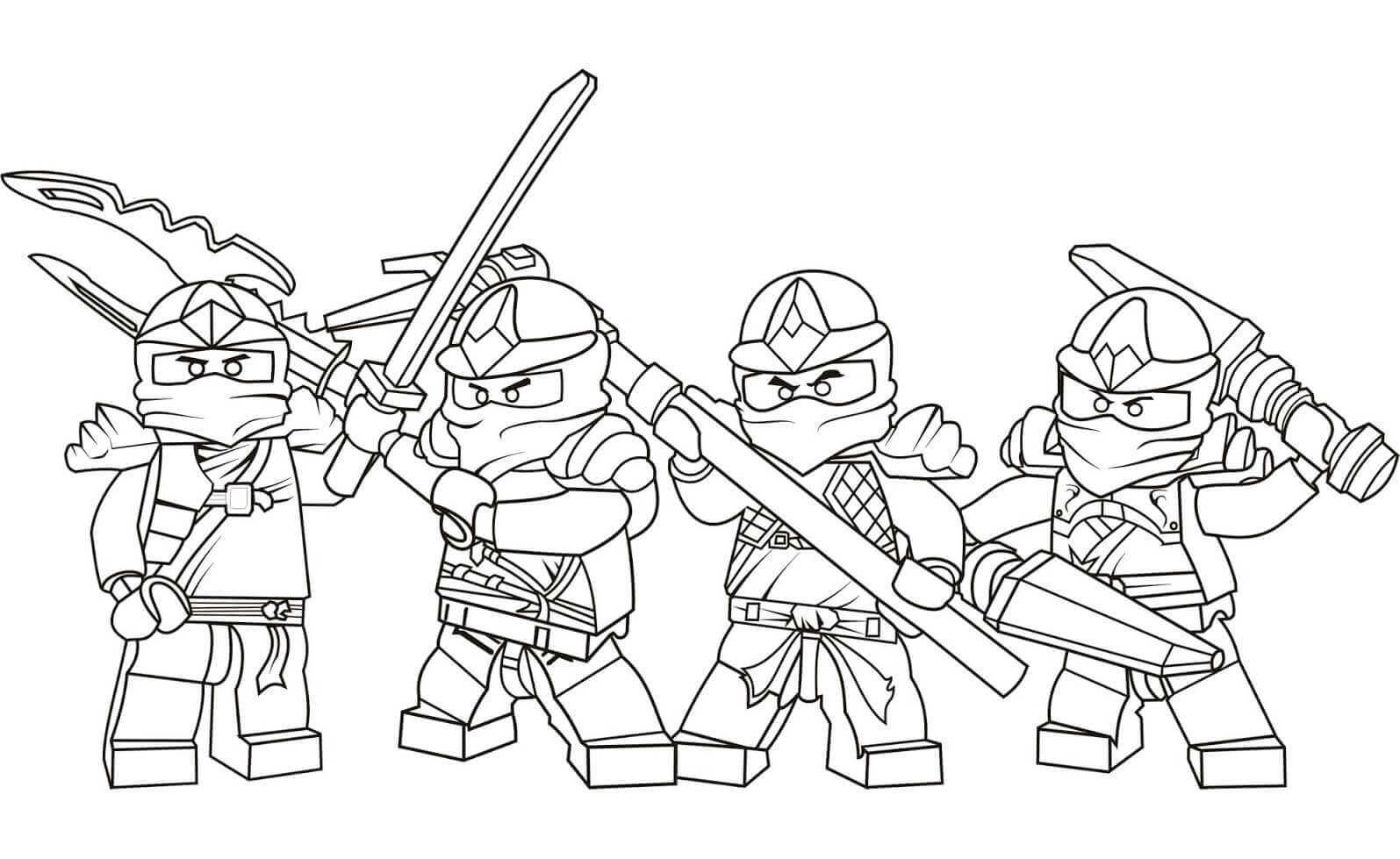 We are rounding up this article with the Ninjago ZX series coloring page. It basically features the four main ninjas in their ZX form, which means a more powerful and stronger form. They are no less than invincible in their ZX form.
Aren't these free Ninjago coloring pages printable absolutely stunning? We bet you won't be able to stop yourself from downloading all these free printable Lego Ninjago coloring pages. Furthermore, these Ninjago coloring sheets will even help in your hand-eye coordination. If you're looking for similar coloring pages, we'd suggest you take a look at Skylanders coloring pages. They are equally fun!