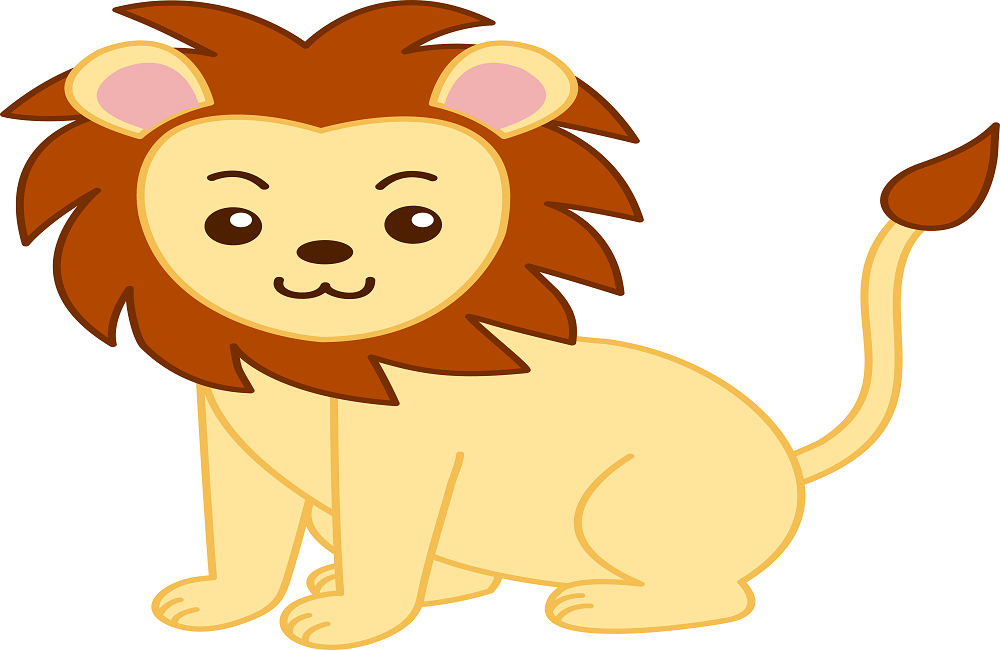 All hail the king and the king's family! We are taking a tour of the jungle in today's collection of coloring pages. Yes, we are indeed talking about lions and we've got you the freshest collection of free printable lion coloring pages.
Lions belong to the cat family and are known as the king of the jungle because they are apex predators and have no real predators. Scientifically named as Panthera leo, lions have distinctive features like the mane – hair around the neck that grows prominently in males and a tail that ends with a tuft of dark-colored hair.
Despite being a top predator, lions are listed as Vulnerable by the International Union for Conservation of Nature (IUCN) since 1996. They are now found mostly in Sub-Saharan Africa and western India as African lions and Asiatic lions respectively. Be ready now to take a royal trip to the land of the king of the jungle through this lion coloring sheets to print.
35 Free Lion Coloring Pages Printable
A Lion Family Trio: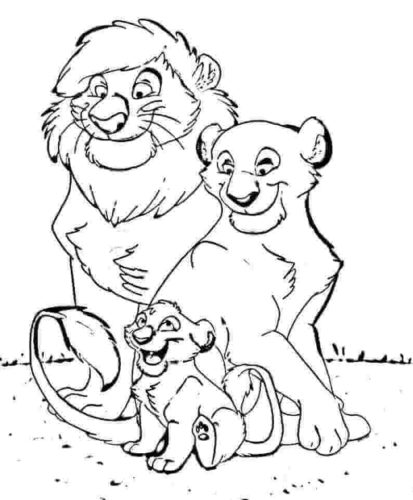 Starting our collection today is a happy trio of a lion family. The father lion and the mother lioness along with their little lion cub, who seems to be having a fun time. Print this coloring page and give this happy family illustration some wonderful colors.
to join this conversation on GitHub. Already have an account? Sign in to comment Footer © 2023 GitHub, Inc. Footer navigation Terms Privacy Security Status
African Lion Male Coloring Page:
Lion inhabiting Sub-Saharan Africa, the region belonging towards the south of the Sahara Desert in Africa, is known as the African lion. They have a more prominent mane in comparison to the Asiatic lions.
Baby Lion Cub Ready For Some Fun:
Baby lion first starts to crawl and then over time learn to walk. They can walk when they are about three weeks old. After crawling around for weeks, this baby lion is having fun being able to walk around on its legs.
Baby Lion With Mommy Lioness:
Female lions give birth to around one to four cubs in a litter. They do it in a secluded den and often changing the shelter several times after the birth of the cubs to avoid getting spotted by predators. Once the cubs grow older, about eight weeks old, they are brought to the pride – the group of lion family.
Cartoon Lion With Awesome Mane:
Highlighting one of the most prominent features of a lion, this cartoon illustration of a lion has been expertly done. Make sure to do your best in giving your brilliant coloring skills to this magnificent lion illustration.
Circus Lion Performing Incredible Tricks:
When not in the wild, lions are often employed as animal performers in the circus. They are trained to perform fun, incredible and even dangerous stunts to please the crowd. Here the trainer has made the lion sit on its hind legs and roar while lifting his forelimbs.
Circus Lion Performs The Ring Of Fire Trick:
Another immensely popular trick that the lions are seen performing in a circus is the ring of fire trick. Here, a lion has to jump through loops or rings that have been lighted with fire, moving from one pillar to the other.
Cute Lion With A Geometric Face:
Taking creativity into another level, this lion illustration is made by putting together different geometric lines and figures. Print this page and showcase your creativity in coloring by expertly filling in appropriate colors.
Lion Wandering About His Kingdom:
While the lions are among the most social animals in their family, there are also a few individuals who lead a more nomadic life. Generally alone or in pairs, the lion roams around their range. Here is a nomadic lion wandering about his range, his kingdom.
Funny Lion With Thin Limbs And Tail: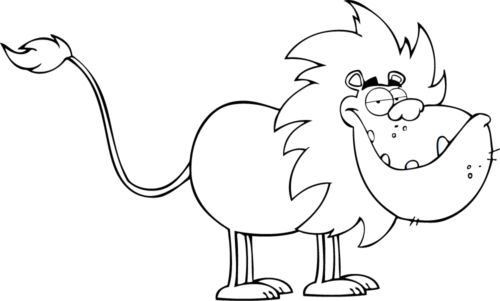 What do we have here? A rather funny looking lion, isn't it? That's because the illustrator wanted it to look funny. Giving the lion very thin limbs along with a thin tail, this funny lion drawing also features a protruding mouth to increase the fun quotient.
Happy Lion Smiling As Wide As Possible: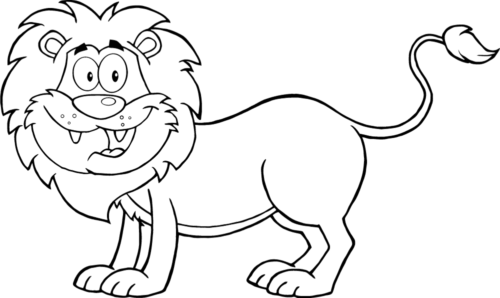 Looks like this lion has just spotted a good prey and is about to have a good meal. Exaggerating the features of the lion, this illustration shows the lions with wide eyes and a huge smile, just like how your face might look when staring at your favorite sweets.
Kion From The Lion Guard:
Introduced in one of the several sequels to the original Disney's 1994 animated film, "The Lion King", Kion is the son of Simba and Nala. Inspired by the Swahili word for leader 'Kiongozi', Kion was first seen in "The Lion Guard: Return of the Roar".
L Is For Lion Coloring Page:
Keeping up with the English alphabet lessons, today we are bringing you the letter 'L'. Since we are talking about lions, 'L is for Lion' illustration here comes to your rescue. Give the letter as well as the lion, some brilliant colors.
Lion And Coyote – Unlikely Duo:
Here's an unlikely duo you are seeing on this coloring page. Often pitted against each other when it comes to their prey, you can see a comic illustration of a lion and a coyote standing together on this page.
Lion Color By Number Activity Sheet:
It's time for some fun activities. As you can see from the different numbers written on this illustration, the task is color by number activity. Print this coloring page and color all the same numbers in the sheet with the same colors.
Lion In The Savannah: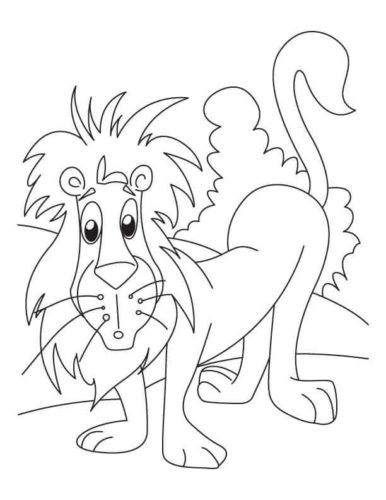 One of the habitats of the lions in the savannah, a woodland-grassland that has sparse trees without a closed canopy. The lion here is enjoying taking a regular walk around his territory in the savannah.
Lion Coloring Page For Preschoolers:
For all the preschoolers out there, here's a fun little coloring page for you. This joyful illustration of a lion is drawn with easy outlines and simple enough for those who are still very new to coloring.
Lion Resting During The Day:
When it is too hot during the daytime around noon, almost all lions, male or female prefer to take a nap under the shade or a cool area. Because of the heat, they prefer to save their energy. This fellow here is also enjoying his afternoon siesta.
Lion – King Of The Animals:
Although referred to as the King of the jungle, lions do not inhabit thick forests. They prefer desert and plains, preferring more grasslands and open areas with sparse trees. Being one of the most powerful predators, they are also called the king of the animals.
Cute Lion Illustration Needs Colorful Celebration: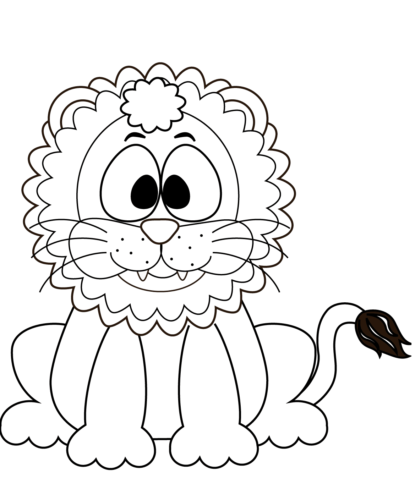 This cute lion illustration is getting ready for a party on this coloring page. However, this lion is in dire need of some colors to make his party celebration exciting and super-fun. Quickly print this page and fill it with all the dazzling colors you can find.
Lion Head Mask: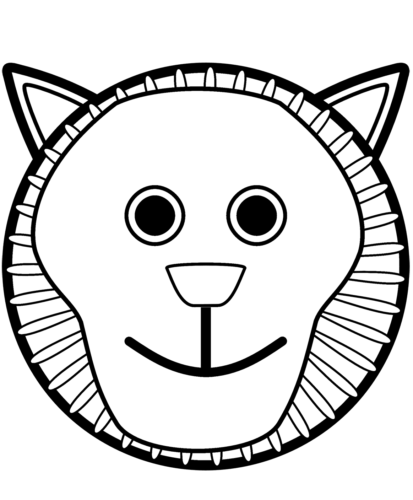 A fun mask is always great especially when you are playing with your friends. Print this page and duly fill in some cool colors on this lion head. Once done coloring, cut out and expertly tie it with a thread on its side and your lion head mask is ready to play.
Lion With A Crown:
Symbolizing the title that lions have earned being regarded as the king of the jungle and of all animals, here is an appropriate illustration showing a lion that is wearing its fitting crown.
Lion Feeling Out Of Place In The City:
Somehow this lion has managed to get itself out of the wild and into the thick hustle and bustle of the city. No wonder it is looking so confused and scared amidst the traffic and hordes of people everywhere. Thankfully, the wildlife experts are getting here soon to transfer it back home.
After A Full Meal, Lion Looks Happy For Real:
It was a successful hunt for this lion today. After ambushing prey with its expert stealth moves and quick pounce, he had his meal without wasting too much energy. Now, he is happy and full.
Lion Looks Surprised:
As happy as the lion on the previous page was this lion looks as confused and shocked. An older male stole the hunt he had help catch with this mother lion. The dominant male lion always has a large share of the food.
Lion Playing American Football:
It's a unique sight to see a lion playing American football on this coloring page. It must be the lion who was seen lost in the city. Maybe it was brought in to play football. He sure knows how to play, if you observe this illustration.
Lion Reading A Book: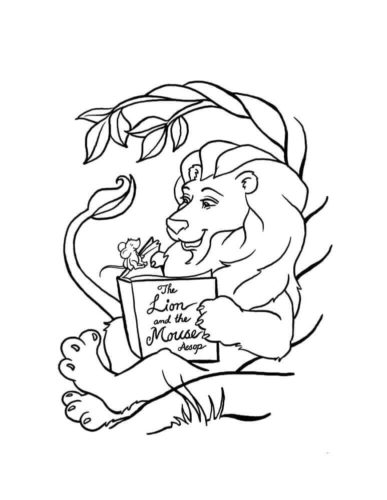 Another highly unlikely illustration of a lion doing something that can never happen in real life. On this coloring page, the lion is enjoying reading a book during this afternoon rest time. It seems like he is reading a book about lions.
African Lion With Other African Animals:
Occupying the vast Sub-Saharan African region, you will find various animals in the vicinity of the lions. Some of these animals encounter that the lions can come across are illustrated on this page. Identify the animals and color them all in accurate colors.
Lioness Watching Out For Her Cubs:
As the cubs are grown enough to run and play around with each other, this alert lioness is keeping a close watch over them. She will always be on alert till they are grown up enough to take care of themselves in the wild.
Lioness Head Coloring Page:
You can see the marked difference of a lioness from the male lion in this illustration of a lioness. The absence of the voluminous mane is one of the characteristic differences in a lioness as well as their smaller heads.
Alex, The Lion From "Madagascar":
One of the protagonists of the Madagascar film series is an African lion named as Alex. While the first film, "Madagascar" showed him enjoying his life in a zoo, Madagascar 2 sees Alex learning to adapt to the life in the wild, his original home in Madagascar in Africa.
Mountain Lion – Lion's Distant Cousin:
Mountain lion belongs to the same family as lions, Felidae but a different subfamily Felinae. Known scientifically as Puma concolor, the mountain lion is also known by several other names including Puma or cougar. They largely inhabit the twin continents of America.
When The Lion Roars, The Jungle Shakes To Its Core:
Lions communicate with each other through different sounds at different levels of pitch and intensity. If you are in the jungle at night, you will be able to hear the roar of the lion from eight kilometers away. That tells you that a lion is there, the roar sounds his presence.
Simba – Son Of Mufasa And Sarabi: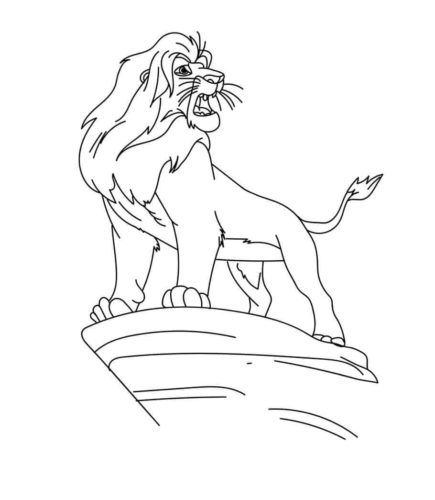 Disney's animated film "The Lion King" saw the introduction of a young Simba, a lion cub born to King Mufasa and Queen Sarabi. He is seen in several other sequels as well as series that followed the blockbuster 1994 film.
Lion Steps On An Animal Trap:
Poaching has been one of the main reasons for the declining population of lions over the years, leading them to become vulnerable to extinction. One of the ways poachers hunt is by setting traps like this one which has caught the foot of this unlucky lion.
Besides poaching the lack of habitat is also believed to be a contributor to the declining number of lion populations. While the African lions found across Sub-Saharan Africa are Vulnerable in status, the Asiatic lion is listed under Endangered as the only surviving population is in the Gir National Park and its immediate surroundings in Gujarat, India. As magnificent as the lions are, they need our help to save and protect their population. You can do your part by asking for guidance from your parents or schoolteachers to help spread awareness about lion conservation.