The Littlest Pet Shop, also known as LPS is a world-famous pioneer brand in the toy industry featuring approximately 3000 pets as of date. The first-ever version of the toys was presented in the early 1990s by Kenner Products, an American Toy Company, followed by a television serial in 1995.  Later, after Hasbro Studios bought over Kenner, the entire series was revised and revamped in 2005. The latest version saw the light in 2014. There have also been numerous cartoon series, video games for consoles, animated television series, online pet games, and stuffed toy versions under the LPS franchise.
The reformation of the toys has been characterized by including movable parts, simple mechanical movements, magnets in the foot, cartoon-like looks, bobble-heads, and realistic colors. Since LPS has received so much admiration for years from kids all around the world, Scribble Fun has got you 30 free printable Littlest Pet Shop coloring pages. Our article comprises coloring pages of LPS characters. So without wasting any more time, fill up these LPS coloring pages with some hues now!
Free Printable Littlest Pet Shop Coloring Pages Or LPS Coloring Pages:
Russell Ferguson From LPS Coloring Page:
This orange-colored Hedgehog has clear golden-green eyes and brown prickly spines. He is one of the closest friends to main lead Blythe Baxter. He is a leader. He is smart, intelligent and a perfectionist. His core talent is to organize and plan sensibly. He does things systematically, but also gets jittery at times making things difficult and often confusing for others.
to join this conversation on GitHub. Already have an account? Sign in to comment Footer © 2023 GitHub, Inc. Footer navigation Terms Privacy Security Status
Littlest Pet Shop Coloring Page: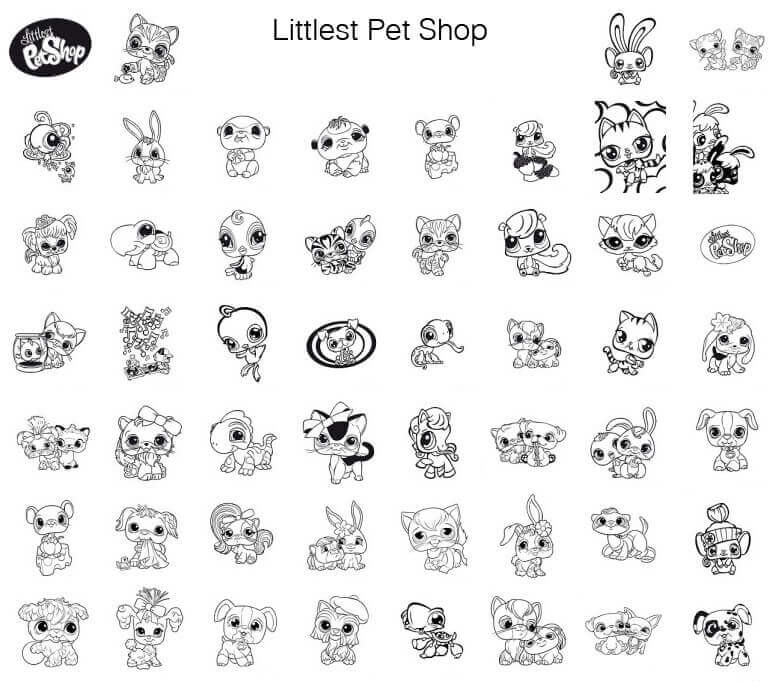 Here's one of our most favorite LPS coloring pages. All the merrymaking characters from the pet shop toy series have dressed up and come together for a celebration!! You simply need to splash colors on their dresses to make the party come alive.
The Squirrel:
Guarding its favorite food, this squirrel from the Littlest Pet Shop toy series is sure to chase you away if you are anywhere near the nuts. So start by coloring him first in grey and black and then slowly move on to the base.
Penny Ling From Littlest Pet Shop Coloring Page:
This white and purple colored charming panda loves rhythm and is fond of singing and ribbon dancing.  She is helpful, full of grace, and sensitive by nature. She loves her independence and is fond of compliments and adventures. She has a bit of a temperament though and can be nasty at times. She is one of the lead characters in the Littlest Pet Shop.
[Related: Panda Coloring Pages ]
Blythe Baxter From LPS Coloring Sheet: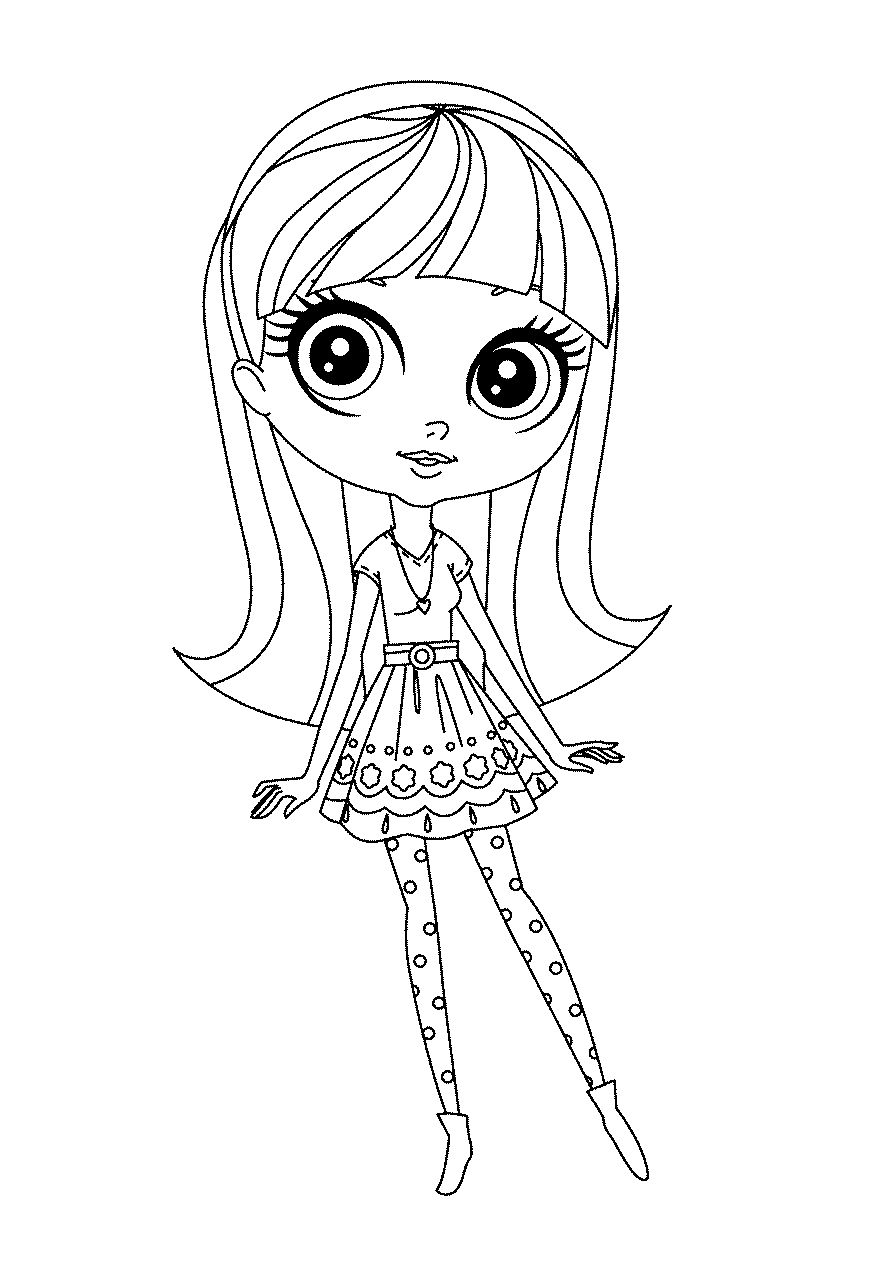 Blythe was not part of the original Kenner series. Introduced in 2010 as one of the lead characters, Blythe is lovely, stylish, kind, and helpful. After moving close to the Littlest Pet Shop with her dad, she realized that she is unique. Blythe discovered that she could communicate with the toy animals in the shop. She then saves the pets by stopping the Littlest Pet Shop from closing their business. She is inherently very creative, and her first love is designing clothes. This adorable blue-eyed, brown-haired girl is generally shy, but is short-tempered at times.
Buttercream Sunday From LPS Coloring Page:
Sugary Buttercream is full of energy and life because of all the sweets that she consumes. All the pet toys think highly of this dwarf rabbit because she is gregarious and lovable, always dancing around and talking in rhymes. At times though she is naughty, landing others in trouble. Shade her body with light strokes of yellow. Remember her nose tip is pink and her eyes are emerald green.
Casey Cottonpuff: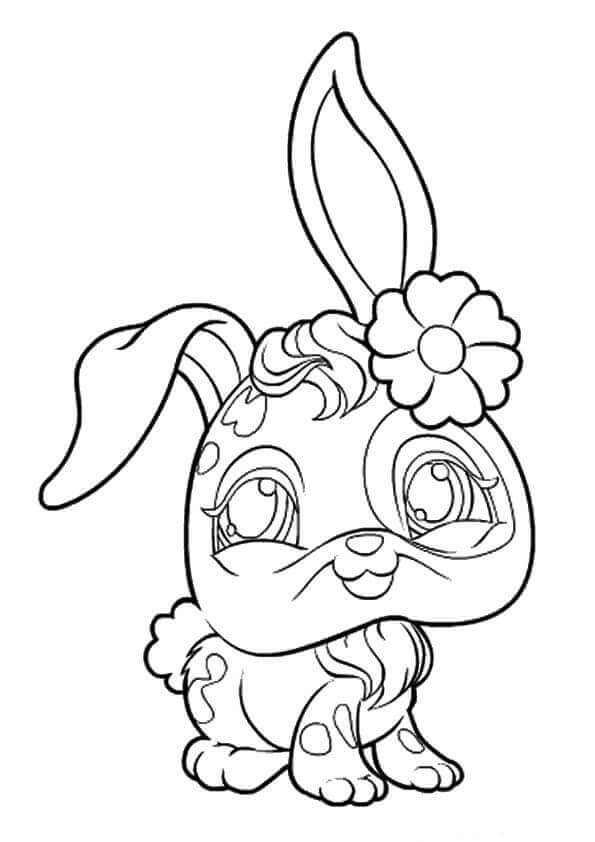 Casey Cottonpuff is part of the Littlest Pet Shop rabbit generation and is available in the Eiscafe Toy World package alongside Pinky Beekman. This innocent looking rabbit is characterized by her blue and white skin and striking lilac-colored eyes. 
[Related: Bunny Coloring Pages ]
Delilah Barnsley:
This LPS coloring page features Delilah, a cat model with a British accent. She is always prim and proper. She is calm, emotionally strong, and superbly conceals her feelings. Music is this cat's biggest weakness. She has golden eyes and hair and a plum-colored body.
[Related: Cat Coloring Pages ]
Spaniel Puppy: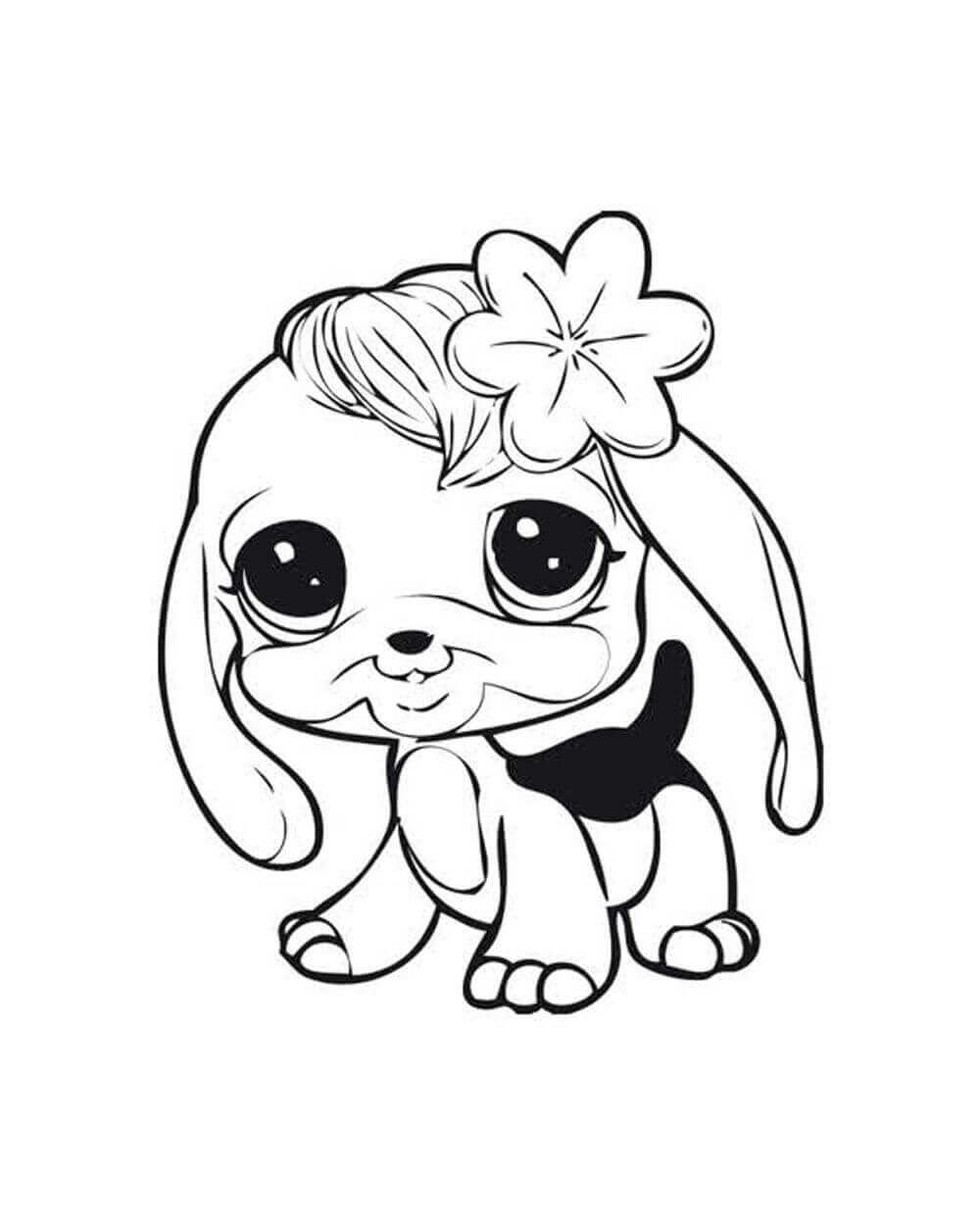 With long drooping ears, this cocker spaniel puppy looks super-cute and is available as part of the Littlest Pet Shop pet series. Vividly presented in various shades of brown, black-and-white, go ahead and color this endearing puppy to include it as one of your faithful pets.
The Fox: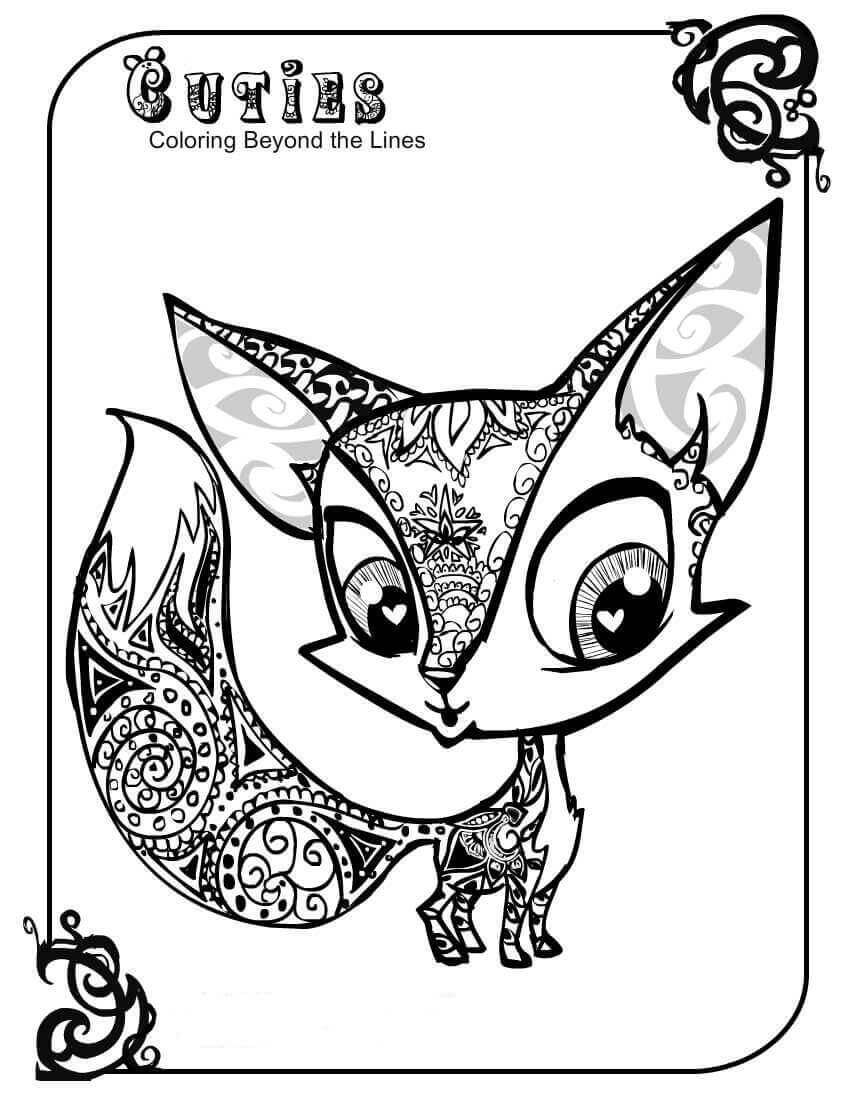 This black and green-eyed fox from the happiest series is the friendly pet toy featured as part of the Littlest Pet Shop toy section. Its distinguishing feature is its triangular face with pointed ears and bushy tail. Notice the intricate designs on this fox's body and tail. Use delicate strokes to fill him up with gutsy colors.
[Related: Fox Coloring Pages ]
The Gecko Lizard:
Featured under the Littlest Pet Shop toy section, this green Lizard is every toy pet owner's pride. It has mauve and blue spots on its back and eyes. It is also characterized by a magnet in its foot.
Madame Pom From Littlest Pet Shop Coloring Picture:
Peach-colored Pomeranian with big blue eyes and pink neck fur, this snobbish dog model is part of the Littlest Pet Shop's daycare. By nature, she is wise and nice. She and Zoe Trent are the biggest competitors as they each try to beat the other in a modeling contest in one of the series. She is fond of those who admire her and compliments them handsomely. She, however, behaves arrogantly at times.
Minka Mark:
This LPS coloring sheet features Minka Mark, a pink-colored spider monkey with blue eyes, a long curly tail, and two gorgeous ponytails. She loves splashing colors around, is extremely fond of food, and is super energetic. Her concentration level is however very poor as she is easily distracted by food. Also, she is terribly scared of closed dark spaces.
[Related: Monkey Coloring Pages ]
Pepper Clark From LPS Coloring Page: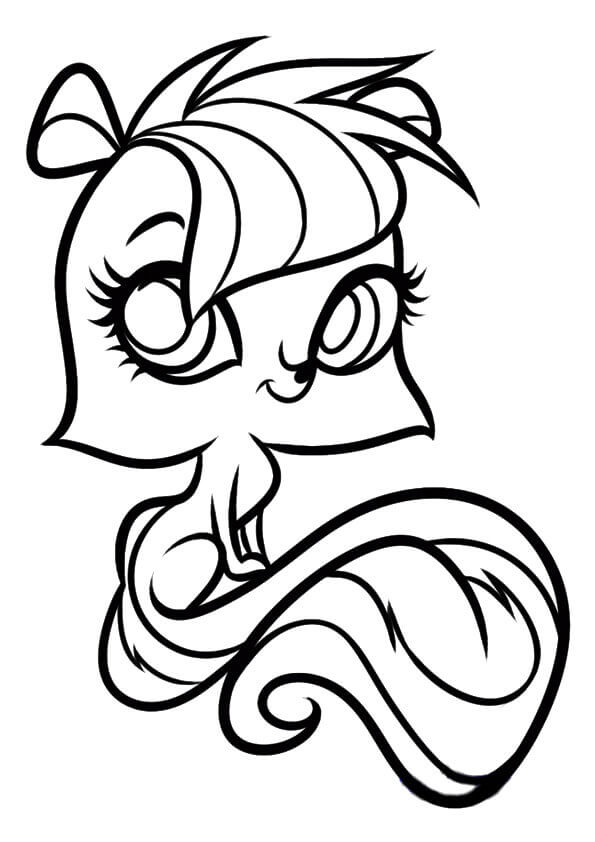 A comedian skunk, she is the antidote for depression and sadness in the pet shop. She is part of the main lead of the television series. She just loves to be on her toes all-time entertaining and amusing her friends but can overdo at times hurting someone without being conscious of the same. She smells pleasant when happy, but pungent when tensed and nervous. Color her with shades of grey and white.
Shivers:
This wild squirrel is a temporary resident of the Littlest Pet Shop. Saved by Blythe, Shivers was so named because she was shivering badly when Blythe discovered him. He is a kleptomaniac and has an insatiable hunger for all things eatable whether it is food or pillows. She is pale orange in color with shades of darker brown here and there.
Sunil Nevla From Littlest Pet Shop Coloring Page:
Sunil is a blue colored tall mongoose who is generally panicky and timid but is really brave when he faces cobras. His best trait is that he is a magician and his friends love him for that. Having said that his magic tricks are mostly disrupted with explosions caused because of his carelessness.
Zoe Trent:
Feminine lilac is the color of this pet dog toy who is the drama queen of the Littlest Pet Shop. She loves to sing, dance, and show off her talents even at the cost of being snobbish at times. Though she is kind-hearted she doesn't mind being outright and candid with her friends. She has a little sister and just worships her family.
The Dragon:
Colors ranging from lilac to brown to black is how the dragons from the Littlest Pet Shop toy series are featured. These reptile-like creatures borrowed from mythology have long tails with a fiery halo around the neck region making them look sinister and fierce. Color this character with fire colors to make it look more fearsome.
[Related: Dragon Coloring Pages ]
The Butterfly:
Featured only under the Littlest Pet Shop toy section, this is a must-have for all the young pet collectors. How can we forget this vibrant butterfly pet when we are talking of hues and colors? She is attractive, friendly, and lovable beyond words. Just looking at her twinkling eyes will fill you with so many emotions that you will not want to let her go forever!
The Hybrid Pet Toy:
This quiet little animal toy is seemingly a hybrid between a rabbit and a mouse. Wow! It has the best of both species and looks super-smart, chic, and cool. A unique masterpiece – something that cannot be missed and has to be there to complete your pet collection.
The Tiger From LPS Coloring Page:
A tabby cat with pale orange skin and brown stripes, a look-alike of a tiger. His eyes are light blue in color. In his first appearance, he has been shown to be locked up in a prison and though the other animals could break the lock and escape, the Tiger could not do so. He is bored of staying at the Littlest Pet Shop but at the same time has lost all hope of escaping from here.  He is so exhausted all the time that his comments keep discouraging the other animals too.
[Related: Tiger Coloring Pages ]
The Cat From Littlest Pet Shop Coloring Page:
Featured only in the toy section of the Littlest Pet Shop this attractive cat with whiskers is playful and a child's friend for life. The range offers Fuzzy cat, Black cat, Siamese cat, Collie Cat, Tabby cat, Persian cat and so many more.
The Housemouse:
Milli Housemouse is a brown mouse and Zoe Housemouse is a white-colored mouse. Both of them have black-and-green eyes and pink inner lobes of the ears. Milli's nose tip is black in color whereas Zoe's is pink. They are both a part of the Littlest Pet Shop toy series.
Vennie Terrio:
A green-colored gecko, Vennie is dumb and a clumsy dancer because of his long tail.  But his heart is in dancing. He is a dependable friend and cares a lot for everyone around though at times he is suddenly envious of certain things.
Little Pet Shop Coloring Page Printable: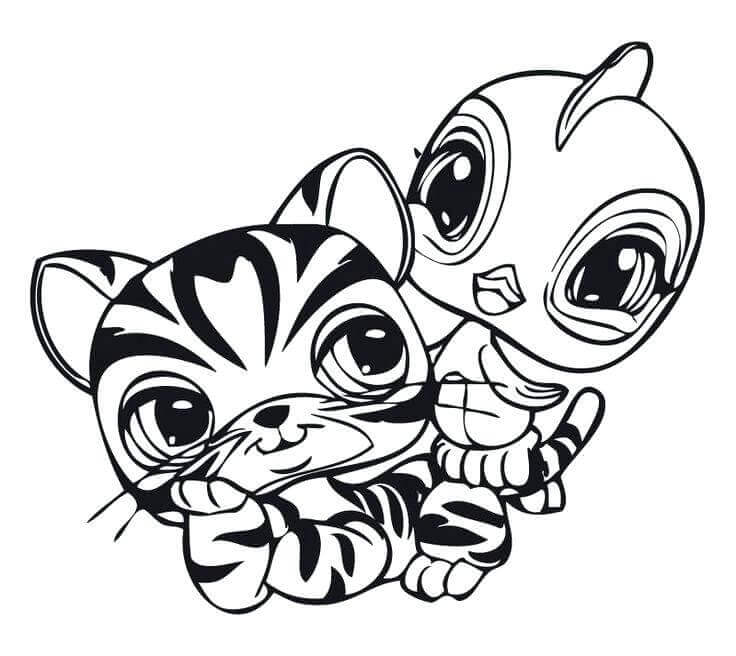 The little yellow duck comforts the tiger so that he forgets his loneliness. They are such an unlikely pair, but looking so sweet together. Be a part of this imaginative pair and help the duck pep up the Tiger with your choice of color.
May Duckly:
This endearing little duck is one of the hidden pets of the Littlest Pet Shop Toy series 2. She is white in color with pale yellow beak, blue-black eyes, and pink webbed foot. 
The Alligator Littlest Pet Shop Coloring Page:
This immature green-colored alligator is a bully who loves to torment the pets in the shop. He is a day camper at the Littlest Pet Shop. He was featured in the series 'Alligator And Handbags' for the first time.
The Blowfish:
This orange-colored fish is part of the Littlest Pet Shop toy series fish collection. When in trouble these fishes increase their size to resemble that of a globe by intake of lots of water. Once inflated their spines, which are present all over the body become frightening and can hurt the enemy badly. Though they are poisonous, they are relished by some people across the world.  
[Related: Fish Coloring Pages ]
The Dalmatian From LPS Coloring Page:
Available only as part of the Littlest Pet Shop toy series these dogs are witty and chic. The pet shop species love to eat pizzas and listen to music.  The most popular thing about these dogs is their black-spotted coat. Dalmatians are well known for their instincts. They are your best friends as they guard you with all loyalty and ferocity. You would hug and cuddle them for all their worth.
Parker Waddleton:
This black and white penguin longs to return home to the South Pole. All the pets in the Littlest Pet Shop try to make him feel comfortable by wearing woolen jackets, decreasing temperatures in the shop to the freezing point, and making ice on the floor. The pets were successful finally to thaw his heart with their warmth and friendly nature.
[Related: Penguin Coloring Pages ]
Kids, it's time now to fasten your creative seat belts and display your artistic skills. Pick up your crayons, color pencils, brushes, sketch pens; set your imagination free; use your hands and mind to bring life to all the pet characters shortlisted by Scribble Fun especially for you. How did you like our collection of free printable Littlest Pet Shop coloring pages? And which of these LPS coloring pages is your favorite? Let us know in the comment section below. And don't forget to check out our Monster High coloring pages too!