After the tremendous popularity of Lol! Surprise Doll and its Lil series, MGA have come up with Lol! Surprise Pet collection, and it looks as magnificent as the original. Kids get absolutely delighted when they see their favorite pet under the seven layers of surprise, with each layer unveiling the hint of which Lol pet they will be getting. Some packages contain additional water surprise, which children can use to feed or bathe their pets. Since the popularity of Lol! Surprise Pets is soaring, we decided to come up with a collection of free printable Lol Surprise Pet coloring pages. You can check out the Lol Surprise Pet coloring pages below.
Free Lol Surprise Pet Coloring Pages To Print:
Kitty Kitty Lol Pets Coloring Page:
We are beginning the article with Kitty Kitty, a true blue rocks star cat with glittery hair. Not just her hair, but even her headphones and shoes are shiny and glittery. Kitty Kitty is hands down the most glamorous Lol Pet.
Lol, Surprise Pets Coloring Page: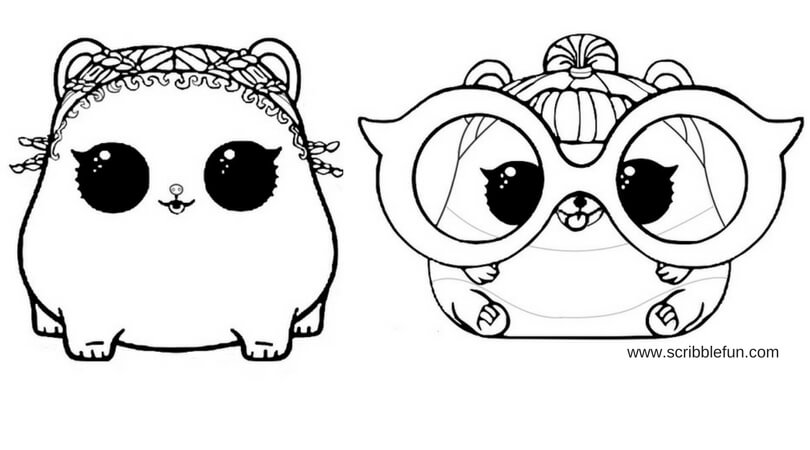 This Lol Pets coloring page features two of the most adorable character from this collection, Trouble Squeaker and Rolls. Both the characters are cute as buttons and will definitely look amazing when they are filled in their signature color.
to join this conversation on GitHub. Already have an account? Sign in to comment Footer © 2023 GitHub, Inc. Footer navigation Terms Privacy Security Status
Bunny Wishes:
Bunny Wishes, belonging to Genie and Lil Genie is one of the cutest Lol Surprise Pets in our opinion. She is a genie version of a rabbit with pink hair and bangs. She wears hoop earrings and a pink pearl necklace. The best thing about her is that she can change her color.
[ Read: Bunny Coloring Pages ]
Trouble Squeaker:
Here's another Lol pet we absolutely adore. It's a gray-colored hamster that has teal hair and wears cyan pointed frame sunglasses. She looks absolutely cute when she sticks out her tongue mischievously. Trouble Squeaker comes with a teal perfume bottle.
Sugar Pup:
This pup will definitely appeal to the unicorn lovers. Sugar Pup is a white-colored puppy with pink and blue hair, which she ties in buns. But what makes her stand out is her unicorn costume with pink wings.
Pupsta:
Pupsta is another Lol Pet we completely adore. She's a white-colored pet with multicoloured hair, which she accessorizes with polka-dotted hair bows. Isn't she cute?
[ Read: Puppy Coloring Pages ]
Hoops DOGG Lol Surprise Pet Coloring Page:
This Lol Surprise Pet coloring page features Hoops DOGG, the coolest pet from this collection. Belonging to Hoops MVP and Lil Hoops MVP, Hoops DOGG has hot pink hair, which she ties into a high bun. Her body is light brown, and so are her eyes. She wears orange colored sneakers and a white sweatband.
Hop Hop:
Hop Hop is a sassy, gray-colored pet with multicolored hair. She wears oversized glasses, which makes her look even cooler.
Rolls Lol Pet Coloring Page: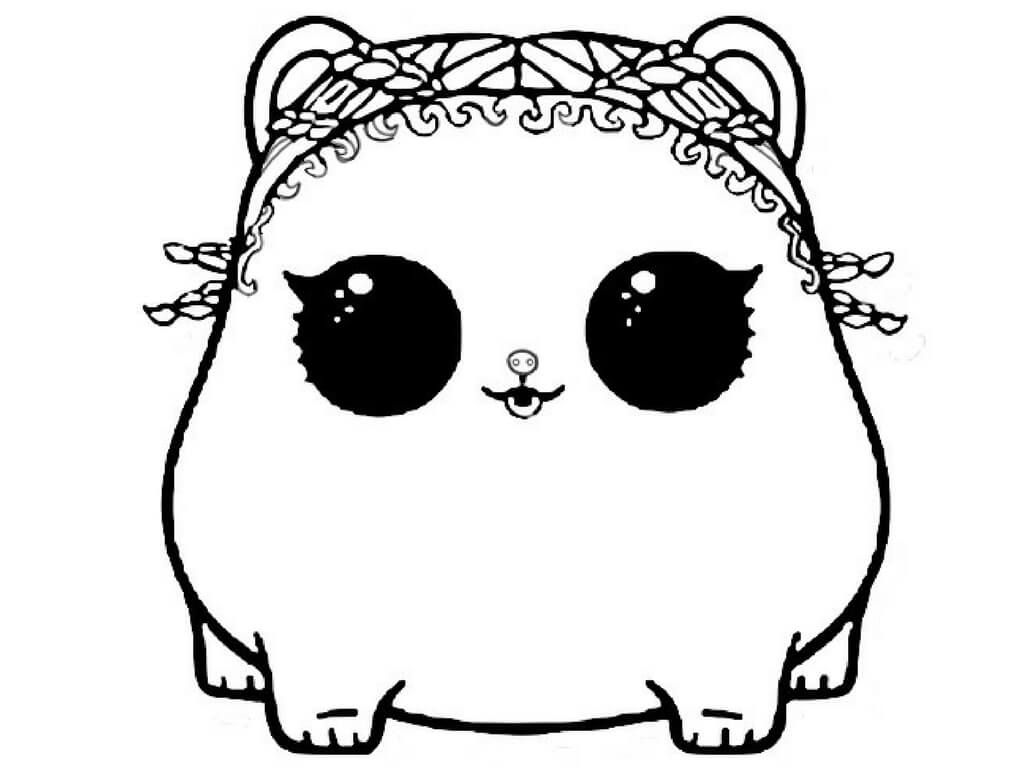 Rolls, an ultra-rare pet, usually comes with Trouble Squeaker in the surprise ball. This hamster has a ginger hair, which is tied into cornrows. And her ears have a lovely yellowish-orange shade. Rolls is a soccer ball charm and comes with a cyan-colored duffel bag.
Sur Fur: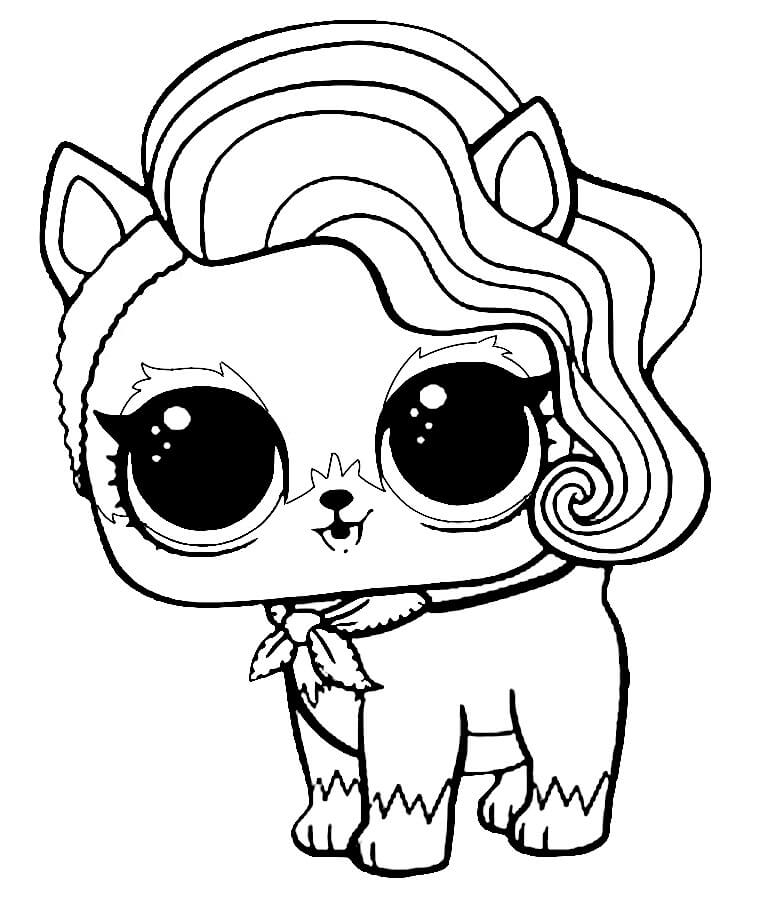 Here's a coloring page of Sur Fur, a Lol Surprise pet with arguably the best hairdo. Come on, who else do you think has such a beautiful, side-swept silver hair? She is a gray and white-colored cat, who wears a turquoise blue collar.
Neon Kitty Lol Surprise Pets Coloring Sheet: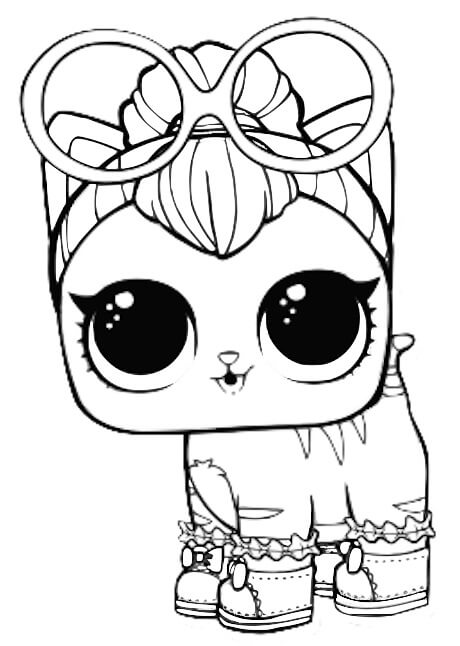 Neon Kitty is one of the most popular pets from the Lol Surprise Pets collection. She has orange skin, deep orange hair with pink bangs, which explains its name. The highlights of her look are her pink-tinted glasses and neon pink and yellow shoes.
B.B. Pup: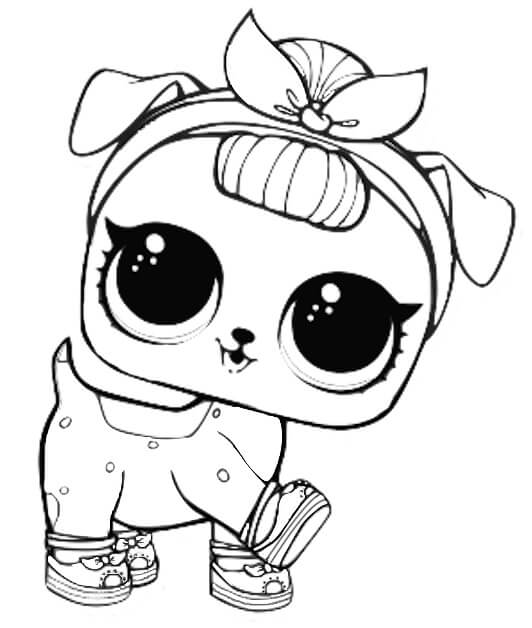 Did you notice, B.B. Pup is trying to parody the same propaganda poster "We Can Do It"? And she has even tied a bandana or scarf around her head. Her aqua blue hair complements her brown body really well. And so do her red and beige sneakers.
Su PRR Kitty:
This Loll Pets coloring pages feature Su-Purr Kitty or Su-Prr Kitty, who indeed is super adorable. She has beautiful purple hair with pink streaks, which is neatly styled. And her orange scarf goes really well with her hot pink sneakers.
Midnight Pup:
Here's a Lol Pets coloring page of Midnight Pup, a black colored cat who appears wearing a black wing costume. She has violet colored hair tied in two buns, and we must say she looks excessively sassy and cool.
Roller Kit 10:
Roller Kit 10, a cat that wears roller skates belongs to Roller Sk8ter and Lil Roller Sk8ter. She's a gray-colored cat with violet hair, blue eyes and pastel pink nose and inside ears. Apart from her blue skates, Roller Kit 10 wears an Elizabethan collar.  
[ Read: Cat Coloring Pages ]
Aren't these free printable Lol Surprise Pet coloring pictures absolutely delightful? Of course, they are! Feel free to download or print out as many Lol pets coloring pages as you want. And you can check out our Lol Surprise Dolls coloring pages too! They are equally marvelous.