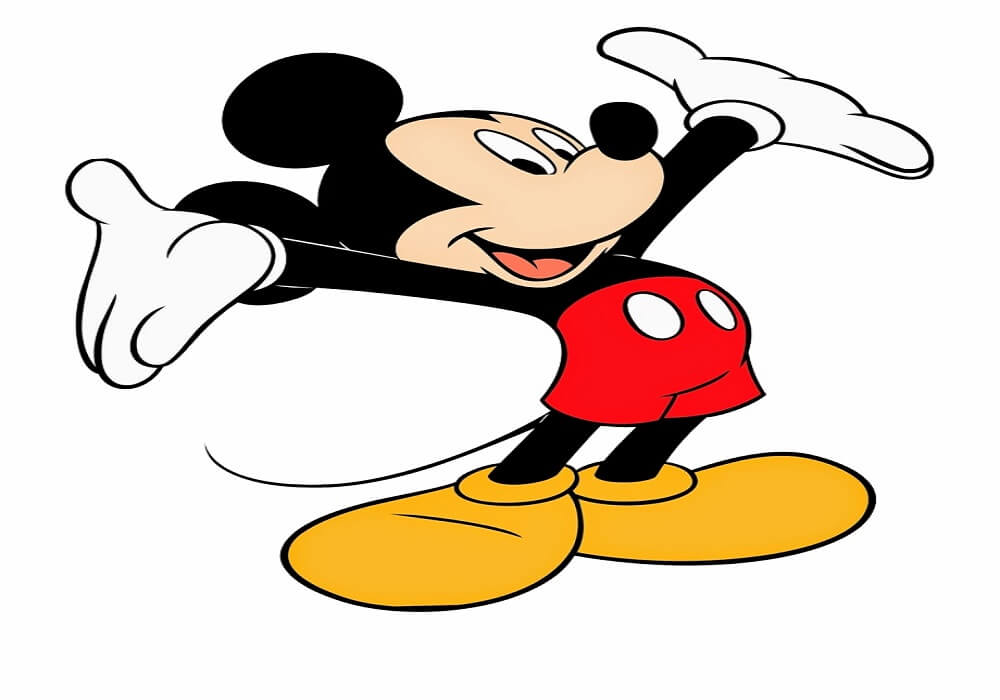 Greetings children! Did you have a fun time working on those Minnie Mouse inspired coloring sheets? We are sure you must have done an excellent job of filling them with colors. To keep Minnie Mouse company, we have a special collection of Disney's iconic cartoon character, which incidentally also became the mascot of The Walt Disney Company. Yes, we've got you free printable Mickey Mouse coloring pages.
First appearing in Disney's "Plane Crazy", Mickey Mouse was officially introduced to the world in the short film, "Steamboat Willie" which was released in 1928. Dressed in red shorts and big yellow shoes along with white gloves, Mickey Mouse is an anthropomorphic mouse created by Walt Disney and Up Iwerks. Such is the popularity of this cartoon character that Mickey Mouse even had its star on the Hollywood Walk of Fame in 1978, becoming the first cartoon to achieve the feat.
His friends include the anthropomorphic duck, Donald Duck, and anthropomorphic dog, Goofy. You can find them both as well as Minnie Mouse, his girlfriend, and Pluto, his pet dog, along with Mickey Mouse in most of his appearances. Why wait any longer? Let's jump right into the animated world of Disney's mascot with this special collection of Mickey Mouse coloring sheets to print.
to join this conversation on GitHub. Already have an account? Sign in to comment Footer © 2023 GitHub, Inc. Footer navigation Terms Privacy Security Status
40 Free Mickey Mouse Coloring Pages Printable
Baby Mickey And Baby Pluto:
We are starting this collection from Mickey's childhood. Cute baby Mickey Mouse is playacting as a pirate with a wooden sword along with his tiny little pet dog, Pluto. Created by Walt Disney, Pluto first appeared in 1931's "The Mouse Hunt".
Baby Mickey Mouse Coloring A Nice House:
Mickey Mouse seems to be enjoying filling up a coloring page of a house with different colors. You can join in the action by filling up this illustration of baby Mickey with your own choice of bright and fun colors.
Baby Mickey Mouse Dressed Like Santa:
Like most young ones, Baby Mickey loves Christmas. Mostly he enjoys playing Santa. Look how much fun he is having donning the fake mustache and beard, pretending to ride the sled loaded with lots of Christmas gifts.
Baby Minnie Studies Mickey's Alphabet Book:
While Baby Mickey is being naughty somewhere, Baby Minnie is having fun reading the alphabet book Mickey left behind. The book illustrates the object for each letter instead of writing it down. You have "A" with a picture of an apple. Can you guess what "B" stands for in the book? That's right, it's banana.
Baby Mickey And Minnie Kiss Under The Mistletoe:
One of the most popular Christmas traditions, whenever two people are under the mistletoe they have to kiss. Even as a baby, Mickey was naughty. Here you can see baby Minnie giving Mickey a kiss.
Mickey Mouse Takes A Fun Walk In The Morning Sun:
Taking a morning walk is one of the healthiest habits you can inculcate. Mickey Mouse is having a fun time taking a walk early in the morning with the sun shining pleasantly and greenery all around him. Print this wonderful morning scene and fill it with bright colors.
Head Or Tail? Come Join, As Mickey Mouse Tosses The Coin:
Come and join Mickey Mouse in his game of head or tail. He has already tossed the coin up in the air. On which side do you think the coin is going to land? I guess we will never know. If you feel adventurous you can draw another illustration with the fallen coin.
Mickey Mouse Kicks The Ball In A Game Of Football:
Mickey Mouse has interests in several sports. You can always find him playing one or the other. Out here today, he is engrossed in an exciting game of football. He has the ball in his control and kicks it to score a goal for his team.
Magician Mickey, His Magic Is Tricky:
Having an interest in different things is a good thing. You get the idea about how most things work. Like how Mickey Mouse tries his best to be a great magician. He has at least got the magician-cum-wizardry attire correct. Now, he needs to work on his magic trick.
Mickey All Set For Sledding:
Taking part in some fun winter activities, here is Mickey Mouse, the adventurous, getting his gear on and all set for sledding. Print the page and give him your encouragement through your coloring skills.
Mickey Holds The Mistletoe, To Get A Kiss From Minnie For Sure: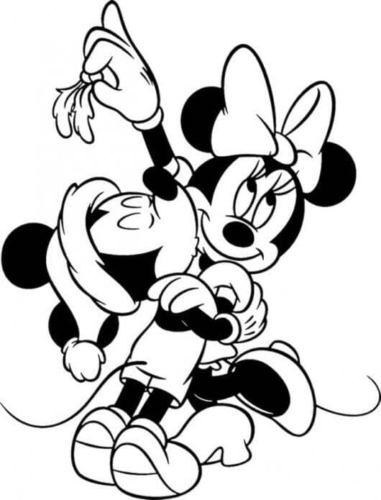 Even after growing up, Mickey Mouse still has his naughty and cheeky side of his personality. Look at the way he is holding the mistletoe above their heads, just to get a kiss from his girlfriend Minnie Mouse.
Mickey and Minnie Mouse Walking Together:
There are several things that a couple can enjoy together. From the most mundane things to the most lavish things, as long as they love and respect each other, every moment is enjoyable. Like how Mickey and Minnie find joy in taking a quiet walk around the neighborhood.
Mickey And Minnie On A Date: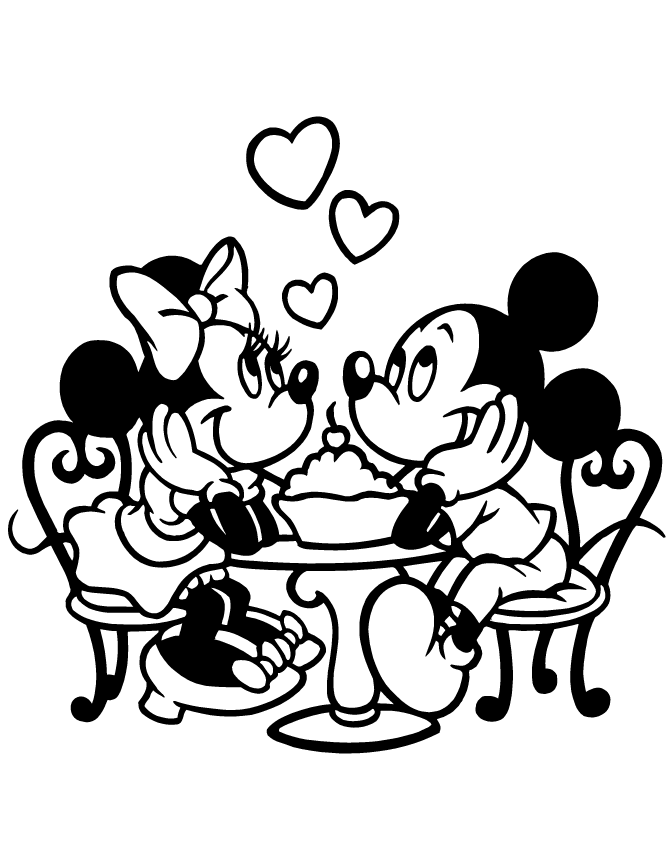 When it's time to shower each other with lavish attention and grand celebration, Mickey and Minnie go out for a dinner date. They both have dressed up smartly for their romantic date in the grand restaurant.
Pluto Licks Mickey's Head, Chasing For Gingerbread:
Pluto is always showering Mickey with hugs and licks all over him so that he gives him a treat. When it's the festive time, Pluto gets too excited to try out all the delicious treats like this gingerbread man Mickey is holding in his hand.
Mickey And Pluto Enjoy A Long Drive:
Taking care of those you love, be it your family and friends or even your pets, is what makes the relationship work better. Today, Mickey Mouse is taking Pluto on a long and breezy drive in his car. Like all other dogs, Pluto too enjoys the wind blowing against his face.
Mickey As A Knight: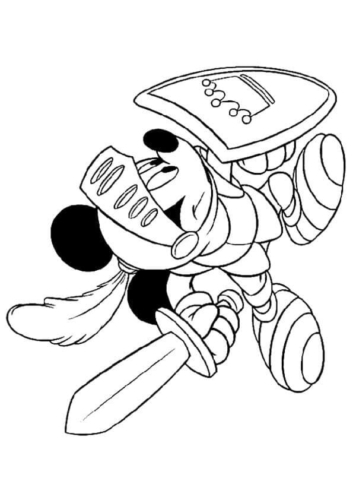 Look how mighty and strong Mickey Mouse looks in his avatar as a regal knight. Give him colors suited for the royal guard.
Mickey Bakes Mickey A Birthday Cake:
In order to surprise Minnie on her birthday, Mickey has got her sweet birthday cake. It sure looks so delicious. Print this coloring page and you can contribute to the celebration by coloring the birthday cake Mickey has got.
Mickey Juggling Balls, None Of Them Falls: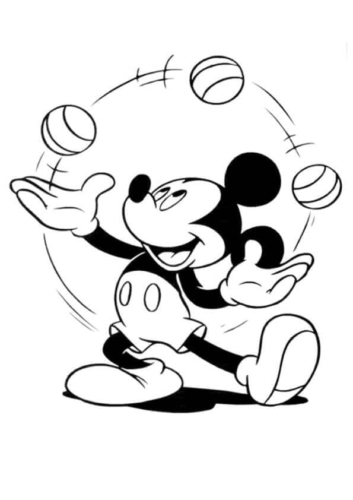 After his attempt at doing magic tricks, Mickey Mouse has decided on another fun act. Here he is successfully managing to juggle several balls at the same time.
A Huge Scoop Of Ice Cream, Mickey's Summer Dream:
When summer gets hot and humid, something cold and chilled is the perfect solution. For Mickey Mouse, having a huge scoop of ice-cream is the ultimate summer relief.
Mickey Mouse Birthday Party:
Mickey Mouse has a great time on his surprise birthday party organized by his girlfriend Minnie and his friends. There are confetti flying, the balloons and the birthday hat Mickey is wearing.
Mickey Mouse Goes Down The Chimney Like Santa Claus:
Keeping with his Christmas tradition, here is Mickey enacting being Santa. He is trying to get down the chimney carrying a huge bag of gifts.
Mickey And Minnie Mouse Dancing In The Clubhouse: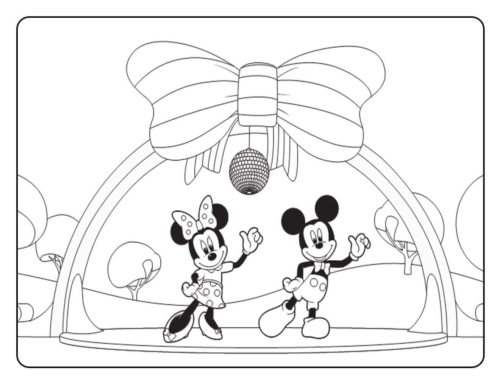 When they feel like grooving and having a fun night out, Mickey and Minnie go to the clubhouse and have a blast dancing away to the latest dance hits.
It's Halloween! Mickey And Minnie Hiding Behind The Pumpkin:
Mickey and Minnie are done with their Halloween preparations like this huge pumpkin cut-out. Now, they hide behind the pumpkin to scare everyone who comes for a trick or treat.
Mickey Mouse In The House:
In his earlier depictions, Mickey Mouse was shown as a cheeky character. Over time he was portrayed as a much nicer guy. Recently, there has been a revival of his naughtiness in his personality.
Mickey Mouse Goes Underwater, Rides A Turtle And Meets Sea Creatures: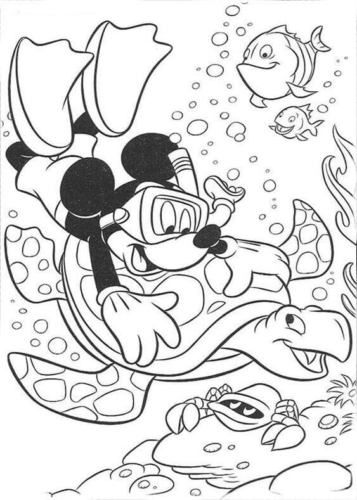 Exploring different worlds around him, Mickey Mouse is riding on a turtle to witness the underwater creatures. Find all the creatures you see and give them an array of colors.
Mickey Mouse Enjoying Some Delightful Baking:
It is not just Minnie who likes to bake. Mickey enjoys cooking and baking too. After all, knowing how to cook is one of the basic life skills one must know.
Mickey Mouse And Friends Visit Disneyland: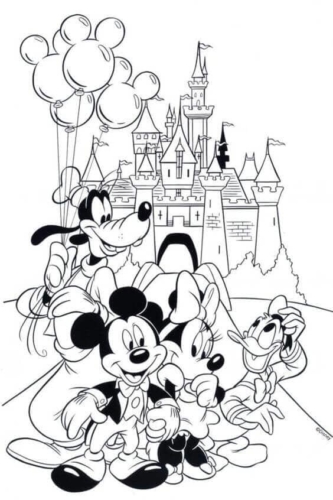 Why should everyone else in the world get to visit Disneyland, just because they are Disney characters? That's why Mickey Mouse, Minnie Mouse, and their friends are here today visiting Disneyland.
Having Fun Whenever He Can, Mickey Mouse Enjoys The Rain:
When you can enjoy the simple things in life, you have found the secret to life. Mickey surely never misses an opportunity to relish in the miracles of life and nature like the rain.
Mickey Mouse Face Coloring Page:
Here's your chance to put on a Mickey Mouse face. Print this page and color it skillfully. Once done, cut-out, tie strings on both ends and your Mickey Mouse face is ready.
Goodnight Mickey! Time For Bed, Sweet Dreams:
Yawning from being tired, Mickey is feeling sleepy. Already changed into his pajamas Mickey is ready for his bedtime.
Saturday Night Fever! Mickey Mouse, Disco Dancer:
Having a good time in retro style, Mickey is dressed like John Travolta in Saturday Night Fever. It's the time to disco!
Steering The Boat To Safety, You Can Always Depend On Mickey:
When you have someone as dependable as Mickey, you can always be certain of your safety. Look at Mickey expertly steering the boat to the shore.
Mickey And Minnie Go On A Picnic:
If it's not the grand romantic dinner in a lavish restaurant or enjoying a walk together, Mickey and Minnie find some together time on a picnic. Even Pluto looks excited.
Time For Home Run, For Mickey Baseball Is Fun:
Here's is a glimpse of Mickey playing some other sports. This time he is going for a home run in the game of baseball.
Story Time Gets His Kids Hooked, Mickey Reads Their Favorite Book:
The best way to calm and lull the kids to sleep is storytime. And Mickey loses no time to read the kids their favorite book.
Mickey Mouse Ready For His Date, Suited Up With Flowers All Set:
Taking Minnie out for a surprise date, Mickey is all suited up and ready to greet her with a bouquet of flowers.
Practice Makes Perfect, Mickey Gets Ball In The Basket: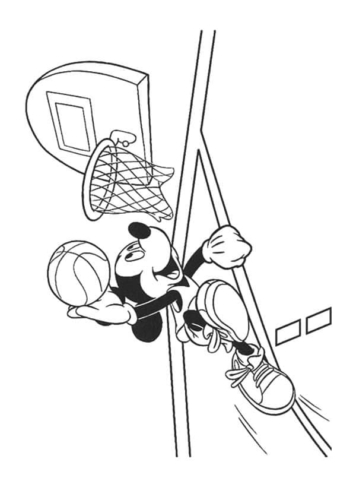 Initially having trouble scoring a goal, Mickey persevered for long at basketball. Now he is able to make the jump and get the ball through the basket.
Up In The Sky, Mickey The Pilot Flying High:
When Mickey has some free time, if he is not playing sports on the ground, you can find him flying in the sky as a plane pilot.
After A Few Rides, Mickey Washes His Car Real Nice:
Everything needs regular maintenance to function properly. That's why Mickey washes his car after taking a few rides.
Vintage Mickey And Minnie, Dancing To The Melody:
A blast from the past, from the good old times of Disney's earlier cartoons. Mickey Mouse and Minnie Mouse dancing to a cool old melody.
With that throwback illustration of Mickey Mouse and Minnie Mouse from their earlier animated shorts, we conclude today's interesting collection of Mickey Mouse coloring pages printable. Mickey Mouse has appeared in over 130 films with one of the short film, "Lend A Paw" winning the Academy Award for Best Animated Short Film in 1942. Aside from films, Mickey Mouse has branched into different media including video games, comic books and more. Most of the popular Disney characters including Mickey can also be found in any of the Disney parks around the world.