The world of animation is full of characters that have become widely known around the world. Some earn the distinction of being etched into the consciousness of the masses and find themselves in popular culture. Mickey Mouse, Donald Duck, Winnie the Pooh, Hello Kitty… there will hardly be anyone who doesn't know about these characters. In recent times, one character that has won over the imagination of the world is the minion. Today, we bring you an entire collection of free printable Minions coloring pages dedicated to this wild, funny and adorable character.
Introduced in the 2010 computer-animated film, Despicable Me, the minions are small creatures and yellow in color. In the film, they are seen as an enthusiastic group serving their supervillain master, Felonius Gru who adopts three orphan girls to carry out an evil plan. Somehow, their love for him and his growing fondness for them change him into a better person.
The minions speak in an incomprehensible language, that sounds almost gibberish with closer attention revealing a few known words to the listeners. They tend to become unorganized and scattered without a master and are often seen in disagreement amongst themselves.
to join this conversation on GitHub. Already have an account? Sign in to comment Footer © 2023 GitHub, Inc. Footer navigation Terms Privacy Security Status
After the success of Despicable Me and its sequel Despicable Me 2 released in 2013, the minions got their own spin-off film, titled Minions. Released in 2015, Minions proved to be a mega-success with a box office collection of $1.1 billion worldwide. The film traces the origin of the minions and shows their journey through time.
It's time now to get into the world of minions through this interesting collection of Minion coloring sheets to print.
35 Free Minions Coloring Pages Printable
Bello! A Minion Says Hello!
Bello! That's how a minion says hello! Or more precisely that's what it sounds like when a minion says hello. You can greet this minion back with a grand 'hello' or welcome him with a 'bello' as well. To make it more pleasant, fill this illustration with welcoming colors.
Carl, The One-Eyed Minion: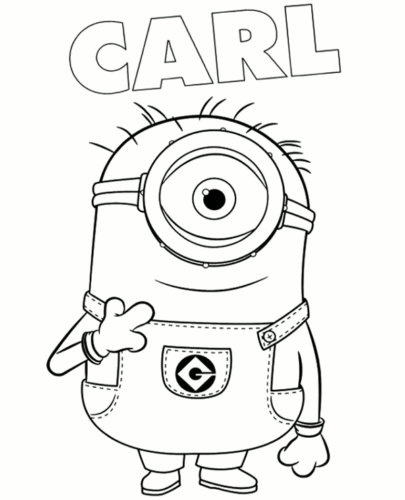 Here's Carl, one of the one-eyed minions, waving at you. Wave back at him by giving him your warmest greetings and filling this illustration with bright colors.
A Head Full Of Fruits On A Minion:
If there's one thing that a minion cannot resist, it's fruits! Yes, minions have a great affinity and liking for all kinds of fruits. But more specifically, bananas. You might have seen them go bananas over bananas! Give this fruity illustration of a minion with fruits on his head, a colorful treatment.
Evil Minion Looks Like This:
One look at this illustration and you can tell that this particular minion isn't like the other innocent, playful and adorable minions. This is the evil minion, with its fiery styled upright hair. Print this coloring page and let the danger come across with your coloring skill.
"I'm With Stupid" Minions Coloring Page:
This fun illustration of the minions gives you a clear idea about how the characters are with each other. While the other minions are busy with themselves, the cool one in the middle has already prepared for the occasion by coming up with a witty postcard, "I'm With Stupid".
Many Faces Of Minions:
As many as there are minions, there are also different characters among them. Look at the variety of personalities of minions on this coloring page. From the jubilant to the devilish, from the cutesy to the entertaining, give these various types of minions, equally variant colors.
Kevin, The Fearless Minion:
The fearless one among the minions, here's Kevin with a mischievous smile on his face. He seems to have had a clever or naughty idea, doesn't he? Must be something to do with the toy gun invention in his hands. Think up what Kevin is planning while you print and color this illustration.
Kevin Playing Golf, Err… Mini Golf: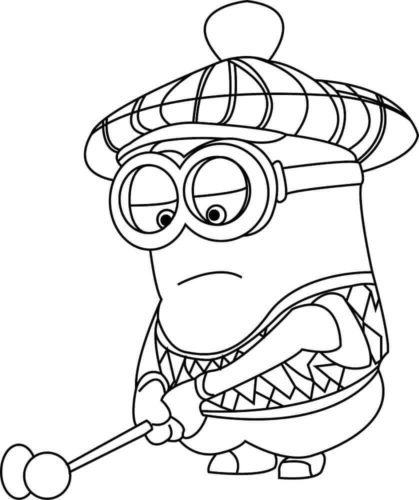 Kevin is trying his hand at golf on this coloring page. He has got his smart golf outfit on, including the cool hat. Considering minions are tiny little creatures, perhaps Kevin is playing a game of mini-golf. Print this coloring page and give this sporty minion some adventurous colors.
Let's Have Cupcakes, Despicable Me:
It's time to have some cupcakes now. Actually, it's time to color some cupcakes. Give some color to this illustration inspired by the first film in the Despicable Me franchise, showcasing a minion ready to gorge on some delicious cupcakes.
Minion As Ant-Man: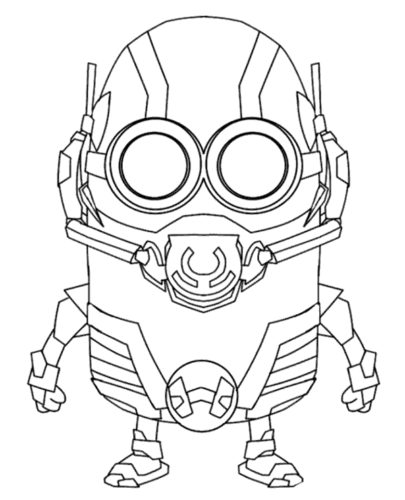 Minions get into all sorts of fun little activities. This particular minion is no stranger to fun and adventure. He is representing the Ant-Man from the Marvel Cinematic Universe in the Minion universe with his own specially crafted Ant-Man suit. Appreciate this style and design by giving it wonderful colors.
Also Read: Ant-Man Coloring Pages
Minion As Fireman, But No Water At Hand:
If we had a minion Iron Man, here we have the real deal – a minion fireman. Unfortunately for him, on the first day of his job, he finds himself with a unique problem, the hydrant has no water. Come up with some solutions while you print and color this illustration.
Minion As Vampire:
The sharp and long teeth look super scary. This minion would win Halloween costume competition with this precise detailing of props and clothes. Print this coloring page and render the illustration with dark, gloomy colors.
Also Read: Vampire Coloring Pages
Minion Bob With Soft Toy:
Minion Bob is feeling happy today and is doing a little dance to show his joy. That's because he just got a fun little soft toy as a present. Join in the celebration with him by printing and filling this page with fun colors.
Minion Reading While Sitting On A Toilet Seat:
Most adult humans are known to either get on their smartphones or read something while doing their toilet business. This particular minion is just the same. He spends his time taking in some knowledge by reading while on a bathroom break.
I Love Minion Poster:
Show your love and appreciation of the minions through this poster. It features 'I heart Minions' design with the minions illustrated inside the heart. Print this coloring page and fill it with a grand color scheme.
Minion Dave Acting Coy: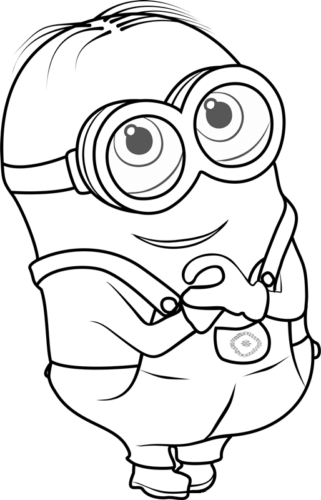 Meet Minion Dave. He is super cute just like all the other minions. But he also looks a little shy and is acting coy in this illustration. Give this adorable personality some warm and fuzzy colors.
Minion Dressed Like Santa:
When it comes to Christmas in the land of minions, there is no shortage of gifts. Bringing the gifts is this minion who is dressed as Santa and his red uniform and hat. There is also a large red bag full of gifts.
Also Read: Santa Claus Coloring Pages
Minion Dressed As Mario:
It's not just superheroes but minions love some classic video games too. Here is a minion dressed as Mario and ready for an adventurous game fighting obstacles to save the princess.
Also Read: Mario Coloring Pages
Minion Flying On A Rocket: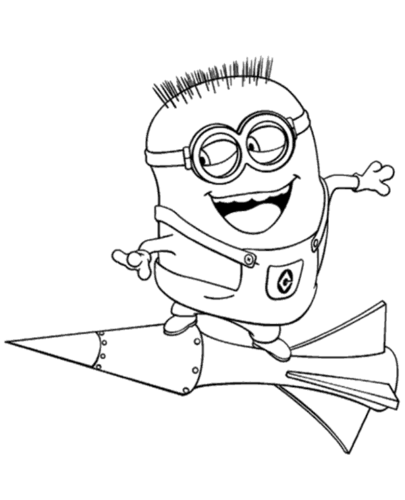 Minions can be super-enthusiastic at times. One look at this illustration of a minion with open-mouthed excitement, riding along with a rocket is enough to demonstrate their enthusiasm. Fill this coloring page with exciting colors.
Minion Jerry, In A Hurry:
Something joyously urgent is happening on this coloring page. Minion Jerry seems to have heard some great news for him to rush on in such a hurry while smiling wide. You too can hurry along with your colors and make this a colorful sprint for him.
Minion Stuart With His Guitar:
Minion Stuart is a musically gifted minion. He loves his music and he is here to play one of his fun songs. Print this coloring page and fill it with colorful details, including the slick guitar he is holding.
Minion Wishing Happy New Year:
Welcoming the new year with open arms, this minion is spreading happiness all around. He has even taken the time to decorate little stars and ribbons to wish you a happy new year. Show him your gratitude by filling this illustration with festive colors.
Also Read: New Year Coloring Pages
Minion On His Banana Throne:
No, that's not a decorative throne this minion is sitting on. It's actually a throne made up of bananas. Certainly, the minions were not kidding about their obsession with fruits and especially bananas. Try not to go bananas while you print and color this page.
A Minion Pranks Another Minion:
There is never a dull moment in the lives of minions. Here is one minion pranking another by scaring him with something slimy on his face. Some harmless little pranks make for a good time.
Minions Argue After A Prank:
Once the minion figured out that he had been pranked, he doesn't seem happy about it. Do you remember doing silly pranks on your family or friends? Or have you been pranked yourself? Print and color this page while you think about it.
Minions Dressed As Mario Characters: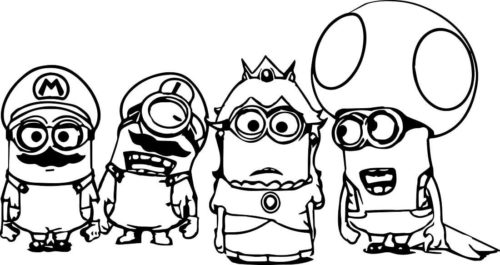 While the earlier minion was dressed as the main character Mario, here we have a few other minions joining in the fun. Can you identify which characters each of the minions are dressed as?
Minions Going For A Ride:
Minions are all about fun. That's exactly what this bunch of minions is having on this coloring page. This naughty group of minions is out for a wild and adventurous ride on a bike.
Minions In Despicable Me 3:
The third sequel in the Despicable Me franchise was released in 2017 and simply titled 'Despicable Me 3'. Here you can see some of the main minion characters trying to reach the title in this fun illustration of the film poster.
Minions Performing Stunt:
Up for any adventure, these two minions are planning to be daredevils. While one minion rides the board, another minion has perched himself upside down on his head. Give this daring duo some daring splash of colors.
Minions Wishing You Happy Birthday:
It's not just during the holidays, the minions have got your wishes covered on your birthdays too. Look at this fun bunch creating a beautifully decorated birthday wish just for you.
Also Read: Happy Birthday Coloring Pages
Minions With Gru And Family:
The core of the Despicable Me franchise is this group comprising Felonius Gru, his three adopted daughters and his minions. Together they make up a pretty unconventional but wonderful family.
Minion Phil Dressed As Maid:
Being a little too mischievous can lead you to strange places and situations. For minion Phil, his mischief has him led to dress as a maid. He has put on a hairband as well. Be sure to give the dress a lovely combination of colors.
Prehistoric Minion, Wearing Animal Skin:
Minions are revealed to have been in existence since time immemorial or let's say the beginning of life. So, it's not a costume party but a prehistoric minion you are seeing illustrated on this coloring page.
Someone Is Going To Get Hurt:
When you engage in naughtiness and keep playing pranks on each other, eventually it will lead to someone or the other getting hurt. It's pretty easy to guess, which of these two minions is going to get hurt here, isn't it?
Minion Stuart Dressed As A Girl:
If minion Phil got into a maid's dress, minion Stuart managed to find himself a cute little girl's outfit. With those ponytails, he sure looks like a little girl.
You can expect such antics and a whole lot of fun when the sequel to the blockbuster Minions releases in summer this year. Titled as 'Minions: The Rise of Gru', the film continues the storyline from the earlier movie and introduces Felonius Gru as a young kid who is a fanboy of a supervillain. The film also forms a prequel to the first Despicable Me film. If you haven't seen the movies, you have ample time to catch up to the whole film franchise. Afterward, you can test your knowledge by coloring this collection of minions coloring sheets.