Hi guys! I seriously didn't know that Monster High dolls, toys and collectibles are still so popular with children. Launched in 2010, Monster High is a fashion doll line created by Mattel and the characters is inspired by sci-fi. horror and monster movies, thriller fiction, and other various creatures. Apart from dolls, Monster High franchise also includes keychains, bags, stationery, video games, and playsets. That's not all, Monster High coloring pages are extremely popular with children. Keeping up with the demand for this series, we've got you a lovely compilation of free printable Monster High coloring pages. Take a look at our collection of Monster High coloring sheets below.
Free Printable Monster High Coloring Pages
Monster High Babies Coloring Page:
The cute and adorable character you see here is a baby from Monster High series. The baby is looking ultra cute and glamorous and she'll look even more beautiful when you fill her image with the perfect colors. You can even use these coloring sheets to make cards.
Monster High Boys Coloring Page:
This Monster High coloring page features the three Mansters from the series- Claude Wolf, Deuce Gorgon and Jackson Jekyll. We will be discussing more about these characters below. So stay tuned!
Operetta From Monster High Coloring Page: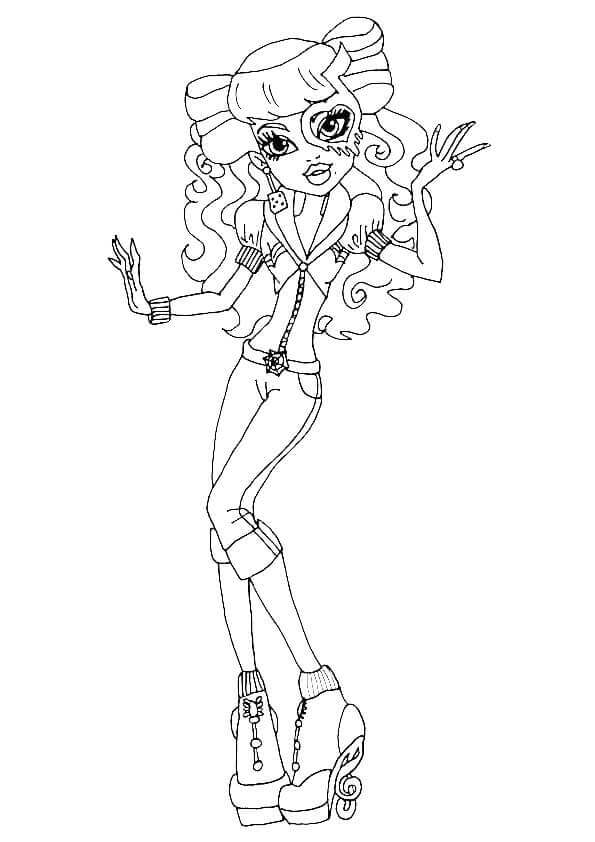 This Monster High coloring page features Operetta, the daughter of the Phantom of the Opera and an all-around character of this series. She's both a diva and a rebel and tends to demand respect from whoever is around her.
Spectra Vondergeist And Skelita Calaveras From Monster High Coloring Page: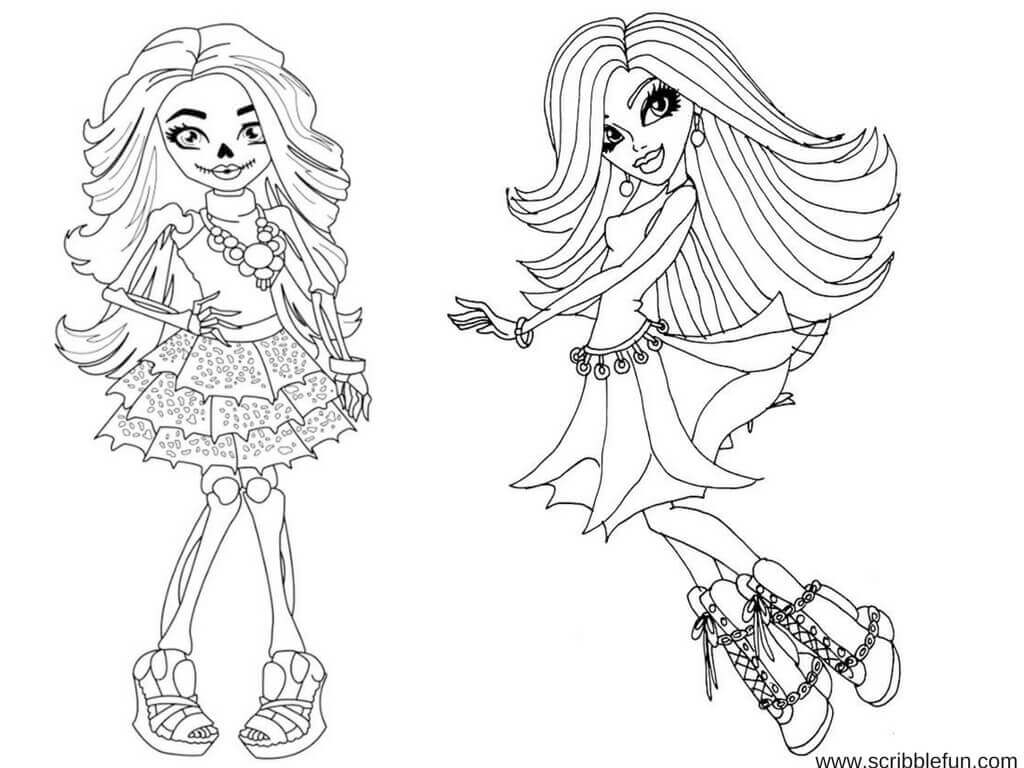 This coloring page features two important characters from Monster High Spectra Vondergeist and Skelita Calaveras. Both these ghouls are special in their own ways and deserve the brightest and prettiest of shades. So break your crayons on this coloring page right away.
Free Printable Monster High Coloring Page: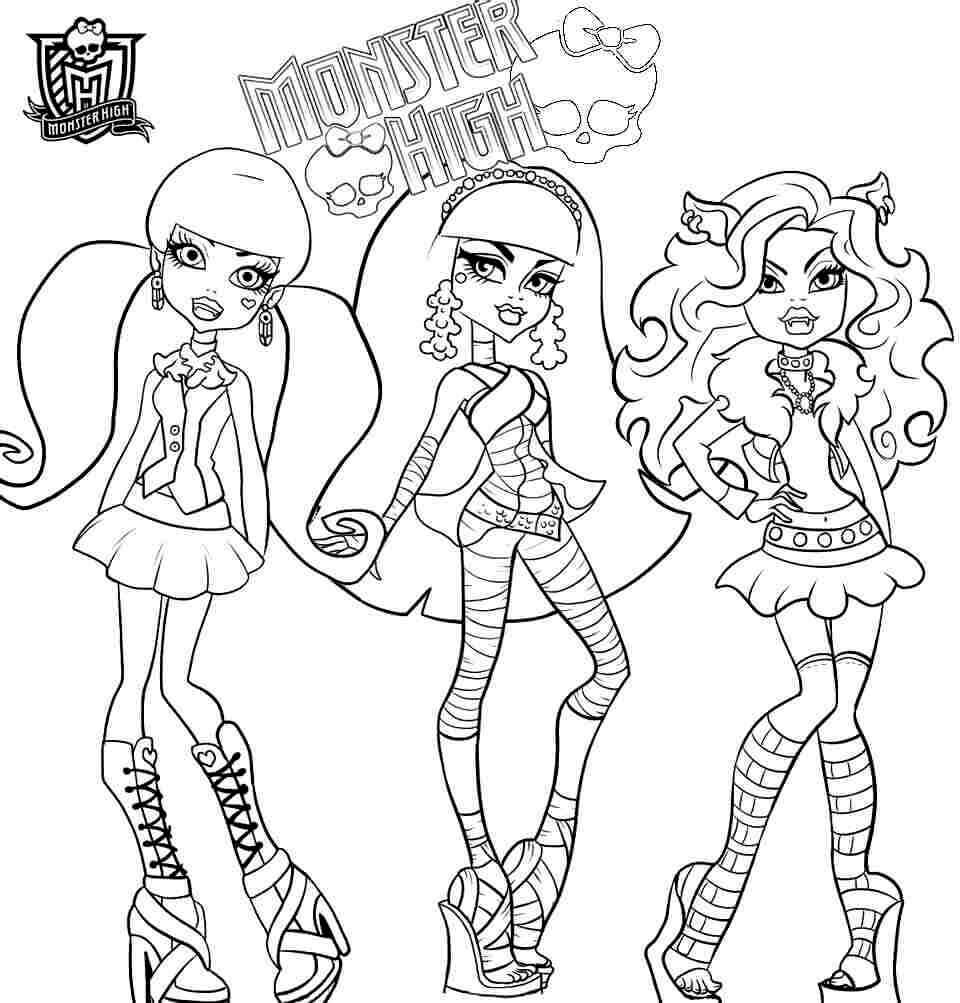 Here's a wonderful Monster High coloring sheet for you to print out and color. It features three of the most potent female students or ghouls of this series. Can you guess the three characters featured in this Monster High coloring page? You can let us know by commenting below.
Gilda Goldstag:
Gilda Goldstag, a Ceryneian Hind, is the treasurer of the student council of Monster High. She's a quiet and peaceful ghoul, who loves to sit and read a book, rather than jumping around. Gilda is the daughter Golden Hind, based on Ceryneian Hind mythology.
Jackson Jekyll:
Jackson Jekyll, part human and part fire elemental, is an all-around character from Monster High series. Jack is a shy and cautious child, but never gets intimidated easily. Also, Jackson is one of the best students of Monster High school.
Monster High Characters Coloring Page: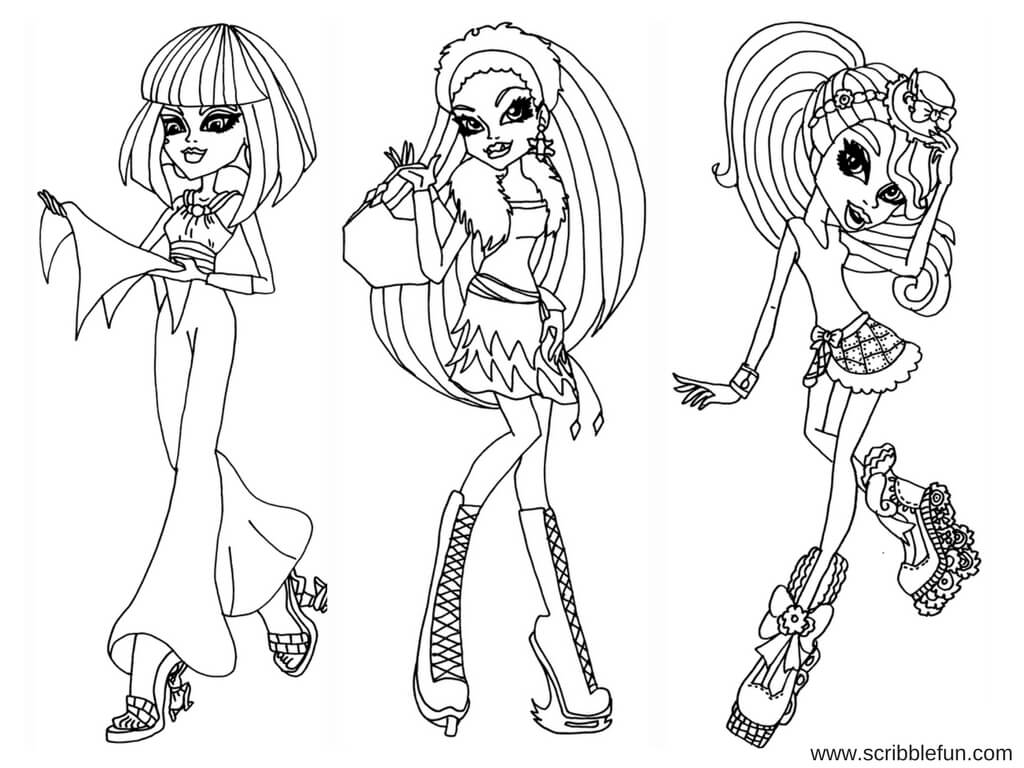 This Monster High coloring page features Abbey Bominable, Cleo de Nile, and Robecca Steam. Now that we have told you about the characters, it's your duty to fill the diagrams with the signature colors of these ghouls.
Abbey Bominable:
Meet Abbey Bominable, a student of Monster High, who is originally a yeti and an inhabitant of the Himalayan mountain range. Initially, Abbey has a tough time adjusting to a new culture, but like a winner, she turned the awkward moments into humorous ones.
Bonita Femur:
Bonita Femur a hybrid monster introduced in 2014, is the child of a moth and skeleton, which explains her bright pink wings. This peculiar heritage hasn't been too easy for her, as she found it difficult to fit anywhere due to her duality.
Boo-Lu Cerone:
Meet Boo Lu Cerone, a skilled drummer and the founder of LemonAID warriors. Boo is a strong and determined young woman who hates when people complain without doing anything to help themselves. She also loves to play the keyboard and sing.
Clawdeen Wolf From Monster High Coloring Page:
This coloring sheet features the most popular Monster High character, Clawdeen Wolf. A werewolf who loves wearing bright colored outfits, Clawdeen is a talented fashion designer with worthy connections and an impressive portfolio. We love how energetic, confident and fierce Clawdeen is.
Cleo De Nile:
Cleo De Nile is a one of the most intriguing characters of Monster High as she's a mummy, but was born human. A royalty from birth, Cleo is the queen of the student body, which she's very protective of. Her confidence is as solid as the jewelries she wears.
Deuce Gorgon From Monster High Coloring Page: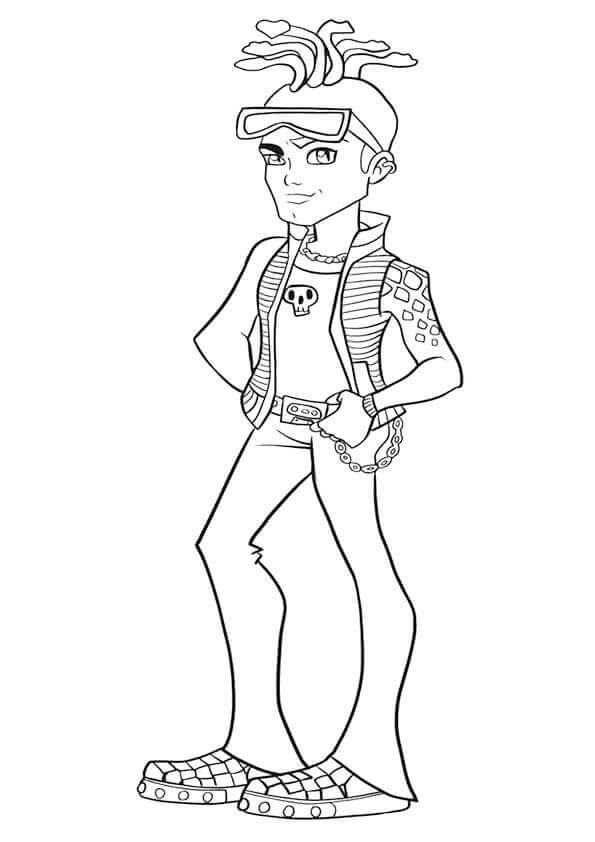 Deuce Gorgon is the son of Medusa the Gorgon. He doesn't share the best relationship with his mother, but tries his best to keep it out of his school life. Deuce is considered the hottest, most relaxed and reliable people to hang out in the school.
Draculaura:
As the name suggests, Draculaura is Dracula's adopted daughter and a student of Monster High. Draculaura was very pampered when she was a child, which is why she finds hard to deal with obstacles and cries whenever she is faced with a difficult situation.
Frankie Stein:
Here's a coloring page of Frankie Stein from Monster High, the daughter of Mr. and Mrs. Frankenstein. Frankie is a simulacrum, with the body made up of several different parts. She has white hair with black streaks and mint-green skin. She's a sweet, but clumsy ghoul, who is always kind to others.
Clawd Wolf:
Clawd Wolf is the brother of Clawdia and Clawdeen and a student of Monster High. He's appreciated at the school for his brilliance and leadership skills. In the school, Clawd Wolf is the captain of the football team, casketball team and SKRM team.
Ghouls Night Monster High Coloring Page:
The ghouls of Monster High are all set to attend the coolest Ghouls Night. They have decked themselves up in the coolest of clothes and brightest of makeup. They have major plans for the night, which include playing games and dancing till the feet hurt.
Ghoulia Yelps:
Ghoulia Yelps, a smart and intelligent ghoul and the personal assistant of Cleo de Nile, is the daughter of the zombies. The only problem with Ghoulia is that she can speak only the zombie language, which consists of groans and moan.
Gigi Grant:
The cute ghoul you see here is Gigi Grant, a genie who spent most of her life stuck in the lantern with the hopes of being found by someone. But now, Gigi is free to experience the beauty of real world and she's trying to get used to the new environment in the best way possible.
Headless Headmistress Bloodgood:
This is an absolutely amazing Monster High coloring sheet featuring Headless Headmistress Bloodgood, better known as Nora Bloodgood. As her name suggests, Bloodgood is the headmistress of Monster High. She joined the school two centuries after quitting her job as a librarian.
Holt Hyde:
Here's a Monster High coloring page of Holt Hyde, the alter ego of Jackson Jekyll. Holt is a mixture Hyde-condition and fire elemental, which makes him even more enthusiastic to shirk his responsibilities and break the rules. However, he does not get along really well with Jackson Jekyll.
Lagoona Blue:
Lagoona Blue, a student of Monster High is the daughter of Gill-Man and a sea nymph, which explains her name. Since Lagoona Blue is from "Down Under", she can easily talk to marine animals of all kinds. And her Australian accent suggests that she's somewhere from this coastal region.
Miss Kindergrubber:
Miss Kindergrubber is a teacher of Monster High school. She strongly asserts that all her students follow her instructions and has a soft corner for those who have extraordinary skill. Miss Kindergrubber is a strict lady, who ran a boarding school before becoming the teacher.
Nefera De Nile:
Nefera de Nile is a Monster High alumni and the sister of Cleo, with whom she doesn't share a very pleasant relationship. Nefera is supposed to inherit the de Nile throne and she's well aware of that, which is why she's very arrogant and thinks highly of herself.
Purrsephone and Meowlody:
This coloring page features the twin sisters of Monster High Purrsephone and Meowlody. While Meowlody is highly confident about herself, Purrsephone feels insecure and looks for ways to improve herself and prove her value to everything. Both Purrsephone and Meowlody are werecats.
Robecca Steam From Monster High Coloring Page:
Here's a coloring page of Robecca Steam, daughter of Hexicia Steam a mad scientist of his time and a student of Monster High. As a stuntwoman, Robecca Steam can impress anyone. However, she has a strong aversion against modern devices.
Venus McFlystrap:
Venus McFlystrap, a plant monster is the head of the Environmental Club in Monster High. Since Venus is an ecology driver ghoul, she is loved by everyone in school, but has now got a bad reputation due to her mind controlling abilities.
Skelita Calaveras:
Skelita Calaveras, born and raised in Campasuchill is a skeleton and student of Monster High. She's a family oriented woman, who can draw inspiration from anywhere and everywhere when she wants to be creative. She is even the official guardian of the cemeteries now.
Spectra Vondergeist:
Spectra Vondergeist, a student of Monster High, is the editor of the Gory Gazette blog, a famous gossip blog of the school. She's the most mysterious of all the characters and no one knows anything about her past.
We hope you enjoyed these free printable Monster High coloring pages. All these Monster High coloring sheets are printable, so feel free to download as many as you want. And don't forget to check out our Num Noms coloring pages.
DISCLAIMER: We, at Scribblefun, have no intention of infringing your copyright, artistic rights or legitimate intellectual rights. The images found in our articles are believed to be in 'public domain' or are of unknown origin. If the RIGHTFUL OWNER does not want their work displayed here or want credit, feel free to contact us. Furthermore, the content of this site is free and ScribbleFun does not charge users for downloading or printing images or wallpaper.