It's less than ten days to New Year 2018! How excited are you people? And how did last year treat you? If you ask me, last year was no less than a roller coaster ride. But that's precisely what life is all about, right? We cannot just expect it to be all goody goody all the time. Life has its share of ups and downs, but what will make you stand out is how well you're willing to handle it. Now let's not get any more philosophical and focus on the fun part. Since New Year is all about being merry and happy, how about filling colors in New Year 2018 coloring pages? Don't you think it will make a fun activity for you and your friends. And you don't even have to hunt for New Year 2018 coloring sheets anywhere else as we've got you covered on this front as well. Below we have compiled a list of printable Happy New Year 2018 coloring pages. So without wasting anymore time, take a look at 2018 New Year coloring pages to print.
16 Printable New Year 2018 Coloring Pages
2018 Coloring Page:
This is a fairly simple and easy to fill New Year 2018 coloring page. It features just the numbers 2018, but if you want, you can draw some fireworks and confetti to make this coloring sheet look even more appealing. 
Chinese New Year 2018 Coloring Page: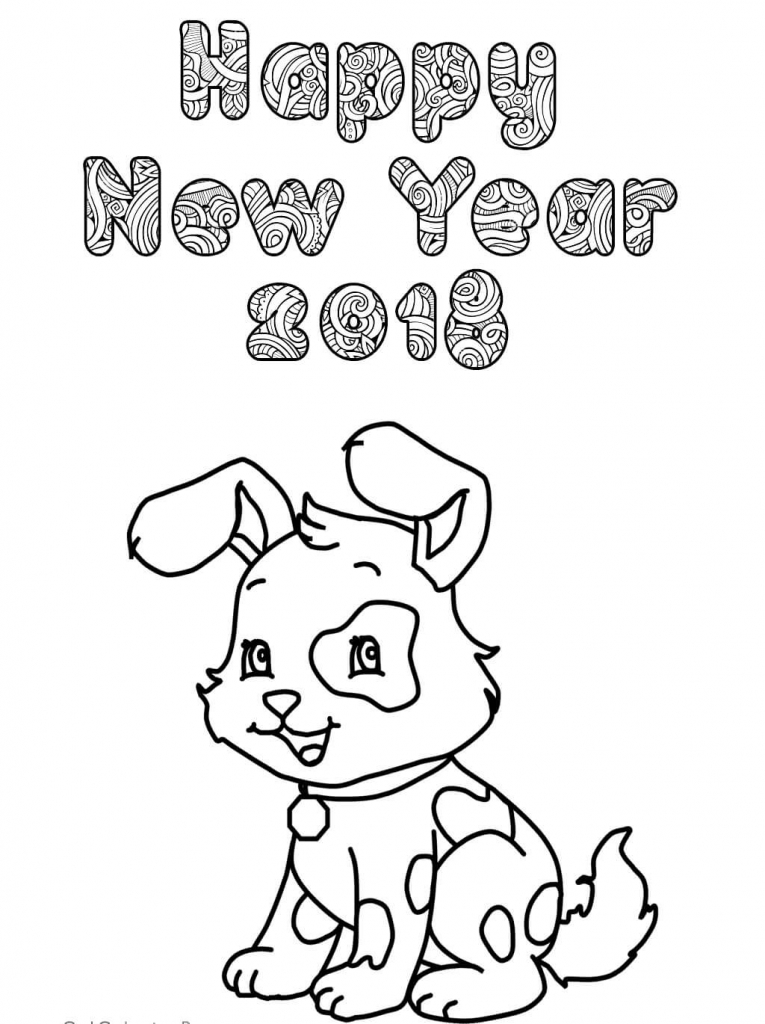 Since 2018 is the year of dog in Chinese calendar, we've included a coloring sheet of the same for you. This picture features an extremely adorable dog and a doodle saying happy new year 2018.
Chinese New Year Dog Coloring Page:
Here's another coloring page symbolizing Chinese New Year 2018. We must say the dog in this coloring sheet looks even cuter than the previous one. 
Happy New Year 2018 Template:
This new year 2018 template coloring page is just perfect for making greeting cards. Just download this coloring page on a cardstock paper and fill it in happy and bright colors. Since you'll be making greeting cards, using shimmer, glitter and sequins would also be a good idea.
Happy New Year 2018 Coloring Page: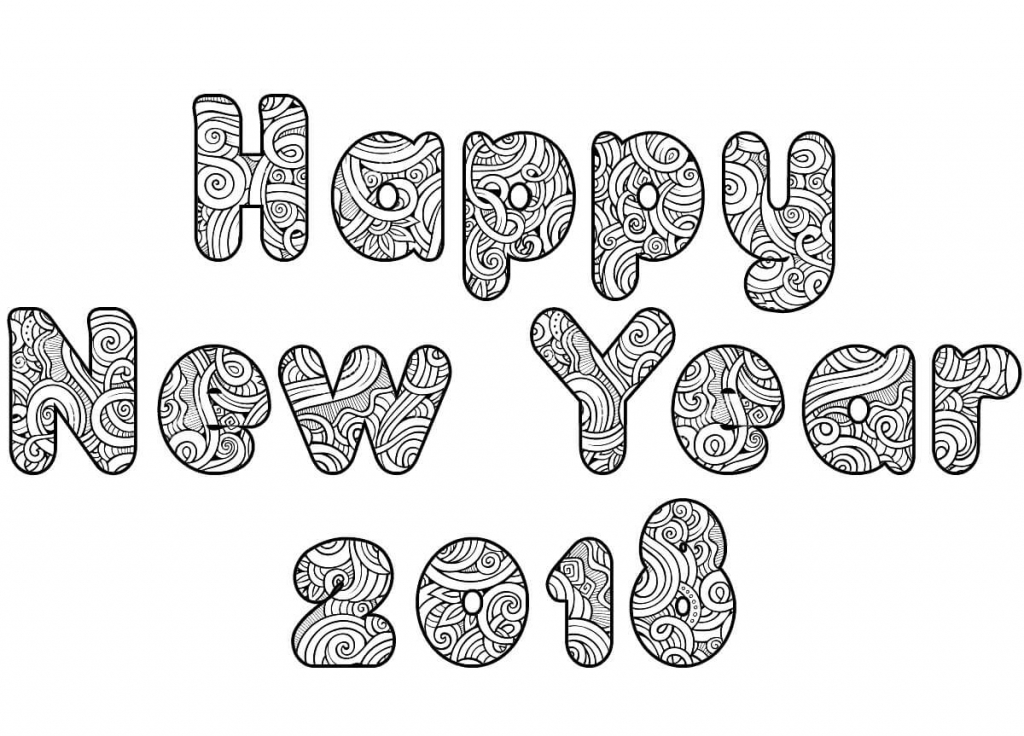 This happy new year 2018 doodle looks beyond beautiful. Since it's an intricate coloring page, we'd suggest this coloring page to older children. They can fill it easily within the lines.
Happy New Year Fireworks Coloring Page: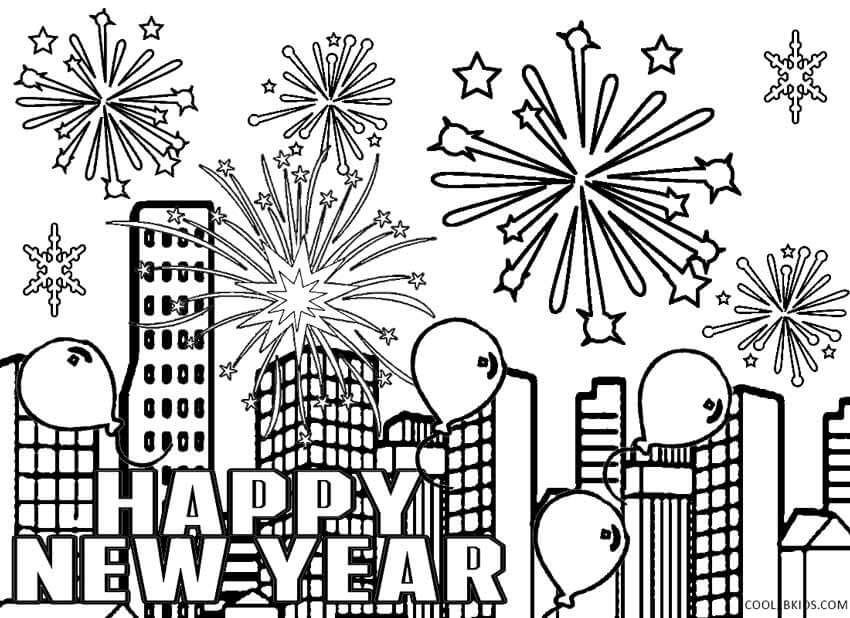 This is one of our most favorite New Year 2018 coloring pages. It features the firework we generally get to see on the New Year's Eve. The landscape background makes this coloring page look even more beautiful. 
New Year 2018 Party Invite Coloring Page:
If you're planning on throwing a New Year's party, then this printable invite would come handy. All you need to do is either color this image online, fill in the details of the recipient and then print or print out the image on a card stock paper and do everything manually. 
New Year Streamers And Balloons:
This New Year 2018 coloring page features balloons, beagles and confetti, things we use to decorate for parties.
Hatchimals New Year Coloring Page: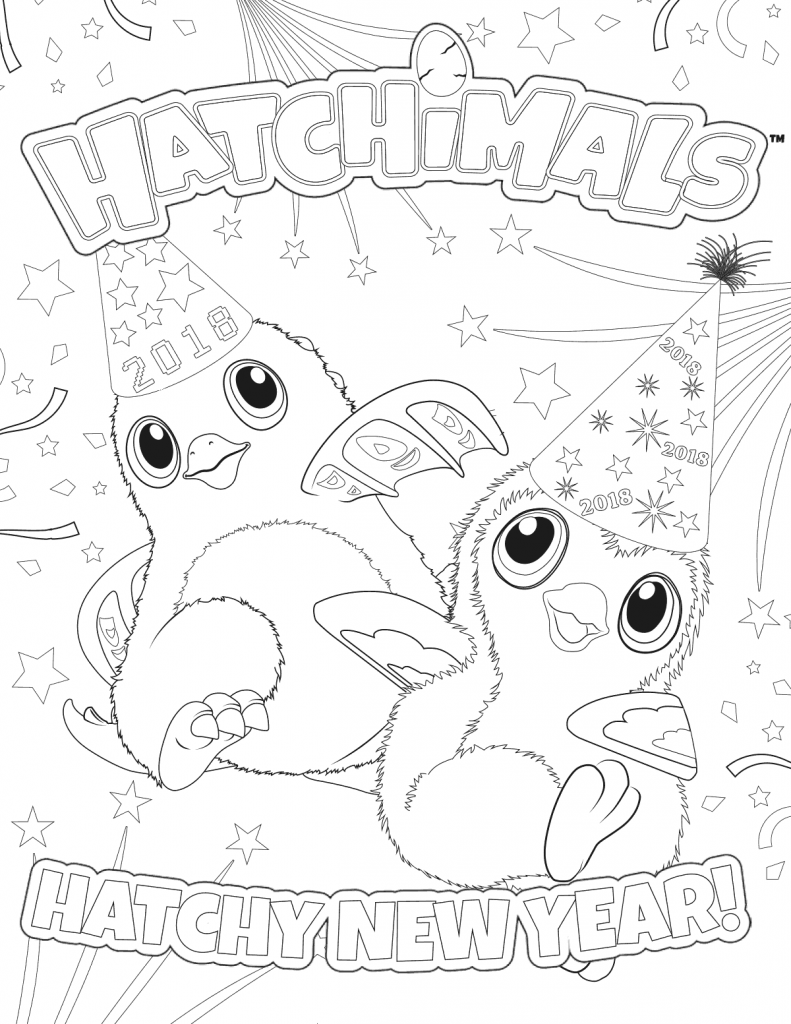 More than anyone else, its the Hatchimals who're most excited for new year. They've even got custom made party hats with 2018 written on it.  
Mrs. Potato Head On New Year:
Talking about excitement, how can we not mention Mrs. Potato Head? She's even made a New Year 2018 special sash. Seems like she's heading for a party.
New Year 2018 Doodle Coloring Page: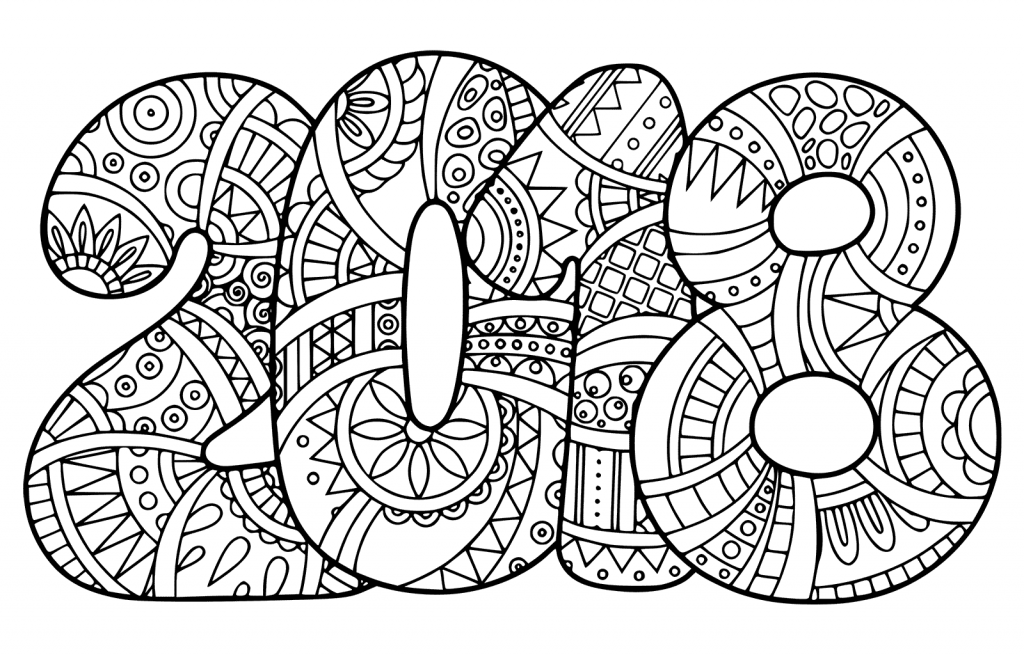 The New Year 2018 doodle is perfect for the big kids out there.We'd suggest you use marker or fine colored pens for filling this sheet.
Smurf With New Year Gift:
This smurf has got a huge New Year gift for you, but before opening the gift, you need to color this image. Are you ready for the challenge?
New Year 2018 Caps And Streamers:
It's new year, so take out your party caps, confetti, streamers and enjoy coloring this page to the fullest.
New Year Fireworks:
A simple, but beautiful coloring sheet featuring the fireworks and the wording, 2018. You can print out this image for creating greeting cards too. And don't forget gold pens for the fireworks.
Printable New Year Coloring Page:
This is one of those new year 2018 coloring pages that both young kids and teens would enjoy filling. While the top portion is extremely easy to color with its thick lines, the doodle will get the creative juices flowing.
Statue Of Liberty Ringing In New Year 2018
It seems that even Statue of Liberty is finding hard to contain the excitement for the next year, which is why she's holding a 2018 placard. Fill it with brightest of colors so that it looks even more beautiful.
New Year 2018 Snowflakes Coloring Page:
We love this beautiful 2018 New Year coloring page for its simplicity. The additional of snowflake images are another plus. You won't find this coloring page anywhere else.
New Yes 2018 Greetings And Wishes:
Here's another exclusive New Year 2018 image, which you can print out to make greeting cards for your friends and family. Feel free to print out as many as you can.
Leprechaun Wishing You A Happy New Year: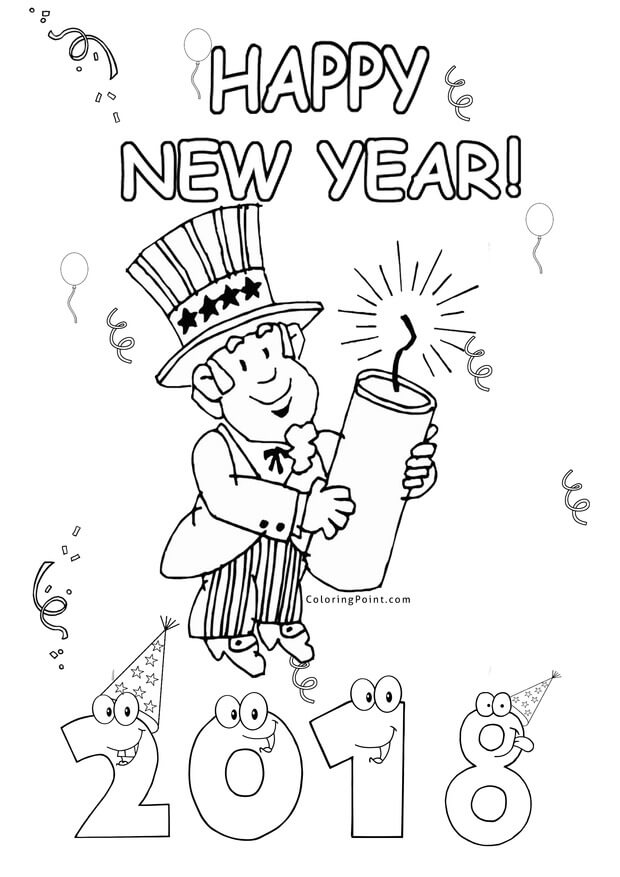 This leprechaun is all set to welcome to new year 2018 with a blast. He's lightning a firecracker and it will burst soon.
Little Frog Wishing You A Happy New Year:
This little frog is all set with his new year hat to welcome the new year. Isn't he looking cute?
21. New Year Ornaments: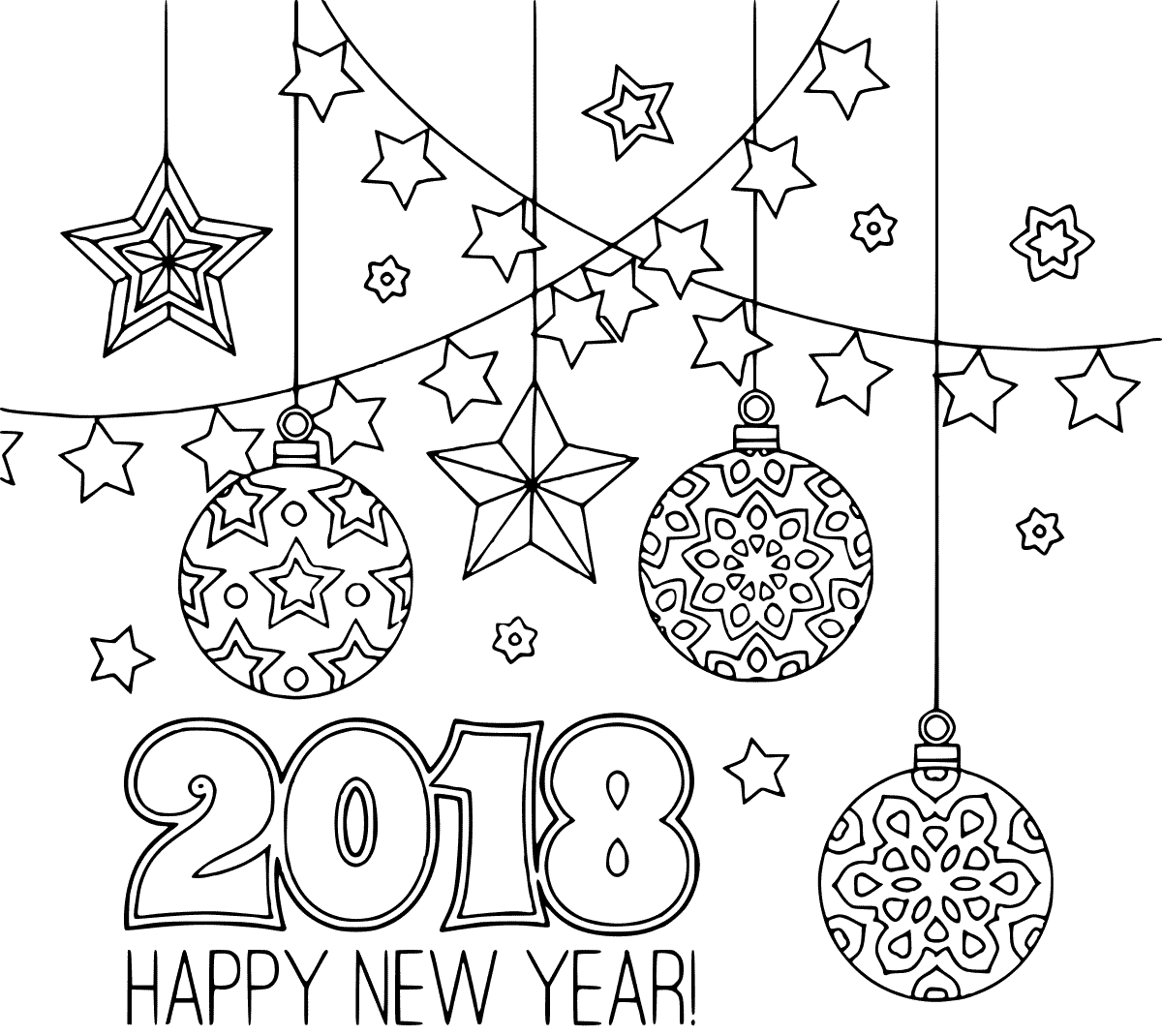 This New Year 2018 coloring sheet features hanging ornaments and words saying happy new year 2018.
We hope you enjoy filling these New Year 2018 coloring sheets. Without wasting anymore time, print out these New Year 2018 coloring pages right away. We'd suggest you print out all these New Year 2018 coloring sheets to create a unique coloring book. What say? And don't forget to check out our Christmas coloring pages and Christmas crafts for kids too! 
DISCLAIMER: We, at Scribblefun, have no intention of infringing your copyright, artistic rights or legitimate intellectual rights. The images found in our articles are believed to be in 'public domain' or are of unknown origin. If the RIGHTFUL OWNER does not want their work displayed here or want credit, feel free to contact us. Furthermore, the content of this site is free and ScribbleFun does not charge users for downloading or printing images or wallpaper.