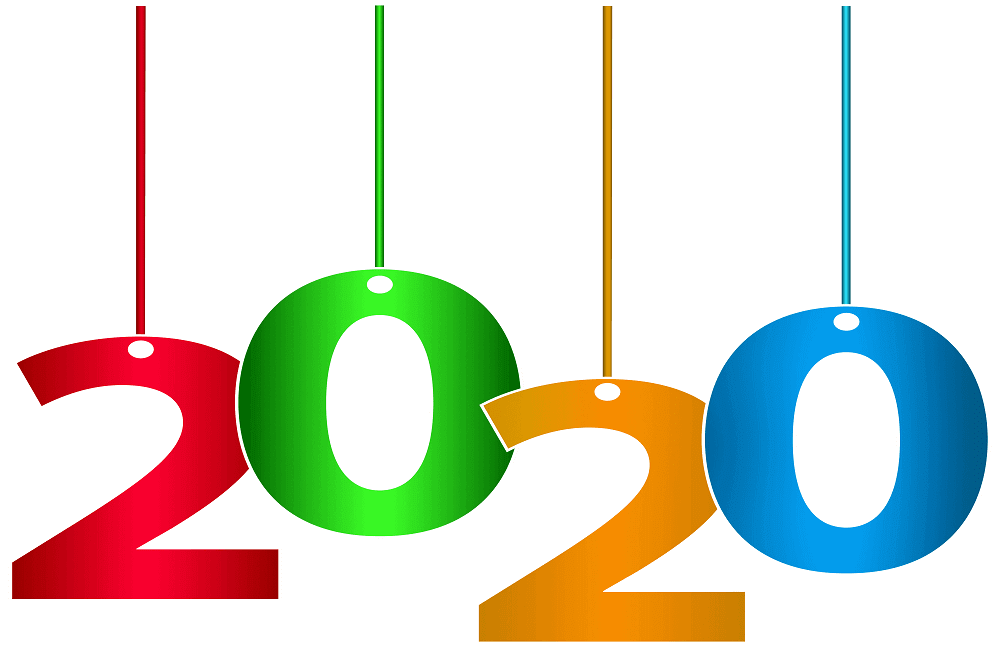 The holidays are one of the most wonderful and celebratory times of the year. There is an air of festivity no matter where you are. Feelings of goodness, joy, and warmth surround us everywhere we go. From Thanksgiving to Christmas, the festivities are never-ending. Adding to this merriment is the end of the year celebration which heralds the beginning of a new year. And that is exactly what we are celebrating with this collection of New Year 2020 coloring pages printable.
What's even more exciting about this New Year is that it marks the beginning of a new decade. Yes, we are saying goodbye to the decade of 2010 to 2019 and welcoming the 20's. Everywhere around the world, there are grand celebrations with incredible fireworks welcoming the new year. With the greetings to a new decade, this year the celebration is going to be even more spectacular.
One of the most anticipated rituals when it comes to New Year celebrations is the countdown to the New Year. If you are able to stay awake till midnight, you can take part in counting down with your family, whether outside at your local venues or watching it live on television. Let's get into the spirit of celebration with this exciting collection of New Year 2020 coloring sheets to print.
to join this conversation on GitHub. Already have an account? Sign in to comment Footer © 2023 GitHub, Inc. Footer navigation Terms Privacy Security Status
22 Free New Year 2020 Coloring Pages Printable
Fill Colors In The Blank 2020 New Year Canvas:
The blank "2020" design on this coloring page represents the New Year, which is like a blank canvas, full of days you still have to live and experience. Just like you have the power to give this illustration on this coloring page your own choice of bright and fun colors, it is upon you to decide how you wish to fill the coming days of the New Year 2020. We hope you choose to fill them with days full of happiness, joy, kindness, and fun.
Creative Floral 2020 New Year Coloring Page: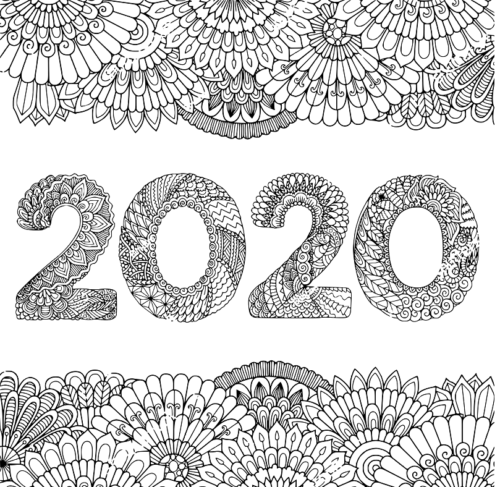 If the last illustration was plain and blank and full of possibilities, this 2020 New Year coloring page is full of exciting floral designs and motifs. What is missing from this coloring page are the colors. Print this page and give this floral New Year 2020 creative design, a fun, and colorful treatment. After all, a garden full of flowers is bright and colorful, so how can a floral New Year wish remain colorless?
Charlie Brown New Year's 2020 Greetings:
The little friends from the Charlie Brown comic strip are helping you to welcome the New Year 2020 with this fun, naughty and playful illustration. If you have a sibling, then you will surely identify with this scene of a brother and a sister playing together. Print this coloring page and be sure to capture their expressions: Lucy van Pelt naughtily blowing the party horn loudly at her brother Linus van Pelt, who responds by sounding the cymbals together in protest.
Famous Disney Princesses Wishing You A Happy New Year 2020:
Six of the most popular and loved Disney Princesses are here on this coloring page to help you welcome the New Year 2020 in elegant style. You can easily identify Ariel, the Princess mermaid because of her half-fish body and of course Princess Jasmine with her voluminous and luxurious black hair. While you start coloring these two Disney princesses from "The Little Mermaid" and "Aladdin" respectively, you can figure out the color combinations for the remaining Disney Princesses once you identify them all. Hint: There's Snow White and Cinderella too.
Statue Of Liberty Wishes Happy New Year 2020: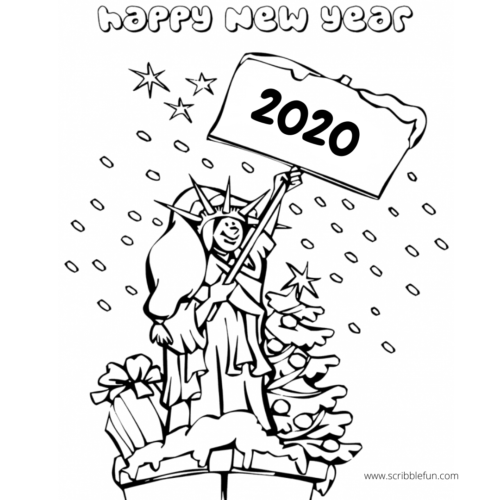 From the falling snow, the snow-covered Christmas tree and beautifully wrapped presents, you can tell that it's December at the height of the Holiday season. While the Statue of Liberty shows that the artist is depicting the United States of America. And like any other place in the world, America too is ready to welcome the New Year with a smile as seen on the face of the Statue of Liberty holding a "2020" sign.
A New Year 2020 Blimp Welcomes The New Year In Grand Style: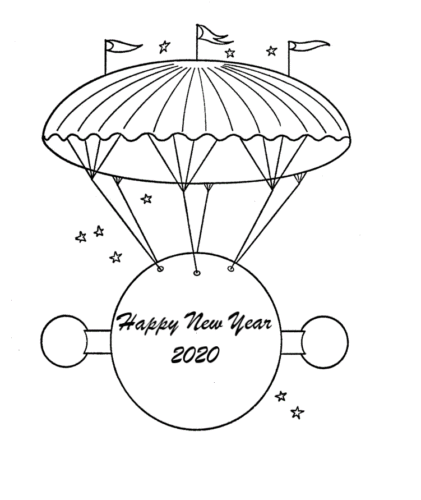 Greeting the New Year 2020 in grand style is this illustration showing a blimp, an air-filled balloon or airship, with a written message, "Happy New Year 2020". You might have seen similar blimps in movies, theme parks or sporting events. If you are out celebrating during the New Year festivities maybe you can spot one in your area, depending on where you live.
New Year Celebration With Clown, Balloons, And Cake:
What's a celebration without a cake or a clown? Here comes a funny clown with party balloons and a huge cake to help you welcome the New Year 2020 in good spirit. Color the cake into your favorite flavors and the balloons in your favorite colors along with a fun coloring scheme for the clown.
Artistic 2020 Celebration Coloring Page:
If you had to describe the New Year celebration through art, maybe this illustration will tell the exact story. From the 2020 numbers signaling the coming year to the several drawings of things associated with the holidays like the beautifully wrapped gifts and varied Christmas baubles, this artistic 2020 illustration deserves your creative coloring skills.
New Year Creative Coloring Page:
If the last one had 2020 at the center of its artistic interpretation, this illustration holds your attention with the "New Year" in the middle, surrounded by the many magical things that signify the holiday season. There's candy canes, Christmas bells and Christmas baubles. Find out other elements and their colors while you start coloring the "New Year".
Intricately Designed "2020" Poster:
With just a simple yet intricately designed number of the coming year, "2020", this illustration showcases a wonderfully created New Year poster. You can give it a floral vibe or go for firework aesthetics when you start coloring this page. You can go for the same coloring scheme for all four digits or decide on different colors for each individual digit of the New Year 2020.
A Magician Wishing You A Magical And Happy New Year 2020:
Who doesn't want their year to be magical? To help you achieve some magic for the coming New Year 2020, here's a fun magician holding his magical wand as he wishes everyone a "Happy New Year 2020". An important part of how magic works is that one has to believe in the magic for it to come true. While you print and color this page, think and believe that the year 2020 is going to be a magical one for you.
Stacked 2020 New Year Coloring Page:
New Year 2020 represented in this illustration with the numbers "20" stacked up on top of each other. It is rare for a calendar year to have the first two digits and the last two digits the same. It last happened 101 years ago in 1919. Print this coloring page and color this clever illustration of the New Year 2020 with identical colors for both upper and lower halves.
Let Your Dreams Fly High In New Year 2020:
Give wings to your hopes and dreams this coming new year. Before the year ends, you can take some time out to make a list of resolutions of all the things you wish to accomplish in the coming year. Once the year begins you can work hard to make all your dreams come true and see them scaling the heights of success. Think about your resolutions while you print and color this symbolic New Year 2020 illustration.
All The Luck And Celebrations For New Year 2020: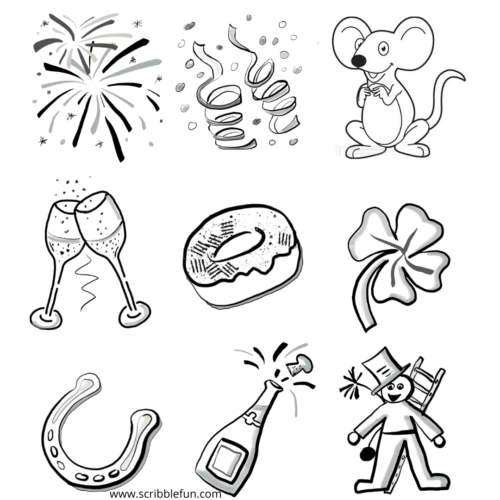 Combining all things that are believed to bring good luck and all things that are part of any celebration, this illustration is an ideal tribute to the New Year 2020. While the fireworks, confetti, food, and drinks are part of the celebration, the horseshoe, four-leaf clover, and others are thought to bring good luck and cheer. Print this page and give each of these elements their lucky and happy colors.
Tweety Wishing Happy New Year 2020:
Sending you warm and loving thoughts for the new year is the cute and adorable bird Tweety. She has already made some preparations for her new year celebration. You can see the conical party hat and some balloons. Thank her for her wishes by printing this illustration and giving it some of your bright and fun colors.
A Few More New Year 2020 Coloring Sheets
On that note of new year greetings, we have come to the end of this wonderful collection of New Year 2020 coloring pages printable. Just like the end of this collection, in a few days, the year 2019 will come to an end as well. But every end marks the beginning of something new. So, like the way we will be back with another interesting collection of coloring pages inspired by another wonderful topic, the New Year 2020 is right around the corner to welcome you with open arms and memorable moments and experiences.