We are already more than half-way through December. The holiday season is almost here. Soon, it will be Christmas and in a matter of days, we will be stepping into the New Year. To help you prepare for the festivities, today we have for you the perfect collection of coloring pages – the New Year 2021 coloring pages
New Year is celebrated on January 1 – the first day of the first month of the Gregorian calendar, the most commonly used calendar around the world. The year 2021 will be the 21st year of this century, the 21st century. We are also heading into the 21st year of the third millennium.
[ Related: January Coloring Pages ]
to join this conversation on GitHub. Already have an account? Sign in to comment Footer © 2023 GitHub, Inc. Footer navigation Terms Privacy Security Status
After the year 2020 and the ongoing global pandemic that has brought the entire world to a standstill, all hopes are riding on the coming New Year. Let's start preparing with positivity to welcome the coming year through this celebratory collection of New Year coloring pages 2021 to print.
21 Free New Year 2021 Coloring Pages Printable
Stars Shining On Happy New Year 2021: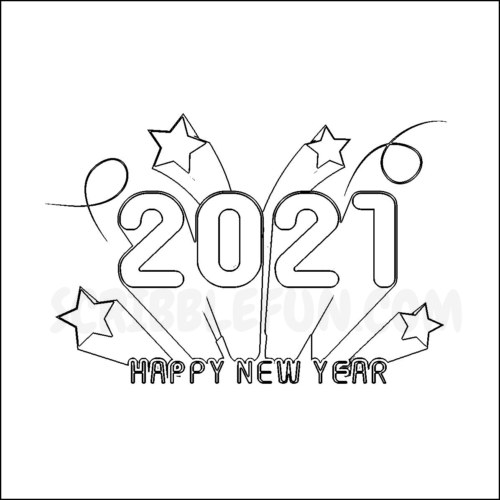 We are starting off this collection with positive vibes as the stars are shining brightly on this New Year 2021 coloring page. Make sure to fill in some bright and happy colors in this illustration.
2020 To 2021:
Just like 2019 gave way to 2020, in a couple of days, we will be bidding goodbye to 2020 and welcoming the New Year 2021. Print this page and greet it with hearty colors.
Rainbows And All Things Joyful On 2021:
All things joyful like rainbows and stars are spread all around this 2021 New Year illustration. Match the joy quotient on this page with your colors.
Chinese New Year 2021: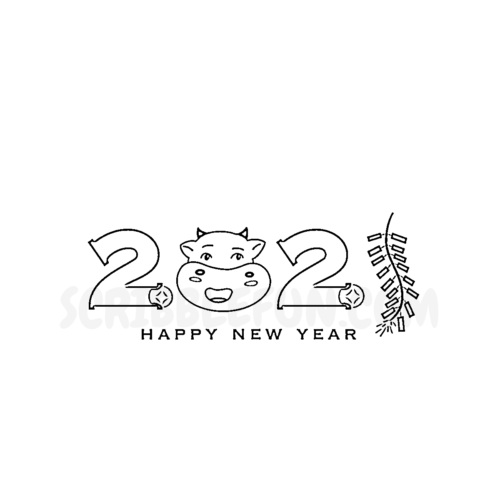 Unlike the Gregorian calendar, the traditional Chinese calendar is a lunar calendar. Commonly known as the Spring Festival, the Chinese New Year begins on the day the new moon appears, usually between January 21 and February 20.
Chinese New Year 2021 – Year Of The Ox:
Here's a Chinese New Year 2021 coloring page for you. In 2021, the Chinese New Year falls on 12 February. The Chinese calendar follows a 12-year cycle of animals pertaining to the Chinese zodiac and 2021 will be the Year of the Ox.
[ Related: Chinese New Year Coloring Pages ]
Happy New Year 2021:
Time to test your coloring skills on this cursive New Year greeting. Fill each word as well as the numbers on this coloring page with different colors and be sure to color inside the lines.
2021 – International Year Of Peace & Trust:
The coming year 2021 has been declared as the Year of Peace and Trust by the United Nations. Illustration the message of peace and hope, the doves are carrying the New Year 2021 greetings on this coloring page.
Children Wishing Happy New Year 2021:
Using balloons, each with one of the numbers in the year 2021, this group of children have cleverly arranged themselves to wish you a Happy New Year. Offer your thanks by filling the illustration with happy colors.
Decorations For Happy New Year 2021: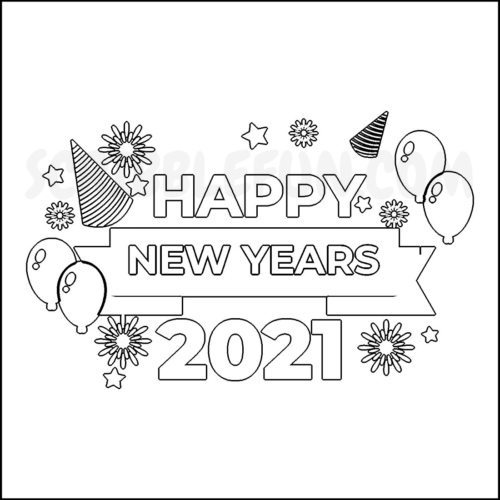 You can find several different elements that are used for party celebrations on this coloring page. Identify each of the decorative items as you adorn this festive New Year illustration with fun colors.
2021 New Year's Greeting Card:
If you haven't sent out any New Year cards to family or friends. You can fill some attractive colors in this illustration and turn it into a New Year greeting card.
A Girl In Hijab Wishing You A Happy New Year: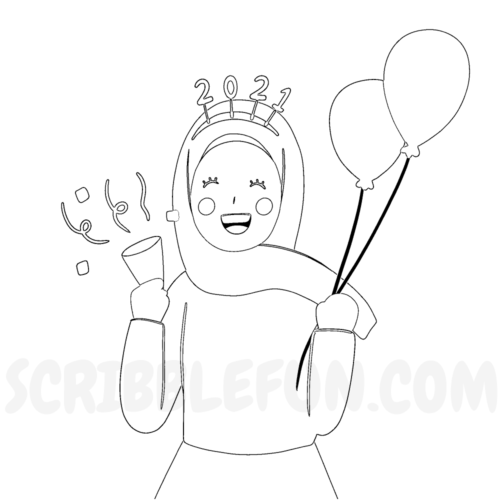 Exciting for the New Year, here is a girl wearing her traditional hijab, wishing you a Happy New Year. Print this coloring page and give it heartwarming colors.
2021 – Year Of COVID-19 Vaccine: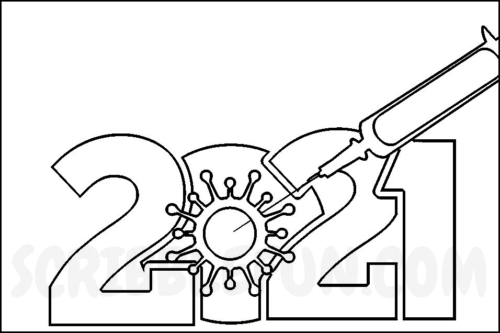 With the global pandemic hitting the world in 2020, the New Year 2021 comes with promises of the COVID-19 vaccine and the possibility of life returning to normal.
Artistic 2021 Greetings:
Adding an artistic and creative touch to the New Year greetings, here we have an illustration turning 2021 into a happy garden full of flowers and greeneries.
Christmas Tree And Happy New Year:
Christmas is near and New Year is only a few days away. Celebrating both the events, here we have a well-decorated Christmas tree and a 2021 New Year illustration.
[ Related: Christmas Tree Coloring Pages ]
New Year 2021 Is Loading:
An ending is also a beginning. As 2020 comes to an end, 2021 will soon begin. This clever illustration showcases how New Year 2021 will be here soon, saying it's loading right now.
New Year 2021 Eve Party Celebrations: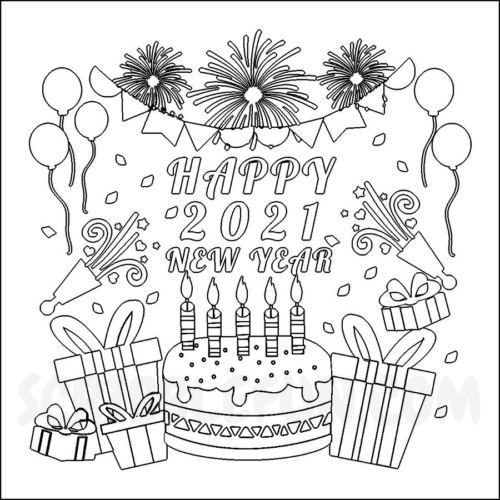 Looks like someone will be having a great New Year party. Check out all the goodies illustrated on this coloring page as you fill in some fun-spirited colors.
A New Year Wreath: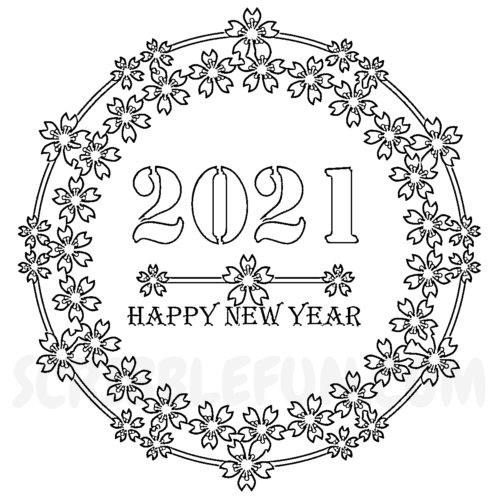 Welcome the New Year with this beautifully designed floral wreath. Print this coloring page and bring this New Year's wreath to life with your coloring skills.
Technology Inspired New Year Coloring Page: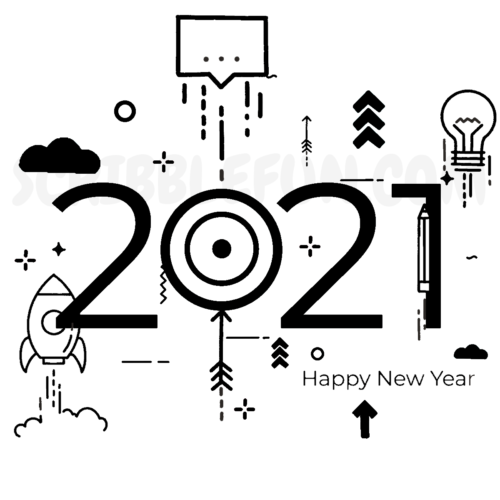 Aiming for all things good in science and technology in the year 2021, this illustration will be fun to color for all science enthusiasts.
Merry Christmas & Happy New Year 2021:
Holiday greetings from Santa as he sends you wishes for Christmas as well as a Happy New Year 2021. Do your best to fill in jubilant colors in this illustration.
Unicorn Wishes You Merry Christmas & New Year:
Not just Santa, here we have a unicorn – unique, mythical, and pure creature – wishing you the greetings for Christmas and the New Year.
[ Related: Unicorn Coloring Pages ]
New Year 2021 Doodle:
How adorable is this New Year 2021 doodle, which you can fill with the brightest colors possible? We loved the colorful background in this one.
With that illustration, we come to the end of this jovial printable collection of New Year 2021 coloring sheets. You can look forward to many good things in this coming year. Several major events like the Olympics or Eurovision that had to be postponed due to the COVID-19 pandemic, are slated to be held sometime in 2021. But most importantly, it is crucial to prioritize your health and safety above everything else. As you color this printable New Year 2021 collection of coloring pictures, let's hope and pray that things get back to normal soon.