New Year is just around the corner, and your colors are waiting to come out of their packs very eagerly. They want to color the New Year very bright and colorful just like them. So what are you waiting for, take out your colors quickly from their hiding place and start filling these printable New Year coloring pages featured below.
40 Printable New Year Coloring Pages
The Happy New Year Clock
The New Year clock is ticking, and it's almost midnight. He is happy that this is almost New Year. He also wore a hat to protect himself from the chilly winter nights. He is dancing to the New Year songs and asking you to do the same. Color him and make him a beautiful dancing clock.
New Year Eve
The firework show near the bridge was specially organized for this New Year's Eve. The whole city collected money and bought the firecrackers that emit less pollution. As soon as the clock struck 12 and the New Year started, the fireworks went off in the sky. But the people were a bit disappointed that there were no colors in the fireworks. Can you color them to make the people happy about this New Year celebration?
to join this conversation on GitHub. Already have an account? Sign in to comment Footer © 2023 GitHub, Inc. Footer navigation Terms Privacy Security Status
New Year Gifts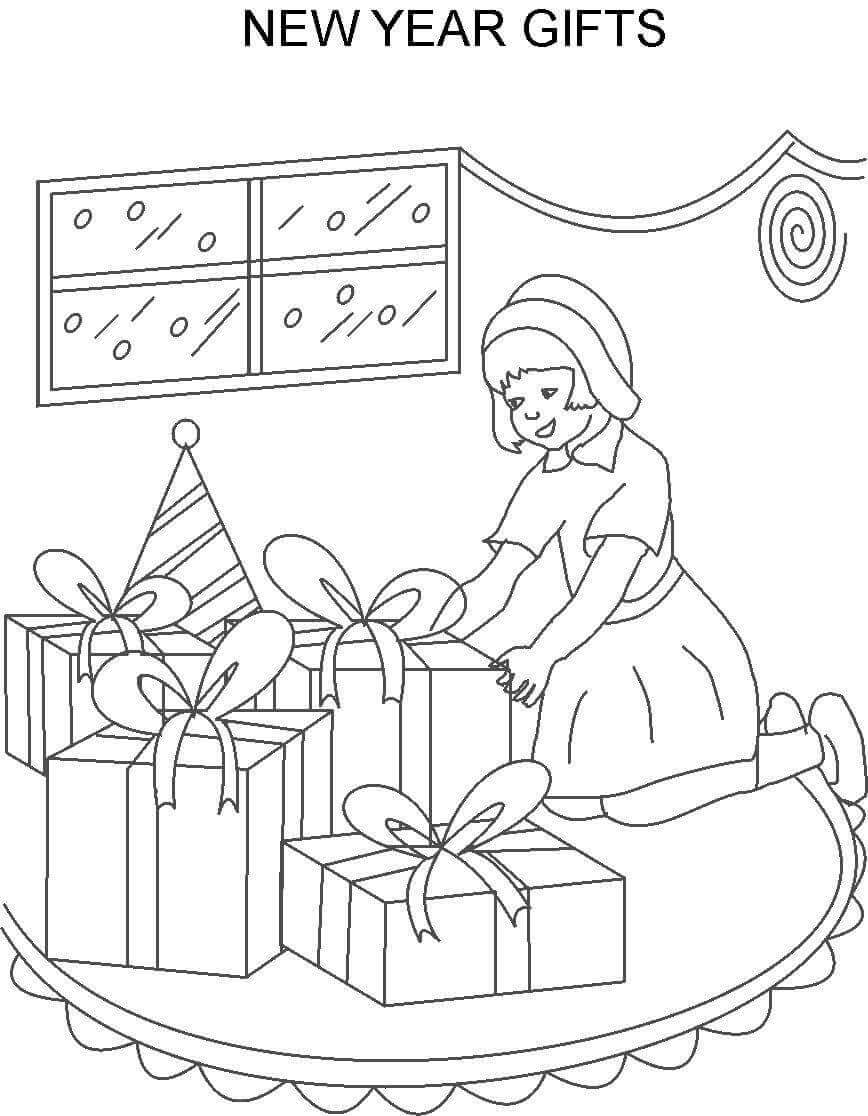 Sonia's birthday is special every year because she receives gifts for her birthday and New Year as well. She has received a lot of gifts this year as she turned 6 and started school. The New Year party for her family begins with cutting her birthday cake and then the relatives, friends, and family go out in the backyard to watch the fireworks show of their city.
Also Read: Christmas Gift Coloring Pages
Bill And Adam's New Year Party
Bill and Adam could not wait for the New Year to come. They are eagerly looking at the clock and waiting for it to strike 12. They have many amazing plans to celebrate their New Year. They are going to travel in Indian villages for a month and make movies there.
Hot Chocolate For The Snowman
This snowman is out for an evening stroll on the eve of New Year. He loves to see the twinkling lights everywhere. The shops are brightly decorated, and there are happy faces everywhere. Everyone is dressed up in warm clothes as it is freezing. Every house is lit, and the smell of hot chocolate is strong in the air. He has now decided to go back to his home and prepare some hot chocolate for himself as he got the craving.
Also Read: Snowman Coloring Pages
Baby New Year
This is baby New Year. He goes to new places every New Year. He wants his every New Year in some new place. So this year he packed his bag and is ready for the smashing blast on 1st January. He has decided to go to someplace warm so that he can see a warm new year. He has his tickets, bags, and snacks ready for the journey, all he needs is colors. Can you be the one who can color him to make him New Year ready?
Stuart Mouse's New Year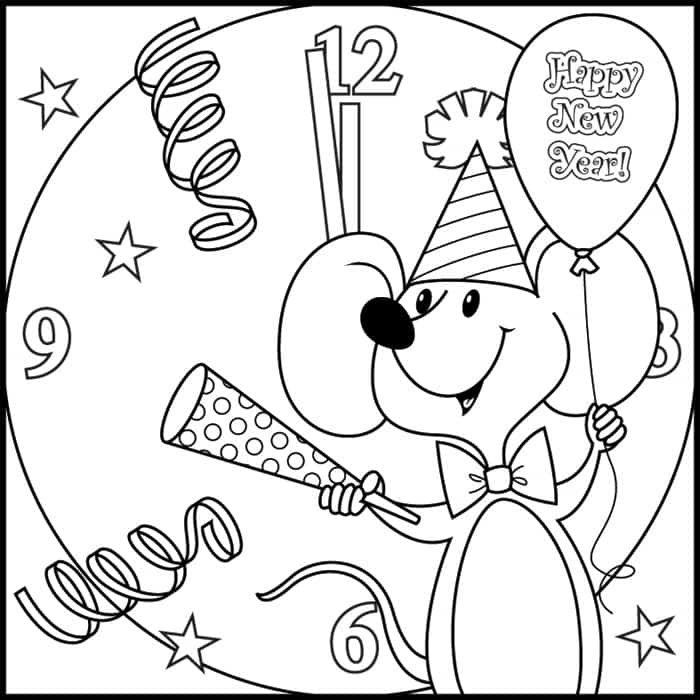 Stuart Mouse loves New Year as it means to party, friends, family and a lot of food. He cannot wait for the clock to strike 12 so that he can eat all the delicious-looking food that has been kept on the table. There is a lot of food, and all is cooked by his mother. He already has all the New Year horns and balloons. He is going to blow the horn on New Year to announce that the New Year has arrived.
Mewchow And Manchow's New Year Food
Image Source: cool2bkids.com
Mewchow and Manchow are celebrating their New Year by eating all the good food they can lay their hands on. They are in a restaurant that serves a special New Year dinner just at 11:45 so that people can start their New Year while eating. Mew and Man ordered a heavy dinner consisting of fried fish, sweets and delicious noodles.
New Year In China
The New Year in China is celebrated with the showcase of big and bright dragons. The men wear the costumes of dragons, and there are more than 3 to 4 men in one dragon costume. The dragons are colored with bright red and yellow colors. But there was a lot to do this year, and they forgot to color this dragon. Will you color the dragon for them, so that they can start the procession?
Also Read: Chinese New Year Coloring Pages
Minnie And Mickey Mouse's New Year Archway
Mickey and Minnie Mouse have built a wonderful gateway to their backyard to welcome all their guests to the New Year party. They installed a huge bow in the center of the arch. They will light it up as soon as the sun sets down. They want the bow to be colored in bright red, and they want you to help them color it.
Also Read: Minnie Mouse Coloring Pages
Mickey And Minnie Enjoying New Year Fireworks:
Mickey and Minnie Mouse look highly excited seeing the new year fireworks. And they will look even better when you fill them with colors.
Stranded Sam Watches Fireworks
Sam was out on a boat as he wanted to see the New Year fireworks from an island. But on his way to the island, the sea was rough, and his boat turned upside down. He reached the island swimming and is waiting for some help to arrive. While he waited for someone to come and rescue him, the New Year fireworks started. He was lost, but he enjoyed it and watched the fireworks anyway.
Minion Wishing Happy New Year
This minion is extremely happy for the new year, and it's quite visible on his face. Just imagine how wonderful it will look filled with colors. This got to be one of the most adorable new year coloring pages.
Helping Children For New Year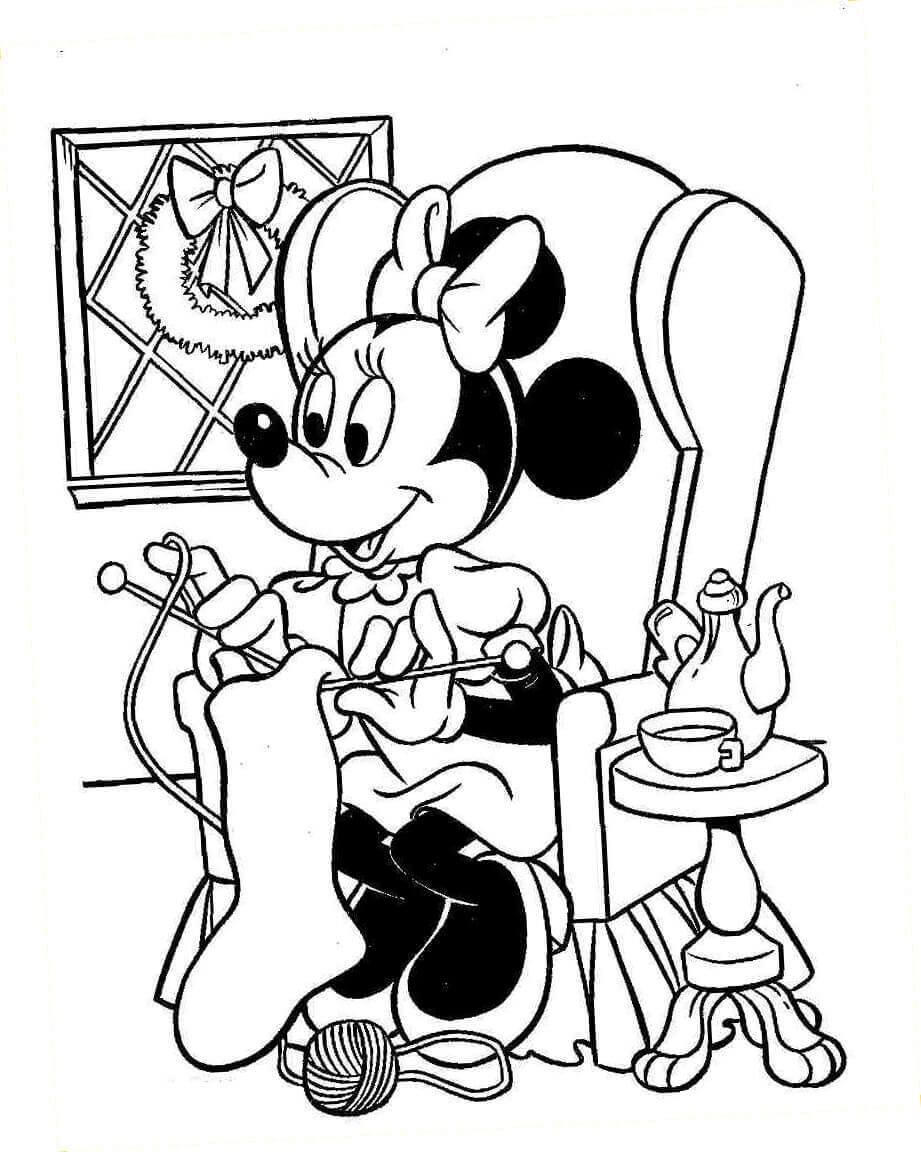 Minnie had a blast on the New Year last night. She was his friends and family, which is the reason she is looking pleased. She also ate a very delicious dinner and received many gifts. Now she is making sweaters and mufflers to donate to the children who cannot afford them.
Nina And Friends Meet For New Year
Nina and her friends live far away from each other. They can meet only at New Year parties their parents organize. So whenever New Year arrives, all of them become excited as they can meet and spend time together. They play together, share stories of their school and friends. Later in the evening they go to the backyard, eat delicious food, and enjoy a fireworks show with friends and family.
Leo And His Brother's Fireworks Show
Leo and his elder brother wait for the New Year eagerly every year. They collect the best fireworks for the night and organize a personal fireworks show in their backyard for the guests who come for the New Year party. They do it under the supervision of their elders. Their show is the best part of the evening for their family and friends.
Michael Fills The Sky With Sparkle
Michael and his friend are celebrating the New Year at a party that was organized specially for the sparkly beings. He and his friends went and danced all night. When the clock struck 12, all of them blew horns to announce the New Year. The sky was filled with lights, and it sparkled brilliantly.
Minnie Makes A Thank You Card
Minnie has adopted a few months ago, and she was very happy to finally find a loving family. She wanted to thank her family for their love and care. So she prepared a placard with scratches on her nails. She wrote Happy New Year and drew small flowers on the card. She doesn't have any colors. Somebody told her that you have many colors so she came to you so that she can get her card colored.
Happy New Card For Friends
You might want to gift some cards to your friends at school or maybe to your parents or siblings for the New Year. This is one such card for you. You can easily color these and send them. Just fill these with bright and wonderful colors and make your loved ones happy.
The Funky And Cool Happy New Year
This New Year card coloring page features a hat and a lot of confetti near it to celebrate the New Year. This card is perfect for friends and also has a candy cane with it. This is the sweetest card with a candy cane. Just add colors to it and give it to your best friends.
Dance Under The Fireworks Lit Sky
Nikita and her brother Dan are happy and excited as they watch the fireworks of New Year. They celebrate their New Year while dancing with each other to amazing songs. Just as the clock strikes, the fireworks cover the sky. There are colors everywhere and the sky sparkles. This makes the brother and sister very happy, and they dance more.
Baby Caroline's First New Year
Baby Caroline was born just a few months before the New Year. She has been gifted a bubble blower as a New Year gift. She is extremely happy seeing the fireworks in the sky for the first time. She was so happy that she started to blow the bubbles out. This made her more comfortable and she started laughing. On seeing her cute laugh, everyone around her started to smile and laugh as well.
Father Time Coloring Page:
Here's a coloring page of Father Time conversing with Baby New Year. It seems that he is handing over his responsibility for the next year to the child. And now the world awaits the baby as he sleeps on the eve of New Year.
Mickey Mouse Bakes Cake
Mickey Mouse has dressed up as a chef because he wanted to bake a cake for the hosts of the party he was invited to. He loves to make cakes and decorate them with cream flowers and other colorful decorations. He bought all the required ingredients from the market and started making a delicious chocolate cake.
Mickey And Minnie Dancing Together
Mickey and Minnie Mouse are dancing to the songs at a New Year party. They love to dance and unwind when the New Year comes. Minnie Mouse also wore a flower on her head as a hat. Whenever they dance, they forget what happens around them.
New Year For Robinson Family
The Robinson family spends their time together when the New Year comes. All of them buy hats and confetti to celebrate the New Year. They also ordered Chinese food for dinner.  They got a cake and cut it when the clock struck 12. They played amazing songs and then danced and enjoyed themselves together.
Donald And Daisy Helps Orphans On New Year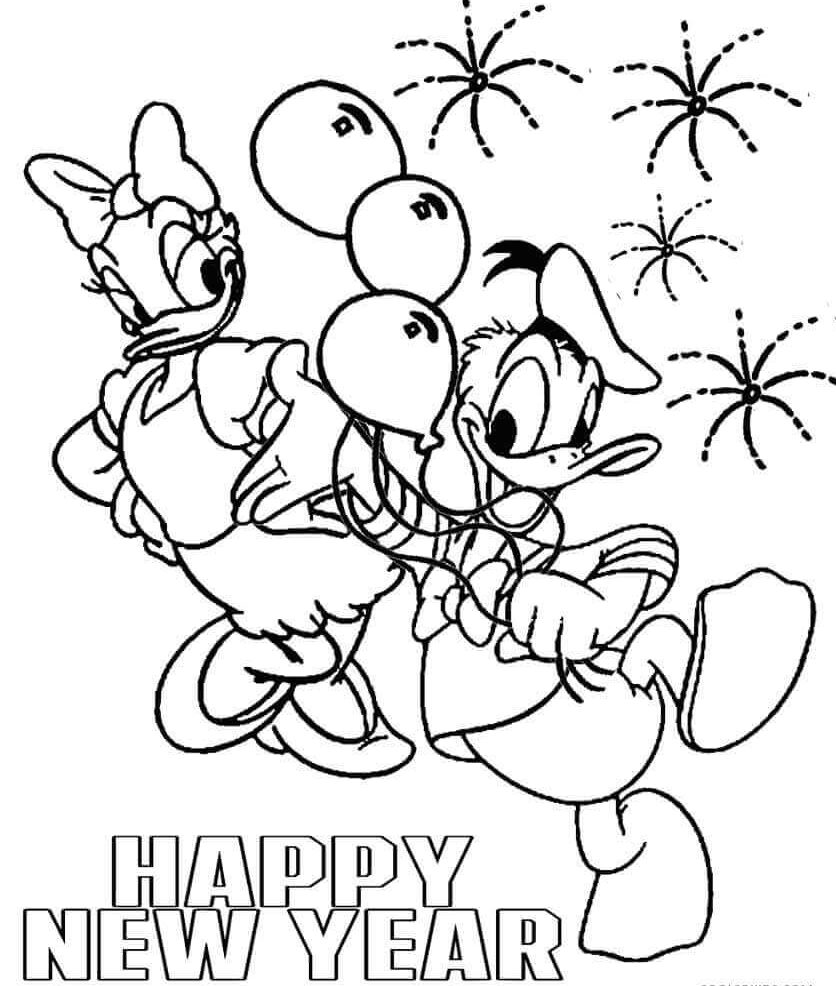 Donald and Daisy Duck are ready for the New Year to come. They brought balloons for the orphan kids at the orphanage. They wanted those kids in the New Year. They are also going to spend some time with them and eat dinner with them. They also watched fireworks with the children.
[ Related: Donald Duck Coloring Pages ]
Happy New Year 2018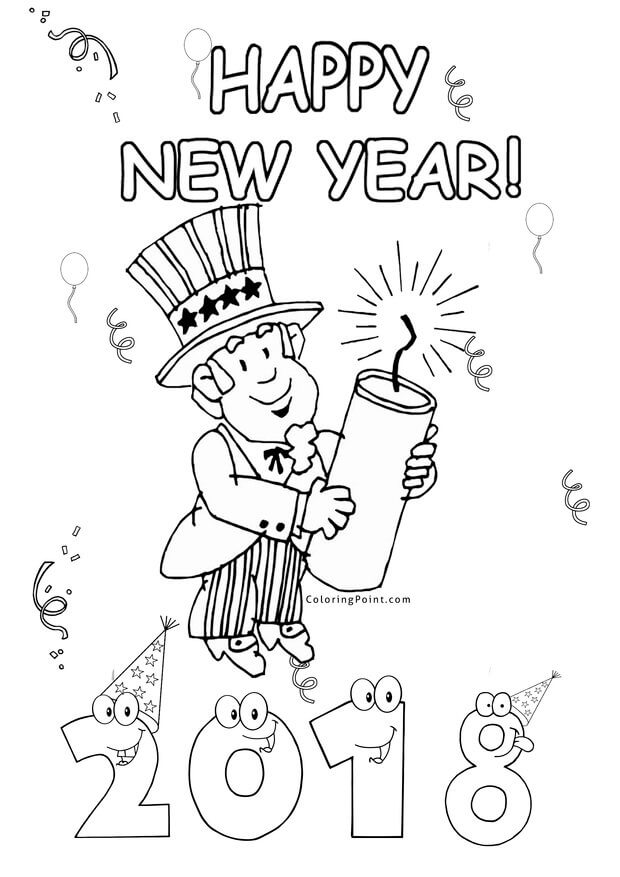 New Year brings happiness and new resolutions for the people. With New Year's resolution, people step into new paths and look for new things. They try to make them bright and colorful with family and friends. You can color this 2018 with the amazing creativity that you have. Make it look brighter and shinier so you can enter into a good New Year.
New Year Celebrations On Rooftop Garden
Mary and Max have an amazing rooftop garden. They have a lot of plants, and they decorated it with colorful ribbons and Happy New Year decorations. They put up nice and colorful lights on the rooftop. Then they brought the dinner and drinks and played nice music.
Disney Princesses Wishing You A Happy New Year
The Disney Princesses are here to wish you a Happy New Year. They love to travel around the world and wish people well for the New Year. They also bring flowers and gifts for the people.
Olaf Is Busted
While Elsa, Anna, and Olaf were celebrating New Year and they decided to blow the fireworks as the start of New Year. But Olaf got too excited and ended up being careless. He went too near the rocket and ended up getting injured. Later Anna and Elsa had to bring him together with Anna's magic. So be careful and don't go too near the firecrackers.
Elsa And Anna Decorates The Palace
Anna, Olaf, and Elsa have decorated the outside of their palace. They decorated the exterior with sparkly snowflakes and colorful orange lights. They also wore new colorful dresses for the New Year. Olaf is very happy as he looked at the decorations and so many people around the palace.
Also Read: Frozen Coloring Pages
Students Learn To Make New Decorations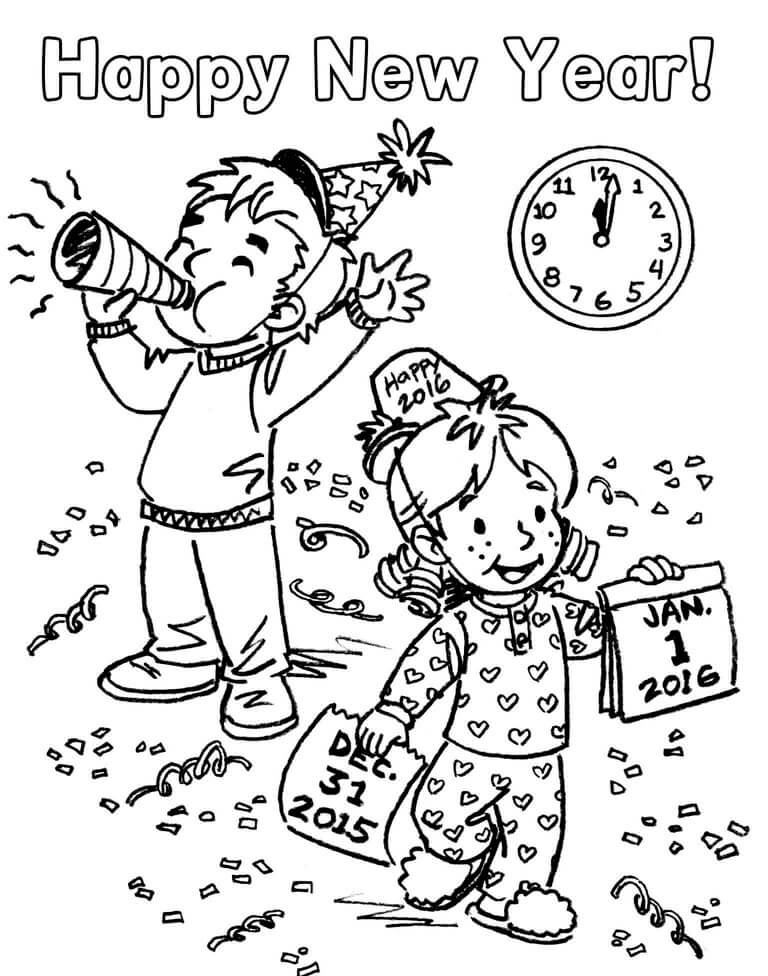 The teacher is helping the students prepare New Year decorations for their homes. She is teaching them new techniques to them to decorate their houses using colors and papers. She is helping them with scissors and glue. The students loved to learn new things, and they took the newly made decorations to their homes.
Simple New Year Coloring Page
Here's a simple new year coloring sheet for you to fill. Use colorful and bright shades to make it pop out. You can even add your own sketches to the picture.
Pooh's Love For Dance
Pooh loves to dance. He goes to New Year's parties and dances to all the amazing songs. He invited the guests to the party and served delicious food. Then he switched on the music, and it was so amazing that he stopped serving and started to dance.
Winnie And Friends Enjoying Winter:
Everyone is going shopping for gifts. They were late to buy the gifts for the New Year. They rushed to shop for the gifts in the nearby stores and quickly got the gifts they forgot to buy. Now they are back home and waiting to ring the new year.
Snowman Celebrates New Year with Donald And His Friends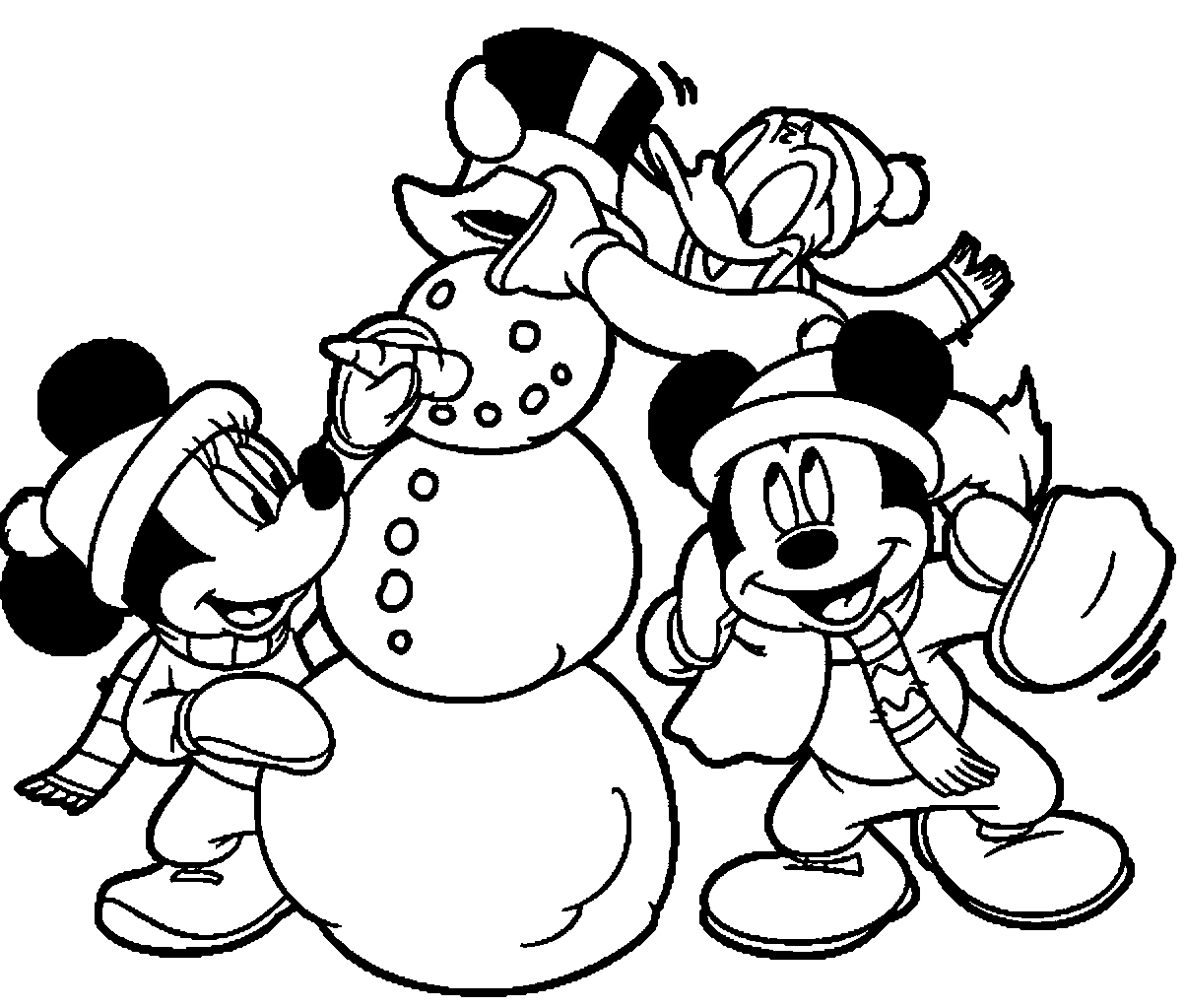 Donald and his friends are making the snowman. They wanted to spend their New Year with each other. So they decided to make a snowman to decorate the outside of their house. Later they hung colorful and sparkly lights on the snowman.
Also Read: Mickey Mouse Coloring Pages
Snowman Wishing Happy New Year:
He is Bob the snowman. He wasn't able to go to his friends' house because it is in a warm place. So they sent him letters and greeting cards. He came out of his home and is posing with one of the cards. Cute, isn't it?
New Year For The Snowman Family
This snowman family is going out for New Year brunch in a restaurant. They wore hats to keep them warm. They watched fireworks till late at night and wished each other a Happy New Year.
A Card For Everyone
Fireworks and New Year go together well. This amazing greeting card is to be gifted to friends and family. You can color the balloons in many colors and the fireworks. There are many sparkly stars in vibrant colors as well.
41. New Year 2023 Coloring Page
Here's a lovely football-themed new year 2023 coloring image to help you enjoy the festivities. 
This was our compilation of printable New Year coloring pages for you! We hope you guys liked it. If you do, then don't forget to print and color our New Year coloring sheets to print! For more amazing coloring pages, such as Paw Patrol coloring pages keep yourself hooked with us.