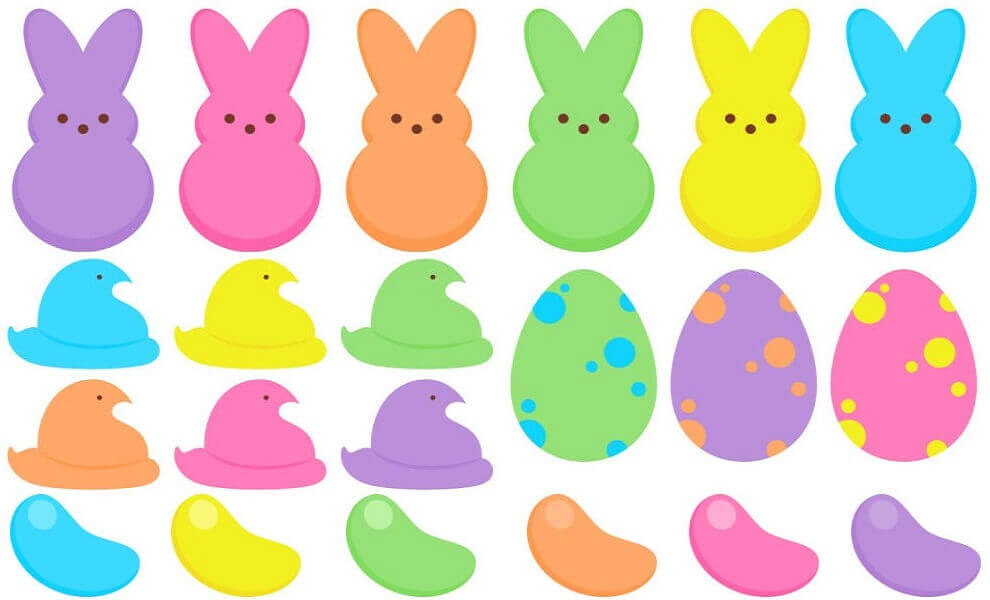 Easter, the fun and joyous holiday, also marks the return of the multicolored marshmallow treats produced by Just Born called Peeps. These treats originally came in the form of chicks and were available only during Easter. But now, they are available in different shapes and can be found all year round, for various holidays. It's reported that every year during spring, around 1.5 billion of these non-chocolate Easter candies are consumed. Now that's a staggering number. So celebrate Easter with these sweet and adorable Marshmallow Peeps coloring pages. All these Peeps coloring sheets mainly illustrate marshmallow chick and bunny having fun. So without wasting any more time, check out our Easter Peeps coloring pages below.
Free Printable Marshmallow Peeps Coloring Pages
Peeps Chick And Bunny Coloring Page: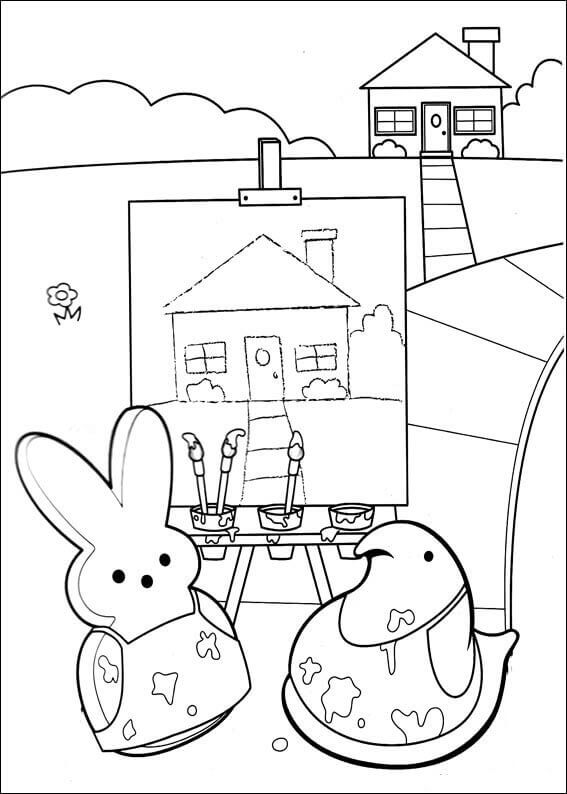 Excessively adorable Peeps chick and bunny decided to don their painter's hats and draw the house in the distant view. And we think they've done a decent job of sketching. The image is lacking some color because the chick and bunny spilled all of it on their apron. Why don't you do the needful?
[Related: Easter Chick Coloring Pages ]
to join this conversation on GitHub. Already have an account? Sign in to comment Footer © 2023 GitHub, Inc. Footer navigation Terms Privacy Security Status
The Musical Peeps: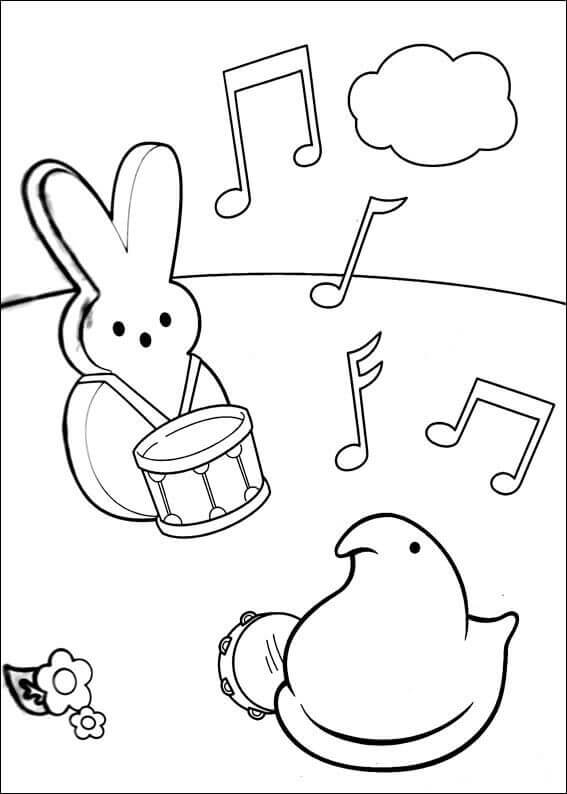 It's springtime, and the adorable duo decided to welcome this beautiful season by playing music. While the bunny is comfortable playing the drum, the chick wants to try her hands on the tambourine. And we're saying they must be playing beautiful notes.
Chick And Bunny Playing:
Peeps chick and bunny decided to spend a cozy spring afternoon by flying some handmade paper planes. After a couple of trial and error, they successfully created a pair of paper planes, which can now be seen flying high in this coloring sheet.
Peeps Chick And Bunny Near Pond Coloring Page: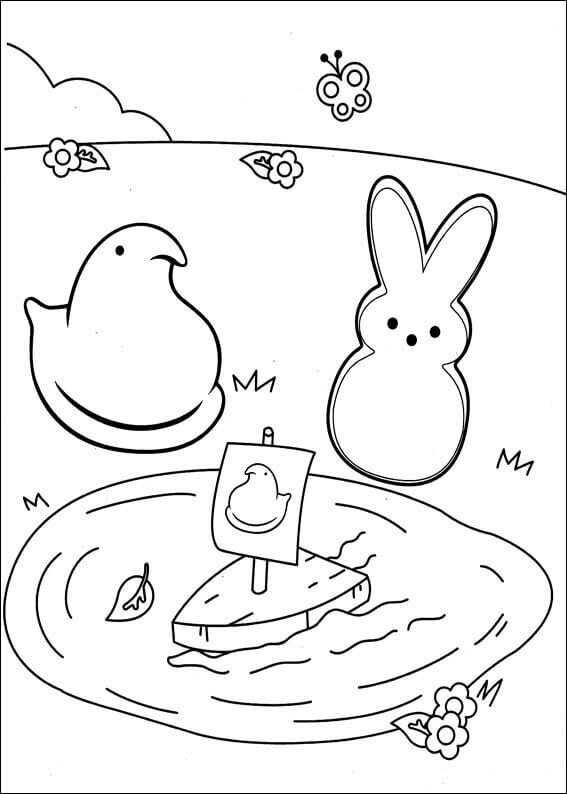 After playing with the paper plane, the duo decided to visit the nearby pond to cool themselves. There, they found a wooden block, which they turned into a boat. But the bunny got slightly mad when the chick put his flag on the boat. I'm sure he'll get over it.
[Related: Spring Coloring Pages ]
Peeps Chick And Bunny Playing In The Park:
After playing near the pond, the chick and bunny headed to a nearby park. They tried different swings and played different games. Eventually, the chick got tired and sat on the bench. But it seems that the bunny has still a lot of energy in reserve and is seen sliding in this Peeps coloring sheet.
Peeps Chick And Bunny Blowing Bubbles: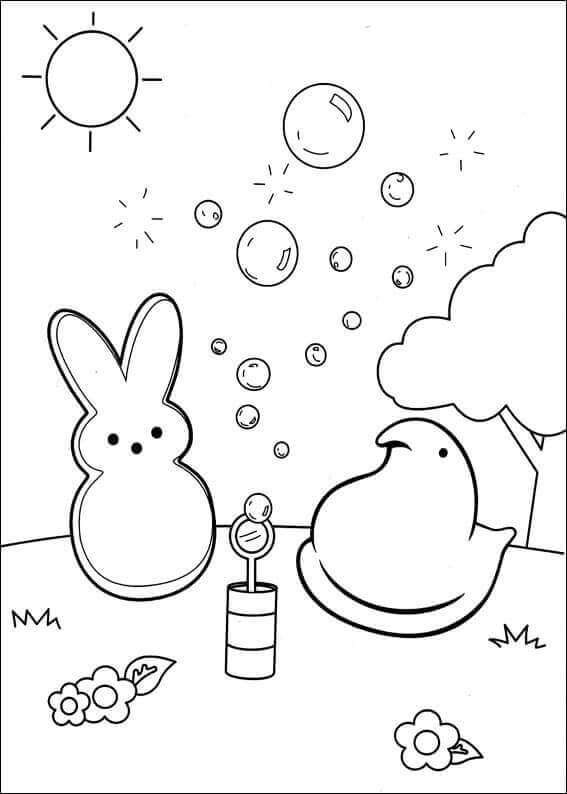 This Peeps coloring page illustrates one of the scenes from their super awesome day at the park. The duo purchased a bubble blower from the vendor and are trying their hands one by one at making bubbles. There's a bet that the one who makes the largest bubble will take the bubble blower home.
[Related: Easter Bunny Coloring Pages ]
Peeps Bunny Skipping Coloring Page: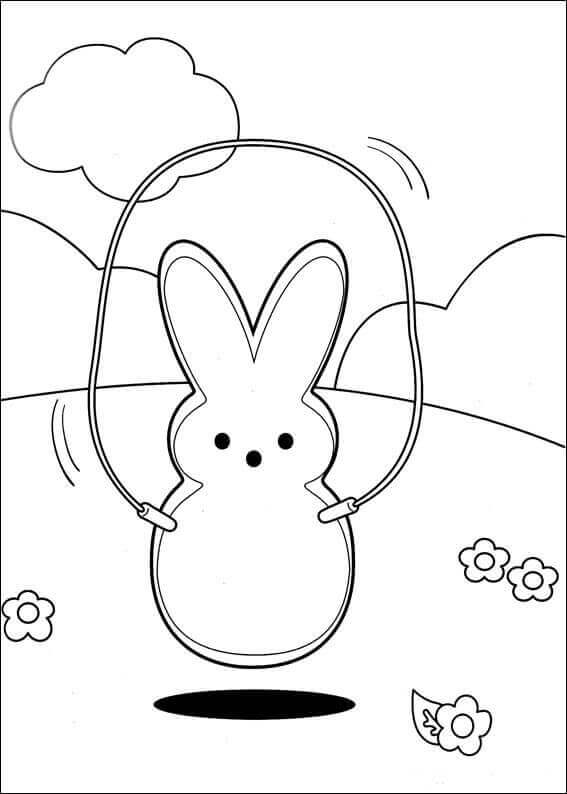 Here's a wonderful coloring sheet of the Peeps bunny skipping on a bright Sunday afternoon. After all, what could be better than spending the best day of the week with your loved ones?
Bunny And Chick Swinging:
What would you do when there's no swing in your garden? You'd create one, just like these Peeps did in this coloring sheet. They tied a tire to the tree branch using a rope and are now taking turns at swinging. Isn't that an amazing idea?
Peeps Cycling Coloring Page:
Peeps Marshmallow chick and bunny truly know how to make the most out of their weekend. After swinging, they have now gone cycling, and we can say they're having a gala time. But how is the bunny cycling without hands and feet?
Bunny Swinging: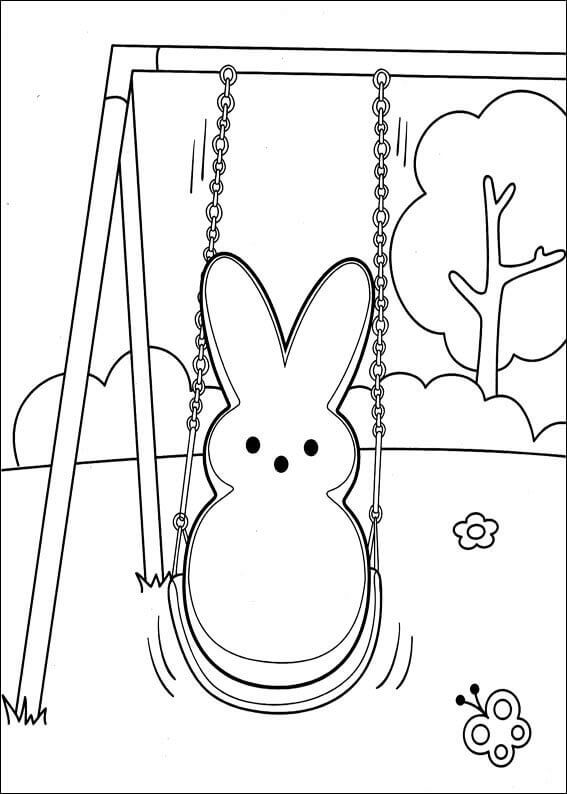 Wow! So marshmallow bunny has finally managed to arrange for the swing in his garden, and now he'll spend all his after swinging. We hope his mummy won't get angry with him for not doing his homework and swinging throughout the day.
Peeps Chick And Bunny Playing Hopscotch: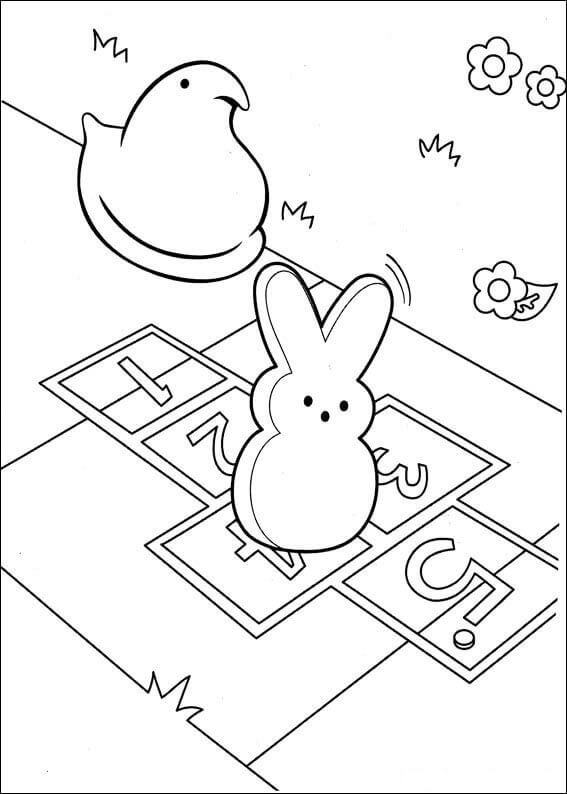 This Peeps coloring page would be an absolute delight for Peeps lovers as it features two of their favorite candies in their life forms playing hopscotch. The image has enough detailing for kids to showcase their artistic skills.
In The Park:
Here's a lovely Peeps coloring sheet that you must definitely print out. It features the duo in their favorite park, again! After all, it's the weekend, and they have every right to spend it in the most joyful way possible.
Peeps Playing With Sand: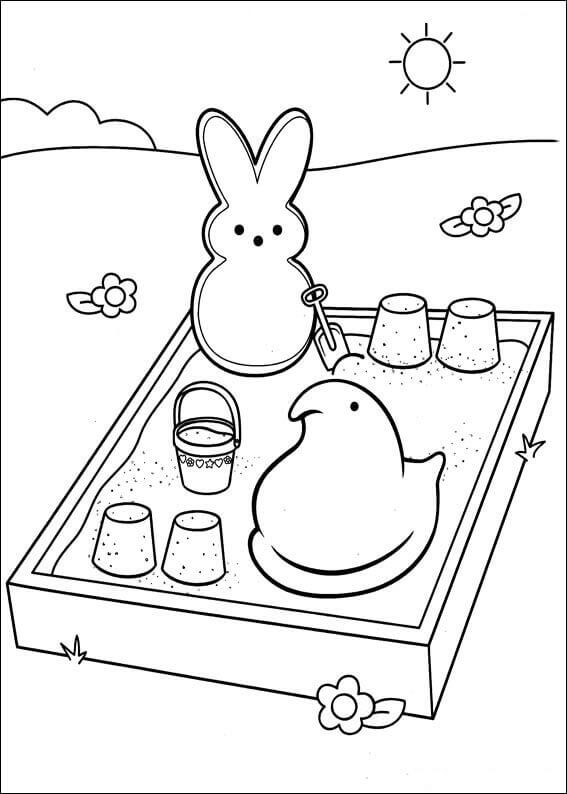 The mighty sun is shining in all its glory in the month of March, and our wonderful peeps are playing with sand. Whether it's summer or winter, this duo definitely knows how to make the most of their holidays. What do you think they'll make with the sand?
Building A Castle: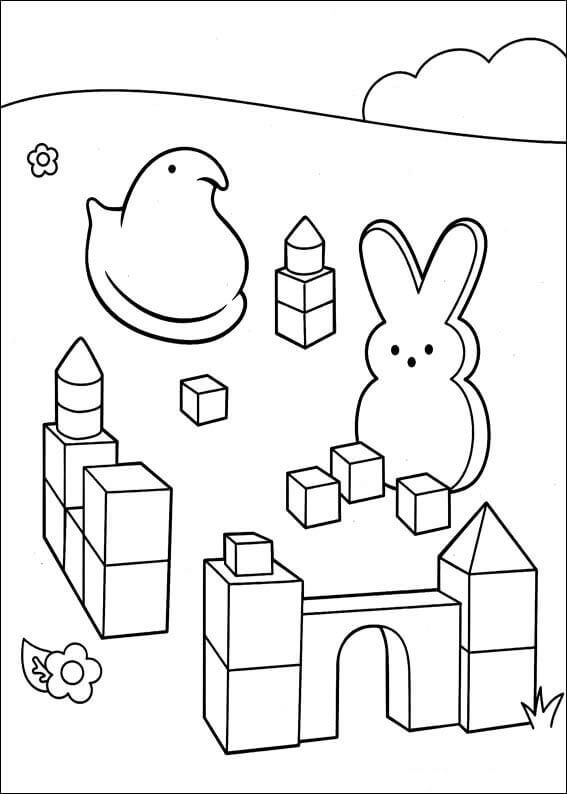 After playing with the sand, the duo is now seen making a castle from the block. The boundaries of the castle are ready, and just the assembling is left. Even that will be done soon.
Playing With The Balls:
For their next trip to the park, bunny and chick got some balls from home to play. Can you find out how many balls are hidden in this picture? And don't forget to color them!
Aren't these Easter Peeps coloring pages as sweet as sugar? Or maybe more. So why not print out all these marshmallow Peeps coloring sheets? Won't that be fun? Let us know your views in the comment section.