Cats and dogs might have won the title for being the most adorable animals but the crown for the cutest birds certainly goes to penguins. Their dominant monochrome colors, black on their backs and white underbelly like a neat tuxedo impart them a classy look. A splash of color on their beaks and their necks and crests for some species, adds a touch of style. Hence, we've got our readers a collection of free printable penguin coloring pages. 
Penguins are aquatic birds and are expert swimmers. Having vestigial wings, they cannot fly. These flightless wings are their flippers used for swimming efficiently underwater. What has added to their mass appeal is their popular depiction on television and films. From tap-dancing their way into our hearts with their "Happy Feet" to riding high on the popularity wave in "Surf's Up", it is impossible not to love penguins, isn't it? As much as they are loved, according to the International Union of Conservation of Nature (IUCN), depleting natural resources and changing climatic conditions have led to most of the penguin species being in danger of extinction.
We are taking you for an enjoyable and educational journey into the world of penguins through this collection of 30 penguin coloring sheets to print. You are sure to enjoy witnessing their fun and whimsical avatars, as well as get a glimpse of their real life.
to join this conversation on GitHub. Already have an account? Sign in to comment Footer © 2023 GitHub, Inc. Footer navigation Terms Privacy Security Status
30 Free Penguin Coloring Pages To Print:
Baby Penguin Cuteness Alert!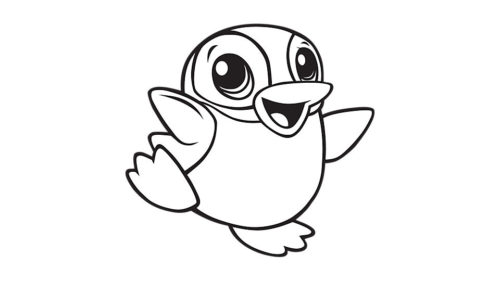 Babies are the cutest. Baby penguins are no different. Look at those sparkly big eyes! Standing on one foot and flapping its flippers to get your attention. Go ahead and give it a grand welcome by coloring it with bright colors.
A Penguin Family Christmas:
Christmas celebrations are ongoing in this penguin household. These enthusiastic penguin parents have wrapped the presents and decorated the trees. But it seems they need some help adding colors to their festivities. Usher in the holiday spirit by coloring this Christmas coloring page.
Club Penguin Christmas Decoration:
This hardworking member of the Club Penguin busy finishing his Christmas decorations. He looks excited hanging little bells on the Christmas tree. If you too want to be on Santa's list of good kids, help this worker finish his preparations with holiday season colors.
[ Related: Christmas Tree Coloring Pages ]
Club Penguin Island Watersports:
When you are a part of the Club Penguin, having a fun-filled time is guaranteed. Splashing around in the water while riding on the floating tube. It feels like your family holiday, right? Simply join in the adventure at the Club Penguin Island by printing this coloring page and having an awesome time filling up all the colors.
A Penguin Trio And An Igloo:
Penguins inhabit harsh cold environments like Antarctica. But why is this tiny little penguin family out of their igloo even in this cold? They are here to welcome you to this festive season. Greet them with cheerful colors and joyful spirit.
Cute Penguin Skating Star
Sliding into the holiday spirit is this endearing little penguin. Did you know that penguin is expert in sliding on their bellies using their legs to maneuver on the snow? Make this penguin a skating star by printing this color page and rewarding it with dazzling colors.
Little Visitor From Antarctica:
What can be more delightful than giving cozy colors to this lovely visitor from Antarctica? You can color the hat and scarves to match the colors of your own favorite hat and scarf so that this little penguin doesn't feel so cold and alone.
Be Cool And Confident Like A Penguin: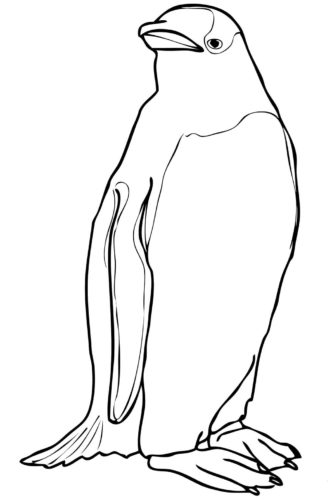 This grown-up penguin is looking so confident. You too should be confident in whatever you do. Whether it is speaking up your mind and standing up for what is right, have confidence in everything you do. Now, it's time for you to show your confidence in coloring this magnificent creature.
Gentoo Penguin Parenting Goals:
What do we have here? It's Gentoo penguin – the fastest underwater swimmers among all the penguins. They are also the third-largest. This penguin is making its way back home after a food trip to the ocean. They take many trips just to feed their young ones. Look at those webbed feet! It makes them swim fast but walking on rocks can be difficult. Parents are always working so hard for their children, aren't they? Don't forget to give your parents a tight hug after you carefully color this page.
Happy Penguin Dance:
We know you are smiling just looking at this coloring page. Happy penguins have such happy spirits and just a glance at them can bring you joy. You can double the joy of this little fellow with your jubilant colors.
"Vulnerable" Macaroni Crested Penguin:
This Macaroni Crested penguin earned its name because of its yellow crest – the feathery portion on top. But he looks a little sad. You know why? Because according to the International Union for Conservation of Nature (IUCN) they have a "Vulnerable" status, which means that they are likely to become extinct. Several wildlife officials and activists around the world are doing their best. You too can do your best to aptly color this penguin and spread awareness.
"Near Threatened" Magellanic Penguin:
Here is a Magellanic penguin who has just heard the news from IUCN about their "Near Threatened" status. It means their environment and livelihood are in danger and without proper conservation efforts, they risk becoming extinct. Console this gloomy fellow with warm hugs and lively colors.
P For Penguin Activity Sheet:
If we tell you now to say a word with P, we are sure you will answer "P for Penguin". Joining you with your answer is this parent and child penguin duo. The naughty child is flapping its flippers while the parent is so calm and composed. It must remind you of how naughty you sometimes get around your own parents. Be good now and color this sheet diligently.
Penguin Color By Number Activity Sheet: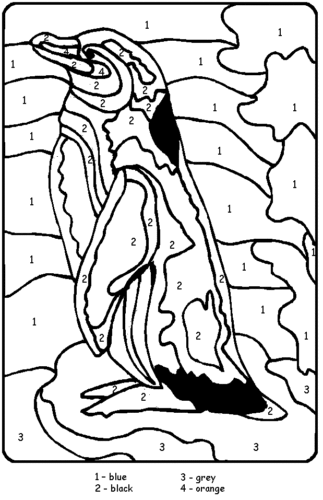 It is hard to tell where this penguin is standing in this coloring sheet. Follow the numerical instructions and start coloring the patches to discover the beautiful place it calls home.
Kaleidoscopic Penguin:
Showcase your artistic flair with this kaleidoscopic coloring page. Print it and start coloring using a complementing mix of colors to highlight the flamboyant personality of this stylish penguin.
Postcards From Penguin:
How about making cute penguin postcards using this coloring page? You can start by coloring this fit and healthy penguin like a painting. Then write messages to your family and friends at the back. You can also include information about these lovely creatures and how they need our help with their conservation.
This flightless bird is reaching out to you for help to find its identity. Lend him your helping hand and show him what he looks like. Bring out his true colors by accurately coloring each part of this curious little penguin.
Happy Penguin In Snowy Mountains:
The happiness of this baby penguin seems a bit dull. Let's add colors to the delightful winter scene of this little penguin discovering snow for the first time. You can recollect all your playful times in the snow while you are coloring this.
Upcoming Penguin Skating Star: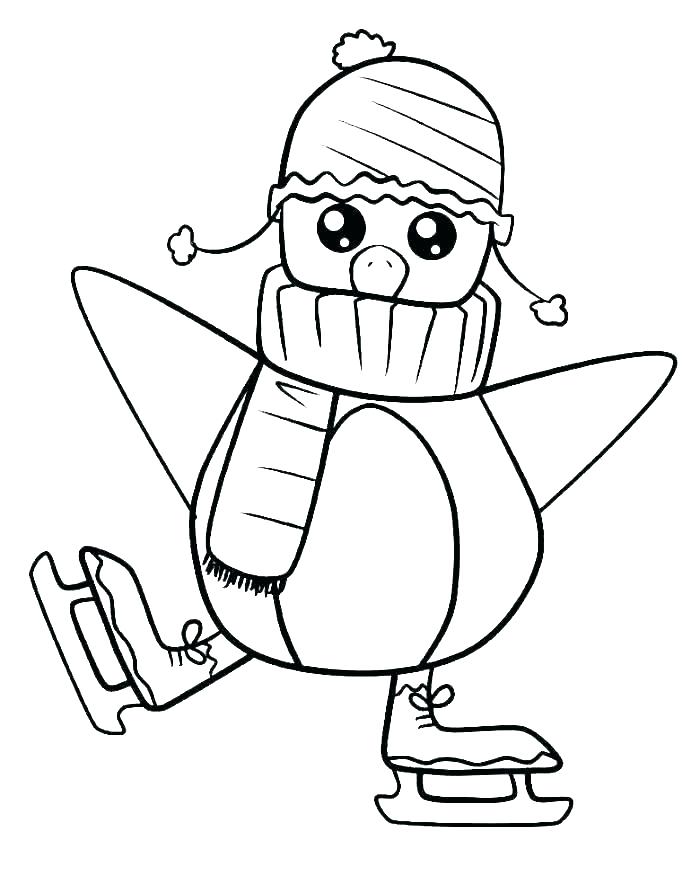 We have a skating star in the making on this coloring page. She is confident of her skills and strikes an assured pose. She is smart too just like you. How? Like you, she always remembers to dress according to the weather. In winter, she only goes out wearing warm clothing like her beanie cap and woolen scarf. Give this upcoming star, a legendary treatment with your colors.
Mama Penguin Brings Something Fishy:
After going through a long and arduous journey, this mother penguin is home with dinner for her baby. She will be greeted with happy calls from her child and her caring husband who looked after the baby while she was away. In almost all penguin species, each parent takes turns to care for their baby. Show your appreciation for her efforts by sincerely coloring this page.
Fed Penguins, Fun Penguins: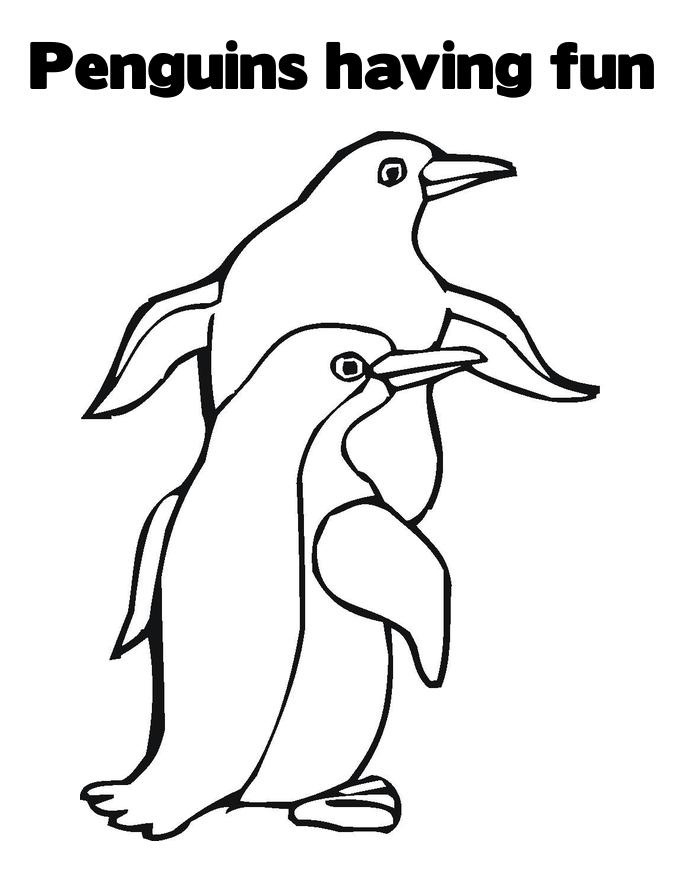 Now that the penguin family has had their food, they are feeling good. When they feel good, they like to have some fun. Print this coloring page and splash some colors to make their fun time memorable.
Penguin Professionals:
Yes, these are penguins and they are dressed in the attire of different professionals. They are here to show that you can become whatever you dream to be. If you want to be a doctor, you can be. If you want to be a musician, you can. No, you cannot be a pirate. Why? Because it is not a pirate. It's an actor playing a pirate. So, if you want to be an actor, you can. Print this color page and make all their dreams come true while you think about yours.
Oh! What Fun It Is To Ride!
The holiday season means snow. And snow means riding the sleds! Look how much fun these two penguins are having, going down the slope. You too can join in the excitement by coloring this thrilling ride while singing "Jingle Bells".
Gifting A Helping Hand:
So many gifts can only mean it is time for the festivities. But wait. It's not Santa who is bringing these gifts. He must be busy somewhere else, that's why this hardworking penguin is helping him. We should always help someone in need. It's your turn now to help by coloring this page.
Baby Penguins Play, While Caring Parents Worry:
Families are the same everywhere. While the children are busy playing around, the parents are always watching over to keep them safe from harm. Doesn't this caring penguin parent look like your mom and dad when you are gliding down the slides like these playful baby penguins? Bring out the playfulness of the babies and the parent's caring ways on this coloring page with your excellent coloring skills.
Realistic Shades Of Penguin:
Some drawings and paintings look life-like. It is because the artists use different techniques like shading to add depth. Like how by adding shaded lines on this majestic penguin, you can see proper definition and distinction between different parts of its body. Ready to try it with colors? Print this coloring page and using appropriate colors to make this penguin as realistic as you can.
Penguin Family Reunion: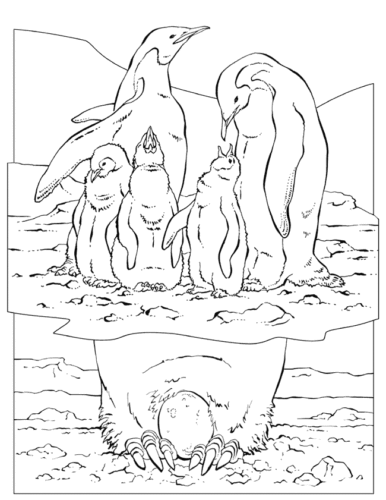 This is how a penguin family will look like if you visited their home. Papa penguin is stretching himself after his turn alone taking care of the babies, while mama penguin, back from her food trip is feeding one of the hungry babies. Look at the tantrum-throwing middle baby asking for more food even after his share! The bottom half of the coloring page depicts how the parent keeps the egg warm, huddled between their feet and under their belly. It is hard to believe that these baby penguins were once eggs. This realistic scene needs your expert coloring skills to come alive.
Royal Penguins, Royal Worries:
Here are another crested penguin species named Royal penguins. They are listed under the "Near Threatened" category by the IUCN. That's why this Royal penguin is worried about his home. Show him you care, by carefully coloring him and his environment. Let's spread awareness about conservation and bring their smiles back.
Simply Happy Penguin:
Hearing about your care and efforts to save them, this cool penguin is feeling happy. How about giving his happiness different shades of colors? Let's get started by printing and stunningly coloring it.
Winter Baby Penguin: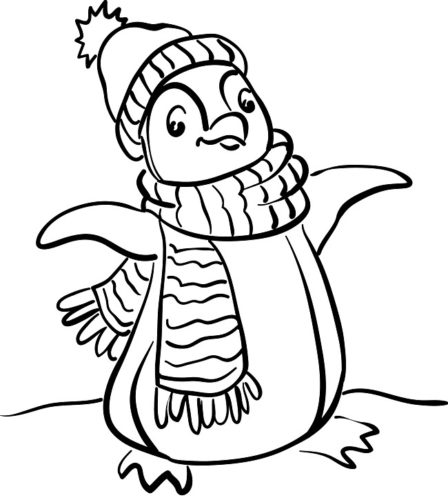 This baby penguin is ready to party this holiday season knowing how much you care for them. She is wearing her best winter wear and doing a happy dance to show her gratitude. Welcome her gratitude with brilliant strokes of colors.
Such a fun ride it has been! Hope you enjoyed this journey into the world of the adorable penguins through this extensive collection of coloring pages to print. Wasn't it sad to know most of these penguins are in danger or risk being in danger of extinction? We need to increase the conservation efforts and spread awareness. Let's care more for our planet and all its unique and wonderful beings including these cute creatures while filling these penguin coloring pictures to print.