The popularity of the British cartoon series "Peppa Pig" just refuses to die down. It was released way back in 2004 and is as much watched now as it was more than a decade ago. This animated series revolves around Peppa, who undergoes new adventures in every episode, teaching viewers about feelings, cooperation, and friendship. Since the series is so popular, it makes more than sense that we would include Peppa Pig coloring pages as well. So check out amazing printable Peppa Pig coloring sheets below.
30 Peppa Pig Coloring Pages
Candy Cat: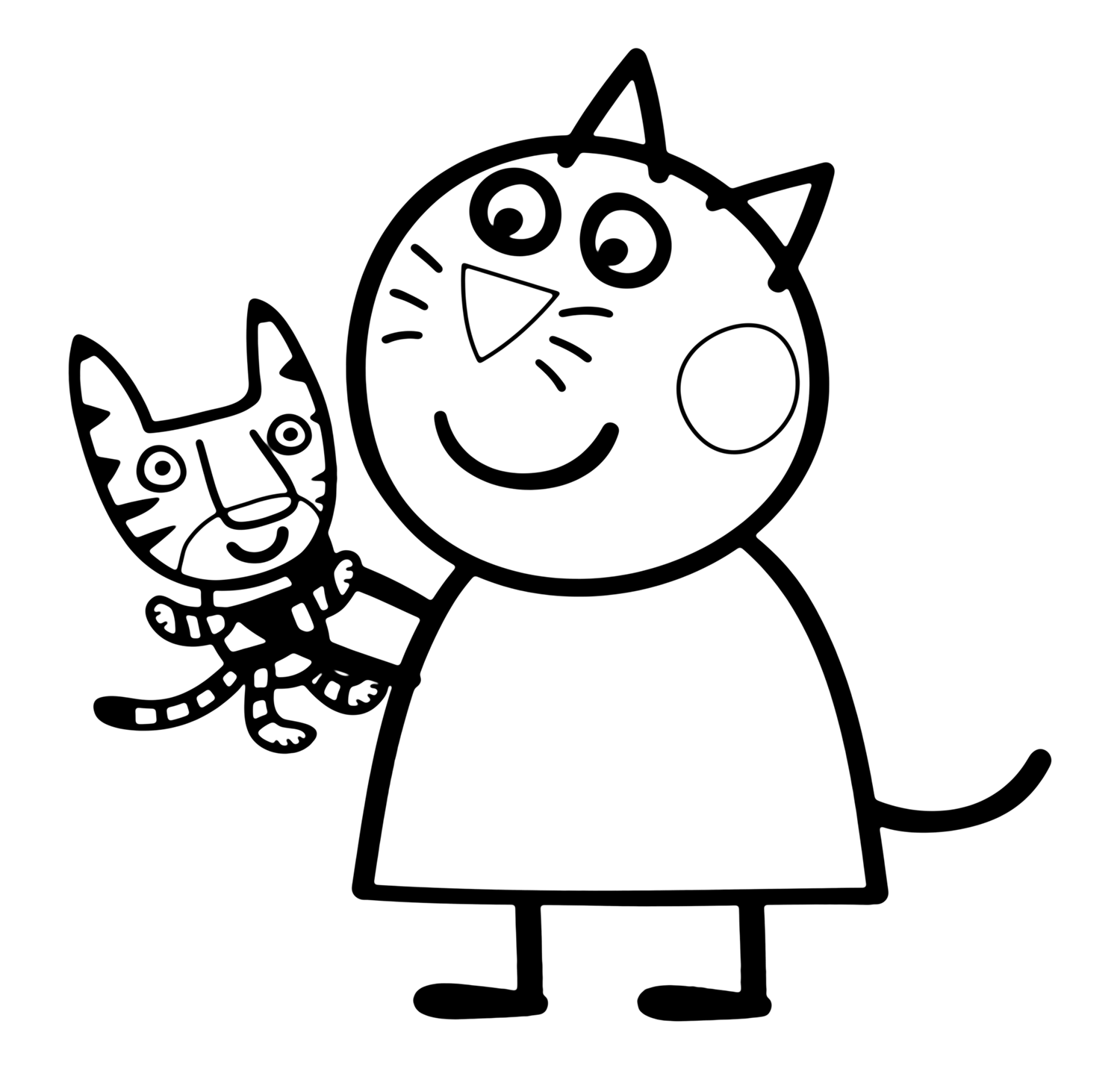 We're starting the list with Candy Cat coloring page featured with her pet. Candy is Peppa's friend, and she attends playgroup with her. Candy is a kind and friendly cat, who loves to try new things.
Also Read: Cat Coloring Pages
to join this conversation on GitHub. Already have an account? Sign in to comment Footer © 2023 GitHub, Inc. Footer navigation Terms Privacy Security Status
Daddy Pig: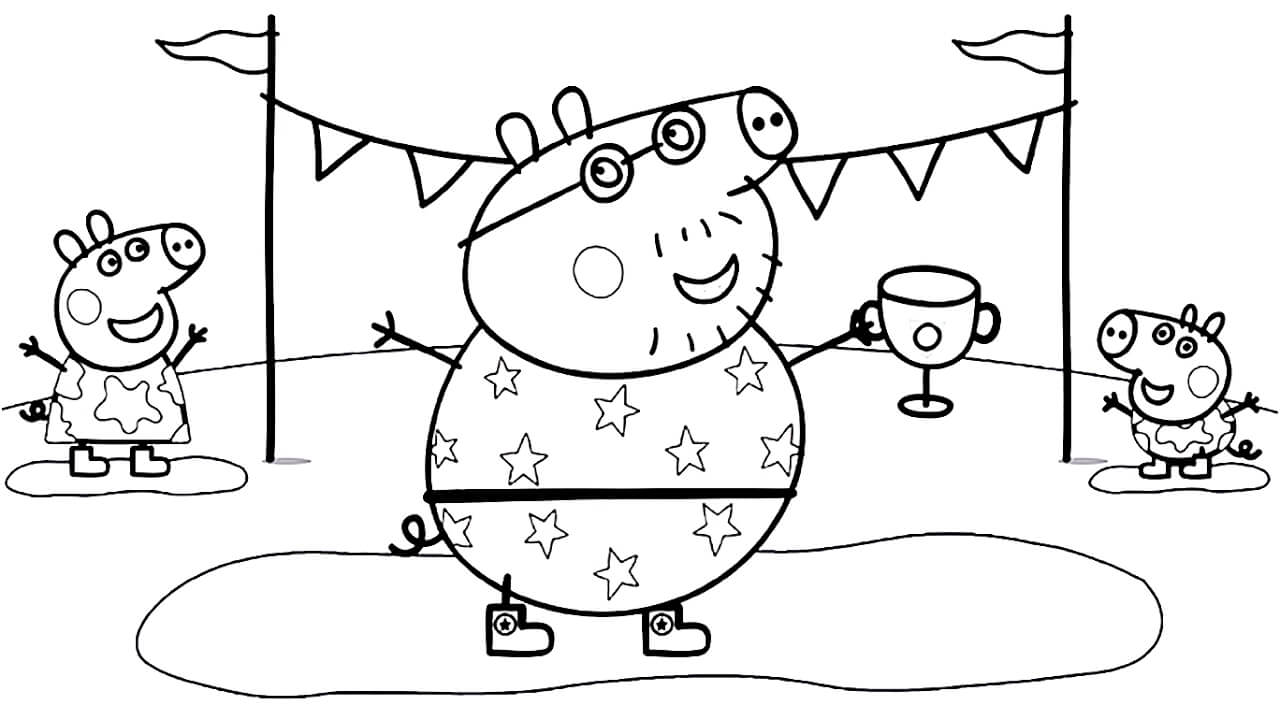 Daddy Pig, officially known as Perseus "Percy" Pig, is Peppa and George's father. He loves playing with children and going on car rides. In this coloring page, it seems that Daddy Pig has won a competition and a trophy along with it. The two kids, Peppa and George, are cheering their daddy from behind.
Danny Dog: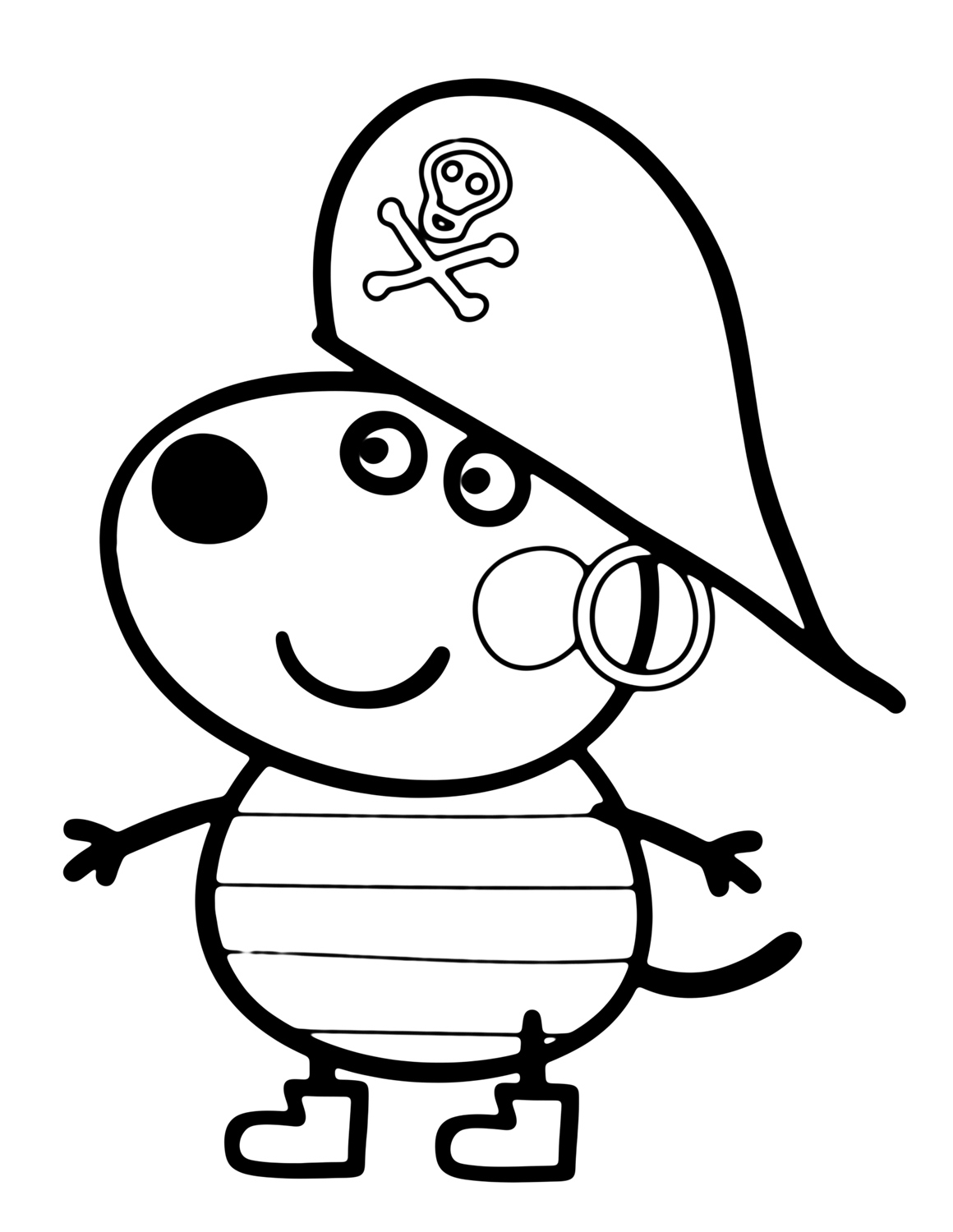 Meet Danny Cane, one of Peppa's friends and classmates in the playschool. Danny is an energetic little boy who loves everything associated with the sea. In this coloring page also, he's dressed as a pirate.
Also Read: Dog Coloring Pages
Emily Elephant:
This coloring page features Emily Elephant, a gentle elephant who attends the playgroup same a Peppa. She loves playing with building blocks and makes the loudest trumpet with her trunk. Emily has grayish, violet skin and wears a light yellow dress.
Freddy Fox: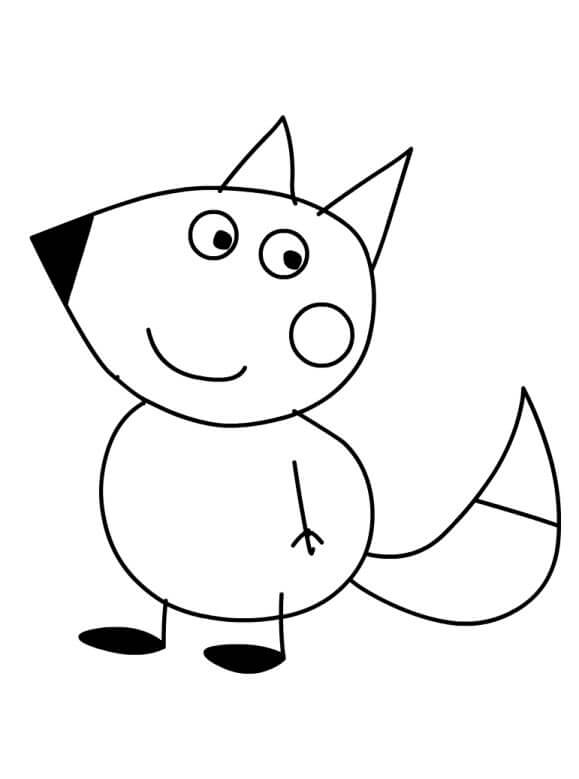 Here's a coloring page of Freddy Fox, a cool and playful character with an excellent sense of smell. He is an orange-colored character, who appears wearing black shoes and red tee.
Also Read: Fox Coloring Pages
George Pig And Peppa Pig Cycling:
This coloring page features George Pig and Peppa pig cycling. George learned cycling from his sister Peppa only. Isn't that cute?
George Pig: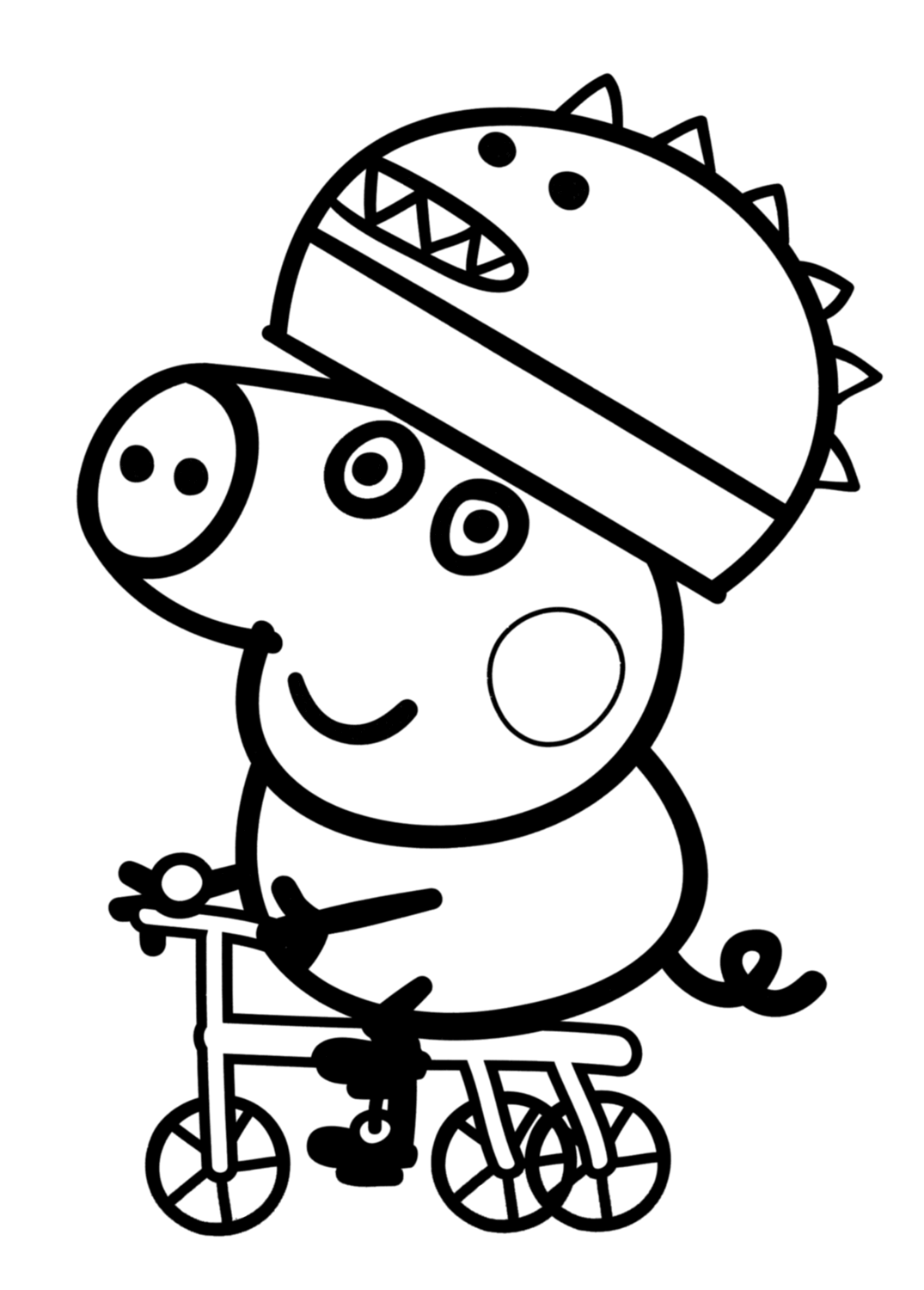 Here's a coloring page of George, fondly called Georgie by his mommy. George loves playing with his sister, even though she acts bossy sometimes. George appears wearing a blue shirt most of the time in the show. He has pink skin and curly, pink tail.
Madame Gazelle With Peppa And Her Friends:
This coloring page features Madame Gazelle in her preschool with Peppa, Suzie, Candy, Danny, and Pedro. Madame Gazelle is the lead singer, lyricist, and guitarist and the teacher of Peppa at the playgroup.
Mummy Pig: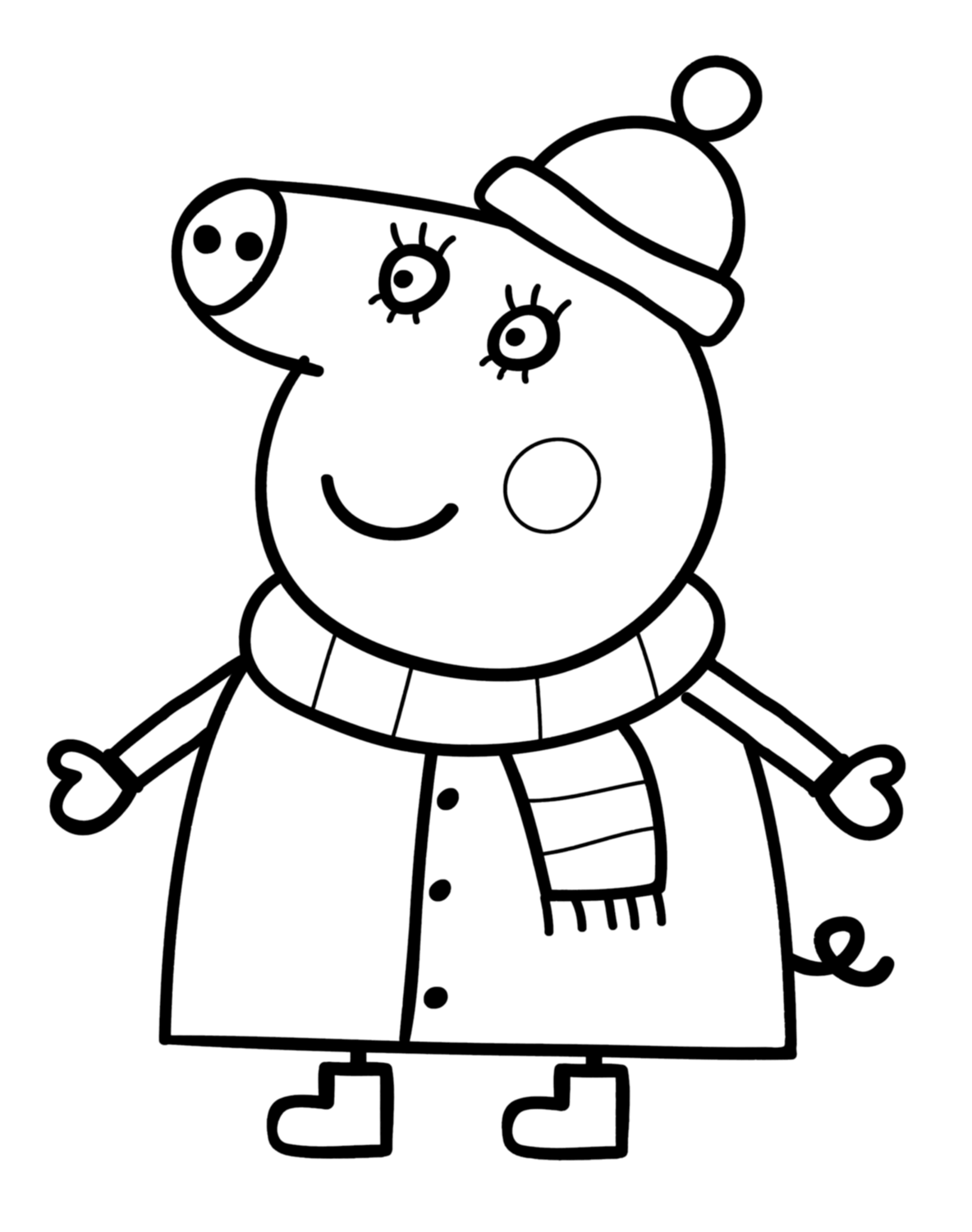 Meet Pamela or Pam Pig, better known as Mummy Pig or Mrs. Pig in the series. She is the wife of Daddy Pig and the mother of George and Peppa Pig. In this coloring page, Mummy Pig is dressed in winter clothes. It seems she is all set to welcome winter.
Pedro Pony: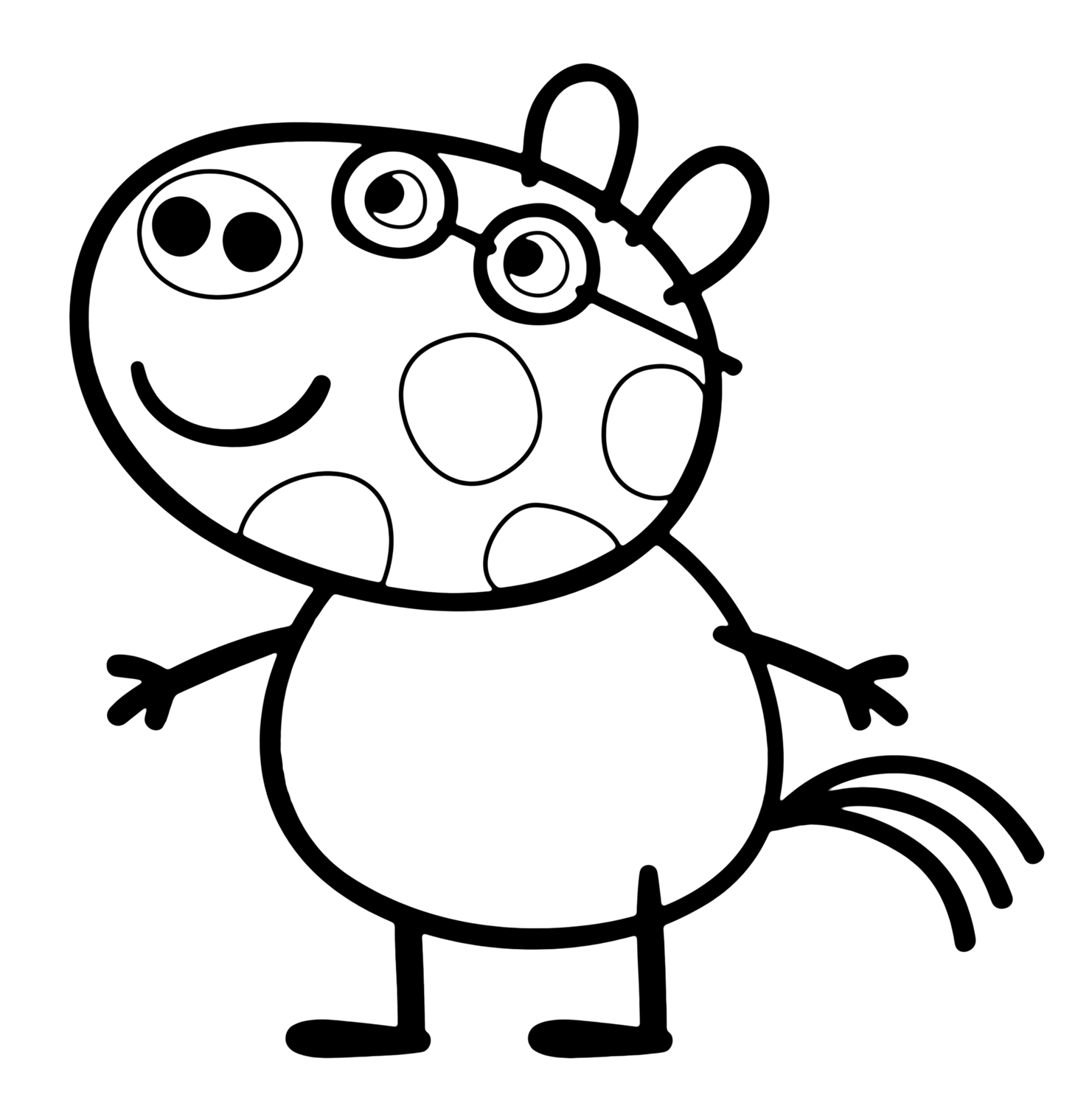 Meet Pedro Pony, a recurring character who studies with Peppa. He is a clumsy and forgetful pony, who can be a bit slow to catch on. He totally loves sleeping, so much that he oversleeps and often gets late for playschool.
Peppa Pig And George Enjoying Ice Cream: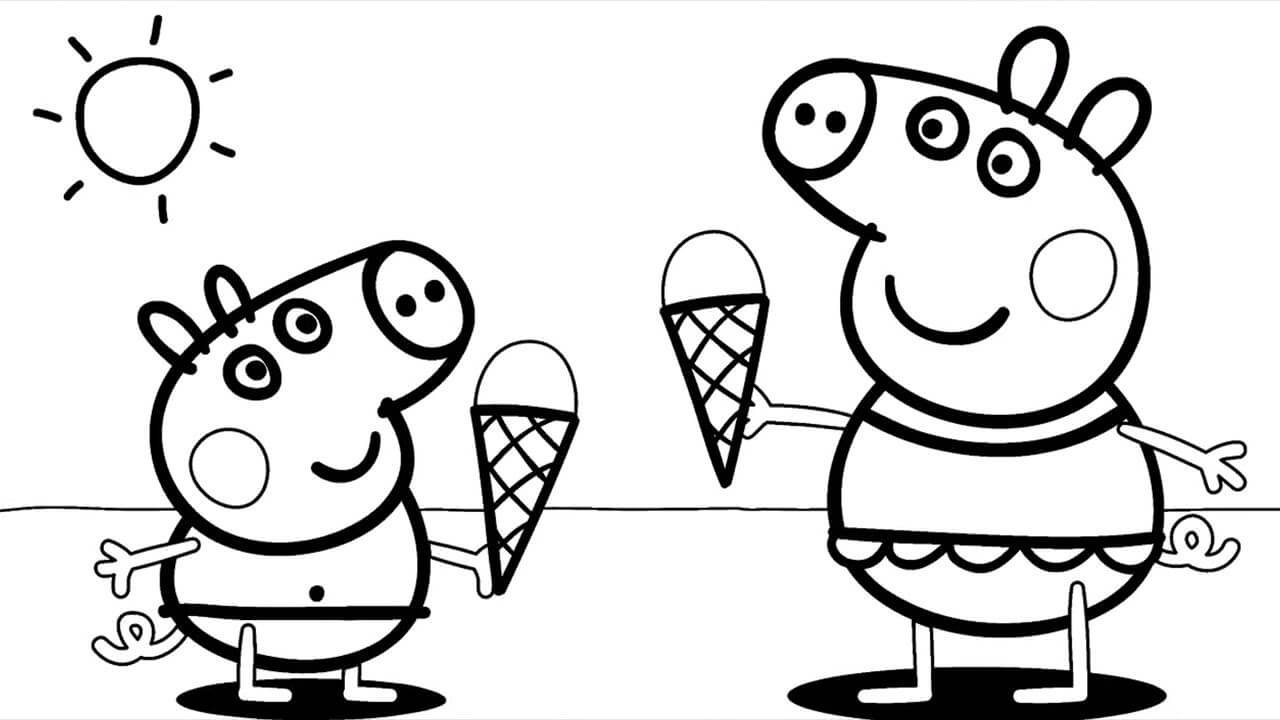 Summer is in its full glory, so Peppa and George decided to indulge in some ice cream. Can you guess which flavor ice cream they are having? You can tell us by coloring this image and the ice cream featured in it. And don't forget to color the dazzling sun.
[ Related: Ice Cream Coloring Pages ]
Peppa Pig:
It's Peppa Pig's birthday, and she couldn't be more excited. She is holding a whistle in one hand and balloons in another. We wonder how pretty this coloring page will look when you fill it with color. Peppa Pig is the protagonist of the series. She loves jumping and playing in mud puddles.
Peppa Pig Christmas Coloring Page:
It's Christmas time, and Peppa Pig has totally immersed herself in the Christmas spirit. She has put up a Christmas tree and has decorated it beautifully with tinsels and ornaments. Even George Pig is there, but he is too little to do any work.
Peppa Pig With Her Friends And Family Coloring Page: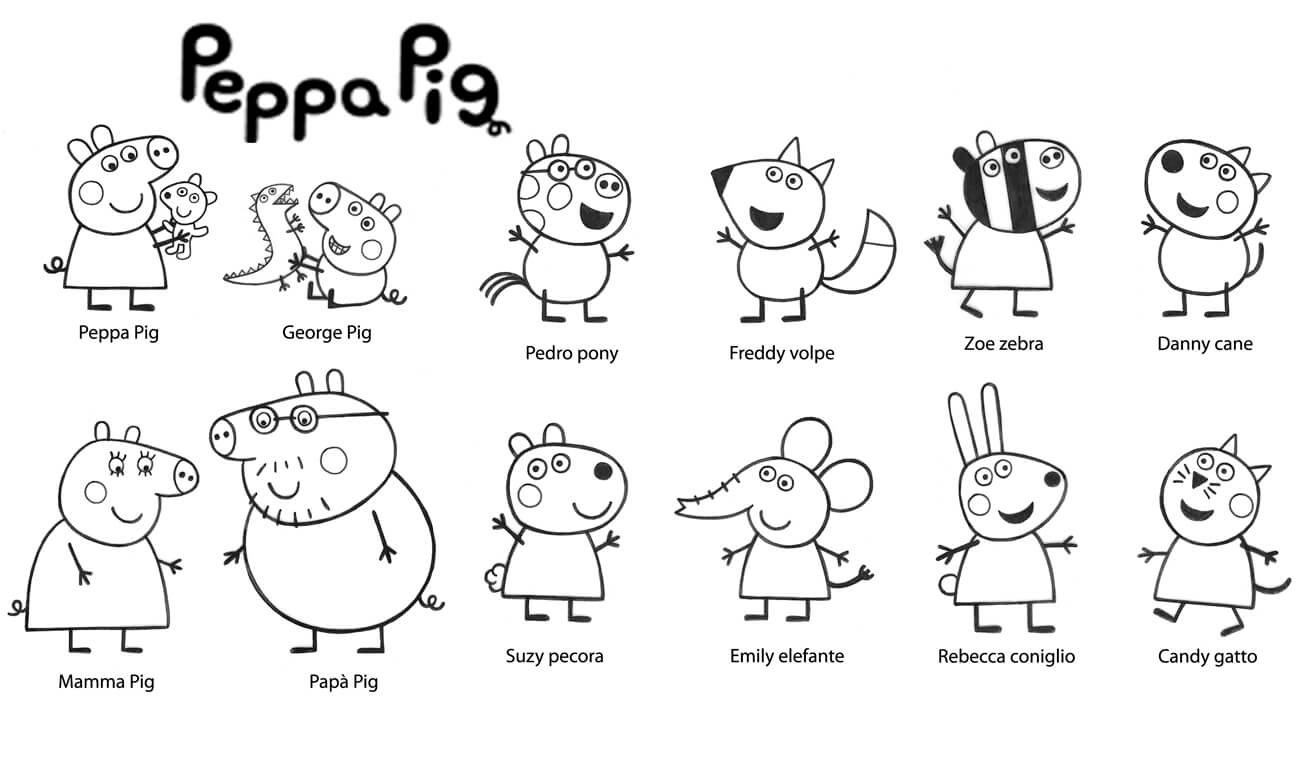 This is one of our most favorite Peppa Pig coloring pages as it features a miniature version of every prominent character of the "Peppa Pig" cartoon series. This coloring page will give you ample opportunity to experiment with different shades.
Peppa Pig Holidays Coloring Pages:
After decorating the Christmas tree and playing with the train and other toys, Peppa Pig and George are now tired and have gone to rest on their respective beds. They will wake up refreshed on Christmas morning to receive Christmas presents from their parents.
Peppa Pig Cycling With George: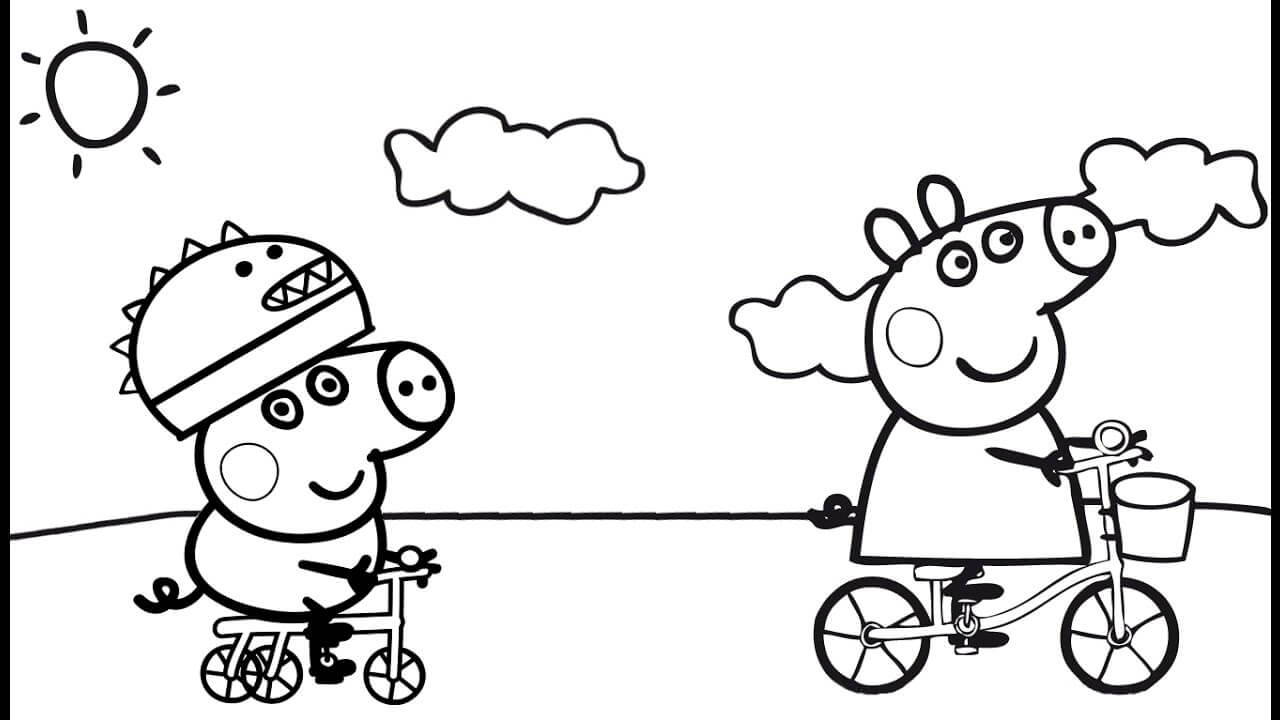 Here's another coloring page of Peppa Pig cycling with George in a warm, summer noon. Peppa, being the champion in cycling is trailed by George, who is also doing pretty well in our opinion, considering his age.
Peppa Pig Easter Coloring Page:
It's Easter time, and Peppa and George have gone egg hunting. Both of them have found one egg each and are now looking for some more. The scenery of this coloring page is also wonderful, signifying the beautiful season, Spring.
Peppa Pig Family In Costume:
It seems that Peppa Pig's family is heading to a costume party. Maybe a Halloween party! Papa Pig is dressed as the king, Mummy Pig as the queen, Peppa Pig as the princess, and George as the knight.
Peppa And Family Going For A Ride: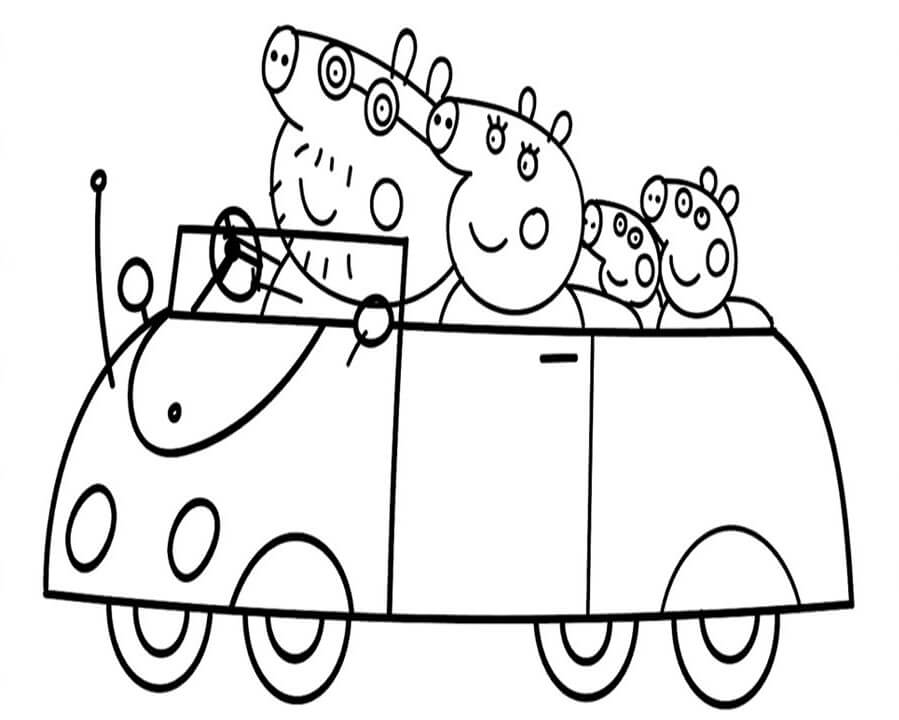 Peppa and her family are very outgoing. Every Sunday, the entire family goes for an outing, either to a nearby park or a mall for shopping. Papa Pig takes the steering, while the other family members enjoy the ride.
Peppa Pig Making Food: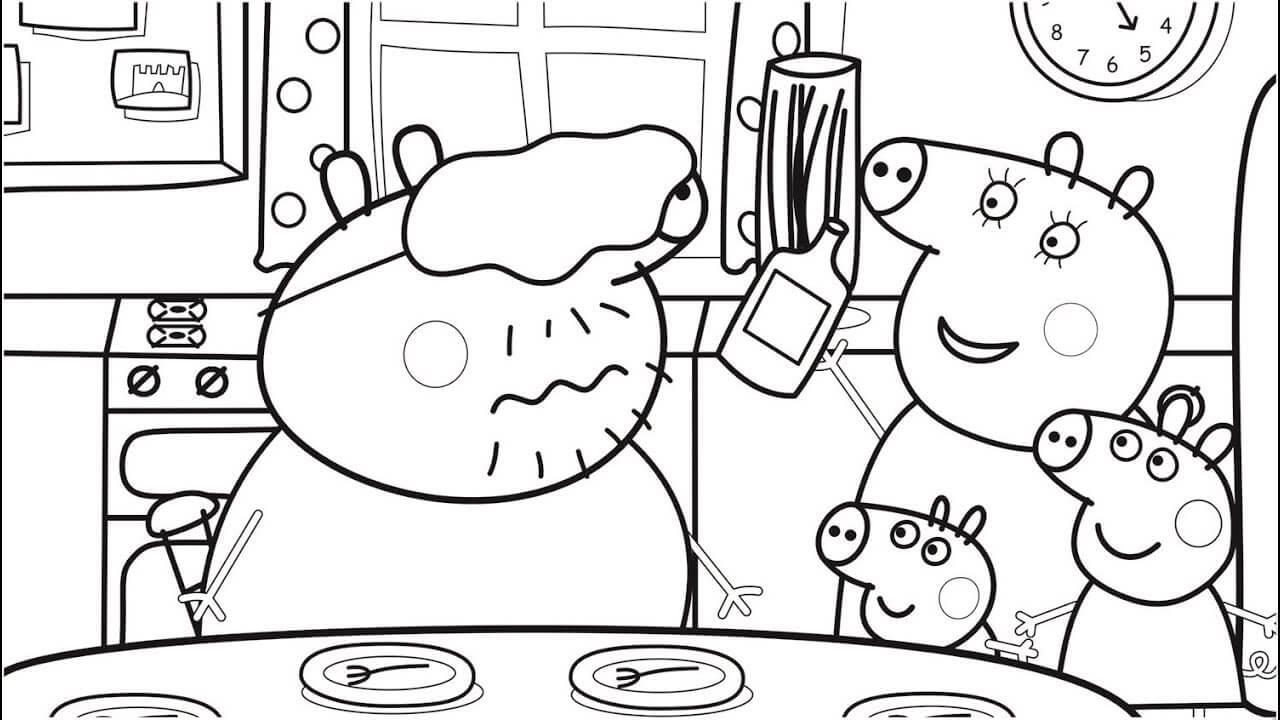 This is one of the most hilarious Peppa Pig coloring pages. Mamma Pig accidentally poured the sauce all over Papa Pig's face and the kids are having a hearty laugh. This coloring sheet will look wonderful filled with colors.
Peppa Pig Camping:
Like I told you before, Peppa's family is very outgoing and every weekend they head out somewhere. This time, they're going camping. They've hired a camping bus and will explore the suburbs and surrounding countrysides.
Peppa Pig: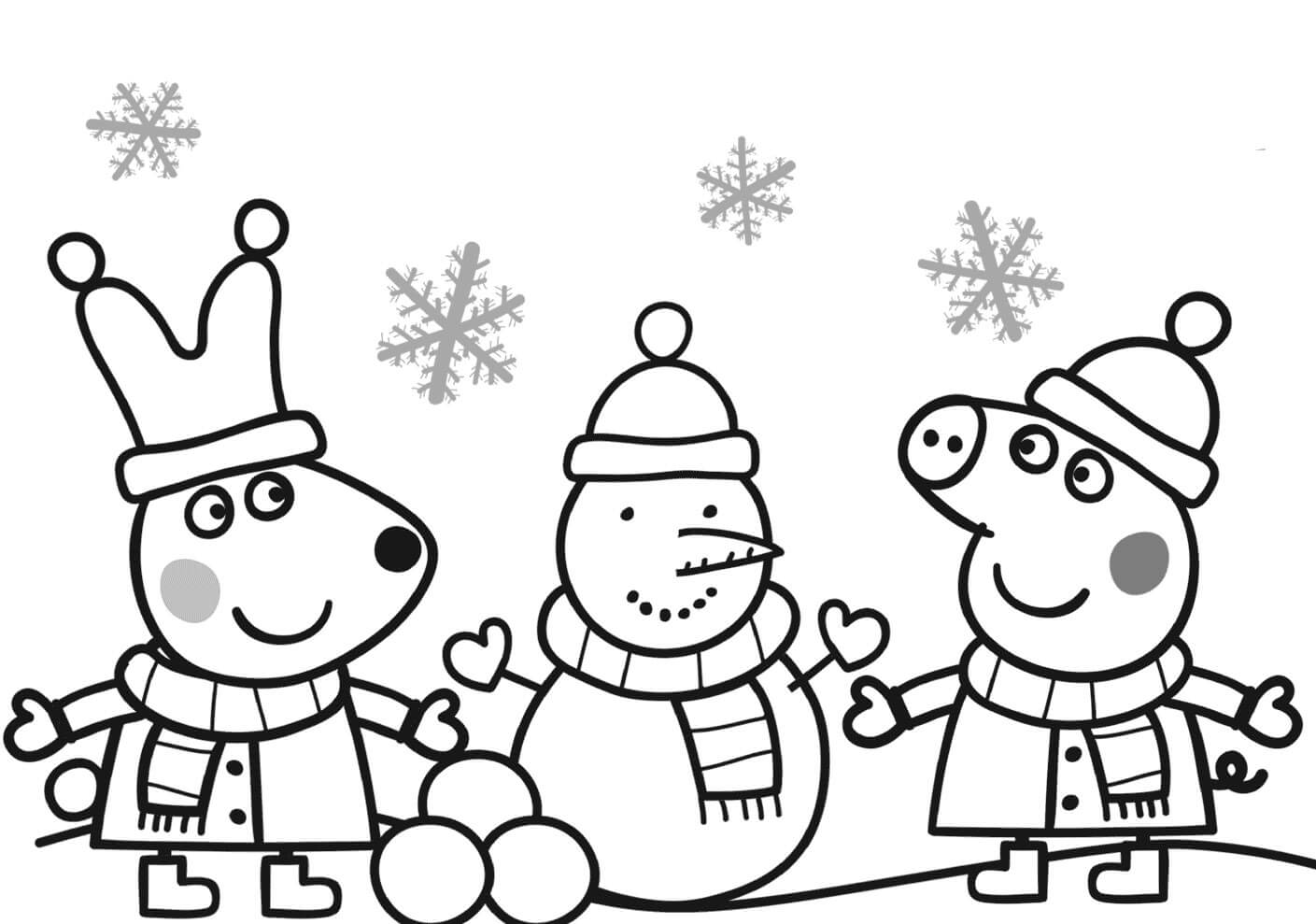 It's winter, so how can Peppa Pig not make a snowman? After making the snowman, Peppa and Danny are seen emulating it. And we must say they are looking adorable doing this. We even loved the winter clothes they are wearing.
Peppa Cycling With Daddy:
This coloring page is about the time when Peppa learned cycling for the first time from her daddy. She would even wear a helmet those days, but now she isn't seen with it. Remember, it's always better to ride cycle wearing a helmet for safety reasons.
Peppa Looking Miffed With George And Emily:
Why is Peppa looking so miffed with George and Emily? We can see that they are dressed in space suits and George is carrying a toy rocket? Does that rocket belong to Peppa and George took it without her permission? Whatever may be the reason, Peppa looks really angry. Perhaps, coloring her can make her feel good.
Peppa Pig Family Coloring Page:
Here's another beautiful printable Peppa Pig coloring sheet, featuring the entire family. We even love the inclusion of the toys of the respective children. Color these characters in their respective shades and make it the feature image of your coloring book.
Rebecca Rabbit:
Meet Rebecca Rabbit, the sweet and lovable characters, but gets stern when she sees immorality and injustice. We've even seen Rebecca hiding her love and admiration for carrots, which we wonder why.
Suzy And Candy: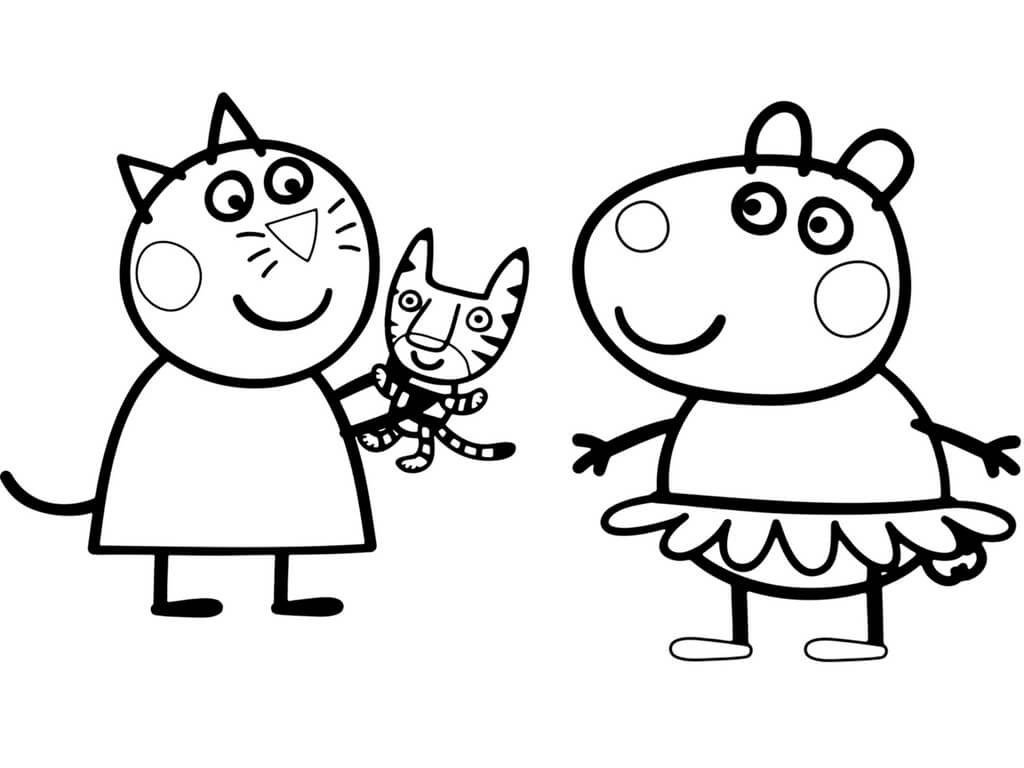 Suzy and Candy are not just friends with Peppa. They love each other too, so much that they are inseparable in playschool and beyond.
Suzy And Peppa: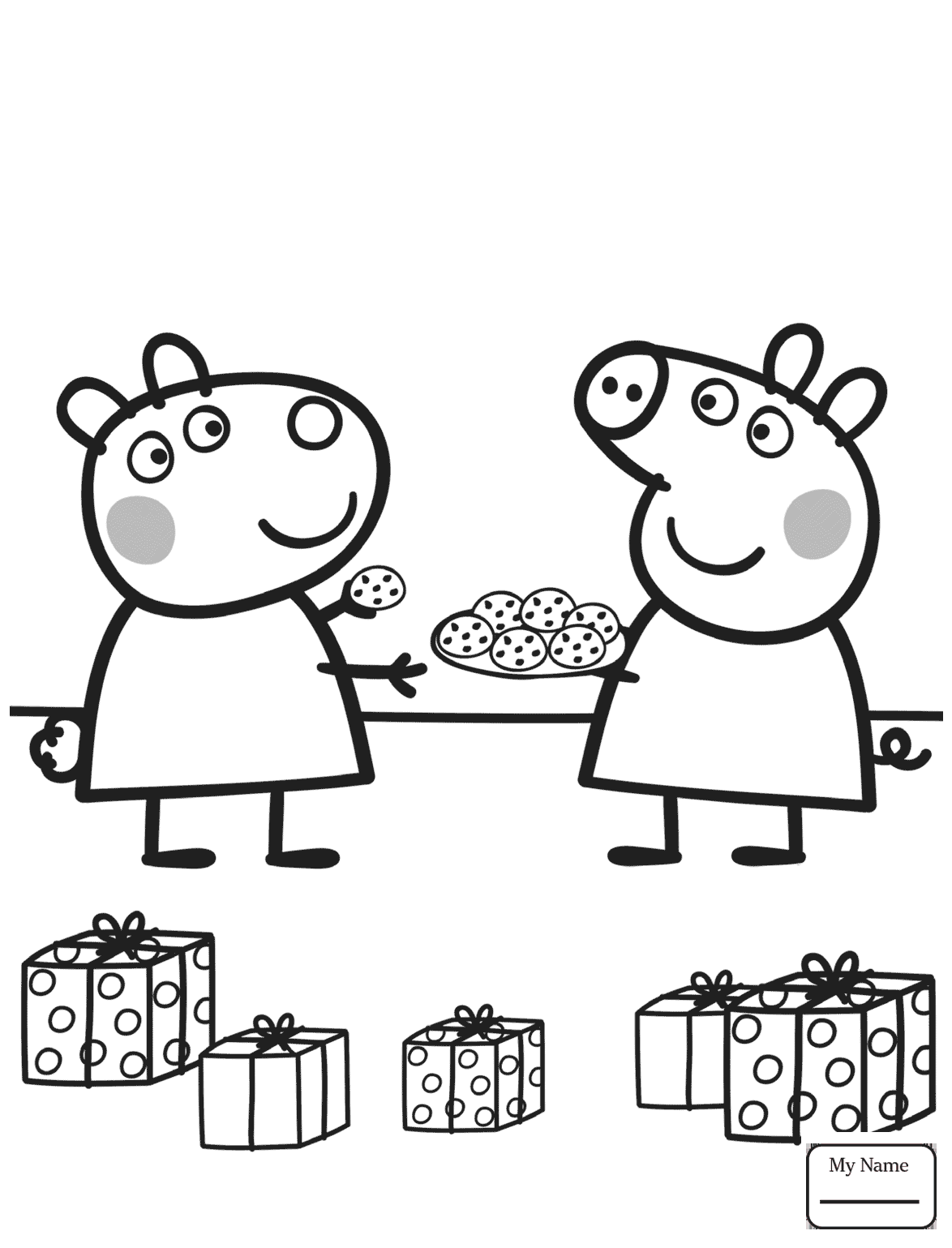 Here's a coloring page of Suzy and Peppa Pig exchanging cookies with each other. There are even gift boxes lying around. It seems that it's Christmas time and Suzy has come to visit Peppa. Children can even write their name on the corner of the coloring sheet.
Suzy Sheep: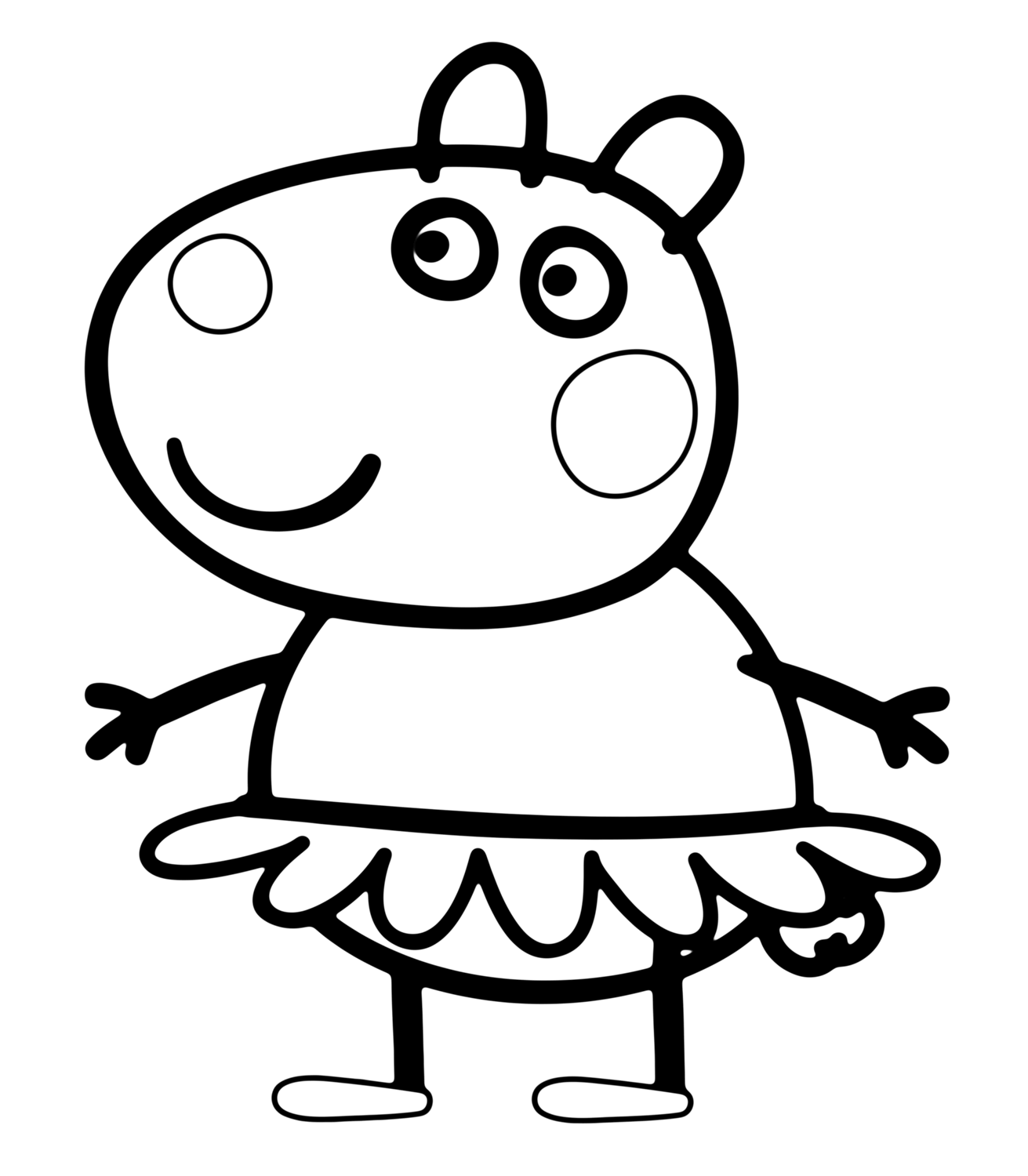 Meet Suzy Sheep, Peppa's best friend, and one of the major characters of this series. She's a smart character with an extraordinary vocabulary and a voracious appetite. She's a pessimist and gets a bit bossy at times, but that's okay with us.
Zoe Zebra:
Zoe Zebra is a recurring character in "Peppa Pig". She has white fur with black stripes, which is quite obvious since she's a zebra. She appears in the show wearing a purple dress and black shoes.
We hope you enjoyed going through our printable Peppa Pig coloring sheets. Some of these Peppa Pig coloring pages are unique, and you won't find them anywhere else. So print out these Peppa Pig coloring pages before someone else grabs them. And don't forget to check out our Elena of Avalor coloring pages and princess coloring pages.