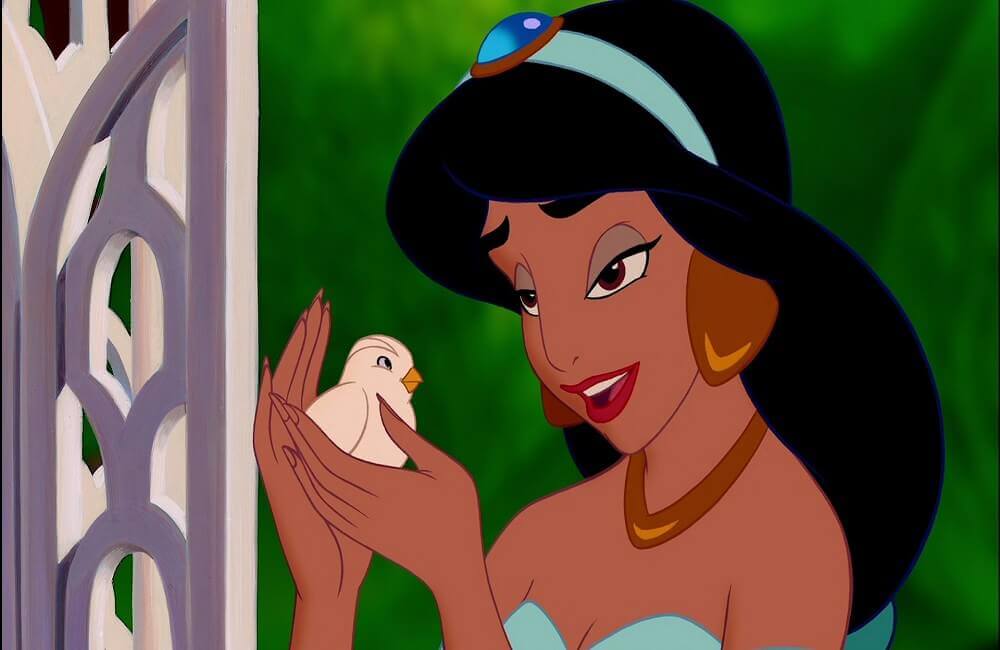 Open Sesame! Hello children! Welcome to the world of magic and love with our collection of free printable Princess Jasmine coloring pages.
Princess Jasmine is an independent and strong woman who longs for a world where her voice and opinions are heard, instead of others trying to decide her life and fate. She meets Aladdin while escaping from the palace on hearing about her marriage plans decided by her impressionable father.
In the film "Aladdin", we see how Princess Jasmine meets an unlikely partner in a small-time thief, Aladdin. Having fallen for the princess, Aladdin, on finding a magic lamp wishes to be a prince and heads to King Sultan to asks for Jasmine's hand in marriage.
to join this conversation on GitHub. Already have an account? Sign in to comment Footer © 2023 GitHub, Inc. Footer navigation Terms Privacy Security Status
Both the original animated film and the 2019 live-action remake were huge hits at the box office. While the animated film set the record for being the first animation to reach the milestone of half a billion revenue, the 2019 remake was a blockbuster with the worldwide business of over $1billion.
Let's discover more about this fierce, beautiful and nature-loving leading lady through this collection of Princess Jasmine coloring sheets to print.
25 Free Princess Jasmine Coloring Pages Printable
1. A Whole New World With Aladdin:
Aladdin takes Jasmine a trip around the world, flying high above on their magic carpet. As soon as the magical journey begins, the theme song of the film begins, "A Whole New World". While the film version has Naomi Scott and Mena Massoud singing, Disney also released a soundtrack version alongside a music video, performed by Zayn Malik and Zhavia Ward.
2. King Sultan Blesses Aladdin and Princess Jasmine:
Upon hearing about the love of his daughter Princess Jasmine and Aladdin, King Sultan happily blesses their union. You can feel the love and joy on this coloring page. Print this page and fill it with lovely colors.
3. Princess Jasmine – Nature Lover:
One of the things Princess Jasmine has grown up to love is nature. Be it the birds and animals or the plants and the trees, Jasmine always finds herself glowing with happiness and joy when she is around them. Capture the harmony and joy in this illustration with your coloring skills.
4. Princess Jasmine In The Courtyard:
Even taking a walk in the palace courtyard is pleasurable for Prince Jasmine, thanks to the huge number of plants and trees planted in and around the palace. There is a spring in her step today as she walks joyfully.
5. Princess Jasmine Brushing Her Hair Without Care:
Ever since she heard about her father, King Sultan's plans to get her married soon, Princess Jasmine has been in deep contemplation. She brushes her hair without care, lost in her thoughts, worrying about her future. Print this coloring page and give this thoughtful beauty in the illustration some warm and comforting colors.
6. Princess Jasmine Looking Regal:
Known for her beauty in the kingdom, Princess Jasmine looks particularly regal this morning. You can see how putting on an appropriate makeup has helped to accentuate her natural beauty. Print this page and work some magic of your own on the princess with your colors.
7. Aladdin & Princess Jasmine After The Carpet Ride:
There is a sense of companionship and warm affection as Aladdin and Jasmine return from their magic carpet ride. It was a new experience for Princess Jasmine, being able to fly and more importantly to see the world outside. All this while, she had no access to the world at all.
8. Jasmine On A Magic Carpet Ride:
On their magic carpet ride, Aladdin and Jasmine flew above different parts of the world, including their own city of Agrabah. This experience cemented Princess Jasmine's resolve to not remain confined within the walls of the palace but to truly live and see the world.
9. Jasmine Through The Veil: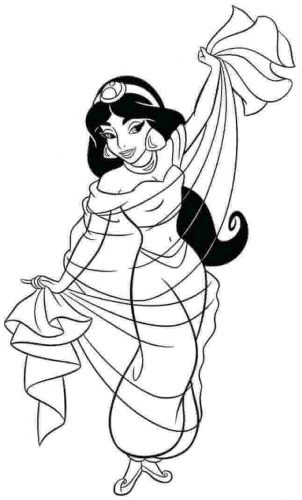 Examining her latest purchase, Jasmine drapes the transparent or sheer dupatta, a kind of stole made of light material. Make sure to fill it sparsely with light colors, so that her costume color can still be seen through it.
10. Jasmine – Princess In Her Own Right:
Headstrong and full of lively spirit, Princess Jasmine grew up to learn to think for herself and to question things when it felt wrong to her.
11. When Jafar Proposes, King Sultan Agrees And Jasmine Disposes:
With his evil plan to become the king himself, Jafar cunningly proposes for marriage with Princess Jasmine to King Sultan. While her father agrees to the possibility, Princess Jasmine questions that she has the right to marry whomever she wants.
12. Jasmine Receives A Present From Aladdin:
One of the many ways Aladdin tried to woo Princess Jasmine was to turn into a Prince and shower gifts and presents on her. Here Aladdin brings her a sparkling necklace as a present and Jasmine allows him to tie it around her neck.
13. Aladdin Imagines, Genie Conjures Up Jasmine:
Hoping to see Princess Jasmine and missing her, Aladdin thinks about her. With the help of genie who conjures up an image of Jasmine doing a hula dance, he feels enchanted.
14. Princess Jasmine Putting Flowers In A Vase:
Although there are several caretakers in the palace, Princess Jasmine likes to do things she loves on her own. Like after paying a daily visit to the garden, Princess Jasmine always replaces the vases in her room with new flowers.
15. Jasmine In A New Avatar:
The King is visited by merchants and traders from around the world who always bring something new and exciting for the princess too. Look at how happy Jasmine looks trying out a western gown.
16. Jasmine Reading A Scroll, Resting On Rajah:
Having a special bond with Rajah, her pet tiger, Princess Jasmine always takes out moments in her day to spend some quality time with him. Here she is peacefully reading a scroll while relaxing in Rajah's company.
17. Jasmine, The Acrobat, And Abu, Aladdin's Pet:
Once Princess Jasmine escapes the palace, she meets Aladdin and his pet monkey, Abu. On the run, here they are doing the tight rope walk like expert acrobats.
18. Jasmine In Her Palace Garden:
A sense of peace comes over her when Princess Jasmine spends her time in the palace garden. Nature has that effect on most people.
19. Jasmine With Other Disney Princesses:
Other Disney Princesses are here giving Princess Jasmine some company on this coloring page. Can you identify who these princesses are? Print this page and give each princess their accurate colors.
20. Jasmine Gives Rajah A Warm Hug:
You can see clearly how much love and respect they have for each other on this coloring page. Print this coloring page and fill this illustration of love between Princess Jasmine and Rajah with special colors of friendship.
21. Princess Jasmine And Aladdin On Their Wedding:
Staring into each other's eyes, Aladdin and Princess Jasmine see the groom and bride in each other on their wedding day. Be a part of this celebration and give this new couple a gift of your wonderful colors.
22. Princess Jasmine – New-Age Disney Princess:
Many modern versions of Disney Princesses, especially in the live-action remakes like Beauty And The Beast and Cinderella have stronger characterizations. Even Princess Jasmine is portrayed as a combination of beauty, soul, and strength in the new Aladdin live-action remake.
23. When Princess Jasmine Met Aladdin In Disguise: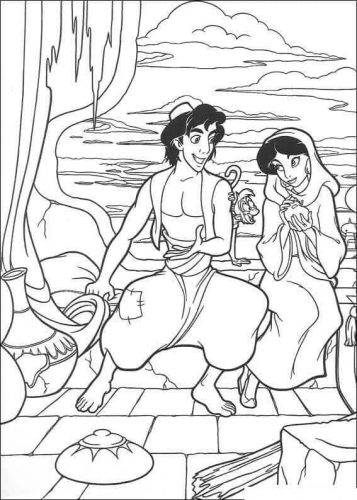 After running away from the palace, Princess Jasmine chanced upon Aladdin in the market. You can find the head of Abu, popping out in the background, realizing the unseen chemistry and attraction between them.
24. Princess Jasmine Frees The Birds:
Feeling confined in the palace, she keeps the company of many wonderful creatures that give her some solace in life. Being unable to free herself, she happily frees any birds that had been kept in cages.
25. Princess Jasmine With Rajah And Her Father, King Sultan: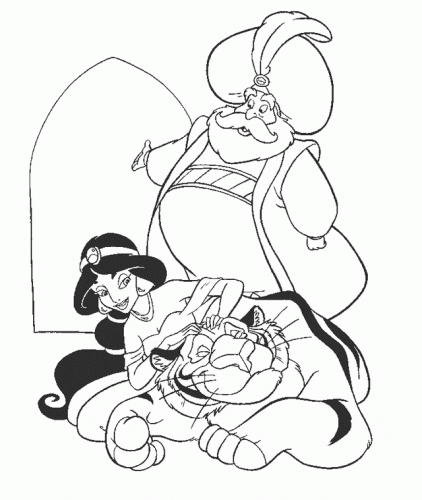 While a kind and friendly ruler, the Sultan of Agrabah and father of Princess Jasmine is very impressionable and easily influenced by others. Here he is trying to convey his wish to see her married, to follow the law of the land. But Princess Jasmine pampers Rajah instead, as she always longed for freedom in life, even in choosing her husband.
On that note of freedom, we have reached the end of this interesting collection of Princess Jasmine coloring pictures to print and you are now free to start downloading and coloring this collection. The casting for the live-action film took a long time. Post several auditions around the world, two actresses, Britain's Naomi Scott, and India's Tara Sutaria were shortlisted. After a joint audition with the chosen Aladdin actor, Mena Massoud, Naomi Scott was finally selected to be Princess Jasmine. The film has a new original song, sung by Naomi Scott as Jasmine, titled "Speechless", a powerful number that defines her determination. You can listen to the song for inspiration, while you print and color this collection of Princess Jasmine coloring images printable.