"The Story of Ferdinand" may not have been a phenomenon when it released almost 79 years back, but that, in no way makes Ferdinand, the Spanish bull who refuses to fight in the ring any less endearing. And the good news for all the Disney lovers is that Fox Entertainment is coming up with a full-fledged movie on this friendly bull, which will release on the 15th of December. So how many of you are going to watch this movie? We can see several hands raised. Until then, how about filling paint in these Disney Ferdinand 2017 coloring pages? Yes, we've got some exclusive printable Ferdinand coloring pages for our lovely readers. Before wasting any more time, check out the Disney Ferdinand coloring sheets to print below.  
[ Read: Disney Coloring Pages ]
10 Printable Disney Ferdinand Coloring Pages
Ferdinand:
to join this conversation on GitHub. Already have an account? Sign in to comment Footer © 2023 GitHub, Inc. Footer navigation Terms Privacy Security Status
Meet Ferdinand, the protagonist of the movie. Ferdinand, the big bull with a huge heart who is often mistaken for his huge, beastly look. But he would rather smell and enjoy the beauty of flowers than fight. Color Ferdinand in dark gray with white horns.
Lupe: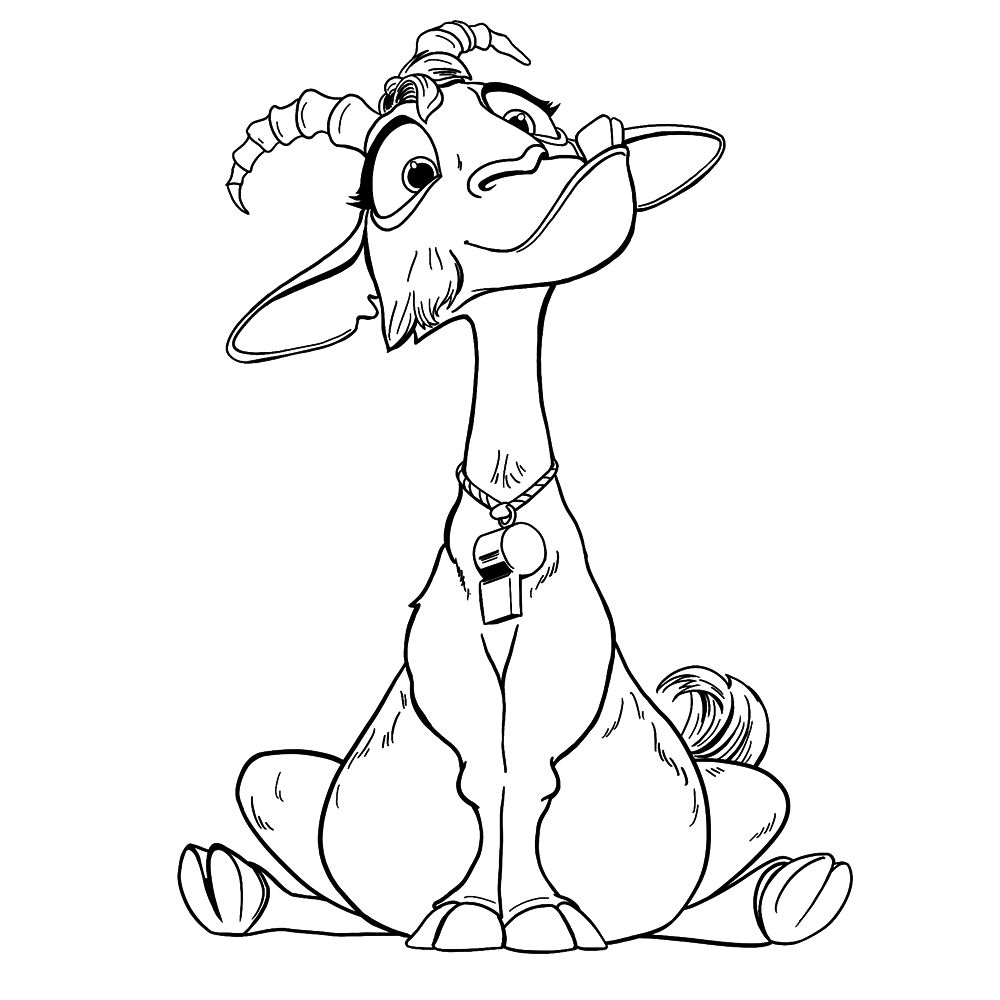 Here's a coloring page of Lupe, the calming goat whose job is to calm the bulls at Cada de Toro. Lupe's dream is to find a bull whom she can coach to greatness. Lupe is a petite and old goat with plain brown snot and underbelly and orange fur.
Lupe And Ferdinand:
Here's a coloring of neurotic, calm, and sometimes brash Lupe and friendly and jovial Ferdinand. The two had a great time with each other in the movie, and we believe you'll have a gala time coloring this image too.
Una, Dos, And Cuatro:
Here's a coloring page of the vivacious trio Una, Dos, and Cuatro, the hedgehogs of this series. Una happens to be a purple female hedgehog with spikes flowing upwards and forwards. The small, upturned nose and long lashes surrounding her blue eyes make her look very beautiful. Cuatro, the male hedgehog has a puffy round face and a large nose. His body and fur are steel blue in color. Dos, on the other hand, is a purple hedgehog with beautiful locks draping the right side of his face.
Ferdinand With The Hedgehog Trio: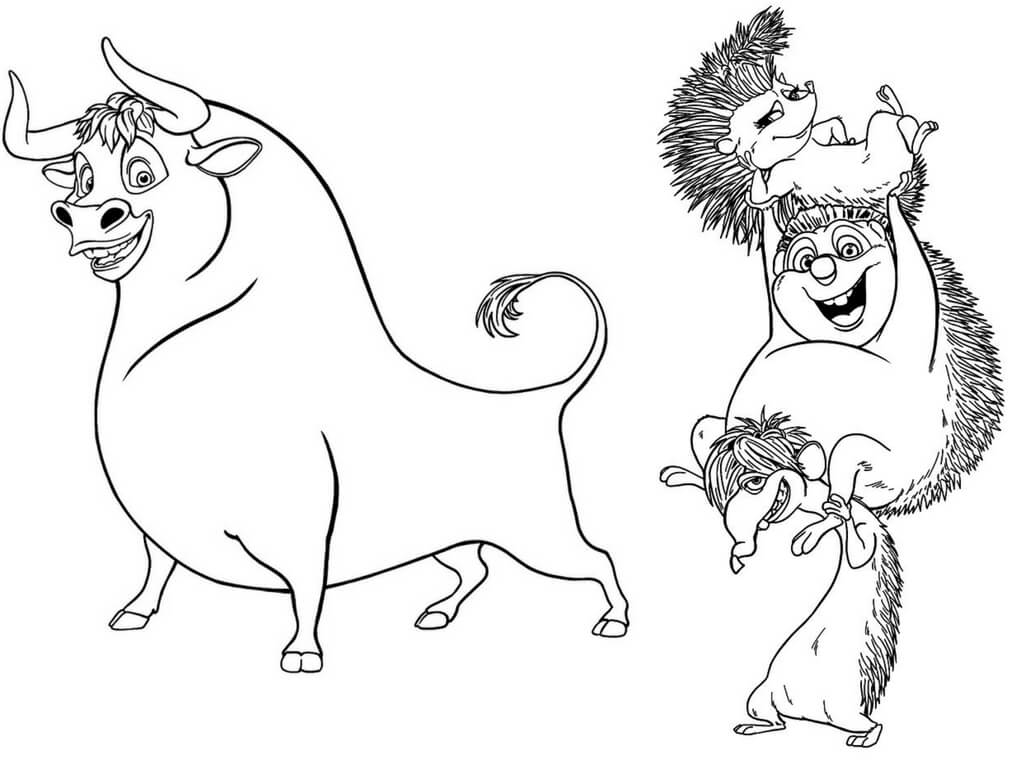 This coloring page features Ferdinand, the bull with the hedgehog trio, Una, Dos, and Cuatro.
Lupe With The Hedgehogs: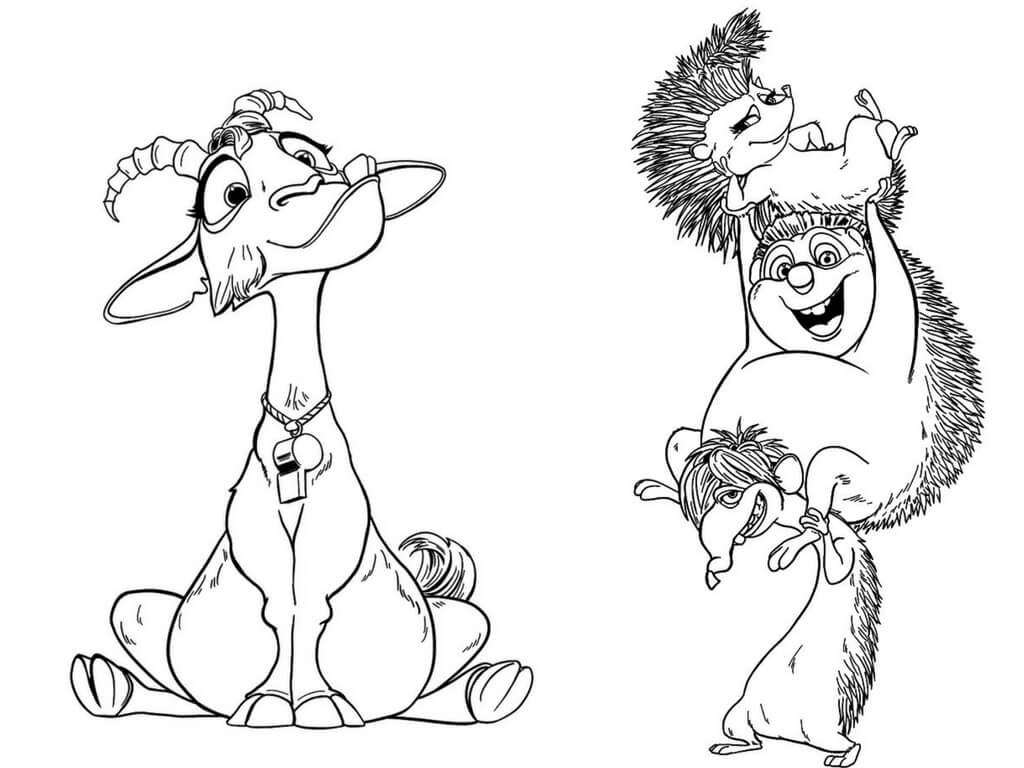 Here's a coloring page of Lupe with Una, Dos, and Cuatro.  Color these favorite characters of this movie in bright and vibrant shades to make them come alive.  
Ferdinand Stencil:
If you're in a creative mood and want to create a Ferdinand movie craft, this activity sheet may help. It features the stencil of Ferdinand the bull, which you can use to create a mask. Feel free to decorate the mask any way you like, such as glitter pen and sequins.
Lupe Coaching Ferdinand:
Here's another coloring page of Lupe trying to put some sense in Ferdinand. The background of the coloring page is amazing and has room for adding a couple of characters too.
Ferdinand Halloween Coloring Page:
Here's a wonderful coloring page featuring Ferdinand with two jack-o-lanterns. The bats, spider web, and full moon are creating the perfect Halloween ambiance.
Ferdinand Logo:
We're winding up this article with this wonderful Ferdinand logo for you to print out and color. We'd suggest you fill this logo with the exact colors as seen in the movie poster. It will look beautiful!
Ferdinand Hanukkah Coloring Page:
Ferdinand seems to be having a gala time this Hanukkah. We particularly loved how his antlers are shaped like a menorah.
[ Read: Hanukkah Coloring Pages ]
Ferdinand Christmas Coloring Page:
Since it's Christmas time, how can Ferdinand be behind from getting in the Holiday spirit? Both Lupe and Ferdinand can't wait to open their presents.
[ Read: Christmas Coloring Pages ]
Ferdinand And Lupe: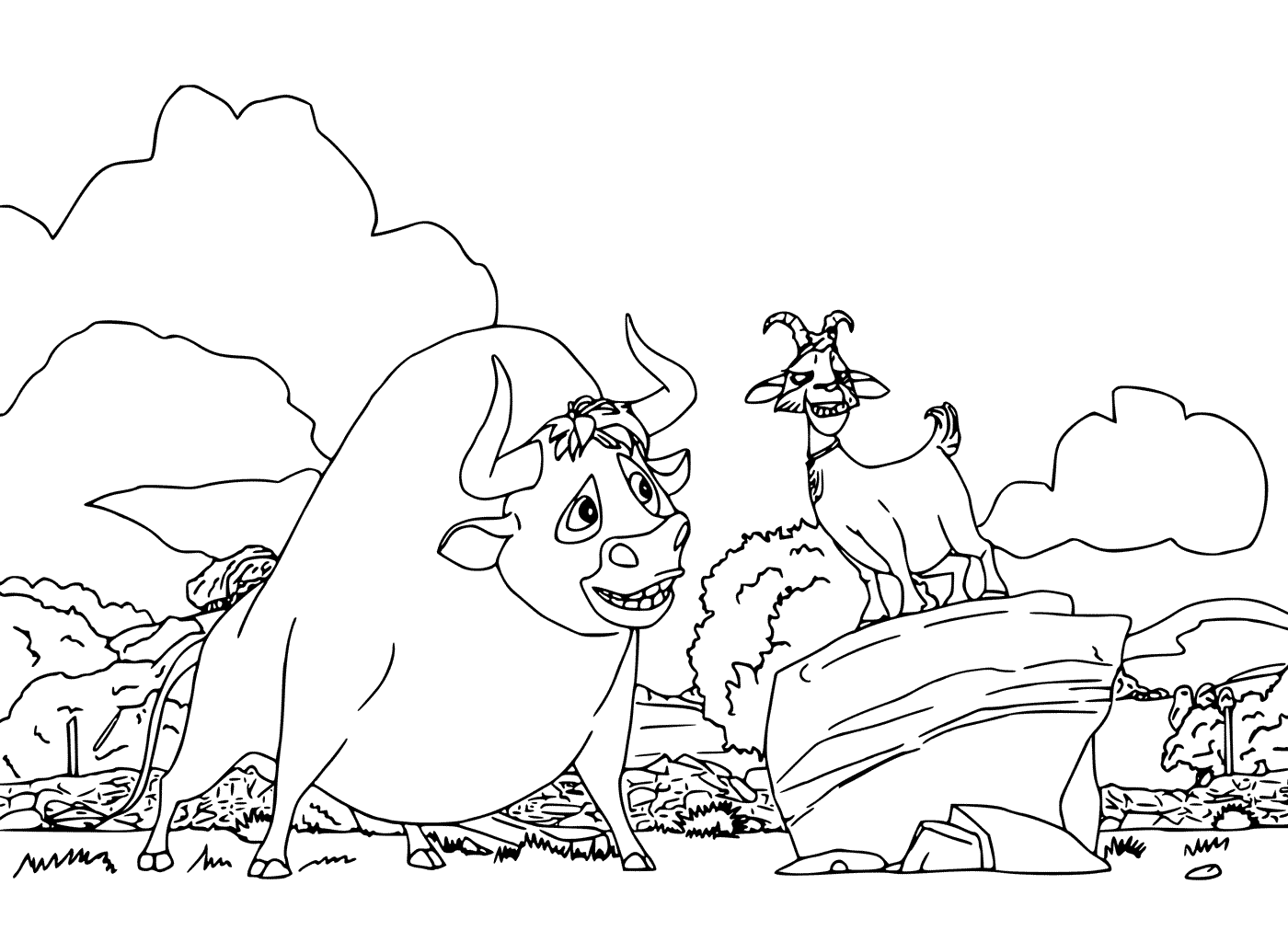 Here's another coloring sheet of Ferdinand and his guide and mentor, Lupe. Aren't they looking adorable?
Ferdinand With Nina:
This is one of the most adorable Ferdinand coloring sheets. It features Ferdinand with Nina, his owner. They have a close knit bond and are often seen hanging out together.
Ferdinand Sitting Near A Tree: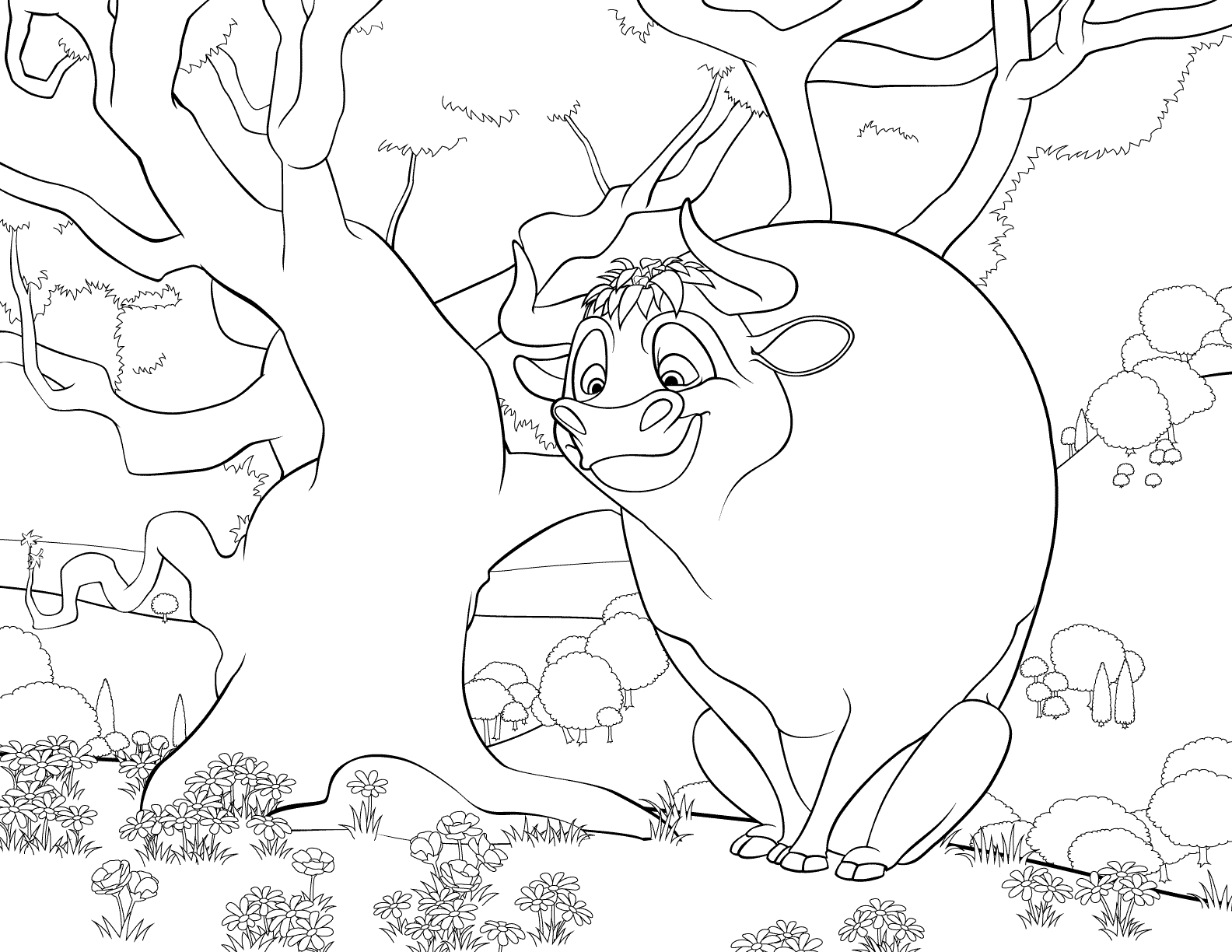 This coloring page shows our favorite bull, Ferdinand sitting near the tree, and reminiscing some beautiful memories. What do you think is making him smile?
Cute Ferdinand:
Here's another coloring page of Ferdinand. Did you know? His character took over 1.5 years to complete, with just fur taking three weeks. 
[ Read: Cute Coloring Pages ]
We hope you found our list of printable Disney Ferdinand coloring pages useful. We'll be adding more of Ferdinand coloring pages as soon as well get them. And you also don't forget to share what you feel about this movie below. And don't forget to check out our Coco coloring pages too.