Hey guys! Did you enjoy coloring those Halloween sheets? I bet you did. Well, we have something related to it and I bet again, you'll have a lot of fun scribbling. It's free printable pumpkin coloring pages and Halloween pumpkin coloring pages!
Pumpkins are essential to Halloween. To carve a pumpkin, we scoop its insides, clean it thoroughly, take a pencil, create the longest grin we can, stick a knife through its skin and begin carving. It seems not only are the nights of Halloween scary, but the preparation is also ghastly too. A fun fact, farmers often compete during the season to see who grows the largest pumpkin possible. To date, the largest pumpkin weighs a whopping 1,190.5 kg. The record was established in Belgium in 2016. Enough with the facts. Let's proceed to free pumpkin coloring sheets to print.
30 Free Printable Pumpkin Coloring Pages
Plain Pumpkin Coloring Page:
Around one and a half billion pounds of pumpkins are produced each year in the United States alone. It's now a million-dollar industry. Also, the word 'pumpkin' buys its origin from the Greek word pepon, meaning 'a large melon'. Let us color this image a smooth shade of orange with a hint of green.
to join this conversation on GitHub. Already have an account? Sign in to comment Footer © 2023 GitHub, Inc. Footer navigation Terms Privacy Security Status
Cat In A Pumpkin Coloring Page:
The best way to serve a cat some pumpkin? Straight out of the can? No! The cat belongs inside the pumpkin. The feline animal, if it enjoys the pumpkin, will feel quite satiated if fed one due to the pumpkin's high fiber content. Color that cat black.
 [ Related: Cat Coloring Pages ]
Charlie Brown With Pumpkins Coloring Page:
'It's the Great Pumpkin, Charlie Brown', that's a name any '90s kid would recognize. It was a Halloween special, prime-time animated American TV special based on the comic strip Peanuts. Charlie Brown is that aims to make the best of all situations. Let's color him on his Halloween celebration
The Evil Pumpkin Coloring Page: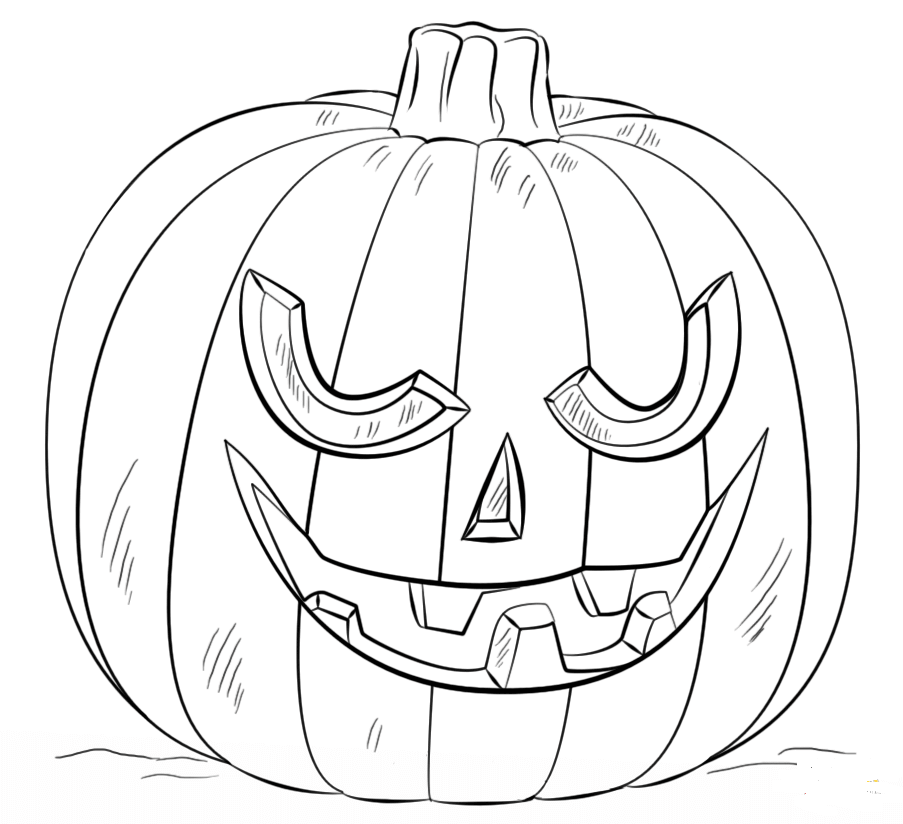 There are thirty different varieties of pumpkin, but Connecticut field variety is the most common to carve a Jack-o'-lantern. So, choose your pumpkins carefully and color them before you carve them.
The Long Face Pumpkin Coloring Page:
You walk into a dark room. The floor is creaking. You reach the light switch. And then you see this scary smile light up from nowhere with an evil laugh. What just happened? A Halloween Prank! Color this before he eats you.
Pumpkin Cuties Coloring Page:
Not all pumpkins are evil. Some can be really fun too. Look at that happy family. Clearly, they don't want to scare you away. You know, maybe they want to cuddle and play with you. A small happy family. Almost just like the one you have. So, before coloring these pumpkins, hug your parents and say thank you to them for the life they have given to you.
Monkey's Pumpkin Coloring Page:
It's 'Monkey Flash' (You know 'The Flash' superfast superhero of the DC Comics! We have the monkey version). He looks extremely hungry and is ready to dig that pumpkin up to satiate his hunger. Let's have a bet. Let's see if you can color him faster or will he dig his way out.
Fall Is Here Coloring Page:
Fall is characterized by a bit of beginning of the chill, barren trees, yellow leaves, and big yellowish, orangish, sometimes round and sometimes elongated carved evil faces. I am indeed referring to Pumpkins. Color this poster to welcome Fall and the festivities it brings along.
Pumpkin Piles Coloring Page:
Somehow a pumpkin pile reminds me of a pumpkin pie. Why? Maybe because they rhyme. The largest pumpkin pie to date weighs a whopping 3,699 pounds. I hate pumpkin pies personally. But it's a good business considering that pumpkin-flavored sales totaled $414 million in 2017. Color this pile while thinking of pies.
Linus, Brown, And Snoopy With Pumpkin Coloring Sheet: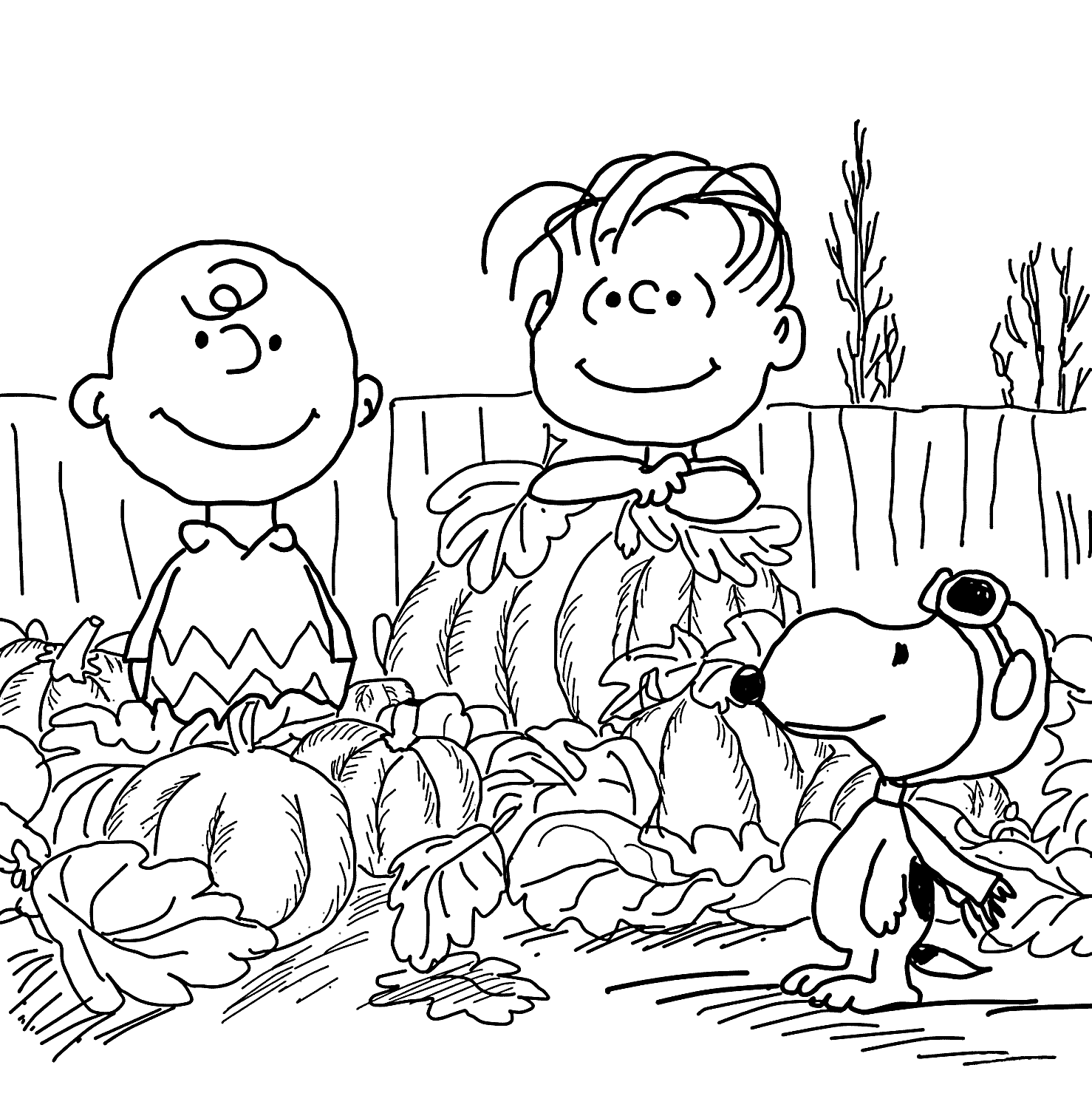 The Great Pumpkin is a satire on Christmas. Linus (second from right) writes to Santa every year in expectation of a gift. And when he never even gets a reply, he is crushed. Color this taking away the lesson that you don't always get what you hope for, but you can still always keep trying and never give up.
'Pumpkin Ville' Coloring Page:
Pumpkin Spice Buttermilk Cheese Cake, Pumpkin Pull-Apart Loaf, a pumpkin cream cheese dump cake, Melt-In-Your-Mouth Pumpkin Cookies, Pumpkin Nutella Cookie bars, all of these are some of the very famous pumpkin dishes. And all these tempting dishes are available in 'Pumpkin Ville'. Head over there with your colors.
Garfield In A Pumpkin Coloring Page:
Garfield is a comic character, with a comic strip of the same name. He is portrayed as an orange, lazy, fat, and a cynical cat. He also has a girlfriend named Arlene. Color this orange eccentricity in a jack-o-lantern in its 'most natural state'.
 [ Related: Jack-O-Lantern Coloring Pages ]
Halloween Is Back: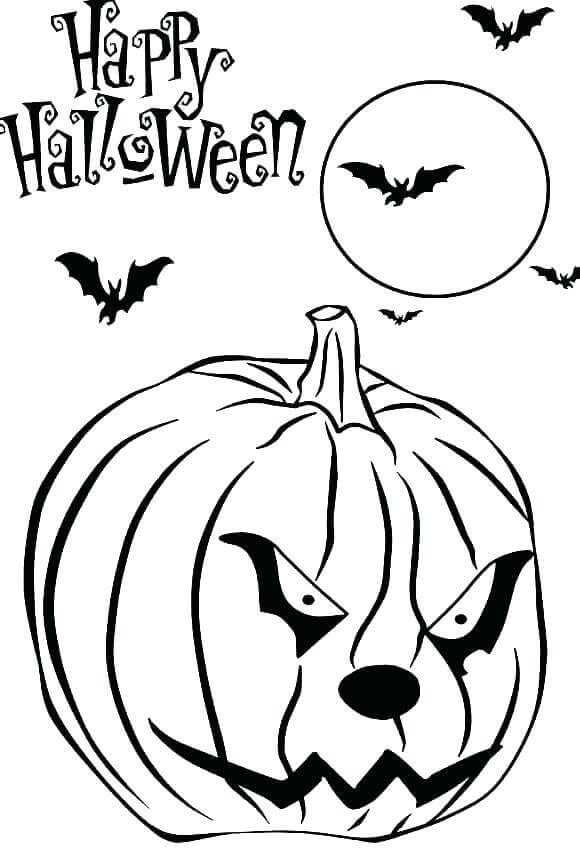 We carve faces on pumpkins as semblance to a head, the head being the most important part of the body. And we carve them in the scariest fashion to confuse the spirits that are roaming about trying to eat your heads! Don't worry it's just a story. Or is it? Before you find out, color this pumpkin.
The Grim Adventures of Billy And Mandy Coloring Page: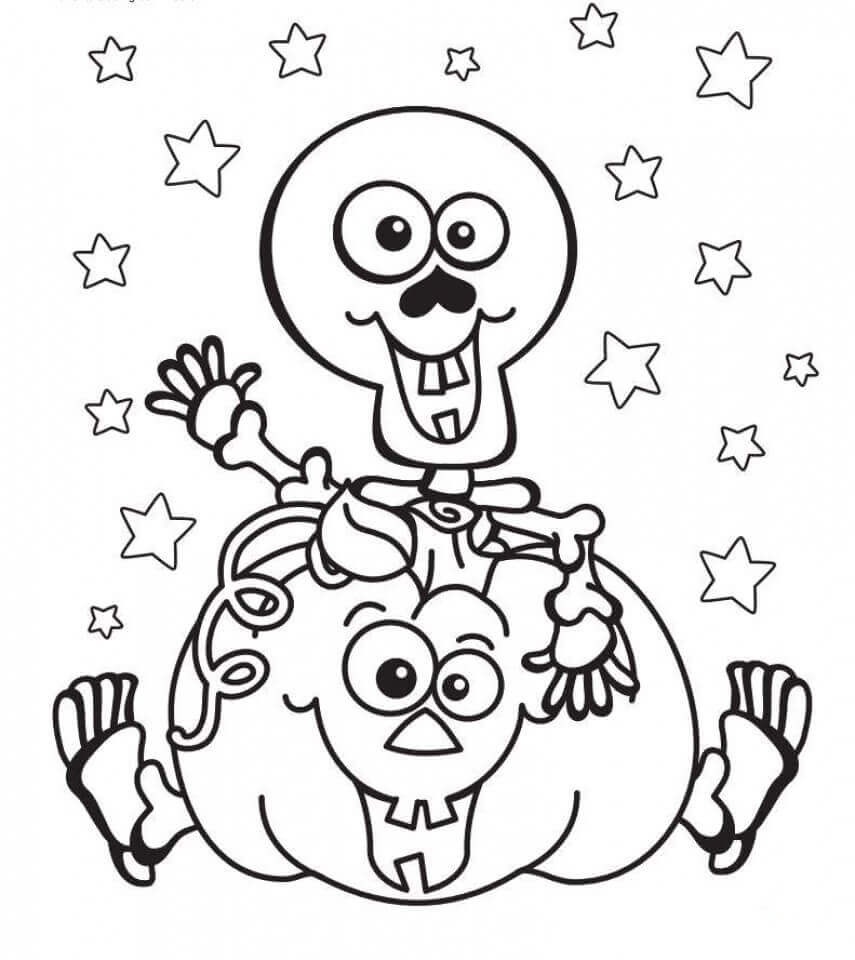 'The Grim' is a popular cartoon character who has been enslaved in a friendship with Billy and Mandy because he was outsmarted by the two. 'The Grim' who initially feels sore about this new relationship, eventually begins to adapt to this life and discovers a new-found love for the kids. He wouldn't mind you coloring him now.
Reaper Pumpkin Coloring Picture:
A reaper is a person who carries a sickle to harvest crops. But it looks like the Pumpkins won't take the injustice of being separated from their roots lightly now. So, they have decided to take matters into their own hands and are now ready to 'harvest' humans with that sickle. Color him and run away, before it attacks you.
Mickey Mouse And Pumpkin Coloring Image:
It seems like Mickey Mouse is omnipresent. You could just put him everywhere. One of the most beloved children's characters is now coming to celebrate Halloween with you right at your home. Just make sure to not color him orange.
 [ Related: Mickey Mouse Coloring Pages ]
The Rat, The Fly, And The Pumpkin Coloring Page:
A lonely pumpkin lying in the middle of nowhere, suddenly finds itself a rat to have itself feasted upon. Just then a winged bee swoops in to take the territory of the pumpkin. Did she sting the rat? Could she get the pumpkin for herself? It's all up to you now. Color the picture the way you want the story to end.
Pumpkin Coloring Page For Adults:
If I were to guess, you are pretty good at arts now, given all the practice. Let's put that practice to a small test. We have an intricately designed pumpkin art class for you. There are five segments. Color each segment uniquely and discover your best scribbling pattern.
The Kittens And A Pumpkin Coloring Page:
It's so good to find the best of friends in the most unlikely of places. Imagine yourself walking in a park. You suddenly hear 'meow' 'meow' 'meow' and you can't stop yourself from finding that fluffy little kitten. Only to your surprise, there is not one but two of them waiting to cuddle with you. Let's color these pumpkin beauties.
 [ Related: Kitten Coloring Pages ]
Halloween Confusion Coloring Page:
In cartoons, if a character is hit on the head, he swirls around with his around the stars just before falling. Well, on Halloween it's a bit different. Instead of stars, you see ducks coming out of pumpkins! Test it by patting your head and you'll want to color this picture then.
Tiger Pumpkin Coloring Page: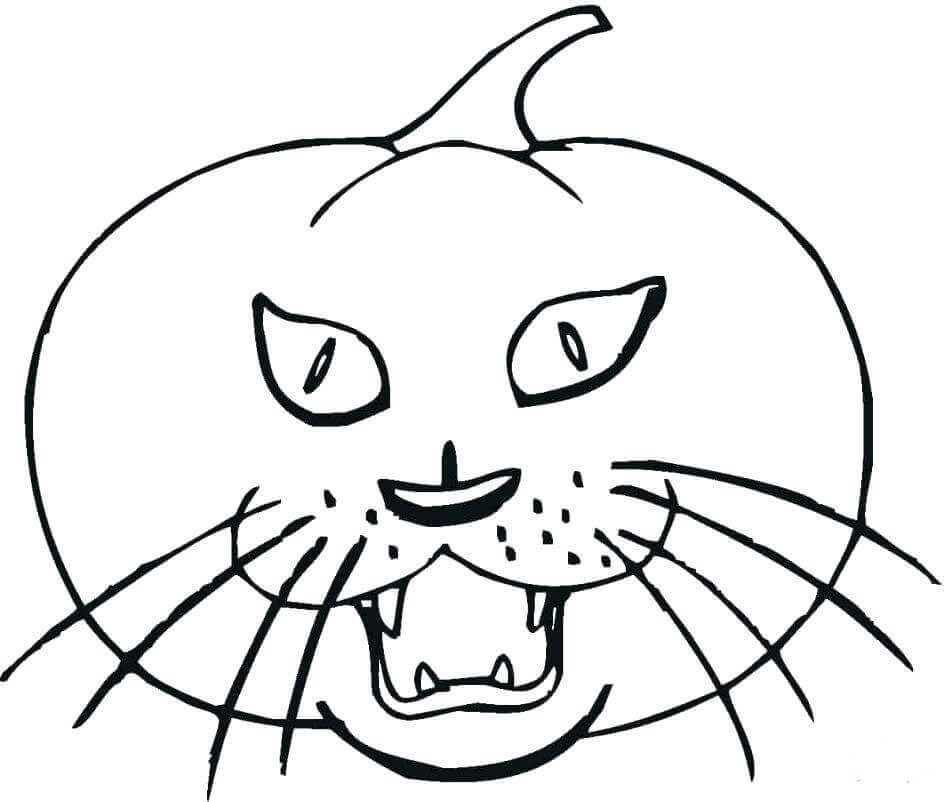 Halloween just loves animals. And pumpkins just love being transformed into one. Scare your friends away with this version of the 'Wild Pumpkin Cat'. Don't forget to draw a hairy lion wig to make it look fiercer.
 [ Related: Tiger Coloring Pages ]
The Human Figurine Pumpkin Coloring Page: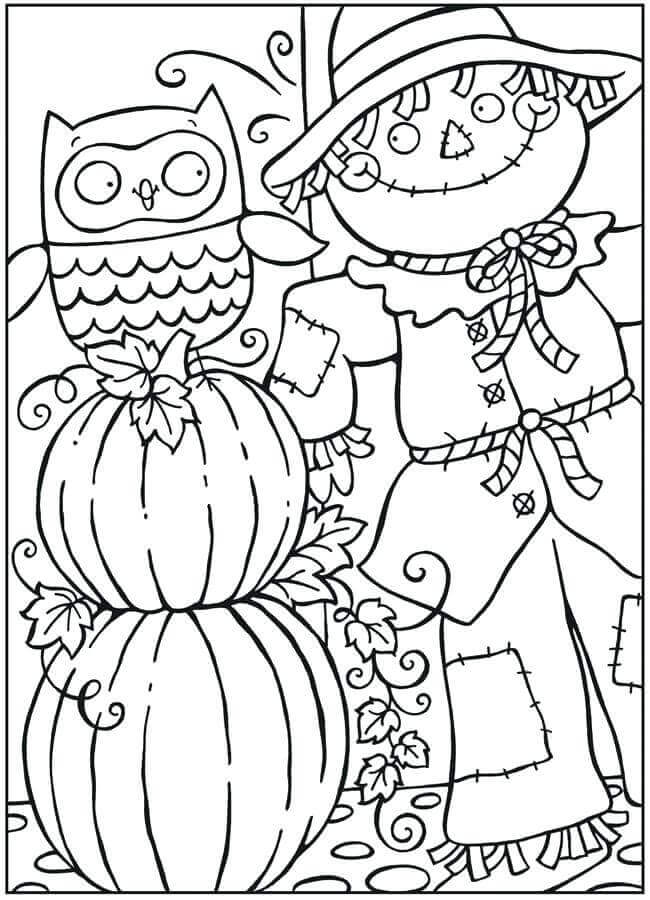 The secret Halloween Prank: Create a pumpkin scarecrow. Make sure to keep it's back to the crowd. Keep a bowl of candies nearby. When a kid comes to ask for candy, he shakes the scare-crow who looks almost human. Let the pumpkin fall just then, and enjoy the screams on the best prank ever.
Trace Your Pumpkin Page:
Enough spoon-feeding already! Go draw your own pumpkin now. Trace the numbers, make a sketch and take your colors on a whirl.
The Farmer Coloring Page:
Image Souce: supercoloring.com
Everyone loves a celebration. But no one thinks of the effort that went behind it, making it a success. Let's pay some respect to the farmers who take the pain to cultivate these pumpkins for our pleasure.
Pumpkin Maze Coloring Page:
As if it wasn't enough for Halloween to be confusing enough with costumes and dress-ups, here comes the Pumpkin Maze Challenge. You only get to color the pumpkin if you can find your way out.
Pumpkin Patch Coloring Page:
A small hut in the middle of a lush green meadow, with a big pumpkin in the cart, a starry sky with a moon that listens to you and only you singing all night. That's the best kind of life. Enjoy coloring it till the day you get it.
It's Charlie Brown Again:
Siblings are the best especially when you are older than them. It looks here that Charlie is out with her youngest sister, Sally Brown in the middle of a full moon night teasing the pumpkins! The crazy things we love doing with siblings. Don't color this alone. Grab your sibling along on this one.
Pumpkin Vine Coloring Page:
Pumpkins are often referred to as 'Garden Gorillas' because of their sheer large size. They grow on vines that can easily extend to twenty to thirty feet during the growing season. It sure seems that a lot of hard work is required to grow them. Let's color them with an equal effort.
The Healthy Fruit Coloring Page:
It's true! The Pumpkin is, in fact, fruit and not a vegetable. And like any other fruit, it has some amazing health benefits. It's great to maintain a healthy heart and a great source of control for hypertension and high blood pressure. Color this life extender justly.
Pumpkin Poster Coloring Page: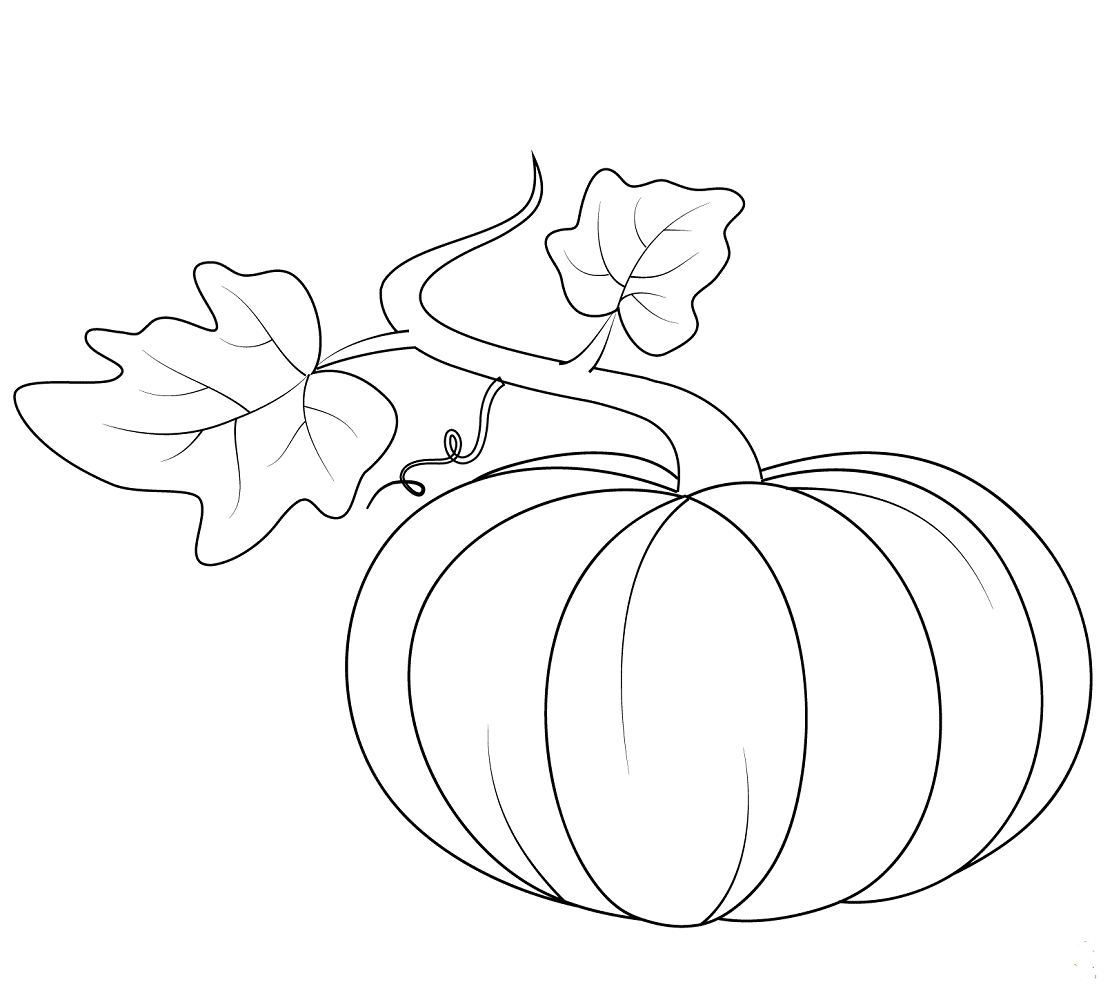 Last but not least. Print this poster full size, paint it brightly and hang it on your wall, to remind you of the different shades this fruit has evolved through over the centuries.
Halloween is on the cusp friends. Keep your stock of pumpkins ready, for there are cakes to be made, cookies to be cut, and evilness to be brought to life. Along with that, stock some pumpkin coloring pages printables also to keep the kids entertained. Have some new Pumpkin coloring pictures to share? Describe them in the comments below.