It's mid-October already and Halloween is just another half-a-month away. Keeping up with the fall season and the theme of Halloween, we bring you a collection inspired by a vegetable that represents both the season as well as the festival. Today, we have a collection of free printable pumpkin patch coloring pages.
Part of the squash family, pumpkins are generally ready for harvest at the end of fall and beginning of winter if planted in summer. Hollow in the middle except for seeds and pulp, pumpkins are carved out to make Jack-o'-lanterns during Halloween and are used as decorations during Thanksgiving. Rich in Vitamin A and beta-carotene, pumpkins are one of the first plants to be domestically cultivated and they are also versatile to cook. And how can we forget pumpkin pies, a delicacy synonymous with Thanksgiving?  Let's carve out a wonderful journey and find out more about Pumpkins through this collection of pumpkin patch coloring sheets to print.
30 Free Pumpkin Patch Coloring Pages Printable
A Little Pumpkin Family:
As Halloween draws closer, here's a perfectly devilish looking pumpkin family to start off this collection. Although looking slightly evil, they still have a certain cuteness about them, don't they? You can make such decorations for your Halloween celebration as well, maybe one pumpkin for each of the members in your family. For now, show your appreciation for this little jolly and little scary pumpkin family of three.
Barren Pumpkin Patch: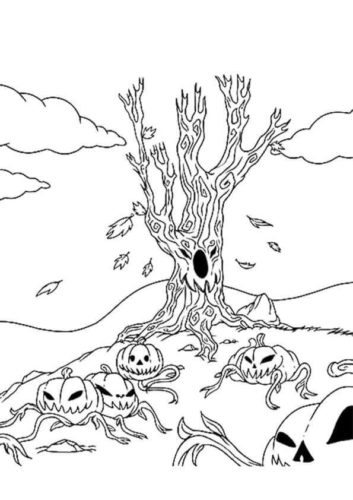 Eliciting a scary feeling, this barren pumpkin patch littered with decayed and devilish looking pumpkins on the ground, gives you the perfect Halloween vibe, doesn't it? Making it all the scarier is the completely barren tree with all the leaves fallen off and an ominous deep hole in the trunk. Add your own scary details to this creepy scene with your coloring skill.
to join this conversation on GitHub. Already have an account? Sign in to comment Footer © 2023 GitHub, Inc. Footer navigation Terms Privacy Security Status
Boy Resting On A Stack Of Pumpkins: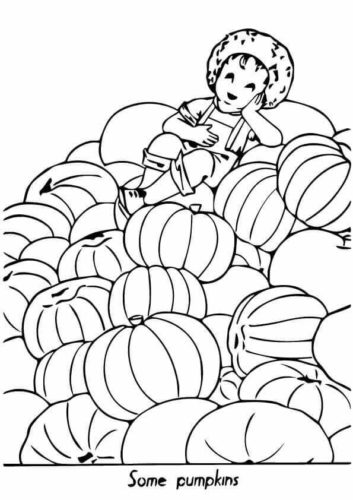 When the harvest time comes, a pumpkin farmer's boy has a gala time. Look at how happy he looks climbing atop the huge stack of pumpkins from the family farm. They surely will have a lot of options for Halloween decoration as well as making delicious pumpkin pies. If there are no pumpkins, then you can do this with a pile fallen leaves one can easily find during the fall season.
Charlie Brown Thanksgiving Coloring Page:
Charlie Brown and other characters from one of the most popular comic strips, "Peanuts" are having a great Thanksgiving this year. They have a few huge pumpkins growing on their pumpkin patch. Snoopy's silhouette looks scary, doesn't it? Bring your own special addition to this coloring page by highlighting the illustration with your colors.
Charlie Brown, Linus, And Snoopy At The Pumpkin Patch:
Proud of the growth of pumpkins, all three of them – Charlie, Linus, and Snoopy – are full of happy smiles spending a pleasant afternoon together. Print this coloring page and give this wonderful moment some of your best coloring skills.
Charlie Brown Welcoming Great Pumpkin, The Invisible Holiday Spirit:
Sincerely believed by Linus van Pelt, the Great Pumpkin is a holiday spirit he waits for every year. Here you can find him holding out a placard to welcome him for this year's celebration. Lend him some help with the welcome grand by filling this illustration with colors.
Fall Season Is Not Just Pumpkins, There's Chrysanthemums Too: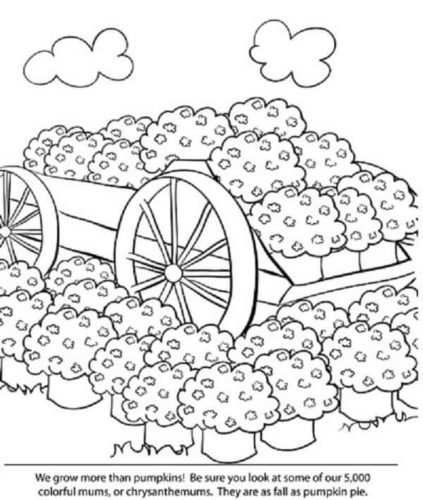 When you think of autumn or fall season, you might think about the upcoming Halloween festival and all the ripe pumpkins. But there's more to fall than pumpkins, like the fiery colors of the autumnal leaves and beautiful blossoms of chrysanthemums. Give this collection of chrysanthemums planted diligently on individual pots, some of your dedicated colors.
Creepy Pumpkin Patch Coloring Page:
Unlike the barren pumpkin patch with carved out pumpkins and hollowed tree, this one looks less foreboding but creepy still the same. It is now up to you to create a more menacing scene on this coloring page. Create some darker details and make it scarier by using your coloring skills.
Farmer Picks Pumpkins At His Pumpkin Patch:
After working hard for months, this farmer is full of joy now during this harvest season. While checking his pumpkin patch he found these two huge pumpkins. He seems to be having a little trouble carrying them but he's happy all the same. Help with his pumpkin load by filling in some light colors.
Farmer With His Kids At The Pumpkin Patch:
Giving his kids a tour of the family pumpkin patch, this farmer dad is enjoying every bit of attention the kids are giving to the pumpkins. Even the pet dog has joined them to marvel at the sheer size of the pumpkins. Join in their happiness by sharing some of your happy colors.
A Quaint Pumpkin Farm Coloring Page:
In the countryside, this quaint farm is peacefully welcoming the change of the season. The fall season has already arrived and the pumpkins in the pumpkin farms have grown as big as they can, waiting for the farmers to come and pick them up. Let the farmers know the pumpkins are ripe by coloring them with ripe orange colors.
A Pumpkin Patch, Beautifully Sketched: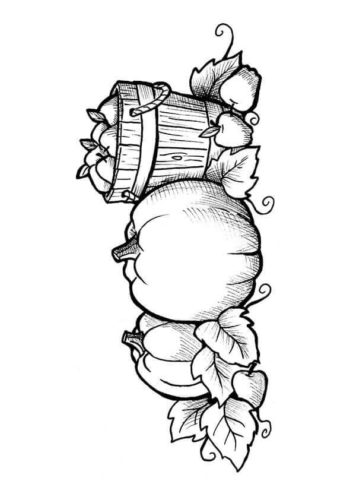 Working magic with their creativity, the illustrators have beautifully sketched a pumpkin patch scene on this coloring patch. Look at the light and shadow play on the pumpkins, leaves and the barrel full of a few pumpkins. Highlight them all with your brilliant coloring skills.
Pumpkin Patch "Stackable" Waiting For Your Colors: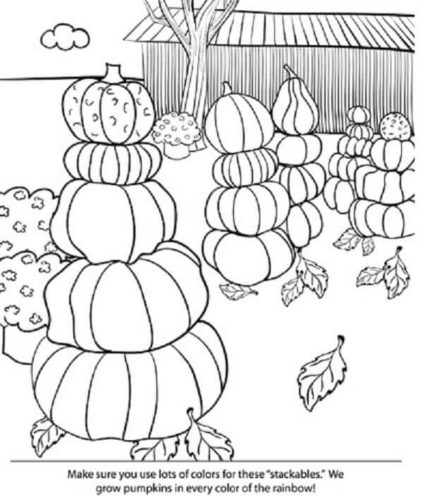 Employing an interesting way to collect their pumpkins, the farmer of this pumpkin patch has decided to stack the pumpkins on top of each other. Displaying different shades of colors, from darker to lighter ones, you have the freedom to color them in all the shades of the rainbow.
Halloween Decorations At The Pumpkin Patch:
Once the holiday preparation starts for Halloween, all the family gets together to help with the decorations. This group of family siblings is having a gala time carving out the empty pumpkin shells with different scary expressions of jack-o-lanterns. Let them know they are doing a great job by giving them some wonderful colors.
Fully Decorated Halloween Pumpkin Patch: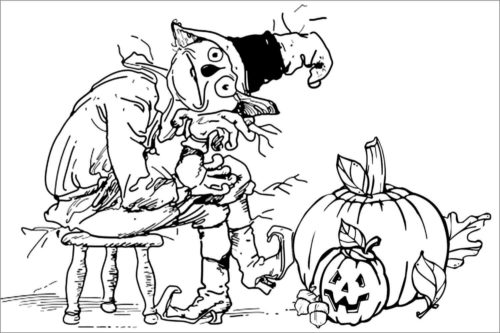 In another house, the Halloween decoration on their pumpkin patch has gone a litter weirder and creepier. Look at the scarecrow in a sitting position and the scarily carved pumpkin on the ground. Bring out the creepiness of this scene with your colors.
Man Carving A Huge Pumpkin:
After a great harvest, this man is happy to present a huge pumpkin jack-o-lantern decoration for his Halloween party this year. The pumpkin looks bigger than him, doesn't it? Encourage him with your encouraging colors.
Pumpkins And Their Vines Growing So Fine:
This illustration captures the beauty of a pumpkin patch with remarkably well-grown pumpkins and their elegantly twisted vines and leaves. As beautifully illustrated as this pumpkin patch is, it needs your help in making it shine with colors.
Pumpkin Farm Selling Their Proud Produce: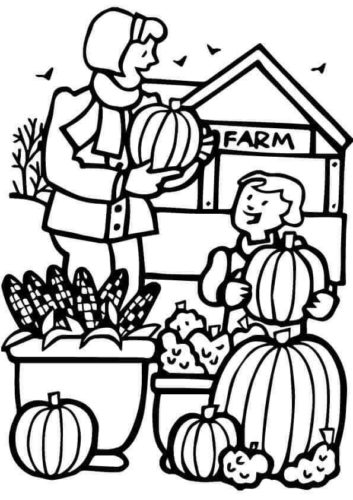 Once done collecting all their harvest, this farm family proudly presents their pumpkin produce and are selling them in the market. This helps them earn their livelihood. Agriculture is, after all, one of the major industries in the world.
Pumpkin Patch With A Variety Of Pumpkins:
From scary Halloween decorations greeting you at the entrance, this pumpkin patch is home to a variety of pumpkins. From the smallest to the largest, you can find pumpkins of every size. Give each one of them different shades and a combination of colors.
Pumpkin Patch Coloring Page For Adults:
For those of you with a lot of experience in coloring, this intricately illustrated pumpkin patch will be easy to color. There are several pumpkins with their flowers and leaves illustrated on this coloring page. Print this page and precisely color each one of them.
Pumpkin Patch Full Of Pumpkins: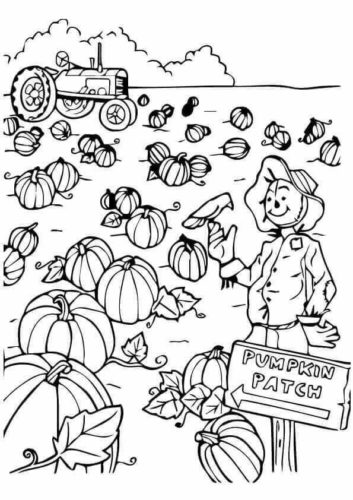 Here's another pumpkin farm that has had an impressive harvest. Just look at this pumpkin patch littered with so many pumpkins. The farmer must be very happy this year. Join in his happiness by giving this illustration excellent colors.
Welcome To The Pumpkin Patch:
A sign that greets you on a pumpkin farm just before you enter the pumpkin patch. You can see these three pumpkins welcoming you to their pumpkin patch. Return their greetings with a generous splash of colors.
Sale At The Pumpkin Patch:
There is a sale going on at this pumpkin patch. You can buy a lot of different items here. From straws, pumpkins, and squash, you can buy whatever you want from this farm. And they also have a gentle scarecrow to welcome you. Greet them with your colors.
Pumpkin Patch Poster: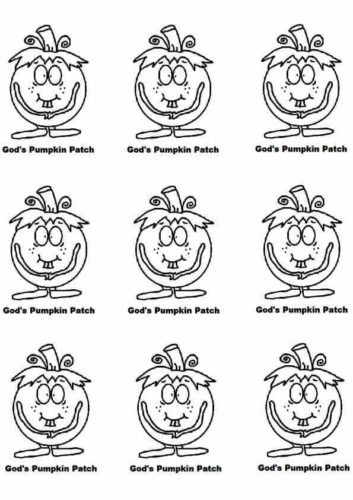 To celebrate a good harvest here's a cool poster illustration of several little carved out pumpkins. Although they all look alike, you can give each one of them different individual colors when you start coloring them.
A Horse Carriage Drives By A Bountiful Pumpkin Patch:
Enjoying a calm and pleasant ride in their horse carriage, the Amish neighbors of this pumpkin farm pass by the cluster of pumpkins growing generously in the pumpkin patch. They all look like students in an assembly line, as they grow uniformly in this pumpkin patch, don't they? Relax and fill this serene scene with peaceful shades of colors.
Artistic Illustration Of A Pumpkin Patch: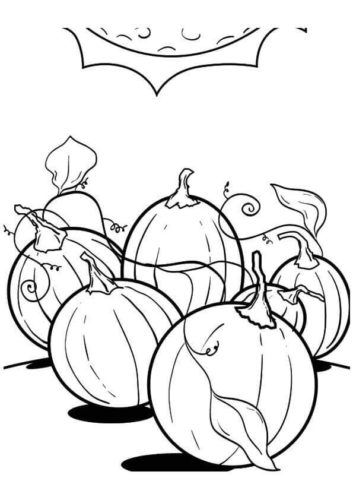 Much like the illustrations in picture books you might find in your school, this coloring patch has an artistic illustration of a pumpkin patch. Doesn't it remind you of fairy tales? Perhaps, the story of Cinderella and the giant pumpkin that turned into a carriage for her on the night of the Royal ball. Print this coloring page and have a lovely time filling in elegant colorful details on each one of these pumpkins and the few sparse leaves.
Farmer Wins The Giant Pumpkin Prize: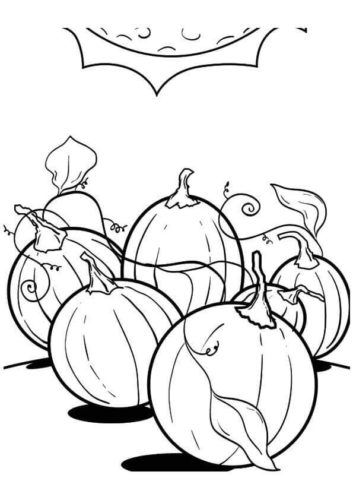 There are several competitions that are held in the farmer's community, from local to interstate and national level. Farmers can enter their produce in the competition and win prizes. Just like this winning farmer, standing proudly next to the giant pumpkin from his pumpkin patch. The winner's tag proudly displayed on the winning pumpkin. Celebrate his win with him by giving him congratulatory colors.
Have You Ever Seen A Pumpkin Tree?
If you have never seen a pumpkin tree, then this illustration will show you just how a pumpkin tree looks like. The farmers at this pumpkin farm are clever ones, aren't they? Instead of stacking their pumpkin produce like we saw in an earlier illustration, they have decided to build a construction in the shape of a tree and then place all their pumpkins. It does look like a tree.
Scarecrow In The Pumpkin Patch Coloring Page: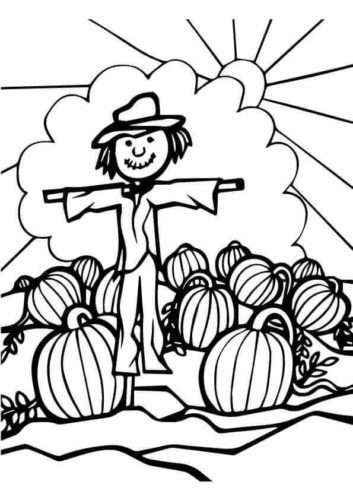 Rise and shine! As the sun soars up the sky, peeking from behind the cloud, the scarecrow seems to be nudging the sleeping pumpkins to wake up from their slumber. For a scarecrow, it looks very neatly made, especially with the smart clothing and hat. Print this coloring page and give it the brightness and color of the early morning sunny scene.
Sun Shining On The Pumpkin Patch:
While the sun was peeking from behind the cloud in the previous coloring page, here it is joyfully smiling and happily greeting the pumpkins that are growing on this particular pumpkin patch. Print this coloring page and color each element with great detail, like the enthusiastic sun, huge pumpkins and the few scattered clouds in the sky.
On that shining note, we have come to the end of this ripe collection of pumpkin patch coloring pictures to print. I hope you had as good a time coloring these pages as the farmers did harvesting their giant pumpkins. While you are waiting excitedly to dress up for Halloween and have fun going trick or treat with your friends, you can enjoy coloring this interesting collection of pumpkin patch coloring images printable.