Pusheen is a popular gray-colored tabby cat that has brought brightness and happiness to millions of followers in its online fan base. Featuring in webcomics, this cutie patootie soft toy by GUND loves to snack, cuddle, dress up and travel. And not just the adults, but even kids are major fans of this cat, so much that we get requests for cute Pusheen the cat coloring pages daily. Keeping up with the demand, we've got our lovely readers a small collection of free printable Pusheen coloring pages. Check out our listing of Pusheen coloring sheets below.
20 Free Printable Pusheen Coloring Pages
Chef Pusheen Coloring Page:
This coloring page features Pusheen trying her hands at cooking. It seems it's Christmas, and she's baking a fresh batch of cookies. A major enthusiast that Pusheen is, we're sure the cookies will come out extremely delicious.
Purrfect Weekend: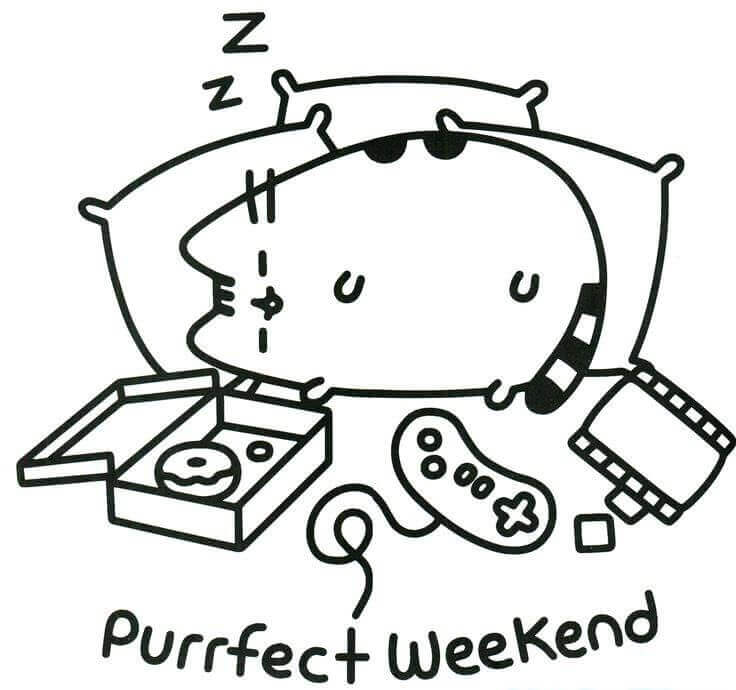 Do you know what the 'purrfect' weekend is for our dear Pusheen? It's eating donuts, playing video games, and sleeping whenever possible. She even takes a couple of selfies in between. That's what we call living life on your own terms.
to join this conversation on GitHub. Already have an account? Sign in to comment Footer © 2023 GitHub, Inc. Footer navigation Terms Privacy Security Status
Pusheen Holidaying In A Strange Place: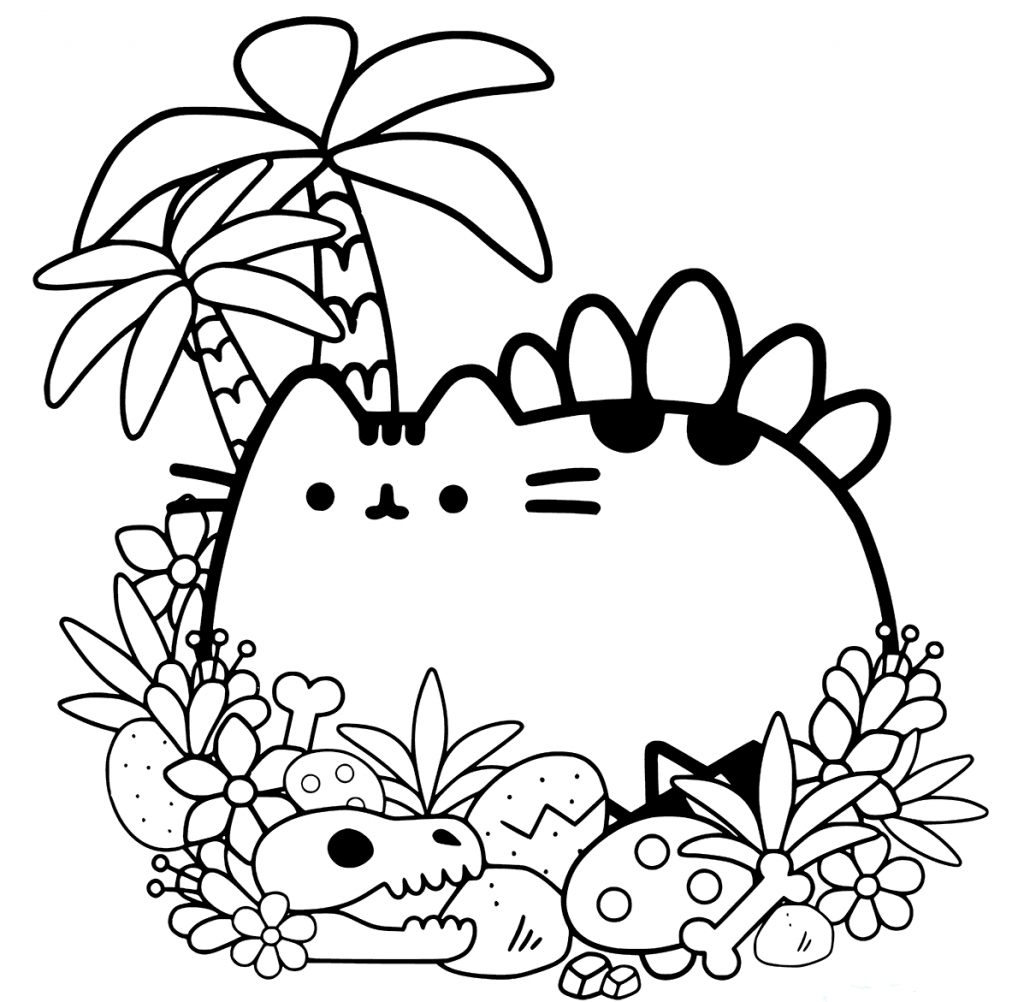 We all know Pusheen is a happy go lucky cat and she breathes life wherever she goes. But what is she doing in this creepy place? The background suggests she's at the beach, but it looks very creepy with bones and skulls.
Pusheen's Beach Essentials: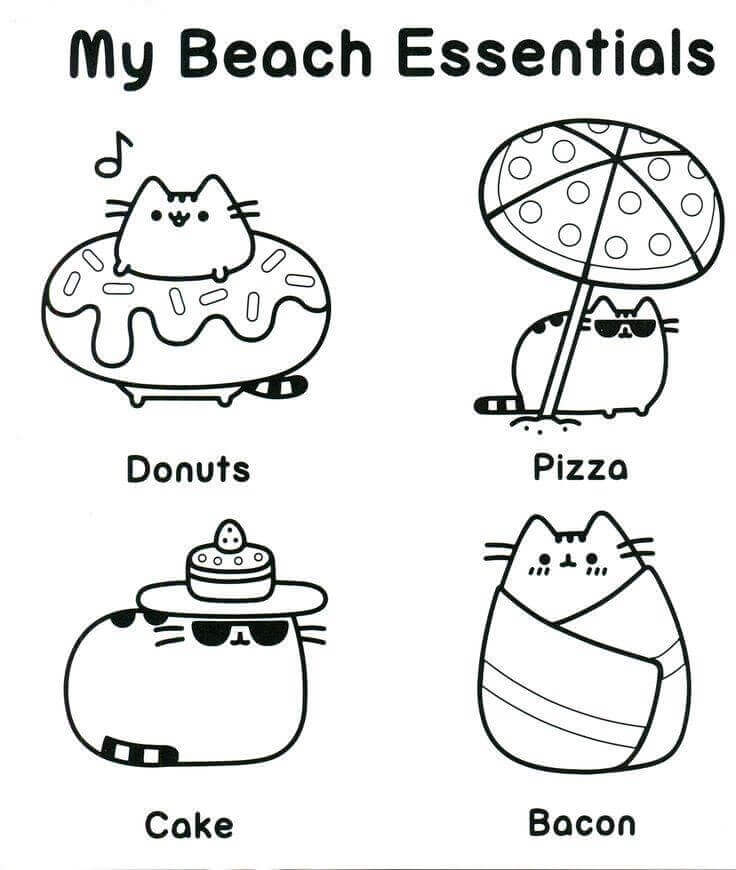 If you wish to know Pusheen a bit better, this coloring page will help you. It tells the beach essentials of this moody cat, which include a pizza-shaped umbrella, a donut-shaped inflatable tube, a cake shaped hat and a bacon shaped towel.
Pusheen Enjoying Hamburger Coloring Page:
Pusheen does not like hogging down food. She savors every bite she takes. Since hamburger is her favorite food, she seems to be enjoying every bite that she's taking. And that's a huge burger, and it will take at least a day for her to finish.
Pusheen Halloween Coloring Page:
Have you seen Pusheen in the form of a ghost? No? Even we're seeing it for the first time. It seems she's decked up for the Halloween costume party. And even her house is looking like a haunted place, with another ghost peeking from the window.
[ Read: Ghost Coloring Pages ]
Trick Or Treat Pusheen Halloween Coloring Page:
Here's another Pusheen Halloween coloring page, featuring this adorable cat in different forms. We totally love her bat avatar. And she has collected loads of candies and chocolates by trick or treating. Lucky chap!
Pusheen Birthday Coloring Page: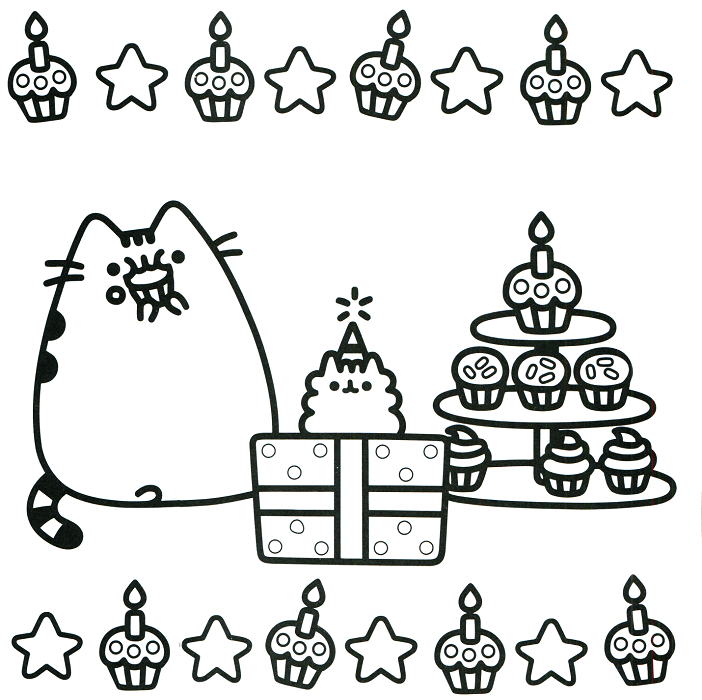 If you're a huge fan of Pusheen, you must be knowing that she totally loves cupcakes. And since it's her birthday, she got plenty of cupcakes as her birthday gift. Apart from cupcakes, there's even a gift inside the box. What do you think it could be?
[ Read: Birthday Coloring Pages ]
Happy Birthday Pusheen Coloring Page: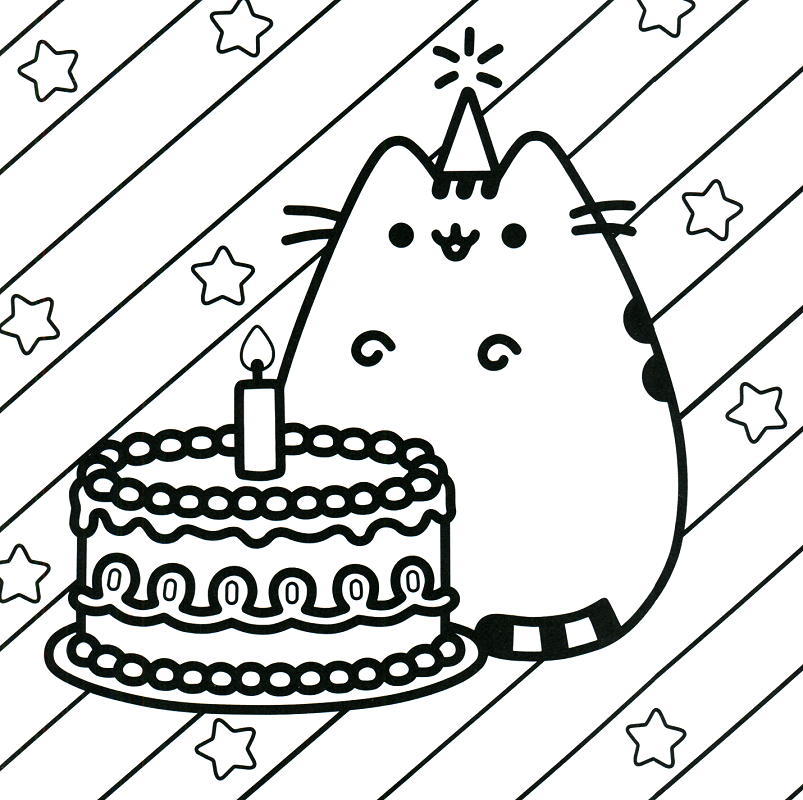 This coloring page shows Pusheen all set to cut her birthday cake. The excitement is very much visible on her face, and she will cut the cake soon after making a wish. We even love the background of this coloring page. It looks like some kind of wallpaper.
Pusheen Enjoying Music Coloring Page:
One of the most favorite hobbies of Pusheen is listening to music, and she has a huge collection of mixes in her house. The ones you see in this coloring page is one-tenth of the total number of cassettes she owns.
Pusheen As Mermaid Coloring Page: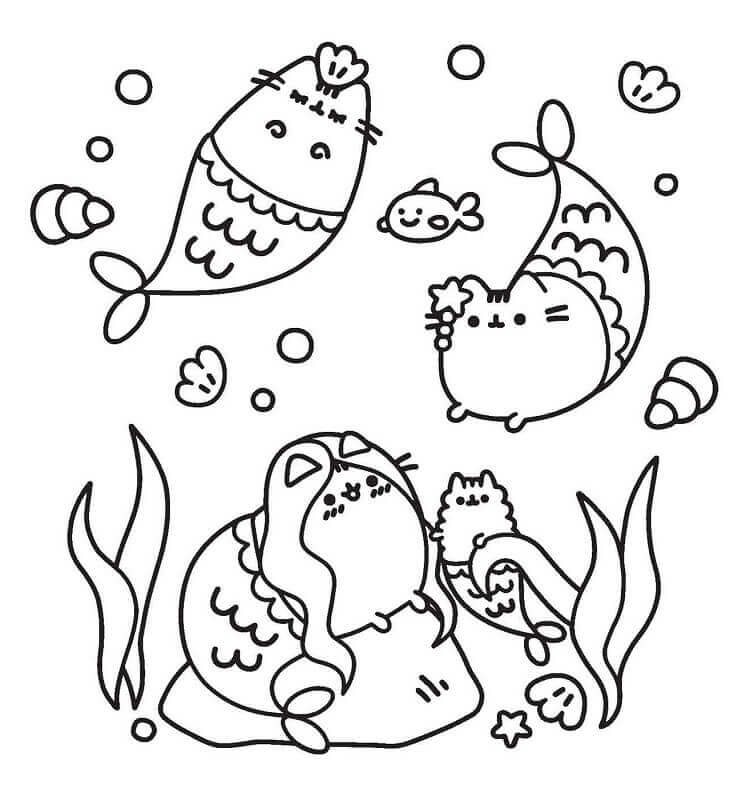 Have you ever seen Pusheen as a mermaid before? Even we're as surprised as you are, though pleasantly. And not just Pusheen, but her entire family is dressed as a mermaid, including her little brother. Are they going to a fancy dress competition?
[ Read: Mermaid Coloring Pages ]
Pusheen And Cakes Coloring Page: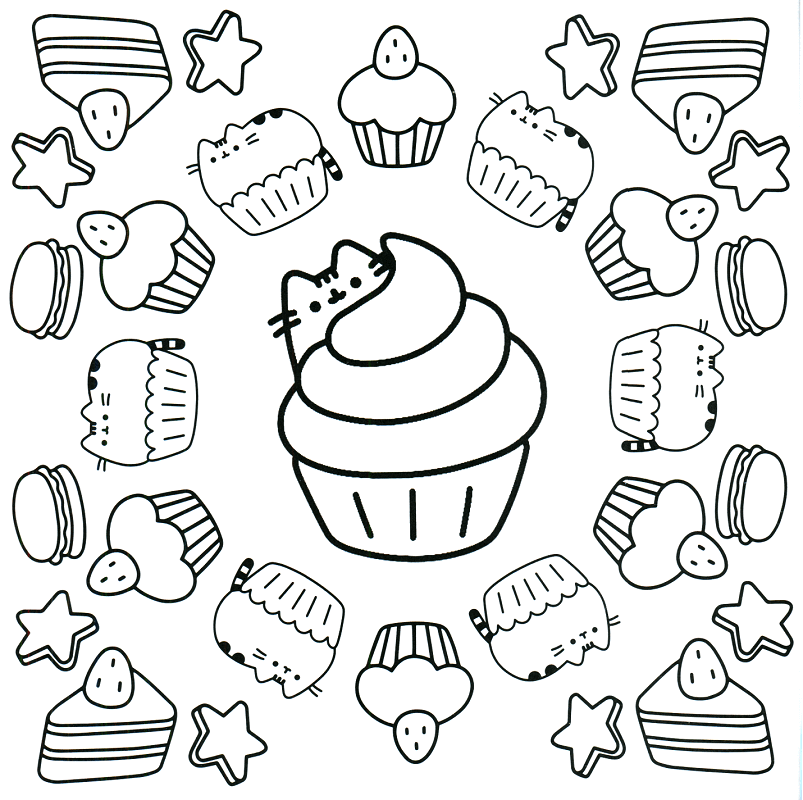 Here's another coloring page of Pusheen with two of her most favorite foods, cakes, and hamburgers. We can see pastries and cupcakes of different kinds, including the one where Pusheen is trying to create an illusion by fitting herself in a cupcake mold.
Pusheen And Father Fishing Coloring Page:
It was beautiful spring noon, so Pusheen and her dad decided to go on fishing. Luckily, the lake they have gone for fishing contains plenty of fish. So we're quite positive they'll get their hands and hook on a couple of fish.
Pusheen Trio:
This coloring page is especially for all the Pusheen lovers as it features not one or two, but three images of Pusheen to color. Since the images have hearts on them, it would make a great activity for the kids on Valentine's day. Feel free to use any shade you like for coloring the cats.
Pusheen Summer Coloring Page:
Pusheen knows how to rock, and she's totally doing that on this coloring page. This coloring sheet features all the summer essentials of Pusheen in the form of a mandala. It includes ice cream, shells found on beaches, umbrellas, sunglasses, and sun.
[ Read: Summer Coloring Pages ]
I Love Kitties Pusheen Coloring Pages: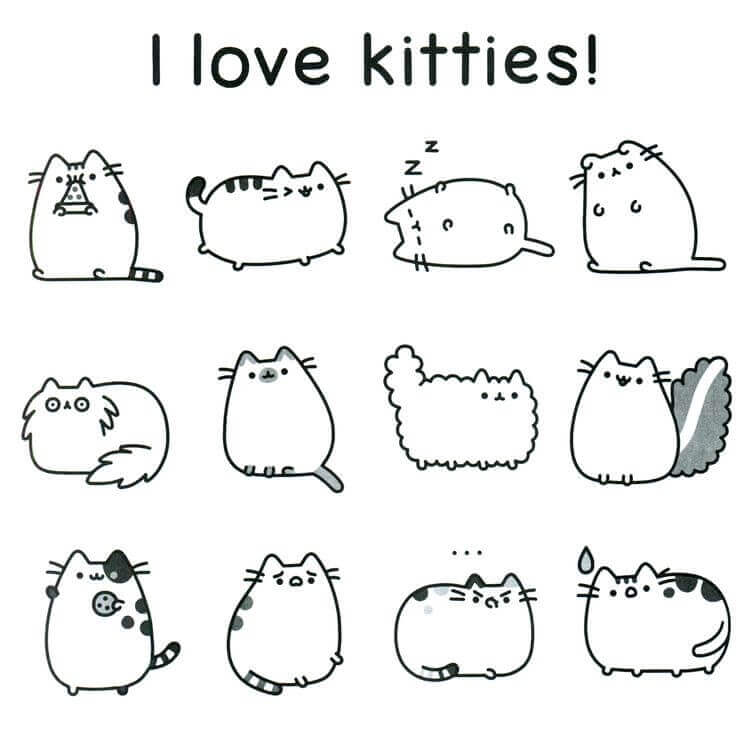 If you're a die-hard fan of cats as we are, you'll definitely enjoy filling this coloring page. It doesn't just feature Pusheens, but her friends too, of different breeds. We particularly loved the image of Pusheen having a slice of pizza.
Pusheen Unicorn Coloring Page: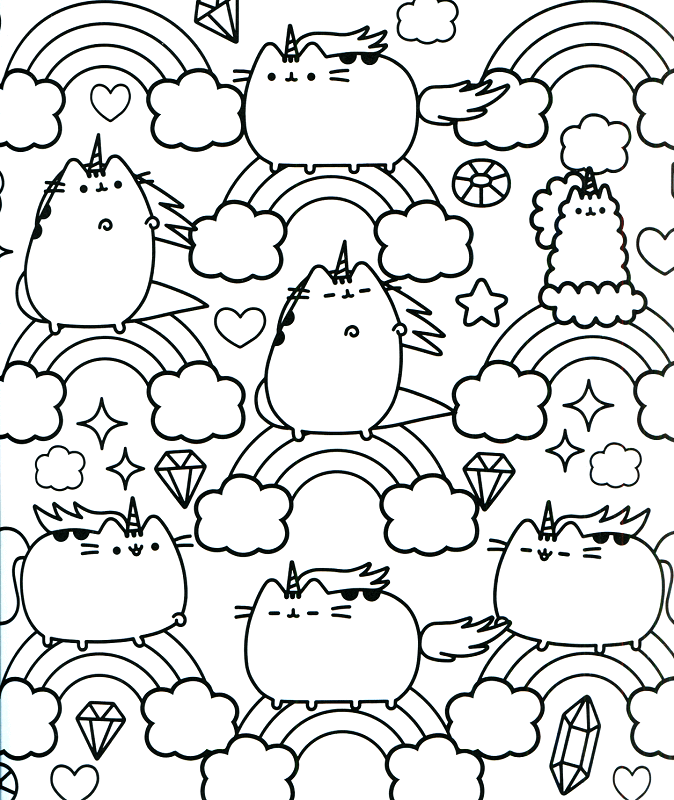 This is one of our favorite Pusheen coloring pages as it features Pusheen as a unicorn, flying near the rainbows. For coloring this image, use pink for the mane and tail, gray or silver for the horn, and white for the body.
[ Read: Unicorn Coloring Pages ]
Pusheen Winter Coloring Page: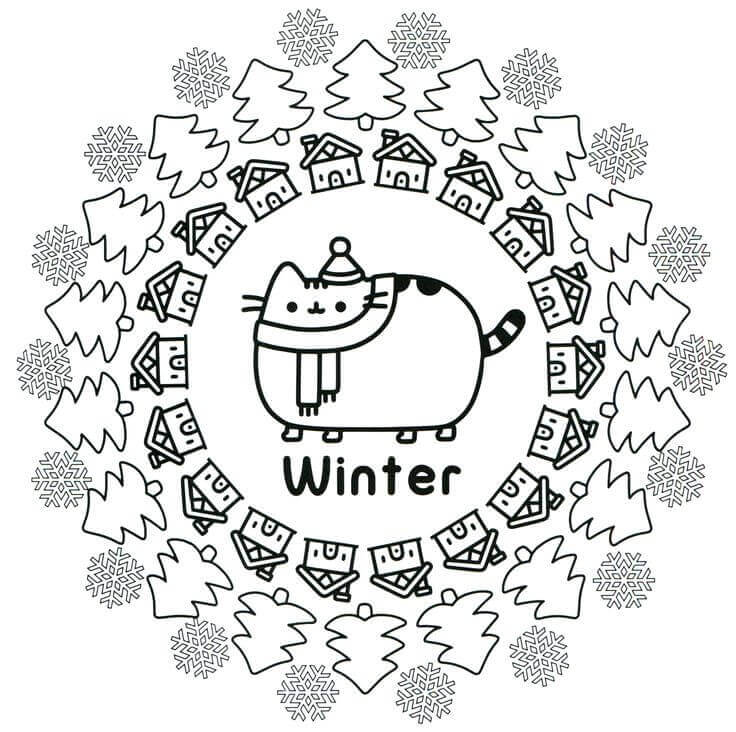 This Pusheen coloring page features the tabby cat all set to welcome the winter and of course, Christmas. The mandala features snowflakes, Christmas trees, and snow-laden houses.
Pusheen Unicorn Coloring Page:
Here's another image of Pusheen as a unicorn. We'd suggest you use gray for the body and multicolor for the mane and tail. If you want, you can even make the horn multicolored. After coloring, hang the image in your room. It will bring brightness to your room.
Pusheen's Guide To Being Fancy Coloring Page: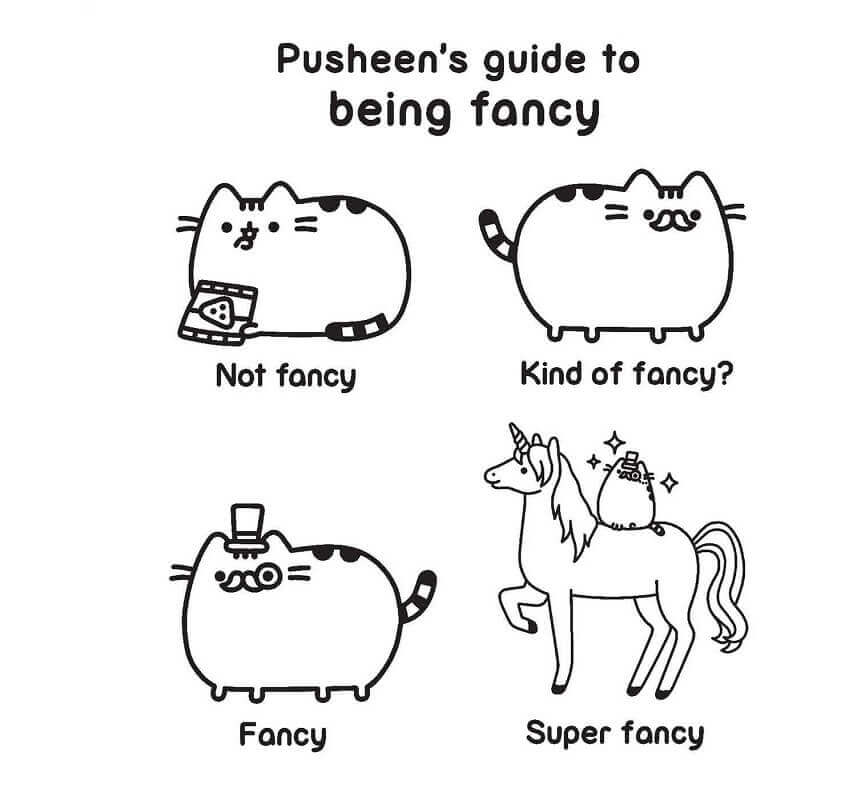 This coloring page displays Pusheen's guide to being fancy. And the guide isn't for her, but her father. And guess what's the fanciest in her eyes? It's riding on a unicorn. That's indeed cool, isn't it?
So these were some of the most adorable and cute free printable Pusheen coloring pages. Print out all these Pusheen coloring sheets to create a Pusheen coloring book. And don't forget to check out our Octonauts coloring pages.