I had never realized that "Sailor Moon" or "Bishōjo Senshi Sērā Mūn", a Japanese anime series, which premiered way back in 1991 would still be so popular with children. The series mainly revolves around Usagi Tsukino, a schoolgirl who transforms into Sailor Moon to look for the "Legendary Silver Crystal", a magical artifact. In her quest, she's accompanied by a diverse group of a soldier, which goes by the name "Sailor Soldiers" or "Sērā Senshi". Together, they fight the villains to prevent the destruction of the Solar System. Since the series is so popular with our little readers, we had to get them some free printable Sailor Moon coloring pages. Below you'll find the most coveted Sailor Moon coloring sheets. So without wasting any more time, check them out below!
[Read: Anime Coloring Pages ]
Free Printable Sailor Moon Coloring Pages
Ami Mizuno: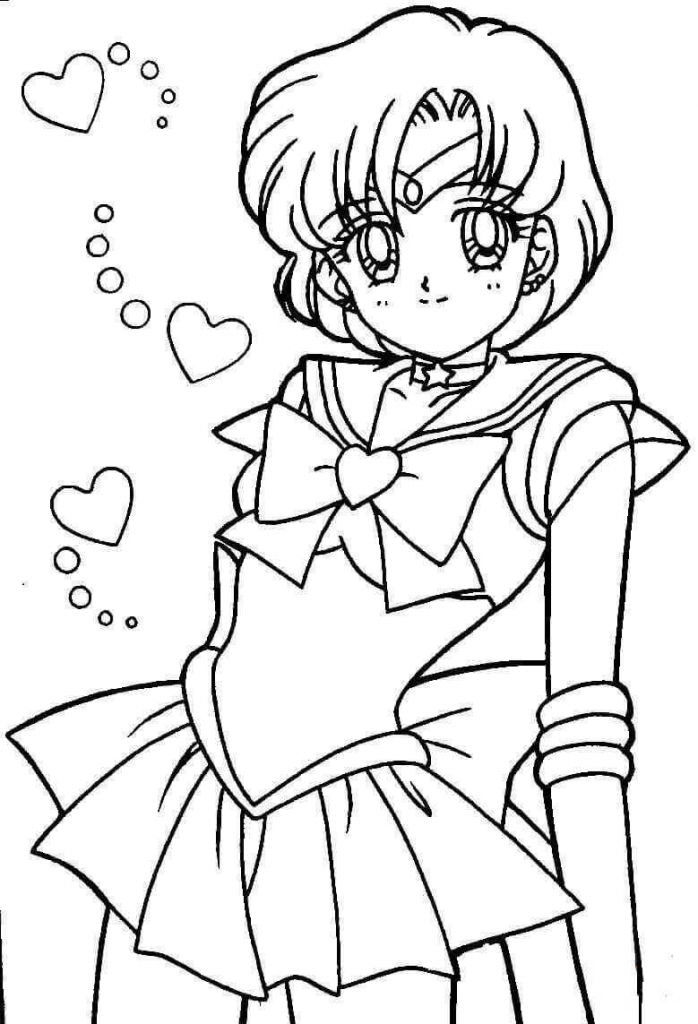 This Sailor Moon coloring page features Ami Mizuno, the civilian identity and present-day incarnation of Sailor Mercury. Earlier, this shy girl would think twice before making friends and would spend most of her time reading. However, when she became friends with Ami Mizuno, she began to change and for good.
to join this conversation on GitHub. Already have an account? Sign in to comment Footer © 2023 GitHub, Inc. Footer navigation Terms Privacy Security Status
Artemis And Luna:
The two cute cats you see here are Artemis and Luna, the guardians and advisers of the Sailor Soldiers. Artemis is the guardian cat of Sailor Venus, while Luna is the guardian and adviser of Usagi or Sailor Moon. Artemis is a white cat, and Luna is black, but feel free to use any shade you like.
[Read: Cats Coloring Pages ]
Sailor Mars:
This Sailor Moon coloring sheet features Sailor Mars, one of the five Sailor Senshi of the series. The attacks of Sailor Mars are based on spiritual and psychic powers and fire. Her civilian identity is Rei Hino.
Sailor Venus:
This Sailor Moon coloring sheet features the secret identity of Minako Aino, our very own Sailor Venus. This leader of the Inner Sailor Senshi was the last member to join this group, but the first one to uncover the villains of Dark Agency and battle the Dark Kingdom. The powers of Sailor Venus revolve around love, light, and metal.
Chibi Moon Coloring Page:
This coloring page features Chibi Sailor Moon or Baby Sailor moon drawing a picture. But whom she's sketching? Is she thinking about her childhood or imagining her as a grown-up? The diagram suggests she's sketching the beautiful Sailor Moon.
The Boys From Sailor Moon Coloring Page:
This Sailor Moon colouring page features the dashing boys from "Sailor Moon". Can you give us the names of the characters featured in this diagram? The die-hard fans of "Sailor Moon" wouldn't take more than a minute to guess these characters.
Mako Kino:
Meet Mako Kino, the real or as they say, the civilian identity of cute Sailor Jupiter. She's a tomboyish girl who lost her parents when she was very young. People often feel scared to approach her because of her tough appearance, strength, height, and ability to fight. 
Sailor Chibi Moon:
Here's a coloring page of Sailor Chibi Moon, the seventh Sailor Senshi of this manga. Chibiusa was brainwashed so much by the Wiseman that she turned into Black Lady. And when she managed to break herself free from the hold of Wiseman, she transformed into Sailor Chibi Moon, thereby awakening her mother from the deep sleep.
Sailor Jupiter:
The beautiful anime you see here is Sailor Jupiter, the 4th Sailor Senshi and one of the five original Inner Sailor Senshi of the Solar System. She appears in the show wearing a sailor suit in green and white, accessorized with pink bows. We must say her light blue hair accessories go really well with the pink rose earrings.
Sailor Mercury:
Meet Sailor Mercury, one of the five Sailor Senshi to have been introduced to the Solar System. Sailor Mercury was the first member to be discovered by Usagi Tsukino. The attacks and powers of Sailor Mercury are based on water, ice, and computers. Most importantly, her powers are strategic, not offensive.
Sailor Pluto:
Sailor Pluto, as the name suggests, is one of the four Outer Senshi of the Solar System and the guardian of the Space-Time Door. She was the 6th Sailor Senshi to have been introduced in the manga and has been loved ever since. The powers and attacks of Sailor Pluto are centered around space, death, darkness, the underworld, and precognition.
Sailor Soldiers" or Sērā Senshi Coloring Page:
This Sailor Moon coloring page features the most loved Sailor Soldiers or Sera Senshi, namely- Sailor Jupiter, Sailor Mars, Sailor Mercury, and Sailor Moon. But there's a twist here if you can notice. The characters, or rather soldiers, are in their civilian form. Can you tell us their names?
Serena:
Here's a coloring page of Serena, the name of Usagi in the English dub of this series. Do you know why Usagi is named Serena in the English dub? To make it sound close to "Serenity". Ironically, the meaning of Serena is 'calm', which Usagi isn't even close to.
Usagi Tsukino Coloring Page:
Here's a coloring page of Usagi Tsukino, the lead character of this famous anime series. Usagi is a young and beautiful woman with pale skin and a slender figure. She has very long, blonde hair, which is always parted in the center and often tied into two pigtails or buns.
Sailor Saturn: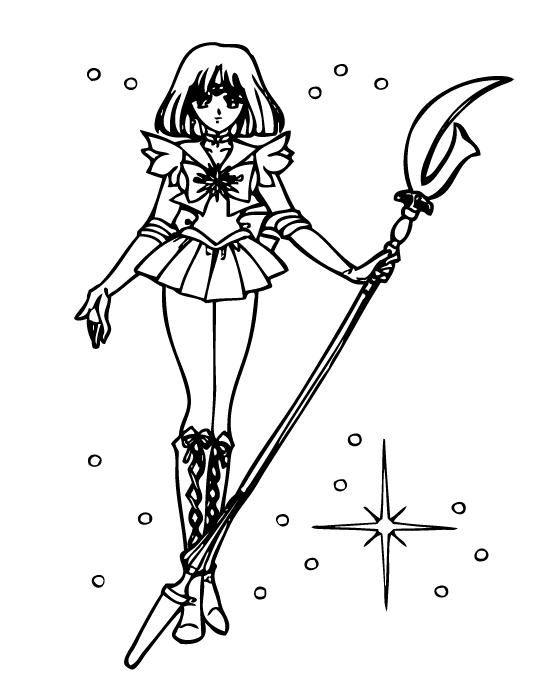 And finally, this Sailor Moon coloring sheet features Sailor Saturn, one of the four Outer Shensi and the tenth Sailor Senshi introduced in this manga. The powers and attacks of Sailor Saturn are centered or based on rebirth and destruction. She even has the power to annihilate the entire planet.
So how did you like these free printable Sailor Moon coloring pages? We're confident you must have enjoyed it thoroughly because I, for sure, enjoyed compiling these Sailor Moon colouring sheets for you all. If you still haven't got enough of these coloring pages, take a look at our Pusheen coloring pages too!