Hello, munchkins! Illumination's musical comedy "Sing" had set the theaters last year with a storm, since then it hasn't faded from our minds a bit. Guess what? The makers of the film are remaking it in 2020! Exciting, isn't it?  Sing movie revolves around a set of humanoid animals, who participate in a singing competition and that is exactly when the real fun begins! Here we present a compilation of the top 30 Sing movie coloring pages from the film!
Top 30 Sing Movie Coloring Pages:
Poster:
How exciting will it be to color this beautiful poster! Just as wonderful as the characters of the movie "Sing." This musical comedy fills our minds and souls with happiness. Let's begin coloring the characters with the same enthusiasm!
Buster Moon: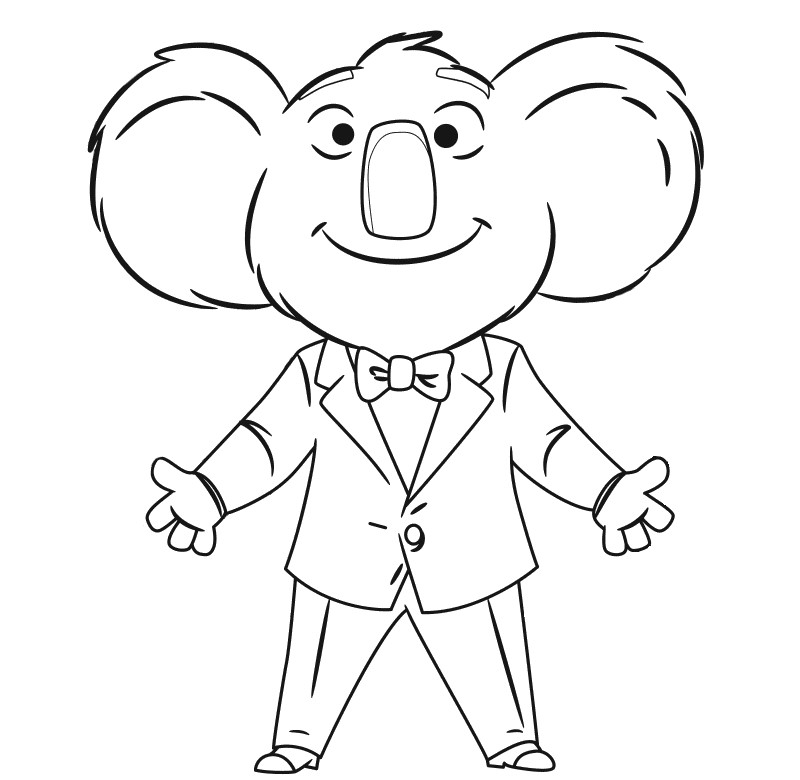 Buster Moon, the koala, is an optimist in the truest sense and has had a love for showbiz business ever since he was a child. In spite of all the hardships and failures, he never lost hope. He knows how to start from scratch even after losing everything. Buster Moon has gray fur, wears a white button-down shirt with a red bow tie, blue pants, and brown shoes.
to join this conversation on GitHub. Already have an account? Sign in to comment Footer © 2023 GitHub, Inc. Footer navigation Terms Privacy Security Status
Ash:
Ash, the female teenage porcupine auditions for the contest along with her boyfriend, Lance. Mr. Moon calls her loud, but promising and selects her alone dismissing Lance. She chooses to sing her own composed song and sets the stage on fire with her performance. We must say, the rock star attitude reflects in her voice.
Rosita:
Source: getcoloringpages.com
Rosita, the mother of 25 piglets, gave up her dream of becoming a singer long back ago in order to look after her children.  Buster pairs her with Gunter to add some sparks to her boring performance, which at the end proves to be an amazing idea. She sings and dances elegantly at the performance.
Gunter: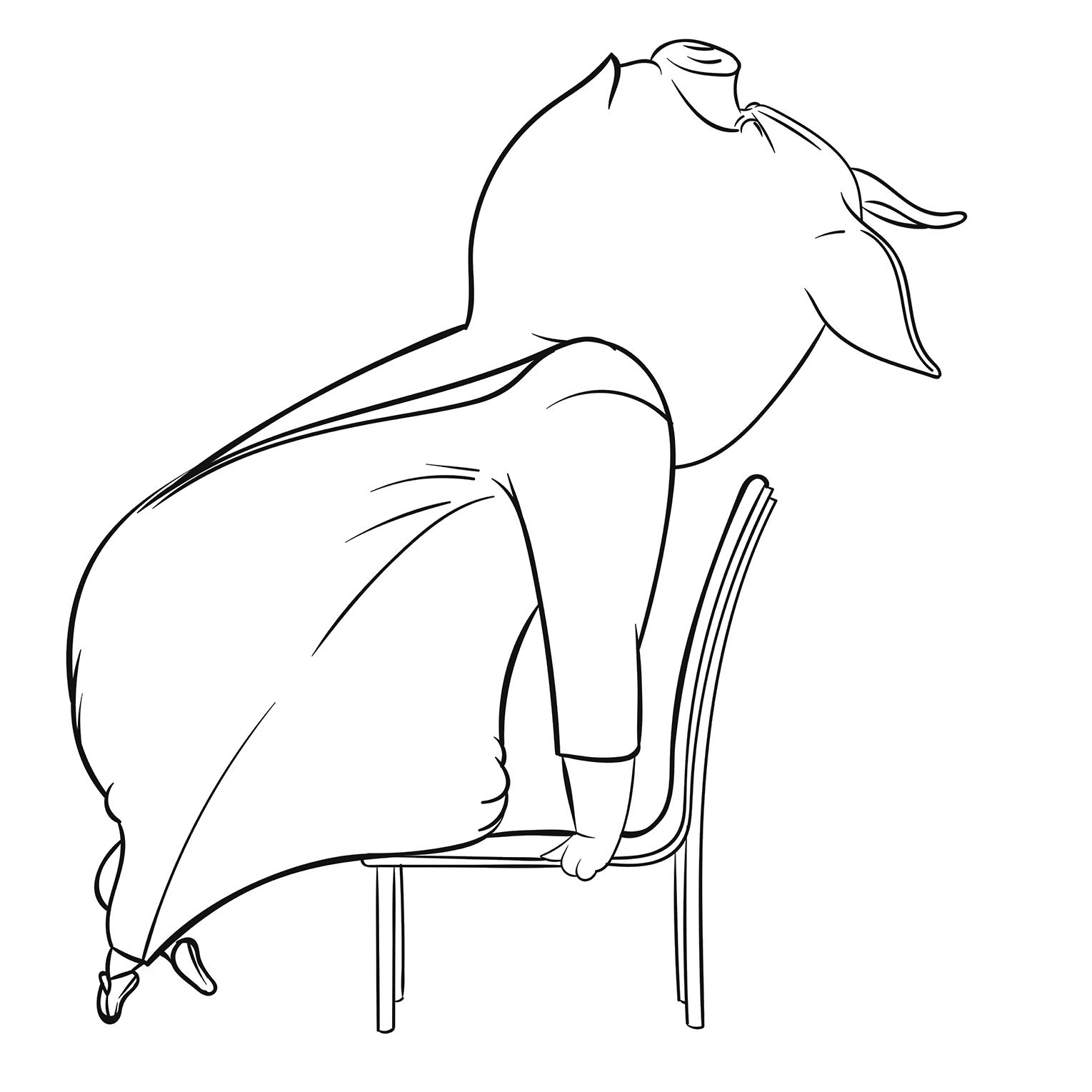 Gunter, the giant pig, is excellent at aerobics. He never shies from showing up his love for singing and dancing. Hyperactive, bubbly, always loves to wear shimmery clothes. He even plays a significant role in motivating Rosita to learn dancing.
Johnny:
Johnny, being the mountain gorilla, is muscular and taller than most of the members of the singing competition. Even after his dad disowned him for not joining his robbing crew and choosing singing instead, he continued his rehearsals with the same passion as before. He even learned how to play the piano in the meanwhile.  As said by Mr. Moon "Johnny was a natural singer".
[ Read: Monkey Coloring Pages ]
Mike: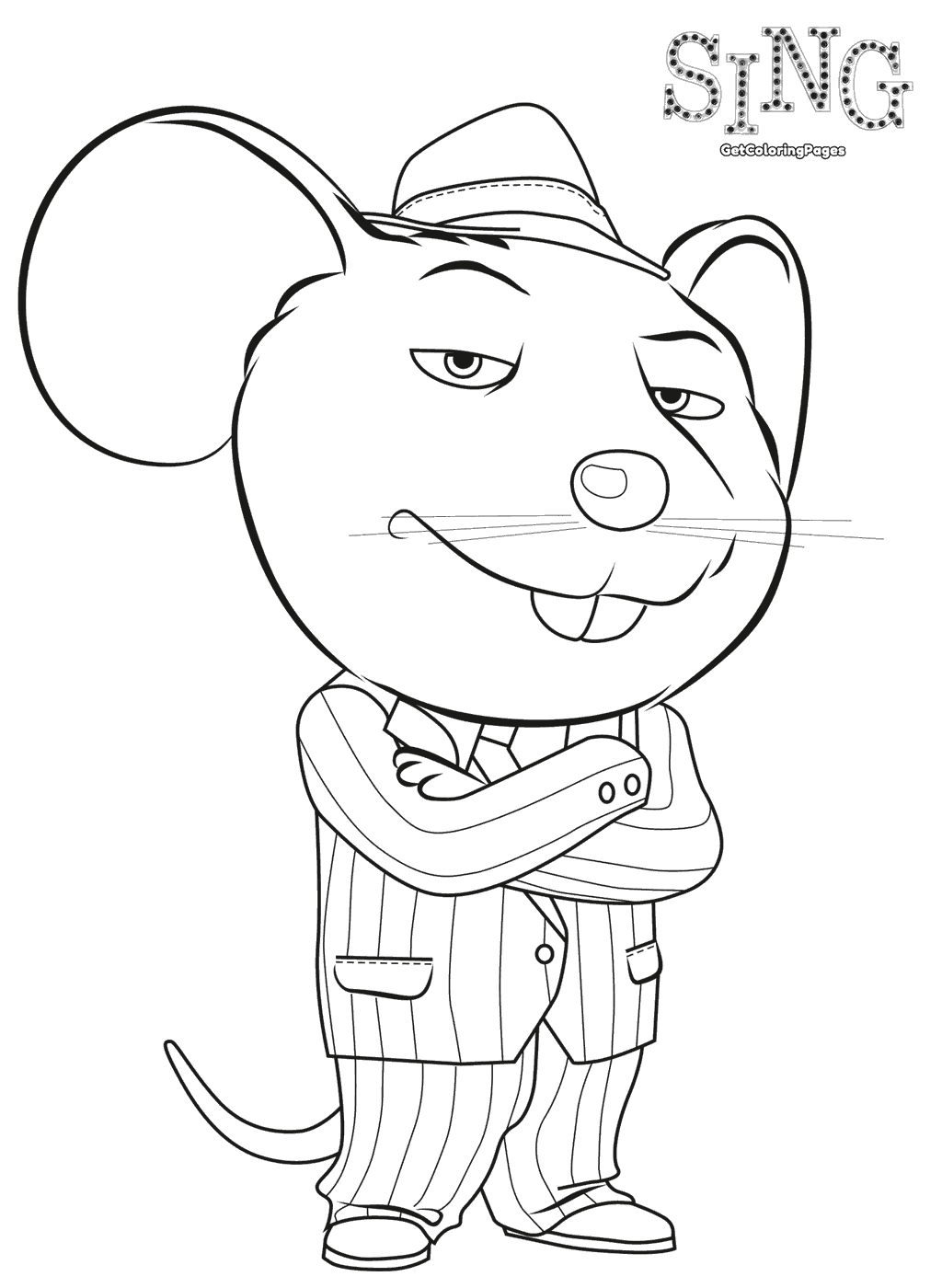 Source: getcoloringpages.com
Mike, the small white mouse, is cunning, arrogant, self-centered and overconfident about his singing abilities. He claims to be trained from the Lincoln school of music. Mike wears a red coat with red pants and a hat.
Meena:
Source: getcoloringpages.com
Meena is a teenage elephant with no tusks, wears a baby blue hoodie with blue jeans and pink and white shoes. She is shy and timid, has an amazing talent for singing, which she suppresses because of her stage fright. She messes up at the auditions and ends up becoming a stagehand due to miscommunication and lack of self-confidence. During the stage show when all the contestants finish off their chances, Buster encourages her to sing and prove her talent in front of all. At that moment she sings so amazingly that the entire crowd gets stunned by her performance.
[ Read: Elephant Coloring Pages ]
Eddie:
Eddie, a humanoid white Suffolk sheep, appears wearing a yellow jacket with gray inner, orange pants and brown shoes with white socks. He is Buster's childhood buddy, but as opposed to Buster's optimistic nature, Eddie is quite practical. He is there with Buster even in his hard times. There are very few people like Eddie, who are true to you even in your bad times.
Raymond:
Source: getcoloringpages.com
Raymond is a snail who wears a red bow tie. He auditioned on the microphone instead of singing in front of it. He was selected initially for his impressive performance, but due to his friend Richard, who stomps him unknowingly, he couldn't make it up further. During the final stage show, he is seen with Richard, enjoying the performance.
Dancing Bunnies:
The three female bunnies audition for Buster's singing competition. They dance and sing on Nicki Minaj's "oh my gosh!" They are much coordinated and wear shiny purple skirts during the auditions.
[ Read: Bunnies Coloring Pages ]
The Cast:
Here's the entire cast of "Sing" movie captured in a coloring page.
Richard, The Rapper Buffalo: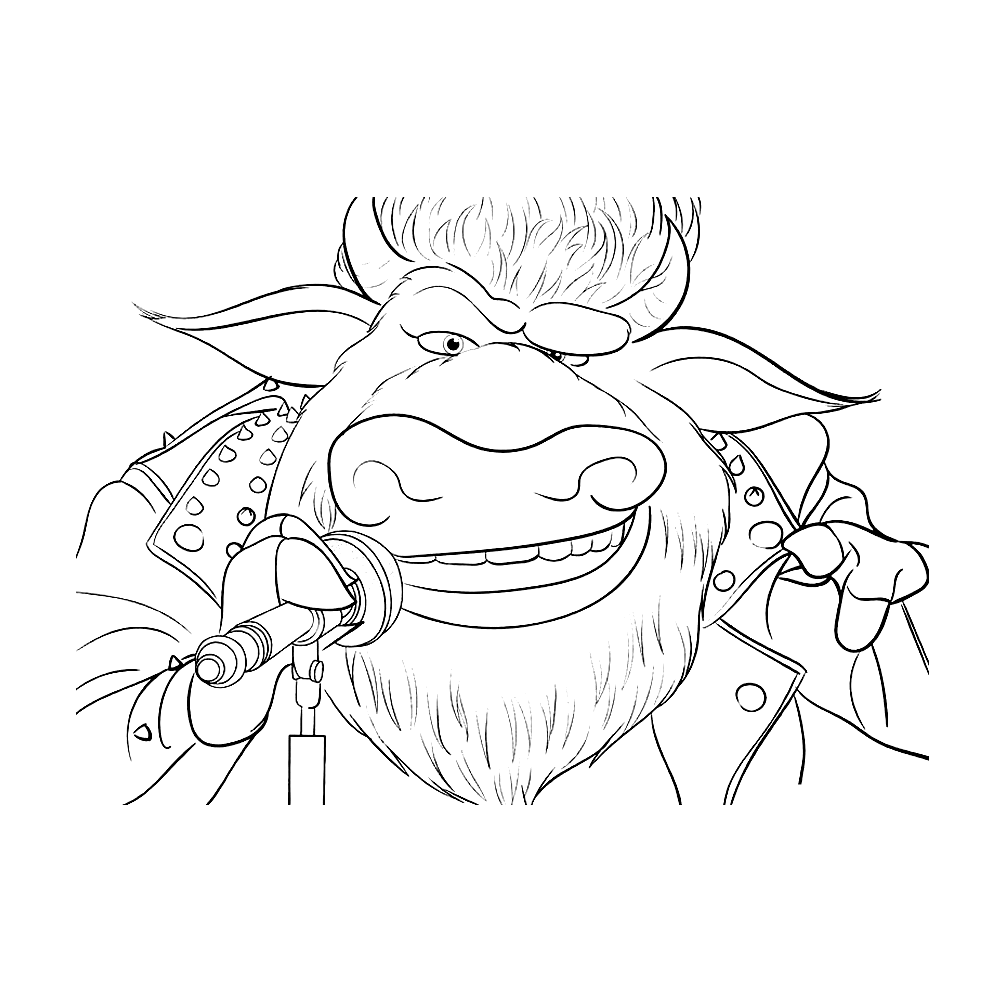 Richard is a brown buffalo who wears a purple leather jacket for the auditions. Buster selects him initially, but after seeing how minute things affect his confidence and make him nervous, he rejects him. Angrily, Richard stomps his foot down on the floor which squashes Ray. Regretting the fact, he takes him along to the hospital. Richard is seen in the climax with Ray who is fully recovered enjoying Meena's performance.
Big Daddy Marcus And His Gang: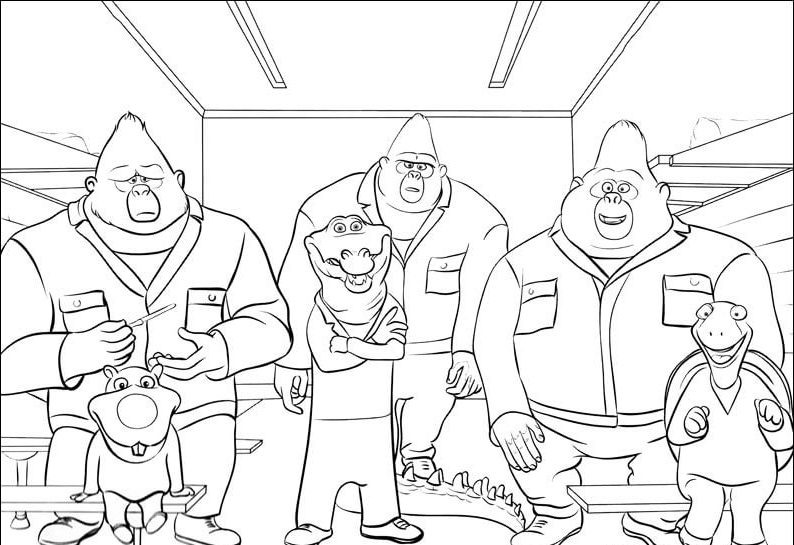 Big Daddy, Johnny's father, is a large gorilla, wearing a large blue jumpsuit with a white shirt inside. Once, while robbing, he gets caught by the police because Johnny delays in getting the vehicle due to his rehearsals. When in jail, Marcus comes to know about Johnny's singing rehearsals and disowns him. But after hearing his son live on the prison television, he feels proud of him and breaks the jail to hug his son.
Rosita and 'Norman' With Their Piglets: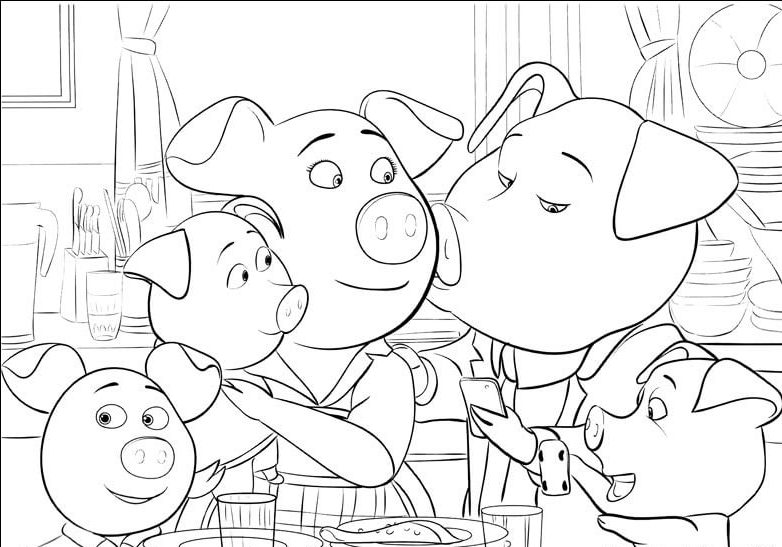 Rosita and Norman have 25 piglets together. A huge family indeed! Rosita, being a homemaker never gets a second off for herself. Norman is very busy with his office meetings and comes tired at home in the night. Their 25 piglets are mischievous. In the end, when Rosita gives a mind-blowing performance they come up on stage along with Norman and shower Rosita with love.
Nana Noodleman: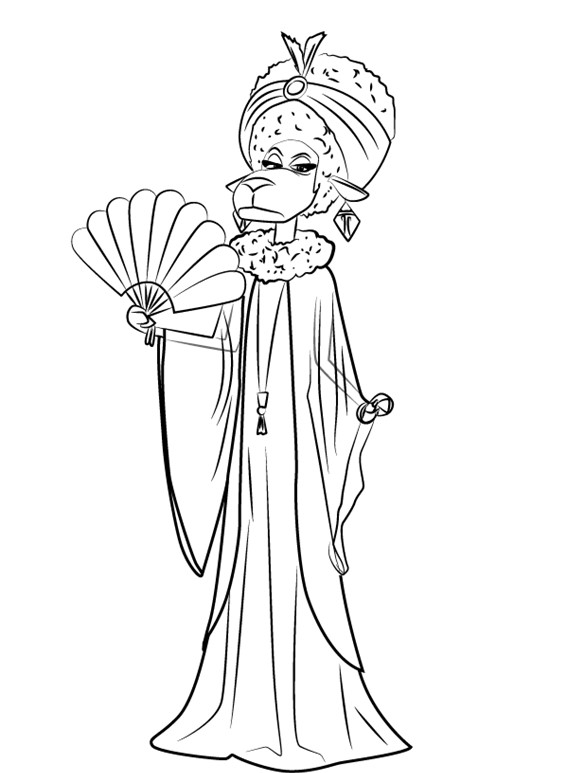 Nana Noodleman, the legendary opera singer, is a Suffolk black sheep. She wears a purple gown and heavy jewelry. She is a retired actress, which probably makes her irritable and mean. In spite of this, she chooses to sponsor Buster's show which turns out to be a mess. She agrees to sponsor him only because of her fondness for the theatre.
Meena And Buster:
In this image, Buster is seen encouraging Meena to get out of her fright zone. His motivation makes her forget all her weaknesses and give a fabulous performance.
Mike, The Crooning Con:
Mike is seen singing subtly during his performance. His song touched many hearts.
Meena, The Timid Elephant:
Meena, who usually has a little self-confidence is seen singing out her heart loud in the demolished theater's open ground. She is all herself when no one's around!
Dancing Gunter:
Source: getcoloringpages.com
This is Gunter with his unique dance steps, setting the stage on fire! How fun would it be to colour those stars on his jumpsuit!
Sparkling Rosita:
From being a perfect homemaker to a giving a sizzling performance on stage, Rosita has failed in none!
Rockstar Ash:
Source: getcoloringpages.com
Ash does not just sing well but also composes songs of her own. We totally love her confidence.
The Gangster Johnny:
Source: getcoloringpages.com
It is nothing as it seems, opposite to his family, especially his dad. He is different from them but totally worth it.
Miss Crawly:
Miss Crawly has been Buster's assistant for a very long time. She tends to make mistakes cause of her age. She is caring, loving never leaves Buster even in his hard times. She has a glass popping eye, which regularly falls off.
Miss Judith:
Image Source: drawingtutorals101.com
Judith is a female brown llama, working with 'SFJ' bank. She constantly shows up at Moon's theatre to remind him of the massive debts he had borrowed from the bank. She even tries to stop the ongoing performances in the live shows but doesn't succeed in doing so.
Ash And Lance:
In this image, Ash is seen with her boyfriend Lance who is too egoistic. They both perform together at the auditions, but Buster ends up choosing Ash alone. Lance demands Ash to leave. Ash has a lot of conflicts with him, after which she decides to perform alone.
Ricki Quitting The Show:
Frogs, namely Ricki, Kai, and Howie, were selected initially, but due to the difference between the three, they left the show. The above image is illustrating Buster explaining Ricki to clear out their differences and get back to the show.
Johnny's Piano Lessons:
Johnny's melodious voice combined with piano playing skills just set the right bars! He practiced playing the piano rigorously through day and night!
Mr. Buster AKA Anchor:
Mr. Buster was a great anchor! He had his unique style of entering the stage. He always greeted everyone by saying "welcome all creatures great and small".
The Squad:
Here is the entire team of the movie sing. We hope you will love to color them all!
These were the top 30 Sing movie coloring pages for you! We hope you liked our compilation of Sing coloring sheets. Want more compilations as such? Do comment below.